Day 27 (July 9, 2018 – Vienna, Austria): "Wienerehrfahrungen"
It wasn't until about 6:45am when I finally woke up. This was probably the most amount of overnight sleep that I had gotten all trip long.
Looking out the window, there was plenty of sun, and it didn't seem to have the threat of rain like it did yesterday.
It took us some time to get ready as Julie made another grocery store run though this time she went to the Billa just around the corner from the Hyatt. By the time she got back, we had a quick breakfast before finally heading downstairs at 9:15am to get the day started.
The very first thing we did was to head right for the Herrengasse U-bahn station, where we then took it several stops and a couple of connections to the Schonbrunn stop on the U4 green line. We at first got off at the Neubaugasse stop, where the map given to me by the concierge was incorrect in saying that it connected with the Pilgrimgasse.
So we got back on the U3 line and took it all the way to Westbahnhof, then took the U6 line south to Langenfeldgasse before taking the U4 line west to Schonbrunn.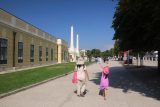 Clearly it was a popular stop, but it seemed like everyone was getting off the subway train at this stop, and then we pretty much followed the crowd all the way to the grand entrance to the Schonbrunn Palace.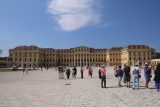 There were already large groups of tour bus crowds jamming into the eingang, which was also where we went. I really wished that we were here an hour earlier, but alas, we knew that crowds would be something we'd have to deal with on this visit.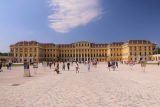 After dropping off our stuff at the cloak room, then using our Sisi Pass to cut most of the line (from a tour group) before finally starting on our tour (no photos), we then followed the tour room by room with the audio guide playing. It was pretty much a similar experience as that of the Sisi Museum at the Hofburg Palace that we did yesterday.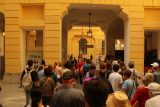 Throughout the tour, Julie found this tour to be more engaging than the grand palaces that we visited at Nymphenburg or even at the Residenz in Munchen. She also didn't recall much of our Versailles visit. So in the end, she found this visit at Schonbrunn to be even more engaging and more interesting than the previous royal tour experiences that we've done to this point.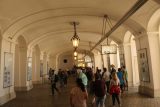 Perhaps the big highlight of this tour was the Great Gallery, which was probably a rival to the Hall of Mirrors in Versailles though the Viennese version had more in the way of high frescoes and tall ceilings and wasn't quite as long as the Versailles version (but no less impressive).
The other rooms were also interesting as we once again got to see re-creations of the furnishings of how Franz Josef I and Sisi lived in addition to Maria Theresia, who was essentially the head of the household of the Hapsburg clan.
Our Sisi ticket then extended our visit into additional rooms that included more furnished rooms as well as a walk through the original bed belonging to Maria Theresia, which was in a dimly lit room to ensure a minimal amount of fading was occuring on the bed itself.
By about 10:50am, we were done with the palace part of the tour. Then, we sought out the Imperial Gardens, which involved walking around the width of the palace and towards the backside. Along the way, there were some stairs that allowed us to look back at the main courtyard at the entrance, and from there, I could see into the Great Gallery but it wasn't photographable given all the window shutters in the way.
On the backside of the palace, we saw a grand garden area with a big Neptune Fountain in the distance. There was also a grand building at the opposite side of the garden that was kind of reminiscent of the arrangement of the Upper and Lower Belvedere Palaces that we had visited yesterday.
After taking a few shots from the backside of the main palace, we then walked up the right side of the garden upon on a semi-rocky gravel surface. First, we took pictures at the front of the Neptune Fountain before going up behind the fountain itself.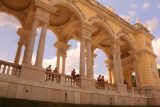 At that point, Julie and Tahia decided to chill out by the mist and coolness of the fountain, which I was sweating it out going further up towards the top of the hill.
As I did this, I managed to cut across a path just before some pond or fountain on the upper hill that wasn't very visible from down below. I got some nice views looking back towards the Schonbrunn Palace but then I continued going further up the hill right up to the structure at the top of the hill.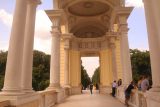 Once I got up there and got my looks back towards the garden and Schonbrunn Palace, I also noticed that the building I was standing beneath was actually some kind of cafe, where you can only enter on one side. The arches and canopy flanked by statues at the entrance presented a very Roman or Greek motif.
I didn't bother lingering too much around the cafe area as I was quite content to take my shots, then go back down the hill towards Julie and Tahia at the Neptune Fountain.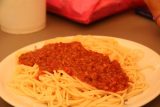 By about 12:25pm, we ate at the Tiergarten at the Schonbrunn Garden. Funny how we were intending this garden visit to be brief, but now we were eating here as Julie found this place to be nice and cool even if we knew the food probably wasn't going to be top notch nor great value as we were in a touristy spot.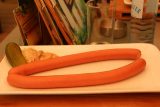 We wound up getting wurstl (basically like a hot dog with mustard and horseradish), some pretty good roasted chicken legs, and Tahia got some spaghetti Bolognese. Of course, they didn't have tap water so we had to buy mineralwasser at 3.8 euros for a 0.33L glass bottle. Rip off I know, but I'm sure we wouldn't be allowed to drink our own water while sitting down at the table.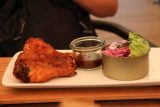 It wasn't until about 1:20pm when we were finally done eating. At that point, the palace was well overrun with tour bus crowds and tourists. So even though our experience was on the busy side, it was perhaps even more chaotic now.
We made the fairly long walk back out of the complex and then back to the Schonbrunn U-bahn stop. Then, we eventually got up and out of the U-bahn at Karlsplatz before taking another U-bahn train up to the Stephansplatz. At that point, we walked around the happening parts of the Stephansplatz trying to find the state room.
We saw signs for it yesterday so we kind of knew that it was at the Hofsburg Palace not far from Stephansplatz. And by 2:45pm, after paying for our admission, we eventually went up the stairs right into the bibliotek (library).
Inside the State Room Library, we were treated to an impressive array of books, frescoes at the high ceilings, and even some busts and statues within the room.
Since non-flash photography was allowed, we got to spend a good deal of time taking pictures of our own to somehow try to capture the grandeur and old world feel of this bibliotek.
When compared to the Admont Abbey experience, we noticed that this State Room Library had more of dark stones and wooden shelves. So there was indeed a less brighter white appearance as what was seen at Admont.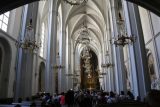 Even though the place was relatively silent (people generally kept their voices to a whisper), it was still quite busy with people coming in and out and loitering around looking for creative ways to take pictures.
After having our fill of this place we then tried to figure out if it was worth checking out the immobiliendepot for the Hapsburg furnituer collection, which was included as part of our Sisi Ticket. Unfortunately, the immobiliendepot was closed on Mondays so we wouldn't get to visit it on this day (as our window to check it out was yesterday).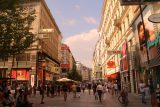 In any case, we were having some mobile connectivity troubles after we knew and confirmed that we had topped up our Holiday Orange Mobile plan this morning. So we then went to a tourist info center to figure out where was the best place to withdraw money as well as where we could pick up a sim card if somehow we got frauded out of money on the top up from this morning or yesterday afternoon.
That was when we were told that there was this place called "Drei" ("3" in German) at Stephansplatz. And once we walked our way back to the happening Stephansplatz, we finally found the place.
Then, just as Julie picked up a number and awaited her turn to get called, suddenly my phone got a text. So I guess the internet would finally be working again, and that spending any more money on an Austrian sim card or mobile plan wasn't going to be worth the trouble. I guess it took some time for the mobile internet connectivity to kick in once we had topped up.
That said, from my limited German, I thought I saw some plan saying 30 euros for 30 days for connectivity on a sim card? I wasn't sure what was the catch because the plan we were on costed us nearly 40 euros for the sim card for just 14 days! Then, we had to pay 20 euros for every 14-day top up thereafter. And we were now on the second top up (and we even had to register to get our account lasting more than a month as this trip spanned around 6 weeks).
So with that weirdness out of the way, we then saw that the imperial furniture display ("Kaiserliche Immobiliendepot") was closed all day today. So our attempts at finally checking this out as part of our Sisi pass was not going to happen. I think Julie was having regrets at not having done this yesterday as it would have been another shot at checking out things about Sisi, which Tahia was really into.
Thus, with nothing seemingly left to do other than loiter around, we decided to head back to our room, and we did that at about 4:30pm. Along the way, we did stop by the St Peters Cathedral one more time as we knew there would be no service going on this time around so we could check it out a little more thoroughly than the first time we were here a couple of days ago.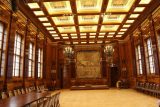 Back at the hotel room, Julie then did a little more internetting before we headed back downstairs an hour later.
Julie decided that we were going to go back to the first restaurant we dined at in Vienna because it was all gluten free. She was skeptical now that the desserts we got at Cafe Mozart were truly gluten free nor were they properly labeled. And that got me wondering what else some shady restaurants and cafes might be pulling to get people to spend money under the false gluten free labeling only to get them sick thereafter with no consequences.
Now that we were quite familiar with the metro system in Vienna, we eventually got to the Zum Wohl Restaurant near the Westbahnhof Station at 6:10pm. We took some time along the way to check out Hofer (basically the "Aldi" in Austria) as well as Billa since Julie wanted to pick up some cold breakfast for our departure tomorrow.
Once we found out that these supermarkets closed at 8pm, we punted that visit for after dinner.
Back at the familiar Zum Wohl Restaurant, we pretty much ordered the same thing that we had gotten on the first day. The thing we skipped on was the 4th main course that I thought was an appetizer, which was some kind of "Zum Wohl" "dumpling", which was really nothing more than a spetzl with eggs.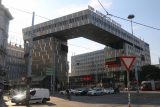 So we had the familiar beef gulash (which Julie loved) as well as the duck breast, and Tahia's Wiener Schnitzel (breaded veal cutlet).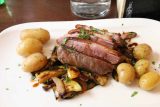 However for dessert, we indulged in a chocolate-apricot cake and I had some kind of pancake with ice cream inside as well as chocolate syrup on the outside. They were good, and Tahia really went after my pancake after saying she didn't want any.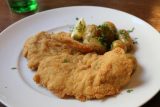 Plus, the tap water was free and I didn't get ridiculed for it. So that was yet another thing that we appreciated about this restaurant and that coming back here instead of trying something new was the safer bet on our last night in Vienna.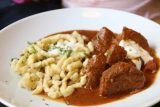 The waitresses that were helping us on this visit were different than when the time when we first came here. Both personnel were helpful and friendly. The first one appeared to have African blood but she was helpful and was fluent in German, which was a combination we didn't find very common in our travels so far.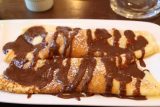 Similarly on this visit, there was a Korean waitress who also spoke fluent German, and that was probably one of the first times we saw an Asian person speaking fluent German on our travels through Austria so far. She, too, was helpful and pretty friendly as well as sensitive to Julie's diet restrictions.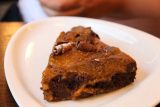 All in all, we left the restaurant at 7:40pm, which was just in time for us to get to the Billa before they closed, and we picked up some foodstuffs for breakfast tomorrow as planned.
At 8:15pm, we were back in the room. We were really getting used to the U-bahn system (still wondering if locals actually pay for their metro passes or not because we hardly saw anyone validating nor checking), and we were even figuring out that we had taken wrong street level exits even on this Westbahnhof stop as we saw that we didn't even have to cross the major streets to get to the station.
Too bad this was our last night in Wien, which was fine with us as our trip expenses were piling up, and this city was certainly not cheap.
Finally, at 9pm, I accompanied Tahia one last time for swimming at the Hyatt pool. Since it was her bed time, we engaged in this activity for a little over a half-hour. The pool itself this time was pretty busy with people coming in and out. But it didn't stop Tahia from improving her swimming and even figuring out how to stay afloat and going from wall to wall doing "laps" as she seemed to be getting more comfortable in the water.
Eventually some time before 10pm, Julie went to the sauna to try it out. Meanwhile, Tahia and I each got cleaned up, and shortly afterwards we all crashed (especially since Julie's sauna excursion was cut short by the 10pm closure of the spa and fitness area anyways).
Tomorrow, we were headed to Graz and resuming our waterfalling adventures. But it would be with a little bit of anxiety since the next couple of weeks would involve going off the beaten path and visiting parts of Austria that would be a bit off the foreign tourist path. We'll see how this all plays out as homesickness was starting to kick in for Tahia…