This guide to the best Finger Lakes Waterfalls shows you our favorite ones in this region of upstate New York as well as how to get to them along with other practical information.
We've compiled this page as a result of a few trips at different times of the year, and it's usually our go-to spot whenever we seek nature as sort of the yin to the yang of the bustling city that never sleeps in New York City.
As for the waterfalls themselves, we have a list of the Top 10 Best New York Waterfalls where we showcase our favorites throughout the entire state. The Finger Lakes Waterfalls is well-represented in that article, which goes to show you the quality of the waterfalls to be found in this region!
We also have a larger compilation of New York Waterfalls and how to visit them if you're interested in chasing waterfalls in the rest of the state.
The Best Waterfalls We've Seen In The Finger Lakes Region
Let's just cut right to the chase and show you what the best waterfalls in the Finger Lakes region are and how to access them.
I'm a visual guy, and it's better to just show you the beauty of this region. Besides, pictures are worth thousands of words, right?
No wonder why it's so popular with New Yorkers and out-of-state visitors alike!
ITHACA FALLS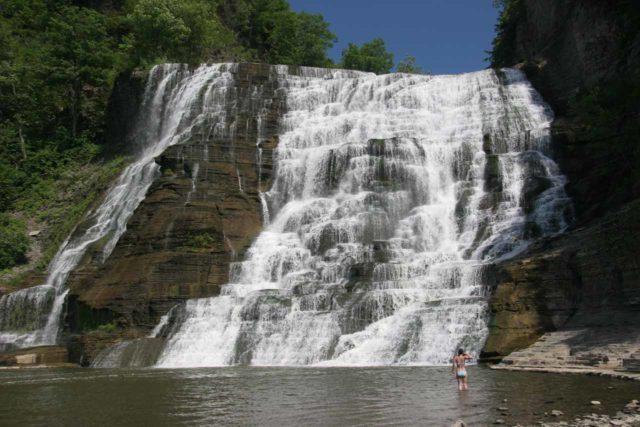 Of the waterfalls in the heart of the Finger Lakes Region, Ithaca Falls was perhaps our favorite because of how we were able to get close to it and really get to have a genuine experience with it. In fact, on our first trip to the Finger Lakes, we actually visited this waterfall twice – one during the hot middle-of-the-day and then again towards sunset when it exhibited a graceful characteristic as it rippled down its 75ft face. This was also one of the easier waterfalls to visit from a physical exertion standpoint, which we detail in the following link.
Visit Ithaca Falls.
TAUGHANNOCK FALLS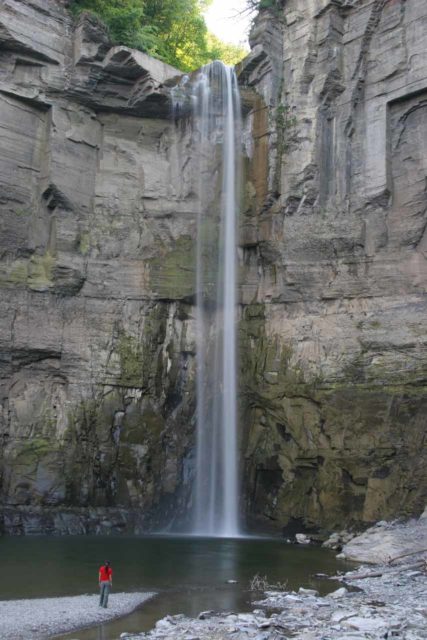 With an easily-mispronounced name (hint: it rhymes with "mechanic"), this 215ft waterfall was one of the tallest east of the Mississippi River. Of course, our early-Summer visit meant that the falls had already seen its best days in terms of flow a month or two ago, but that just meant it exhibited more of a graceful characteristic. We managed to experience this falls at different times of the day as well as from a couple of ways – one by a hike, the other from a drive-to overlook. Needless to say, it was pretty easy to really get to know this waterfall (and its neighboring ones), especially since it was not far north from Ithaca.
Visit Taughannock Falls.
BUTTERMILK FALLS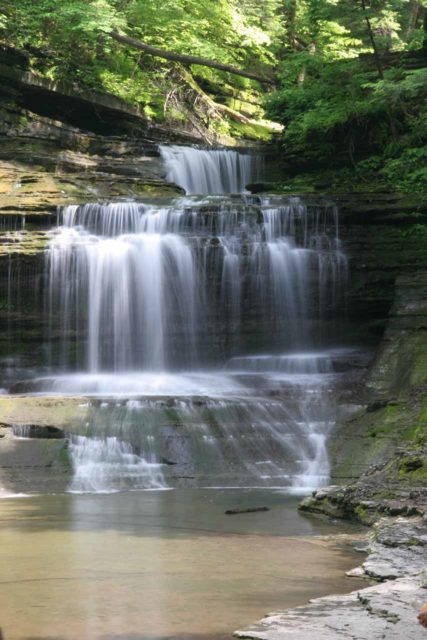 During our early-Summer trip to the Finger Lakes when we first came here, it was pretty hot and humid throughout New York as this frigid Canadian winters had already given way to the Caribbean summers. So that compelled many people to go to Buttermilk Falls, where there was a sanctioned swimming hole at the very bottom of its series of cascades on Buttermilk Creek. But even if you didn't break a change of clothes, we also hiked further upstream to experience its many other cascades and gorges for more of that back-to-nature experience.
Visit Buttermilk Falls.
LUCIFER FALLS
After having become familiar with the waterfalls near Ithaca, we started to explore a little further afield, and that was when we visited the Robert H Treman State Park, which featured Lucifer Falls in the heart of its scenic gorge. There are actually hiking opportunities to really get to know the Enfield Glen, including one on the opposite side of the falls for a more contextual look at it than what you see pictured above.
Visit Lucifer Falls.
ENFIELD FALLS (LOWER FALLS)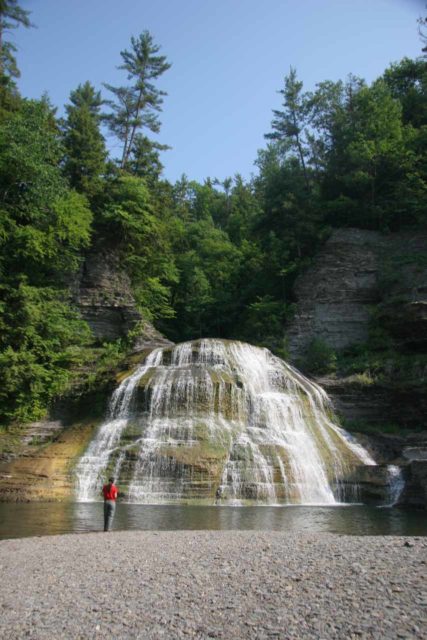 Lower Falls (also called Enfield Falls) sat at the very bottom of the gorge cutting through Robert H Treman State Park. What made this waterfall appealing, especially given the muggy Summers that upstate New York tends to get, was that its plunge pool. While we were pretty much alone during our visit, I'm sure come later in the afternoon, this place can get pretty busy.
Visit Enfield Falls.
WATKINS GLEN WATERFALLS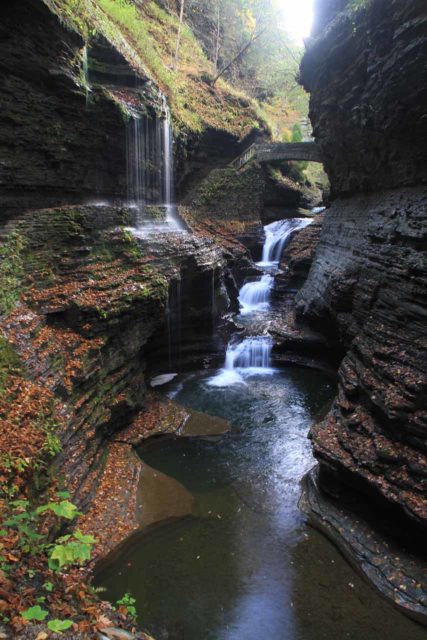 In my mind, visiting the Watkins Glen Waterfalls is the perfect waterfall-lovers excuse to fully explore perhaps the most scenic gorge in the Finger Lakes Region. And I intentionally made the word waterfall plural because there are indeed several waterfalls within the confines of its well-established trail throughout the glen that let us get real close to them, including behind, above, in front of, and right next to them! You've seen various forms of the famous waterfall shown above, but it's time to get there yourself and see why we're not alone in our thinking of this being quite the beautiful spot.
Visit the Watkins Glen Waterfalls.
SHE-QUA-GA FALLS (MONTOUR FALLS)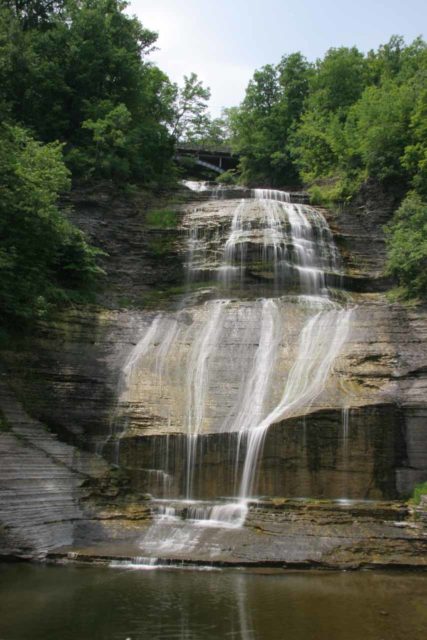 I have to admit, I had never watched "A Bone To Pick: An Aurora Teagarden Mystery", but our page about She-Qua-Ga Falls really blew up after fans of the show wanted to know where the waterfall featured in the opening sequence of the show was located at. Before that happened, this was kind of a sleepy town with a waterfall visible from one of the residential streets of the town of Montour Falls. It even had some historical meaning as apparently it was now displayed in the Louvre Museum though it was made in 1820 by Louis Philippe (who eventually became king of France).
Visit She-Qua-Ga Falls.
AUNT SARAH'S FALLS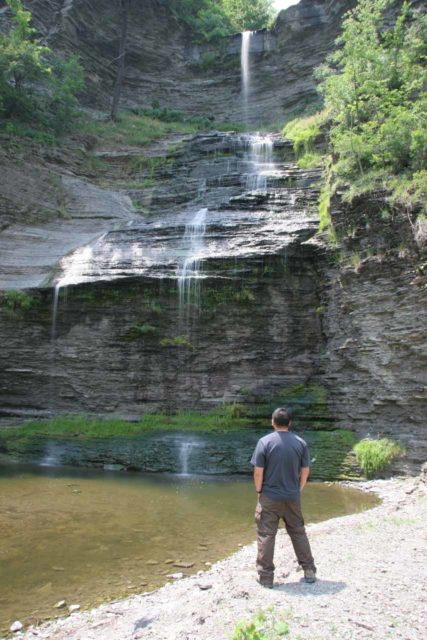 This roadside waterfall was very easy to see, but I remembered this one well when a random guy pulled over while I was at the falls and said, "Son, you should have been here a couple of months ago when the spray was covering this road!". That took place in mid-June so it kind of tells you when would be the best time to experience this tall waterfall.
Visit Aunt Sarah's Falls.
CARPENTER FALLS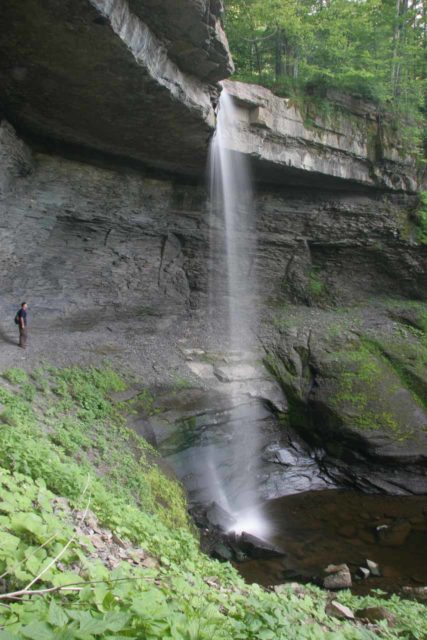 Moving a little further away from the largest of the Finger Lakes, this drained into Skaneateles Lake. We visited it as a bit of the detour between Syracuse and Ithaca, but it felt like one of the more intimate waterfalling experiences that we had in the Finger Lakes Region. In addition to that, we also did a somewhat steep hike and scramble (it may be unsanctioned now) to what I called the "Lower Carpenter Falls", but the locals called it "Angel Falls".
Visit Carpenter Falls and Angel Falls.
PRATT'S FALLS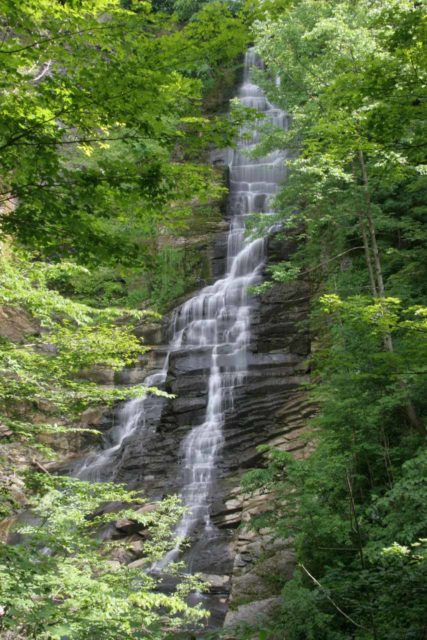 This somewhat obscure and overgrown (when we were there) 137ft waterfall in Pompey (near Syracuse) was our introduction to the waterfalls in the Finger Lakes Region when we first visited the area in mid-June 2007. It had more of a local community feel to it, which made for a nice change-of-pace from the more well-known (and crowded) waterfalling spots throughout the Finger Lakes.
Visit Pratt's Falls.
CHITTENANGO FALLS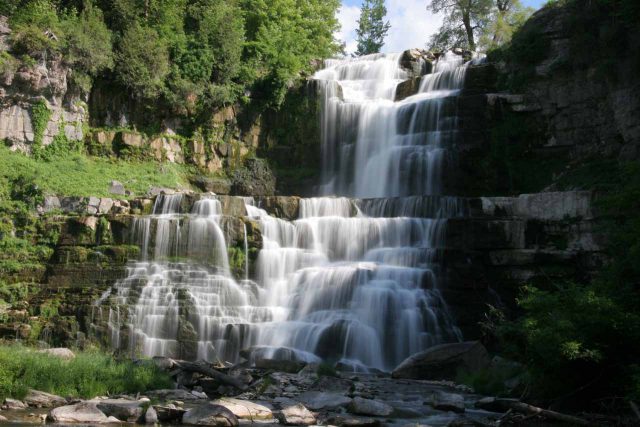 Perhaps the easternmost of the Finger Lakes Waterfalls that we've experienced (near Syracuse), it was one of my favorites of not only the Finger Lakes Region but also of the entire state of New York! There's something to be said of its graceful multi-stepped characteristic dropping over two main tiers, and a loop trail took it all in allowing us to witness it from all sorts of angles and positions.
Visit Chittenango Falls.
THE WATERFALLS OF LETCHWORTH STATE PARK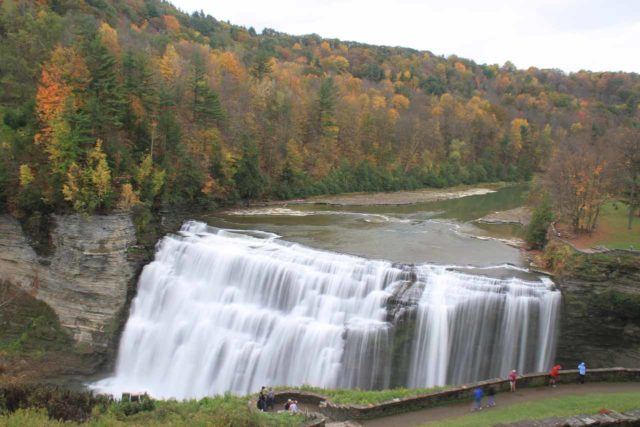 Letchworth State Park sits towards the western extreme of the Finger Lakes Region, but it perhaps features the most impressive series of waterfalls outside of Niagara Falls. In addition to the pleasingly wide characteristic (which is longer than its reported 105ft height) of the Middle Falls of the Genesee River shown above, there are also two more waterfalls on the main river that are well worth checking out as well as a seasonal Inspiration Falls (said to be the tallest waterfall in the park). By the way, the city of Rochester also has its own series of waterfalls on the Genesee River so don't get the Upper and Lower Falls confused.
Visit Middle Falls, Upper Falls, and the Lower Falls of the Genesee River.
Honorable Mentions – Waterfalls Near The Finger Lakes
The waterfalls here aren't technically in the Finger Lakes, but they're worth mentioning because you're likely to either encounter them on the way there, or they're worth making the effort to get to and not missing out.
KAATERSKILL FALLS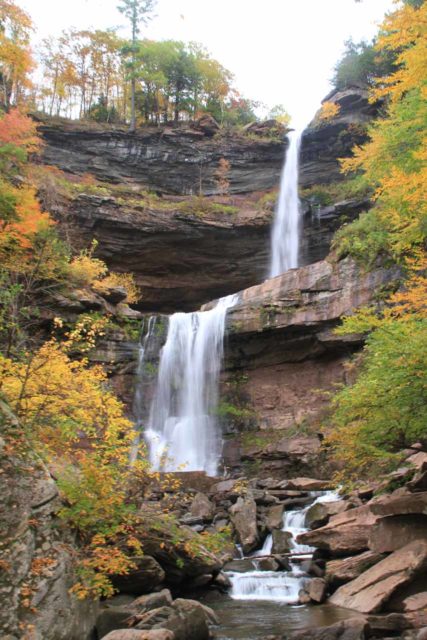 I mention this impressive waterfall in the Catskill Mountains because it can be a sensible detour when making the long drive from New York City to Ithaca. While this detour would take you away from the shortest route to get to Ithaca (as it's more north along the I-87 in the direction of Woodstock), I found it to be the perfect excuse to experience one of New York's most popular waterfalls (and a two-tiered 260ft one at that)!
Heck, it's one of the tallest and most impressive waterfalls in the state of New York, and I think it's worth spending the time to break up the drive.
Visit Kaaterskill Falls.
NIAGARA FALLS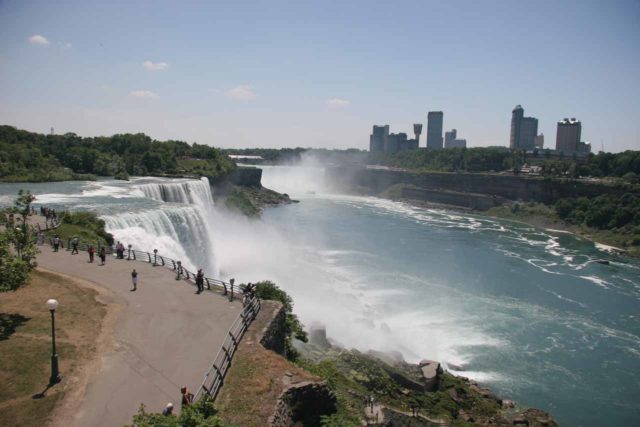 I only mention this waterfall because it'd be a shame not to see the Granddaddy of all the waterfalls in the USA (also shared with Canada). Besides, it's near the city of Buffalo, which makes for a good starting point that you can fly to and get closer to the Finger Lakes Region along with its Waterfalls. That was exactly what we did on our first trip to the Finger Lakes, and it's about a three-hour drive between Niagara Falls and Ithaca, which gives you an idea of just how viable this option is.
Visit Niagara Falls.
Where Are The Finger Lakes Waterfalls?
Besides the detailed descriptions and directions to each of the waterfalls listed above, I thought I'd show you a map of the Finger Lakes Region.
Notice the finger-like shape of the lakes, which is how these glacially-formed bodies of water got their name in the first place.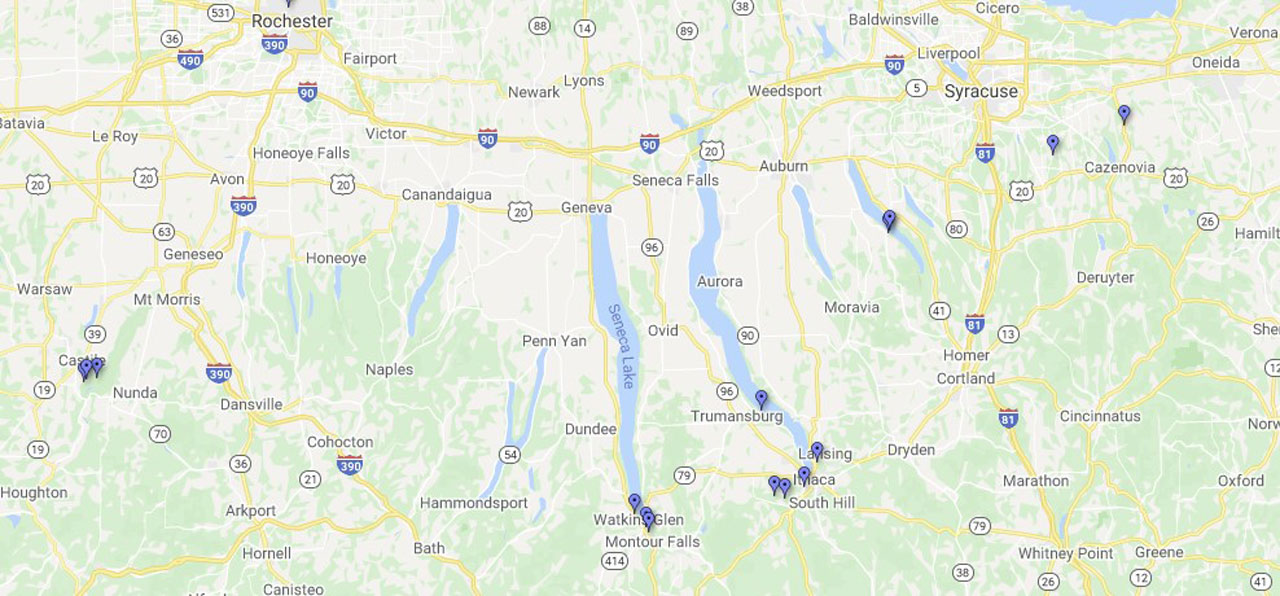 The best way to get here is by driving, which we've managed to do as a five-hour (223-mile) direct road-trip to and from New York City (though there are worthwhile aforementioned detours to extend this drive) as well as a three-hour (164-mile) road-trip from Niagara Falls.
Buffalo is 20 miles (about half-hour drive) south of Niagara Falls, and we did a flight from New York to Buffalo on one of our trips, where we rented a car from there so we could spend more time in the Finger Lakes.
When To See The Finger Lakes Waterfalls
Our first visit to the Finger Lakes took place in early- to mid-June of 2007, which was pretty much the early Summer.
During this time, most of the waterfalls were still flowing well, but a few of the minor ones definitely saw better days during the Spring thaw.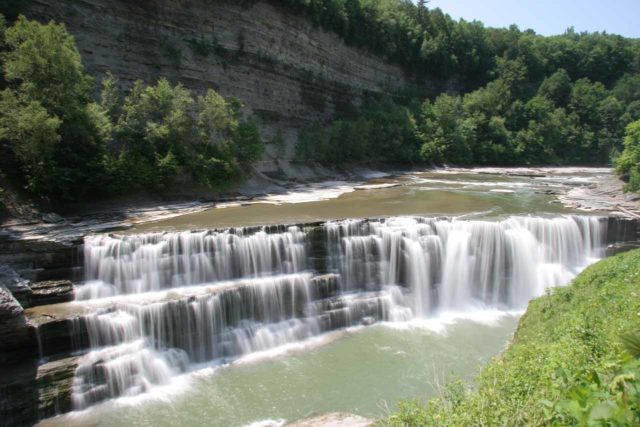 However, it was definitely hot and muggy during this time so waterfalls like Buttermilk Falls and Enfield Falls were very popular as swimming holes. Sometimes pop-up thunderstorms would occur so we were cognizant of flash flooding in the glens should the storms produce heavy rains.
So if you're looking to visit more waterfalls, then I'd say mid- to late Spring would be your best bet as all the rivers and creeks will have their full flow though you do have to be more careful during this time.
Our second visit to the Finger Lakes took place in October of 2013, and that was well-timed for the Fall colors even though only the major waterfalls would be flowing well.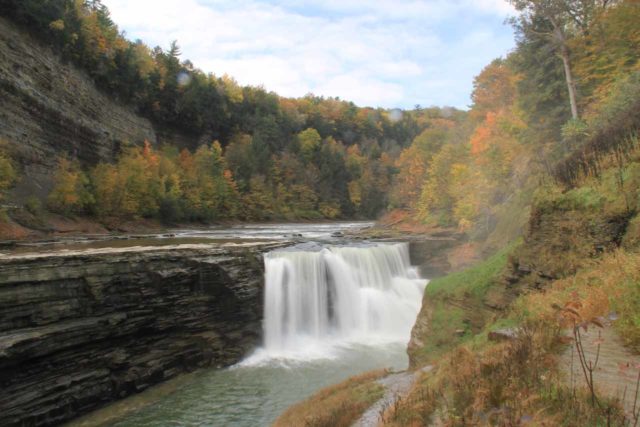 There's something to be said about seeing waterfalls juxtaposed with the colors of the Autumn foliage, and in my mind, it's probably the best time to get good photographs while also enjoying the crisp, cool air as this region transitions into Winter time.
Where To Stay In The Finger Lakes Region
We've stayed in a couple of places over the trips that we've made to the Finger Lakes Region.
Of those places, perhaps the most centrally-located town is Ithaca, which is home to Cornell University so it has a bit of that youthful vibe.
This means that there are cool places for foodies (or aspiring food lovers) to eat and drink, but there are also plenty of budget accommodations so you don't have to break the bank to stay here.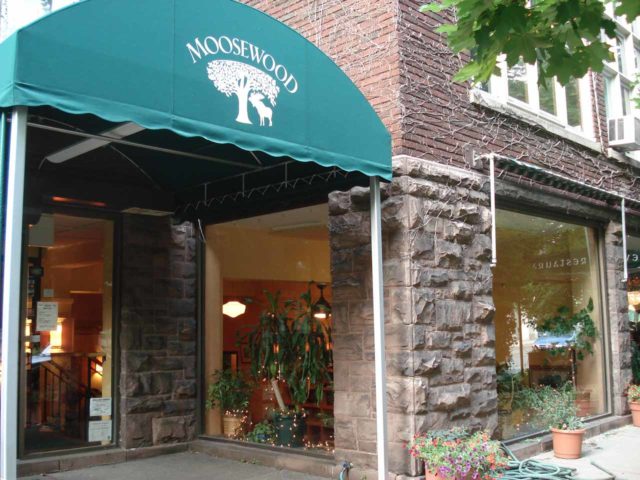 More importantly, Ithaca is next to Cayuga Lake, which is close to waterfalls like Ithaca Falls, Taughannock Falls, and Buttermilk Falls.
Driving for a few minutes to the west of town was the Robert H Treman State Park, where you can find Lucifer Falls and Enfield Falls.
On our second visit to the Finger Lakes, we stayed in Watkins Glen, which was next to Seneca Lake. But that location was perfect for an atmospheric late afternoon visit to the Watkins Glen itself and the waterfalls within what I'd consider to be the most scenic of the glens in upstate New York.
Nearby Watkins Glen were also She-Qua-Ga Falls (also called Montour Falls) as well as Aunt Sarah's Falls.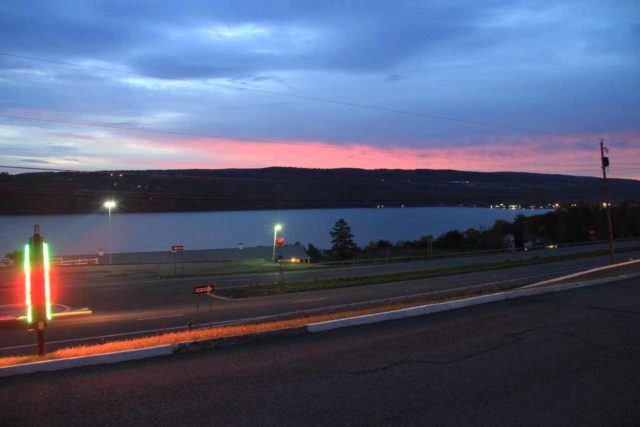 Finally, if you're looking to stay at a property with its own natural waterfall, then there's a Finger Lakes Waterfall Resort, where the backyard waterfall is Hector Falls.
Of course, if you want to see more options on where to stay besides what we've done, there are lots of them when you cast a wider net on the Greater Finger Lakes Region during your search.
Final Thoughts / Conclusion
I hope you enjoyed reading and seeing what we had to say about the Finger Lakes Waterfalls.
More importantly, I hope you've been able to use this resource for your own trip planning needs so you can go out there and experience them for yourself!
If you have questions or comments, feel free to use the form below and tell us what's on your mind!
Visitor Comments:
Got something you'd like to share or say to keep the conversation going? Feel free to leave a comment below...
No users have replied to the content on this page