We've been to Yosemite National Park countless times. However, if you're new to visiting this national treasure, the suggestions and choices could be a bit overwhelming. So we've assembled a three-day long weekend itinerary that encompasses the best five waterfalls in Yosemite Valley (i.e. the most visited part of Yosemite National Park).
These waterfalls are Yosemite Falls, Bridalveil Fall, Illilouette Fall, Vernal Fall, and Nevada Falls.
We're assuming that you're driving up from say Los Angeles or other parts of Southern California.
Therefore, you're looking at roughly a 6-hour drive.
After having gone through this program, you'll be in much better position to get a feel for what there is to see and do in Yosemite on your next visit while already being exposed to the very best that the park has to offer.
The Suggested Yosemite Weekend Itinerary
Friday: Drive up to Yosemite Valley
This is a travel day. So you need to budget at least 6 hours on just the long drive itself.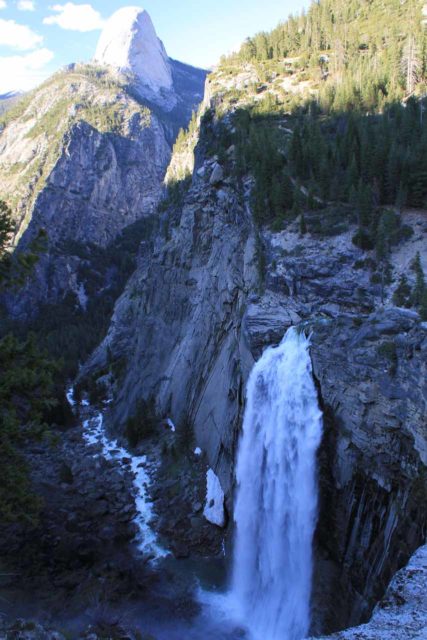 If you're a procrastinator, then all the time you'll have in the day would be spent driving and making pit stops.
However, if you're an early bird, then it's possible to make it into Yosemite National Park by around 2pm (assuming you've beaten rush hour traffic and started driving before 6am).
If you're efficient with your time, then I'd suggest driving up to Glacier Point first.
By this time, you'll experience the soft afternoon light shining on the iconic Half Dome while looking down into both Tenaya Canyon, the Giant Stairway, and Yosemite Valley all from this famous vista.
In addition to getting your first glimpse of Yosemite Falls, Vernal Fall, and Nevada Fall, you can also go on a moderate 4-mile round trip hike to the best view of Illilouette Fall, which is one of the park's better kept secrets.
Saturday: A Day in Yosemite Valley
Spend the morning getting different vistas of Yosemite Falls.
While you can see Bridalveil Fall easily from the Tunnel Overlook vista, I'd recommend saving this experience for later in the afternoon when the lighting is better.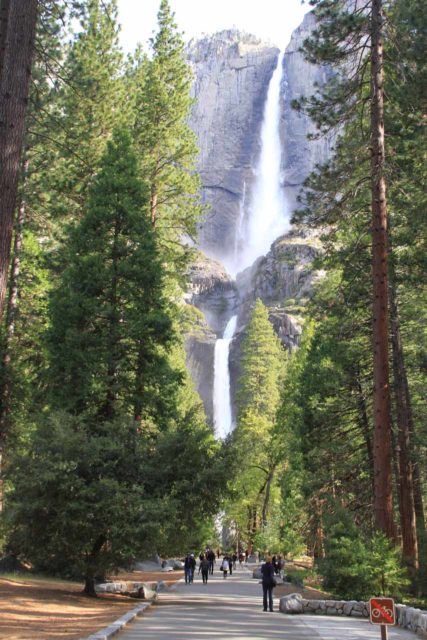 As for Yosemite Falls, my favorite spots to view it tend to be at the Swinging Bridge area as well as Cook Meadow.
You can also take a short walk to the base of the Lower Yosemite Falls to really appreciate the size of this iconic waterfall.
Next, after an early picnic lunch, you can shuttle or park at Curry Village, where you can then hike from the Happy Isles Trailhead to Vernal Fall and maybe Nevada Falls.
The hike up to Vernal Fall via the Mist Trail (which is aptly named during the peak of the Spring snowmelt) is on the order of 3 miles round trip.
This is enough for most new visitors to Yosemite.
However, if you're really energetic, you can hike all the way up to Nevada Falls via the continuation of the Mist Trail, then return via the John Muir Trail.
That loop hike is about 6.6 miles and would take most people about 4 hours to complete.
In the mid- to late afternoon, now is the time to regain the car and drive up to the Tunnel Overlook to view Bridalveil Fall in the famous Gates of Yosemite Valley vista.
Depending on the snowmelt conditions, it might also be possible to catch a glimpse of the Silver Strand Falls.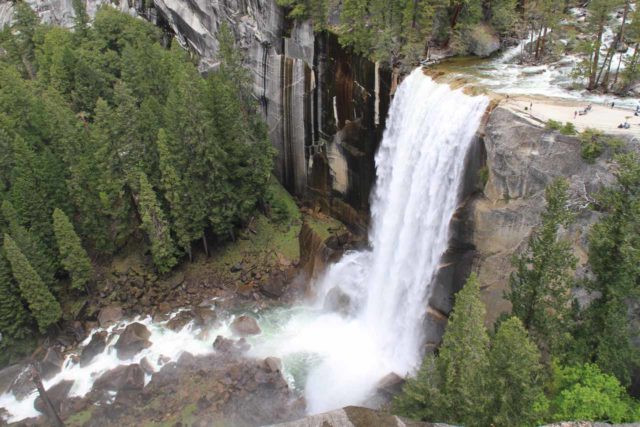 On the drive back down to Yosemite Valley, then stop over at the Bridalveil Fall parking lot or the roadside pullouts along the Southside Drive to do the short walk up to the base of Bridalveil Fall.
Once at the misty base, it becomes clearer why the Native Americans called this place "Pohono" or "puffing wind".
There might even be a late afternoon rainbow arcing in the mist.
Looking across from the base of Bridalveil Fall, you might also get a chance to see another impressive minor waterfall in Ribbon Falls, which is best seen around midday when the shadows aren't as likely to cut off its nearly 1,600ft freefall.
Sunday: Morning Touring before going home
Given how busy Saturday might be, if you didn't get around to doing everything we suggested yesterday, then it's also possible to spend the early morning hours enjoying what you missed.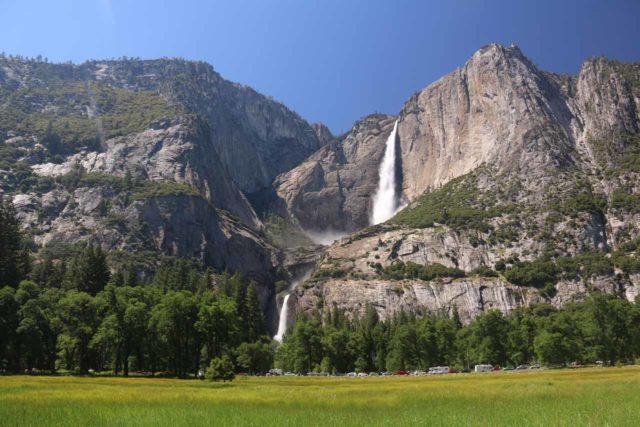 This is especially if say you missed some of the Yosemite Falls excursions in favor of the longer Nevada Falls hike.
You might even target some of the minor waterfalls that were overlooked from yesterday such as Sentinel Falls by the Four Mile Trail near Swinging Bridge, Royal Arch Cascade near the Ahwahnee Hotel, and Staircase Falls by Curry Village.
By the time you return home in the evening, you will have enjoyed a busy but very memorable weekend that will certainly leave you wanting to come back to see what else Yosemite National Park has to offer!
Best Time To Go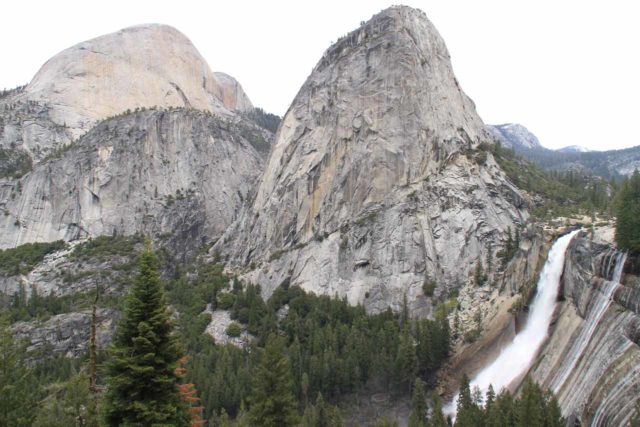 While the waterfalls we're suggesting are the best ones to see very easily, the best time of the year to experience them would be in the Spring and early Summer months when the rivers and creeks would be full from the melting snow.
Of course it really depends on how much of a snowpack had developed during the Winter months so Spring could start as early as late February or early March and end by late May or early June, or it could start as late as May and continue through July.
You'll really have to pay attention to the National Parks website, which lets you know what the current conditions in the park are.
Best Places To Stay
When it comes to where to stay, it's more about location than it is about amenities.
Naturally, the closer you stay to the action, the more time you have to experience the park instead of driving.
Conversely, the opposite is true if you're staying too far from the action.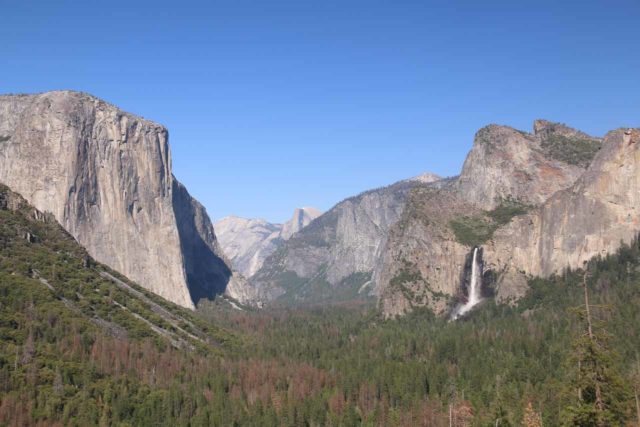 Thus, the best spots to stay in the park are inside Yosemite Valley itself.
The cheapest option is to camp in the Upper Pines Campground as well as the Lower Pines Campground (both near the Happy Isles Trailhead).
However, in addition to bringing your own tent and sleeping gear, securing a campsite is difficult as they often book out as early as 5-6 months prior to the actual reservation date.
Reservations tend to open up 24 weeks prior to arrival date starting on the 15th of each month.
There's also first-come, first-served sites at Camp 4 (also called the Sunnyside Campground) near the foot of El Capitan.
If camping is not for you, then it's possible to stay at the Yosemite Lodge (now called the Yosemite Valley Lodge) or the cabins at Curry Village (now called Half Dome Village).
However, these also require advanced reservations and tend to book out early.
There's also the luxurious Ahwahnee Hotel (now called The Majestic Yosemite Hotel) for more of a splurge.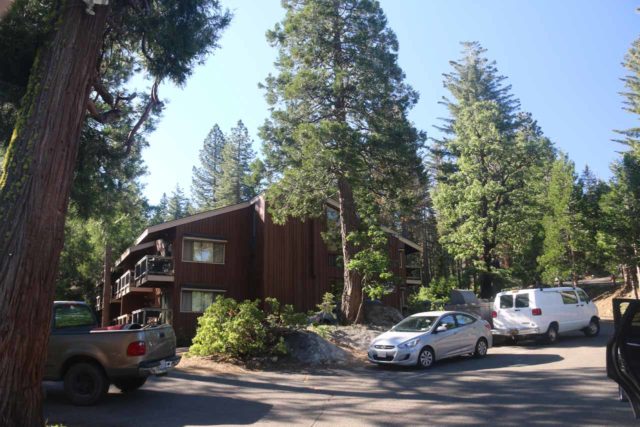 Over the years, we've had some success securing an accommodation barely two- to three-weeks before we showed up.
Obviously, scoring a spot in Yosemite Valley wasn't possible, but we did manage to score a condo in Yosemite West on several occasions.
While it's not a total secret to make advanced bookings, there's still enough people who aren't aware of this option.
Thus, it's possible to make bookings after you're still trying to figure out who's going and what the weather's going to be like.
Visitor Comments:
Got something you'd like to share or say to keep the conversation going? Feel free to leave a comment below...
No users have replied to the content on this page