This was a trip where we tested the limits of our personal car as well as the limits of how much I could drive in a span of a week-and-a-half.
We've always wanted to go to New Mexico and Colorado, and this was our opportunity to do it.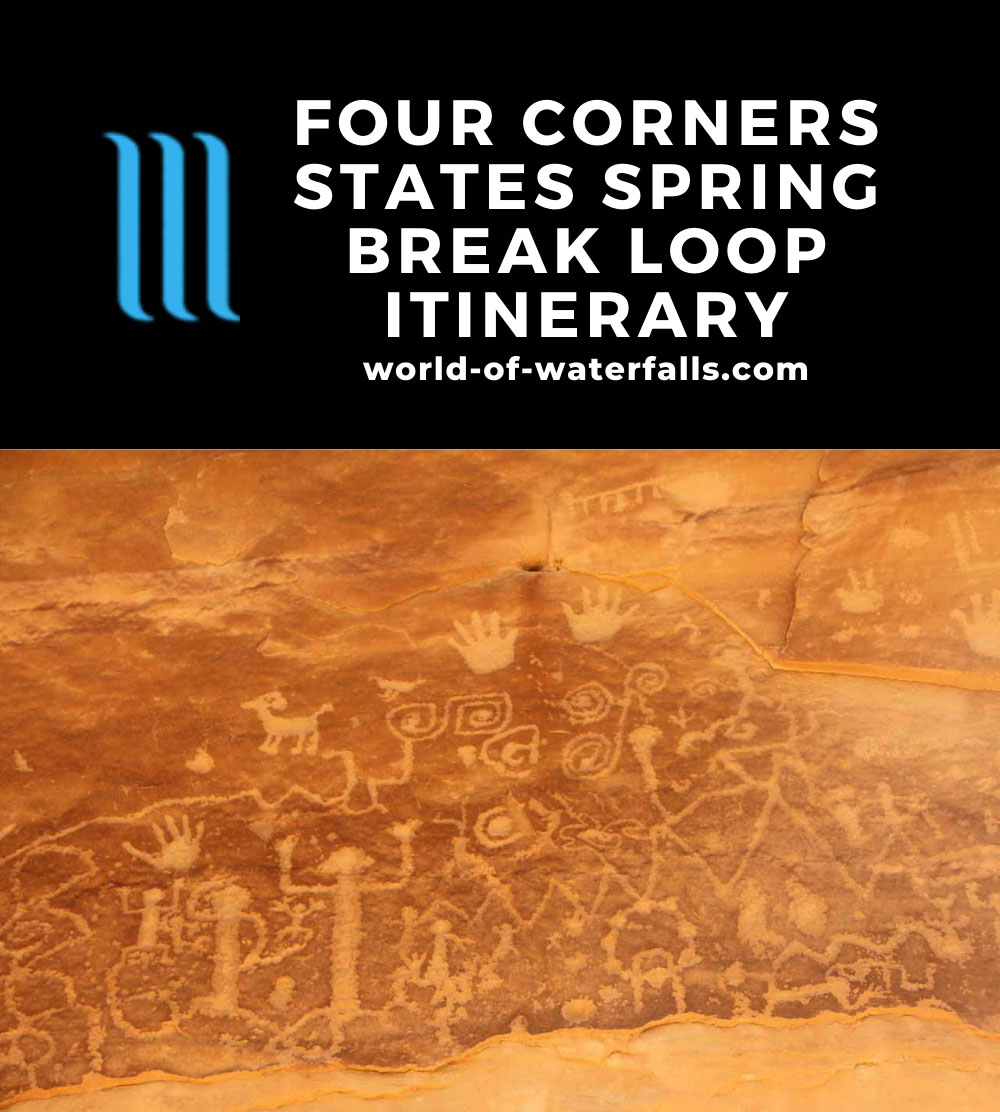 Of course, by necessity, it had to be a road trip since we had to make sure that Julie could bring a pressure cooker and really try to take care of her gut issues, which isn't easy when you're out traveling.
In addition to the unfamiliar places in Colorado and New Mexico, we've also visited some familiar haunts that we hadn't seen in nearly a decade or more. Such places included Sedona, Arches and Canyonlands National Parks, and even some surprising Nature within the Las Vegas vicinity!
Here are some highlights and the logistics of how we made this trip happen…
Trip Map
This map and its markings were produced by this app.
Trip Highlights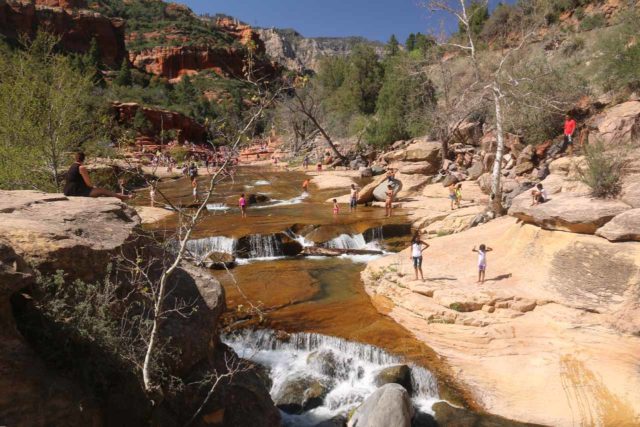 Slide Rock – this fun swimming and play area on Oak Creek was perhaps Sedona's most famous natural attraction. The popularity was largely due to people seeking relief from the desert heat, but its relatively close location to the town of Sedona certainly aided in its popularity.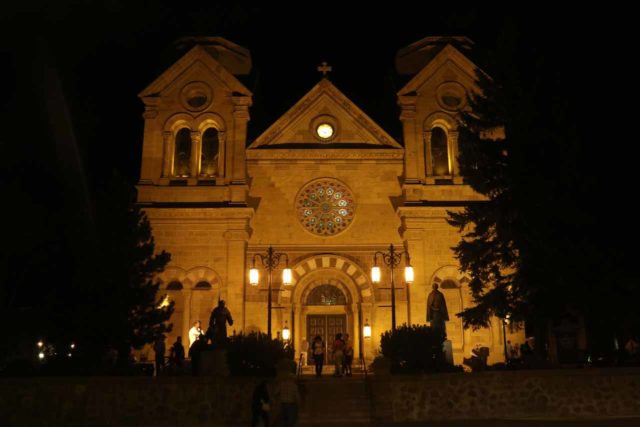 Santa Fe – Julie and I were pleasasntly surprised by the charm and historical southwest feel to the state capital's downtown region. Many of the buildings had that sort of earthy Gaudi feel to it, and the downtown area itself was compact enough to walk around and truly get a feel for the place. Our regret was that we should have spent more time here to really savor the unexpected charm and ambience.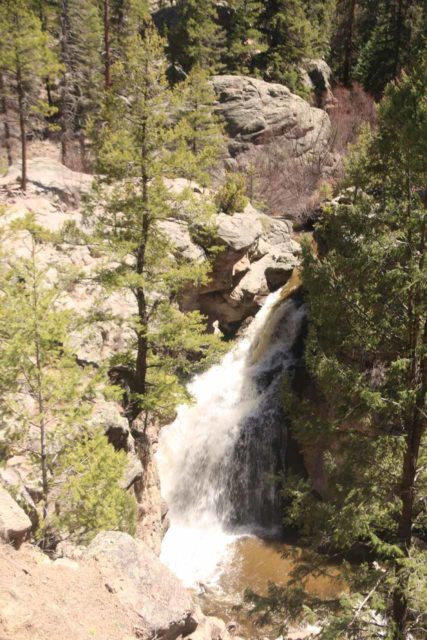 Jemez Falls – although this waterfall felt like it was off the beaten path, it was actually quite popular for a waterfall in New Mexico. Even the seasonal closure of the access road to the parking lot closest to the falls being closed (resulting in us having to walk even farther to the falls) didn't stop people from coming.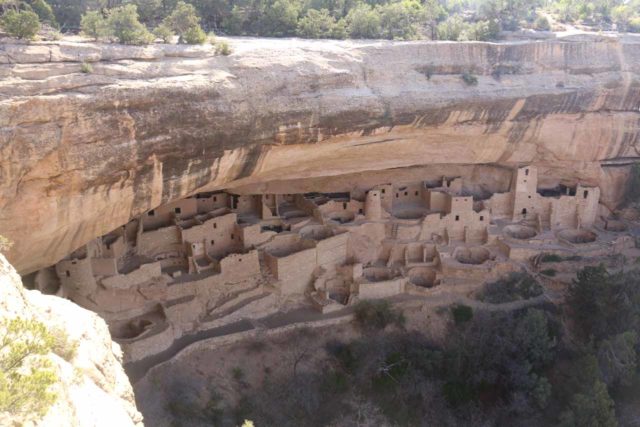 Mesa Verde National Park – with this reserve, it was all about the Anasazi ruins and restored cliff dwellings. Indeed a visit here made our imaginations go wild as we were constantly thinking back to how it must have been like living within these cliff dwellings situated in seemingly impossible places high up against vertical cliffs. In addition to ruins (like the Cliff Palace), we also did a hike to see Native American Petroglyphs. So all around, this was certainly one of the better places we visited on our Four Corners Spring Break trip, and the only bad thing was that we couldn't do any guided tours to get real close to the Cliff Palace as those tours didn't start until after Memorial Day…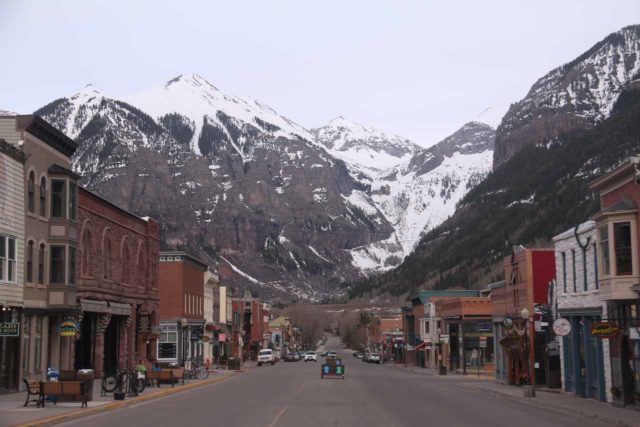 Telluride – while the timing of our visit wasn't the best as there was still too much snow and ice for the signature Bridal Veil Falls to be unfrozen and the quietness of the town made it seem like a ghost town, there was no denying the beauty of the location. We even managed to squeeze in an unexpected waterfall visit at Cornet Falls. This town is definitely on our bucket list for a return trip later in the Summer.
Cascade Falls – this waterfall was our excuse to visit the town of Ouray though it seemed like preparations were being made to make it into a Summer spa destination. With such limited time on our visit, we at least got to catch this waterfall and a taste of the charming town. But there was so much left unexplored that we'll have to make it a point to come back on our next visit to this part of Colorado.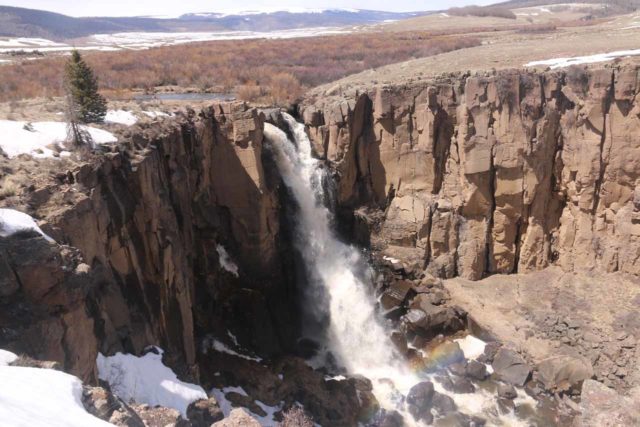 North Clear Creek Falls – we made a very long detour to get all the way to this waterfall, which was actually not open for the Summer season quite yet during our visit. But there was enough snow that had thawed out that I was able to walk the spur road to reach this attractive waterfall. It was definitely well worth that detour!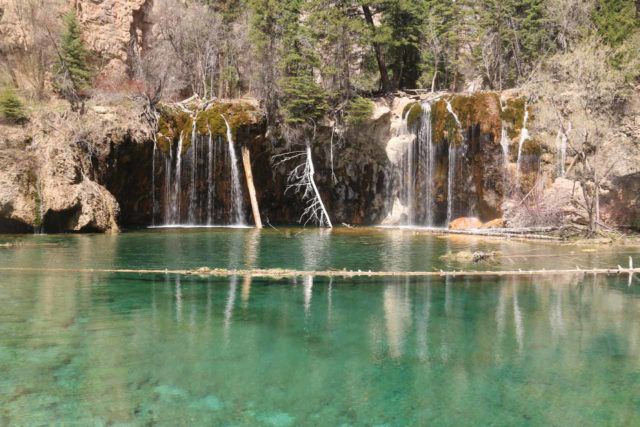 Hanging Lake – this had to have been the scenic highlight of our Four Corners Spring Break trip as it featured two impressive waterfalls as well as a miniature Plitvice-like lake featuring very clear water and a color that made the effort to get up to this lake all the worth while.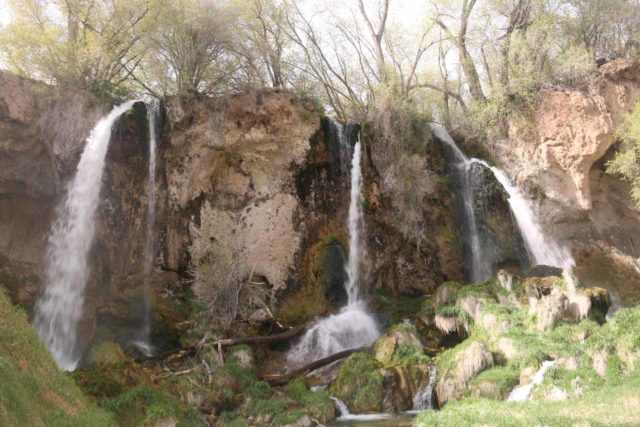 Rifle Falls – this triple-segmented waterfall provided us with a nice opportunity to cool off after the hangover from our Hanging Lake excursion earlier in the day. It was more laid back and quite easy to visit as our self-tour included seeing the falls from various angles as well as checking out some interesting caves.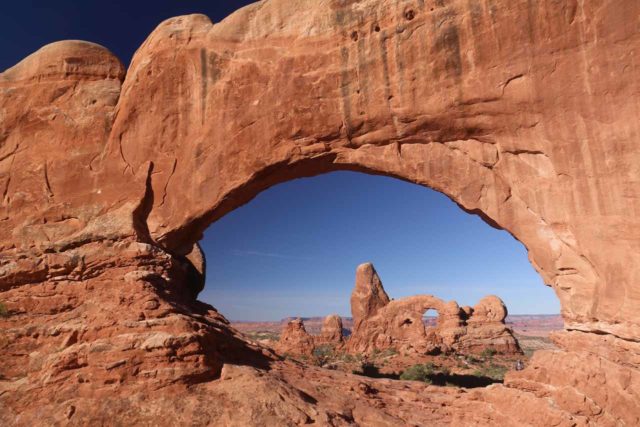 Arches National Park – it had been nearly 17 years since Julie and I last visited this park, and quite a bit had changed (including the crowds). At least this time around, we made our visit under comfortable temperatures instead of the desert heat of late June. All that meant we got to enjoy familiar haunts and share the experience with our daughter who was taking it all in for the first time.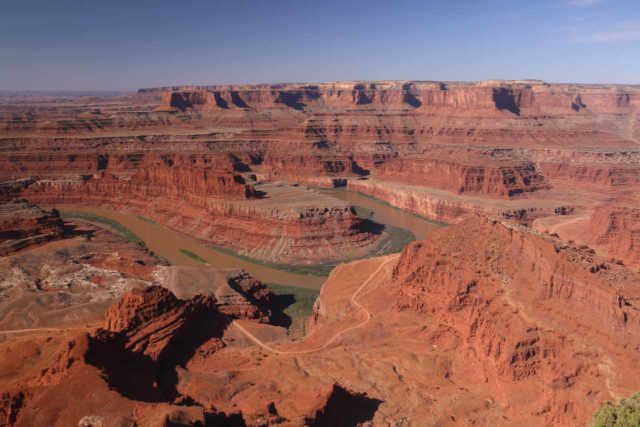 Dead Horse Point – this was another one of those places that we hadn't been to in nearly 17 years. It was one of the few places where we could witness a gooseneck of the Colorado River amidst some attractive canyon scenery that could only be found in the American Southwest.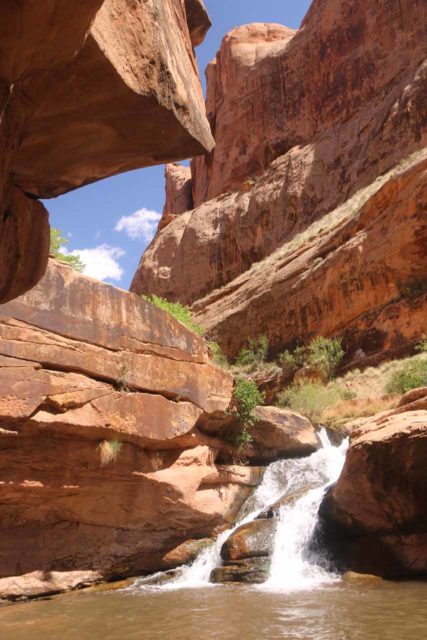 Mill Creek Falls ("Left Hand") – this was a spontaneous waterfalling surprise as I would have never imagined that a waterfall could be within the city limits of Moab. Yet there it was as a popular attraction where vacationers would come here to play in the water and even do cliff dives (so I wouldn't recommend the latter). Apparently, there were also petroglyphs here, but unless you know where to look, they're not easy to find.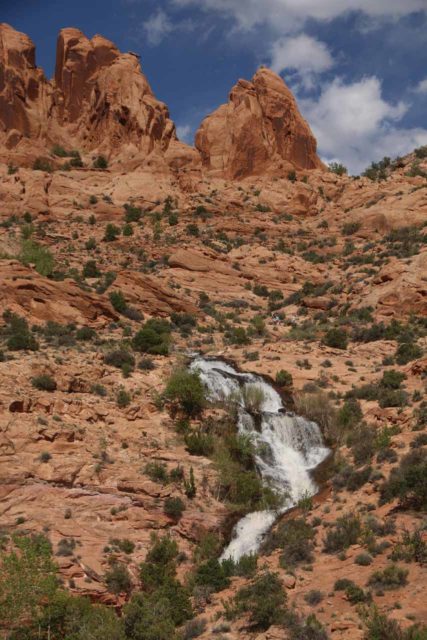 Faux Falls – technically, this waterfall wasn't real (hence the name), but it turned out to be one of the more enjoyable waterfalling experiences to be found in the Moab vicinity. It had a real healthy flow during my visit and it was backed by impressive formations to give this falls even greater scenic allure.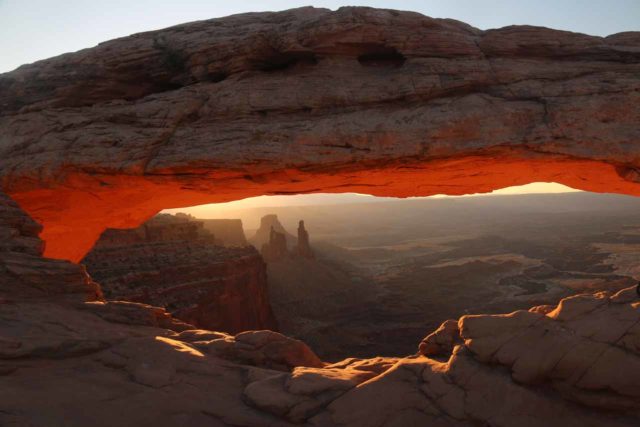 Mesa Arch Sunrise (Canyonlands National Park) – I still remember the time when we were all by ourselves experiencing the sunrise at Mesa Arch. On my latest visit, there was a large group of people with tripods trying to get that money shot. Clearly, this place is obscure no more, but it still doesn't take away from the beauty of this scene where we could look through the cliff top arch towards the Washer Woman Arch and Monster Butte in the distance.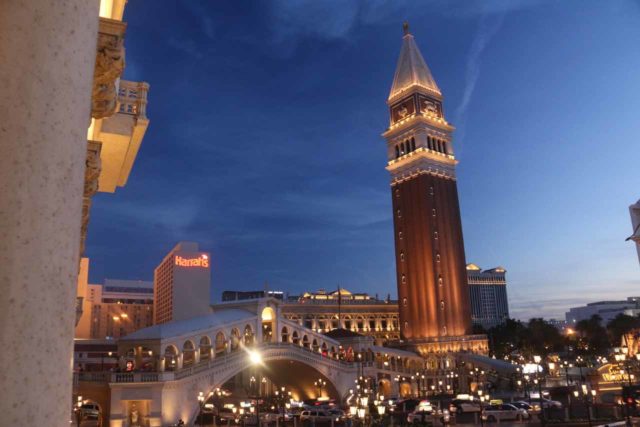 Las Vegas Strip – while this isn't high on my list of favorite places to visit, I have to admit that it did possess a certain energy (especially at night) that reminded me of some of the city centers in Europe. It was definitely quite fun to be within all that energy and ambience, and it kind of took us by surprise. Maybe it's me that should keep a more open mind about Sin City.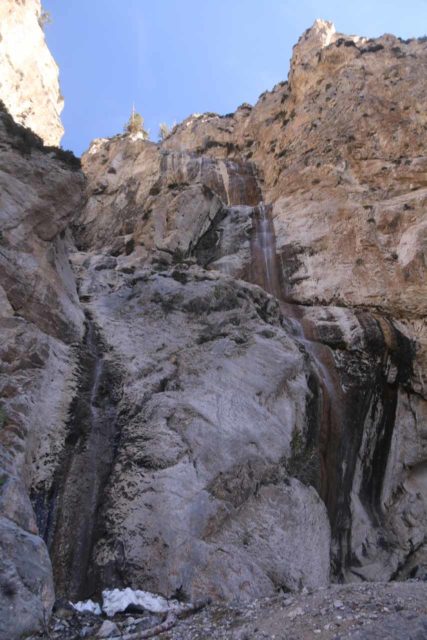 Mt Charleston – who knew that within about an hour's drive from Las Vegas a Nature Lover's retreat featuring a few attractive waterfalls like Mary Jane Falls, "Medium Falls", and Little Falls among others? It's surprises like these that compel me to keep an open mind and look for hidden gems that would otherwise blow my preconceived expectations.
Trip Advice
Going on road trips during Spring Break seems to be a two-edged sword these days. While we did enjoy smooth drives and pleasant surprises off the beaten path, in some places, it was too early in the season while in other places, it was crowded.
Here's some of the other lessons learned from this trip during Spring Break…
Good weather and beating the heat: The desert southwest was starting to heat up, but it was still mild and comfortable throughout as the temperatures didn't break 90F. In places like Mesa Verde, Sedona, Moab, Santa Fe, Grand Junction, and even Las Vegas, the weather was nice and perfect for outdoor activities.
Off-the-beaten-path: Most of the places we went to on this trip was definitely off-the-beaten-path, and thus it was delightfully uncrowded. For those places, the drives were pleasant (and mostly empty) and the same could be said of the sights. Plus, being off-the-beaten-path made our experiences seem more authentic and more like our own experiences instead of that feeling that we were living someone else's experiences by doing more cookie-cutter attractions and itineraries.
Crowded in Popular Spots: Even though Spring Break schedules are staggered throughout the Nation, it seemed like everyone knew about the Mighty Five National Parks in Utah, and the crowds experienced at Arches National Park and Sedona (Arizona) certainly was a testament to that. Thus, finding parking, dealing with traffic, and dealing with crowds were certainly an issue. The drive home from Las Vegas also wasn't fun as we had gotten used to people respecting the road rules by keeping right except to pass, but as we got onto that dreaded I-15 stretch between LA and Vegas, those road rules went out the window, and the result was unnecessary congestion and road rage.
Too Early In The Season for Telluride and Mesa Verde: While the weather and timing of our trip was ideal, there were a couple of spots where we showed up too early in the season. These places were Mesa Verde (because the guided tours to get closer to the Anasazi ruins didn't start until Memorial Day) and Telluride (where waterfalls were still frozen and it felt more like a ghost town). I guess it's all a matter of perspective because Mesa Verde did seem to be quieter (though we had to work a bit to even see petroglyphs but no tour into the Cliff Palace). Moreover, one of the workers at the accommodation we stayed at in Telluride was saying she much preferred the shoulder season because it was very quiet due to not enough snow for skiing and still too much for hiking or waterfalling. It just wasn't great from a waterfalling standpoint.
Travel Itinerary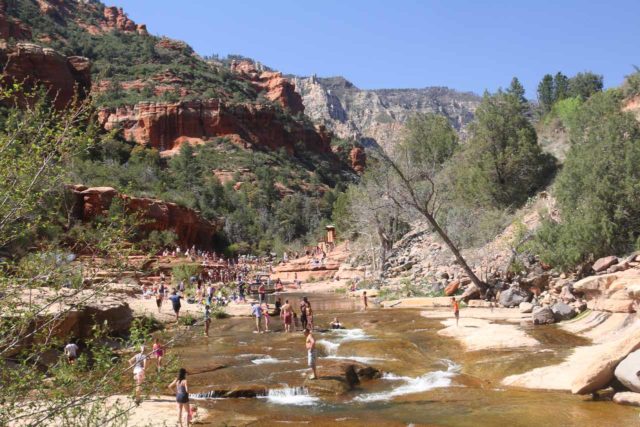 Day 1: Drive from Los Angeles to Sedona
We drove out early to head opposite the direction of rush hour traffic and to avoid the weekend Vegas traffic. The early start was also very necessary to allow us to make it to Slide Rock before checking in. That was a good move because Tahia really loved playing in the water there.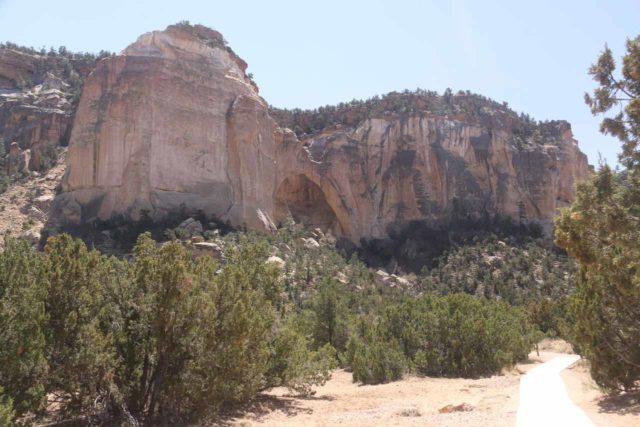 Day 2: Drive from Sedona to Santa Fe
This was another long day of driving, where we continued east on the I-40 towards Albuquerque with a couple of detours – one to the La Ventana Natural Arch and another to Travertine Falls, which wasn't flowing. We then spent the remainder of the long day touring the charming downtown Santa Fe wishing we had more time there.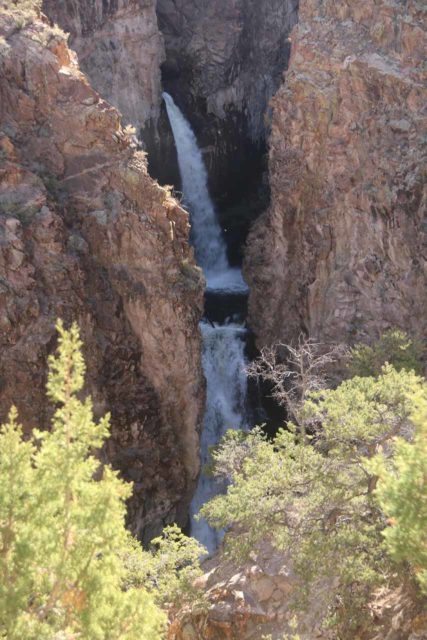 Day 3: Santa Fe to Durango
Overnight: Homewood Suites (Durango, Colorado, USA)
This was yet another busy day of driving where we visited a pair of waterfalls (Nambe Falls and Jemez Falls on the way to Durango. A surprise side-effect of our drive was passing through the Los Alamos Research Facility accidentally then driving past the Valle Grande, which I believe was part of a large caldera.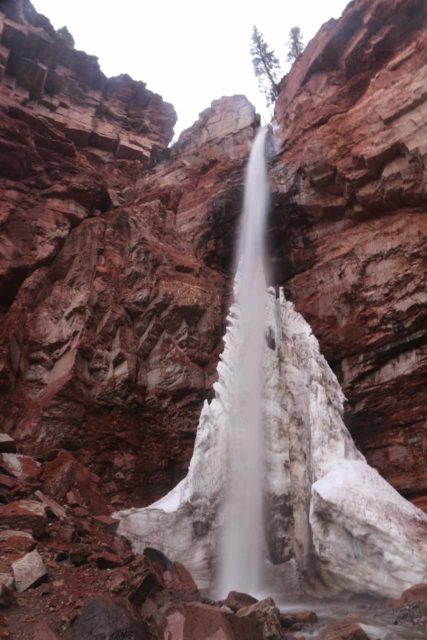 Overnight: The Victorian Inn (Telluride, Colorado, USA)
This day was dominated by a visit to Mesa Verde National Park before continuing on to Telluride. I had expected to spend the entire day in Mesa Verde, but the lack of tours made it so we wound up doing a self-guided hike instead to see petroglyphs. Still, the sights and experiences of Mesa Verde impacted us so much that we still talk about our experiences here years after this visit!
When we made it to Telluride, we still had enough daylight left for a little divide-and-conquer action where I visited Bridal Veil Falls and Cornet Falls.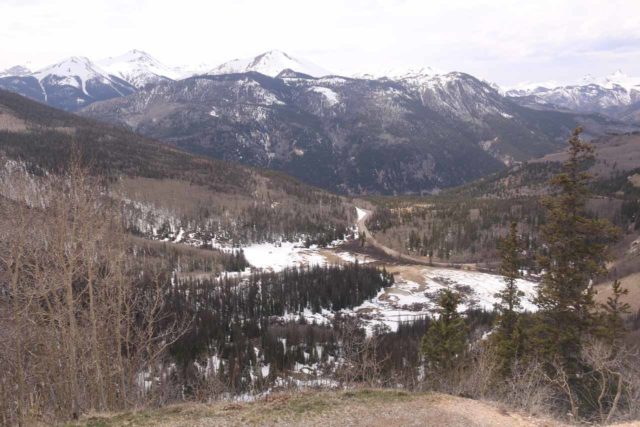 Day 5: Drive from Telluride to Grand Junction
This was yet another long day of driving, but at least it would be the last of our consecutive days streak of vagabonding (i.e. not overnighting in any place for more than a night). Along the way on this drive, we took a detour to Cascade Falls in Ouray, then took an even longer detour to North Clear Creek Falls.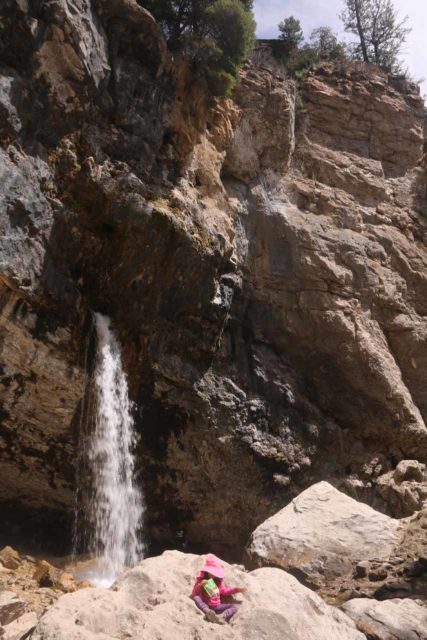 Day 6: Day Trip To Hanging Lake
On this day, we did a day-trip to the long-anticipated Hanging Lake, where we did the hike up to Bridal Veil Falls and Spouting Rock. We then spent the late afternoon visiting Rifle Falls.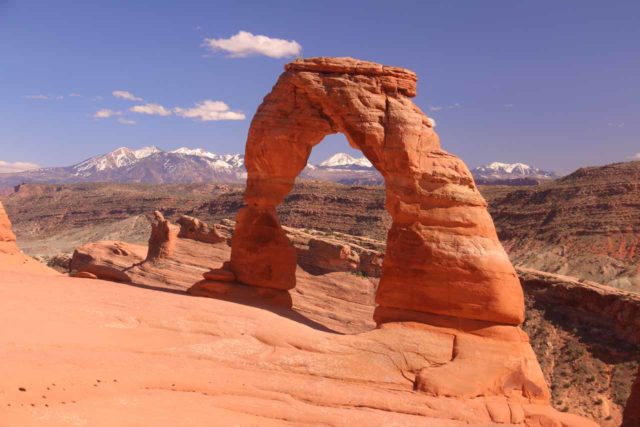 Day 7: Drive from Grand Junction to Moab
Overnight: Kokopelli Lodge (Moab, Utah, USA)
The drive between Grand Junction and Moab didn't take much time. So we wound up spending the majority of the day touring Arches National Park, which was much busier than when we were last here 17 years prior. At least we were able to fit in attractions like Park Avenue, the Windows Section, and Delicate Arch.
Day 8: Dead Horse Point and Moab Waterfalls
Overnight: Kokopelli Lodge (Moab, Utah, USA)
We began this day by driving out to Dead Horse Point before backtracking towards the Moab Giants, which was a little kitschy paleontology park for Tahia to have fun at. We then did a divide-and-conquer for the rest of the day where Julie and Tahia checked out downtown Moab while I visited Mill Creek Falls and Faux Falls.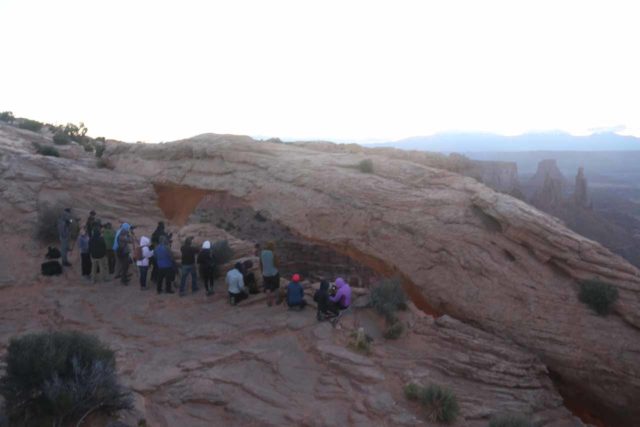 Day 9: Drive from Moab to Las Vegas
I began this day driving out to Mesa Arch to catch the sunrise (along with a crowd of other people) then head back into Arches National Park to visit Turret Arch before returning to Moab to check out and start the long drive to Las Vegas.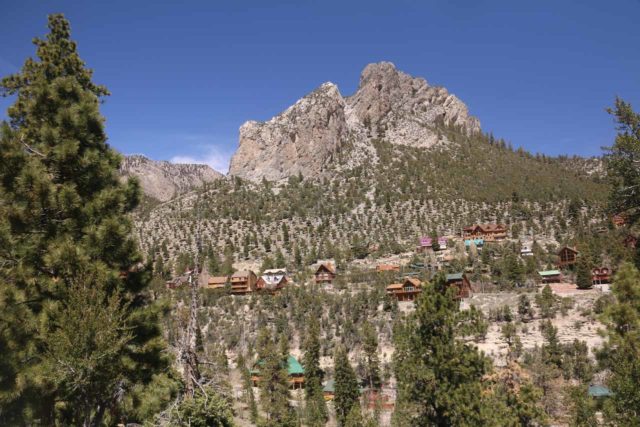 Day 10: Mt Charleston
I did a solo adventure to Mt Charleston visiting Mary Jane Falls, "Medium Falls", and Little Falls. Meanwhile, Julie and Tahia visited a relative.
Day 11: Drive from Las Vegas to Los Angeles
On this final day of our Spring Break Trip, we drove home. As usual, there's nothing really to talk about concerning this drive except for episodes of road rage caused by inconsiderate drivers clogging the passing lane and causing congestion.
Best Places We've Stayed At

Hyatt Residence Club Sedona, Pinon Pointe – This accommodation was hands down the best place we stayed at on this Spring Break Trip. Not only was the apartment spacious, but it was surrounded by attractive red rocks that was quintessential Sedona. It was also pretty centrally located though the roundabout below the property was the source of the traffic heading into town.
Although we were only here for a night, we could easily see ourselves spending more nights here on a future visit, where we could experience more of Sedona while also taking advantage of the swimming pool there that Tahia would definitely enjoy (if she wasn't playing at Slide Rock).
Related Trip Reports
Waterfalls included in this itinerary
Visitor Comments:
Got something you'd like to share or say to keep the conversation going? Feel free to leave a comment below...
No users have replied to the content on this page