This itinerary covered a three-week trip that can be split up into two parts.
The first part of the trip was pretty much a week-long self-driving loop of a limited part of Northern France that started and ended in Paris.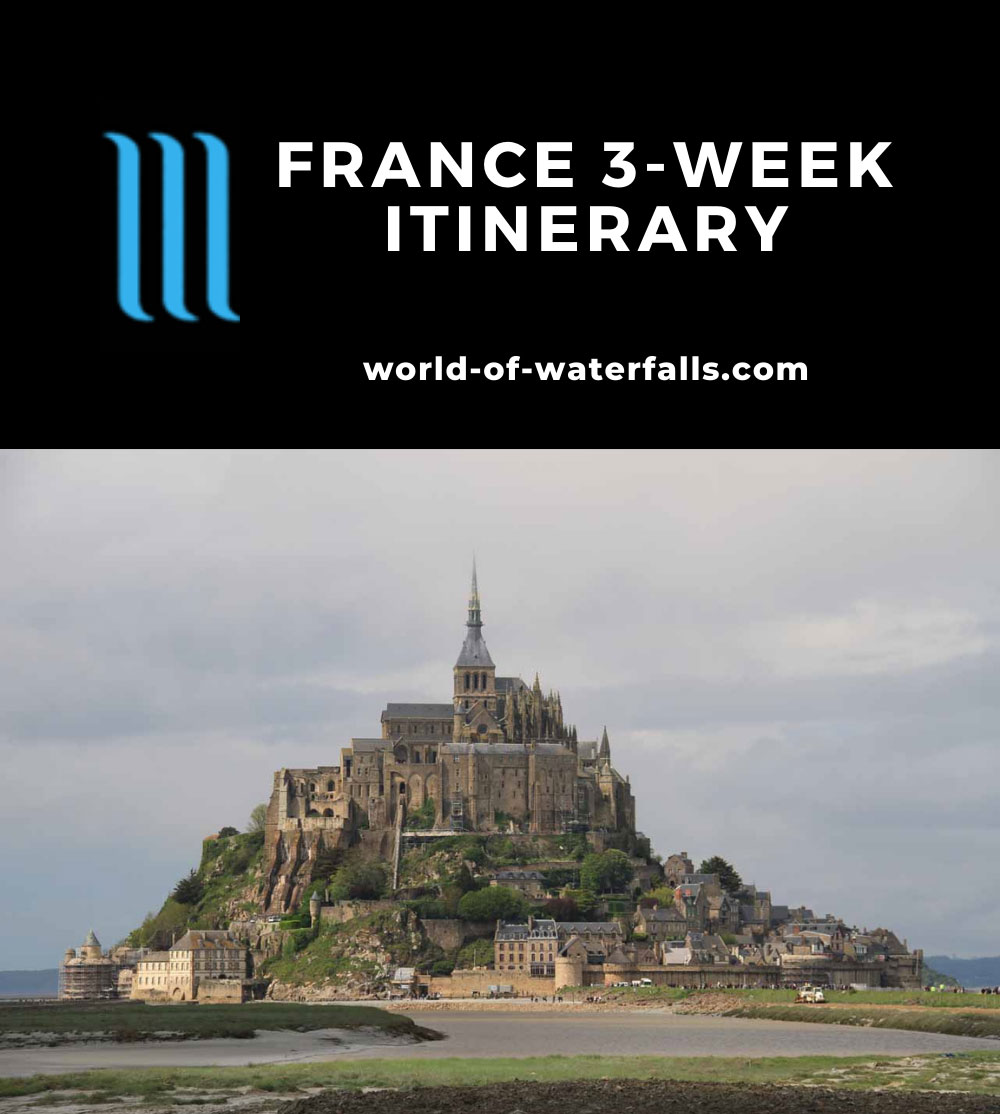 The second part of the trip covered two weeks of a much longer loop of Southern and Central France that started and ended in Lyon.
That said, this page will cover both loops in a coherent itinerary. Here are some of the highlights and logistics from this trip, which you may find useful in your trip planning efforts…
Trip Highlights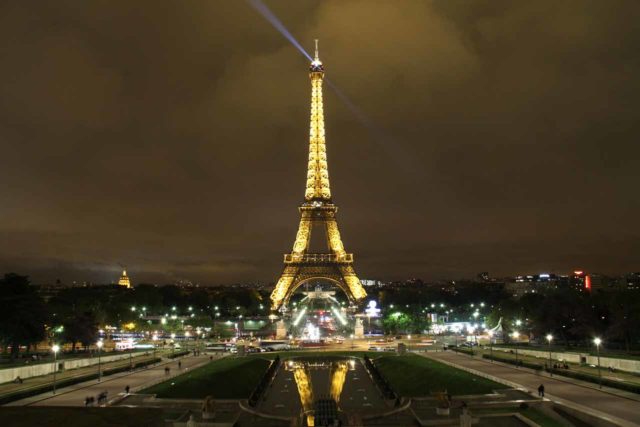 Paris – You can't go to France and not set foot in what has been often cited as the most romantic city in the world. While the city does have an edgy and grungier side, most people see the flashy side. And who can blame them? You've got the obvious attractions like the Eiffel Tower, the Notre Dame Cathedral, the Sacre Coeur, Versailles, Champs Elysees, Le Louvre, and the hits just keep coming.
It sure feels like a crime to just have a single entry representative of Paris, but this city wasn't the only highlight of this country on our visit as you'll see further down on this page.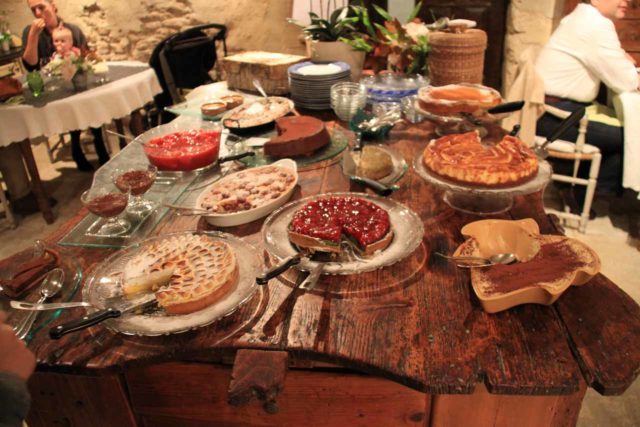 French Foodie Scene – The French take pride in their labor-intensive food. I swear that having the real deal here kind of ruins it for all other future experiences back at home. Because the imitations we're exposed to back at home simply can't compare to the quality and attention to detail you get in authentic French cuisine. This is true for everything from croissants to souffles to foie gras to escargots to crepes… you name it! We even fell in love with French apple ciders from Normandie. Indeed, once you've had the good stuff, there's no turning back…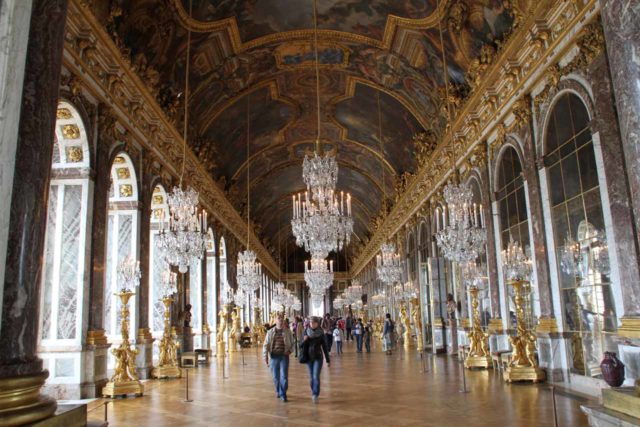 Chateau de Versailles – I'm including this as its own entry because this massive display of concentrated wealth was an experience in and of itself. From the impressive Hall of Mirrors to the individual rooms, you can clearly see how disconnected the royalty were with the rest of the population (sewing the conditions for the French Revolution).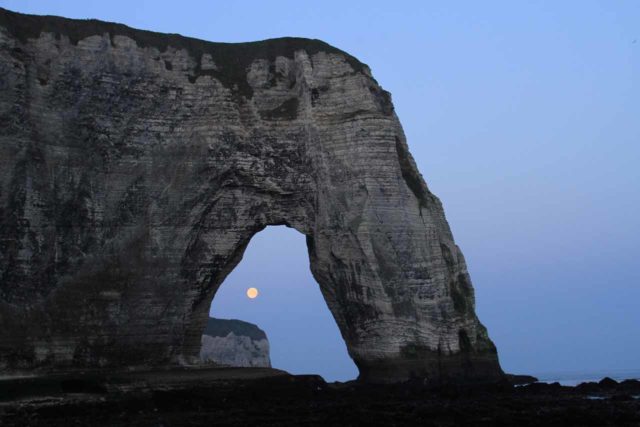 Etretat – This charming seaside town in Normandie featured three major natural arches as well as a small waterfall. It also had delicious crepes and seafood. We definitely hope we can come back here again and experience that nature and the charm that was on display here.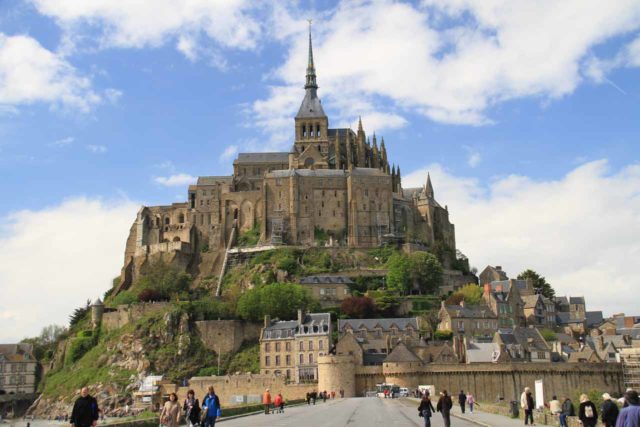 Mont Saint Michel – This abbey that doubled as a kind of fortification (further protected by the tides of the English Channel) was what I'd imagine medieval times might be like if you strip away all the touristy stuff. Not only was this abbey town a sight to behold from before the causeway, but once inside the city walls, it really felt like we had stepped back in time.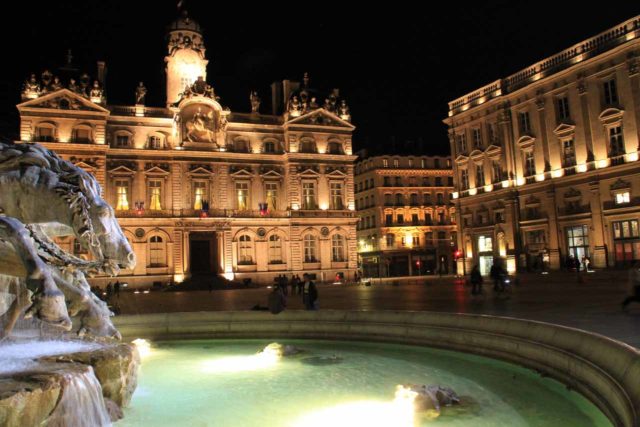 Lyon – This was said to be France's second largest city, and while its attractions were more understated and less-visited than its Parisian counterpart, there were still things that caught our interest like the Hotel de Ville (Town Hall), les traboules (basically labyrinths of spooky corridors), and more.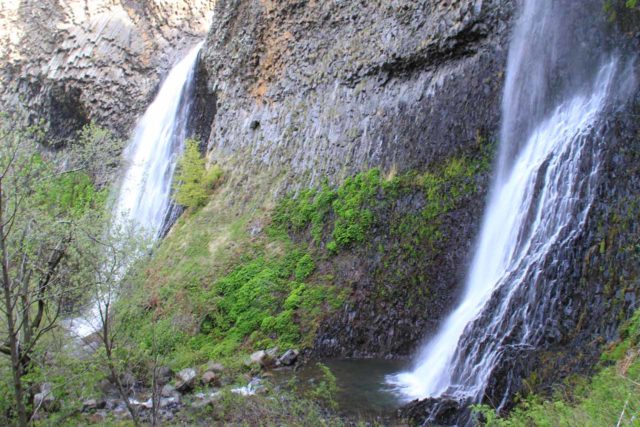 Cascade du Ray-Pic – This double-barreled waterfall was impressive in that it was supported by basalt columned cliffs in much the same way that Icelandic waterfalls were doing when we were there five years before this trip. Of course, the waterfalls themselves were impressive in their own right, and it was a great introduction to the more off-the-beaten path places that I'm sure most foreign tourists don't bother to come out to see.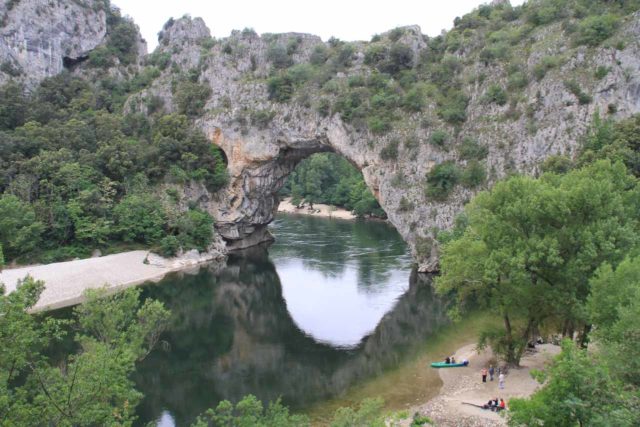 Pont d'Arc – This huge natural bridge was pretty easy to visit even if it took a bit of a drive deep into the rocky Ardeche region. As you can see from this photo, the people who kayak in the stream while others play by a small beach gives you a sense of scale of how huge this thing is!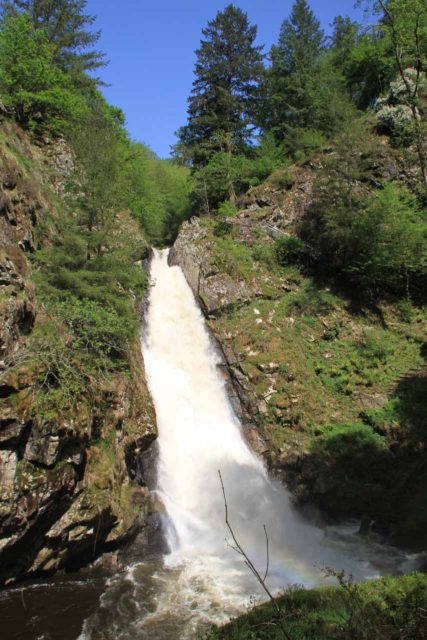 Gimel les Cascades – This series of waterfalls was definitely off the beaten path in Central France. The trailhead was the town of the same name, which was small and quaint. We had ourselves a peaceful experience here under some gorgeous sunny weather.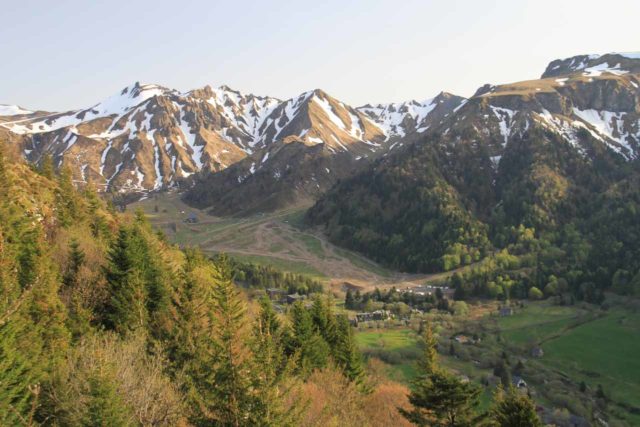 Mt-Dore and the Grande Cascade du Mt-Dore – This mountain town in the heart of Central France was really more of a ski town so it felt a bit on the dead side. But that meant we had a wonderful time hiking and exploring what there was to see and do here. It was almost as if a different side of France was revealing itself to us (one that most foreign tourists never get to see).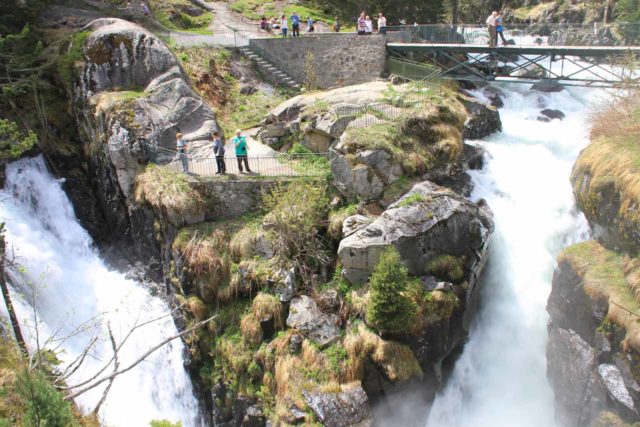 Pont d'Espagne (Bridge of Spain) – I view this historical bridge more like a waterfalling excursion and less like a historical site. For just upstream from the bridge were a pair of gushing streams rushing to converge and pass under the Pont d'Espagne. Further downstream, there were more cascades feeding the same stream system as it passed through some towns as well.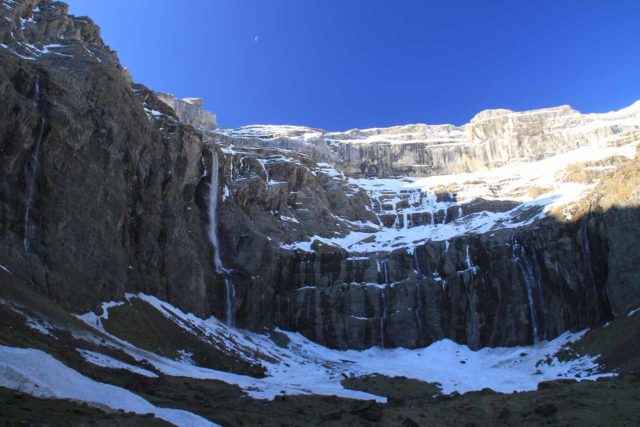 Cascade de Gavarnie – This was one of France's tallest waterfalls (if not the tallest) and it sat right at the head of a glacial cirque. We actually had to visit this waterfall twice due to bad weather, but that second visit was certainly worth the wait and the effort.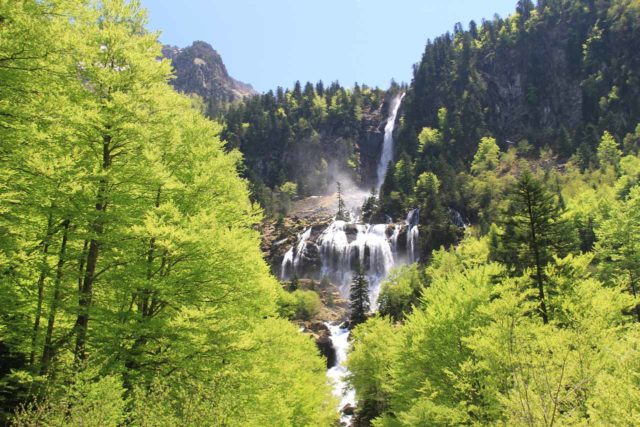 Cascade d'Ars– This off-the-beaten-path waterfall was seen on the long drive between Gavarnie and Carcassonne. What really stood out about this waterfall was its bulb-like shape as the stream fell initially as a narrow plunge, then fanned out into a bulb before re-joining further downstream.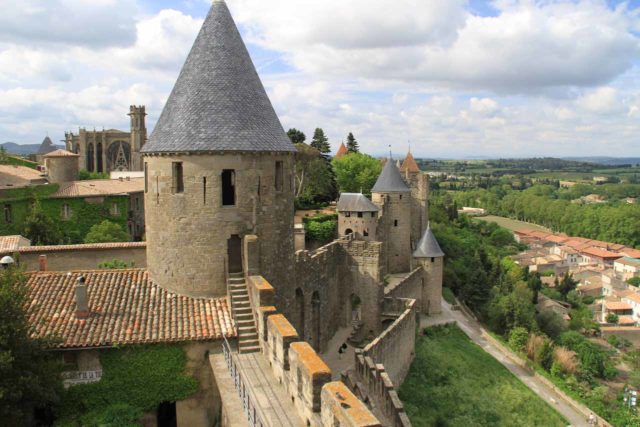 Carcassonne – This fortified medieval town was another one of those places where it felt like we were in some kind of role playing fantasy game as the town itself felt like we were stepping back in time. The ramparts walk gave us that sense of what it must be like to be on guard while looking for invaders looking to raid the city. In hindsight, I wish we had spent another night here to really get to enjoy this place as well as the cassoulets that this area was known for.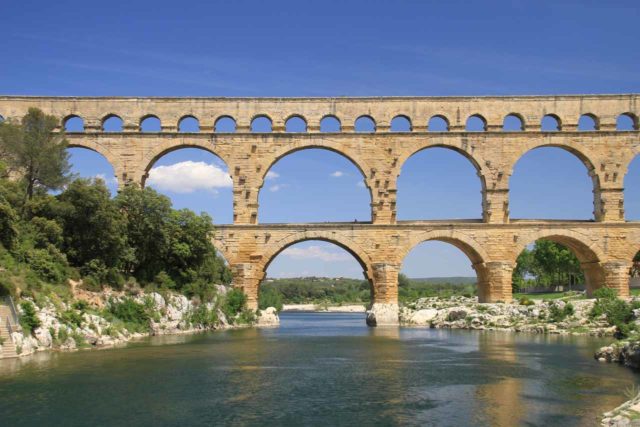 Pont du Gard – This was probably France's finest example of a Roman aqueduct though this particular one looked to have been reinforced over the years. Still, such a sight in the country seemed a bit unusual, and that was what made this place memorable.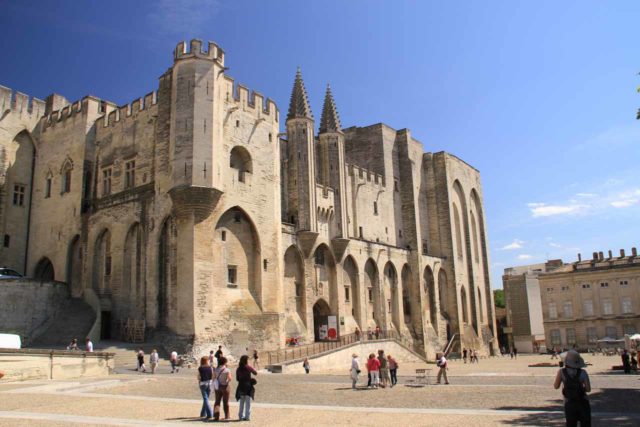 Avignon – We didn't spend a whole lot of time in this Southern French town, but we definitely made it count with a visit inside the impressive Pope's Palace.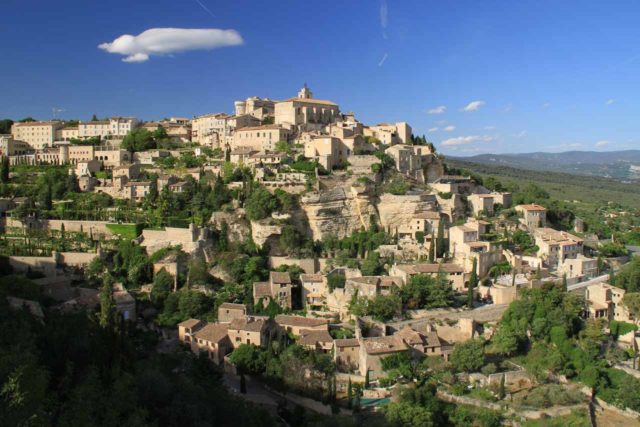 Gordes – This charming medieval town seemingly built on a hill was a pleasant place to visit as part of our self-tour of Provence. The panorama from the lookout taking in this town from the outside just beckoned for us to have a closer look, which we did.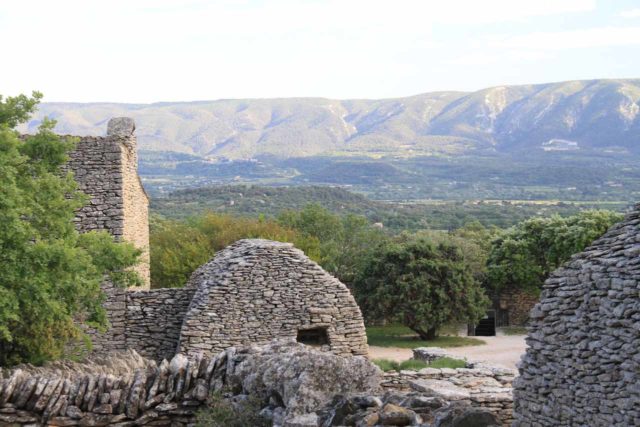 Village of Bories – This strange village where every structure was made of piles of slabs and stones made it appear that there were beehives everywhere. We weren't sure what the rationale was behind them building in this manner, but it certainly was memorable.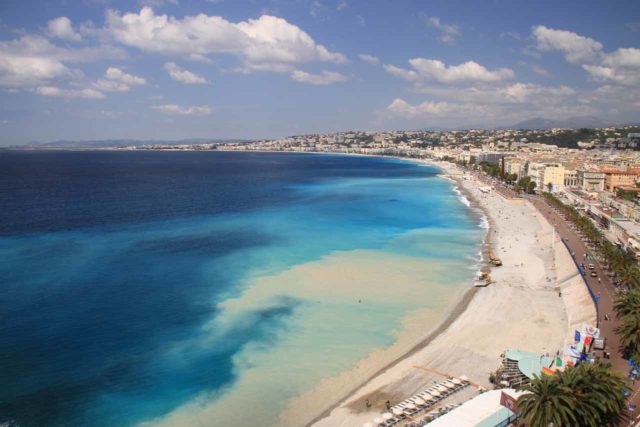 Nice – This coastal city featured an extensive stretch of beach, some happening outdoors markets, and some city sights worth checking out. Of course, we extended our time exploring the immediate area by during up and down a couple of the corniches. We even managed to get a top down glimpse of Monaco.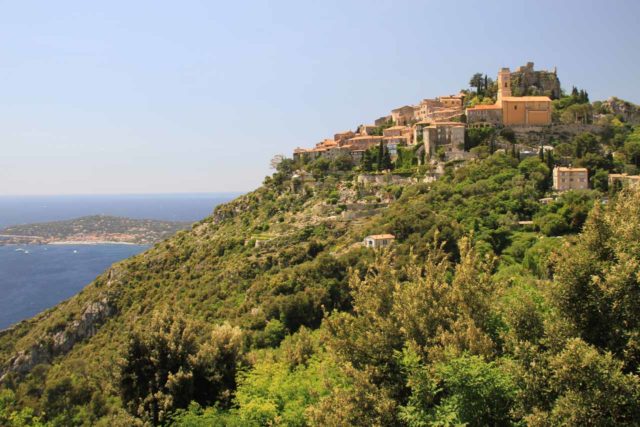 Eze – This charming town perched on top of a hill overlooking the Mediterranean Sea was quite a sight to behold. It kind of reminded me of what visiting Oia on Santorini Island in Greece was like, where there were balconies and mysterious walkways backed by the deep blue Mediterranean Sea (that just begged to be photographed with the imagination running wild). We found this place whilst driving up one of the Corniches Roads.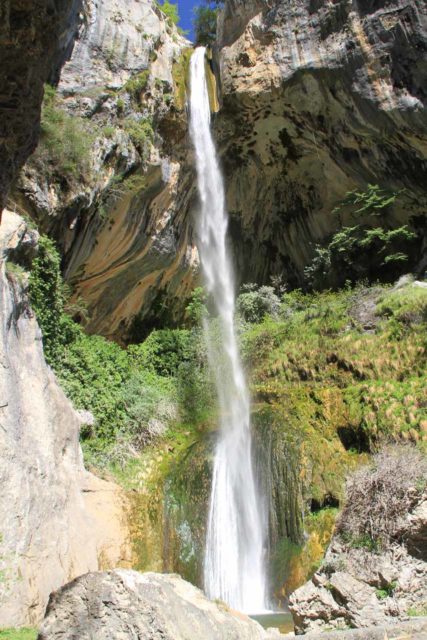 Cascade de Courmes – This tall plunging waterfall not far from Cannes kind of reminded me of what Lower Calf Creek Falls in Utah. However, in this instance if it wasn't for the trail closure, it might have been possible to walk behind the falls and experience it in a way that is simply not possible from the road. Nevertheless, such scenery was one of the pleasant surprises proving again that France is full of gems like this if you're willing to do a bit of research and exploration.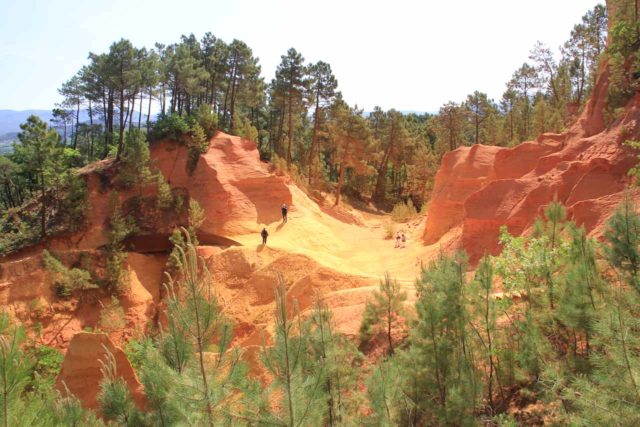 Rousillon – This town flanked by red cliffs and rocks that reminded me of a French version of Cedar Breaks or Bryce Canyon in Utah had a bit of an artisan feel to it since the buildings and homes here were built out of the red stuff while accentuated with a simplicity that was reminiscent of something out of the American Southwest deserts. The town still has that European medieval charm to it, though, and it's this unusual combination that made us remember this place fondly.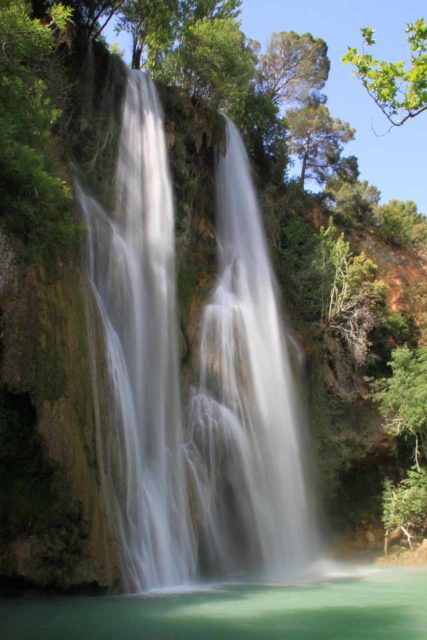 Sillans La Cascade – To me this was the signature waterfall of the Provence region as it featured a double-barreled drop that produced rainbows at its base. Apparently, the official trail to its bottom was closed but that closure seemed to be ignored. Indeed, the views from the bottom were way better and more intimate than the overlook. I guess it's a roll of the dice if it's possible for you to do it if you get around to it.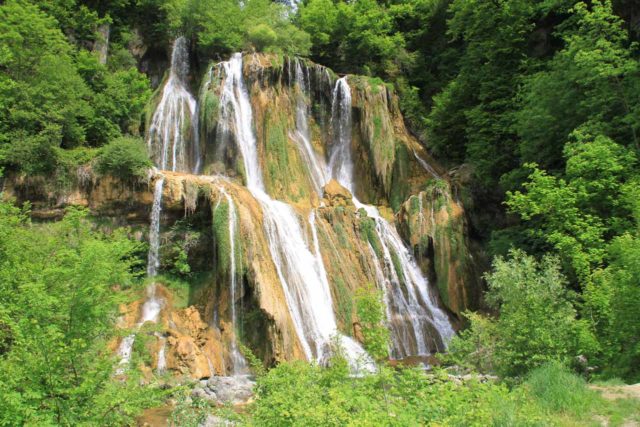 Cascade de Glandieu – This colorful waterfall was one of the easier ones to visit. When the sunlight strikes, its underlying green and yellow algae layers glow against the bright white of the falling water. It's definitely worth the stop if you're in the area and headed to Annecy (as we were).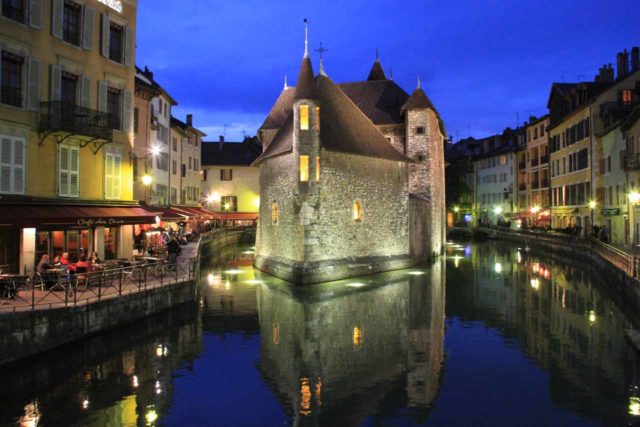 Annecy – This town was kind of a much smaller scale of Venice yet had a bit of that Lake Tahoe vibe around the lake (except this place had more dramatic mountain backdrop scenery). When Julie and I first came here on this trip, we instantly fell in love with it. As a matter of fact, we've had family friends who were equally enamored with this town after having gone there based on word-of-mouth recommendations that probably started from us. In addition, the town was very close to two waterfalling excursions – Cascade de Angon as well as Cascade de Seythenex.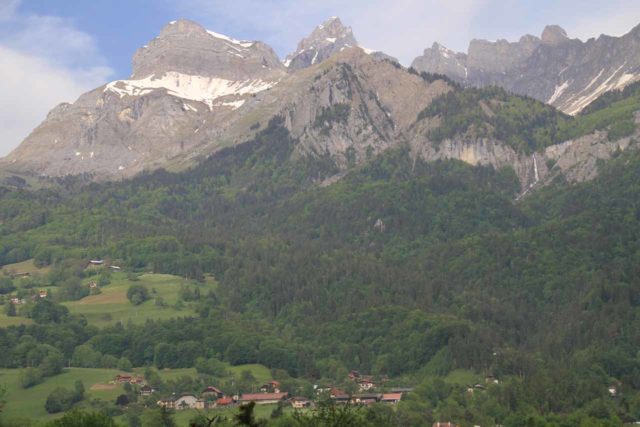 Cascade d'Arpenaz – This very tall plunging waterfall was impressive on its own, but we found the scenery opposite the falls was every bit as beautiful (as you can see in this photo). After all there were other waterfalls tumbling beneath hanging valleys all backed by jagged peaks dwarfing cute little villages and hamlets.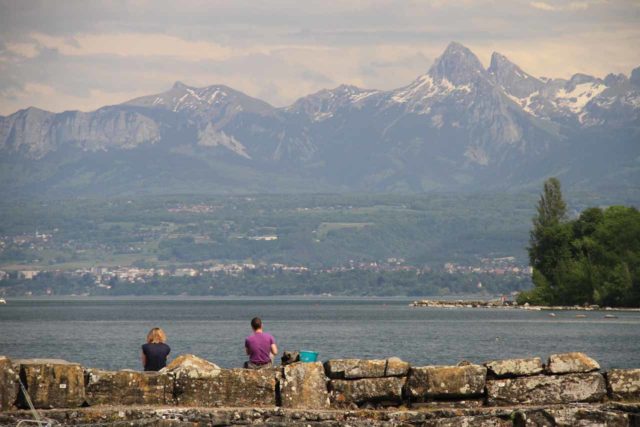 Yvoire – This charming lakeside town was compact and charming. We especially liked the calm waterfront where we could see jagged snow-capped mountains in the distance. Busy by day (probably by day visitors coming from Geneva) and quiet by night, it was a fine way to end off our time in the French Alps region and head into the Jura.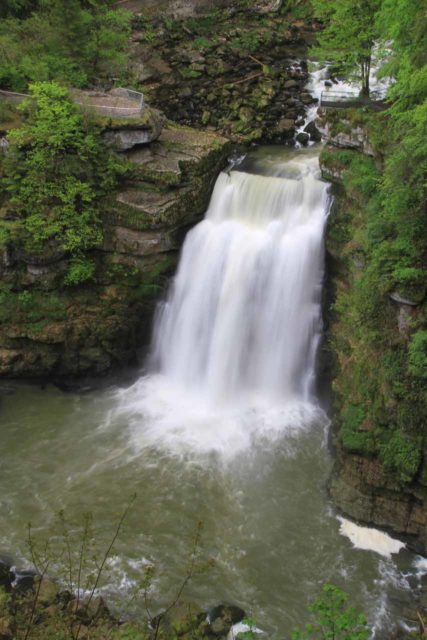 Saut du Doubs – This was actually a waterfall shared between France and Switzerland. It was quite doable to visit the falls from both countries so you can feel what one side gets to see over the other.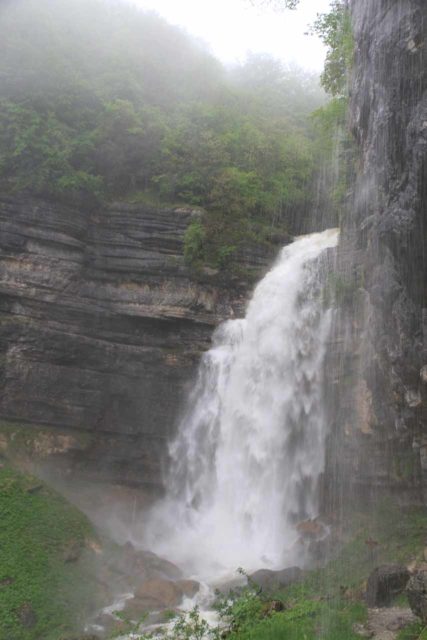 Cascades du Herisson – This series of major waterfalls was probably the waterfalling highlight of the Jura Mountains as I might have counted around 7 or 8 when all was said and done. It was possible to take it all in a long day hike or drive-and-hike to various sections to speed things up a bit.
Trip Advice
Since this was my first time to France (and Julie's second), I personally learned a lot from this trip. Even though France is immensely popular and well-touristed (especially amongst Americans), I got the feeling that we went to parts of the country that few Americans would go. That alone made this trip our own.
Thus, in sharing with you our lessons learned and insights, we hope you find this a bit different and useful that the other content you might see in the literature…
Learning French Helps: Since our trip covered quite a bit of rural France, we couldn't expect English to be spoken. And we were correct in that line of thinking for the most part. So in preparation for this trip, I used my time on the Metro reading language books and listening to audio CDs (or ripped into mp3 files for iPod listening). By doing a little studying every day during my commute, I at least got trained to the speech as well as some of the vocabulary, but I know I wouldn't be able to keep a normal conversation going at regular speed.
Nevertheless, I was able to fall back on my working knowledge of French to get by some of the sticky situations where it would have been much more difficult without making the effort to try to communicate in the local language. This also helped me read the road signs and the maps as well.
Bad Weather My assumptions about France having similar seasons to what we might be used to might be a bit of a stretch. While I was envisioning our warmer and drier Mays in California, the French climate seemed to be more like Oregon's at that time of year. Not only that, but in the mountains, it seemed like May wasn't a great time to visit given how rainy it was (which forced us to make unplanned adjustments).
Summer in the European mountainous regions like the Alps tends to be the rainiest times of the year (contrary to what we're used to). Meanwhile, Paris happens to sit on a lattitude comparable to Portland. Bottom line is in terms of climate, you'll have to just take the good with the bad because there doesn't seem to be an ideal time to visit unless you're talking about Autumn or very late Summer (but then the waterfalls might not be performing as well).
Indeed, over the years, I've come to realize that weather probably has a bigger impact on trips than most people tend to think about. And while you can't control the weather, you can certainly prepare for the conditions while responding and adjusting to the reality of the situation to salvage something or go in a completely different direction than what you might have envisioned when you planned out this trip.
Travel Itinerary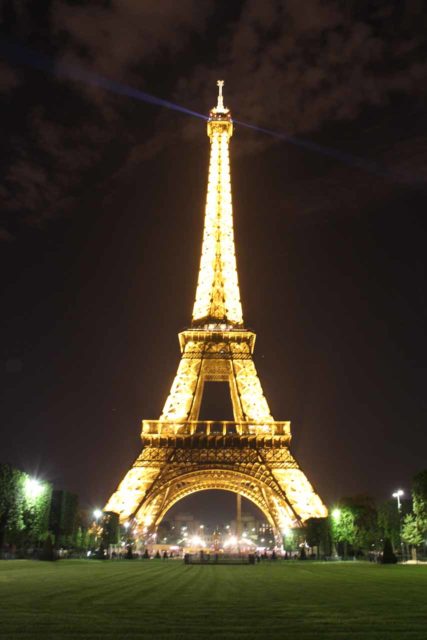 Days 1-2: Fly from Los Angeles to Paris
This was pretty much all travel, but when we did arrive at our accommodation by early afternoon, we then spent the rest of the day visiting the Eiffel Tower before having a nice dinner that Julie had pre-booked prior to arriving in the country.
Day 3: Day Touring in Paris
This was a day at leisure visiting the sights of Paris by foot and mass transit. Among the sights we went to were the Champs Elysee and L'arc de Triomphe, Place de la Concorde, Jardin des Tuilleries, Notre Dame Cathedral, and the Eiffel Tower once again.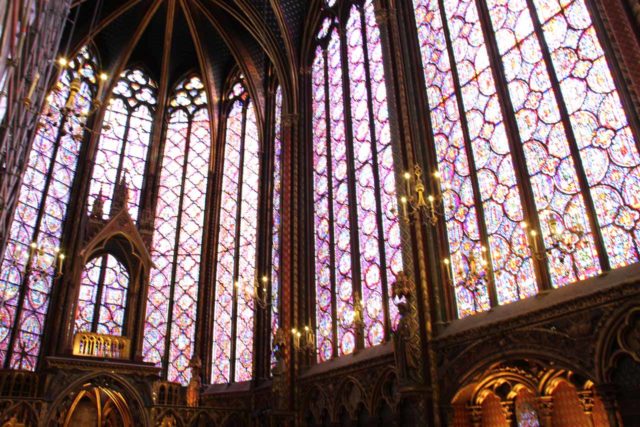 Day 4: Day Touring Paris and Surrounds
We started the day by visiting the Chateau de Versailles right when they opened. When we got back to Paris, we visited the St Chapelle Cathedral before checking out the Chinatown. Afterwards, we had one last meal in Paris (by now it was raining) before crashing for the night.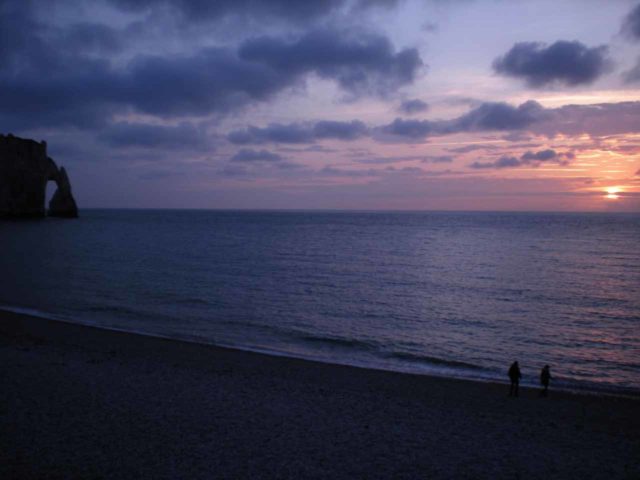 Day 5: Drive from Paris to Etretat
After picking up the rental car, we then drove to Etretat. Once we were there, we had lunch in the cute coastal town before visiting a couple arches – Falaise d'Aval and Falaise d'Amont.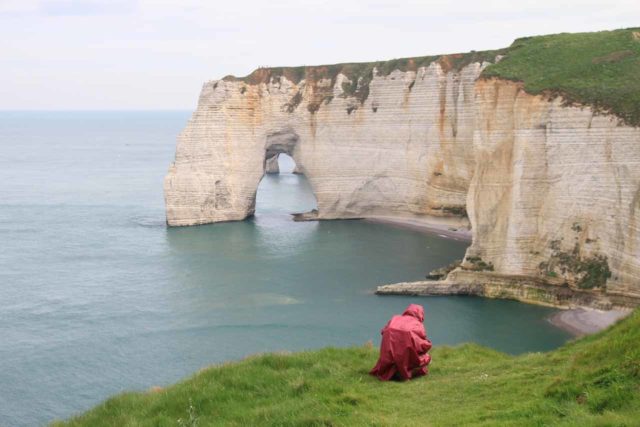 Day 6: Etretat Day Hikes
On this day, the low tide was in the early morning so I started hiking very early (before the sun came out). I ultimately hiked all the way out to Manneporte as well as Falaise d'Aval, but I failed to make it all the way to the Waterfall at Etretat. So instead, we did another hike along the cliff tops to finally get our distant glimpse of the waterfall as well as all the arches once again. Back in town, we enjoyed crepes and enjoyed a nice dinner in town.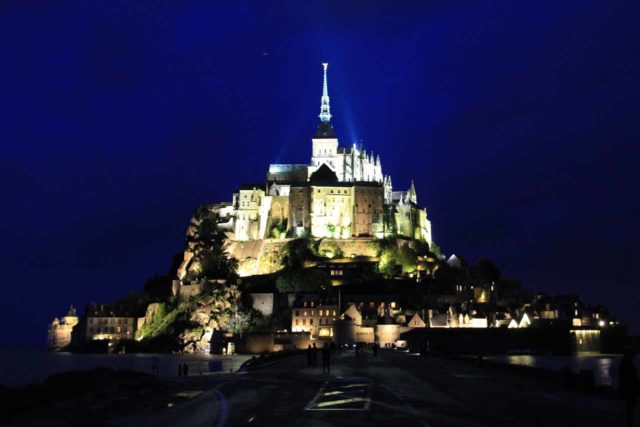 Overnight: Auberge Saint Pierre (Le Mont Saint Michel, France)
This was a long driving day (in the rain) where we ultimately arrived at the car park for Le Mont Saint Michel, then we took a shuttle to cross the causeway and within the town walls. Aside from touring the town, we also went into the Abbey.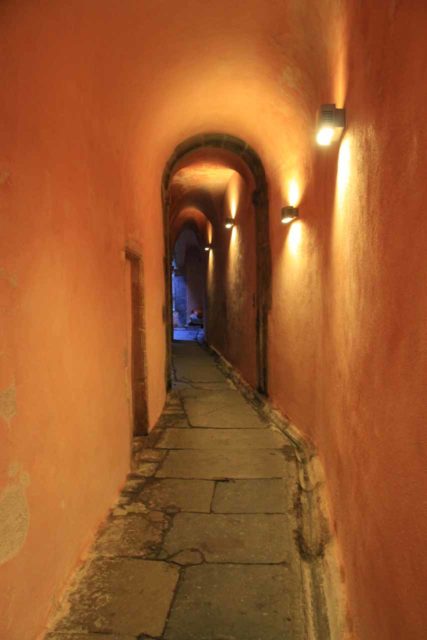 Day 8: Drive from Le Mont Saint Michel to Paris, then take the train to Lyon
We got a very early start so we could get back to Paris by mid-morning. Once there, we returned the rental car, then we took the bullet train to Lyon. Once in Lyon, we picked up the rental car (but left it parked there since we didn't intend to drive today). The rest of the day, we explored the city checking the Vieille Ville de Lyon, Les Traboules, and Hotel de Ville.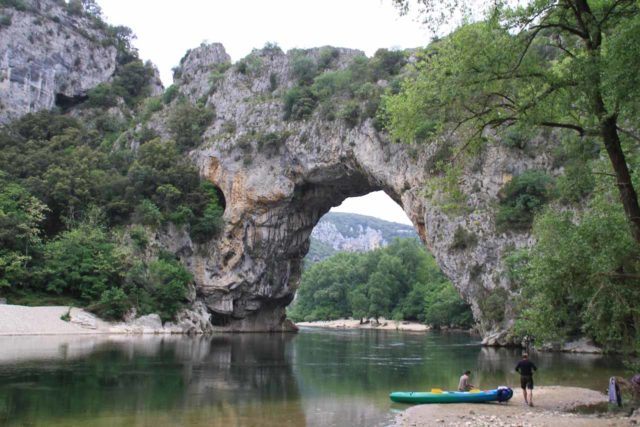 Day 9: Day Tour to Ardeche Region
We started the morning by driving out to Cascade du Ray-Pic (where one of the workers there was nice enough to let us do the hike even though it appeared the trail wasn't officially open). Then, we drove further south in the department to see the impressive Pont d'Arc natural bridge. Finally, we drove back to Lyon where we explored more of Les Traboules and the Vielle Ville (old town).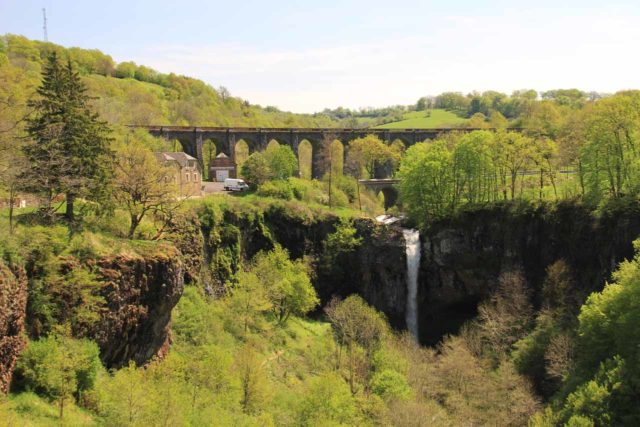 Day 10: Drive from Lyon to Le Mont-Dore
After leaving Lyon, we drove into Central France eventually arriving at Le Mont-Dore. We were fortunate to be able to check in early so we could spend the rest of the afternoon to explore waterfalls. We started with Cascade de Salins, then Gimel Les Cascades, and then back at the town of Mont-Dore, we hiked up to the Grande Cascade du Mt Dore. We even went past the waterfall to get mindblowing views over the town and the Mt Dore Massif.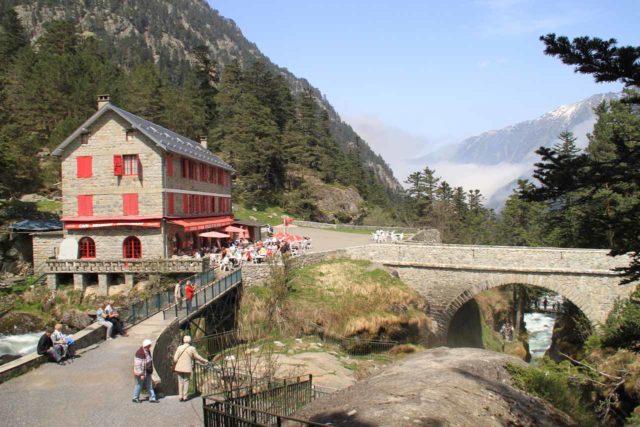 Day 11: Driving from Le Mont-Dore to Saint Savin
We got an early start and drove south to Saint Savin. After checking in, we then continued driving into the Pyrenees where we visited the Pont d'Espagne. We didn't have the time to visit the lake feeding the waterfall though, but we did take our time visiting other cascades further downstream from the main waterfall. We ended the day in St Savin, where we enjoyed one of the best French meals that we ever had.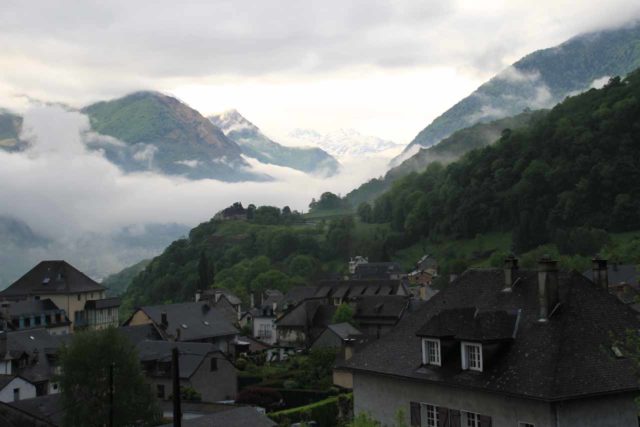 Day 12: Errands and Gavarnie
Because it was a stormy day, our intentions of spending the day visiting Cascade de Gavarnie was kind of shot. So we did laundry in Cauteret and made an attempt on Gavarnie anyways, but the experience was mostly cloudy and fogged over. So we returned to St Savin shortly thereafter.
Day 13: Drive from Saint Savin to Carcassonne
To make amends for the disappointing Gavarnie experience yesterday, we returned to Cascade de Gavarnie given the clear weather. That delayed everything else we were going to do today, but we still pushed through. Next, we did the hike to Cascade d'Ars before finally making it La Cite de Carcassonne towards the late afternoon or evening.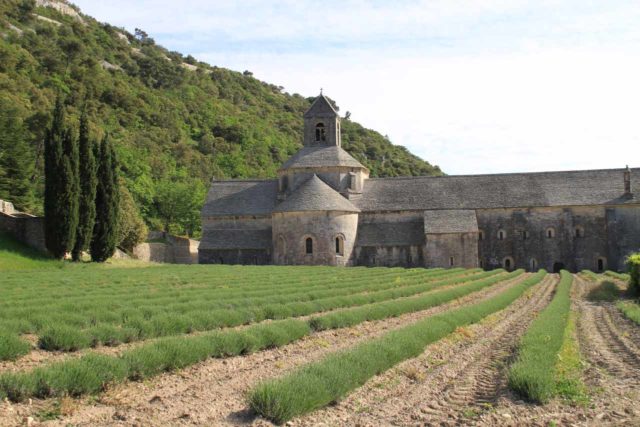 Day 14: Drive from Carcassonne to Gordes
Because we didn't get a chance to walk the Ramparts of Carcassonne yesterday, we had to wait for it to open before we could finally do it this morning. The rest of the day was then spent visiting Pont du Gard, the Pope's Palace in Avignon, L'Abbaye Senanque (but we were too early for Lavendar blooms), Gordes, and the Village of Bories.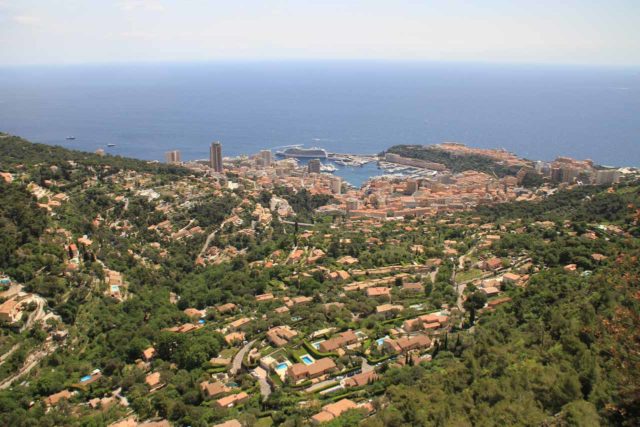 Day 15: Cote d'Azul (French Riviera)
We started by driving all the way to Nice and checking out the city. Then, we visited the Grand Corniche, Eze, and the Moyenne Corniche with an overlook of Monaco along the way. Next, we visited Saut du Loup and Cascade de Courmes (both near Cannes) before driving all the way back to Gordes.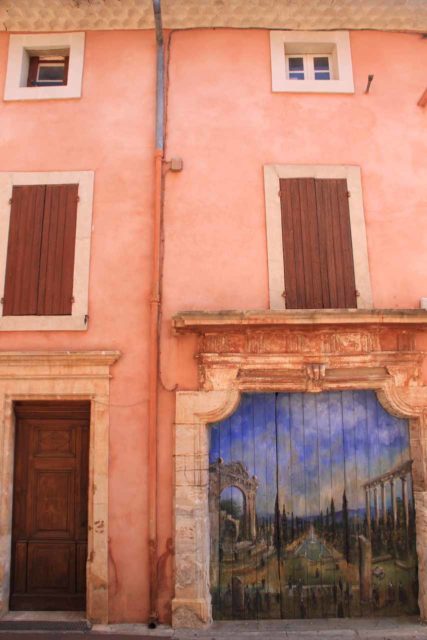 Day 16: Provence
We began this day by touring Rousillon and its Bryce Canyon-like spires and red dirt. Then, we back to Gordes to explore that town for a bit. Finally, in the afternoon, we drove out to Sillans La Cascade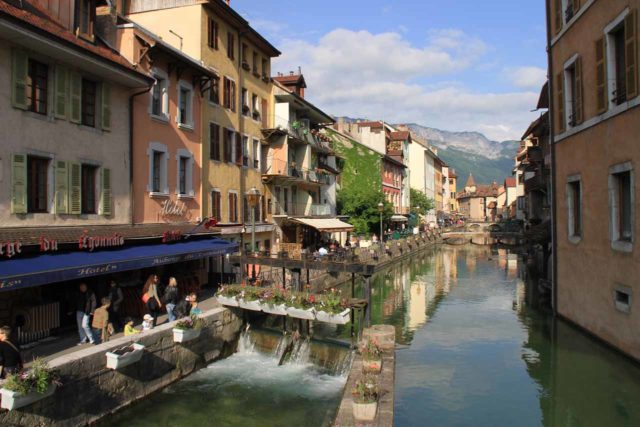 Day 17: Drive from Gordes to Annecy
We drove into the French Alps to visit Saut de la Pucelle, then we drove to Cascade de Glandieu. Next, we made it to Annecy where we checked out both the Vieille Ville (old town) as well as the Lac d'Annecy.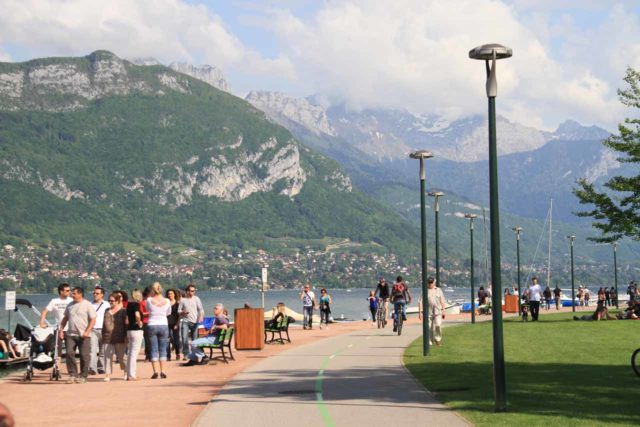 Day 18: Day Trip around Lac d'Annecy
We started the day with a hike to the Cascade d'Angon, then we continued further south to visit the Cascade de Seythenex as well as do the Seythenex Cave Tour. Finally, we returned to Annecy to stroll about the Vieille Ville once again.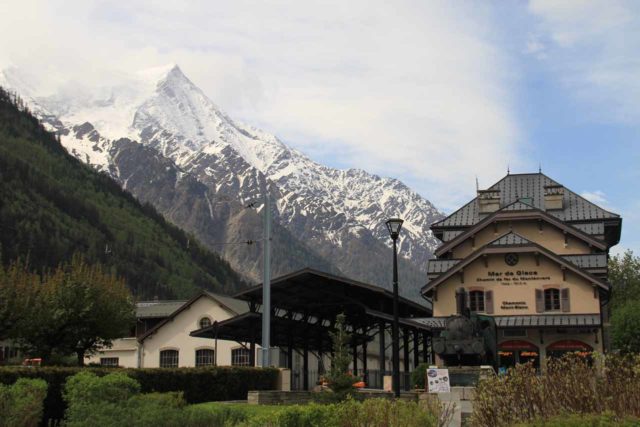 Day 19: Driving from Annecy to Yvoire
We started the day going towards the Swiss border to check out Cascade d'Arpenaz while also getting a view of Mt Blanc. Next, we drove into Chamonix and beyond, where we attempted to visit Cascade de Berard. Finally, we drove to the town of Yvoire to get settled and to explore the charming waterfront of Lake Geneva and town itself.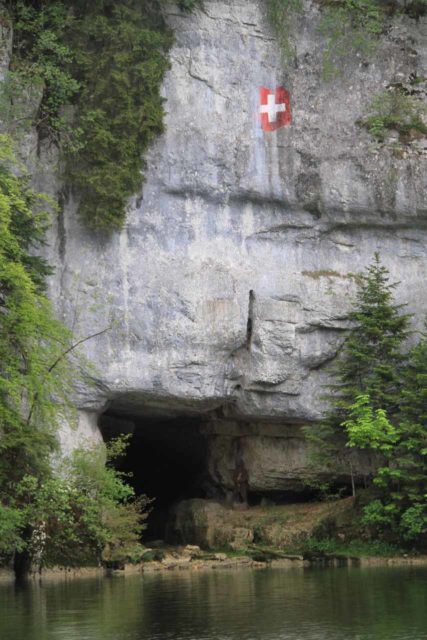 On this rainy day, we drove through Switzerland to Les Brenets to do the boat ride to Saut du Doubs. This was pretty much all we did on this day, especially considering the traffic we faced trying to get past Geneva.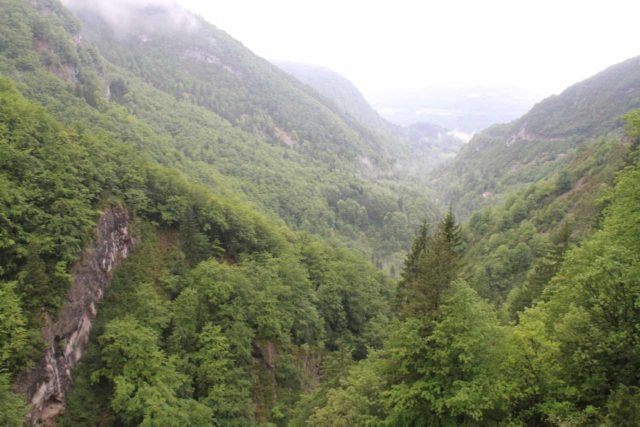 Day 21: Day Trip to the Jura
This rainy day was dominated by the Jura Mountains. Within it, we visited Cascades du Herisson and Cascade de Flumen.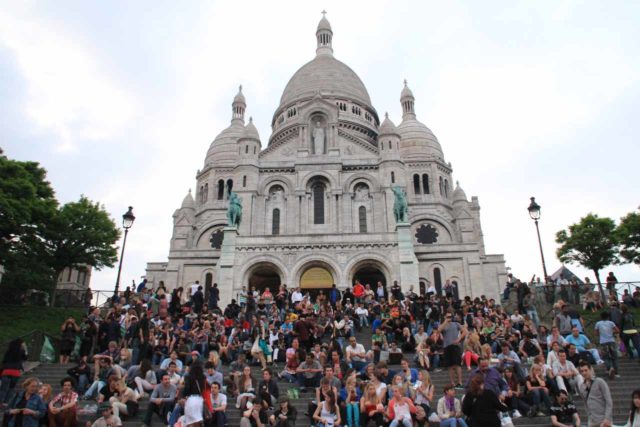 Day 22: Drive from Prevessin-Moens to Lyon then take the train to Paris
We started off the day by driving to Lyon to return the rental car, then we took the bullet train back to Paris. From there, we spent the rest of the day visiting La Fayette as well as the Sacre Coeur.
Day 23: Fly Home
This was just a travel day.
Best Places We've Stayed At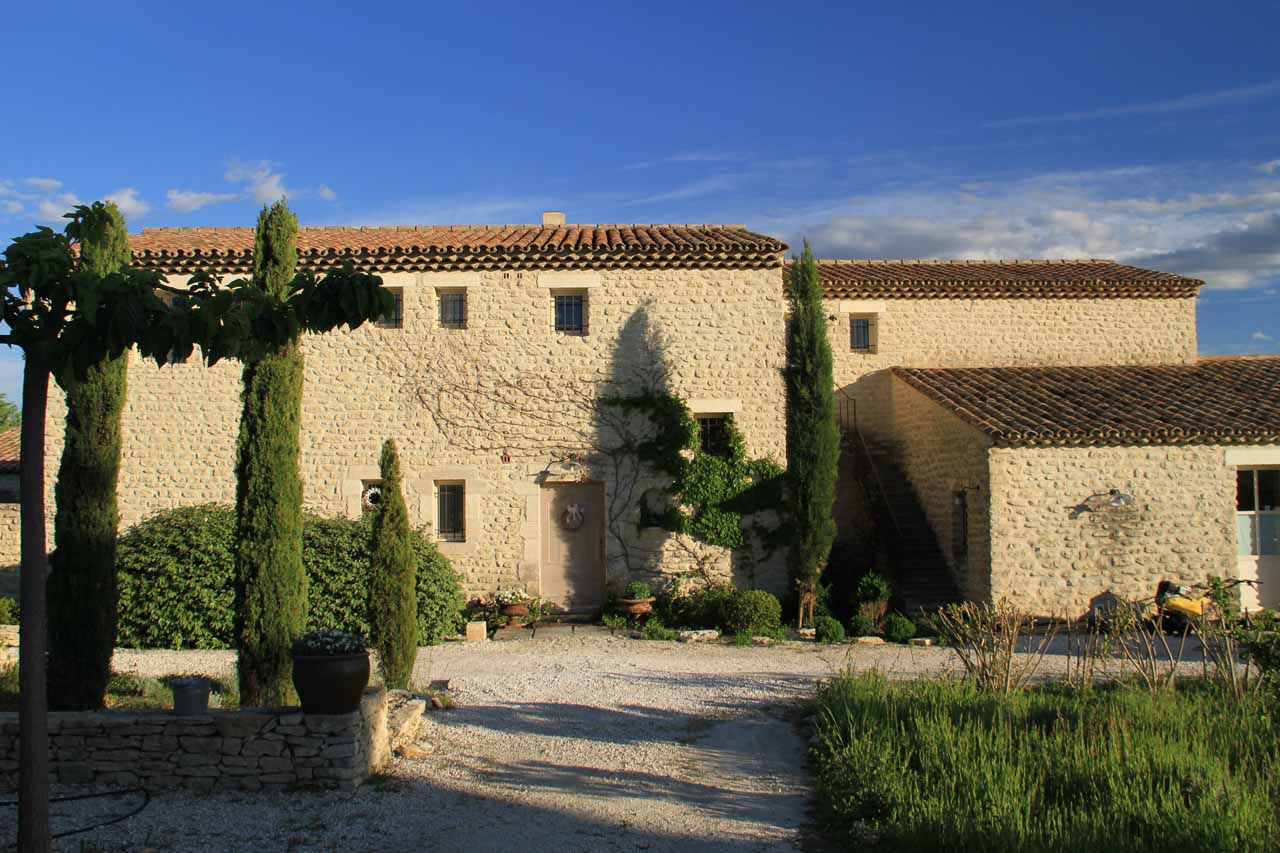 Le Mas des Etoiles, Gordes – This bed-and-breakfast was quintessential Provence. It had a cute garden, a charming house, and we were warmly welcomed by the hosts. The breakfast the following day was delicious, but they it was a shared table where all guests intermingled with the hosts and with each other.
It was an enjoyable experience, and if we're ever fortunate to return to Provence, we have this place setting the standard for what we'd be looking for next.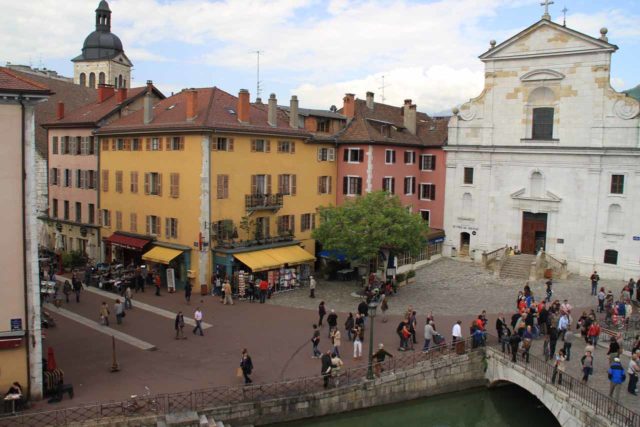 Hotel du Palais de l'Isle, Annecy – This accommodation was all about the location. It sat overlooking the most scenic part of the small canals draining Lac d'Annecy and passing through the old town. So in addition to the views out the windows, all we had to do in order to experience the quaint ambiance of the Vielle Ville was to go downstairs and just start walking.
The only downside to this place was the parking situation. Basically, the key was to park in the structure beneath the Hotel de Ville, but in our experience, we had to wait in line because they only allowed a car in for every car that left the car park. But once we made it in, it was then a fairly short walk into the Old Town. However, when we first arrived in town, we actually parked for almost on the far southwestern side of Lac d'Annecy! It was at least a 30-minute walk made even longer because we were rolling luggages the whole time! Indeed, parking was difficult in town, and it was really the only downer to staying here.
What to Bring
On this drip, we didn't really feel like there was any special equipment that was necessary besides what we highlighted in the list of equipment that we bring on all of our trips.

Related Trip Reports
Waterfalls included in this itinerary
Visitor Comments:
Got something you'd like to share or say to keep the conversation going? Feel free to leave a comment below...
No users have replied to the content on this page