This Guam Itinerary covers a 9-day stretch encompassing the Thanksgiving week. This island was the second of the US Territories that we visited this year (Puerto Rico for Spring Break was the first time), which provided us some planning certainty since the COVID-19 pandemic still caused complications for travel.
Further adding to the non-ideal circumstances surrounding this trip, it was also our first overseas one since my brother passed away earlier this year, and I was also not feeling 100% going into this trip as I was fighting a very persistent cold (going on 3 weeks as we started to leave).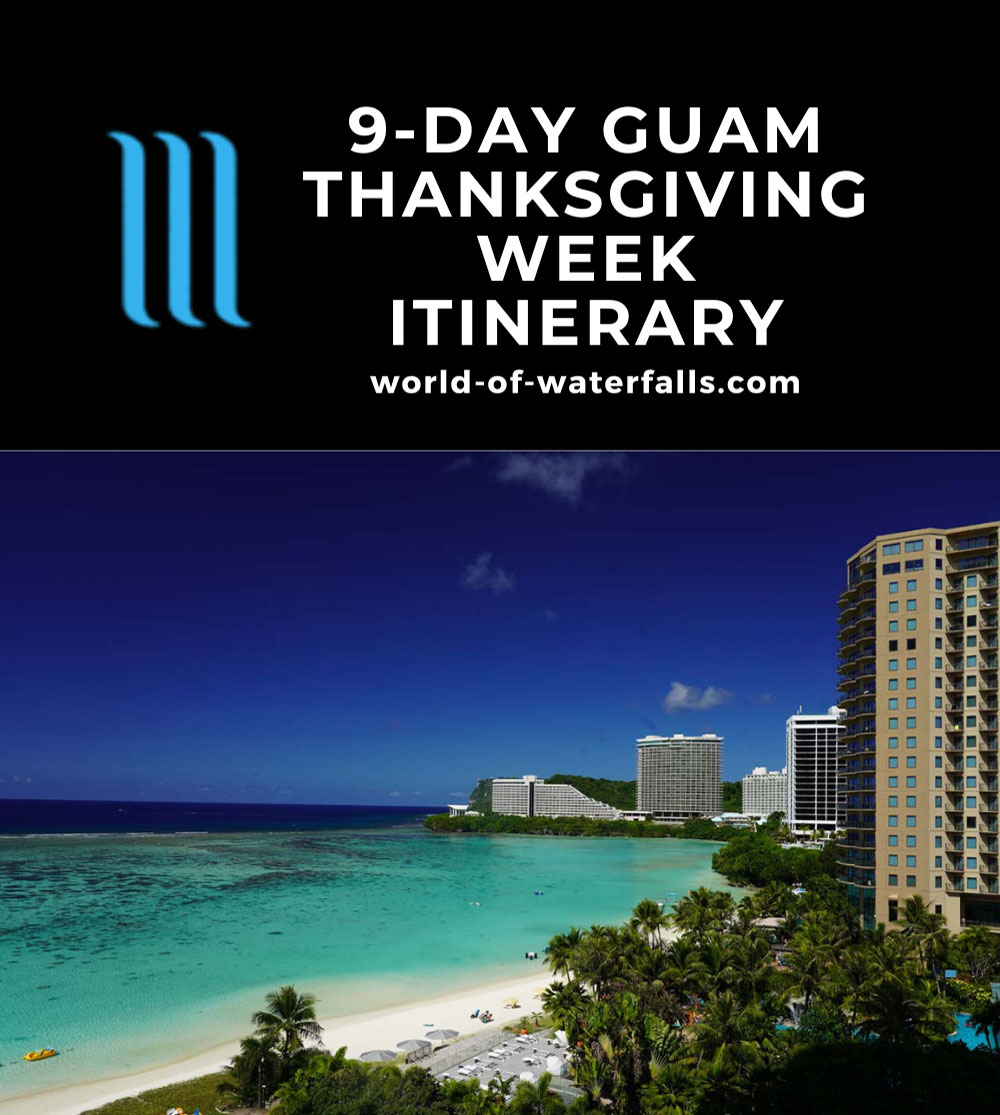 Anyways, we were well aware that Guam did feel like an off-the-beaten-path destination, and that pretty much made it the right destination at the right time.
This was especially as places like Hawaii and Europe were already getting crowded, pricey, and chaotic (resulting from the revenge travel and the lemmings behavior that come from that).
While in Guam, even though we had hired our own car, I did hire a guide for most of the waterfall hikes, because chasing them in Guam was more difficult than most of the places around the world where we've been chasing waterfalls.
Long story short, we did what we could in terms of witnessing as many waterfalls as we could in this one week though it did get to a point where my body was betraying me, which caused us to cancel one of the days where I needed to recover (the Lower Sigua Falls ended up being the casualty).
Anyways, here are some highlights and lessons learned that came from this trip…
Trip Highlights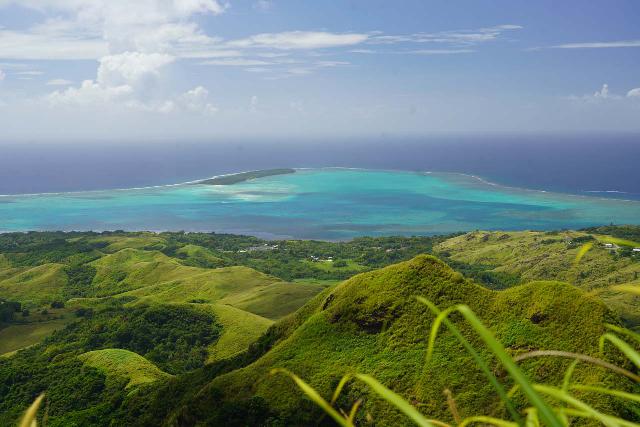 Mt Sasalaguan – the views while doing this grueling hike reminded me of the types of top down reef views that you could get from jeep tours on Bora Bora, but I definitely had to earn my experience (maybe biting off a little more than I could chew given jetlag and fighting a cold). Nevertheless, this adventure that I went on with a hiking group gave me a crash course in what boonie stomping in Guam was like, and I also got to witness the island's tallest waterfall in Tak'hilo Falls.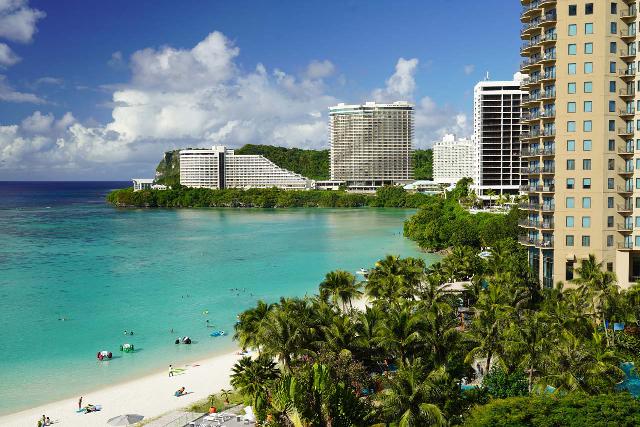 Tumon Bay – I viewed this sublime part of Guam as a much smaller and quieter version of Waikiki Beach (there are certainly a lot of ABC Stores here), but the key differences are that the reef here is a marine preserve (so snorkeling is good), the beaches are delightfully uncrowded, and the high rises here are still on par with what you get at Waikiki. We were very glad to have made the decision to stay here and be in the action every day of our trip on the island.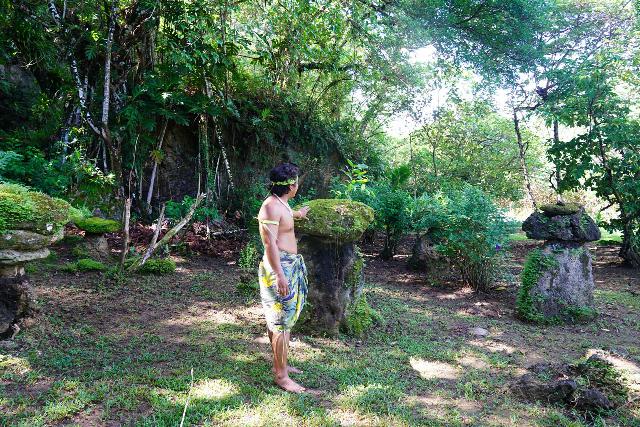 Valley of the Latte – this was a pleasant half-day tour in the southeast of Guam, where we got a pretty good taste of Chamorro subsistence living and culture as well as a nice picnic of Chamorro food, and some of us enjoyed riding a carabao. It was a totally unexpectedly nice experience, and I was glad that Julie got me over my preconceived notions of it being cheezy and going ahead with booking this.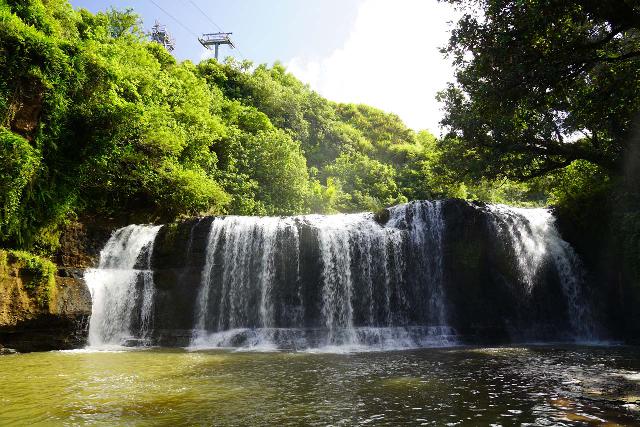 Talofofo Falls – there was a bit of controversy surrounding the resort park that harbored this pair of wide waterfalls on the Ugum River mostly due to its strange mix of having caged animals, a ghost house, a sex museum, and some recreated history in addition to the waterfalls. Now during our visit, they didn't have the animals anymore though they had the rest of the kitschy features, but the waterfalls more than held their own, and they're easily one of Guam's most impressive.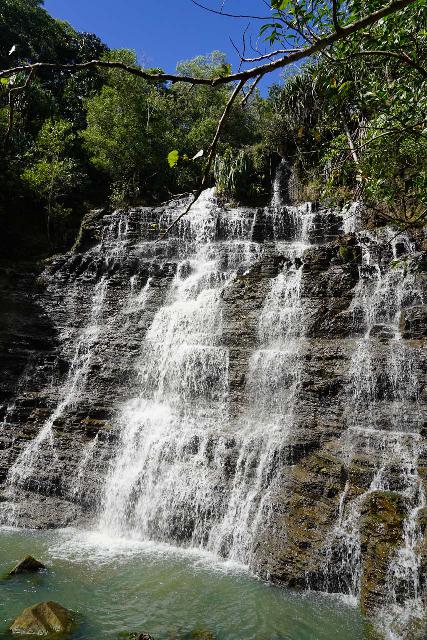 Tarzan Falls – of the waterfalls that we've visited on Guam, this one was perhaps the most accessible "boonie stomp" as it had a modest distance (about 2 miles round-trip) and it was on a trail (mostly 4wd tracks). However, there were also lots of false trails, mud, and slippery steep slopes, and this was where I was glad that we did have a guide with us so Julie and Tahia could come along. We were glad that we did so we could experience another one of Guam's most impressive waterfalls.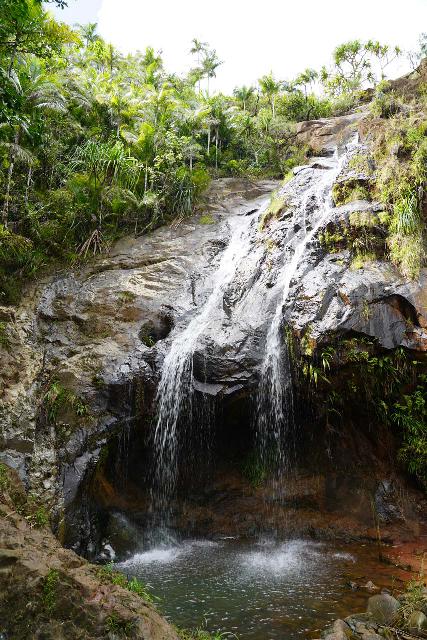 Upper Sigua Falls – this waterfall required a bit of a precipitous adventure beneath the southern slope of Mt Alutom. The adventure encompassed nice panoramic views of the Sigua Valley, but when we got into the Sigua River, that was when we had to deal with very steep slopes requiring the use of rope. Even though this was a short "medium" difficulty adventure, there was definitely a bit of risk involved, and it goes to show you just how rough waterfalling in Guam can be. Oh yeah, there was also a bonus waterfall called Alutom Falls, to boot!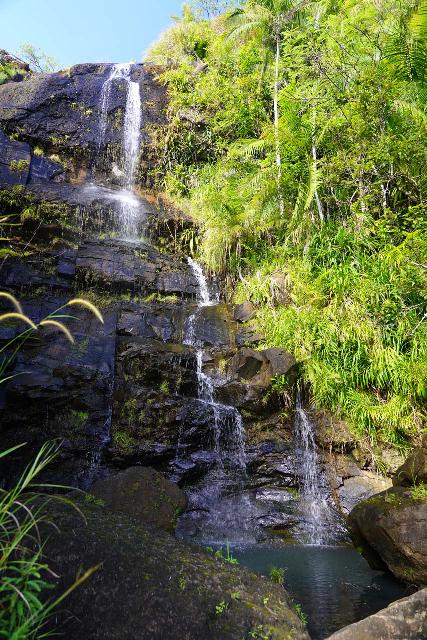 Maguagua' Falls – similar to the excursion for the Upper Sigua Falls, this adventure involved a steep rope-aided scramble down to the bottom of the falls after witnessing the views from its top. When we got to the bottom of the main 40ft drop of this 60ft falls, my guide and I pretty much got to enjoy this place in silence as we saw a large freshwater prawn as well as peered out towards the palm trees beneath us over the lip of the lower drop. Now since this waterfall was also near Mt Alutom, we combined the excursions, which made for a bit of a difficult up-and-down trek, but sometimes you've just gotta take what you can in such limited time.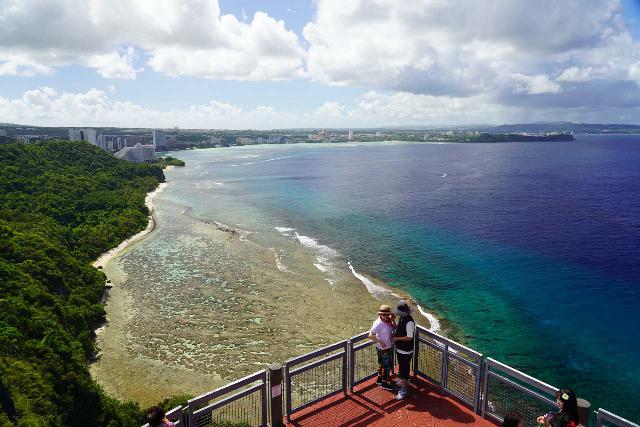 Two Lover's Point (Puntan Dos Amantes) – this was a very popular lookout spot peering over reefs beneath the towering limestone cliffs with Tumon Bay in the distance. I always contend that the best photos of tropical destinations involve top down views over reefs, and this was an easy way of doing this without going on a brutal hike like Mt Sasalaguan or hiring a 4wd tour like you would if you wanted to get high up in Bora Bora (French Polynesia).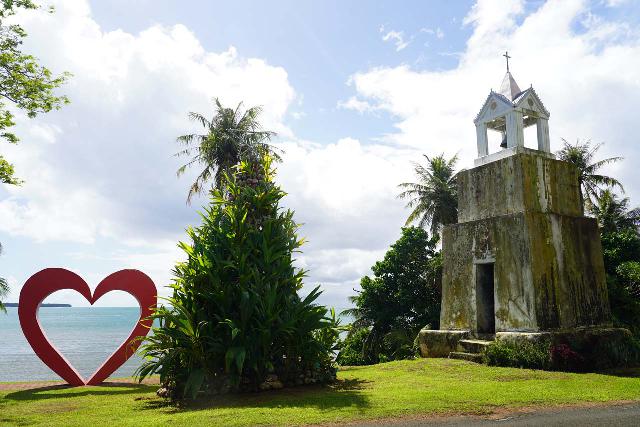 Merizo Bell Tower – when we drove around the south of Guam, there wasn't a whole lot to compel us to pull over and stop. However, this catholic landmark (right across from a catholic church) certainly made us do that, and we also got some nice coastal views to boot! We even saw a "tree" composed of stacked and held up coconut shells that were colored. Indeed, we were one of the first people checking this place out, and then other people saw what we were doing and the lemmings effect was happening. Indeed, this was that kind of place, and we're glad to have stopped when we did…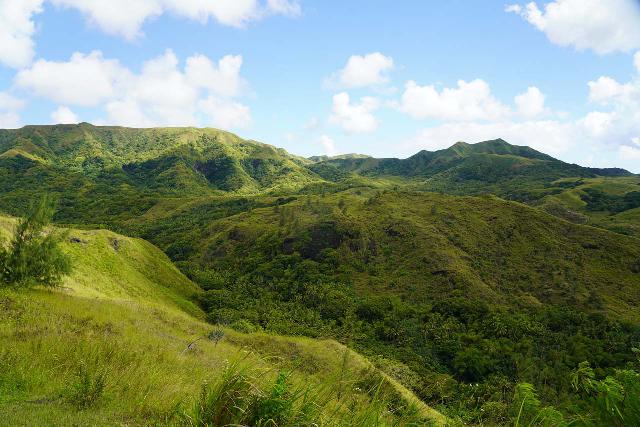 Chamorro War Memorial – this was another one of the roadside stops around the south of Guam. In this case, we were getting nice views of the mountainous interior of the inland's south as well as some coastal views looking in the direction of Merizo. There were other roadside stops along the way, too, but this one was the more compelling one of those that provided mountainous views.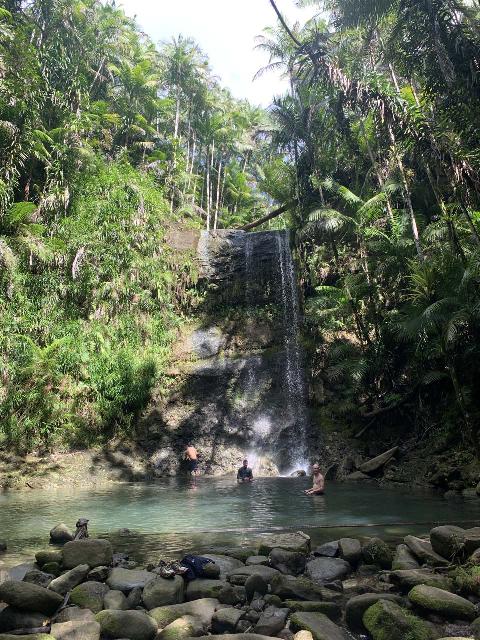 San Carlos Falls – of the waterfall excursions that I've done in our week in Guam, this one probably yielded the most satisfying experience mostly because of its clear fish-filled plunge pool, which was perfect for swimming. Especially after all the hiking it took to get here, the swim felt really good. Oh, and there was also another swimming hole on the Lonfit River, which featured its own wide cascade.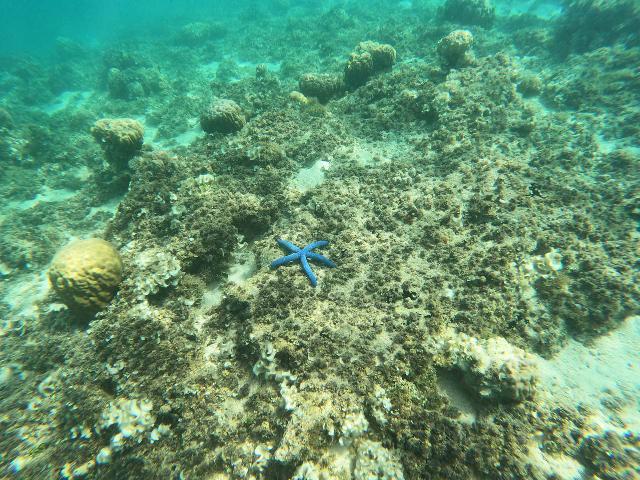 Dogleg Reef (Apra Harbor) – we did a pleasant snorkel (apart from one territorial guy hogging up most of the reef) that allowed us to see plenty of fish and a healthy reef with even a starfish sighting as well as a fleeting sea turtle sighting. It was a testament to how the relatively uncrowded nature of Guam's reefs made for an arguably better experience than what you could possibly get in a much busier place like Hawaii.
Trip Advice
During our 7 full days in Guam (not counting the travel days), we learned quite a few things about Guam, especially since it was kind of an unknown place to us going into this trip. I personally learned quite a bit about my capabilities when chasing waterfalls here. So here are some lessons learned on this trip that we wanted to share with you.
Undeveloped Trails: In Guam, the mentality behind most of its hiking trails (especially the ones that involve waterfalls) is that it's undeveloped, unsigned, and requires a bit of fitness and preparation. They'd much rather you earn your hiking experiences through backcountry "boonie stomps" than have railings and concrete everywhere that can take away from the experience that Nature intended it to be.
Indeed, with obstacles like swordgrass (which will cut you if you aren't covered up), mud, cliffs, and a lack of signage, you really have to pay close attention to landmarks as well as be very patient. For it's very easy to get lost, and it's also very easy to get injured (especially where there's dropoffs, mud, slippery slopes, and rope that may or may not be suitable to hold your body weight). I was actually pretty nervous going into this trip about the waterfall chasing, and I actually took the trouble to hire a guide, which was probably one of the smartest decisions made.
Drive Times and Access: Guam is not a big island, but it's big enough to have to budget at least 2 hours to go around the south of the island by car. As far as the north of the island is concerned, there's a lot of land owned by the US Military so landmarks there may or may not be accessible. The same goes for some of the boonie stomps that might require traversing through private property (I believe Laolao Falls and Fintasa Falls might fall into that category).
International Destination: Even though Guam is a US Territory, it's actually still treated like an international destination. Case in point, we had to get separate sim cards in order to properly communicate with our guide or other local services on the island. It was also more popular with Japanese and especially Koreans as opposed to Americans (we seemed to be one of the rare Americans to come here that's not related to family or the military), which kind of created this twilight zone phenomena where Caucasian people were actually quite rare in resorty spots like Tumon Bay. Finally, we did have to deal with customs when we flew home from Guam, where we had to collect our bags, get through customs, and then go through security again in Hawaii.
Prices: Actually, I thought that the food prices and gas prices were pretty reasonable while in Guam. I mean, the gas prices were actually nearly a dollar cheaper per gallon than it was in California during our visit in late November 2022. And the food prices (while not cheap) were pretty much the same (maybe slightly more) than what we've been paying in LA (especially when it came to Korean and Japanese foods). I also think that with the US dollar unusually strong during our trip, maybe that had something to do with it (i.e. making Guam more expensive to foreign visitors with weaker currencies at the time).
Weather: Our visit to Guam was technically still the "Wet" season, but we actually enjoyed mostly good weather. Now something I did notice was that the afternoons tend to exhibit higher probabilities of rain, and that it doesn't require huge clouds to produce rain. In fact, I've seen small cloud patches cause sprinkles and rainbows on an otherwise sunny day, which goes to show you just how little cloud cover can produce rain here. In any case, towards the end of the trip, there were days with huge thunderstorm systems budding up (even in the morning), and I guess that goes to show you why weather forecasts are generally not taken that seriously here. That said, on boonie stomps, I did bring rain gear (basically to cover the pack) just in case.
Travel Itinerary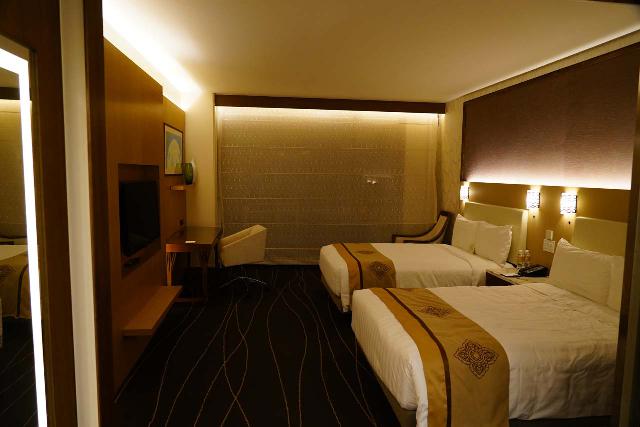 Days 0-1: Flight from LAX to Guam and then stay in Tumon Bay
Starting in the pre-dawn hours in LA, we had to get to LAX, and then go through a pair of long haul flights where we connected in Honolulu, Hawaii, before finally making it Guam. Indeed, there's a reason why most Americans don't go to Guam on vacation, and these long-haul flights (5.5 hours and 7 hours, respectively) pretty much does the trick.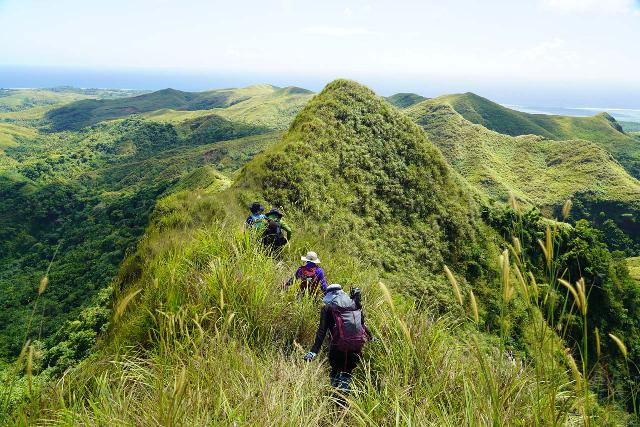 Day 2: Full day hike to Mt Sasalaguan and Tak'hilo Falls
On this day, we did a divide-and-conquer where Julie and Tahia stayed at the resort, but I joined a hiking group on a very difficult 7-hour boonie stomp to the top of Mt Sasalaguan as well as a look at Guam's tallest waterfall in Tak'hilo Falls. Indeed, this day took everything out of me, and my cold (combined with the jetlag) didn't help my breathing and energy.
Day 3: Valley of the Latte and Talofofo Falls
For me, this day was a much-needed "leisure" day to recover from yesterday's boonie stomp, and we pretty much spent this day by doing a morning cruise and cultural tour at the Valley of the Latte.
Then, after the tour and lunch, we then spent the afternoon visiting the nearby Talofofo Falls and its quirky attractions within the resort park. It was actually a pleasant family day, and even the Talofofo Falls surprised us pleasantly despite the controversy that we had read about going into this trip to Guam.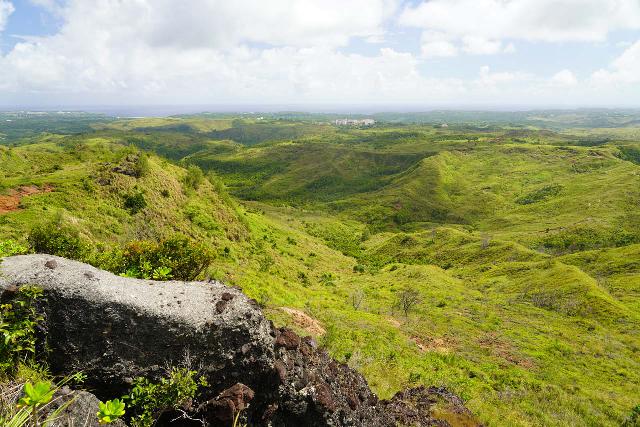 This was a waterfalling day, where we spent the morning as a family (guided by a local guide) visiting Tarzan Falls. Then, we divided-and-conquered so I could go with our guide and spend the afternoon pursuing Upper Sigua Falls, Alutom Falls, and Maguagua' Falls. Since the afternoon involved non-trivial boonie stomps, Julie and Tahia were on their own driving back to the resort to relax while I was going through another boot camp-like experience in some of the most pristine Nature in Central Guam.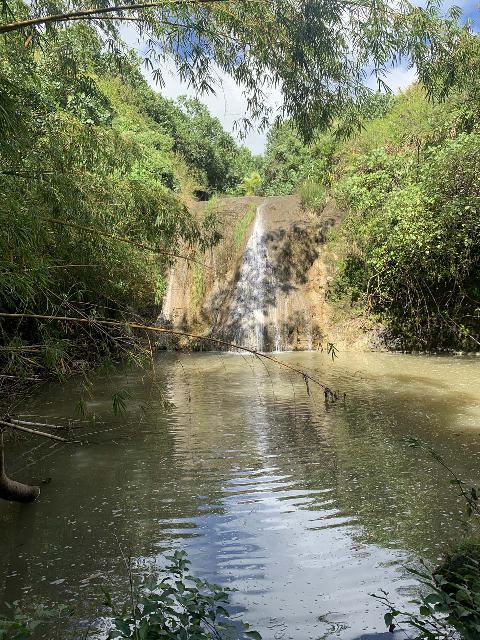 Day 5: Self-Driving Day
On this day, we originally planned to do the San Carlos Falls and then do the Lower Sigua Falls tomorrow. However, my body needed to recover from yesterday's hiking, and so I ultimately called off the San Carlos Falls hike today and punted that for tomorrow (thereby leaving out Lower Sigua Falls for better or for worse). Anyways, we pretty much spent this day taking our time by doing the buffet breakfast at the Dusit Thani Resort, and then we drove around the island.
Among the stops we made on this self-drive, we did the Two Lover's Point, Malojloj Falls, Merizo Bell Tower, Chamorro War Memorial, and then spent the rest of the afternoon chilling at our resort.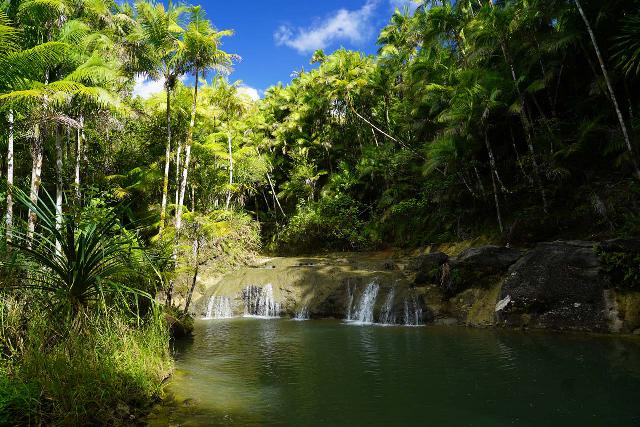 On this day, we did another divide-and-conquer, where I joined the same trekking group (as I had done earlier for Mt Sasalaguan) to visit the San Carlos Falls. When we were done with the excursion, we had a late lunch at the Chamorro Village in Hagatna before spending the rest of the afternoon to just relax at the resort.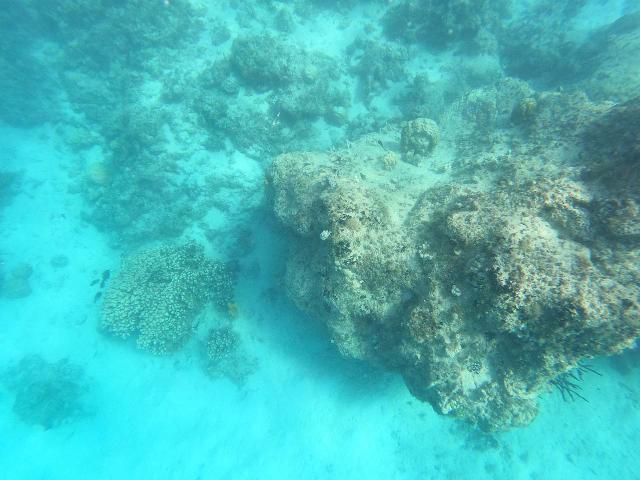 Day 7: Snorkeling and Chilling Out
This was a day at leisure to experience some snorkeling at the Dogleg Reef at Apra Harbor in southwestern Guam, which we did in the morning. Then, we had some really good Chamorro food at Pika's Cafe before spending the rest of the afternoon chilling out at the resort as we waited for our splurge for Thanksgiving Dinner at the resort.
Day 8: Flying Home
This was a full day of travel, where we caught an early morning flight from Guam to Hawaii (going backwards in time and actually being at the airport for Thanksgiving), and then flying home on a red-eye flight arriving in LA early in the morning.
Best Places We've Stayed At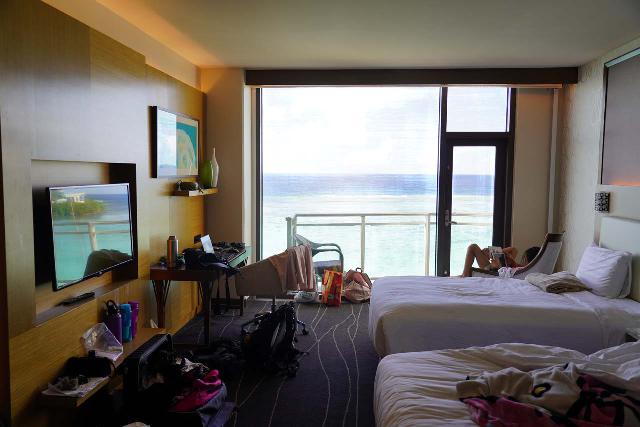 Dusit Thani Guam Resort – It might be disingenuous to pick a best place to stay at on this trip when we've only stayed at one place, but that one place was worthy enough to deserve a mention here. And with the Dusit Thani, we're talking about a nice accommodation with views right into Tumon Bay (kind of like the view we got from the Sheraton Waikiki last year), but we got the Thai hospitality that we had all but forgotten about since the time we had visited Thailand nearly 14 years prior.
Anyways, the snorkeling in Tumon Bay was good, the location was such that we could walk to decent eateries like the Fuji-ichiban ramen place or Banh Thai across the street, and the parking was free for guests. I really couldn't complain about our place though admittedly we did cut down the $500/night cost using points which made this place attainable for us.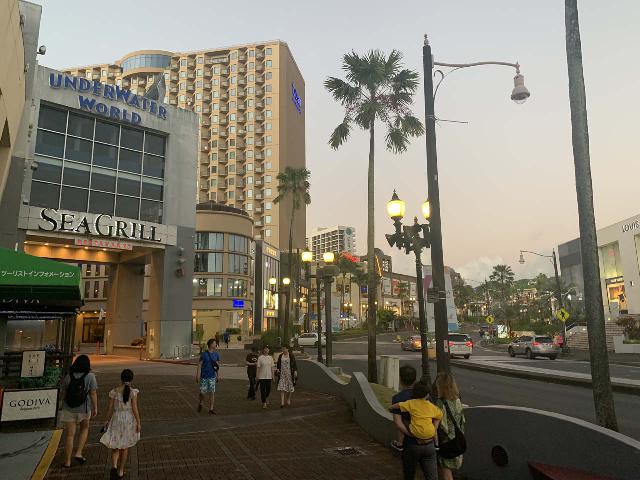 When it came to eating, you couldn't beat their downstairs pastry kiosk, where we had the best-tasting croissants and brioches since having the real deal in France.
Heck, we even had an ispahan macaron here, and we spoke with one of the employees here, who said that all the cooks were trained by a French-trained chef who recently passed away.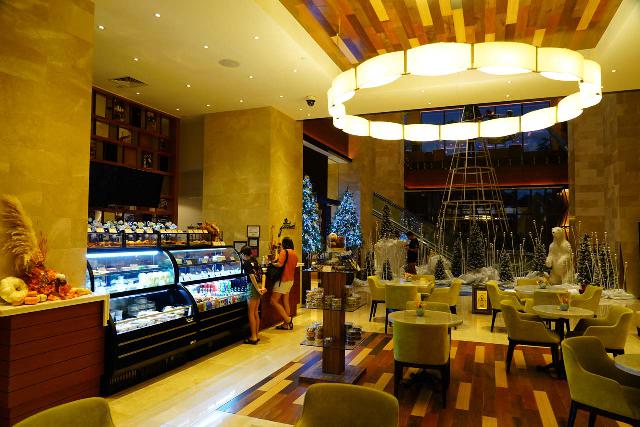 Needless to say, the folks here were taught well, and we pretty much had our breakfasts down at this kiosk except for that one day we did the all-you-can-eat brekkie with views of Tumon Bay (except the pastries there weren't nearly as good as the downstairs kiosk).
Finally, we splurged at Alfreedo's, which was the in-house steak restaurant at the Dusit Thani, and I'd have to say that their Japanese Wagyu beef was every bit worth the $75/3g that we paid. And we also had escargot and foie gras at this place, which always is a winner with us when it comes to splurging on dining…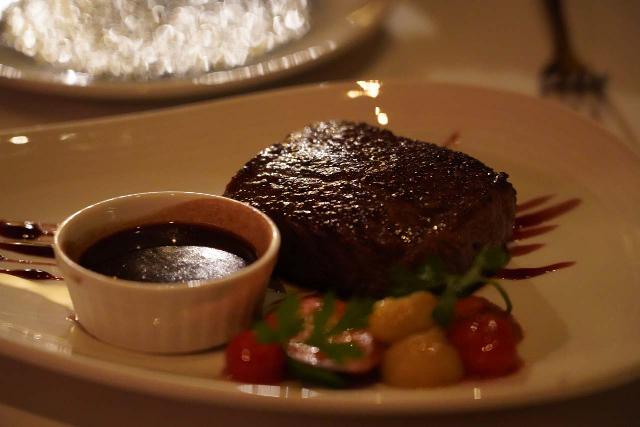 The bottom line is that this could very well be the very best place to stay in Guam, and we wouldn't hesitate to stay here again if we're fortunate enough to come back and finish up on some unfinished business (like that Lower Sigua Falls that I missed out on)…
Trip Reports
Waterfalls included in this itinerary
Visitor Comments:
Got something you'd like to share or say to keep the conversation going? Feel free to leave a comment below...
No users have replied to the content on this page