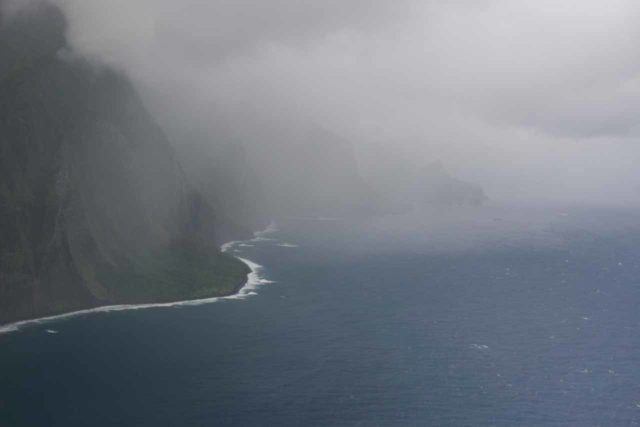 25-February 2007 to 26-February 2007:
Trying to kill time for the next flight I saw a picture book about the Big Island, which was the last major Hawaiian Island we had yet to visit. While I was busy flipping through the pages, one of the Blue Hawaiian clerks came up to me and said, "I just got a call from the previous tour saying that the clouds are rolling in fast towards Hana…"
Day 1: A RATHER UNFULFILLING TOUR
I didn't have a very good night's sleep as I continued to replay the events of the flash flood at the Blue Pool yesterday. In the back of my mind the entire night was whether the EOS 20D SLR would still work after getting waterlogged.
I kept thinking about how I should've used the tripod to survey the water depth before I bothered to take any steps. I also couldn't help but think how I should've put my wallet and camera into my backpack and then crossed the streams carrying all belongings over my head after assessing where the shallowing crossing was.
At the same time, I also had brief flashes of a sudden wall of water coming right at me and taking me into the violent waves at sea.
Anyways, it was about 6:30am when Julie and I awoke. For the most part, most of the stuff that was laid out in the living room under the ceiling fan were dried out. So it was time to get back to a little bit of normalcy and get the stuff together and into their proper bags.
The receipts and business cards looked worse for wear, but they still were legible. My Super Lotto ticket was quite beat up so who knows if it would work or not (it turned out not to be a winning ticket anyways).
But most importantly, the functionality of the camera weighed on my mind the most. I needed the SLR to work so I could take photos on our helicopter ride this morning.
It was a good news, bad news kind of thing as the camera appeared to work, there wasn't any apparent damage on the once-waterlogged zoom lens, the sensors seemed to work, and I was able to take multiple photos in a row. However, the camera seemed to have a nasty habit of turning itself off or confusing the "on" switch for being "off."
Uh, oh. Not good.
Fortunately, I was able to get the camera to be on in the "middle on" position. I guess I'd have to salvage this functionality for our upcoming tour. But I had to keep my fingers crossed that it wouldn't die out on me during the tour.
Julie and I headed out of the Ka'anapali Beach Club at a little before 8:15am. The tour's safety briefing wasn't until 9:45am but we weren't going to take any chances with traffic given how bad it was the last two times we had swung around the lower West Maui area in the afternoon.
But it turned out on this Sunday morning that there wasn't much traffic at all and we were already in Kahului before 9am. So we thought we might stop by the Office Max and return the unopened car charging AC adapter we thought we needed, but it wasn't open until 10am.
So we decided to fill up a little bit of gas before getting to the heliport. After filling up around $12 worth of gas (we prepaid the gas at the Dollar Rent-a-car facility so we could return the car as empty as possible), we suddenly had a problem.
We couldn't get the car to shift out of "parking" no matter how hard we tried or how we applied the brakes. It was now less than 15 minutes away from our briefing and we were worried that we were going to miss our helicopter flight.
After numerous attempts of restarting the car, moving the steering wheel, tapping super hard on the brakes, popping the hood, etc., Julie was finally about to call both Blue Hawaiian Helicopters and Dollar Rent-a-car.
But just as she started dialing, somehow the car was able to shift out of "parking."
And with that, we wasted no time heading to the Blue Hawaiian Helicopters office.
Once there, we were a bit dismayed at seeing that we had to pay for parking especially after the amount we'd have to pay for the helicopter ride. Talk about pinching every penny out of you!
Still, we both made it in time to the briefing and we were on our way for our flight. I really looked forward to it because we had read that this was one of the better helicopter tour companies on Maui (though it was too bad all Maui helicopter tour companies flew A-stars).
So I came in expecting something better than our Air Maui experience nearly four years ago on a shorter 45min flight in the back seat. Today's flight was to be 60-65min, and it turned out we would be sitting in the front this time. Good thing Julie's pretty petite. We would also fly an Eco-star, which really isn't much different than an A-star except it had a roomier interior it seemed, and maybe bigger windows, but I don't think that would make much of a difference if you sat in the back.
As we boarded the helicopter, I couldn't help how loud the bird still was. Despite them advertising that Eco-stars are quieter (and I doubt any bit more fuel efficient) than A-stars, I really couldn't tell the difference. I'm sure if you were a resident having to hear these every day, you'd still get sick of them pretty fast. I thought of the family living in Halawa Valley on Moloka'i (trying to restore the taro farming there) with this noise pollution in mind.
And so the flight took off.
Like the Air Maui tour previously, there was music heard through the noise-cancelling headphones. The pilot (I think his name was Kurt) seemed rather bored and unenergetic, but I guess I don't blame him considering how old this can get if you had to do this numerous times a day almost every day of the year.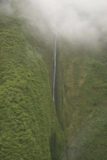 The tour got off to a good start as it headed in Waihe'e Valley. I had aspirations of doing the Waihe'e Ridge hike after this tour, but the cloud cover kind of nixed this idea. Still, the pilot went deep into the valley revealing Mana-nole Falls as well as other waterfalls I don't think we could've ever seen doing neither the ridge nor valley hike.
Then, the pilot got out of the valley and swung around the north part of West Maui before heading towards Kahakuloa. I was anxious to get a better photo of Honokohau Falls than the one we got from the Air Maui tour previously. But, it seemed that the pilot wasn't going to go into Honokohau Valley so I asked on the microphone if we're going to see the falls.
I was disappointed when he said the cloud cover was too low to go in there.
That was a bummer.
Anyways, he then went across the Pailolo Channel and we headed right towards the island of Moloka'i. And like in the previous tour, we flew over the southeastern end as we got birds eye views of that narrow road heading towards Halawa Valley.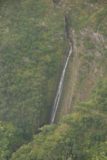 Before long, we flew over Halawa Valley revealing the gorgeous multi-tiered waterfalls of Moa'ula Falls and Hipuapua Falls. The pilots didn't know what the falls were really called. But our Halawa Valley Cultural Tour with Josh made this fact known to us among other things. At least we flew quite high above the valley and the falls so hopefully this didn't annoy the Pastrano family too much down there. Sorry about that!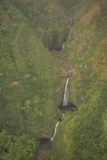 The one thing about seeing Halawa Valley from the air is that you can see all the waterfall tiers high above the bottoms of both Moa'ula and Hipuapua Falls. If you were to hike to these falls, there would be no way you could see the upper tiers.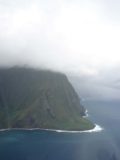 Next, the pilot flew over the northern ridge of Halawa Valley and right over Moloka'i's north shore, which is commonly advertised to be the tallest sea cliffs in the world. After getting a precipitous view down at the cliffs, we then got the more familiar view of the Moloka'i North Shore coastline. But we could see up ahead that there was some heavy rain obscuring the views way up ahead towards the Kalaupapa Peninsula.
It wasn't much later that we saw a pretty big valley and a giant waterfall nestled in the far end of it. The pilot said this was Kahiwa Falls and it was the tallest waterfall in all the Hawaiian Islands.
We spent quite a bit of time hovering around the falls and taking plenty of photos of it. There was no doubt that this was certainly an impressive waterfall.
Then, we continued to fly westbound in front of very thin waterfalls (most of them looked ephemeral but I recalled on my topo map that many of them actually had names) and towards the squalls up ahead. We passed before another valley but the pilot didn't bother going into it.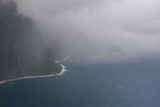 Ultimately, we went right into the squall and the rain fell hard on the enclosed Eco-star. Visibility was terrible and the pilot told us that he would go back the other way and spend more time seeing the reefs on the southern side of Moloka'i. I guess no view of the Kalaupapa Peninsula this time.
So back the other way we went. At least this time, the pilot wasn't in the way as we took photos of the thin falls on Moloka'i's north shore. We would eventually see the big waterfall the pilot said was Kahiwa Falls.
I knew in our Air Maui tour that we had seen Papalaua Falls. So I picked up the microphone and asked the pilot if we would see Papalaua Falls. He then told us that Kahiwa Falls and Papalaua Falls were the same thing.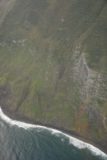 That's when it dawned on me that he got his facts mixed up. I think that large waterfall we had been seeing is Papalaua Falls. And it's one of the thinner (perhaps ephemeral) North Shore waterfalls was Kahiwa Falls. I recalled this from seeing the Topo Map of Moloka'i before and I hoped that we managed to successfully capture some of those thin waterfalls on the North Shore.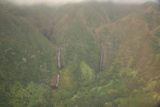 Then, he flew back over Halawa Valley and over the waterfalls again.
Afterwards, he flew along the southern shores of Moloka'i so we could get a birds eye view of some of the fish ponds as well as the reefs. I didn't recall seeing La'au Point though I'm sure it was in our line of sight.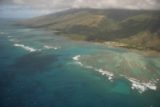 Then, the pilot flew back towards Lahaina and spent most of the remainder of the tour hovering over the water trying to spot whales. Now I know whales are cool to look at but they're terrible for helicoptering. They're too small to photograph and I think most of the whale watching should be left to boat tours and coastal views.
We could also see Molokini in the distance, which looked like it was between East Maui, Kaho'olawe, and the southern end of West Maui (turns out it's closer to being in between Kihei and Kaho'olawe). So now, we know where the snorkelers and divers boat to if they want to get one of the top diving spots in the world!
Finally, the pilot headed up the central valley of Maui and high above the large fields of sugar canes. It seemed like he made a beeline for the Kahului Heliport and wasn't even going to try to go into 'Iao Valley and the Wall of Tears.
I was certainly feeling blue after this Blue Hawaiian Helicopter Experience, and they weren't cheap!
When we landed and got back to our cars, I told Julie, "I was disappointed in this tour. We didn't see Honokohau Falls nor the Wall of Tears. He [the pilot] didn't even go to the Kalaupapa Peninsula."
"Well it's dependent on the weather," she said. Of course I knew that, but it just goes to show how much of a roll of the dice helicopter touring in Hawaii really is – especially if you go on them to see inaccessible waterfalls.
Still, I was a bit bummed and I told her, "You know, I think we ended up seeing more things in the 45-minute Air Maui tour than in this 60-minute tour!"
Anyways, now it was time to take care of some errands. First up was to replace the Calibur we were driving because of the issue we had before our helicopter tour.
Day 1: ERRANDS AND ALL
It didn't take long to get back to the Dollar Rent-a-car office since the heliport was practically next to the Kahului Airport.
When I pulled up to the car return area, I told the inspector about the problem with this car. Of course, he asked if we applied the brakes and all, but I told him "We tried everything. But now it's working again. But we have a flight tomorrow and I don't want to be late because of this problem."
The inspector then said, "Where you from?"
"LA," I told him; trying to give him my best Hawaiian pidgin accent with the way they say "L".
"What kind of car you drive?" he asked.
This took me off guard. He must've thought I was into cars or something like many young guys. Or perhaps he thought I was a young Hawaiian (I did let my facial hair grow out and I did have somewhat of a tanned skin).
He then said, "You must drive a fast car, yeah?"
I smirked and told him, "I got a real old car."
Anyways, I dropped the car off, emptied out the car with Julie and proceeded to go to the office to talk to the clerks about our situation. And in no time, we got a replacement car, which ended up being the same type of car. They originally wanted to upgrade us to some mid-sized car (dunno why people think bigger is better), but we opted for a smaller car. We didn't need gas guzzlers (though the Calibers only gets 22mpg) and we didn't want problems parking either.
So with that we drove off with the replacement car, which smelled like the previous driver smoked cigarettes inside it. Anyways, we returned the AC adapter at Office Max, then had ourselves Hula Cookies at Ma'alaea (where the Molokini Boat tours took off from).
Like before, Ma'alaea was very windy. But we noticed the Hula Cookies weren't as good as we remembered them four years ago. Also, the Brady Bunch guy wasn't there anymore. Julie speculated they must've changed ownership.
Next, we drove back to Lahaina. We decided to lunch at the Cheeseburgers in Paradise. Neither of us had high expectations after disappointing foods at Kimo's and Bubba Gump's.
But after being waited on by a very energetic and perky waitress, gorgeous views of Lana'i, and great coconut and jumbo shrimp – all at a far more reasonable price – this was probably hands down the best dining (although it was lunch) experience of this trip so far. The shrimp was good enough to prompt Julie to say, "Now this is how the shrimp was supposed to be!"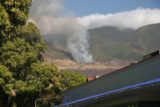 After the lunch, we walked a little bit up and down Front Street. We noticed a fire on the hills of West Maui but we couldn't tell if it was intentional or not. It was pretty relaxing and a way to walk off some of the lunch we had just eaten.
Next, we headed back to the Ka'anapali Beach Club where we changed into our lu'au clothes and spent a few minutes checking out the resort and the beach. It was kind of funny that after nearly three days at the place, this was the first actual tour of the place that we took. And we had to admit that the resort didn't look like much from the outside, but the indoor gardens, lobby, and swimming pool area was impressive.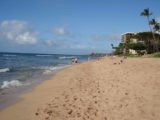 The beach was pretty busy but not overwhelmingly crowded like Waikiki Beach. We could see both Lana'i and Moloka'i from the beach though both islands seemed heavily cloud-covered.
But when it was 4:30pm, we drove back to Lahaina so Julie could check in for tomorrow's flight back to LA and so we could park and partake in the Old Lahaina Luau. It was a function that we had to book two months in advance for.
At the luau, we were immediately intrigued by the oceanfront setting and the very open yet intimate setting. The show hadn't even started yet but we could tell this was probably going to be the best luau we've been to so far.
The theme here is authenticity. We could tell it was not going to be an overproduction.
The free drinks prompted me to try as many different cocktail drinks as possible. The luau food was pretty standard fare of poke, kalua pork, lomi lomi salmon, lau lau, etc.
It was hard to see the Imu Ceremony, but it wasn't all that different from what we had seen in the other luaus.
Then when it got dark, the show started and it was (as expected) concentrated on the culture as expressed in the hula dancing. There was no fire twirling guy at the end so it clearly wasn't a flashy show. But in the end, we appreciated the fact that sometimes less is more, and we certainly thought it was the case here.
The luau ended around 8:30pm, which allowed us to get back to the Ka'anapali Beach Club in time to sleep at a reasonable hour. Both of us were fully stuffed from the luau buffet (which is always the case), but all-in-all it was pretty laid back and satisfying.
As we were about to key into our timeshare, Julie couldn't find the key cards to the room. After a brief moment of panic, she realized that she had left them at the Buns of Maui when she used their internet to check in to our American Airlines flight.
Fortunately, we weren't locked out since we went down to the lobby and got ourselves a replacement key. That was the end of that drama, though we intended to go back to the Buns of Maui tomorrow morning to ensure no one else could break into the timeshare uninvited…
Day 2: A REALLY BLUE HELICOPTER EXPERIENCE
Once again it was 6:30am when Julie and I awoke. But instead of trying to dry things out, the focus of this morning was to finish packing as we were to catch our 3:20pm flight back to LA.
We also wanted to check out early from the Ka'anapali Beach Club so we could go to the Buns of Maui in Lahaina and regain the lost room keys (even though the receptionist said not to worry about it).
We managed to check out from our timeshare at around 8am and regained the keys about 15 minutes later. It turned out that the shop had thrown the keys into the trash so the keys were full of coffee on them. And so we continued to swing south and around West Maui en route to the Kahului Heliport again.
This time, the intention was to fly an East Maui Tour, which we had booked with Blue Hawaiian. Since we were told the briefing was at 9:45am (like yesterday), we made it past Ma'alaea at around 8:30am and decided to spend a little time scouting the eastern shores of West Maui in anticipation of some Waihe'e Ridge hiking after the tour.
The summit of Haleakala looked like it was free from clouds from the Central Valley. However, West Maui looked like it was covered with dark clouds that were prone to producing squalls. I knew that hiking all the way to the top of the Waihe'e Ridge Trail wouldn't happen today, but perhaps we could at least see Makamaka'ole Falls and perhaps Mana-nole Falls.
We got to the familiar Blue Hawaiian Helicopters office at 9:45am. But that was when we were told that we had missed our 9:15am briefing. What?!?
Apparently, we were told the wrong information and they said they tried to contact us. Anyways, the next available flight was 10:45am and there was only room for one person. So Julie decided to take the rental car and go shopping at the nearby K-mart while I awaited the flight. I couldn't help but wonder why they couldn't just put me on the 9:45am flight since we were there a little before that and I had already seen the safety briefing yesterday. Still, it wasn't a pleasant thought having to wait an hour waiting, which was precious vacation time I could've spent doing something else.
By now a dull 30 minutes had passed. Some of that time was spent looking at yesterday's pictures in my camera, which by the way seemed to start acting normally again (i.e. it wasn't turning itself off spontaneously anymore). At least there was that bit of good news.
As I was trying to kill time for the next flight I saw a picture book about the Big Island, which was the last major Hawaiian Island we had yet to visit. While I was busy flipping through the pages, one of the Blue Hawaiian clerks came up to me and said, "I just got a call from the previous tour saying that the clouds are rolling in fast towards Hana. I'm afraid we'll have to cancel your 10:45 flight."
This took me by surprise and the reality didn't immediately sink in until she then asked me, "Now Mr. Cheng, I know you've done the West Maui/Molokai flight yesterday. You could substitute this flight with that one."
A pause.
"…Or you could go to the cashier and get a refund."
"I'll get the refund," I said.
Of course that was also when I realized that Julie was at K-mart and I told her the flight wouldn't be done until 11:30am.
Since it was only 10:30am, this would be another hour of precious vacation time to waste.
So befitting the name of the helicopter company, I certainly was feeling blue as it seemed like nothing was really going right on this day nor on this trip for that matter.
Not knowing what to do, I actually walked down the heliport talking to the other helicopter companies (Sunshine, AlexAir, Air Maui; MauiScape was outside the paid car park area so I accidentally forgot about them) if they had any available flights for East Maui in the morning. None of them had morning flights though so I wasn't able to salvage a tour on this morning.
The afternoon was out of the question since we wanted to get back to the Kahului Airport by around 1pm.
I then tried to get the Blue Hawaiian staff to help me call my wife's cell phone in K-mart. Well, Julie's cell phone was off so they tried to get the K-mart employees to page her in the store.
Unfortunately, they told me that no one was showing up.
So basically I waited out the next very long hour hearing that safety video played and replayed repeatedly for each different flight.
Finally at 11:30am, Julie pulled up to the gate.
"So how was it?" she asked.
"It didn't happen." I told her.
"What do you mean?"
"They cancelled the flight."
I then asked her if she was at K-mart and she confirmed it. Then, I asked if she heard any pages in the store.
"Oh, that was you?!?" she said.
"Yeah. How come you didn't answer?" I said.
"They kept saying 'Julie to the dressing room.' But I didn't know they were talking about me. How was I supposed to know they were paging me? They never said Julie who."
At this point, I was pretty pissed off. Perhaps this was the culmination of the last few days of frustrations, rip offs, and near tragedies. This trip was by far the most frustrating Hawaiian trip we had taken.
So in my irrational state of mind, I was determined to see the West Maui waterfalls regardless of whether we'd be late checking in or not (or perhaps even missing our flight). Having already wasted two hours at the Blue Hawaiian Helicopters on this morning and more if you count the time spent to get there and back, I kept thinking to myself what might have been.
Well we couldn't turn back the clock and do it all over again so we headed north past Wailuku and then towards Waihe'e.
I was kind of in a hurry so I was driving at the locals' speed, but then we saw a cop ready to turn left and go behind us.
Damn!
Fortunately, when I turned onto Hwy 340, another car went behind me before the cop continued to follow us. As we went over a hill, I immediately turned into a residential neighborhood and meandered about slowly in the hopes that the cop didn't see me turn off.
After a few minutes had passed, I got back on the Hwy 340 and continued to head towards the Waihe'e Ridge Trail hoping for the best.
While all this was going on, I noticed that the clouds seemed to have gotten menacingly darker and some of the valleys looked like they were completely fogged in or drenched with heavy rain.
Still, this didn't deter me from getting to the Waihe'e Ridge Trailhead, where at least the rain wasn't heavy and was actually just sprinkling. Having successfully made it to the trailhead, I realized that the potential ordeal with the cop was probably over.
It was 12pm at this point and I started walking with just the camera ready. I quickly walked up the steep concrete path and at the top of it, I was at the familiar opening with Makamaka'ole Falls in sight behind and above the trees in the foreground.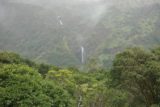 The low-lying clouds initially shrouded the upper visible tier of the falls, but eventually the sprinkling and clouds let up to reveal the falls in its splendor. Still, I wasn't about to go any further as I knew I'd be amongst the clouds in the rain with no guarantee of seeing Mana-nole Falls.
So it wasn't long before I went back to the car where Julie was waiting. It was still 12:15pm so I decided to continue heading north on the West Maui northeastern shores and look for Lower Makamaka'ole Falls.
As we proceeded to climb from the main road past the Waihe'e Ridge Trail turnoff, the road narrowed into the familiar single lane road we had negotiated on our previous Maui Trip. This time there seemed to be lots of cars going the other way. I had recalled on the previous trip that it seemed like we were just one of a handful of people there. This further confirmed my hunch that Hawai'i in general was getting increasingly crowded.
So we slowly made our way along Hwy 340 utilizing yields and pullouts as usual to minimize moments where people going in opposite directions on a single lane road get "stuck." We would eventually make a U-turn at some private driveway and then pull over at the next pullout where there was a power pole and what looked like a little grave or shrine.
Apparently someone died here or something.
Anyways, it was at this pullout that we peered over the cliff and saw a definite waterfall. The size of this waterfall quickly made me realize that the photograph I took on the last trip was NOT the actual waterfall. But in fact it was the falls that we saw right this instant that was the Lower Makamaka'ole Falls.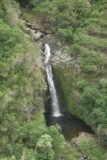 I also noticed some guy in the distance walking on what appeared to be some trail that went from a crowded pullout in the distance towards the pools above the main falls. Apparently these falls were accessible after all.
I walked further down the road to see if I could get another look at the falls. When I reached the next pullout, that was when I saw the familiar waterfall I photographed on the previous trip. Clearly, this waterfall was just a smaller tier above the main falls. Now this falls made sense to me.
Anyways, it turned out our best views was from the pullout we used. So after a few more photos, we started making our way back down the single-lane road.
When we got to the bridge over what appeared to be the Makamake'ole Stream, we saw another pullout. It was here that we saw another path that also led to the pools atop the Lower Makamaka'ole Falls. But since it was now past 1pm, Julie insisted we get to the airport so we could check in to American Airlines and get our boarding passes. That pretty much kept me from briefly walking those paths to see what it was like to have a closer view of the falls.
As we were making it down the hill towards Wailuku, our progress was significantly slowed by a car full of tourists that appeared to be retirees. They were going very slow and refusing to use the pullouts. This was quite annoying since we had to get to the airport and we could totally understand why locals get frustrated with tourists.
When the road became two lanes again, we finally passed them and then got back to the Kahului Airport a little after 1:30pm.
The flight we were on was oversold so it was a good thing that we checked in early. And with that, our Maui redux trip mercifully came to an end…
Visitor Comments:
Got something you'd like to share or say to keep the conversation going? Feel free to leave a comment below...
No users have replied to the content on this page