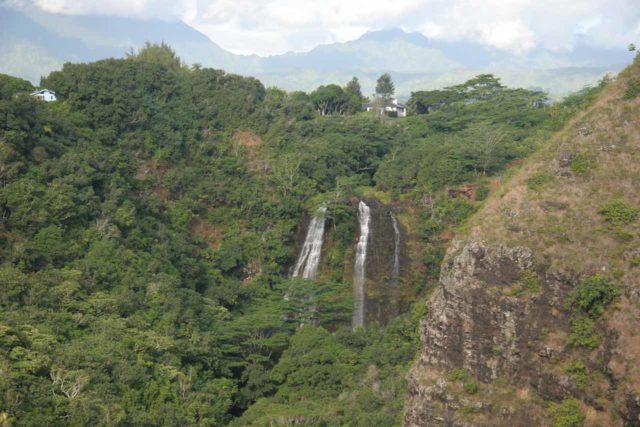 23-December 2006:
Julie was already against the idea of doing this and the steepness of the gorge before us simply made it a rather unlikely proposition. She recalled the helicopter pilot telling us about having to retrieve two dead females near this waterfall just a few days ago. Obviously it was fresh in her mind and she didn't want the same fate to befall me…
TEMPTATIONS GALORE
It was about 7am when we left our room and walked over to Eggberts for some banana pancakes that we had read about. We knew it was fattening food (like lots of the other places we had already eaten at in Kaua'i), but we simply couldn't resist this temptation.
At 8am, we left the restaurant and proceeded to drive south to Wailua Falls. We had expected traffic like yesterday morning, but it was quite light.
The road to Wailua Falls started after a downhill speed trap (where the limit was 25mph but gravity makes it easy to exceed that) though the locals didn't seem to pay any mind to the speed limit signs.
Once we got on the road, it curved and climbed its way towards its end where there were a few parking spots. It was 8:24am and it was just us and one other couple who stood precariously atop the concrete barricade keeping people from falling into the gorge.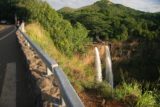 The double-barreled waterfall was quite impressive though it was difficult to get an all encompassing view without doing what that other couple did. It was quite tempting in my mind, but Julie talked me out of it.
I guess the sign of a woman who died here reinforced the idea of just how dangerous it was here. That sign was behind a group of people setting up a vending table besides the car park (despite the sign prohibiting vending here).
We knew there was informal routes leading both to the top of the falls as well as the bottom of the falls. With the help of Julie and the signs of people dying here looking for such a view, we decided not to take these risks.
Julie and I got back in the car at 8:57am and proceeded to drive to the touristy viewpoint at Opaeka'a Falls. By the way, Opaeka'a means rolling shrimp and was so named because Hawaiians used to observe so much shrimp below the falls that they appeared to be rolling.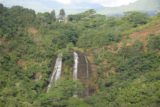 We arrived at the car park at 9:17am. The viewpoint from here was quite distant and there was a tree growing and conspiring to block the falls over time.
Still, the view from here was quite unsatisfying and I was very tempted to follow the Kaua'i Revealed book's directions and scramble my way down to the base of the waterfall.
Julie was already against the idea of doing this and the steepness of the gorge before us simply made it a rather unlikely proposition. She recalled the helicopter pilot telling us about having to retrieve two dead females near this waterfall just a few days ago. Obviously it was fresh in her mind and she didn't want the same fate to befall me.
We guessed these two unfortunate women probably tried to find that pigs trail that crossed the river above the falls then went down some steep cliffs to the base as described in the Adventures section of Kaua'i Revealed (or The Ultimate Kaua'i Guidebook).
Eventually she talked me out of attempting the scramble to the base of the waterfall. I reckoned risking life and death over a better photo of the waterfall just wasn't worth it – even though I was confident I could do it. If it wasn't for Julie, I might have taken a foolish risk. Besides, if something did happen, it would be a terrible way for a wife to lose a husband. Still I have to admit, I'm still curious about the way down and the view from there.
So we left the car park at 9:46am and immediately headed across the highway towards Kamokila Village where we intended to do the guided canoe/kayak and hike to Secret Falls.
A NOT-SO-SECRET WATERFALL
When we got there at 9:51am, we paid our $30 per person admission and then had a real friendly conversation with the Hawaiian worker at the car park manning the entrance booth.
It was during this conversation that he told us about Opaeka'a Falls when I inquired about the way down to the bottom.
He said there was indeed a path on a maintained trail that was there for land workers to clear our any blockage after storms at the base of the falls. And although that path crossed through state land, it was leased to a private company. Thus, the public couldn't use it.
He then went on to say there was another path that follows a pigs trail that then crosses the watercourse above the falls. There are ropes put in place on a precipitous descent but they were put there by daring local kids who tend to take risks. He admitted to having done this himself when he was younger and (he chuckled when he said this) over a hundred pounds lighter. But after two women died a few days ago at this spot, the state erected more barricades to close the trail. So I guess that put to rest any further thoughts I had about wanting to go down there. It was certainly a risk not worth taking.
We also asked him about the apparent lack of waterfalls pumping on the Na Pali Coast and the Wai'ale'ale Crater.
"I don't want to sound like I'm into conspiracy theories or anything. But I've noticed that the winter season was getting pushed back towards the January through March time frame," he said. He then continued, "Now should be the perfect time to see waterfalls."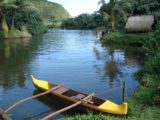 And with that, he openly implied the link between a consumption-oriented capitalistic way of life and the apparent climate change. Of course I agreed with him having seen the drought in Australia and the lack of snow that Julie and I had heard about in the Alps. Obviously the evidence is all around us.
Anyhow, the Hawaiian guy encouraged us to take a stroll through the village while we awaited the next round of canoes and kayaks. So Julie and I took a brief walk in the Kamokila Village, which basically had a series of hut-style houses (hales). We didn't spent too much more time here as we were more stoked about getting on the guided canoe towards the trailhead for Secret Falls.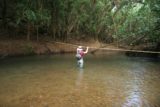 And at 10:40am, we joined another couple along with a guide. It wasn't long before we landed in a shaded area where there were dozens of other canoes. We agreed to return here between 12:30pm and 1pm so that left us close to two hours.
There was a large group here obviously ready to do the hike to the falls. Julie and I were in front of the large group and proceeded with the hike at 11am.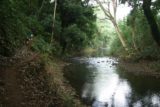 We immediately had to cross a rather chilly river that went as high as our thighs. There were ropes there for balance, but we didn't have a problem crossing it.
Then, we went on a trail that took roughly 30-40 minutes. It was pretty easy to follow but had plenty of slippery and muddy spots. There was one spot where it was easy to take the wrong trail, but we knew that we were going upstream to the falls so that kept us oriented.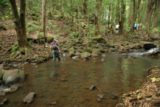 The track also had a few ankle-deep creek crossings as well as a few sections involving crawling under fallen trees and scrambling up a small landslip using tree roots as footholds.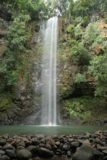 But we eventually, we got to the busy scene at the falls as several people swam at the base. There were three brave guys swimming and essentially getting a cold shower underneath the 100ft Secret Falls.
Julie and I spent some time here taking photos and having a brief snack of chips we brought ourselves.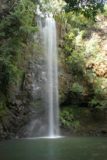 But the moment didn't last long enough, I reckoned as we had to leave after 12pm. We probably only spent about 20 minutes here.
At 12:40pm, we were back at the trailhead where the canoes were.
Since a group of folks occupied the guided canoe, the guide asked us if we could take a kayak ourselves back to the Village.
We said we could and so we were on our own paddling our way back.
Finally after about 20 minutes of our own quiet time on the Wailua River, we got back to the dock. Then, we talked with the friendly Hawaiian guy manning the bookings.
This time, we talked with him about the Kalalau Trail, especially in light telling him we were waterfall fanatics.
Julie was nervous about that trail especially in light of how slippery the seemingly easier trails were up to this point. But the Hawaiian guy told us that most of the trail is exposed to the air so it's not as muddy. The rainforest trails that we had been on were muddy because there wasn't enough sun to evaporate the moisture away.
He seemed quite confident we could do the intended day hikes considering the apparent shape we were in (i.e. not being too out-of-shape).
So at least we had that to look forward to – though I'm not sure Julie was still sold on the safety factor.
But anyways, we were back in the car at 1:18pm and headed back into Lihu'e for some saimin (basically Hawaiian-style ramen noodles) at Hamura's Saimin Stand for lunch. At least we wouldn't have to worry about any more temptations or risks involving hikes for the rest of today…
Visitor Comments:
Got something you'd like to share or say to keep the conversation going? Feel free to leave a comment below...
No users have replied to the content on this page