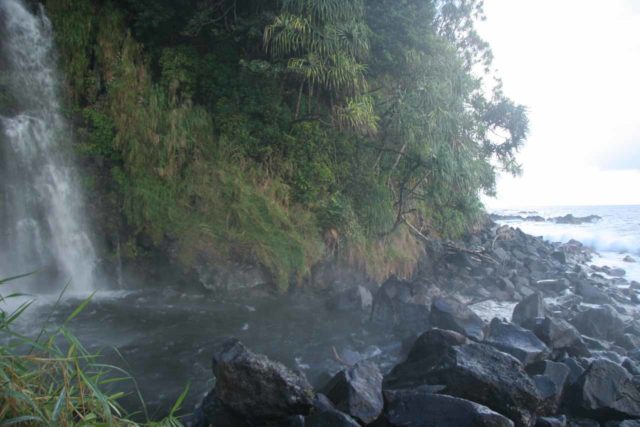 24-February 2007:
When I caught up to Julie, I had noticed that she stopped immediately before the stream we had just crossed just a few minutes ago. This time however, the submerged rocks weren't visible. I thought this was kind of strange and it immediately became apparent to me that the wide stream had risen. So I took a couple of steps to survey the scene, and on the second step, my feet were momentarily off the ground as only my head was above water…
DRAMA AT THE BLUE POOL
Julie and I took our time checking out of the Hana Kai Resort and we didn't begin our return to civilization until around 8:30am.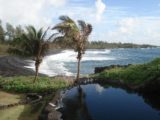 The first item on the agenda for today was to make an attempt to check out the Blue Pool (formally known as Helele'ike'oha Falls).
I had my doubts about visiting this attraction given the displeasure of some locals at the rate of visitation of the Blue Pool as well as the subsequent littering and noise pollution problems. I wasn't sure if we would be confronted by the infamous "Mad Hawaiian" who wouldn't let any tourists pass. I also wasn't sure if the conditions were such that we could even access the attraction given the heavy showers we had been experiencing yesterday.
Most tourists who have read the Blue Bible have undoubtedly been aware of this attraction. But apparently, the end of the road and the walkway crosses over some private property. So that's where tourists who have read the book run into trouble with trespassing (and the Blue Bible seems to have a problem with directing people to private property or making other once-welcoming gems prone to closure or at least stink eye).
Historically, there had been public access to the falls, but when the attraction became overwhelmingly popular and attracted hundreds (possibly thousands) of people a day, that was when some of the locals started to get fed up enough to take definitive action.
Despite some of the displeasure by certain locals, there are others who are more inviting as they've devoted part of their own lots for parking.
Talk about mixed messages!
I know we weren't alone in our reckoning since a couple yesterday asked if we were going to try. That same day, we had seen a handful of other cars head down the 'Ula'ino Road and we figured they all wanted to see the Blue Pool – controversy or not.
When we saw the couple (who had asked if we were going to the Blue Pool) at Waianapanapa State Park, we were told that they were turned back by the high water at the first concrete ford. So they couldn't even test whether someone was there or not.
So on this quiet Sunday morning, it wasn't long before we made our attempt and headed down the 'Ula'ino Road ourselves.
Personally, I think a lot of the overcrowding issue can be solved if the residents there can agree on conducting a tour. That way, the visitation will only consist of paying customers (obviously paying for the locals' time as well as possible infrastructure to support visitation). This would limit the number of people on the tour as there could be both the cost of visitation as well as a limit on the tour size.
If the Blue Pool area is as sacred as I've seen some people say it is, then this would also give the locals an opportunity to explain to paying visitors about the culture and reasons why the area is so important. This would not only educate the visitors about respecting the land and the people, but it could sway public opinion into a more sympathetic state of mind rather than an antagonistic keep-out type of mindset.
I know this was done successfully in Halawa Valley on Moloka'i, where we came out of there understanding why Moloka'i locals are resistant to commercial tourism. In fact, through that tour, we were also made aware of the controversy over the planned condo/resort development at La'au Point on the southwest side of the island and how it would impact Hawaiian lifestyle as well as the already fragile ecosystem.
Anyways, it's ultimately up to the owners at the end of 'Ula'ino Road how they want to deal with this problem as the cat's already out of the bag so-to-speak. This was just my opinion on how it can be solved.
Back to the story…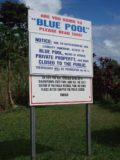 As we started driving down the 'Ula'ino Road, it wasn't long before we noticed a sign erected near the start of the road saying that you could be prosecuted for trespassing if you decide to go to the Blue Pool. This already created a very unwelcome feeling.
Not much longer afterwards, we saw a new-looking car full of locals on the way out. Julie and I worried that they'd say somthing nasty to us, but the driver smiled and waved at us as we drove past.
"Maybe she thought I was kama'aina," I jokingly told Julie. That was because I hadn't shaved for a while (so my goatee was very apparent and scruffy) and I had tanned skin that I guess could pass for that Polynesian look.
As the paved public road continued, we saw the first concrete ford. This was probably the one that turned back those who tried yesterday. Now, the water level was low and passable as indicated by the high-water posts so we went through that and continued on the progressively deteriorating, pothole-riddled paved road, which then gave way to unpaved road.
We eventually reached a large lot with a big Blue Pool Parking sign. There were "No Parking" signs posted on trees further up ahead so we decided to just park in that large lot.
That sign sure was welcoming, but still the tension of feeling unwelcome was certainly in the back of our minds.
I also didn't recall having to park so far from the Blue Pool last time.
But as Julie and I walked down the road, we crossed another concrete ford that was similar to the first one. So obviously, we didn't drive as far as we did four years ago.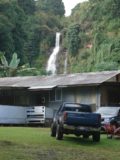 Not long after this concrete ford, we saw a waterfall flowing behind someone's house that I didn't recall seeing on the last trip. I guess it was kind of an indication of how much rain had fallen yesterday.
We continued walking on the road between private homes on either side of the road. That was when we saw additional parking areas asking for a $2 fee. One of the lots was probably the one we stopped in on the previous trip here.
Not long after the $2 parking area, there was a makeshift road barricade. Some handwritten note on the barricade said something to the effect that rest of the road was a private driveway, that there was no Blue Pool, and that it was for family and friends only (hmm, kind of contradictory now that I think about it).
Julie and I hastily made our way past the makeshift barricade and then walked briefly to the banks of the stream that led its way to the ocean.
Behind us, we could see the last house on the road, and undoubtedly, it was the residents in this property that no longer want people visiting the Blue Pool. But the house just before it adjacent to the stream also didn't want visitors so it wasn't like you could somehow scramble towards the stream and then avoid the private properties that way either (it was also a bit more dangerous to do that).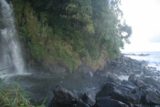 Anyways, beyond the stream, we could see part of Helele'ike'oha Falls up ahead and it was surely gushing. In the last trip, you wouldn't even know it was there until you boulder-hopped right to the front of the falls.
But all this increased waterflow also meant more water in the stream we had to cross. This was certainly evident today as we could no longer cross on the rocks sheltering the inlet from the ocean (unlike before).
So we both crossed the long and wide knee-deep stream to the other side. Then, we proceeded to scramble over the familiar black boulders alongside the ocean on the way to the Blue Pool.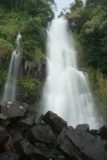 Barely a couple of minutes later, we were there in front of the falls, which was blasting with lots of mist. It made things a bit difficult to photograph in front of the falls.
Julie and I took what photos we could, but clearly we didn't feel welcome here so we didn't linger much longer. So Julie started walking back and I followed a minute later.
When I caught up to Julie, I had noticed that she stopped immediately before the stream we had just crossed just a few minutes ago. This time however, the submerged rocks weren't visible. I thought this was kind of strange and it immediately became apparent to me that the wide stream had risen.
So I took a couple of steps to survey the scene, and on the second step, my feet were momentarily off the ground as only my head was above water.
"Honey!!!" Julie screamed.
In that brief moment, I was a bit panicked. It crossed my mind that I could be swept out into the churning open ocean just a few feet downstream.
But fortunately my next step was onto some submerged boulders and I was able to hurriedly scramble further to the other side. All the while I was scrambling, I was pointing upstream where I should've crossed in the first place as I had suddenly realized that I crossed in a deeper spot than before. I was hoping that the pointing would help Julie figure out where she was supposed to cross.
It was also by that time that I realized I had gotten the camera and backpack drenched.
Still, I had make sure Julie was able to cross as she was still waiting on the other side. She was clearly scared.
After dropping the camera and backpack on the dry part of the boulder-fringed banks of the stream, I went back towards Julie.
As I started to get deeper into the stream, she had already begun to make her move. The water now appeared to have gone up to her chest. Since she wasn't confident in her swimming abilities, she was even more scared as she made the traverse. I would eventually take her by the hand at the deepest part of the crossing and then lead her all the way across the stream.
After regaining the drenched gear I had left on the shores, we hastily made our way back onto the 'Ula'ino Road and continued walking back towards our rental car at the signed Blue Pool Parking area.
As we walked past the $2 parking area, we replayed in our minds what had just happened.
"I think the stream underwent a flash flood," I said. "It went from knee deep to chest deep just a few minutes later. We didn't even spend that much time at the falls.
"I think we were fortunate that we weren't in the stream when the initial surge happened. We would've been toast."
Even though the weather was fine at the Blue Pool, there were heavy clouds dumping lots of rain further upslope on the eastern side of Haleakala. Much of that water drains into rivers and streams that rush their way into the ocean. Apparently, the stream we had crossed was one of them.
And so we continued to make haste back towards the car. By now, there was more activity in some of the homes and even the pit bulls in someone's yard were awake and snarling as we walked past. We could feel the unwelcome tension from the driver of a beat-up pickup truck as he drove past us near the pit bulls.
Finally, we made it back to the car. It was still intact and not broken into so that was a relief. But I was still worried about that last concrete ford given the flash flood we had just experienced.
Even though there was no signage or anything asking for money, Julie dropped a $5 bill anyways into a rusted tin can with a hole in its opening.
As we drove out and made our out along the 'Ula'ino Road, the reality started sinking in that our expensive Canon EOS 20D may be ruined as well as any other electronics that were in my backpack (battery rechargers, backup batteries, backup memories, Wolverine HDD, etc).
My wallet was totally drenched as well as the camera bag and backpack. Julie's little daypack fared better since she didn't make the same mistake I did when crossing the flooded stream.
In hindsight, we should've waited out the flood. However, the unwelcome feeling we got there kind of hastened us.
I also should've used the tripod as a probing stick before I took any steps. Once I would be able to assess the shallowest crossing, then I would take the gear and hold them over my head as I crossed.
I kept playing this in my head over and over again knowing that I could do nothing to change the past.
Anyways, we'll have to leave all the electronics off and hope they still work when they're dried up.
When we reached the concrete ford, I was relieved to see that the water was still below the red paint. So after crossing it, we eventually made it back to the Hana Highway.
"So was it worth it?" Julie asked.
I shook my head.
Obviously, with the private property concerns and flash flooding danger (especially given the foul weather of the past couple of days), it was clear that we pushed our luck today.
Still, I think it's a shame that such a beautiful attraction could end up being treated this way. I could only hope that something gets worked out that works for both the incensed property owners and tourists looking to enjoy Maui's finest natural attractions.
I know the common saying is that there are plenty of other attractions on Maui, but this one is one of the better natural (and therefore uncontrived) attractions on the island. I think it's too bad that it's usually the natural attractions (which I think are the most worthwhile to visit; especially since most of them are endangered or becoming endangered from overdevelopment and overpopulation) that are usually subject to human-induced closures – whether by frivolous lawsuits, litter, an unwelcoming owner, or water diversion/damming.
THE REST OF THE HANA HIGHWAY
Having had very good banana bread yesterday, we briefly turned left and headed back in the direction of Hana in search of that stand that had sold it – hoping to get some more of it. But it was still closed so we made a U-turn and made our way back towards Pa'ia.
I was driving very slowly on the Hana Highway as we weren't in any particular hurry on this day. We basically planned on seeing the Nahiku Pond and Twin Falls since we had done neither of those on any of our previous trips on the Hana Highway.
When a local would zoom up to us, I'd look for the nearest pullout to let them pass. Usually, I got friendly gestures from doing this.
But I did see frustrated locals behind tourists going the other way who seemed unwilling to do the courteous thing and pull over at a pullout. I even saw one local flip the bird as she quickly swerved around the tourist and onto the single lane bridge as we yielded and watched the whole scene. I even saw another local honk, put his arms out the window, and point to the pullout.
"I could totally see why locals get sick of tourists here," Julie said.
The weather seemed to have significantly improved since yesterday as we saw more sun. So some of the waterfalls that were gushing yesterday weren't quite as vigorous today (e.g. Hanawi Falls and Pua'a Ka'a State Park waterfalls). However, most of them were still more than a trickle.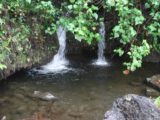 We would eventually make it to a sharp turn that took us onto the Nahiku Road. The road was mostly narrow as it steeply descended into Nahiku Village. We took the road all the way to its end where we saw gorgeous coastline views as far north as the Keanae Peninsula.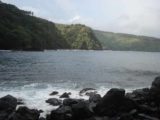 It was too bad I couldn't take photographs with the Canon so we had to settle for Julie's point-and-shoot Sony Cybershot.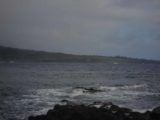 The weather shifted from heavy squalls to brief moments of sun. So we spent some time here shooting photos of the coast. I also briefly scrambled down to a little cove where there was a little cascade dumping into a sheltered pool that let you look out towards the Keanae Peninsula.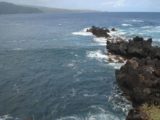 As we had our fill of the coastline, we slowly drove out and pulled over at a pullout past the guard rails where the jungle started to appear again.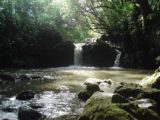 I took this opportunity to get out of the car and briefly walk down to the Nahiku Pond. There were plenty of mosquitoes buzzing around as I scrambled onto some slippery boulders for a view at the gushing 15ft waterfall. After snapping photos with Julie's camera, I got back to the car to rejoin her and we continued our drive out of the Nahiku area and back onto Hana Highway.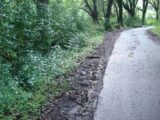 Throughout our little Nahiku excursion, I was hoping to find the trailhead for the Lower Hanawi Falls, but I knew there were private property issues (under EMI lease) so I didn't really expect to find it. There was nothing down there from what I could tell that indicated where the Lower Hanawi Falls could be accessed.
Back on the main highway, we continued to merrily make our slow, winding drive out towards Twin Falls. It was around this time that we decided to stop at the Halfway to Hana stop to pick up some more banana bread as well as make a toilet stop.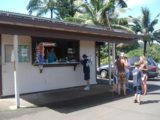 It was also at this time that we realized that Julie's laptop wasn't getting any power from the car charger.
"It's either the car charging converter or the laptop's power supply," I said.
"Great," said Julie sarcastically. "What else is going to be broken today."
Well, so much for GPS tracking live on the topo map. Julie's Inspiron 700m won't last too much longer so that just increased the list of things to do in Kahului as well as back home in LA.
After having a quick banana bread lunch at the Halfway to Hana, we continued our drive.
Along the way, we made it past Waikani Falls, which was starting to have its more characteristic three bears appearance. But since we were headed the other way, we didn't bother sticking around and waiting out the crowd to find parking.
We went past the Punalau Stream where there was a car parked there. Obviously, someone else wanted to do the same scramble I did yesterday. We also passed the Ha'ipua'ena Falls short walk, which we did on the previous trip and didn't feel like redoing it. We also passed by Puohokamoa Falls, where another poor soul was reading the same closure sign (due to frivolous lawsuits) I had seen yesterday.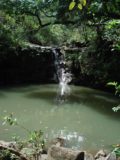 We did stop past a bridge after the 10-mile marker where there was another car parked at the pullout. We noticed a little waterfall from the bridge and decided to check it out. There was a very short walk to the falls as it fell into a brownish pool. A flash flood warning sign obviously indicated that others have visited this falls and possibly swam in the calm pool. Anyways, the sloping waterfall was pretty, but we didn't linger too long before we left.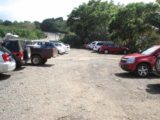 Finally at around 1pm, we made it to the Twin Falls car park. Both Julie and I couldn't believe how crowded it was. We knew the falls were small, but my jaw dropped over the popularity of this attraction.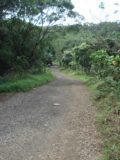 Anyways, we managed to find parking and then I headed out alone on this trail with Julie's camera. Julie knew it was a small waterfall so she opted to rest in the car.
The trail went past a fruit stand that appeared to rake in good business for the owners of the land. It was kind of rare to see private land like this so open to the public. But I reckoned it was raking in enough money here so it made sense to open it up.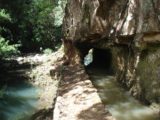 Anyways, behind the stand, the trail pretty much followed a 4wd road past a concrete ford and then along some ditches. Some of the people walking on the trail (many of them in groups as well as families with kids) had to do some balancing at the end of the ditches before they finally made it to the impressive 20-30ft falls.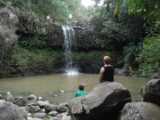 There were a few daredevils who jumped off the cliff at the top of the falls and into the plunge pool.
But it was easy to see why the falls were popular given that it's a decent spot to swim and it was the first attraction on the way to Hana along the Hana Highway.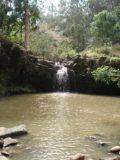 Still, I continued up a steep scramble then along another use-trail towards a smaller waterfall further upstream from the main one. This one was about 10-15ft tall. It was certainly quieter than the lower falls, but I could totally see why the falls were collectively called the Twin Falls now.
When I had my fill taking photos, I headed back towards the ditches when I saw Julie coming towards me. I guess she got bored in the car.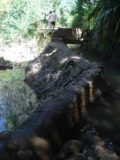 Anyways, we went back towards the first falls where we watched a few more people do a cliff dive over the top of the falls.
And with that, we headed back to the car.
But as we headed out and made it past the ditches and then past the concrete ford, I couldn't help but notice more rushing water sounds off to the right. I also heard voices of people frolicking as well.
So that diverted my attention enough to check it out. Julie kept on going straight back to the car.
When I made it down a steep and slippery trail towards the bouldering stream, I saw the cascading waterfall. There was also a rope swing as well as plenty of people having fun swimming at the falls.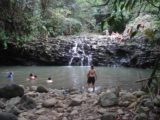 Only locals with a handful of tourists were here. It was no wonder considering how relatively hidden this particular waterfall was.
At 2:30pm, I made it back to the car. Somehow I missed the path that went straight to the fruit stand and ended up exiting through a different gate at the north end of the car park. Either way, we got back in the car and proceeded to continue heading back into civilization.
BACK TO CIVILIZATION
Julie had a craving for shave ice and there was the Aloha Shave Ice place in Pa'ia town that she wanted to check out.
On the way to Pa'ia, the road was now definitely two lanes again and much faster than the Hana Highway. We noticed heaps of windsurfers and even kitesurfers tackling the big waves on this side of the island. The car parks were quite packed so we didn't bother stopping to check out the scene.
Still, I'm sure the kitesurfing buddies back at work would love to hear about this. Imagine the possibilities with onshore and sideshore tradewinds funneled into the central valley for nearly perfect and constant strong-blowing winds. I'm sure these are far more reliable than the variable sea breezes we get back at Belmont Shore in Long Beach, CA.
Anyways, we were back in Pa'ia town at 2:45pm. I couldn't believe the amount of traffic here, especially going the other way. It was a good thing we were heading back to Kahului when we did to avoid most of this gridlock.
As anticipated, we stopped at the Aloha Shave Ice and had ourselves the treats. It was good, but the texture was a bit more snow-cony that say some of the better ones we had at Wailoa Bakery in O'ahu and Jo Jo's Clubhouse in Kaua'i.
In Kahului, we bought a car charging AC adapter just in case the one we had was broke. We didn't open it though as we wanted to test Julie's Dell AC adapter at the timeshare at the Ka'anapali Beach Club.
After negotiating some traffic of our own around the southern end of West Maui, we'd eventually get back to our room at 5pm.
When we tested the adapter, our worst fears were confirmed. It was indeed the Dell Adapter that went out. So tomorrow, we'd have to return the car charging AC adapter we had just bought.
What a bummer!
I guess the laptop is out of commission for the rest of this trip and even at home until the replacement adapters arrive.
While Julie was busy fiddling with her laptop, I was busy laying out all of my drenched contents. Everything from receipts, business cards, wallet, cash, etc. was laid out to dry. Also all the electronics were left out to dry as well. I really hoped the camera would still work as we had a helicopter tour to do tomorrow and I needed the multi-shot fast-capture capabilities of the EOS 20D to have a shot at getting decent waterfall photos.
When all that was done, we headed back into Lahaina town for dinner. We ended up eating at Bubba Gump Shrimp, which was overpriced and the food wasn't good. At least the service was real good. Still, it seemed to have reinforced a growing notion of ours that Maui sit-down eateries were collectively the worst of all the islands we had been to.
"No more chain restaurants," Julie said.
"Oh, now you finally come to your senses," I said, sarcastically.
After the dinner, we returned to the Ka'anapali Beach Club to rest up our tired bodies. After two days of our Hana excursion, I had to admit that the amenities at the timeshare sure was nice. Still, I kept my fingers crossed that the camera would still work tomorrow…
Visitor Comments:
Got something you'd like to share or say to keep the conversation going? Feel free to leave a comment below...
No users have replied to the content on this page