RENTAL CAR DRAMA
The day began with a 4:30am wake-up as we had to catch our 6:20am flight from Honolulu to Ho'olehua, Moloka'i. We pretty much prepared for this morning by pre-packing for our one-day trip as well as sleeping early (9:45pm to be exact) so we were already out of the Ohana Maile Sky Hotel by 5am.
We managed to make it to the Honolulu Airport without incident and caught our Island Air flight on time. The small aircraft touched down by about 6:35am at the Ho'olehua Airport in Moloka'i and we picked up our rental car by 6:45am. It was still dark as the sun still had yet to rise from the east.
As we collected the Dollar rental car, we had trouble finding the correct vehicle as the rental contract had a different license plate number than the car that ended up unlocking. Complicating the issue was the key alarm wasn't working.
So after a few more minutes of explaining to Dollar the issue with this car (which happened to be brand new), the agent noted the problem on our rental contract and we started to leave the airport finally. By now, it was a little past 7am, the sun had risen, and there was daylight.
As we drove out of the airport, we noticed that the car was sounding kind of strange when we accelerated. It was as if it was constantly on overdrive, and we eventually figured out that it was!
Anyways, I managed to get the automatic car back in normal driving mode and we finally headed east for about 7 miles towards Kaunakakai where we would pick up our vouchers (for our waterfall hike in Halawa Valley) from the Moloka'i Fish and Dive shop in town. When we arrived at the dive shop at 7:28am, the shop hadn't opened yet (they open at 7:30am). So we waited for the shop to open up, but that was when I figured out that the vehicle was on high beam!
Oops! I hope I didn't piss off any drivers going the other way…
By 7:40am, we continued on the nearly 90-minute drive further east to Halawa Valley. During the drive, it was immediately apparent that this island had a very laid back feel to it.
There were no traffic lights and there seemed to be a noticeable lack of development. It was quite a refreshing contrast to the asphalt and concrete jungle of southern Oahu.
But one thing we couldn't help but notice was numerous residences posting signs mentioning something about saving La'au Point. Julie and I speculated that there must be a familiar battle of development versus preservation. And I reckoned this was something we could ask our tour guide when we go onto today's hike.
The Highway 450 started off as a pretty wide two-lane highway hugging the serene southern shores of the island while passing by pockets of residences strewn along the road. But the further east we went, the narrower the road became. Fittingly, the seas also were noticeably rougher as well.
It was along this stretch of road that we also noticed fish ponds, which were man-made tidepools (from the stacking of lava rocks into walls) created to help locals both catch fish as well as breed them. They were ingenious inventions for their simplicity and effectiveness.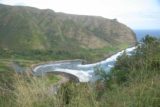 As we started to round the southeastern bend of Moloka'i, the single-lane road seemed very close to the churning ocean and the taller waves. I couldn't help but feel kind of uneasy as we drove through this stretch of road thinking that any rogue wave could overwhelm us and drag us into the ocean.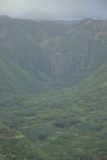 Anyhow, the conditions were favorable (maybe we were overreacting) on this morning and we managed to get to an overlook of Halawa Valley by 8:35am. It was here that we could see the 500ft Hipuapua Falls nestled deep in the back of the valley. It was a little harder to see Moa'ula Falls (the falls we were going to hike to) from here though.
Directly below us as we looked partially through the foliage swaying in the trade winds was a picturesque cove.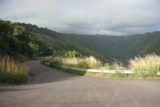 We continued down the narrow paved road until we eventually got to the Halawa Park at 8:48am. There was a shelter with a bathroom as well as some ruins of an old church to the right. This was where we were supposed to meet our guide.
There were already people waiting here as well and it seemed we were going to be hiking in a pretty big group of about 10 people or so.