MOA'ULA FALLS
At about 9:15am, our tour guide named Josh came by to meet us. After going through the usual introductions while we awaited any more people who might be on the tour, someone beat me to the punch and asked Josh about what was going on with La'au.
That was when Josh summarized the situation to us in about five minutes.
It turns out that La'au Point is a part of southwestern Moloka'i that is slated for the development of some luxury homes or resorts that would support some 200 people.
The owner of the land, which was a company based in New Zealand, was said to be losing some $40 million a year and they saw this avenue as a way to make their investment worth their while.
In return for the development, it was promised that some 26,000 acres of land would be allocated strictly for the local community to do what they wished.
It sounded like a sweet deal, but here was the catch…
To the locals, La'au Point has religious and ancestral significance. There were also good places to fish. Josh had personal memories of the place and we could tell that he hated to see it go.
The development would make Moloka'i commercialized, which it had largely escaped up to this point.
In addition, the 26,000 acres of land promised to the locals were practically unusable. Furthermore, supporting resorts in the dry southwest also meant water diversion from the existing wells (which were supporting the local population) in the practically untouched eastern side of the island.
There were also concerns that the 200 visitors in the resort could easily multiply as land would get further subdivided. This was already observed in other islands such as Oahu, Maui, Big Island, and Kaua'i.
Many residents of Moloka'i are employed by the New Zealand owner so they are trying to find another way for the owner to recoup their investment without sacrificing the way of life here.
Anyways, Josh closed off the discussion by saying the fight to save La'au Point had unified the Moloka'i community in much the same way that they banded together to keep the Navy from continuing their bombing of the island Kaho'olawe (as target practice).
By 9:30am, it was clear no one else was on the tour so we got back in our cars and followd Josh into a private residence past a green church. That was where we all parked our cars.
Then, we began the hike at about 9:45am.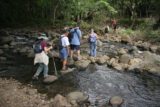 The hike was at a relaxed pace and involved lots of stopping as Josh explained various aspects of the land and the culture along the way. Unfortunately it was during the times we weren't moving that the swarms of mosquitos got their free shots at us.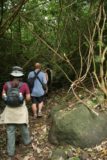 And unfortunately for Julie, the bites she got swelled up. It got to the point where she was starting to feel a pain in her right arm as the swelling seemed to constrict some of the circulation. It was reminiscent of her swollen arm episode in Fiji.
At least we now know that it wasn't spiders or bees. It was merely her allergic reaction to mosquito bites…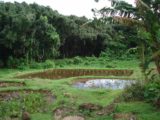 Through Josh's info sessions, we learned how to identify noni, taro, ti leaves, and even lilikoi. He also pointed out where old religious sites (heiaus) and houses (hales) used to be.
One of the more interesting things Josh pointed out was a type of Hawaiian Olympics (I don't know how it's really called) that Moloka'i had been hosting for some 26 consecutive years that involved all the Hawaiian Islands. It was clear that the people of this island was trying real hard to maintain the Hawaiian ways even in the face of inevitable change (not necessarily for the better).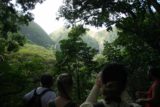 Anyways the trail crossed the river a couple of times, but they were manageable without getting any feet wet. In hindsight, we probably could've worn hiking boots instead of Chacos for this hike (since mosquitos managed to get parts of my feet).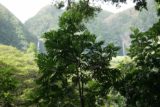 A little past the half way point, we were able to get partial views of both Moa'ula Falls and Hipuapua Falls together. Still, the best views of Hipuapua Falls were way back at the head of the valley as the road started to make its descent.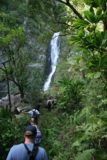 By about 11:30am, we arrived at the base of Moa'ula Falls. The hike was much easier than we had anticipated as the trail was quite easy to follow and it was pretty flat. There were only a few fallen tree obstacles that required ducking under.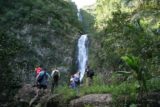 It was really the mosquitos that were the most annoying aspect of this hike. But the helicopters from Maui weren't much better as they kind of created some noise pollution. Josh lamented that many of them are flying lower than the 500ft buffer. I could see how these "motorized mosquitos" could be very annoying if you live here and have to hear them eight times a day.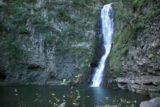 On a related note, Josh told us that Hipuapua Falls tours weren't offered in the winter because of the flash flood danger and the likelihood of falling rocks especially when choppers would fly too close and possibly pry some of the rocks loose (let alone the ones that drop naturally due to erosion). They do however offer them in the summer but he said that experience is much more "intense" than the Moa'ula Falls hike we were on. Perhaps I might be up for that challenge when the opportunity presents itself one of these summers.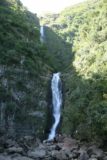 At our stopping point, we could see the lowest tier of Moa'ula Falls in its entirety. There was another tall upper tier immediately above the lowest tier, but it was mostly obstructed by trees and a cliff as the upper falls faced a different direction.
The water looked quite cold for the couple of folks who actually swam in the plunge pool. Josh volunteered himself to go for a swim and he did a little cliff dive into the deep plunge pool. I don't think any of us were able to capture him in mid-air on our photographs.
By noon, we headed back to the start of the hike. We practically didn't stop at all on our way back so the mosquitos didn't really get in any more shots at us. We ended up back at our cars by 1pm, which was much earlier than the anticipated return time of 2pm.
All in all, it was a fun hike and quite an educational experience as we now could get a better sense of why Moloka'i resists becoming like the other islands. We could also appreciate the effort of some of the people of Moloka'i in trying to revive the old ways of Hawai'i.
As it came time to say good-bye to Josh, I asked him one last question.
Since the back of his shirt said, "A'ole La'au," I inquired what it meant.
He said something to the effect that it meant "no La'au" or that it was opposing the coming development of the southwest of Moloka'i at La'au Point.
"Fight for the cause," I said, nodding my head approvingly.
And with that, we gave each other the shaka symbol as we parted ways.