AIRPORT DRAMA
We left Halawa Valley at around 1:15pm and both Julie and I fought off a little bit of sleepiness along the way back towards Central Moloka'i. Obviously since I was behind the wheel, this was not good.
Anyhow, we determined to get to the Kalaupapa Overlook just to hopefully get a glimpse of the sea cliffs on the north shore (apparently the tallest ones in the world) as well as the Kalaupapa Peninsula which once housed a colony of those afflicted with Hansen's Disease (also known as leprosy).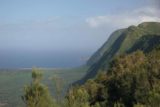 We arrived at the overlook at 2:45pm. It was a bit disappointing as the foliage got in the way of any decent photos we could take – of either the cliffs or the peninsula.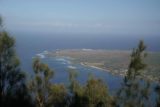 We did the best we could taking photos from here, but we spent more time walking over to the Phallic Rock, which was basically believed to be a fertility rock for reasons that are obvious once you get a look at it.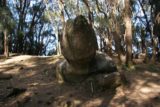 At 3:25pm, we returned to the car and headed back to the town of Kaunakakai. While we were there, we picked up some smoothies and pastries before filling up on gas for our drive back to the Ho'olehua Airport.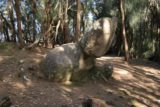 On the way out of the Chevron, a Hawaiian girl flagged us down as we were about to turn right onto Hwy 450.
"You're going to the airport, right?" she asked.
"Yeah," I replied.
"Can I get a ride with you to my mom's office? It's on the way," she said.
"Sure," said I not wanting to be rude and being in a generous mood. I knew this went against conventional wisdom of hitching strangers. Anyways, I felt like I couldn't say no.
The car ride back to the girl's mom's office was very awkward. It was basically silence broken by the reggae music on the car stereo and the girl chewing on her food loudly. No words were spoken except for when the girl told me when to make turns and when to stop.
We managed to drop her off successfully and headed back to the Hoolehua Airport.
After returning the Dollar rental car, we checked my bags in the back seat to make sure the girl didn't put any drugs or anything else that would get us in trouble. You never know about these things, and we weren't going to take any chances.
So with that, we checked in and waited at the crowded Gate 2 at 4:36pm. We couldn't recall the Island Air clerk putting a sticker on my checked baggage before handing it over to TSA. So we worried about our luggage getting lost, but we had no way of knowing now if our bag was going to get lost or not – at least not until we return to Honolulu Airport.
Complicating matters was that a 5:05pm flight was severely delayed (which was why Gate 2 was crowded). It was about 6:30pm when the plane arrived to pick up that flight. But both Julie and I knew that our 6:40pm flight would be delayed by at least the same amount of time – if not more!
It wasn't until about 6:45pm when the intercom announced that our flight would be delayed until about 8:30pm.
So much for our dinner plans in Waikiki.
As expected, the last plane arrived in Ho'olehua at 8:20pm and ten minutes later, we took off for Honolulu. When we landed, we waited for our checked baggage and noticed ours wasn't on the conveyor belt.
This didn't surprise us one bit.
Fortunately, there was an employee who eventually came from the baggage handling area and asked if our bags were not on the conveyor belt. Another guy as well as us were the unlucky ones, but after the employee opened up the closed baggage service office, our bags were sitting there.
As we kind of anticipated, our bag arrived on that earlier flights to Honolulu.
We would eventually have a late dinner at the nearby Keo's Restaurant just downstairs and a block away from our room at the Ohana Maile Sky Hotel and be back at our room at 10:45pm.
Julie's swollen arm continued to hurt her but she was eventually too tired from our long day's excursion and four hours at the Ho'olehua Airport. I think she was able to sleep despite her pain…