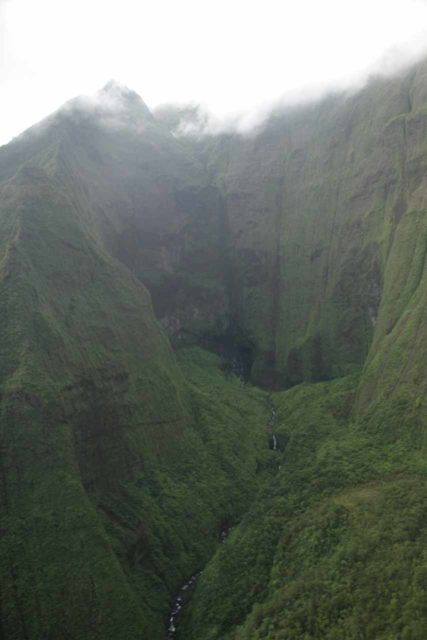 27-December 2006 to 28-December 2006:
I was already appreciating this pilot and the experience here was as different as night and day. This just reaffirmed my hunch that it's the helicopter pilot that makes all the difference in the world. Sure the different companies might present the tour differently and a rainy tour would certainly make for an unforgettable waterfall-laden experience, but ultimately it comes down to how good the pilot is. I guess I really lucked out this time…
Day 1: THE PILOT MAKES ALL THE DIFFERENCE
Yesterday, Julie made a call to complain to Inter-Island Helicopters after I told her that the trigger-happy pilot from our earlier flight missed the Manawaiopuna Falls (aka the Jurassic Falls). I knew this because I double checked on our National Geographic Topo! Map and knew that it was completely missed. Moreover, we also did an Air Kauai helicopter flight yesterday as well and they took us to the desired waterfall among others so we knew we were right about this.
This was inexcusable for a so-called Inter-Island Helicopter "Waterfall Tour" that lasted two hours so we had a legitimate gripe considering the amount of money we had spent.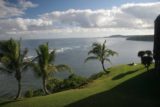 Anyways, Inter-Island Helicopters was gracious enough to let me go on once again without charge (for 9:35am Wednesday morning). So after getting up at the usual 6am, we immediately got to packing up our belongings and checking out of the gorgeous and homey Sea Lodge condo in Princeville. And at nearly 8am, we left the condo and drove all the way around the island to the Hanapepe town, where the now-familiar Inter-Island Helipad was (at the Port Allen Airport).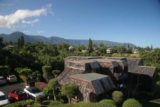 The check-in and video briefing went without a hitch and I learned then that I was going to sit with the founder of Ex-officio (maker of hiking pants, which I happened to be wearing at the time) and two of his kids. We made some pleasant conversation prior to the flight though I wasn't at all thrilled about being assigned the rear left seat, knowing the chopper flies around the island in a clockwise manner (making the left side not very good for viewing).
The flight took off at 9:35am as scheduled and the pilot Ken (seemingly another ex-military guy; seems like Inter-Island Helicopter is full of former military pilots in their crew or something) got right to business as he flew us in the open-air helicopter. I couldn't figure out why, but our pilot really reminded me of Vin Deisel.
The day was already sunny and nearly perfect for visibility. There was hardly any clouds at all on this day, which I knew was quite rare for an island that sports the wettest place on earth in Mt Wai'ale'ale.
Still, I had my sights on seeing Manawaiopuna Falls (aka the Jurassic Park Falls) and really that was all I cared for since I had seen most of the sights on the previous flights.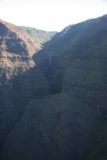 After going over the last remaining sugar plantation on the island, we got right over Hanapepe Valley and into the Waimea Canyon – the so-called Grand Canyon of the Pacific.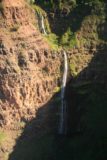 Once again, we flew over Wai'ale Falls, which was a difficult waterfall to photograph given its various disjoint tiers hidden in narrow and shadowy canyons. Then, we flew by the impressive Waipo'o Falls which briefly had a partial rainbow.
Already I was appreciative of Ken going in a circle before Waipo'o Falls as he made sure I was able to get a shot from my disadvantageous spot on the chopper.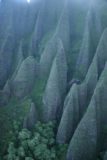 Next, we went back over the Na Pali Coast. With the sun going against us, it was difficult to get an all-encompassing shot of the so-called Cathedrals behind Kalalau Beach. So Ken took us closer to the wrinkly spires so we could get better shots within the shadows. This was definitely something I didn't appreciate from the earlier flight as we could really appreciate just how wrinkled the fluted cliffs of Na Pali Coast really were.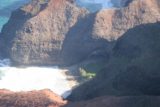 With my camera in servo mode, I went crazy trying to capture these fleeting moments.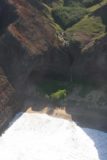 Nearby, we saw the remote Kalalau Beach, where we noticed the Honopu Arch. Heck, there was even a waterfall nearby the arch! This made me wonder if I should undertake the strenuous Kalalau Trail just to check out both the sea arch and the waterfall here!
After getting our shots of these things we missed on the first tour, Ken then pointed out an Open Air Sea Cave. Again, this was something never noticed in the previous flights so it was cool that Ken did this as well.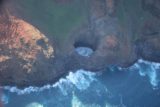 We saw a campsite at Kalalau Beach so it was obvious that there was at least one backpacker who was successful at making the arduous trek on the cliff-hugging, hazardous Kalalau Trail.
We then made the usual round into Kalalau Valley. The pilot gave both sides of the helicopter nice views down the valley in his own take of the Kalalau Lookout. Given the nearly cloudless scene, it was quite a treat for us.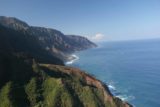 Then, Ken took us back over the north shore where we could get views of Hanalei Valley and Princeville. He didn't go into the valleys of Hanakapi'ai and Hanakoa like the previous flights, but I had already seen those before and I didn't think the rest of the passengers cared for them either. Besides, I knew Hanakoa Falls was flowing thinly and Hanakapi'ai Falls was totally against the sun.
As we went over the taro fields near Hanalei Valley, Ken mentioned that poi is made from taro. No surprise there. But then, he went on to tell us, "If any of you want to know what Elmers Glue tastes like, then try poi."
I cracked up at this comment.
Next, we went into the Hanalei River Valley. This time, Ken flew the chopper low so we could get a sense of how big this river valley was. Every once in a while, we would notice some interesting waterfalls on the side tumbling towards the river. I could totally see how waterfalls would be abundant in this valley under wetter conditions, but it hadn't rained seriously in a while so we expected this.
He then went on to talk about the other side of an irrigation tunnel that was in the Adventures section of The Ultimate Kauai Guidebook. Not only did he talk about this excursion, but he went ahead and landed in a lush area complete with pig trails.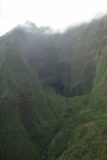 There wasn't a whole lot to see down here, but we could tell there were faint trails that could be followed if one had enough time and courage to try such an adventure. As Ken flew the chopper back up, we noticed an impressive waterfall though it came up too suddenly for me to get a photo of it (I did get a photo of it when we were much further away as we headed towards the Wai'ale'ale Crater).
Next up was indeed the Wai'ale'ale Crater, and once again, we went all the way to the three-sided vertical-walled crater where we could see a few lingering waterfalls where the Weeping Wall was supposed to be, but it wasn't surprising the waterfalls weren't pumping at this time.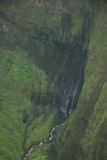 After leaving the crater, the pilot went over to another area where there was a trio of thin waterfalls tumbling into an area that looked eerily similar to the Wai'ale'ale Crater. When Ken told us it was the "fake crater" that kind of explained it. Once again, it was another cool feature that I hadn't seen in previous chopper flights.
Then, Ken told us that he would head over into Hanapepe Valley and go over two of the most beautiful waterfalls on the island – the Jurassic Park Falls and Kahili Falls.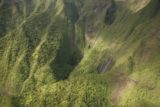 Music to my ears. I was already appreciating this pilot and the experience here was as different as night and day. This just reaffirmed my hunch that it's the helicopter pilot that makes all the difference in the world. Sure the different companies might present the tour differently and a rainy tour would certainly make for an unforgettable waterfall-laden experience, but ultimately it comes down to how good the pilot is. I guess I really lucked out this time.
As Ken proceeded to head away from the "fake crater," he mumbled something over his own intercom. Then, he finally said, "Oh what the heck, I'll take you guys there with the wonderful weather today."
Both the Ex-officio guy and I looked at each other wondering what he was talking about, but then Ken explained that as a bonus, he would go over some other valley and then the Alaka'i Swamp at the very top of the mountains on the island.
This excited the Ex-officio guy since he asked whether there was a hiking trail there or not. But Ken did something better.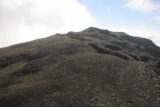 He actually landed us on top of the swamp!
Considering this area is usually under clouds for nearly 350 days a year, this was quite a pleasant surprise.
The first thing we noticed as Ken ascended the helicopter was how cold it got. Obviously as we went above 5000ft, all of us were really glad we had our jackets on. Ken said that he did see snow on here once before. There was no snow on our little detour, but just seeing the swamp was pretty cool nonetheless.
Up at this altitude, the soil was so saturated with water that nothing tall was growing. It was pretty much moss and mud. It was kind of ironic that no trees were up here since they love water. But there was just simply too much water for even those organisms to thrive up here.
When Ken landed the chopper, we could see the bottom of the chopper kind of sink into the marshy terrain. Ken then told the curious Ex-officio guy, "I guess you can see now why there's no trail up here." (Note there is a boardwalk trail called the Alaka'i Swamp Trail starting near the end of the road at the Pu'u o Kila Lookout that gives hikers a taste of what it's like up here)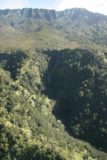 The Ex-officio guy replied, "Thanks! That was really cool!"
And with that, the chopper took off once again and headed into the Hanapepe Valley. Ken then said, "It was about time to warm up. It was a little too cold for my liking."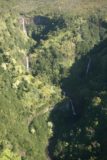 It wasn't much longer when Ken flew us over a series of waterfalls called the Kahili Falls. I think I saw some postcard that mentioned that there were also called the "Five Sisters Falls." And sure enough, we could see at least that many distinct waterfalls scattered about in one place. Again, this was something I hadn't seen on the previous flights.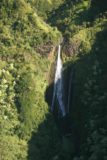 And then minutes later, he finally took us to the Jurassic Park Falls. When he circled the falls, I seemed to have gotten great photos of it though the guy sitting on my right had to take photos through me.
At last we got the waterfall we had missed previously. I had my camera on servo mode and I basically took shot after shot without breaks. I think it got to a point when the camera stopped taking photos because it needed a break from servo mode! Interesting that it had a little built-in mechanism like that to prevent it from overheating I guess.
Anyways, I think this tour was a home run in my book. I even gave a thumbs up to Ken to make sure I appreciated his tour.
Finally, the tour made one last approach back to the Port Allen airport. Along the way, Ken talked about coffee fields below us (and he wasn't shy to mention that he liked Kona Coffee better than Kauai Coffee) and he also mentioned some steak house that was the best on the island.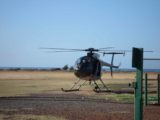 After landing the helicopter, everyone had smiles including me. Ken then gave each of us a firm handshake. What a great tour! I was sure glad Julie took the trouble to complain and get this complementary flight for me. I finally felt we got our money's worth – even though it took two times with Inter-Island Helicopters.
I then went back into the office to write up a glowing review for our pilot. I felt I had to do this just to show some sign of appreciation for our awesome tour. Now I no longer felt the "what if" factor we had since our first Inter-Island Helicopter flight.
It was now 11am when we left the Port Allen airstrip and headed into the town of Waimea. We stopped by Jo Jo's Shave Ice because we had read in The Ultimate Kauai Guidebook that it was the best shave ice on the island – sometimes. Still, when we saw it was open (after seeing other shave ice places either not feeling like serving it [ala Halo Halo Shave Ice] or just not opening despite their posted trading hours [ala Wishing Well]), we weren't going to be denied this time.
So we went some time to enjoy our shave ice as we walked towards a pier area just around the corner. When we got onto the pier, there were lots of people at the end fishing. But as we looked into the water, it quickly became apparent why no one really stays on the west side of the island.
The water was quite murky and brown. It was kind of like the water back home though I somehow doubt the murky waters here were polluted like in LA.
At noon, we finished our shave ice and proceeded to head right up the Hwy 550 towards Waimea Canyon. But by this time, we could already see that clouds have already started to form and I knew it wasn't going to be the nearly cloudless sky experienced on the helicopter. It wasn't going to stop us from continuing to drive up the road to its end, but that did kind of worry me about the Kalalau Overlook and the lookout beyond that being clouded over.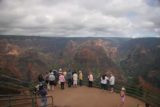 About half an hour later, we stopped at the famous Waimea Canyon Lookout. It was basically a zoo here as there were heaps of cars and tour buses at the car park. The walkway to the overlook was also very crowded – especially by the Waimea Canyon sign since many people wanted to have photos taken by it.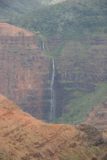 Once Julie and I were at the overlook, the clouds have definitely muted the colors of the canyon. But we could easily see why it got its name of the Grand Canyon of the Pacific as the view (and crowds) was totally reminiscent of our South Rim of the Grand Canyon experience.
After snapping our obligatory photos here, we returned to the car and continued up the highway towards the Kalalau Overlook. But we made a few more stops to get a closer look at the impressive Waipo'o Falls. It was quite a different feeling looking at the falls from the ground as opposed to the chopper. But we were glad to finally see the falls from the ground perspective.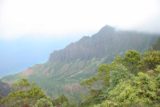 After driving past the remote Koke'e Lodge, we finally arrived at the busy car park for the Kalalau Overlook. We were disappointed to see road closed beyond this overlook since we knew there was apparently a better one at the very end of the road. We were also disappointed to see the clouds have almost overwhelmed the place making for a rather whited out view of the Kalalau Valley and the wrinkly mountains surrounding it.
So we waited patiently for the clouds to lift, and fortunately they did. The valley and the wrinkly features of the mountains started to show themselves under the cloud cover. And with that, we wasted no time being opportunistic with our photo taking. Then, we left the car park as the clouds started to shroud the overlook once again.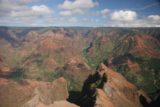 On the way back down to Waimea, we noticed the clouds had cleared up once again around the Waimea Canyon area. So I took this opportunity to pull over into the busy car park and take a few more photos of the overlook – this time with more of the red iron-oxide cliffs.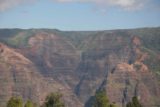 Next, we made a brief stop at the Kukui Trailhead for a very distant and not-so-memorable view of Wai'alae Falls. You could only see the top of the falls from there and it wasn't really anything to brag about.
When we continued driving, we reached a fork with Hwy 553. So we decided to check it out and really there wasn't much more to see besides more ocean views. It was a different perspective, but this road was certainly more narrow in places than Hwy 550. Needless to say, we had no intention of taking Hwy 553 again.
Finally at 3pm, we returned to the town of Waimea. While we were there, we finally checked into our last accommodation of our Kaua'i trip – the Waimea Plantation Cottages.
The first thing we noticed when we got into our cottage was that all the windows were open (they had screens of course to keep the bugs out) and ceiling fans were moving. There was no AC, but all the rest of the amenities were there like a double-bed, bathroom area, kitchen and dining area, and a living room area. The floors were hardwood.
I immediately thought of our experience in the garden bungalow at the Sofitel Ia Ora in Moorea, French Polynesia. Except in this case, we didn't have the mosquito nets nor the high ceilings. Still, Julie thought this place was charming and I guess now we could say that we got to spend at least one night in all three zones of Kaua'i – the Lihu'e/Wailua/Kapa'a area, the Hanalei/Princeville area, and now the Waimea area.
But just as we got settled into the accommodation, it was nearly time to make the hour-long drive back to the Wailua area for our pre-booked Smith's Lu'au. It was too bad we couldn't get a chance to take a stroll along the beach nearby our Waimea Plantation Cottage.
At 5:20pm, we arrived at the Smith's Tropical Paradise complex where we saw the Imu ceremony (where they excavate the smoked kalua pig from the ground), partook in the all-you-can-eat buffet with open bar, and got entertained by their Lu'au ceremony.
Julie and I agreed that this was more classier than the lu'au we had been to in the Hyatt in Ka'anapali, Maui as the Smith's Lu'au lacked the Vegas lounge lizard feel to it. The show this evening was basically dominated by young hula dancers as well as the grand finale of a guy twirling swords with fire on its ends.
We left the lu'au as the show got into re-introducing the various dancers as we knew there would be gridlock on the way out. We certainly weren't alone in this train of thought as heaps of other people were doing the same thing.
It was about 9pm when we finally got out of the lu'au. And after a brief stint at the ResortQuest Islander on the Beach Resort to use their internet to check in our flight with United.com, we finally headed back to Waimea in the dark. As sleepy as both of us were with all the food coma setting in, we were finally back at the Waimea Plantation Cottages after 11pm.
After getting cleaned up, we slept at around 11:30pm. Unfortunately, our sleep was broken by the annoying cock-a-doodle-doos of roosters strutting around our cottage. Argh!
Day 2: ONE LAST LOOK AT KALALAU VALLEY
Our uneasy sleep ended at about 7am. Obviously I was still groggy, but we had to get our stuff together knowing that our flight back home to LA would be at 2:15pm.
It was about 8:30am when we were all done packing and we knew there would be some time left to make one last run at seeing the Kalalau Overlook and possibly walking to the Pu'u O Kila Overlook.
Things were looking good since we couldn't see any clouds as we looked towards the mauka (mountain) side.
So we checked out of our accommodation and then we went straight for the overlook – ignoring all the other pullouts along the way. By 9:15am, we arrived at the Kalalau Overlook, which was far less busier than yesterday. I guess staying at the Waimea Plantation Cottages had its advantages.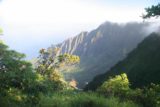 As we were at the overlook, there were some clouds in the area, but they didn't totally shroud the overlook. I guess looking towards the mauka side for clouds from Waimea really didn't mean anything in terms of the viewing experience up here.
So we took our photos and then debated whether it was worth walking to the last overlook. It was 9:30am by this time and I decided I would run and walk quickly in that direction. So with my camera and a bottle of water on me, I was off.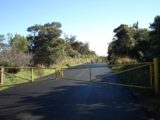 And at 9:50am, I had made it up to the Pu'u O Kila Lookout after going up and down some hills along the paved road. I really couldn't understand why they closed the road except for the fact that there was some construction at the Kalalau Overlook for improved sanitation facilities. Perhaps the workers didn't want to deal with the traffic had the road been open to its end so they just closed it.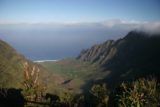 Anyways, I managed to look at the overlook, which really wasn't all that much better than the Kalalau Overlook. The only difference was that this overlook had less foliage in the way. It was kind of strange to also see a weather-worn Kaua'i Revealed Guidebook sitting at the overlook.
Still, I was fortunate to be alone up here and get some photos before the clouds came racing into the field of view once again. It was a shame for that next group of people that finally showed up.
I then headed back down the hills and got back to Julie who had just walked about 2/3 of the way to the end. When I told her the clouds had rolled in, it was enough to get her to turn around and head back to the car park.
It was about 10:20am back at the car park and we knew we had to get back to Waimea to try out the Shrimp Station Restaurant before returning to the Lihu'e Airport. And at 11am, we were right at the restaurant and got ourselves some delicious coconut shrimp and sweet chili shrimp.
This was probably the best affordable food we had on the island and we were certainly glad we got to fill up on this good stuff instead of going hungry and settling for the rip-off foods served on United.
By 12:10pm, we returned the rental car and after some rigorous check-in procedures and security checks, we were at the gate and ready to board at 1:10pm.
It was the end of our little one-week trip to Kaua'i and now it was time to return home to get back to life, back to reality.
Visitor Comments:
Got something you'd like to share or say to keep the conversation going? Feel free to leave a comment below...
No users have replied to the content on this page