Day 2: ONE LAST LOOK AT KALALAU VALLEY
Our uneasy sleep ended at about 7am. Obviously I was still groggy, but we had to get our stuff together knowing that our flight back home to LA would be at 2:15pm.
It was about 8:30am when we were all done packing and we knew there would be some time left to make one last run at seeing the Kalalau Overlook and possibly walking to the Pu'u O Kila Overlook.
Things were looking good since we couldn't see any clouds as we looked towards the mauka (mountain) side.
So we checked out of our accommodation and then we went straight for the overlook – ignoring all the other pullouts along the way. By 9:15am, we arrived at the Kalalau Overlook, which was far less busier than yesterday. I guess staying at the Waimea Plantation Cottages had its advantages.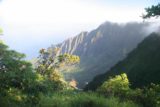 As we were at the overlook, there were some clouds in the area, but they didn't totally shroud the overlook. I guess looking towards the mauka side for clouds from Waimea really didn't mean anything in terms of the viewing experience up here.
So we took our photos and then debated whether it was worth walking to the last overlook. It was 9:30am by this time and I decided I would run and walk quickly in that direction. So with my camera and a bottle of water on me, I was off.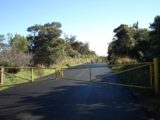 And at 9:50am, I had made it up to the Pu'u O Kila Lookout after going up and down some hills along the paved road. I really couldn't understand why they closed the road except for the fact that there was some construction at the Kalalau Overlook for improved sanitation facilities. Perhaps the workers didn't want to deal with the traffic had the road been open to its end so they just closed it.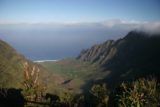 Anyways, I managed to look at the overlook, which really wasn't all that much better than the Kalalau Overlook. The only difference was that this overlook had less foliage in the way. It was kind of strange to also see a weather-worn Kaua'i Revealed Guidebook sitting at the overlook.
Still, I was fortunate to be alone up here and get some photos before the clouds came racing into the field of view once again. It was a shame for that next group of people that finally showed up.
I then headed back down the hills and got back to Julie who had just walked about 2/3 of the way to the end. When I told her the clouds had rolled in, it was enough to get her to turn around and head back to the car park.
It was about 10:20am back at the car park and we knew we had to get back to Waimea to try out the Shrimp Station Restaurant before returning to the Lihu'e Airport. And at 11am, we were right at the restaurant and got ourselves some delicious coconut shrimp and sweet chili shrimp.
This was probably the best affordable food we had on the island and we were certainly glad we got to fill up on this good stuff instead of going hungry and settling for the rip-off foods served on United.
By 12:10pm, we returned the rental car and after some rigorous check-in procedures and security checks, we were at the gate and ready to board at 1:10pm.
It was the end of our little one-week trip to Kaua'i and now it was time to return home to get back to life, back to reality.