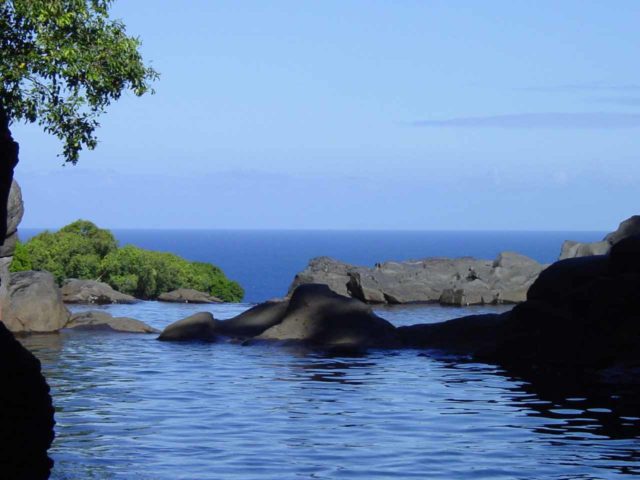 1-September 2003 to 3-September 2003:
Being the waterfall lovers that we were, Hana Highway was the main reason why we chose to visit Maui. So we made sure we tried to see as many of its waterfalls as possible during this week – and it required two takes…
Day 2: FIRST TAKE
Given our early start and the disappointing missed try at the Haleakala Sunrise, we decided to go around the mountain and do the Hana Highway. After all, if it was pouring up here, the waterfalls must be flowing down there!
We got to what we thought was the pullout for Twin Falls at around 8am. The problem was the obvious entrance seemed to be gated off, and we didn't have the patience to go seek out the falls. The Maui Revealed book said not to spend too much time here so we heeded their advice and kept moving.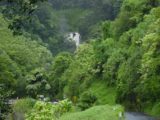 The first waterfall we saw was some ephemeral waterfall on the Waikamoi Stream. I don't think this waterfall normally flows (at least according to our guidebook), but it was going good today!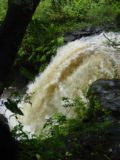 We stopped to take a few photos and tried to take a path that went alongside the falls. Since it looked like there were higher tiers, we tried to make it up to those higher tiers, but the path got rougher the further we went and so it ended up being unsuccessful.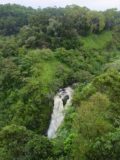 Next, we saw Lower Puohokamoa Falls. From where we were standing, the view wasn't very satisfying as foliage blocked much of the lower parts of the falls. Had we been more observant, we would've realized there was a path that would've taken us to a better vantage point. Oh well…
The skies continued to relentlessly pour. Our next stop was Upper Puohokamoa Falls. This one was easy to spot because there was a bit of a traffic jam near this one as well. So we waited our turn to park the car, then walked the slippery but flat trail to its end where we saw the gushing waterfall. Clearly there was no way anyone would get into the water on this day.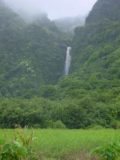 Next, we continued on to the Wailua Settlement. This time, we were looking for the Lower Waikani Falls, which sat at a distance behind the residential homes here. It seemed like a quiet little place, but perhaps it was made quieter by the wet weather.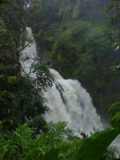 Then, we were back on the main road and faced another traffic jam. This time we could see why as we were approaching a bridge and saw a rather tall waterfall gushing in the distance. This was the Upper Waikani Falls, but it too had an ugly brownish color to the water – no doubt scouring the muddy banks of the watercourse as it rushed to sea. So even though the Upper Waikani Falls was also called "The Three Bears Falls," on this day, it was one big fat muddy bear.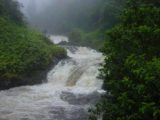 After a while, all the stop and go we were doing to take photos of swollen waterfalls started to get old. In a way, waterfall fatigue had set in sooner than I had hoped.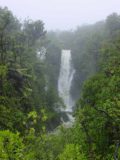 And we weren't even close to Hana, yet!
That wasn't a good sign so it turned out that we probably kept on going when we could've stopped at some spots along the way.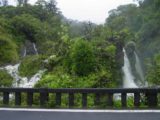 Given the narrow twisty wet road and the relentless rain, it really soured the mood inside the car. It especially affected Julie negatively as she hated the rain. So we weren't really in too much of a mood to stop for Ohe'o Gulch, and we forgot about the Blue Pool.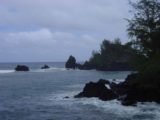 The drive through Hana was pretty uneventful. In fact, I didn't even recall us noticing the town. I think Julie might have thought different because she was probably thinking about lunch. But there was clearly nothing obvious on this soggy day that caught her eye.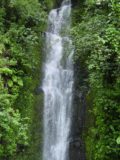 Beyond Hana, things were pretty monotonous until the road curved into a rather wide gulch. We could see there was a waterfall up ahead, but the driver in front of us stopped right at a narrow single-lane bridge.
As we pulled closer, we could see there was a waterfall next to it. And this turned out to be Paihi Falls.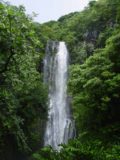 Not much further, we then saw a bunch of cars parked at a long pullout turned car park for Wailua Falls. This one was one of the prettier waterfalls we stopped for on this day. So naturally, we got out of the car, took our shots, and then sought shelter in the car as it continued to rain.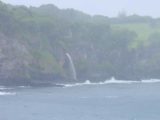 After Wailua Falls, it wasn't much longer before we reached hte 'Ohe'o Gulch, but we just passed through it without a second thought.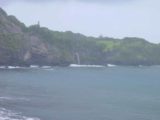 It wasn't much longer before the road really started to narrow and become unpaved. Initially on this stretch, we started to wonder if we had bitten off more than we could chew (even though we had read earlier that it wouldn't be paved all the way around East Maui). But that was when we looked to the ocean and saw a gushing waterfall spilling right into it! I believed that was called Kukui'ula Falls.
After a tense drive around the southern East Maui coast, it was 2pm and the weather finally gave way to a little sun. From here, we could see old lava flows and the southeast slope of Haleakala.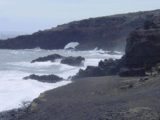 Further along the drive, we even saw the attractive Pokowai Sea Arch. Seeing how large the arch was and how distant was the view, we wondered if there was a better view to be had by getting out of the car and walking closer.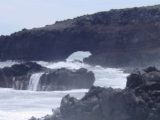 But after a few minutes of walking closer on the black sand beach, more boulders and sea rocks got in the line of sight and it turned out that what we saw was what we were gonna get.
Soon after this attraction, the road finally became paved again, and we uneventfully returned to Lahaina in plenty of time for a dinner.
On this day, we checked out a lu'au somewhere in Ka'anapali, but it felt rather Vegas-like. The Old Lahaina Lu'au that we had read in the Maui Revealed book was already booked out well before we showed up.
When all was said and done on this day, I somehow felt cheated. I knew we missed quite a few waterfalls and I was already itching to go back. But that would have to wait because we planned on seeing West Maui tomorrow…
Day 3: WEST MAUI INTERLUDE
When Julie and I awoke on this day, Julie was relieved at not having to get up at 2:30am in the morning again. She was already starting to feel under the weather and she blamed me for it for making her get up in the morning for this sunrise yesterday.
So today, it was decided to go around West Maui. This one promised to be shorter than the full day excursion we did yesterday. And perhaps the weather might be a bit more cooperative as well.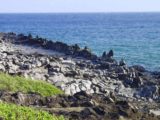 So as we left our Lahaina accommodation, we drove north through Ka'anapali, and then we went towards some golf course in pursuit of the so-called Dragon's Teeth. This was some kind of jagged rock formation that was sandwiched between a golf course and the ocean.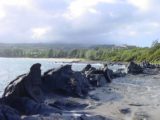 When Julie and I saw the place from a distance, we felt a little awkward walking onto a golf course in order to access it. Hopefully no one shanked a shot at us.
In any case, the Dragon's Teeth was pretty cool. And it was certainly different than what we had seen up to this point on this trip.
Next, we continued the drive up north. By this point, it seemed like we left civilization and we were now essentially back to nature again.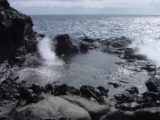 The first stop we did was to look for the Nakalele Blowhole. After following the directions on the Blue Book, we'd eventually stop the car and pursued a rather obscure lava scramble that the Blue Book dubbed the Acid Warzone or something like that.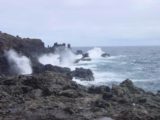 For it was here that the terrain seemed pretty beat up by a combination of severe sea erosion along with strange lava shapes from back when the stuff solidified. Since we had our minds set on looking for the blowhole, we really didn't pay too much attention to the rocks here, but we did notice another smaller blowhole set against the ocean in a picturesque (albeit turbulent) setting.
Eventually, we saw some people gathered near what appeared to be the Nakalele Blowhole itself. We didn't recall seeing them before, and thus we figured out that they must've taken a much easier and quicker way to the blowhole than the Acid Warzone we went through.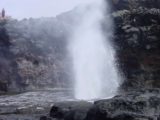 In no time, we were at the blowhole itself. We got close enough to the blowhole to take photos in front of it, but we definitely didn't want to risk falling into that hole!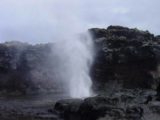 In one moment, it seemed like a rogue wave hit the rocks sheltering this blowhole area enough to splash everyone that was standing here. I guess that kind of reinforced just how close to the violence of Nature we really were, and that kind of suggested to us that we really shouldn't linger here much longer.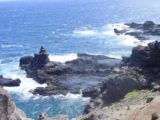 After we were done with the Nakalele Blowhole, we were then in search of the so-called Olivine Pools. We couldn't quite follow the directions of where we were supposed to stop. So we ended up settling for nice coastal views where there were protruding lava rocks below us looking in one direction and the Kahakuloa Head in the other direction.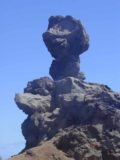 We even stopped by a strange-looking Pacman rock or mushroom-rock with a bite taken out of it. Indeed, the rock formations here seemed otherworldly.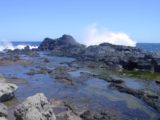 Beyond this area, as we were getting closer to the big rock protrusion that I believed was the Kahakuloa Head, the road seemed to get narrower. At this point, traffic seemed to get lighter as it seemed somehow we left most of the tourists behind (even though we were in no hurry).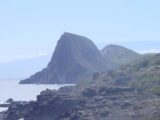 In any case, we just continued driving along as the road continued to get narrower and then started to get unpaved. Having just gone through a long stretch of unpaved roads past Hana yesterday, the thought on my mind was, "Here we go again…"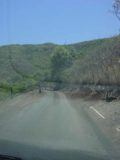 The drive at first was fairly benign even though the roads were narrowing. But it wasn't long before this unpaved road became single-lane road. And as we continued further on this road, there was now the scary everpresent danger of dropoffs to one side as it didn't have guard rails!
In one hairy instance, there was a car going the other way. When he met up with us, we were both stopped trying to figure out how we were going to pass each other.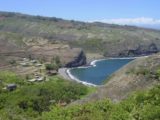 Eventually, I decided to back up the car nervously towards a real tiny space against the cliffs but away from the dropoff. I was backing up as far as I could until the bumper of the car literally touched the cliff and I couldn't back up anymore.
It was at that point that the other car slowly made its way past us between the edge of the road and our car. That was certainly one of the scariest moments in a car both Julie and I had to deal with, but fortunately, that one passed without further incident. However, we were now always fearful of another car coming up our way and having to deal with another type of tricky pass maneuver again.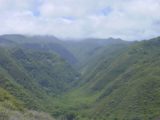 Eventually we made it into the town of Kahakuloa before the road started climbing again. At some point along the climb, there was pullout or turnoff with a nice view of some valley. We weren't sure which valley it was, but I suspected it might have been Honokohau Valley.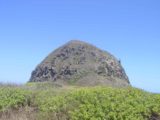 When we turned around and looked towards the ocean, we could see how the Kahakuloa Head got its name.
Eventually, we got out of the hairy unpaved section of road and the road started to be paved again. There were some tight hairpin turns in this stretch as well as some kind of garden or other structure that we merely passed by without stopping.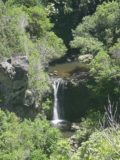 With all this driving, we were thirsty for another worthwhile photo op, and it turned out that we got it with a waterfall, which was noticeably absent for most of this part of the island. But in any case, we managed to make a roadside stop for one of them, which we thought was the Lower Makamaka'ole Falls.
Continuing on, the road got increasingly wider and eventually became two-lane road again. We decided to make the turnoff towards the Waihe'e Ridge Trail since I was itching to get out of the car and do a hike.
At first we ended up at some empty building complex that turned out to be some Boy Scout Camp. Eventually, we figured out that we missed the trailhead and quickly backtracked to where we were supposed to park the car.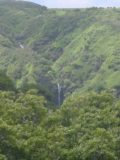 At that point, Julie decided to nap in the car while I was on my own on the hike.
The hike started off with a steep but paved incline that definitely took a lot of wind away from me. Eventually when I got to its top, I saw there were views of a waterfall in the distance, which I suspected was the Makamaka'ole Falls.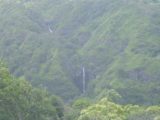 I couldn't seem to be able to get a closer view of this waterfall from the trail. But whatever the case, I then proceeded to go into some jungle area as the trail continued to gently climb.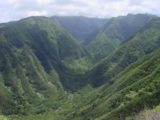 Eventually, I'd reach a point where I got a nice panoramic view of Waihe'e Valley. I recalled there was a bench here so it was as if the trailblazers here knew where the good photo and rest stops would be along the trail.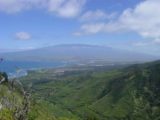 On this clear day, I looked back towards Haleakala and could see the entire shape of its shield volcano. Given our bad experience so far with looking for a sunrise atop the volcano, I wondered if tomorrow or the day after might be the next opportunity to seize the moment so-to-speak.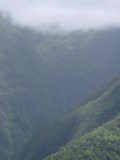 Anyways, while examining Waihe'e Valley from this top down vantage point, I did notice a waterfall in there. I believed it was Mana-nole Falls. It looked like part of it was cut off by the mountains sloping before it so it wasn't totally a satisfying view. But it did look tall.
Next, I contemplated whether to continue with the hike towards the Waihe'e Ridge summit itself. Knowing that there was still a ways to go to get up there and I could see some clouds clustering at the summit, I decided to just go back down the hill so Julie wouldn't be waiting too long.
When I got back to the car, there was still one more thing left to do on this day. So we followed the Blue Book's directions towards another turnoff, which was for the Waihe'e Valley Trail.
I thought perhaps this trail might lead me to a better view of Mana-nole Falls.
In any case, we managed to drive the narrow roads towards what appeared to be a lot with signage as well as some beat up rusted pick-up trucks just left here. There were already a handful of cars here so we just found some space where we could leave the car and do the hike (Julie was joining me this time).
Of course, we always worried about break-ins.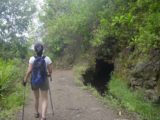 And so Julie and I embarked on the Waihe'e Valley Trail, which started off immediately with an uphill climb. Eventually, this climb flattened out and then we were pretty much meandering along a trail that was flanked by ditches (said to be built by Chinese immigrants) as well as some jungle.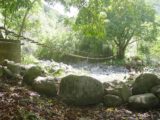 We'd then reach what appeared to be a swinging bridge. Even though the stream over which the bridge crossed looked dry and bouldery, we decided to just go over the bridge anyways since we had never gone over such a bridge before.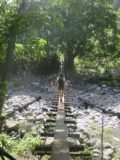 The bridge didn't look sturdy enough to support both of us at the same time (though I believed there was a sign there saying what the person limit was), but I also didn't want to bounce the bridge with my walking while Julie was on the bridge anyways.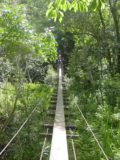 So after crossing over this bridge, we walked through a short section of bush before we encountered yet another swinging bridge. This time, it looked like we needed to cross on this bridge as it was much longer and there was a lot of stream and thick foliage down below.
This was one bridge where we definitely concentrated on.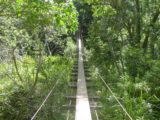 Once we got to the end of this swinging bridge, we then made haste again as the trail was not really in the jungle canopy.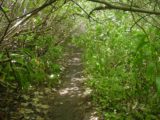 Throughout this section of the hike, we could hear there were waterfalls, but there would be no way of photographing them well given the thick foliage. In a couple of instances, I tried to photograph them through the foliage, but they just didn't turn out.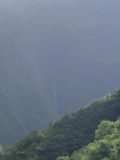 There were a couple more unbridged stream crossings before we could finally see in the distance that there was the Mana-nole Falls again. However, this time we were totally looking against the sun so it wasn't very photogenic and quite hard to see.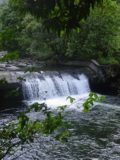 After several minutes more of what seemed to be a rather long hike at this point, we finally reached the 'Ali'ele Falls. This one was said to be man-modified and we could see why.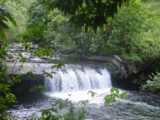 It basically was a stream going over some kind of man-made wall. We weren't sure what the man-modification was for, nor did we care. We just saw there were quite a few folks here jumping into the deep pool and cooling off. Julie and I were just checking out the scene though still mindful of the mosquitoes hovering around us.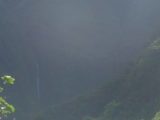 When we had our fill of this falls, we then hastily headed back to the car as it was getting late in the day. We took one more view of Mana-nole Falls, in which this second look also revealed another waterfall near it, but we would get no closer and have no better view of it.
Eventually, we'd be back at the car in the late afternoon or early evening, where thankfully no one broke into the car. We then drove back through Wailuku, and then south through the isthmus passing by the turnoff for the 'Iao Needle (which we saw on the day we arrived), and then went around the familiar bend past Ma'alaea and back to Lahaina.
It was a long day, and we celebrated with a nice dinner at one of the joints with a view of the water somewhere not far from our hotel. I recalled some bar or some restaurant had the Coldplay song "Clocks" turned up, and it seemed to be a pretty appropriate end to this day.
Day 4: SECOND ATTEMPT
Unlike the first attempt, we didn't bother trying to do a Haleakala Sunrise on this day. Besides, Julie was already getting sick and I opted to start the day a couple hours later at 5am. Nonetheless, redoing the Hana Highway was the order of the day.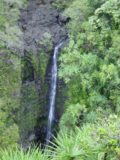 It was 7am and once again we were back on the Hana Highway. We knew there was already less water this time around as the Waikamoi Stream waterfall was not visible from the road – unlike two days ago. We also returned to the Lower Puohokamoa Falls, where we found the better vantage point, but the falls had disappointingly low flow.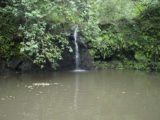 After this waterfall, we decided to hunt down the waterfalls we managed to miss the first time around. So first up was the Ha'ipua'ena Falls. This one started next to a bridge and it was a short but slippery walk to a rather murky but serene plunge pool with a tiny waterfall spilling into it.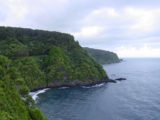 Next we drove around the familiar twisty and narrow Hana Highway roads and even managed to stop for a break with a nice view of the twisty coastline.
Even though we were here very early, there were still locals that managed to catch up to us. We did what we were supposed to do in letting them pass when we found a pullout. After all, these folks know these roads way better than us tourists, so why make them wait and breathe the exhaust from our rental car for longer than they need to?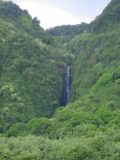 It wasn't much longer before we returned to Lower Waikani Falls at the Wailua Settlement. However, this time this waterfall was way smaller than what we had seen two days ago.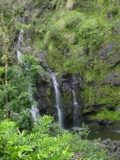 Next, we then showed up early enough to claim one of the pullout spots by the bridge for the Upper Waikani Falls (or the Three Bears). And on this day, the flow was definitely low enough so we could tell there were three bears this time.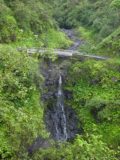 Beyond this waterfall, we then paid more careful attention to Wailuaiki Falls. It wasn't until we passed by a bridge and looked over the shoulder towards the gulch did we spot it. So on this one, we went to the nearest pullout to get out of the way of traffic, then walked the road towards the falls for a better look and photo op.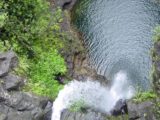 Next, we stopped at a top down view of the Makapipi Falls. This one seemed like the type that would be better from the bottom, but we couldn't find an immediate way of doing that. So we settled.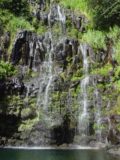 After Makapipi Falls, we then took the 'Ula'ino Road past a pair of fords towards its end. In this case, we were pursuing the Helele'ike'oha Falls – also known as the Blue Pool. This waterfall was quite memorable because it faced the ocean as its plunge pool was sheltered by loose boulders protecting it from the crashing waves.
The walk to get to this spot seemed pretty easy with a minor crossing where an inlet or stream met the waves, but it was only a short hot to get across this little section before we were home free to get to the falls.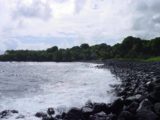 We shared this waterfall with quite a handful of other folks so it was clear that it was definitely one of the more popular attractions this side of Maui.
It was a seemingly too-good-to-be-true waterfall as I couldn't imagine a better situated waterfall!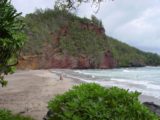 Next, Julie and I took a brief loop detour towards some beach that was said to have pink sands. But to be honest, we were a little hasty in this search and merely spotted a beach with some rocky offshore islets in the distance. We weren't sure if this was the beach stated in the Blue Book, but we got our photos, got a sense of the scene, and then left.
Then, we were on the familiar roads leading beyond Hana. This time, when we approached Wailua Falls, we saw that Paihi Falls was way smaller than it was just two days ago! It made us wonder whether this was really a legit waterfall as it seemed to be flowing so well earlier.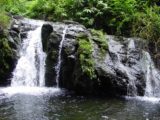 Then, we decided to pursue what the Blue Book called the Photo-sized Falls. There was definitely a use trail to get down from the pullout down to the pool beneath the falls. It was a bit slippery and steep, but quite manageable.
I had trouble getting the full length of the base of this cascade on my camera. So I just got my shots of this and left.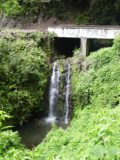 Then, we made a hasty roadside stop before a bridge with another waterfall falling beneath it. This one was supposed to be Pua'a-lu'u Falls. We took some hasty shots from the road before someone behind us honked and urged us to keep going.
Just beyond this bridge, there was some interesting shrine (we did notice this two days ago) inside some small alcove perched at about eye-level on the cliff. It seemed like one of those Asian shrines that brought be back to those times my parents took me to Taiwan. But in any case, we didn't stop and examine this any further and just kept going.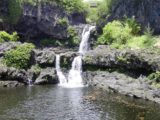 When it was 12pm, we finally made it to Ohe'o Gulch – also known as the "Seven Sacred Pools." We spent some time hiking to its scenic Lower Pools, where lots of people were frolicking in the waters beneath the picturesque waterfalls.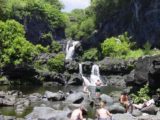 We even managed to get to the other side of the stream for a more direct look at the pair of falls that most of the people seemed to be swimming in front of.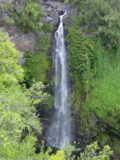 Then, we crossed the highway and headed into the rainforest along the Pipiwai Trail.
This pleasant hike constantly had the smell of guava but it also presented numerous waterfalls – both seen and heard.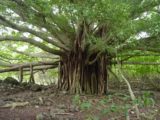 Along the way, we saw the 200ft Makahiku Falls.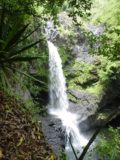 Then, we saw an old banyan tree which helped orient us as we used it as sort of a landmark. Prior to encountering this large tree, the trail was a little confusing as there were numerous paths criss-crossing this way and that. Some of the paths were false, and others led to the same place.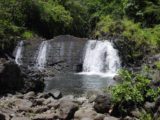 After noticing some other incidental waterfalls (one by a sign indicating Stream Overlook) and another that seemed to go over some man-made wall, we then crossed over some high footbridges.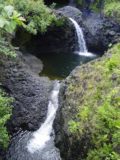 Beneath these footbridges, there were more waterfalls below.
But after the footbridges, we then went into a bamboo forest, which was both memorable but also spooky in its own way.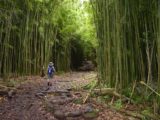 Finally after the bamboo forest, we made it to the 400ft Waimoku Falls.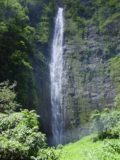 That last waterfall was described to us by an awestruck lady as a "spiritual experience." Along the way, we passed through an eerie bamboo forest, which blocked out sun in some parts and had mysterious knocking sounds throughout. We even got to check out the so-called Infiniti Pool atop Makahiku Falls. Very cool!
Now we saw why Ohe'o Gulch was such a popular tourist attraction.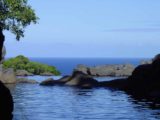 On the way back, we decided to take a detour towards the top of Makahiku Falls. That was where we were in pursuit of the so-called "Infiniti Pool." There was a trail that ended right at the stream above the falls, and I guess with a little imagination, we could see why the Blue Bible authors gave this area such a name.
It was a pretty serene scene and we could even hear the hum of planes in the distance seeimingly flying below our line of sight!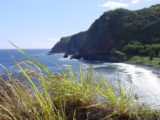 Anyways, it was 4pm when we finished hiking and continued towards the unsealed parts of the Hana Highway. Now that the weather was nice today, we could spend some time appreciating the scenery. There was one moment where we liked the view of a particular bay, stopped to take photos, and then were startled when someone behind us angrily honked the horn to get us moving!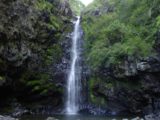 Next, we stopped at the unsigned trailhead for Alelele Falls. Julie was tired so she stayed in the car. I grabbed the camera and did the roughly 10-minute hike and scramble.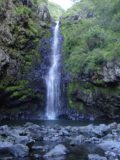 When I got to the falls, I was wowed by the 50ft column of water before me. Julie missed out on this one!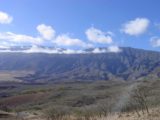 After taking photos of this waterfall and returning to the car, we continued along the now-familiar unpaved road. And now that the clouds had parted, we could even see the barren slopes of this windy yet leeward side of Haleakala.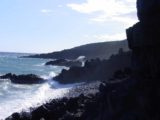 Meanwhile, we did notice that Kukui'ula Falls wasn't flowing anymore, and the Pokowai Sea Arch still looked the same as it did two days ago.
We finally made it back to Lahaina at 7pm. The weather remained nice in the late afternoon and once again we took another stroll down Front Street.
When all was said and done on this day, I felt better about our Hana Highway waterfall experience. Still, I knew there were more big waterfalls that we missed. Thus, the double dose of Hana wasn't enough and I'm still itching to return to Maui and do it again…
Visitor Comments:
Got something you'd like to share or say to keep the conversation going? Feel free to leave a comment below...
No users have replied to the content on this page