Day 2: FIRST TAKE
Given our early start and the disappointing missed try at the Haleakala Sunrise, we decided to go around the mountain and do the Hana Highway. After all, if it was pouring up here, the waterfalls must be flowing down there!
We got to what we thought was the pullout for Twin Falls at around 8am. The problem was the obvious entrance seemed to be gated off, and we didn't have the patience to go seek out the falls. The Maui Revealed book said not to spend too much time here so we heeded their advice and kept moving.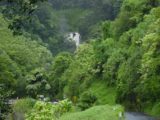 The first waterfall we saw was some ephemeral waterfall on the Waikamoi Stream. I don't think this waterfall normally flows (at least according to our guidebook), but it was going good today!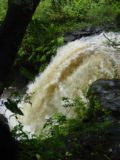 We stopped to take a few photos and tried to take a path that went alongside the falls. Since it looked like there were higher tiers, we tried to make it up to those higher tiers, but the path got rougher the further we went and so it ended up being unsuccessful.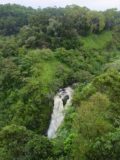 Next, we saw Lower Puohokamoa Falls. From where we were standing, the view wasn't very satisfying as foliage blocked much of the lower parts of the falls. Had we been more observant, we would've realized there was a path that would've taken us to a better vantage point. Oh well…
The skies continued to relentlessly pour. Our next stop was Upper Puohokamoa Falls. This one was easy to spot because there was a bit of a traffic jam near this one as well. So we waited our turn to park the car, then walked the slippery but flat trail to its end where we saw the gushing waterfall. Clearly there was no way anyone would get into the water on this day.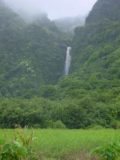 Next, we continued on to the Wailua Settlement. This time, we were looking for the Lower Waikani Falls, which sat at a distance behind the residential homes here. It seemed like a quiet little place, but perhaps it was made quieter by the wet weather.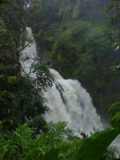 Then, we were back on the main road and faced another traffic jam. This time we could see why as we were approaching a bridge and saw a rather tall waterfall gushing in the distance. This was the Upper Waikani Falls, but it too had an ugly brownish color to the water – no doubt scouring the muddy banks of the watercourse as it rushed to sea. So even though the Upper Waikani Falls was also called "The Three Bears Falls," on this day, it was one big fat muddy bear.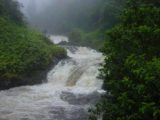 After a while, all the stop and go we were doing to take photos of swollen waterfalls started to get old. In a way, waterfall fatigue had set in sooner than I had hoped.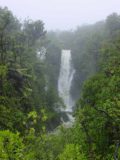 And we weren't even close to Hana, yet!
That wasn't a good sign so it turned out that we probably kept on going when we could've stopped at some spots along the way.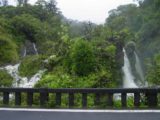 Given the narrow twisty wet road and the relentless rain, it really soured the mood inside the car. It especially affected Julie negatively as she hated the rain. So we weren't really in too much of a mood to stop for Ohe'o Gulch, and we forgot about the Blue Pool.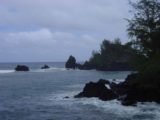 The drive through Hana was pretty uneventful. In fact, I didn't even recall us noticing the town. I think Julie might have thought different because she was probably thinking about lunch. But there was clearly nothing obvious on this soggy day that caught her eye.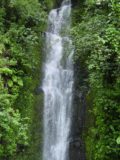 Beyond Hana, things were pretty monotonous until the road curved into a rather wide gulch. We could see there was a waterfall up ahead, but the driver in front of us stopped right at a narrow single-lane bridge.
As we pulled closer, we could see there was a waterfall next to it. And this turned out to be Paihi Falls.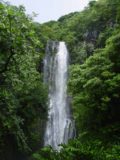 Not much further, we then saw a bunch of cars parked at a long pullout turned car park for Wailua Falls. This one was one of the prettier waterfalls we stopped for on this day. So naturally, we got out of the car, took our shots, and then sought shelter in the car as it continued to rain.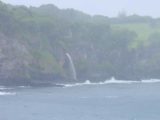 After Wailua Falls, it wasn't much longer before we reached hte 'Ohe'o Gulch, but we just passed through it without a second thought.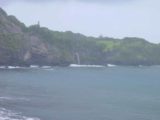 It wasn't much longer before the road really started to narrow and become unpaved. Initially on this stretch, we started to wonder if we had bitten off more than we could chew (even though we had read earlier that it wouldn't be paved all the way around East Maui). But that was when we looked to the ocean and saw a gushing waterfall spilling right into it! I believed that was called Kukui'ula Falls.
After a tense drive around the southern East Maui coast, it was 2pm and the weather finally gave way to a little sun. From here, we could see old lava flows and the southeast slope of Haleakala.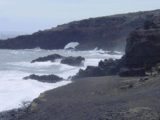 Further along the drive, we even saw the attractive Pokowai Sea Arch. Seeing how large the arch was and how distant was the view, we wondered if there was a better view to be had by getting out of the car and walking closer.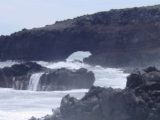 But after a few minutes of walking closer on the black sand beach, more boulders and sea rocks got in the line of sight and it turned out that what we saw was what we were gonna get.
Soon after this attraction, the road finally became paved again, and we uneventfully returned to Lahaina in plenty of time for a dinner.
On this day, we checked out a lu'au somewhere in Ka'anapali, but it felt rather Vegas-like. The Old Lahaina Lu'au that we had read in the Maui Revealed book was already booked out well before we showed up.
When all was said and done on this day, I somehow felt cheated. I knew we missed quite a few waterfalls and I was already itching to go back. But that would have to wait because we planned on seeing West Maui tomorrow…