THE KONA SIDE
Julie and I awoke at 6:15am and when we looked out the back window of our unit at Uncle Billy's, it was strange to see hints of clear skies as the sun continued to rise. We knew Hilo was usually a very rainy city, but so far we were getting strangely sunny skies because the trade winds were noticeably absent.
Today, we were supposed to catch a helicopter flight that left from Waikoloa and head to the Hamakua Coast to see waterfalls. But for some reason, that flight wasn't until noon, which I thought was rather late – especially since I knew that conditions tended to deteriorate as you get later in the day. But either way, we were booked on this first available tour and made our way out of town.
Julie and I had some concerns about flying helicopters when we had heard on the evening news last night that a Heli USA chopper went down at the Princeville Airport in Kaua'i. It killed four people and critically injured three. So now Julie was very curious about the safety record at Blue Hawaiian (who we were about to tour with) and pondered whether she should ask them about the uncomfortable issue upon our arrival.
When we started to head out of Hilo, we debated whether we should take the Saddle Road or go the long way around the north side of Mauna Kea towards the Kailua-Kona area. We knew the Saddle Road was way shorter than the route around the north of Mauna Kea, but it was also twistier and not necessarily faster. Julie talked me out of this option because the Saddle Road wasn't covered in our rental agreement.
So as we started to drive north on Hwy 19, we could see the summit of Mauna Kea looming large behind Hilo. We knew it was Mauna Kea and not Mauna Loa because we could see the small silvery domes of the Keck Telescope and Observatory on the summit. It was quite an awesome sight, but it's too bad we were zooming along in the car and didn't have the opportunity to pull over to take a meaningful photo of the scene.
Even though it was early in the morning, Hilo was already active with a farmers market happening in the downtown section. But we were determined to head over to the Kona side and check out the scene over there before scurrying over to our helicopter tour in Waikoloa.
Zooming north on Hwy 19 and trying not to hold up traffic behind me, it was difficult to suddenly stop and pull over on the limited number of pullouts near the bridges where we had seen waterfalls yesterday. I regretted not making a U-turn and pulling over at one of the bridges where we could see a waterfall tumbling in the gulch while Mauna Loa loomed large on the horizon.
At 8am, we returned to Honoka'a Town. We made a quick stop over at Tex's for some malasadas that Julie had read about. After indulging our sweet tooth once again, we continued to head west on Hwy 19 towards Waimea. All the while, we were now able to see Mauna Kea to our left and some of the Kohala Mountains to our right.
Taking the inland route towards the Kailua-Kona area along Hwy 190, we could see that the clouds were definitely parked over this side of the island. Once again, this was unusual because Kona's usually the sunnier leeward side of the Big Island.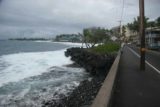 Anyways, we managed to get into Kona town at around 9:30am. And as we slowly drove along Ali'i drive, the scene immediately reminded us of Front Street in Lahaina with all the touristy shops as well as accommodations lining the nearly ocean-front road. They even had a section of road that lined the waterfront with a retaining wall just like on Front Street in Lahaina.
Of course the thought on both of our minds was how touristy the Kona side was. It was a far cry from the relatively peaceful charm of the Hilo side. Clearly, this was where just about all the tourists stayed. And unlike Hilo, we saw more tourists than Hawaiians here.
Since we still had an hour to kill, we decided to pay the rip-off $7 for parking and briefly take a stroll along Ali'i Drive just to get a flavor of what it would be like had we joined the crowd and stayed in Kona.
There were the usual restaurants like Hooters and Bubba Gump Shrimp as well many other Americanized chain-type restaurants. There were also the ever-present Kona Coffee signs and cafes proving that the coffee made here was extremely popular amongst not only Hawaiians but even tourists.
But having been to Waikiki Beach and Lahaina, I think Julie and I had enough of the contrived touristy scene and didn't see a need to spend much more time in Kona. Perhaps on a future trip to Big Island, we'll probably spend a night here just to get a better feel for the area, but since the focus of our trips were on nature, clearly the Kona side didn't offer much except for those looking for resort-type pleasures.