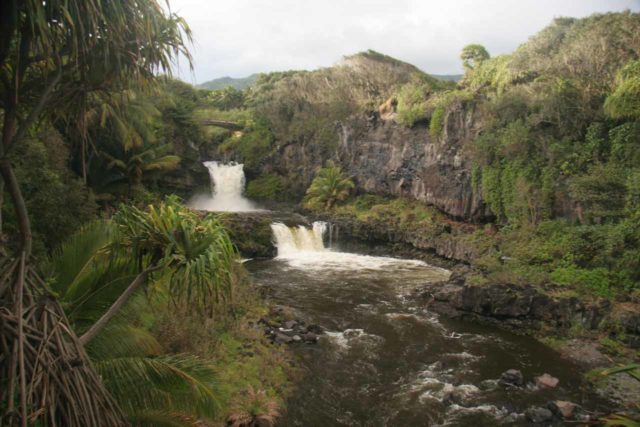 23-February 2007:
Having been to the 'Ohe'o Gulch (or the so-called Seven Sacred Pools) nearly four years ago, it was strange seeing the churning, brownish raging whitewater at the popular Lower Pools. Both Julie and I remembered how busy it was that late summer day in early September 2003. But on this day, there was hardly a soul here, signposts and barricades prevented access to the pools, and all you could hear was the loud constant clatter of rushing water interspersed with the thunderous swooshing of the violent ocean waves behind us…
[Show Trip Report As Single Page]
GEE, EVERYTHING'S CLOSED!
It was a few minutes before 6am when we left the Ka'anapali Beach Club in Honokawai and made our way to Hana. Learning from our last two day trips through Hana nearly four years ago, we had booked a night at the Hana Kai Resort in sleepy Hana town so the experience wouldn't be as rushed as before.
Even though it was still a little bit dark, there was already an accumulating volume of cars on Hwy 30 as we swung around the bottom part of West Maui and made our way through the Central Valley towards Pa'ia town.
It was about 7:30am when we reached out first stop. It was the familiar unsigned but fairly well-known pullout for a view of Lower Puohokamoa Falls. It was just as we parked the car that the rain started to come down hard. This caused Julie to stay in the car.
Meanwhile, I donned a rain poncho and headed down the familiar path. With the fresh rain, the path was muddy as expected, and the newly purchased Keens were immediately put to the test. It was barely another five minutes later before I got my clean looks at the Lower Puohokamoa Falls.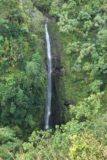 Given the heavy rain, I had expected the falls to be gushing, but it was in a state that was between thin and gushing. I had trouble trying to keep the lens dry with the falling rain. Man, I wish I had my lens hood, which I had lost at Kipu Falls in Kaua'i just a couple of months earlier.
After getting my shots, I headed back up the somewhat steep path and returned to the car. I had passed by a handful of people who had probably noticed our parked car.
Ah yes, the lemmings effect on the Hana Highway was in full swing. I had totally forgotten about that!
Just a few minutes later, we reached the pullout adjacent to the bridge for the Upper Puohokamoa Falls. I had recalled this was a very popular stop on the last trip.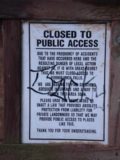 But before I took another step towards the trail, a sign was posted on a heavy-looking forbidding gate. That sign read that the access to the falls was closed because someone got hurt and the landowners are worried about getting sued.
Great, another case of a tourist who couldn't take responsibility for their own actions and now ruined it for everyone else! The sign went on to urge its readers to write to the lawmakers so landowners are immune from such frivolous lawsuits and keep places like this open to the public.
I can totally understand why locals are getting frustrated with tourists. It's already bad enough that they have to deal with the increased development and traffic (especially if they don't pull over when they're holding people up on narrow roads like Hana Highway).
Now, you have idiots trying to milk something from a screwed up American legal system who don't understand that nature has inherent risks and you assume them when you venture there. Apparently, they think places of natural beauty should be treated like Disneyland, which it is NOT.
Anyways, venting aside, I went back into the car and continued onwards towards the next waterfall. Having bypassed Ha'ipua'ena Falls (we had seen it on our last Maui visit), we made it point to go to Punalau Falls.
This was one waterfall we missed before and I was anxious to see it. However, I was also nervous about the possibility of flash floods due to the threat of a downpour further upslope. Anyways, at 8:15am, we pulled over at the far side of the bridge over the Punalau Stream and I sprayed on deet in anticipation of the mosquito assault.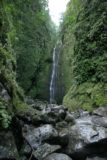 Once again, Julie stayed in the car. So with a pair of hiking sticks ready, I once again put the Keens to the test as I would spend a few minutes walking in the Punalau Stream, which was full of very slippery boulders and downed trees. Clearly, there was evidence of past flash floods here, which made me even more hasty in my pursuit of the falls.
As expected, the stream walking was a bit treacherous as most of the steps I took were on the slippery submerged boulders. Even with the hiking sticks, I managed to slip on one occassion and knock a big lump into my shin while creating a cut further up on the shin.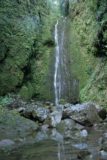 I was worried about leptospirosis with that open wound, but there was no turning back now.
After another 15 minutes of hasty scrambling amongst seemingly clouds of mosquitoes, I finally saw the 100ft waterfall. Even with the rain, the falls was still flowing a bit thinly. I'm guessing it has a rather short season.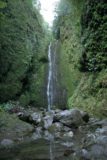 Still with the danger of flash flooding in the back of my mind, I took as many photos as I could before I hastily made my way back to Julie and the car. And after a few more minutes of scrambling without any additional mishaps, I returned safely to the car at 8:40am.
Next up was another little waterfall I anticipated visiting called Ching's Pond. This was one we had missed on the previous trip as well.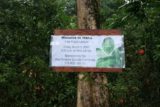 When we pulled out next to a Miconia in Hana sign, I got out of the car and walked towards the trail by a big tree leading to the pool. But on the tree, a sign was posted that said no trespassing nor swimming.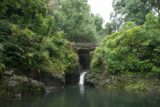 I guess this was understandable since the Keanae taro farmers rely on its runoff for their taro production. Still, I was now getting the sense that lots of falls that were once accessed by tourists and locals were becoming kapu (or forbidden).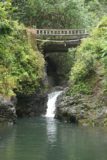 Well, I went down the trail anyways and finally saw the tiny waterfall and swimming hole. I had no intention of swimming (and hence contaminating the water feeding the taro fields) and was content to take my photos and leave.
Next, we drove into the Wailua Settlement looking for the Lower Waikani Falls. I had recalled how nice that waterfall was. But this time, Julie and I got this sense that tourists aren't welcome here as signs were posted saying something to the effect that you'll know if you don't belong here.
So we made sure to stay on the paved part and not linger on anyone's property.
On our last visit, we remembered a nice view in the open over some taro fields where a side road started to become unpaved. But today, a no private driveway sign was posted on a tree just before the view opened up. So we settled for a distant view above some trees back on the main road. Then, we quickly got out of there and continued onto the Three Bears Falls (real name – Waikani Falls).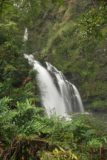 And on this day, the three bears appeared as three barely discernable fat bears this time. This was one waterfall where less is more since a lower flow meant you could see Papa Bear, Mamma Bear, and Baby Bear in succession. You had to look a little harder today to make out the three bears.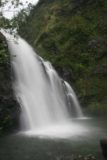 After spending a few minutes scrambling to a closer look at the now-misty falls, I returned to the car and we continued to inch closer to Hana.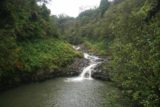 Waterfall fatigue was already setting in as the rainy weather made even the usually dry streams raging and the more known roadside waterfalls raging. Wailuaiki Falls was flowing a lot more powerfully than its wishboned state we had seen on our last Maui trip.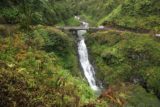 At least since we knew to look for this waterfall, we knew exactly where to stop and where to walk. So this didn't take long, and plus we had a little more time to better compose our shots to make them look interesting.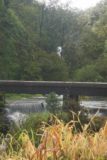 There was a waterfall we didn't expect to see upstream from the bridge over the Kopihula Stream (probably Kopihula Falls). It was then that another couple started following us in search of the Hana Highway sights using the Blue Bible as a guide. Julie and I had a brief chat with them and we would continue chit chatting with them as we each would stop at the same spots for what seemed like several stops in a row.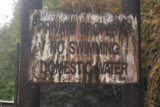 I remembered on one stop that the other couple asked if we were going to the Blue Pool. I told him probably not today given the heavy rains. But we both knew that this was increasingly becoming iffy given the disagreements between the property owners at the end of the 'Ula'ino Road regarding access to the falls.
We had made a stop at the Pua'a Ka'a State Park, but orange barricades made it painfully obvious that it was closed.
"Gee, everything's closed!" exclaimed Julie.
And given the way things were going on this day, it certainly looked that way.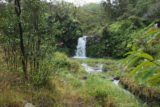 Anyways, that other couple and us explored the area where the orange barricade wasn't erected. But the raging waters, the heavy rain, and the overgrowth was enough for us to abandon the idea of walking along the ditches in search of waterfalls further upstream from the main one, which was already gushing.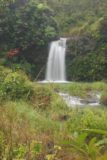 So we hopped the fence and viewed the main waterfall from the desserted picnic area behind more erected orange barricades. The falls was tiny and not really worth lingering for, but at least this time we finally got to see the falls at this park.
We knew there was another waterfall further upstream but given the fact that we breached the closure barricades, we didn't want to push our luck.
By now it was after 10:30am and as we started to leave Pua'a Ka'a State Park, we saw the reason for the closure – a sign that said sewage improvements were taking place.
The next falls we saw was a familiar-looking twin waterfall, which turned out to be on the Kapaula Stream (thanks to the live GPS tracking and Topo! updating). At this moment, the sun was out and the falls was difficult to photograph. Not long after getting back in the car, we made a brief stop at the bridge before Hanawi Falls. And once again with the sun, the gushing waterfalls weren't really all that photographable with the shadows.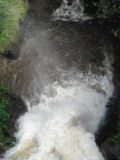 Next, I pulled over past a bridge over Makapipi Falls. This time, Julie got out of the car and photographed the falls in a very raging state.
Once again, we didn't bother trying to get to the bottom of this waterfall (as tempting as that was). Also, it was kind of comical seeing the quantity of No Trespassing signs strewn everywhere around this waterfall.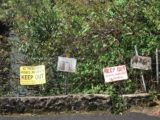 Clearly lots of people here don't want tourists trying to find themselves a better view of this guy.
It was now about 11am when we reached the turnoff for 'Ula'ino Road. We decided to turn onto the road to perhaps try our luck.
But we saw some tourists driving the other way with one of them shaking her head so that was enough to convince us not to proceed any further.
As we got back on the Hana Hwy and continued to head towards Hana, Julie got me to pull over at a stand selling banana bread not far from where we just turned onto Hana Hwy. The bread was nice and warm and had a nice crispy texture at its outer edges. Yum!
We took the $5 loaf of bread to the Waianapanapa State Park, which was yet another place we didn't get to see on our previous Maui visit. I was really looking forward to see the lava arches and possibly blowholes.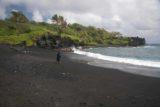 When we got to the already busy car park, we strolled onto an area of an impressive black sand beach. There was a lava tube nearby and we checked that out.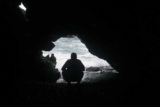 Then, we walked along the coastal trail to try to get a better view of the lava arch we saw from the black sand beach.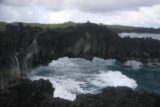 The weather alternated between sun and heavy rain and the crashing waves from the turbulent seas added quite a bit of drama to the scene.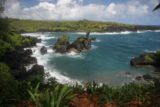 We eventually got to an area with some blowholes, but even despite the crazy ocean, the blowholes didn't really go off. I did manage to get a better look at the lava arch, but I was worried about any rogue waves that might crash above the lava bench behind the blowholes and wash me into the open ocean.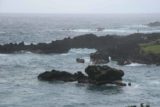 Anyways, we got back to the car and headed into the Hana town hoping that we might be able to check in even though it was 1pm and the check-in time was supposed to be 2pm. And fortunately, we were able to put our overnight baggage into the room.
Certainly this room at the Hana Kai doesn't quite compare to luxury of the Ka'anapali Beach Club, but we did get to see the ocean and it was decent enough for us.
So now that we were able to travel lighter, we continued our waterfalling tour past the Hana town and towards the 'Ohe'o Gulch.
KIPAHULU REDUX
It was now 1:30pm and the rain continued to fall. We knew the waterfalls we would be seeing would probably be raging. We were also curious to see that bypass bridge that had to be built due to the instability of the original bridge at Paihi Falls caused by the October earthquake.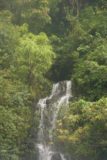 Unfortunately when we approached the temporary bridge, the hideous-looking infrastructure to support it totally made for photographing Paihi Falls awkward and not worth the trouble (especially if you don't want metal things in the photo). So we didn't stop on the bridge to take photos like us (and many others before us) had done in the past.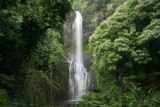 Anyways, after crossing over the temporary bridge, there was a big traffic jam at the bridge before Wailua Falls. You could sense the road rage from the locals who had no patience for the circus-like scene. Within all this chaos, we miraculously found parking so we could linger at the falls a bit longer.
As we finished staking a claim to a spot to take photos and taking plenty of them, we finally continued driving towards the 'Ohe'o Gulch – finally getting there at 2:45pm.
There was a ranger at the car park collecting National Park fees, but fortunately for us, our National Parks Pass still had a few more days left (we had bought it last February during our Yosemite firefall chase).
After parking the car and preparing for some hiking, we crossed the Highway 31 and took the Pipiwai Trail. Unlike our last Maui trip, we walked in Keens this time (instead of hiking boots), and it would turn out to be a wise move given the raging waters.
Speaking of which, we had overheard other disappointed visitors who had brought bathing suits only to discover that the Lower Pools were closed to swimming due to high water and flash floods. It was kind of a foreshadowing of the states of the waterfalls we would be seeing on this hike on this day.
It wasn't long before we reached the overlook for Makahiku Falls. There was quite a crowd at the falls so both Julie and I took our glimpses but no photographs. We figured we could take the photos on the way back when there are fewer people around.
Beyond the falls, we noticed a sign discouraging access to the spur trail that led to the top of the waterfall.
"The Infiniti Pool's closed," I told Julie – once again reiterating the theme that everything's closed.
Of course, this closure was certainly dictated by Mother Nature and was therefore legitimate. But the human-based closures for one reason or another were annoying.
As a matter of fact, we got this sense that over time, these human-based closures meant there probably wouldn't be much left that was worth seeing or spending time on while touring the Hana Highway. We certainly hoped this won't be true, but it was hard to ignore how things were progressing – especially when we compared our 2003 experience to today.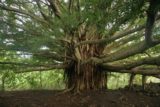 Anyways, we continued on the main trail past the gate. We had recalled on our previous trip that the trail would get confusing on the way back around this area. So with that in mind, we proceeded along the trail as usual towards the familiar banyan tree.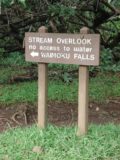 Beyond the banyan tree, there was a sign that read "Stream Overlook."
I didn't recall seeing this sign on our previous trip, but I knew it led to a side waterfall that ultimately spilled into a watercourse that would go into a natural tunnel.
I guess the Park Service has added additional signage to enhance the visitor experience by noticing some of these other previously unknown gems. Good on them for doing that.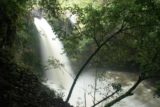 Julie opted to stay behind while I went back down the steps to the falls. When I took a look at the waterfall this time around, sure enough it was raging powerfully. Naturally, I took photos all the while wondering how it would compare to the falls nearly four years ago in more ambient conditions.
When I got back to the main trail by the sign, Julie was gone.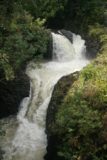 Huh, perhaps she kept on going and didn't wait for me. So I proceeded to try to catch up to her on the faith that she was ahead of me.
As I crossed over the familiar bridges over some small waterfalls falling in succession, I couldn't help but notice how the falls kind of blended in together into a long series of churning whitewater. Each of the falls were certainly less distinctive than before.
Then, I entered the memorable bamboo forest. Still no Julie in sight.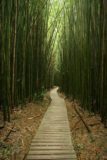 The eerie dark light and everpresent bamboo shoots blocking out the daylight certainly created a rather moody experience – especially without Julie around.
When I passed by a pair of guys walking the other way, I asked one of them if he had seen an Asian woman up ahead.
To my relief, he told me he saw her way up ahead. Of course, I couldn't totally be relieved since I worried about the possibility that there might be more than one Asian woman on the trail. Still, I quickly made my way forward amongst the heaps of bamboo shoots surrounding me on the boardwalked trail.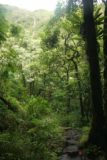 When the bamboo forest started to give way to the more familiar Hawaiian jungle scenery, I started to notice a very tall but thin waterfall up ahead. I knew it wasn't Waimoku Falls, but I knew I was getting close.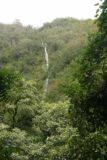 As I continued walking, there was yet another tall and thin waterfall up through the foliage. Plus, the sound of rushing water has gotten louder and louder. I knew I was tantalizingly close.
Then, the trail started to cross parts of a side stream undoubtedly from that side waterfall. Up ahead, I could already see the towering Waimoku Falls in obviously greater volume than I had seen it before.
It was a good thing I had Keens on because the first stream crossing was about ankle deep over some slippery rocks.
But the trail then gave way to a longer and deeper stream crossing right in front of the awesome 400ft Waimoku Falls.
That was also where I finally saw Julie.
"What took you so long?" she told me.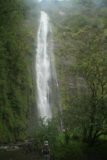 "I was busy taking photos of that side waterfall. I didn't know you had kept going," said I. "I was worried that something happened to you or you were waiting for me still and somehow I had missed you."
Anyways, Julie crossed the stream and it was immediately apparent that it was about knee-deep.
Meanwhile, I was busy photographing the scene while trying to minimize the amount of mist from the falls getting onto the lens. With the wide angle of the lens on the EOS 20D, I was easily able to capture the scene that was more difficult to do on the previous trip with the point-and-shoot Sony Cybershot.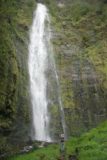 We would eventually have the falls to ourselves as those around us had left, and we took advantage of our moment of solitude. But it was getting late and we started to head back. There was still another fairly large group of middle-aged to senior hikers who had just arrived so we knew we wouldn't be the last ones here.
So Julie and I quickly walked through the bamboo forest and then made it back to the banyan tree. It appeared the National Park Service erected a trail marker indicating the way to go after the banyan tree so it wasn't nearly as confusing as it was on the previous trip.
A few minutes after getting by the gate, we were back at the Makahiku Falls overlook. And as expected, there was only a couple of people here instead of the crowd earlier in the day.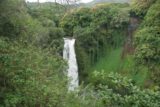 So that allowed us to take some photos of the now-raging 200ft waterfall. It was obvious why they closed off the Infiniti Pool above the falls now.
After getting our fill of the falls, both of us had terrible urges to go to the toilet. So we wasted no time hastily hiking the last half-mile back to the car park where we knew there were toilet facilities. The car park was noticeably less crowded by this time of day.
With the afternoon sun momentarily making an appearance between the patchy dark clouds to the west, we walked the loop trail to the Lower Pools of 'Ohe'o.
We knew swimming was closed, but we had no intention of swimming there anyways.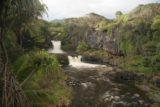 It wasn't long before we had reached the access trail that descended down to the pools. Of course, barricades were erected to prevent entry. The pools were clearly turbulent and they were a far cry from the way they were in our 2003 trip.
After taking a few photos from before the barricades, we continued onwards to the rest of the loop. It was during this stretch that we had found another side path that led closer to the ocean.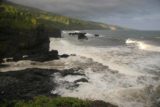 So we took this path and we ended up in an open bluff where we could look back at the Lower Pools and even the waterfalls below where the swimming area would've been. We could also see the violent waves crashing ashore with distant views of the coastline back to the northeast towards Hana.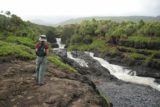 Having been to the 'Ohe'o Gulch (or the so-called Seven Sacred Pools) nearly four years ago, it was strange seeing the churning, brownish raging whitewater at the popular Lower Pools. Both Julie and I remembered how busy it was that late summer day in early September 2003. But on this day, there was hardly a soul here, signposts and barricades prevented access to the pools, and all you could hear was the loud constant clatter of rushing water interspersed with the thunderous swooshing of the violent ocean waves behind us.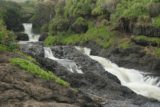 We lingered here taking more photos and basking in the dramatic yet beautiful scenery that somehow eluded us on the last trip. But the fading light of the day indicated to us that it was time to go. And when we got back to the car park, there were probably less than a half dozen left at this point.
"It's a good thing we don't have to drive all the way back tonight," Julie said. "It was a good call to spend the night in Hana."
Besides, we knew that the road beyond Kipahulu to Kaupo was closed due to rockfall and instability resulting from the recent October earthquake.
So as we left the car park, there was still one last thing that was nagging at me.
I had read in the literature about Waihi'umalu Falls near Wailua Falls. We looked for it and couldn't find it on the way to 'Ohe'o Gulch, so we could try to spot it and photograph it on the way back to Hana, I thought. So when we rounded a turn at the top of a hill and headed down towards the Wailua Falls area, both of us spotted the falls way up in the distance at the top of the cliff.
There were no readily available pullouts here and I didn't want to back up and hold up traffic so we gave up on trying to photograph it. Besides, I think a telephoto lens and some additional lighting than the twilight we were getting was necessary.
Darkness had fallen when we returned to the Hana Kai Resort. We still tried to figure out where to eat, but we would eventually just head into town determined to find the Hana Ranch Restaurant.
We knew the Maui Revealed book hated this place, but we certainly weren't going to splurge at the Hana Hotel Restaurant. Especially after the expensive subpar meal (at least compared to Duke's Canoe Club in Waikiki) we had at Kimo's in Lahaina the night before. We also didn't feel like buying groceries at Hasegawa's and then cooking on the electric stove in our Hana Kai room.
Julie and I shared their so-called signature baby back ribs and poke at the laid back restaurant. Some live Hawaiian music was being played and the surprisingly cool tradewinds were blowing making for a chilly but not-at-all humid outdoor dining experience.
The ribs were a bit tough, but Julie's poke was quite good. I probably should've stuck with my original choice of getting a cheeseburger. But in any case, I don't think Hana Ranch was quite as bad as the Revealed book made it out to be.
And with that, we spent the night with the back door open so we could sleep to the sounds of the crashing ocean waves. It wasn't quite like our Princeville condo experience in Kaua'i (where we kept the doors and windows open each night). The paper-thin walls meant we could hear kids and footsteps, which brought me back to my college days. But at least the sounds of the oceans drowned them out for the most part and we were able to rest our tired bodies…
Visitor Comments:
No users have replied to the content on this page