FEELING UNWELCOME
The lady issuing the permit remembered me and ultimately accommodated me by issuing a permit for Monday weather permitting.
So with that squared away, we went looking for a lunch. Unfortunately, nothing in town seemed to be open at the time. So we eventually headed back towards the Coconut Marketplace area which was next to our hotel.
After eating at the Hula Girl for some fish and smoked pork tacos, we were back in the car at 3:38pm and determined that there was still enough daylight left to find Ho'opi'i Falls.
At 4pm, we thought we had found the car park for the falls as there was a dirt road that went through a gateway. The Private Property sign was overgrown and we thought it was put there to discourage people from going to the falls.
So we walked through the gate when we heard barking dogs running out past an internal gate and further to us. It continued barking and it became immediately clear that this was not the correct way to the falls as we had unknowingly trespassed. Oops!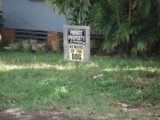 Julie and I got back in the car at 4:15pm and slowly drove back up the road looking for this elusive dirt road. Nothing was signed here and there were plenty of No Trespassing signs everywhere.
We had this distinct unwelcome feeling here and we were beginning to wonder whether it's worth finding this waterfall or not.
As a matter of fact, today ended up being a rather strange day. I mean, that waterfall tour seemed strangely subpar and not as memorable as I had expected (especially for the money we paid). Then, I had lost my lens hood at Kipu Falls. Julie got frustrated when all the lunch spots she wanted to try out were closed. And now the possibility of something bad happening in this rather unwelcome-feeling spot was palpable.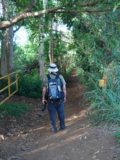 But finally Julie spotted the well-hidden dirt road. Fortunately, there was room to park near the dirt road without parking on someone's property. And by 4:21pm, we were off on the trail, but we did so knowing that daylight was starting to fade away and that our vehicle might be vandalized by a local not wanting tourists to be here (as I had read about this previously).
The dirt road was narrow and there was no way we would take our rental car down here. Towards the bottom of the hill, it was quite muddy and slippery – especially given the shade and humidity here.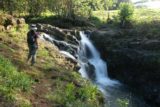 And it wasn't long before we got to the first waterfall, which was basically less than 15ft. There were a trio of kids having fun jumping off the rocks into the deep plunge pool below. But of course, Julie and I were content to take our photos, try not to mind the mosquito bites, and continue towards the second waterfall.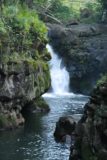 On the way to the second waterfall, we found a fork near the stream. We decided to pursue the fork going in the upstream direction. That was when we saw that the trail went to the plunge pool beneath the first falls (though it required a swim to get all the way there). So that's how those kids made it to the bottom of the falls, I thought.
After that little revelation, we continued on. The track went down another steep and slippery hill before mostly following the stream. It was easy to get discouraged as the path went under numerous downed trees. Plus the increasing darkness of the fading daylight also gave us the forbidding feeling that we had to get out of here pretty soon.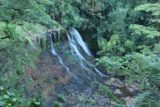 Finally after a last scramble up another slippery hill to get around more fallen trees, we got a view of the second waterfall looking down at it. But in the low light, I was glad I brought the tripod.
At 5:32pm, we returned to the car. There were a few moments of slipping and sliding as we tried to climb up the muddy hills, but we got there in one piece. More importantly, the car wasn't vandalized and we now had our sights set on a return to Kapa'a or Wailua for dinner.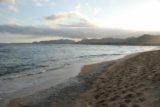 At 5:58pm, we ended up eating at Scotty's Beachside BBQ, which made some killer babyback ribs. They also happened to be co-owned by the authors of the Ultimate Kaua'i Guidebook as well as the other Wizard Publication guides. It was a pretty relaxing end to this awkward day and hopefully tomorrow might yield something with a little less drama.
But the traffic back to the Islander on the Beach Resort in Wailua was relentless. I guess some thing you can't really get away from – even in Hawai'i's Garden Island.
Visitor Comments:
Got something you'd like to share or say to keep the conversation going? Feel free to leave a comment below...
No users have replied to the content on this page