Day 2: LA'IE FALLS
It was 7:15am when we checked out of the Ohana Maile Sky Court Hotel and faced the rush-hour traffic. It seemed like forever to finally leave the Honolulu area and it was a reminder of why we didn't really like O'ahu all that much compared to the other islands in Hawai'i.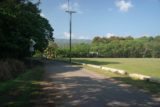 We'd eventually reach the Foodland plaza just after 8:15am. The Hawaii Reserves, Inc. office wasn't open until 9am so we decided to use this time buying some water for the hike. After that was done, we managed to kill enough time to get into the Hawaii Reserves office at 9am sharp so I could sign the permit and get right to hiking the La'ie Trail in search of the elusive La'ie Falls.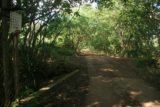 At 9:20am, we parked the car at the La'ie Park. Julie didn't want to hike the trail so we opted to stay with the car so she could pick up some shrimp both at Romy's and at Giovanni's. Meanwhile, I had put on sun screen and deet to ward off both the morning sun and the potential for mosquitoes.
The trail started along mostly flat unsealed road as I was making my way towards the actual trailhead. Unlike many other hikes around Hawai'i, there was a decidedly friendly air about the place as the workers here smiled and waved hi to me as I passed by.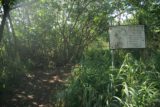 It wasn't long before I got to the actual trailhead where I now had to walk on a narrower trail. The sign at the trailhead said the falls were 1 hour and 30 minutes away. I was pretty sure this was the amount of time it took to go one-way and not round trip. So onwards I went.
The trail immediately started climbing. It continued to climb for what seemed like forever and the unrelenting sun didn't help much for it seemed to sap my strength the higher up I went.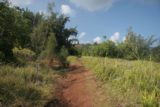 I was alone on the trail until I saw a pair of young women heading back the other way. I asked them if they saw the waterfall, but they told me that they didn't get to the falls because of the shoes they were wearing. They also indicated that they couldn't really find the side track that led to the falls itself.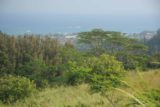 This wasn't good for my morale since I was on a time limit to try to complete this hike by noon so we could get back to the airport without getting charged a late fee for the rental.
Anyways, we parted ways and I continued onwards.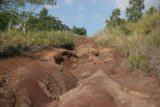 The trail started to get to a point where it went through some badly eroded sections. The trail almost started to resemble miniature canyons and the footing was a bit tricky to say the least.
Eventually, I'd get past the eroded dirt road and into a section where I saw pine trees. I didn't expect to see this in a tropical place like Hawai'i, but there they were – dwarfing me as I meandered along the trail amongst them. Soon the pine trees gave way to more shaded scenery as I was surrounded by knarled branches with leaves growing on them. The trail was still climbing as I found myself hiking under the natural canopy shielding out the sun (though there were encroaching clouds blocking out its rays).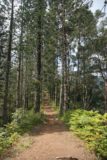 The relentless climb up the trail seemed like it was never ending. I was starting to get worried that I might not find the waterfall as it had started to reach the two-hour point from when I first started on the trail. The trail description in the book (from the Start Ball Book) said to look for a path to the right so I faithfully kept pressing forward always looking for this path.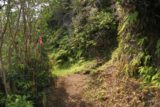 But that was when I saw some elderly people heading back the other way. Naturally, I asked them how close I was to the falls and they said it was still another 15 minutes. At least that assured me that I didn't miss the turnoff point and I wasn't going all the way up to the ridge. So we parted ways and I continued onwards.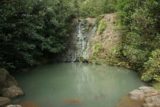 Sure enough, I noticed a bunch of pink ribbons tied to branches around the turnoff point. As I took the spur trail, I was immediately greeted by a steep trail with some ropes to help keep me from falling into the drop-off. I could also hear running water, which was strangely silent up until I got to this side of the hill. And within minutes of some dirty hiking on somewhat muddy and slippery surfaces, I was in front of the wishbone-shaped waterfall. It wasn't flowing all that well, but at least I could say I bagged this one.
But now it was past 11am and I knew I probably wouldn't make it back to Julie by noon. Still, I could finally make my way back down and this time it would be just about all downhill.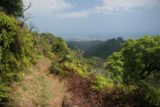 After some tricky scrambling back up to the main track, I was able to trail run most of the way down thanks to gravity. Some of the views of La'ie Point way off in the distance conspired to slow me down as I stopped to take a few photos from time to time breaking my momentum. But by 12:40pm, I made it back to the car and a worried Julie. She wouldn't let me eat the shrimp she bought at this point since we had to get back to the airport.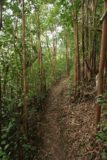 It was about 1:40pm when we returned from La'ie to the Honolulu Airport. The Dollar Rent-a-Car clerk was cool in not charging us the late fee. So with all that business over with, we shuttled over to Aloha Airlines to catch our connecting flight to Hilo.
I wasn't looking forward to a nearly three-hour stay at the airport since our flight wasn't until 5:40pm, but we asked the Aloha clerk if we could catch an earlier flight. And to our surprise, we were able to catch a 2:50pm flight.
Excellent! Now we could do some grocery shopping and have a decent dinner instead of rushing everything late in the evening!