END OF THE LOSING STREAK AND MORE
Julie had booked an 8am chopper flight with Paradise so we had to get up at 5:30am to ensure we'd check in on time. Knowing that the weather wouldn't be as much of an issue as the last four failed attempts at helicoptering, there was a part of me that couldn't believe that today's tour was actually going to happen. I echoed my sentiments to Julie as we drove towards the heliport at the Kona Airport.
"Don't count your chickens before they hatch," Julie warned.
So I didn't say anything regarding the matter thereafter. In fact, once we arrived at Paradise's office, I was quite silent in the 45 minutes between our 7:15am checkin and the 8am flight.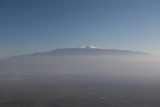 But finally, our pilot Floyd did the usual pre-flight talk and before we knew it, the Bell Jet Ranger took off and we were headed right into the sun over the summit of Hualalai and then towards the Hawaii Volcanoes National Park.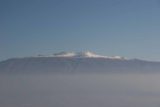 The weather forecast, which I had studied before this last-minute Big Island trip, had called for vog. It was a term that neither Julie nor I were familiar with so I asked Floyd what exactly was vog.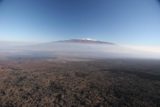 I didn't recall exactly what he said, but it was something to the effect that the gases coming out of the active volcanoes can mix with water vapor to create a type of volcano-induced fog. The vog was apparent as we could see haze below both the snow-capped peaks of Mauna Kea and Mauna Loa.
He also said that the mix of sulfur dioxide and water vapor creates acid rain, which is responsible for the desert climate in the southeastern part of the island just west of the National Park.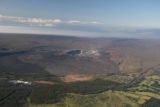 Considering that it had been a long time since neither Julie nor I had seen the summit of Mauna Kea and that we had never seen the summit of Mauna Loa, we'd take light vog any day over menacing rain clouds shrouding the peaks.
Once we got to the National Park area, the next several minutes were spent looking for any redness from lava flows. They weren't easy to spot because the flow at this time was rather slow and poor, and perhaps mostly under lava tubes.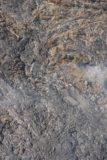 We did spot a few areas where the lava did set some trees on fire. But it was a rather disappointing show.
Floyd then took us over to the Pu'u O'o Vent where it was still spewing out noxious gases. He couldn't fly us downwind from the vent due to visibility (vog) and the concentration of toxic fumes. So I took what photos I could of the active vent.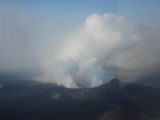 Next, the tour headed north over the town of Hilo and eventually up the Hamakua Coast. Now, we're finally seeing some waterfalls!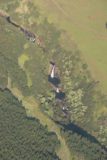 As we continued going north of Hilo, we could see that every gulch had dozens of noticeable waterfalls. In fact, there were countless numbers of them. Some of them I could pick out like Rainbow Falls, Akaka Falls, Kulaniapia Falls, and even Pe'epe'e Falls. But most of them were nameless or there were just way too many to keep track of.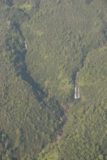 Eventually, Floyd took us to the mouth of Waipi'o Valley. Unfortunately, we were kind of looking against the sun and the shadows were unkind for photography, but I could tell right away that Waiulili Falls was going and *gasp* Hi'ilawe Falls was actually flowing!
That was the first time I had seen this waterfall go despite several attempts. I was excited about this and this made me really look forward to tomorrow's intended excursion to the Valley of the Kings.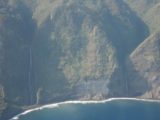 However, Kaluahine Falls didn't look like it was going, and since it had only been 3 weeks since the record rains that we were stuck within, that must've meant that the falls were nothing short of being ephemeral (and hence not really a legitimate waterfall these days).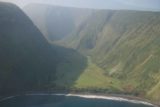 Next, Floyd took us into the quiet Waimanu Valley, which was adjacent to the Waipi'o Valley. There were a few tall waterfalls that were hard to capture in a photograph. He then flew us into a bowl area that he called the "keyhole."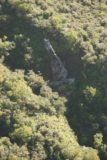 After that, he flew out of Waimanu Valley (too short for my taste) and flew us over to a downed WWII bomber. Personally, I would've preferred to check out Pololu Valley and the now-inaccessible Kapoloa Falls, but I guess it wasn't really part of the flight path of this tour.
Floyd then took us over some wind farms (encouraging to see some effort is being made a harnessing renewable energy) before trying to do some last-minute whale watching. We spotted a few but as usual, they're not really photographable from high up in the air.
Finally, the tour ended back at the Kona Airport.
It was now around 10am and we decided to do a little grocery shopping along with a quick sushi lunch at Hayashi's before taking advantage of the good weather by heading over to the Hilo side for the afternoon.
By the time we had left Kona, it was 12:30pm and some afternoon clouds started to appear as we looked mauka.
Despite the presence of clouds, we knew they probably weren't going to produce any rain. The Saddle Road was pretty much the same as it was 3 weeks ago. However, the difference was that we could see a lot more along the road than we did before thanks to the good weather.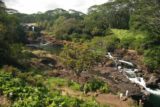 By 2:35pm, we were at the busy Boiling Pots Car Park. There were many people out and about in bathing suits. I, however, was determined to get a view of Pe'epe'e Falls from the pool right at its base.
Despite the lack of rain for the last three weeks, the Wailuku River was still running high enough that you had to either swim or wade through nearly hip-deep water to get to the other side. Unlike our calamitous crossing near Helele'ike'oha Falls on Maui a while back, this time I was careful not to get the camera nor my wallet wet as I waded across the river.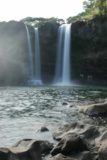 Finally, I got to the pool at Pe'epe'e Falls where a group of people had already swum to. To my surprise, there was actually another cascade off to the left that couldn't be seen unless you did the scramble. It kind of reminded me of Wainibau Falls in Taveuni, Fiji, where you had to swim to see the other waterfall. Fortunately, I didn't have to swim to see the hidden cascade by Pe'epe'e Falls, but it was quite a treat nonetheless.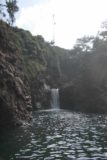 After scrambling back to an awaiting Julie, we headed back up to the car park together and arrived at 3:45pm.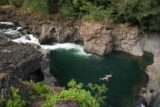 Even though we're staying at the Inn tomorrow night, we took the liberty of going over there and taking what photos we could in the good weather. We had arrived a little after 4pm and returned to the car at 5pm.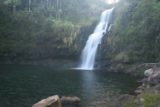 However, we met a nice couple from Dallas (named Jane and Philip) who were spending this night at the Inn. We spent a good deal of time chit chatting of traveling lightly and about the good weather.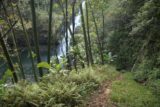 After leaving Kulaniapia Falls, we took the Saddle Road back to Kona. We arrived at this place called Lulu's at around 7:15pm, and we ended up eating treating ourselves to some ahi tuna and mahimahi.
Julie and I basked in the fact that we got a lot accomplished on this one day that we couldn't do throughout most of the last two trips to the Big Island. I personally was eager about tomorrow's horseback ride in Waipi'o Valley and about the prospect of finally getting to see Hi'ilawe Falls while it's flowing!
Visitor Comments:
Got something you'd like to share or say to keep the conversation going? Feel free to leave a comment below...
No users have replied to the content on this page