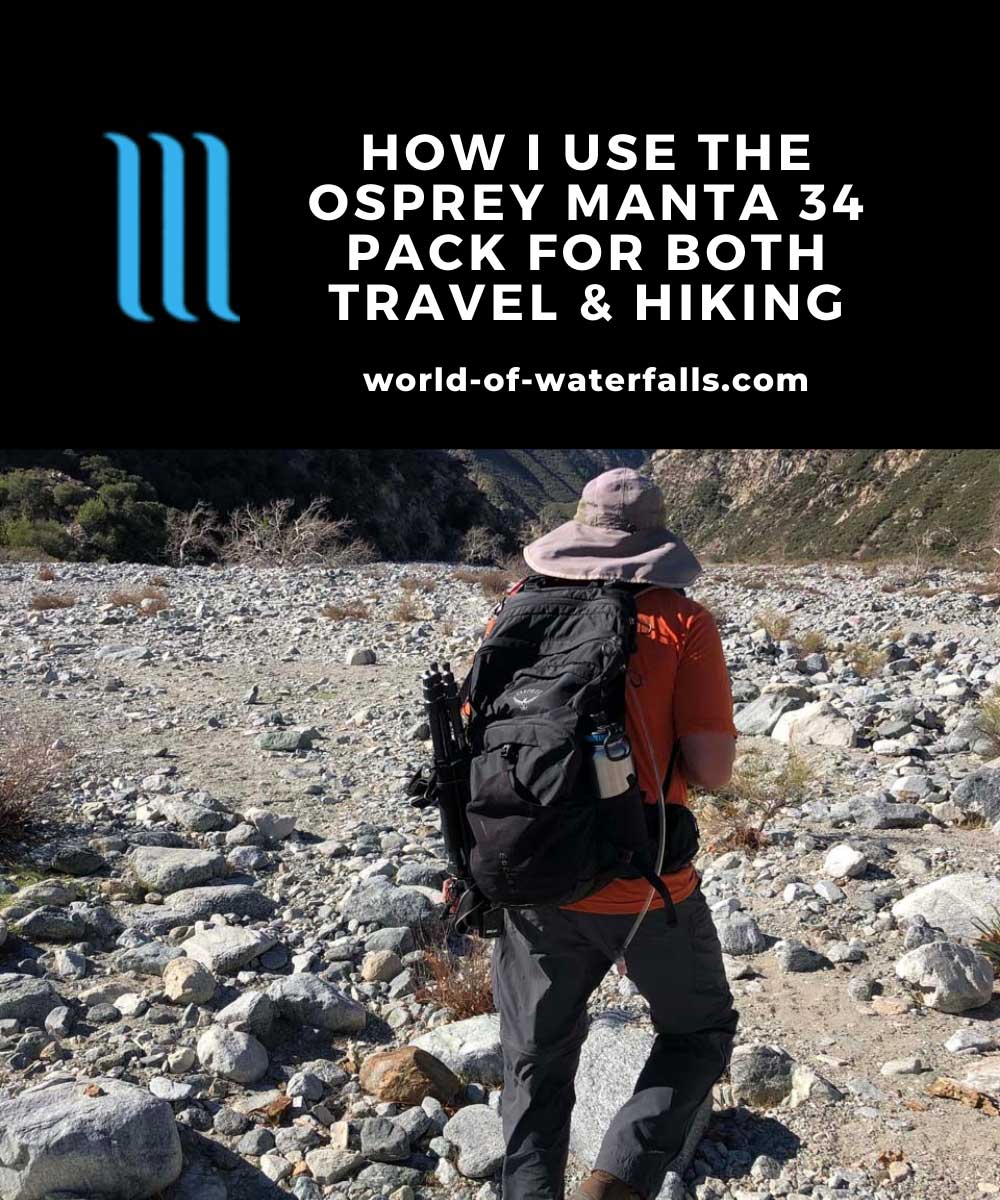 The Osprey Manta 34 is a high-end backpack designed primarily for day hikes and possibly very light outdoor overnight backpacking. However, I've been so pleasantly surprised by its many features and capabilities that I also want to bring it along in our waterfall chasing around the world. So in this article, I share how I've managed to expand its usefulness by repurposing it as a supplemental travel pack.
To give you an idea of how I came to this idea, allow me to briefly tell you how I used to travel around with a backpack that was similar.
Going back to about the late 2015 time frame, I used to chase waterfalls worldwide using the Osprey Ozone 46 backpack, which had actually served us well.
That bag was a superior upgrade to me carrying around a Camelbak day pack and using it as a travel pack.
In any case, the Ozone 46 pack was small enough to fit underneath the airplane seat in front of me (so it could be a personal carry-on) without giving up on how I've used it on waterfall hikes.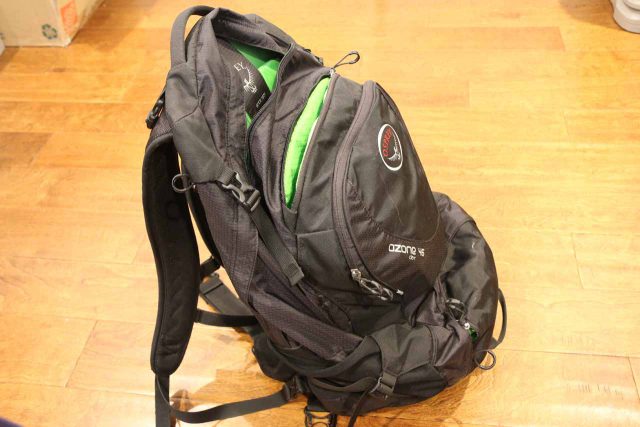 However, it also managed to fit both my laptop bag and my DSLR camera bag (barely) for those moments I had to get by TSA or a gate agent.
Unfortunately, the hip belt clip on the Ozone 46 broke during one of our local waterfall hikes in the Los Angeles area, and that was when we had to look for a replacement around the 2019 time frame.
By that time, the Osprey Ozone 46 pack was discontinued, and we had a choice of going with the Osprey Farpoint 40 travel pack or the Osprey Manta 34 day pack.
Ultimately, I decided on going with the Osprey Manta 34 day pack because it came the closest to having all the features I enjoyed with the Ozone 46, but it was more purposefully built for the outdoors like the Camelbak day packs that I used to carry.
That said, the Osprey Manta 34 wasn't intended for international travel, and I still didn't want to lose out on its outdoor-centric features when our waterfall chasing went abroad.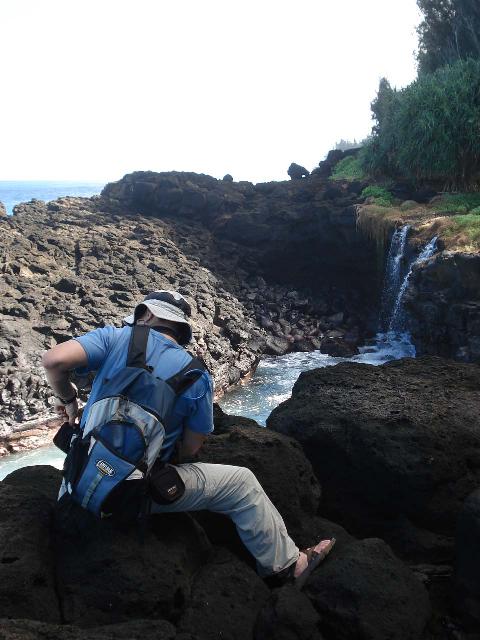 Therefore, I still had to figure out how to bring it on our international waterfalling endeavors, and that is why I'm devoting the rest of this article to explain why and how I managed to get the Osprey Manta 34 backpack to serve these dual purposes.
Why Use The Osprey Manta 34 As A Day Hiking Pack?
I use the Osprey Manta 34 backpack as my go-to day hiking pack for a multitude of reasons (which by itself can easily consume this entire article).
That said, this pack has been widely covered in the internet literature so instead of exhaustively going through all its features, I'll just go through the main ones that I've personally appreciated.
Quick Access To Hydration
The Manta 34 has two side pockets for access to my stainless steel water bottles while hiking without the need to unsling my pack to get at them.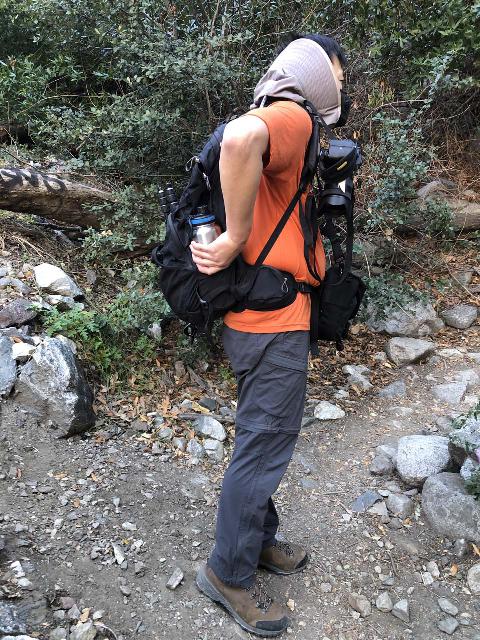 If I am doing a really long (and dry) hike and I needed to bring even more water in addition to my pair of water bottles (occupying the side pockets), then I can also hydrate hands-free with the included hydration pack (or "bladder").
This sits in a compartment closest to my back.
On-the-go hydration is important to me because losing my momentum to stop and unsling the pack for something as critical as drinking water becomes a major nuisance after doing this a few times.
Superior Comfort
The Manta 34 has a combination of a 4mm LightWire alloy and a hip belt to keep the weight redistributed to the hips while also keeping my back separated from the pack itself.
The weight redistribution ensures that my neck and shoulders don't get sore as my hips and legs bear the brunt of the pack's weight.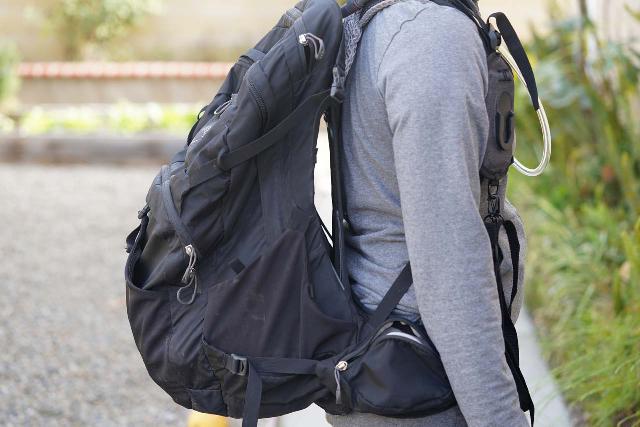 Moreover, I've found that the sweat on my back has not been an issue as far as wetting the pack's contents, especially for the stuff resting on the side closest to my back.
Indeed, having been on several all-day hikes with the Osprey Manta 34, I felt so comfortable that the pack weight has not caused any problems on any of my all-day adventures.
In fact, I hardly notice the pack's weight, especially towards the end of the day when fatigue should really set in!
Pack Organization
As a day pack, the Osprey Manta 34 has great organization features that I've found quite useful.
First, there's an outer elastic pocket that I've used to hold wet items like my rain poncho, which keeps it from wetting other things inside my pack while also letting it air dry somewhat.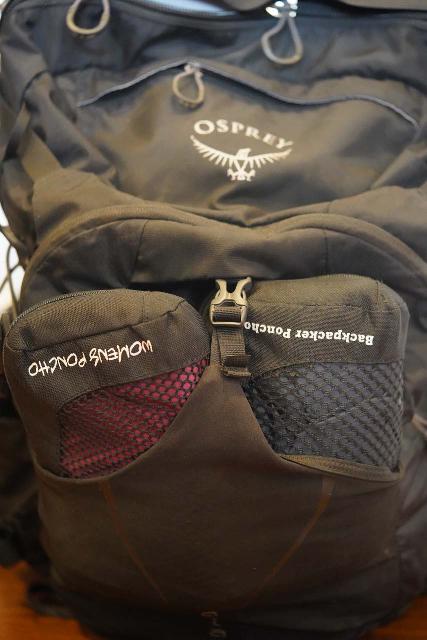 For the zippered front pocket, there's a zippered mesh pocket within for holding my wallet and keys (and maybe one other item like tripod adapter screws) while there are two non-zippered pockets for holding my compass and first-aid kit.
The rest of zippered front pocket is deep enough to hold things like my headlamp (I actually hold 2 in case my hiking partner(s) need it), my climbing gloves, a compact backup flashlight, and other nick nacks like bug spray or sunscreen.
The main compartment holds the most volume and it handily holds my thicker jacket, any food I might bring, packed rain ponchos (not used), and it does this while having plenty of extra space for anything else I decide to bring along on my hikes.
Between the main compartment and the backstraps is a hydration pack compartment, which I generally don't use that much because I don't like chemicals leeching into my water nor do I like the plastic taste that tends to occur with these things.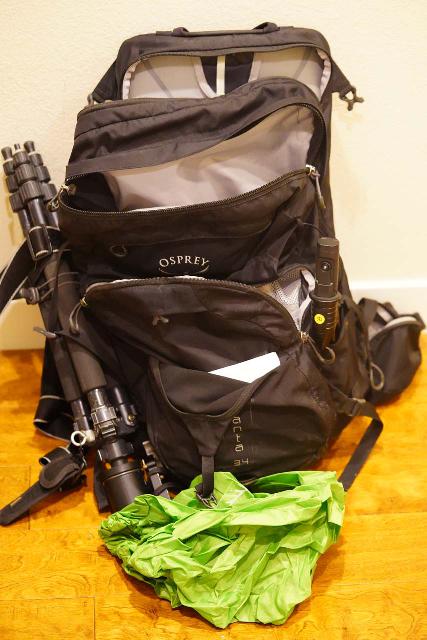 So I actually can use that compartment for other storage options, which comes in handy for international travel, which I'll get to later.
Finally, there are two hip belt pockets that I've used for things like holding my smart phone, spare AA batteries, my handheld GPS, my pen and notepad, or other things I need quick access to without unslinging the pack.
External Loops for Trekking Poles and Tripods
An underutilized feature of my Osprey Manta 34 backpack has been the exterior loops that allow me to hold at least my tripod or maybe a pair of trekking poles.
However, I'd say it's a stretch to hold both of these things at the same time using those loops.
I've even managed to hold my tripod along with my Switchpod (the latter using the bungy-tied loop along with one of the side pockets) at the same time.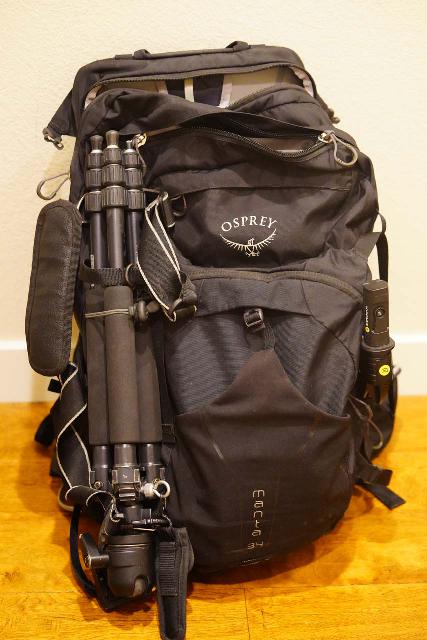 So this feature helped me free up internal space by not needing to put the tripod or trekking pole inside the pack, which also would have made them cumbersome to access when they're stowed like that.
In addition, there are at least 3 loops in the front and 4 on the shoulder straps that I can attach other items to with a carabiner.
The loops on the front would be especially useful for temporarily holding boots while I'm crossing streams that boots couldn't handle (or carrying the water shoes or sandals otherwise).
Included Rain Fly
Lastly, I appreciate that the Osprey Manta 34 comes with a rain fly to protect the pack when it rains.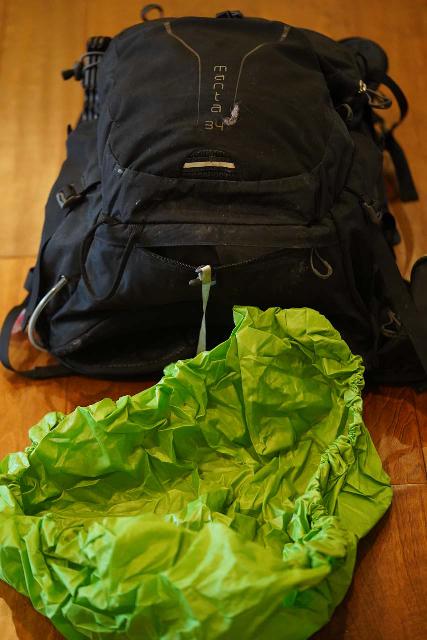 While the rain gear is detachable, I just leave it in the hidden underpocket of the day pack because you just never know what Nature can throw at you while out in the field.
Why Use The Osprey Manta 34 As A Travel Pack?
So as you can see from the previous section, there's a lot that I like about the Osprey Manta 34 as far as day hiking features are concerned.
However, we also go on a lot of rugged and unpredictable hikes internationally, which means that I don't want to lose out on these benefits while on travel, especially if it involves flying in a plane to the destination.
As a result, I prefer to bring the Osprey Manta 34 backpack with me on our international travels, which compels me to repurpose it as a limited travel pack.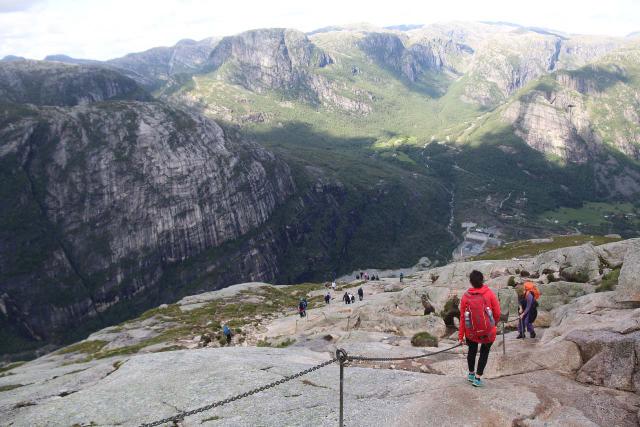 Nevertheless, you'll see later in this article that there's the possibility of carrying both on board, where the dedicated carry-on "luggage" or travel backpack acts as the carry-on while the Manta 34 day pack acts as my personal carry-on.
Why Not Use Nomadic One-bag Travel Packs?
It's natural to ask why can't I invest in a more dedicated travel pack and repurpose its use for day hiking?
While there do exist many travel backpacks on the market that are purposefully built for single-bag travel, I've found that these bags lack many of the benefits that more dedicated day hiking packs like my the Osprey Manta 34 feature.
So in this section, I'll go over these particular shortcomings using the popular Osprey Farpoint 40 as well as Osprey Farpoint 55 as examples.
The bottom line is that there are features that work great for travel, but not-so-great for day hiking.
Lack of Easy-to-Access Hydration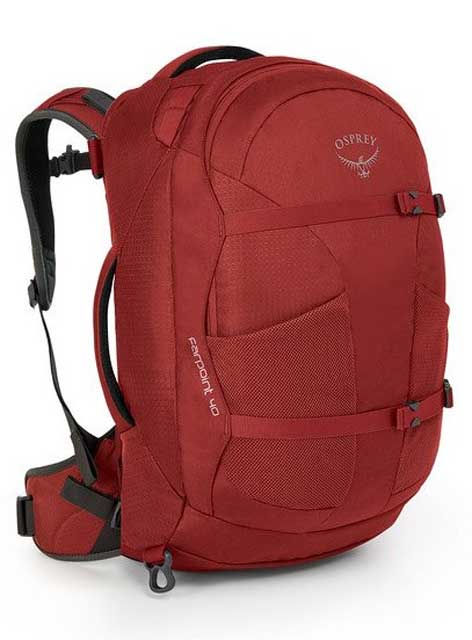 In the Osprey Farpoint 40 or 55, the outer mesh that would contain the water bottles are way out towards the front of the pack.
This means that I'd have to unsling the pack in order to access those water bottles.
The travel pack also doesn't have the ability to provide hands-free hydration with a hydration pack or "bladder" without awkwardly repurposing one of the main compartments for that bladder.
Lack of Zippered Hip Belt Pocket
The current versions of the Osprey Farpoint 40 or 55 travel pack lack the hip belt pocket so it's one less option to immediately access items like my smart phone or a pen and notepad supposing I don't have pant pockets or shirt pockets instead.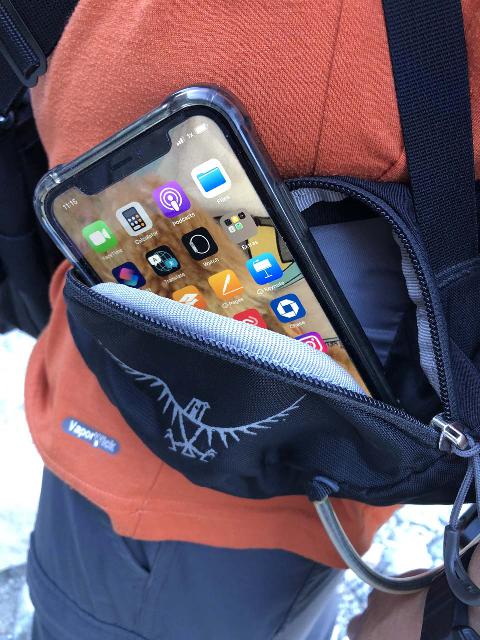 Even if I had shirt or pant pockets for those items, they still have to be zippered or velcroed to secure those items, and my sweat can bleed through the fabric and get onto those items.
Inferior Back Ventilation Compared to Manta 34
While the Osprey Farpoint 40 or 55 does have some degree of back ventilation, it doesn't compare to what you get with the Osprey Manta 34's airflow.
That said, people have found the Farpoint 40's straps to be comfortable for single-pack travel, but how that performs for long distance hiking in variable and unpredictable conditions is questionable.
Concealing Flap Can Get In The Way
The Osprey Farpoint 40 or 55 pack does feature a zippered flap that allows you to hide the shoulder straps and hip belt for those times when the pack does have to act as an overhead carry-on or needs to be checked-in.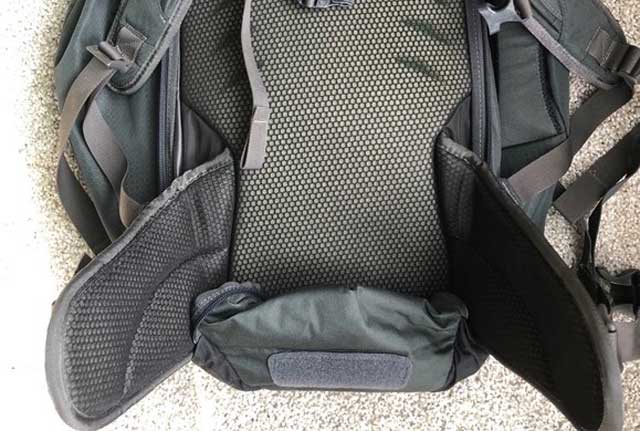 However, that flap can be a nuisance when hiking in the field, especially for long hikes since there's nothing to secure it after rolling it and tucking it as somewhat of a lumbar roll in the lower back near the hip belt.
Lack of a Flexible Outer Pocket for Wet Gear
The lack of an air-exposed outer pocket to hold wet gear like a wet rain poncho or a wet GoPro would mean that those items would have to be stowed inside the travel pack.
Thus, it opens up the possibility of mold (from the lack of the wet items airing out) as well as possible damage from wetting other pack contents.
Doesn't Come With A Rain Cover
Finally, the Osprey Farpoint 40 or 55 doesn't come with a rain cover though it shouldn't be hard to procure one.
However, it also doesn't have a ready-made hidden compartment dedicated to it so I'd have to find a separate pocket to store it and be cognizant of it should I be caught out in the rain carrying this pack.
How Have I Used The Osprey Manta 34 For International Travel?
So given the shortcomings of a travel pack like the popular Osprey Farpoint 40 (the Farpoint 55 has a very basic detachable day pack) as an outdoors day hiking pack, here's how I've managed to bring my Osprey Manta 34 backpack on our international travels.
1. Bring The Osprey Manta 34 As A Personal Item
As already mentioned earlier in this article, the Osprey Manta 34 can pass as a personal carry-on item that would fit underneath the airplane seat in front of me.
I've been successfully able to do this without issue with the discontinued Osprey Ozone 46 backpack, which has a similar size to the Osprey Manta 34 (though the latter might be 2-3″ taller and has a rigid frame).
The Manta 34 has just enough compartment space to hold both a DSLR camera and my laptop bag along with a small ziplock bag to put on the outer open-air pocket for carrying small liquids and gels (i.e. mouthwash, toothpaste, bug spray, and sunscreen).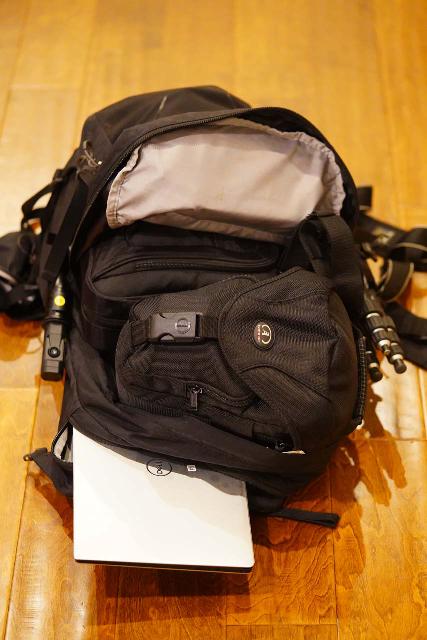 By letting the DSLR camera bag and laptop bag fit into the day pack, the day pack itself can pass as a single personal item to at least get by a TSA agent or an airline gate agent.
That way these expensive and critical items stay with me, and they're not left to chance (i.e. potential irreparable damage) as checked baggage.
That said, once I'm sitting in the plane, I would take the laptop bag back out and place it under the seat along with the daypack to prevent any more potential warping of the laptop being squeezed into the daypack.
I've had a 13″ laptop disable on me after apparent warping from trying to force it to a day pack (it was one of my Camelbaks I believe) as a one-bag personal item. So this is why I want to minimize fitting it all in my day pack except only when necessary.
If there's a strict agent refusing to let me use my Manta 34 as a personal carry-on item, then I'm fine with checking in the carry-on luggage as a fallback and letting the Manta 34 assume the role of carry-on luggage instead (or let it assume the roll of carry-on luggage brought by my daughter if she's coming along).
2. Let The Travel Luggage Or Travel Pack Retain Its Purpose For Traveling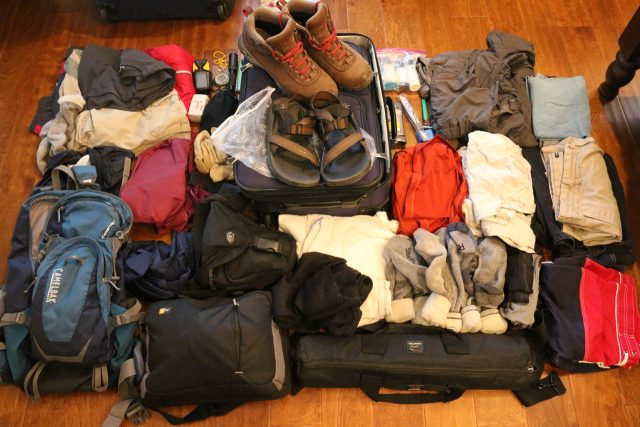 Rather than trying to force the carry-on pack or luggage into a rugged outdoor hiking pack, I've found it better to not try to do that in the first place.
By using the Manta 34 as a personal carry-on item (assuming I was successful), I still retain the option of bringing the carry-on luggage along with me.
This works regardless of whether I use a typically hard-walled roller luggage, a duffle bag (rolling or not), or one of the trendier travel packs like the Osprey Farpoint 40 or Osprey Farpoint 55.
Indeed, by bringing my Manta 34 as a personal carry-on while letting the travel luggage retain its purpose for traveling, I'm getting the best of both worlds.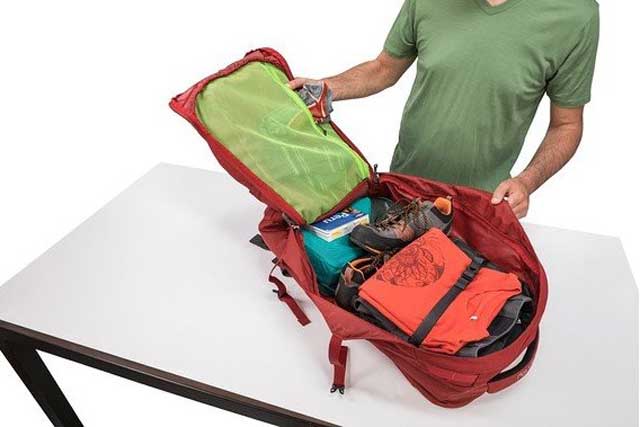 And if I really wanted to do one-bag travel, I could squeeze the Manta 34 pack into the main compartment of the travel pack (despite the curvature of the Manta 34's WireFrame) after all the travel cubes are in place while using the admin compartment for laptop and other electronics.
Then, my DSLR camera and its bag would be my personal carry-on item.
While things will get tight in the travel luggage or pack when it comes to one-bag adventure travel (especially since I also bring power adapters, GPS Car Navigation, GPS mounts, etc.), this option remains viable for larger travel packs like the Osprey Farpoint 55.
That said, I might have to do away with trekking poles as well as my tripod in addition to some of my electronics (e.g. power adapters and car charger splitters) if I insisted on single-bag travel.
3. Wear The Heavy and Bulky Stuff
Often times, we require heavy-duty items like hiking boots as well as thick jackets on our adventures, especially in wetter and colder climates (which waterfalls tend to be in).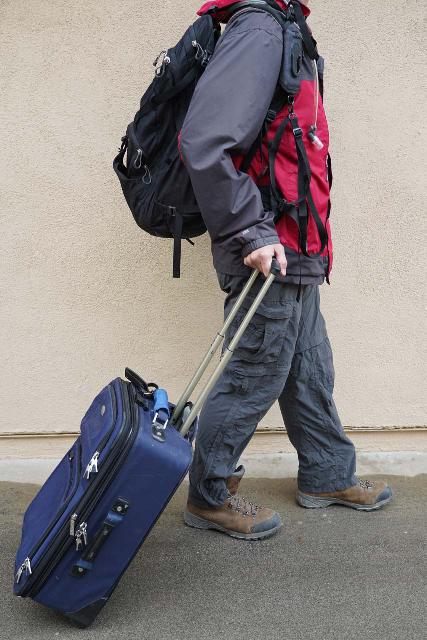 So to ensure we have proper footwear, I tend to wear my hiking boots (with wool socks, of course) onto the plane as well as my waterproof jacket.
If it gets hot (like moving within the airport), I can tie my jacket around my waist, but it tends to get cold on the plane so all these items keep me warm.
For those times I have to take the boots off and pass through the TSA screening stations, I generally leave the boot unlaced but tucked inside the boot underneath my feet as I'm wearing them.
That way, the boots are easy to slip on and slip off, but I do have to watch out for the laces coming out, especially around escalators.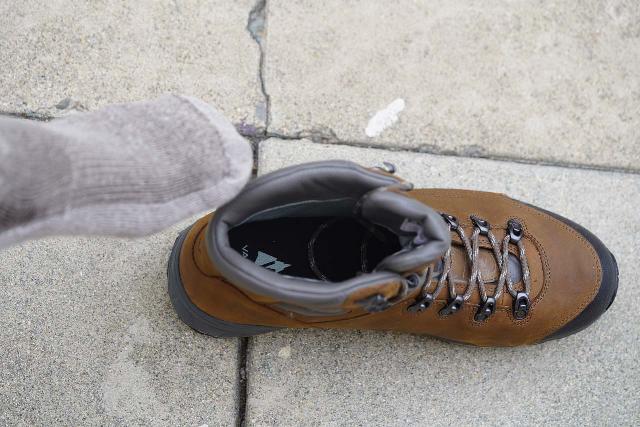 Just in case I'd like breathability on my feet by the time the plane has landed, I can also repurpose the side pockets of the Manta 34 to carry my Chaco sandals.
What Don't I Like About The Osprey Manta 34?
Naturally no backpack is perfect, especially since I've found that you really can't have a pack that does it all.
Therefore, during my extensive use of the Osprey Manta 34, I've identified some weak points about it that I hope will be improved upon.
Moreover, there are some things that I wish it can do as a travel pack hack even though it's not designed for this purpose.
So here are my key grievances with this pack.
Thin and Weak Hip Belt Fasteners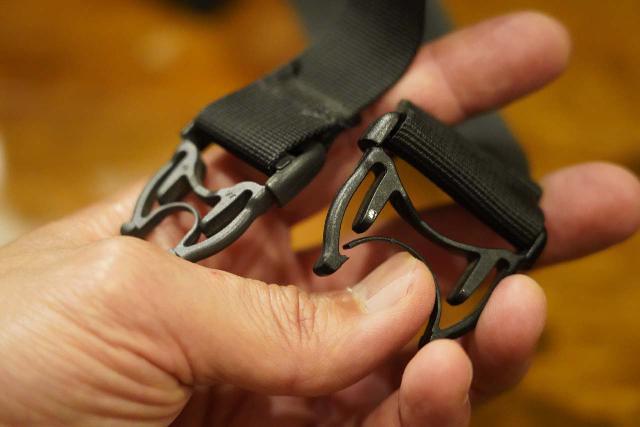 The fastening straps between the thicker hip belt components are not even an inch thick, which is actually about a half-inch thinner than the same component on the Osprey Ozone 46.
While on the one hand, I think the smaller belt clip might make it more resistant to breakage (as the larger one broke on my Ozone 46 which necessitated my search for a replacement in the first place), it pales in comparison to my Gregory Palisade backpack.
Even though I don't expect a day pack to be anywhere near that thick, I would hope that the belt and buckle would be larger and sturdier so I know this critical component would last a very long time.
Maybe that's an opportunity to test Osprey's lifetime warranty on their products for parts replacements, but this is something you don't want to fail on you when you're on the trail, especially if it's remote.
May Not Pass For A Personal Carry-on Item
In the past, I've been consistently able to carry around the Osprey Ozone 46 as a personal carry-on item while rolling around my hard-walled carry-on-sized luggage.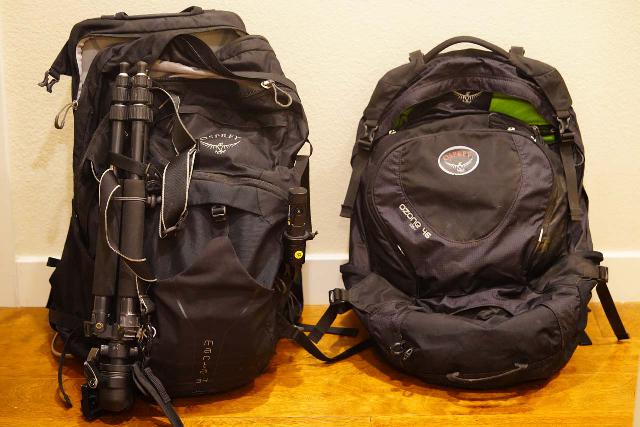 However, the Manta 34 pack's height is 2-3 inches taller than the Osprey Ozone 46, and it has a frame to retain that shape so I can't compress its height.
Therefore, there's a higher likelihood that airport security or an airline agent may not let me consider the Manta 34 day pack as a personal carry-on item.
Ideally, if this pack needs to retain the frames, then perhaps being 2-3 inches shorter while allowing for wider storage to retain the same volume would still work.
Granted, again the Manta 34 is not intended for travel, but this has been something that's constantly on my mind when I try to bring it with me on my international travels.
Hip Belt Pocket Size and Zippers
As much as I like the thoughtfulness of having the hip belt pocket as well as it being zippered, I think it could be slightly larger while the zipper itself can be less snaggier.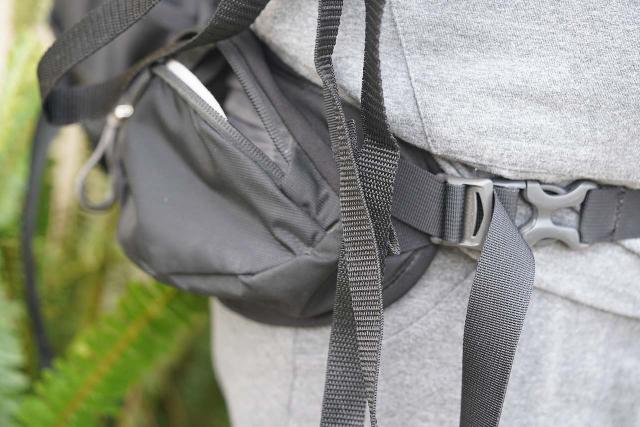 When I've used the hip belt pocket to store my smart phone as well as my pen and notepad, I've actually had to spend a little extra time to mess with the zippers as well as to get the items in and out of the limited space of the pocket.
Therefore, I generally put those items on my shirt's chest pockets or a zippered or velcroed pocket on my cargo pants for quick access.
Unfortunately, sweat and blunt trauma (since my keys are also nearby if I put the phone in my pant pockets) work against me there so I often have to weigh the cost benefit of easy access (with sweat or other risks of damage) versus slower access in the hip belt.
It Could Use Another Set of External Loops
While the Osprey Manta 34 has one set of loops to hold a tripod or trekking poles (or even snow or ice poles, if that's your application) on one side of the pack, I'd like to see another set of those loops on the opposite side of the pack.
Not only would this help with weight distribution, but it would also allow me to bring both a tripod as well as trekking poles if the hike calls for it.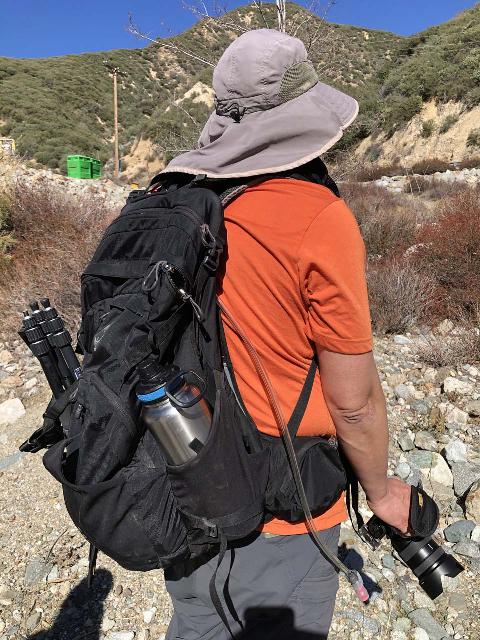 As it is now, I have to stress the already-stressed bungy-tied loop just to hold my tripod and to keep my SwitchPod from falling out.
So trying to squeeze trekking poles into the loop really concern me about stressing the bungy-tied loop to the point of failure.
Hydration Tube Mouthpiece Magnet
The Osprey Manta 34 has magnets on both its chest strap as well as the hydration tube mouthpiece.
As much as I found this to be a very thoughtful feature, I did find that it tends to come loose very easily so it didn't seem to be as useful as its thoughtfulness entailed.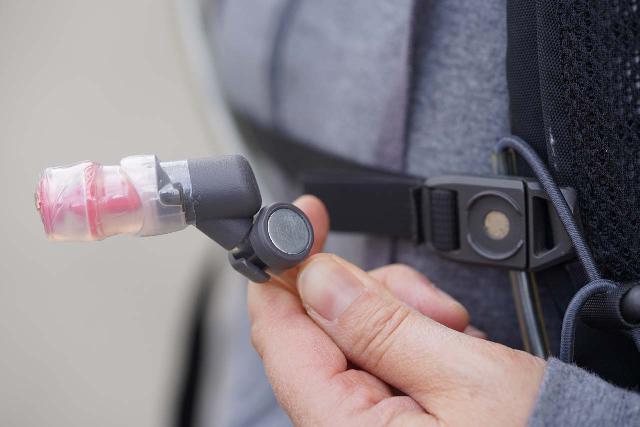 Nevertheless, I've never been that big of a fan of hydration packs so I tend not to use it unless I absolutely have to, but this drawback is something to consider.
Final Thoughts / Conclusion
So in conclusion, I've found the Osprey Manta 34 to be as close to the perfect day hiking pack available on the market.
While there are some things I'd like to see improvements on, it's still my go to day pack on our waterfall hikes both near and far.
In fact, I like this pack enough to want to bring it on my international travels, and that's why I've gone through the trouble of figuring out ways to pull this off without needing to check in any of my belongings.
In any case, I've learned that it's better to let backpacks serve their intended purpose, which means that I'd rather let the travel packs serve travel needs and let the hiking pack serve hiking needs (though it sounds hypocritical to try to make a travel pack out of a day hiking pack).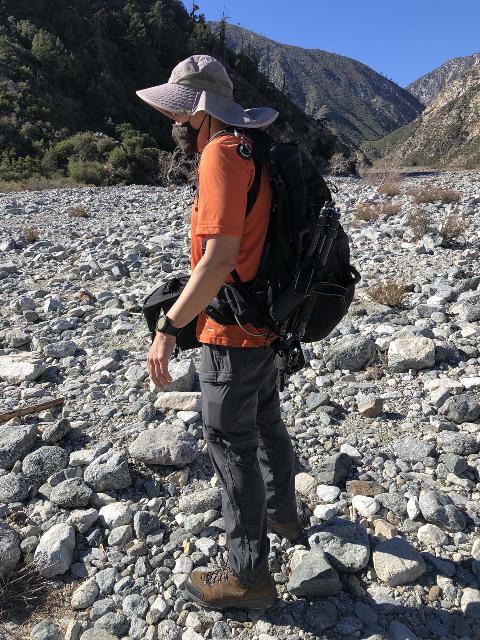 Still, that's why I personally wouldn't recommend trying to repurpose a travel backpack for rugged hiking in the outdoors, and I'd prefer to bring both the travel luggage or pack as well as the Osprey Manta 34 on my travels, if possible.
Nevertheless, even if I do have to check in luggage (something I've had to deal with more often lately to help my wife bring her supplements as well as our daughter's belongings), it's still a fallback that I can tolerate.
As long as I can keep using the Osprey Manta 34 (or an improved version of it in the future) wherever I go, then I feel safer and more capable when I do have to hit the trails and chase waterfalls around the world.
Indeed, how we travel and which backpacks (and luggage) we choose to take come down to personal choices. That said, choosing the right backpack for your particular application can be pretty complicated, which you can see in this article on how to choose a backpack.
Yet given all our years of traveling the world chasing waterfalls, we've learned that flexibility and adaptability are very important attributes, and the way I've used the Osprey Manta 34 for both travel and hiking certainly help to maintain this edge.
Visitor Comments:
Got something you'd like to share or say to keep the conversation going? Feel free to leave a comment below...
No users have replied to the content on this page