Even though this is a waterfalls website, we recognize that there are many highlights from the island country of Iceland (both involving and not involving waterfalls).
So we've come up with this page to pay homage to some of the highlights that we think are worth mentioning as you try to figure out what to see and do in your own trip plans.
While I recognize that this list is by no means exhaustive and that it is highly subjective, at least you have an idea of what we loved about this country.
So without further adieu, here are the highlights in no particular order…
Geysir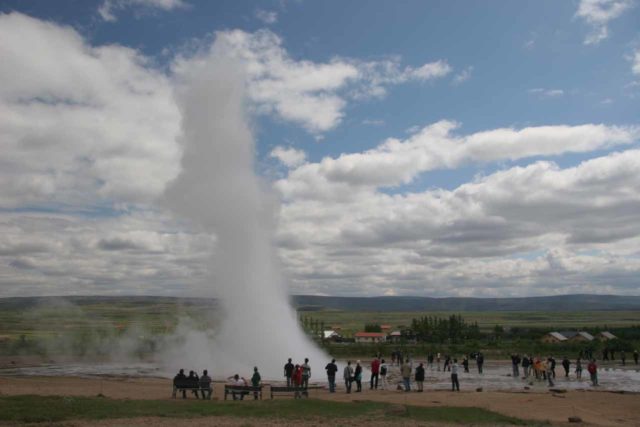 The original Geysir is said to be the one responsible for the widespread usage of the word geyser.
These days, Geysir doesn't go off regularly nor to its former height of well over 30m due to human vandalism (by throwing things in to its vent to induce eruptions), its neighbor Strokkur goes off very frequently with varying degrees of height (sometimes up to 30m).
This attraction is part of the Golden Circle, which can be done as a long day tour from Reykjavík.
Reykjavik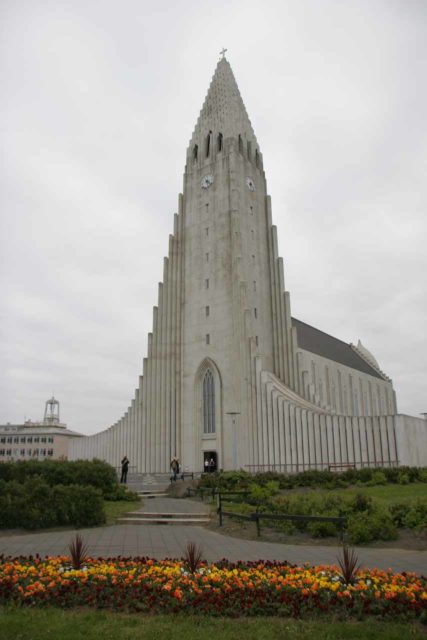 This is Iceland's capital city, and it is also by far its most populous. It also serves as a base for exploring the Golden Circle as well as the sights of the south of the country.
However, the city itself has a nice waterfront as well as a happening foodie and bar hopping scene (runtur). We also witnessed perhaps the most recognizable and architecturally significant structure in the city – Hallgrímskirkja.
This church resembles a progression of organ pipes culminating in an apex with a cross at its top. A statue of Leifur Eiriksson stands before the front of the impressive building. The "organ pipes" were said to be inspired by the basalt columns behind Svartifoss.
Landmannalaugur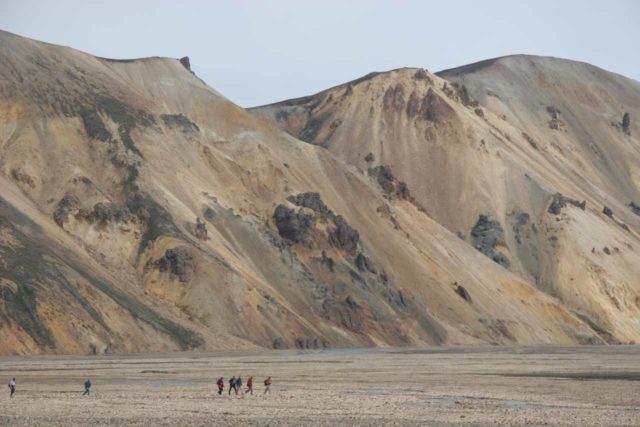 It is perhaps the most popular attraction of Iceland's Interior.
Given its remote location, it's amazing to see such a collection of people, buildings, campsites, etc. here.
The area features colorfull hillsides due to the volcanic nature of the recent past as well as thermal pools near the campsites.
Many tours comes here and trekkers go to-and-from here to other parts of the country such as Þórsmörk and Skógar.
Although you generally need 4wd to get here, many 2wd vehicles can make it if they take the northern approach near Hrauneyjar.
Mývatn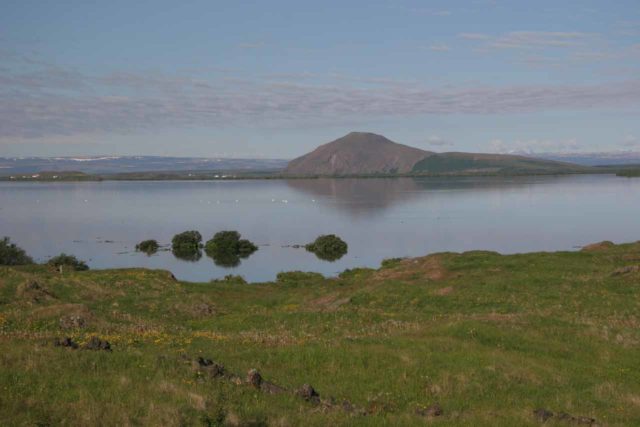 Surrounded by lava rocks and cinder cones, this lake features one of the most unique scenery in the world.
With birds and geese galore as well as the annoying namesake midges, the lake is popular with both locals and tourists.
In fact the thermal nature of the region has also given rise to its own version of a bathing lagoon not unlike the Blue Lagoon near Keflavík.
They even have a local underground-cooked bread called hverabrauð which is unique to this area.
Jökulsárlón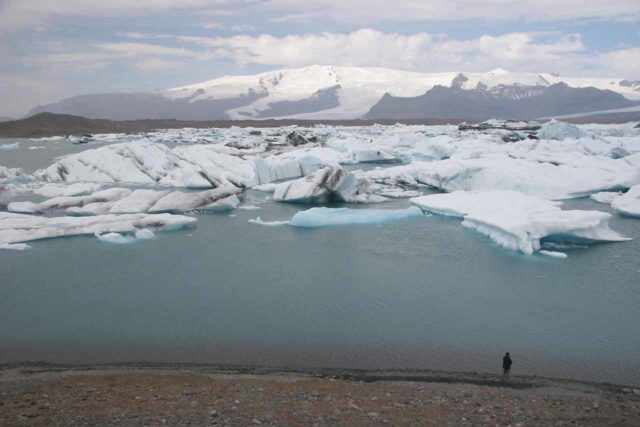 One need not look any further than this glacial lagoon for evidence of Global Warming.
Growing since the dawn of the Industrial Revolution in the 18th century, this lagoon features icebergs, glaciers, and even seals. The glacier lagoon also made an appearance in one of the more recent James Bond movies.
It is definitely a popular tourist stop as visitors gaze at floating icebergs headed out to a sandy beach or the ocean. Some that land on the beach are even touchable.
There are also amphibious tours letting you get a different look at the lagoon as well as glaciers backing the lagoon making this an awesome place to stop and stretch out as you drive through the glacially-scoured sandurs of South Iceland.
Blue Lagoon (Bláa Lónið)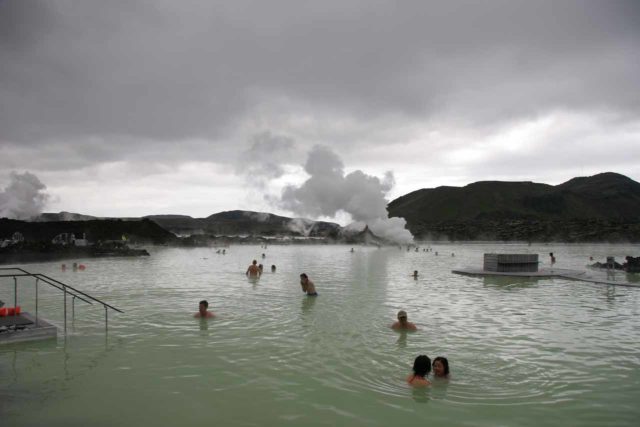 This is Iceland's most popular and famous attraction. Geothermally heated runoff fills a man-modified lagoon area with comfortably warm water and therapeutic mud which is good for exfoliation.
In addition to the obvious relaxation and refuge from the usually cold weather, this facility also displays how resourceful and efficient Icelandic people can be.
Everything from the wrist bands to the turnstiles to the source of the water, etc. shows that very little gets wasted and almost everything gets re-used.
Perhaps other countries (such as the United States) can learn from the folks at the middle of the Mid-Atlantic Ridge.
Kirkjugólf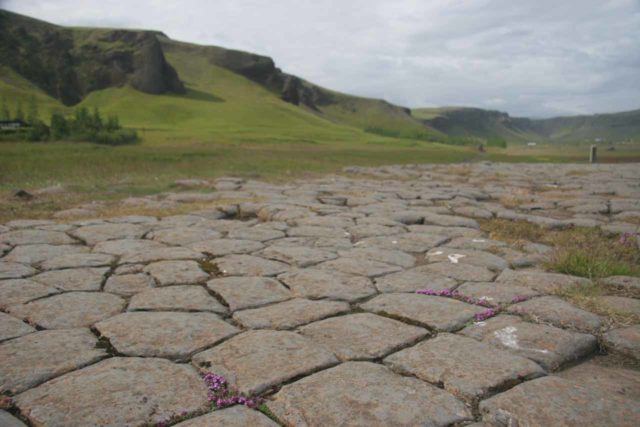 This strange attraction is near the town of Kirkjubæjarklaustur. It was once believed that this floor was manmade, but it's really the top of a series of basalt columns resembling a neatly-decorated hexagonal-tiled floor.
Such basalt formations are very prevalent in Iceland though other places with a mix of lava and ice have similar formations. For example, the Devil's Postpile in California is one such example.
In any case, this one attraction is very easily accessible and has managed to maintain its natural shape. During our trip, we enjoyed the wildflowers growing between the hexagons.
Hvítserkur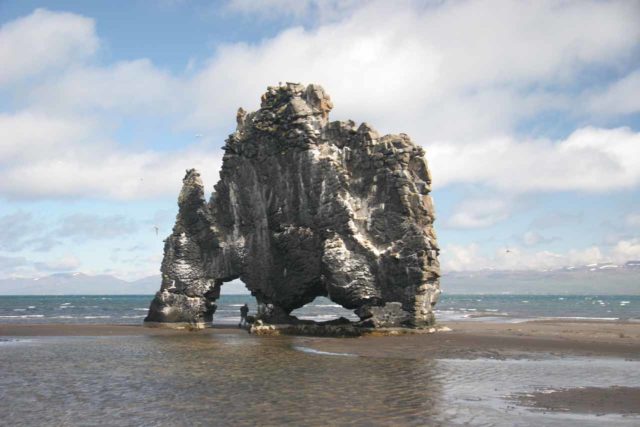 Nestled near the south end of the Húnafjörður fjord lies this interesting rock with two small arches at its bottom.
Birds love this rocky protrusion.
Tourists can get a fairly unsatisfactory view of it from the official overlook or scramble down a slippery and steep slope onto the black sand beach to get right down to the arches themselves.
Arnarstapi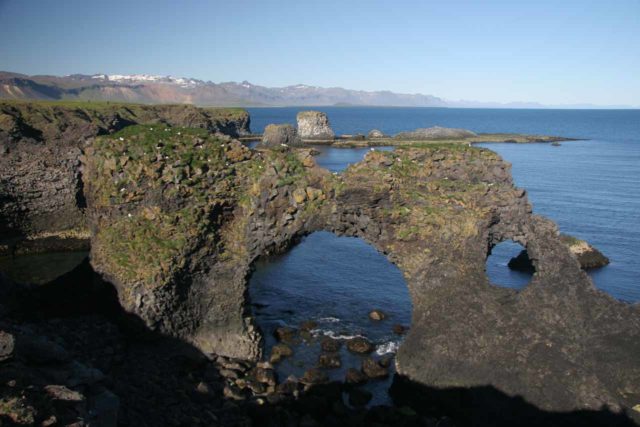 Iceland has many sea arches but perhaps the largest quantity of impressive sea arches are found at Arnarstapi on the southwest end of the Snæfellsnes Peninsula.
Back by the impressive Snæfellsjökull, you can also spot ocean-bound waterfalls as well as these cool arches.
Pictured here is the largest and perhaps most photographed one of the bunch but there are at least four other big ones in the immediate area.
Djúpalónssandur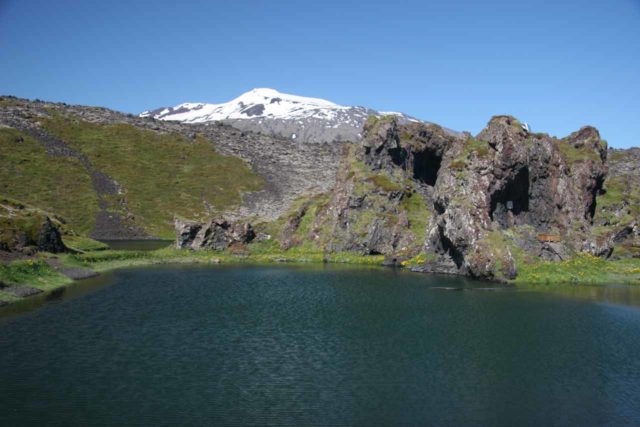 This interesting stretch of coast just to the west of Arnarstapi has a black sand beach with rock formations, a small arch, some small lagoons, and even the legendary lifting stones.
To top it all off, you also get a nice backside view of Snæfellsjökull on a clear day.
It's easy to spend hours here just exploring the black sand beach while examining the remains of a shipwreck.
It also makes a great place to watch the sunset or even the midnight sun (assuming the sun sets after midnight).
Dyrhólaey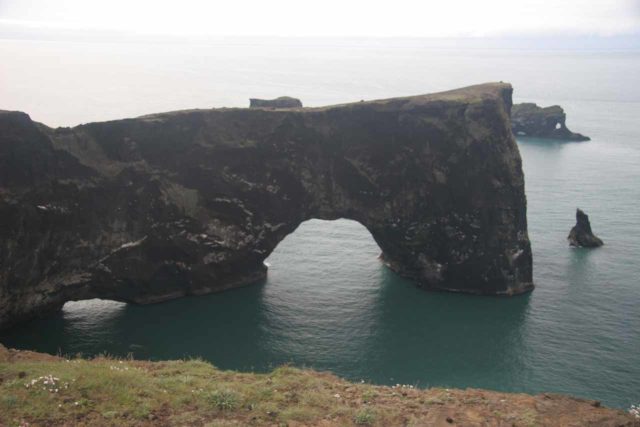 Just west of Vík í Myrdal in the south of Iceland lies the impressive sea arch at Dyrhólaey.
We weren't able to get a view of the arches from sea level (I think those require some amphibious or boat tour), but we were able to view the arches from the top down (as pictured here) near an interesting lighthouse.
In the general area, you can also see another smaller sea arch (with basalt columns in its span!) as well as the sea stacks to the east called Reynisdrangar.
Waterfalls
Waterfall Pages
Visitor Comments:
No users have replied to the content on this page