Day 2: Á LEIÐINNI HEIM
Having slept early last night at the rather cramped and rustic Hrauneyjar Highland Center, we got up early and managed to use the Wi-Fi from their lobby. We got quite a bit of internetting done at that time. Before breakfast was served at 7am, I battled the midges and loaded up the car on this warm, sunny day.
When breakfast was finished, we checked out, and headed out at 7:40am for our last waterfall of the trip – Dynkur. We planned this to be our last excursion before heading back to Reykjavík for our last night in Iceland. It would be our final Icelandic overnighting base as part of our homeward-bound leg of this trip.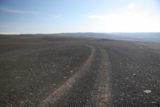 I recalled that yesterday, the lovely lady with the tattoo on her neck at the Hrauneyjar Highland Center mentioned to us that we could make it to the waterfall if we took our time. We knew it was a 4wd road to get there, but we took her advice and went forward with strengthened resolve. It wasn't long before we left the Route 26 and then onto the 4wd track through the black terrains of the Icelandic interior.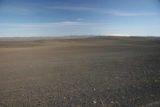 At first, the road was pretty manageable with a few larger sharper rocks strewn about here and there but so far it wasn't anything that we hadn't seen on the way to Landmannalaugur from Hrauneyjar. We quickly learned to follow the white arrows, which were sparsely laid out at key junctions of the 4wd track. This was one place we didn't want to get lost.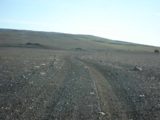 We really had to concentrate on the road because it was quite easy to lose track of the road and drive right into the desolatation. The road and the surrounding sandurs were all the same color.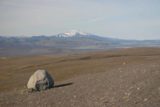 Anyways, we managed to get to the top of a small black-sanded hill and get nice views looking back down towards Hrauneyjar as well as Mt Hekla's summit.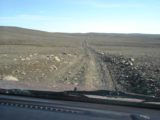 However, there were a few ruts and even bigger rocks that started to show up and conspire to scrape the undercarriage of the SUV. Still, they weren't too much of a problem except they really tested my nerves regarding the fear of breaking down out here.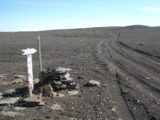 Eventually, we'd get to the last white arrow we'd see on the way to Dynkur. As we followed that path, it quickly degenerated into a real rough and rocky 4wd track. A couple of the ruts looked to be heavily affected by the thunderstorm from yesterday and showed some deep erosion.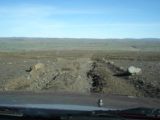 Upon looking at these mini-gullies, I was glad we didn't decide to do Dynkur yesterday afternoon in the thunderstorm. We could've really been stuck in the mud out here.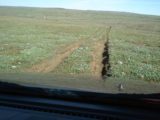 Even on the grassy part of the drive, the track lines were too deep for the SUV so I had to keep one tire on the grass straddling the middle with another tire on one of the side banks. I certainly didn't want to plant a tire in the deep grove as that could easily cause us to scrape the ground and even get stuck!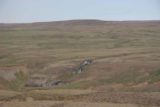 I was beginning to doubt whether we'd make it out going back this way. Eventually, the track got to a pair of huge boulders seemingly strategically positioned to block the 4wd path. Have we made it to the end already?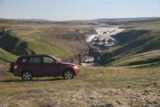 Even as I tried to ponder the answer to this question, we saw there was the continuation of the 4wd path which was far more tame than what we had just taken. It made me wonder whether the road we just took past the arrow was incorrect. Still, the arrow led us here. What else could we have followed?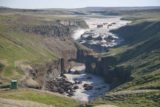 And so we followed the remainder of the 4wd track until it got to a noticeable place to stop as the line of boulders near something that resembled a tiny car park would suggest. And from there, we could see the mighty Dynkur waterfall in the distance at 8:50am.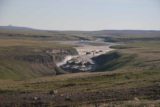 It was a nice but partially blocked view thanks to the canyon before us. I guess we could've explored a bit to see if there were any walking trails that allowed us to get closer to the falls. However, the swarming midges ensured that we wouldn't be outside the car for too long.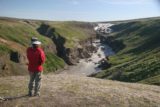 And so we headed back at 9:10am. Along the way out, we noticed another waterfall on a separate drainage on the other side of the Þjórsá River.
But before we could claim victory on bagging this remote waterfall, the road threw one last curveball at us.
As we drove, we clearly missed the way we took on the way in thanks to those boulders that were strategically positioned so we wouldn't go back up the way we came. I guess they really wanted us to go the other way out to keep the road one-way perhaps?
Anyways, the road at first was very tame, but then it put us into a field of very large boulders. This was even worse than the deep ruts and gullies on the way in. Now, we had to dodge rocks too big to run over while trying not to kill the underside of the car when we didn't have a choice of where to go. We knew which way was forward since there were sticks up ahead that we knew we had to get to.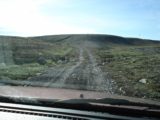 So after some anxious moments of driving no more than 10km/h, we finally got to the other side and eventually got back to one of the white arrows. Ah, that was better.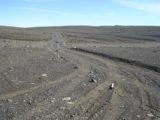 However, before we could get back on the road home, we missed a turn and it wasn't until the GPS tracking suggested that we took a different path than the one in. So after that 20-minute out-and-back detour, we finally were on the way back.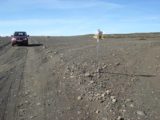 It wasn't until about 10:30am that we finally made it back to the Route 26, which was paved.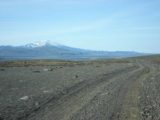 By this time, we figured that with the warm sunny weather, why not take one last shot at Gullfoss thinking that just maybe we might see rainbows again.
And so we drove the next hour going all the way towards the connecting road Route 31 which then took us over to the 35. By then, we were back on our way to the familiar Gullfoss.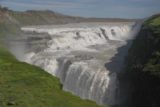 By 11:30am, we were back at the falls, which was much more crowded than it was when we were last there nearly three weeks ago. But at least it was a sunny day and the falls looked gorgeous.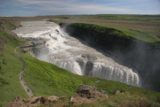 Nonetheless, as we had feared, we were too early for the rainbows. Had we waited two or three more hours, then the sun would be behind us and we would've gotten the photographs we wanted. But we weren't going to wait around that long as we intended to get back to Reykjavík in time for our dinner reservations as well as a lunch at Sægreifinn. Oh well.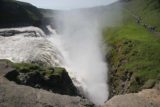 In any case, we still salvaged something out of the excursion and got close to the waterfall again. Now that it was sunnier, we got better views into the turbulent gorge below the lower waterfall as it was wafting up mist. Somehow under these conditions it seemed more picturesque than our earlier excursion when it was gloomy and overcast.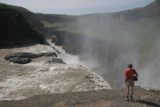 And so by 12:30pm, we headed back to Reykjavík – finally taking the first steps back home. As stated earlier, both Julie and I had a craving for Saegreifinn's Lobster – errr Langoustine – Soup.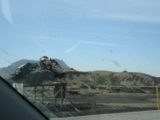 During the drive back on the Ring Road, we noticed yet another display of a car wreck being used as a billboard. I figured after having seen many of these throughout the Ring Road, it was about time we took a photo of one of these (albeit a rather awkward one given that we were still in motion).
We finally we arrived at the Metropolitan Hotel in Reykjavík and checked in at 2:30pm.
We saw the same nice female Icelandic receptionist who greeted us the morning we left Reykjavík. She recognized us and we engaged in some small talk while I was trying to test my knowledge of the Icelandic language. It seemed like quite a while since I last had the opportunity to try…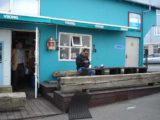 I guess checking in early was good because she gave us a corner room which was a bit roomier than last time. Not long thereafter, Julie and I finally got our long-awaited lunch at Saegreifinn. Yum!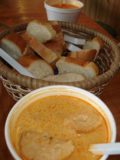 Next, we started to empty out the car and prepare for our trip home. As we were doing this, a familiar-looking Icelandic elderly man walked up to us and tried to engage in a conversation. Unfortunately, he didn't speak any english so communication was difficult at best even with my attempts at Icelandic. Julie and I thought he wanted to talk to us because he might have been the parking enforcement guy. After some futile attempts at communication beyond a sentence or two, I eventually asked if he could come into the Metropolitan Hotel with me so we could talk to the receptionist who obviously knew both Icelandic and English.
When we both walked in, a different receptionist was there and she was giving us this surprised "What is this?!" kind of look. Eventually, I told the lady I didn't know what he was trying to say, and she'd finally told us, "Oh he just wanted some small talk."
"OOHHH!" said I.
And with that, the old man stuck out his hand and said, "Blessaður!"
I shook his hand and also said, "Blessaður."
Shortly thereafter, we finished packing and put our stuff in the room to get everything sorted out. Then upon the previous receptionist's advice, we went to a nearby bookstore in town to pick up an Icelandic dictionary (orðabók). Boy was it expensive at around $40 USD or 2400 Ikr for a pocket-sized book (yeah I expected it, but somehow it never ceases to amaze me).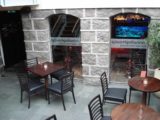 We celebrated our final evening in Iceland with a dinner at the very upscale and expensive Sjávarkjallarinn (literally the "seafood cellar") Restaurant. We actually made the booking for this restaurant three weeks ago since they were fully booked back then. So obviously they're quite busy and popular.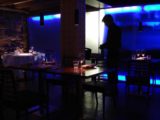 The atmospheric dark, blue-lit restaurant served up very delicious appetizers. I forgot exactly what we got but I do know that we did get an appetizer they were famous for. The mains were a little on the disappointing side, but perhaps that was because our expectations were set so high.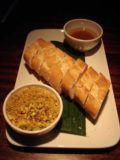 I recalled that one of the mains was a large seafood soup, which was more like a big bucket of seafood in a stew. It was kind of ordinary, I thought. However, Julie's dish seemed to be more adventurous and tasteful.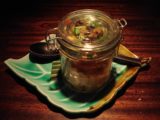 And so it was, the dinner was over, we treated ourselves to one last softís in waffle cone, and we returned to our hotel. Indeed, our Icelandic sojourn was coming to an end and we could already sense that we were on the way home. Or as they say in Icelandic, "Á leiðinni heim."