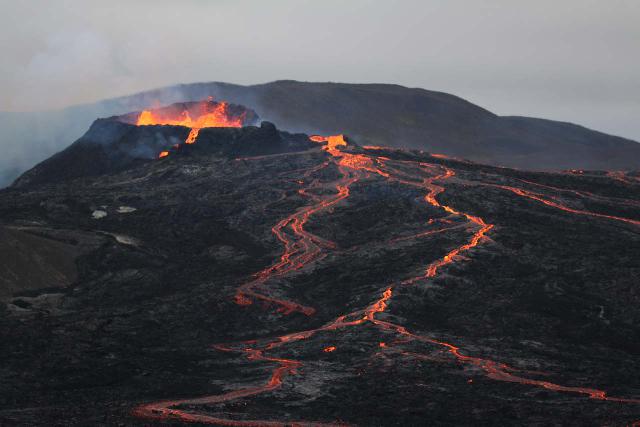 12-August 2021 to 21-August 2021:
I would still take my time trying to soak in the spectacle while always giving into the temptation to somehow capture what I was seeing with my naked eye in photograph and video form.
Really, it's hard to convey that awesome feeling that I was witnessing something special, and there were hundreds (maybe thousands) of other people that have made this hike up to the ridge to do the same.
However, as much as I wanted to linger here and watch the scene as the day would get darker, it wouldn't properly get dark until at least after 9:30pm, and well, it was about 7:50pm when I finally decided to go back down to the ladies so I wouldn't keep them there waiting in the wind chill…
…Once we geared up again for the return hike, we were all struggling because all of us needed to empty our bladders, but there was absolutely no place to do that with any privacy throughout this hike…
Day 9 (August 12, 2021 – Laugar, Iceland): "Global Warming Growth"
It was 4:30am when I awoke to the alarm so I could get caught up on more blogging and photo management since I was running behind by about three days or so given how busy each day had become and I just didn't have the stamina to keep up before conking out and sleeping.
I ultimately decided that we should wait for the supermarket in town to open at 9am because the ones in Egilsstadir wouldn't open until at least 10am and there was no guarantee that the croissants and groceries sold there were any better than the small town we were in.
At about 6:35am, Mom and I did a quick walk towards the waterfall that was behind the Media Luna Guesthouse while other were still busy trying to wake up and get all packed.
As we started to walk towards the waterfall (which I believe was called Budararfoss since Gaia GPS indicated as such), we noticed signage that indicated that this entire area had been affected by a major landslide.
In fact, that explained why there was a large stretch of unpaved road, especially around the road bridge that went further to the east and then south of Seydisfjordur.
And then after noticing the contents of that sign, when we walked past the bridge and then up a trail alongside a rock-lined channel, that was when it became clear that this landslide had been pretty recent as evidenced by a pair of giant rocks and channeling infrastructure.
Then, we went higher up the trail to get more perspectives on the waterfall, but when we looked back towards the fjord, we noticed how extensive the damage had been, and this was AFTER the cleanup that had occurred in the days following the incident.
We then continued uphill along the newly-created (perhaps temporary) path alongside the creek, and the higher we went, the more of Seydisfjordur town we were able to see behind us.
We even were able to look in the distance towards what appeared to be Gufufoss looking like a white dot compared to the rest of town below us.
There was one other guy that also showed up at the falls as he came from the other side, but just as we were about to cross the creek, we saw that he quickly made his way up closer to the base of the main drop of Budararfoss.
Anyways, Mom and I then went back down towards the nearest backstreet where we saw a lot of the buildings had been still wearing signs of damage or abandonment.
In fact, come to think of it, I couldn't help but to notice the lack of that ship museum or technology museum that Julie and I had been to 14 years ago, where it was all out on display with the doors open, but after a couple minutes of browsing, there was a guy that showed up and wanted money from us.
Well, it now seems like that whole building might have been a casualty of the landslide, but at least the Skaftafell Cafe and Center for Visual Arts appeared to still be intact and operational (I had noticed it was serving dinner yesterday).
By about 7:25am, we were back in the room to tend to our packing duties while I was doing my best to get all caught up on my errands.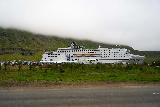 And as we were doing this, we saw a huge ferry pull in to the harbor, and there were loads of cars going both out and in.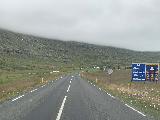 Suddenly Seydisfjordur was a bustling town with lots of traffic, and that was something we had to contend with when we finally checked out of the Media Luna Guesthouse at 8:55am.
Minutes later, we were back at the familiar grocery store, and that was when the ladies went inside to get the sought-after croissants (especially the ham-and-cheese one as well as the chocolate one), which we enjoyed for one last time.
Then, by 9:15am, we headed out as we had to follow a line of slow-moving cars as the road ascended into the fog.
Most of the slower drivers had come over from mainland Europe over the ferry, which seemed like a good idea if you could afford to do it because the car rental situation in Iceland was super expensive.
The only drawback was that if you had to take the car onto some of the rougher roads (even the typical gravel roads could do a number on the tires and the alignment of the car), then you could leave with more damage than you bargained for.
Regardless, after getting over the familiar pass, we then descended towards Egilsstadir again, which was bright and sunny.
From there, we then cruised our way towards the north of Iceland, where we targeted going to the east side of Dettifoss.
The drive was pretty uneventful, and we'd eventually get to the familiar gravel road 864 heading north along the east side of the Jokulsa a Fjollum en route to Dettifoss, which was not for another 28km.
It turned out that this road (which was once pretty smooth 14 years ago) was not a bit of a bumpy, washboarded, and dusy mess.
We even had to pass some people that were going really slow on the road, while there were a handful of others that actually passed us.
But eventually by 11:50am, we'd finally make it to the car park for Dettifoss, where there were quite a few cars already here.
However, when we looked across the river, we saw that there were even more cars as well as lots of tour buses, which me aware that perhaps the west side of Dettifoss was now the more touristed side when in the past, it took a F road to get there so it wasn't as touristed.
Meanwhile, this east side, which was once the preferred touristed spot, was now less visited though it was still busy.
Anyways, after finally getting geared up to do a bit of a hike around the east side of Dettifoss, we then briefly checked out the familiar Jokulsagljufur Canyon.
Afterwards, we went going down the main trail towards the now-designated lookout spots for the misty Dettifoss.
Indeed, there used to not be ropes and things to keep people back from the waterfall's edge, but now that they're there, the once dispersed onlookers were now pretty much crowding around the same spots, which didn't make for the best social distancing.
Nevertheless, we managed to get our views of the impressive Dettifoss from both a little downstream as well as from much closer to its brink.
When we looked downstream, we saw bold rainbows arcing in the misty mess that Dettifoss was tossing down canyon, and in fact, a good chunk of that spray wafted to a downstream wall, which created secondary waterfalls.
So we spent some time checking out both the somewhat downstream lookout with a full look into the drop of Dettifoss as well as closer to its brink.
But by 12:45pm, we left these lookouts (and the crowds there) to do the 1.4km hike (in each direction) towards Selfoss.
This was a bit of a rocky path (kind of like how we remembered it) as we followed yellow-topped poles to keep us on track.
Throughout the walk, we saw contextual views towards people looking towards Dettifoss while also noticing huge rainbows when looking downstream.
In addition, we saw some black "sand" beach areas that were technically off-trail, but they seemed kind of attractive enough to take a closer look.
But finally at around 1:40pm, we arrived at the general lookout area for Selfoss, which was a bit less regulated (kind of like how I remembered being here 14 years ago), but this time, the waterfall had significant volume.
Julie's memory of this place wasn't very good, but I knew that there was far less water back then than now, and my first thought was that Global Warming had blown up the volume of the Jokulsa a Fjollum.
Not only we were no longer able to get closer and upstream of the horseshoe section of the waterfall, but it almost seemed as if there was a continuous stretch of waterfalls while the trail on the opposite side seemed to have gone as far as we did to get close to Selfoss.
In any case, Julie thought of Selfoss as now in the class of Dettifoss, but I think this had more to do with the Global Warming growth of the glacial river given the increased meltwaters, and thus I wondered how much longer this was going to keep up before the glaciers would be gone completely.
So I had that bittersweet feeling of the impending doom of Global Warming yet it was creating a beautiful scene with this big wall of turbulence across Selfoss, which was in much the same way that Global Warming made Norway's glaciers disappear while replacing them with more waterfalls.
I wasn't sure if that was a good thing or not, but we knew this was unsustainable long term, especially for our daughter's future.
Anyways, we spent quite a bit of time enjoying the views of Selfoss though it was somewhat mostly against the sun so the photos were difficult to turn out in real-time.
But eventually, we had to pry ourselves away from this spot, especially since we started to feel a bit of a cold wind from the north and with that an imposing mass of dark clouds breaking up the once clear and warm day when we had gotten here.
In fact, when we finally made it back to the car park at 2:40pm, the sun was well on its way to being covered up by the quick encroachment of fog, and I knew that trying to get the views of Hafragilsfoss against the fog was going to be tough.
Sure enough, by about 2:50pm, we got to the familiar lookout for Hafragilsfoss, and literally after taking a minute or two of photos down at the impressive waterfall, the fog shrouded the falls for good so we were back in the car by about 2:55pm.
From there, it was time to head straight to Laugar, which was where we were staying for the next two nights, and we looked forward to the apartment so we could finally do laundry.
While everyone was busy sleeping in the car, I was also fighting fatigue on the way towards Laugar.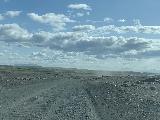 It was too bad we couldn't stay by Reykjahlid like last time because we really wanted to experience the thermal baths on this trip more conveniently, but it turned out that all the accommodations were booked out here.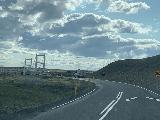 So we had to settle for Laugar, which was actually quite a ways further to the west (closer to Godafoss), and I really had to fight falling asleep to ensure we would get to that town safely.
Mercifully, by about 4:30pm, we finally found our apartment N2 at Laugar, and we finally managed to check in and drop off our stuff in the fairly cute apartment.
From there, we settled for the day as we went to the grocery store next door (actually more of a convenience shop) where we picked up some smoked trout as well as some lamb rib-eye, which we cooked for dinner.
We also managed to book a time to check out the Myvatn Nature Baths for 4:30pm tomorrow, so that essentially set a deadline and fixed us to a schedule to visit the west side of the Jokulsa a Fjollum Waterfalls.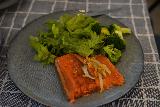 So perhaps we wouldn't have the bandwidth to visit the Holmatungur Waterfalls in addition to the west side of Hafragilsfoss as well as the west side of Dettifoss all in one shot.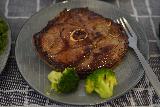 And thus, some priority calls would have to be made.
Regardless, we were all having dinner at 5:35pm, but then after that, it wouldn't be until about 8:10pm when Mom and I finally headed back out to pursue Aldeyjarfoss kind of on a lark since time was now of the essence.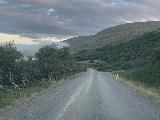 Unfortunately, the fog that invaded Dettifoss and Hafragilsfoss has now invaded our neck of the woods, and we were worried that this excursion might be in vain.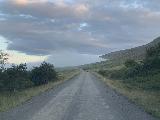 Still, I was betting that perhaps we'd be far enough inland that perhaps the fog might not be too thick by Aldeyjarfoss, but there were no guarantees.
And so we quickly made our way south towards the Sprengisandur Road (F26), where we had to make sure we weren't hitting any sheep as the relatively smooth unpaved road got us to the gates that we had to open and close to get onto the F26 4wd road.
Good thing that the F26 road wasn't so bad that we needed a jeep, but it was washboarded and bumpy again much like the 864 Road we had taken earlier in the day.
Even though the fog seemed to have thinned out around the gates, it seemed like we had re-entered the fog, and by the time we finally made it to the car park for Aldeyjarfoss at 9:05pm, it was starting to get foggy once again.
So Mom and I made haste as we bundled up into something warm as it was getting quite cold, and then we quickly descended to the familiar lookout that was opposite the plunge pool of the familiar Aldeyjarfoss.
It was too bad that the fog was getting thicker and thicker so even the downstream waterfalls were harder to see, but at least we managed to get our views of the Aldeyjarfoss and its neighboring cascades though the basalt columns were harder to see through the fog.
And then soon thereafter, by 9:40pm, we were back at the car where now it was totally shrouded in fog.
And for the remainder of the drive back to the apartment in Laugar, we had to contend with not only the incoming darkness but also the low visibility as well as the sheep that were criss-crossing the unpaved road.
Finally at 10:45pm, Mom and I made it back to the apartment in Laugar, where we had this sense of relief that we kind of pulled a rabbit out of a hat with that late Aldeyjarfoss visit.
And for that Aldeyjarfoss visit, we now could afford to concentrate more on Godafoss and Myvatn as well as the west side of Dettifoss going foward tomorrow.
But like the rest of this trip has shown, the weather plays a huge role in the experience…
Day 10 (August 13, 2021 – Laugar, Iceland): "Compare And Contrast"
I made myself wake up at 4am to my alarm as I still had a lot of catching up to do given the volume of activity we've been having and not enough down time to even process the day's events before going to bed or even the following morning.
And today was no different though I tried to get caught up as best I could.
Of all the days that I had to wake up, I was perhaps the sleepiest on this day, and perhaps my body was telling me that it was time to let it catch up on sleep.
But once I'm up, I also found it hard to get back to sleep.
So with that, I just spent most of the early morning getting ready like usual, and then I was back on the laptop doing file management chores as well as writing more diary entries while things were still fresh in my mind.
It wouldn't be until about 7:05am when the family was finally ready to get moving, but it was drizzling outside with more fog, and I started to wonder whether we were going to encounter more of this stuff when we'd return to Dettifoss, which was where we were heading.
Fortunately, the fog seemed to clear up and become just overcast skies as soon as we made it east of Reykjahlid and we started to descend past the volcanic hills supporting the Askja Craters and Hverir Geothermal Area.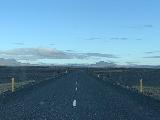 Unfortunately, I noticed that it was also starting to get sunny, which was bad news since we were trying to visit Dettifoss from the west side, and the sun meant we'd be looking right against it.
But it wasn't like we could just wait around for the afternoon to experience Dettifoss because we also committed to a 4:30pm appointment to visit the Myvatn Nature Baths.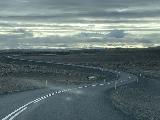 After getting through a brief clearing in the weather, we then re-entered some light clouds as we made the turnoff leading to the west side of Dettifoss.
While it wasn't surprising that this side was now paved and well-visited given what we saw from the east side yesterday (what with all the tour buses and busy car park across the way), I was still amazed that when we last came here in 2007, this was an F road!
In fact, the east side used to be the preferred side to visit Dettifoss, but now we were able to get to the car park for this side in no time as we eventually were like the third car that showed up at the car park at 8:05am.
Again, while the sun threatened to come out, it was still mostly light clouds keeping the sun in check, which was actually a good thing for this visit.
So we wasted no time gearing up and getting out of the car, and then using the facilities here, which were actually a row of pit toilets.
Then, we walked across the moonscape of boulders and black sand as we made our way across it towards the overlooks of Dettifoss.
I recalled this area being less developed in the past, but now there were plenty of signs as well as boardwalks and steps along with a widening of the sandy parts of the trail.
And when we made it to the last hump before descending to the reveal of Dettifoss, we could see that there were now obvious fencing to keep people back from the edges (it used to be just the dropoffs with nothing hold us back) and even a developed overlook further downstream on the ridge.
So that was the first place I went since I knew that if the sun came out there, it would be a useless lookout since I'd be looking straight against the sun.
And when I got up to that lookout, there was one photographer there who was all alone, and I tried to make sure not to disturb what he was doing as I was busy taking pictures myself though I had no tripod with me.
From one side of the overlook, I was able to photograph the misty mess of Dettifoss, but the moment I walked over to the other side of the platform, it was way too wet and I started to get concerned for how the camera would behave under such "rainy" conditions.
So I didn't linger for too long there, and I pretty much stuck with the drier side of the overlook just when Mom, Julie, and Tahia showed up and caught up.
Meanwhile, the photographer went through the wet side of the platform, and then he kept going so I'd imagine that he was now about to go further down the canyon towards Hafragilsfoss, which I knew wasn't that close as far as walking was concerned.
After having our fill of this overlook platform, we then descended towards the edge of the canyon for a closer look at the awesome power of Dettifoss.
When we got down there, we were pretty much trying to convey the power in both our photos and videos, and after experiencing this once again, Julie and I now realized that perhaps the awesome power of Faxi still made it more like a very strong 4 instead of a 4.5, which was what we gave Dettifoss.
Tahia offered up a solution by allowing ourselves to have quarter-point hash marks, which meant Faxi would have been a 4.25, but with so many waterfalls to re-evaluate, I was content to have the more blunt rounding instrument of going no finer than half-point increments.
While we were busy enjoying this lookout, there were other couples that showed up, but it was still just a handful of people.
But when we finally had our fill of Dettifoss at about 9:30am, we took one of a handful of trails towards Selfoss (I swore there was only one back in 2007 when we were last here), which afforded more distant views of both Dettifoss and Selfoss.
One spot in particular was kind of frightening about Dettifoss as we could see that the Jokulsa a Fjollum River was going into what seemed to be a widening crack on its far western side of its expanse.
And that seemed to be reminiscent of the way Victoria Falls had a fissure opening up over the Devil's Cataract.
But in this case, we didn't see any evidence of Dettifoss making a zig-zag formation the way Victoria Falls did, and I guess it was just something that was both a marvel as well as frightening to imagine the power of the water that was on display at Dettifoss.
As far as both Julie and I were concerned, this waterfall's status as one of our World's Top 10 remained in good standing, but we still had to figure out how to make room for Faxi on our Iceland's Top 10 List.
Nevertheless, we continued to make our way towards Selfoss, which wasn't as direct of a view as what we had experienced on the east side yesterday.
However, we did manage to get the familiar frontal view that graced the home page of our website (though without the pink clouds from the sunrise).
As we approached Selfoss, we saw that there was a rather large tour group that was making their way downstream towards Dettifoss, and that left a handful of people trickling towards Selfoss while I noticed there were other large tours making a beeline for Dettifoss behind us.
So I guess that meant that the start of the crowds had begun at this time of the morning and we did good to beat the rush.
Anyways, as far as Selfoss was concerned, we noticed that there had been fencing set up in strategic spots because there appeared to be cracks in the ground, which suggested that it might not be long before they'd flake off and end up in the Jokulsa a Fjollum.
Unfortunately, some of the best photos came from those precarious spots so we didn't want to linger there for long.
In any case, we'd eventually get to the end of the trail, where there was a stream rushing towards one of the numerous segments comprising Selfoss, and there was no need to go any further at that point.
And after taking people shots while also trying to somehow convey the full power and width of Selfoss from the west side in our videos and photos, we ultimately returned to the car at 10:40am.
Of course, now it was a very busy car park as there had to have been at least 3 or more dozen cars whereas we were just the third car earlier this morning.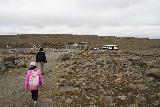 And so the zoo was on, but now we were headed towards the west side of Hafragilsfoss, which was something we had never done before (especially in light of the F road that we had to take to get here back then).
But speaking of rough roads, the signed turnoff leading to Hafragilsfoss was still a bit of a rough and bumpy road that seemed to be the last vestige of the conditions we had to face when we were visiting Dettifoss back in 2007.
I bet the vast majority of visitors to this side of Dettifoss these days wouldn't even be aware of how hard it used to be to get to the falls from this side, but I could totally appreciate the ease of access though it definitely came with increased crowds.
Regardless, Julie found the hiking on this side (let alone the views) to be way better than the east side as she didn't like the rock hopping and weaving between large boulders like we did yesterday.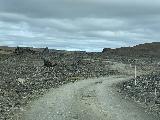 Anyways, we slowly made our way down the rough unpaved road to the tiny car park for Hafragilsfoss where there were already two other cars there.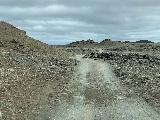 We situated ourselves in front of what appeared to be a van carrying a tour (so we wouldn't get boxed in), and then we promptly got out of the car and headed to Hafragilsfoss by about 10:50am.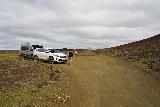 Just as we were making our way through more of the desolate volcanic fields, a lot of people were headed back towards the car park.
Eventually, that left just one other couple besides ourselves as we descended to the cliffside bluffs overlooking the impressive Hafragilsfoss from the unusual west side as well as the beautiful canyon further downstream.
That canyon downstream reminded me of the kind of scenery we would have seen at Ketlar as part of the Holmafossar hike further downstream on the Jokulsa a Fjollum, and I had almost mistakened this part for that.
While we were checking out Hafragilsfoss, we did notice that yellow-jacketed photographer that we had seen earlier set up and take pictures much closer to Hafragilsfoss.
I could only imagine what a scene that would be, but if it took him until now to get there, that kind of suggested to me that we would have needed at least two hours to even get down there, and that was time that we just couldn't afford on this day.
Later, that photographer was joined by a pair of people that seemed to be backpacking or doing a long hike within Jokulsargljufur, and later on, there was a hiking group or something that was also down there.
We also checked out a surprising natural arch from our viewing area as well as the familiar view on the opposite side of the river, which was fogged over yesterday (kind of a bummer as the fog just came in when we got there).
Anyways, as we finally had our fill of this side of Hafragilsfoss, we then returned to the car at about 11:35am, where we were the last car left in the small car park.
As we headed out, there was one lady walking the rough road towards Hafragilsfoss, but other than that, there was a huge continent of cars making their way towards Dettifoss, so we were glad that we beat the rush.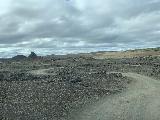 It's like Mom says, "the early bird gets the worm."
As it was getting close to lunch time, we decided to call an audible and head towards Reykjahlid instead of going further down the Jokulsargljufur canyon (just to see how far the 862 road gets paved) to pursue Holmafossar and other Jokulsargljufur Waterfalls.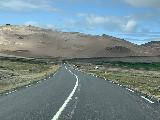 The weather was definitely clearing at this point, and we'd ultimately start getting fine views towards Myvatn as we passed through the geothermal part and then descended to Reykjahlid as we went south towards this place called the Vogafjos Farm.
Julie got wind of this place on one of the guide books, and we wanted to give this place a try since it was quite literally farm-to-table since it was on an active dairy farm.
We'd eventually get there by about 12:25pm, where we then promptly got into the restaurant for our lunch though no one in their right mind would want to be sitting outside (COVID-safe or not) because the midges were plentiful here.
In any case, we wound up spending almost the next two hours having ourselves what turned out to be perhaps another one of our best meals of the trip.
Just like we made a detour to go to the Pakkhus at Hofn for fresh langostines, we did a spontaneous lunch stop here at Myvatn to have a fresh meal where we pretty much got everything worth getting at the cafe here.
Indeed, we had a Vogafjos Special (which featured cured trout, cured char, and cured lamb along with cheeses, veggies, the famous Geysir bread, and some chutney and jams) as the starter while Julie also got a cured wild goose.
That accompanied a delicious glass of raw milk as well as two hot chocolates, which Tahia really appreciated.
Then, we followed all that up with the main courses of a pan-fried Atlantic char along with a slow-cooked lamb shank.
And for dessert, we had a rather unique Geysir-bread ice cream along with a Lava Bomb cake.
Needless to say, we left that place very satisfied even if we splurged on this lunch.
But we were glad we did this experience, and now we were all in a good mood as we took a few more pictures of the scenery and the cows here before retreating to the car at 2pm to minimize the midge swarms.
Next, we drove back towards the geothermal activity where we then headed towards the Stora Viti Crater as we got there at 2:15pm.
From there, we walked up to the end of the semi-circular route around to the far side of the crater, where we were able to get the full view of the bright blue crater in one shot without needing to do a pano.
I swore that in the past, we had walked to the opposite side of the crater, which was very slippery.
However, this time around, it seemed like the trail was wider and grippier, and perhaps the way we had gone wasn't sanctioned back then as this time, no one was allowed to go that other way.
By about 2:50pm, we were back in the car, and then we headed across the Ring Road towards the Hverir or Namafjall area eventually getting there at 3pm.
From there, we had some time to kill as we checked out the colorful landscape full of boiling mud pots and steam vents, but like the last time we were here, there really wasn't much to keep us around for too long as there were no colorful springs or geysers.
For sure, it was no Yellowstone, and so by about 3:45pm, we were back in the car.
Finally, we headed to the Myvatn Nature Baths, where we had gotten there by about 3:50pm, which was a tad early for our 4:30pm booking time, but we figured that it would take some time to get organized and ready with our swimming gear.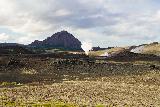 Eventually as we waited in line to get into the facility, we saw signage suggesting that we had overpaid for our booking of the Myvatn Nature Baths because Mom was over 65 years old so we were supposed to get 2000 ISK back.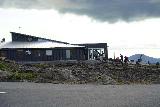 Unfortunately, the lady helping us out was having trouble with the system, and so after a few minutes of trying to rectify the situation, they just had us go into the locker rooms while the lady would help us out off line and not hold up the line any longer.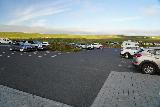 And with that, we spent the next hour or so enjoying the Nature baths here, which was way more intimate and smaller than the Blue Lagoon, but there was a nice view towards Myvatn.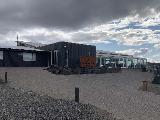 The pool itself seemed more natural as there was black dirt beneath our feet and the water seemed to have a bit of a soapy feeling as it must be very mineral-laced.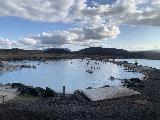 However, social distancing was definitely a bit harder at these baths given its smaller, more intimate size.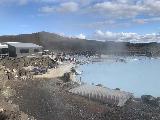 Nevertheless, we managed to figure out how to mud up (there was one corner where we could get the black mud, which eventually became grayish when it dried), and we happened to get lots of questions about that as it wasn't well-advertised.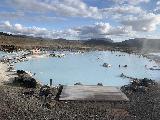 Heck, for all we knew, it could just be mud that had no exfoliating properties, but perhaps it just looked cool to be doing something like that here.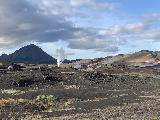 Mom and I also spent some time getting pounded by a couple of the waterfall fountains, and eventually after lingering in the water with our wrinkly skins, we ultimately got out, had ourselves some Somersby ciders while enjoying the views, and then retreating to the car by 6:15pm.
As far as comparing this experience to the Blue Lagoon, Julie contended that she liked the Blue Lagoon better because it was bigger and easier to socially distance so she was glad to have been able to compare and contrast both such experiences.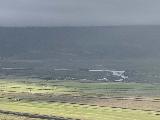 She also didn't appreciate the midges around here though they seemed to be pretty non-existent within the Nature baths themselves (just at the car park and the cafe area outdoors).
And with that, we then drove towards Godafoss to cap off this eventful day.
While I was battling a bit of road fatigue since the apple cider made me sleepy, we'd eventually get there by about 7pm.
Unlike the foggy conditions from yesterday, this time, we were getting decent late afternoon or early evening lighting as well as a good experience of checking out both sides of the wide waterfall.
There were a lot more developed walking paths this time around as opposed to a more direct drive-to experience with short trails from the past, and so we spent a surprising amount of time here just to try to take it all in.
Of course, the apple cider had also made my bladder active so I had to find a way to Nature call because the WC was closed as we had narrowly missed its hours by a few minutes.
Anyways, Mom and I did all the walks, which included going across the footbridge in front of Geitafoss, which was downstream of Godafoss.
And then we headed up along the east side of the falls where we had gotten the familiar top down views of the horseshoe-shaped falls as well as from the base.
At the same time, Julie drove the rental SUV to the other side to save us on the walking, which was much appreciated.
I noted to myself that there were loads of new content, especially for the places that needed updates to the write-up, and so I was getting concerned about the backlog of work that awaited me when we'd get home (COVID-testing notwithstanding).
But that's a good problem to have as it meant that I do have more content to share with everyone.
Anyways, as much as I wanted to linger around this waterfall to savor the experience, it did appear that the fog was starting to roll in again.
Ultimately by about 8:10pm, we were back in the car together (though I was surprised that there were still people driving to the car parks for Godafoss this late in the evening), and then we could finally head back to Laugar and unwind.
By about 8:25pm, we were finally back at the apartment at Laugar, where we had ourselves a late self-cooked dinner of shrimp pasta, which was a simple meal though we were doubly motivated by trying to clear out the fridge since our next spot wouldn't be self-catering.
And with that, we crashed for the night as we celebrated yet another great day of this epic family trip to Iceland…
Day 11 (August 14, 2021 – Siglufjordur, Iceland): "Boom And Bust"
It was about 4:50am when I awoke without an alarm (despite my intentions at sleeping in).
Upon looking outside, it was very cloudy with a bit of drizzle, which was pretty much how the weather in Laugar had been for the entire time we had been here.
If it hadn't been drizzling or raining, it had been foggy or at least overcast as I couldn't recall having seen the sun in these parts.
Anyways, I took a lot of time to get caught up on blogging and on file management duties since we had done so much yesterday.
Heck, we even had a late dinner that happened after 9pm since we still had a visit to Godafoss that lasted until after 8pm.
Regardless, it took some time for Julie and Tahia to get up and have breakfast (Mom and I were the first to get up and the first to finish our brekkie), and so it wouldn't be until about 8:35am when we finally loaded up the car, returned the apartment key, and started driving.
The drive out towards Akureyri was pretty uneventful as the skies went from foggy and drizzly to being overcast.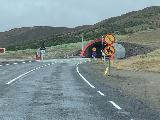 We'd eventually enter a tunnel that I didn't recall was there before, where we had to go 7km through what seemed to be something that reminded us very much of the kind of tunnels we saw a lot of in Norway (that went under mountains).
Of course, this one costed us quite a bit of money to go the 7km distance and save ourselves from going around the mountain en route to Akureyri.
When we left the tunnel, we could see the biggest town of the north of Iceland in Akureyri, where we'd eventually make our way down to the N1 gas station just outside the main harbor of the city.
There, we took some time to eat up some croissants (which weren't as good as what we had in Seydisfjordur), fill up the diesel back to full tank, and then continue driving at 9:40am.
I wound up paying about 236.4 ISK per liter, but I saw that there were stations within Akureyri that were more on the order of 228 ISK so I almost felt like I was ripped off.
I guess the silver lining was that we did get somewhat of a legit breakfast out of it in addition to our self-made brekkie back at Laugar.
Anyways, the weather was continuing to improve the further north of Akureyri we went, and that allowed both Mom and Julie to take pictures through the car's front windshield or out the sides as they tried to take pictures of the fjord and the mountains backing it.
However, all that paying attention to the scenery yielded us a tidefall that was dropping right into the ocean.
So by 10:25am, we went looking for a pullout off the side of the road that would allow us to get a more relaxed and closer look.
And we managed to find something that led to some makeshift driveway or something that had a huge mount of dirt.
Who knows if they're trying to make a pullout or picnic area out of this?
But whatever the case was, it didn't have signage and it crept up on us unexpectedly so I actually had to reverse the car in order to pull in (good thing this road was lightly trafficked).
Then, we just used that informal pullout to park the car and follow some kind of trail of use (clearly people had been here before) to go out to the far corner of the bluff we were on.
From there, I could see that there was a drainage waterfall that cascaded beneath the Road 82/76 and eventually emptied out to the ocean.
However, looking in the distance, I could then see the intriguing ocean-bound waterfall, which Gaia GPS called Migandifoss.
After spending the better part of 20 minutes or so, we then returned to the car at about 10:50am and resumed the drive towards Siglufjordur, which was our next place to stay.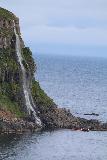 However, before we were about to establish momentum, we saw that there was another pullout where there was a parked car already in a wide clearing.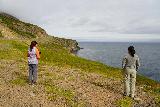 That said, its entrance was a rather steep embankment, and it totally didn't look like a legitimate spot unless they decide to pave it and turn it into a picnic area.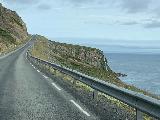 Anyways, from right at the clearing, we could see that there's the Migandifoss again but without the frontal cliff obstruction.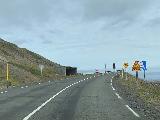 Plus, the people who drove that other car were actually down the grassy slope from where we were parked, and apparently they were picking wild blueberries (which was something that we noticed back at the other scramble area).
After having our fill of this view of the Migandifoss, we then returned to the car at 11:05am, where we passed by some 33B sign and then proceeded into the first of a series of tunnels along the Route 82/76.
That first tunnel was a single-lane tunnel with pullouts off to the right side spaced perhaps a few hundred meters apart, and it was actually a bit on the precarious side.
Fortunately, there was one car in front of us that we could use as sort of an indicator of when to go or not.
However, we couldn't get right behind that other car because the pullouts didn't seem long enough to be sharing the same pullout bay while waiting for the opposing traffic to pass.
There was one of the parking bays where at least three cars were going in the opposite direction so that induced a bit of a wait, and I could totally see how this tunnel could be congested if it wasn't as lightly trafficked as it was on this day.
Once we got out of that first tunnel, we then headed down to the attractive Olafsfjordur, which was another seemingly sleepy fishing town that had seen better days in the past.
It was kind of reminiscent of our experience driving the Westfjords or the Lofoten Islands where the villages we'd see where scenically situated, but the purpose of their existence had to do with a booming era when cod or herring were king in these parts.
Anyways, after the tunnel northwest of Olafsfjordur, we then passed through yet anther 7km tunnel though that one was two lanes, and that would eventually leave and descend towards the sleepy Sigufjordur town.
By about 11:40am, we finally arrived at the Siglo Hotel though it was still a bit too early for us to check in.
So we used this time to head over to the Herring Era Museum, which was right across the street and adjacent to our hotel.
After paying the admission, we eventually started with the boat display in a big warehouse set in a dark decor (almost as if we were in the Pirates of the Caribbean or something).
One of the larger ships let us go downstairs into some storage area as well as a tiny kitchen and sleeping quarters, where I could imagine just how uncomfortable it could be when the ship would be tossed and turned under intense storms.
After having our fill of the ships on display in the first house we were at, we then went hext door, which had a silent movie that make either machinery sounds or drip sounds.
For some reason, it kind of reminded me of something a German movie might be showing.
But in this version here at Siglufjordur, it wasn't lost on me that the loud machine sounds were associated with scenes involving men at work while the drippy sound effects were largely for connotations or scenes involving women.
Anyways, we browsed around the main floor and then the upstairs floor, which had interpretive signs telling of how the herring industry boomed and busted by the end of the 60s.
With quota management, the live fish stock ultimately would return to the harbors after several decades (the infrastructure we had seen were largely created in the 1930s.
So without straight up saying what the problem was, there was undisputable evidence that the fish had been overfished, and it's the very reason why you must have some degree of regulation or else you have no industry going forward.
Plus, the kind of fishing that was performed were largely from trawling, which we knew from the practices done in Asia that they're particularly destructive, and it's why the industry would leave behind no signs of life when the trawling was done.
So imagine 120 companies at the height of the boom doing this very thing!
In fact, it wouldn't be until over 20 years later that some of the much needed stocks had returned (as herring were migratory fish) though not in the quantity that was seen during the height of the herring boom.
Eventually, we left this second building and then went to a third building, which displayed the living conditions in Siglufjordur at the time.
It was interesting to see how the herring were processed for things like food, petrol or diesel, lamp oil, etc.
Moreover, these re-creations of the past (as it was furnished and believed to be present at the time) were something that Julie was really into so she was definitely quite satisfied with the museum visit.
By about 1:40pm, we had our fill of the Herring Era Museum (their boom and bust story eerily echoed what we had experienced at Djupavik back in the first trip in 2007.
Regardless, we'd ultimately be done with the Herring Era Museum, and then we then walked around town looking for a foodie spot as Julie had this craving for seafood soup while Tahia was always on the lookout for sweets.
After spending a good deal of time looking for whatever was recommended in Rick Steves as well as LP, we'd ultimately settle on having pizza at the Kaffi Raudka because everywhere else seemed to be closed on the weekends.
They had some interesting combinations like a pepperoni pizza with dates on it, but we ultimately got a Raudka Pizza, a Margherita Pizza, and a Prosciutto Pizza.
And the whole time we were having our lunch, we could see that fog was rolling in rapidly into our little corner of Northern Iceland at Siglufjordur.
That made me a bit nervous about the hike Mom and I were planning to do to pursue Leyningsfoss because we didn't want our experience to be impacted by clouds and/or fog like they did for us in East Iceland as well as Southern Iceland.
Nevertheless, we were done eating the pizza and then promptly checked into the Siglo Hotel at 2:30pm, where we immediately got our stuff out of the car and into the hotel rooms.
Then, after dropping off our stuff, Mom and I promptly returned to the car and drove off in search of Leyningsfoss.
After a little bit of confusion about where this hike started from, we'd eventually overshoot the turnoff and parking area, and we wound up going partway up the mountain where there were some more cascades on a side stream feeding the Fjardara River.
Then, we managed to find an informal pullout to make the three point turn and go back downhill, and eventually at about 2:45pm, we stopped in some clearing near the WC (which was a legit bathroom with running water).
Immediately afterwards, Mom and I proceeded to start hiking towards Leyningsfoss.
We followed the Skogarstigur Path as it went between what seemed to be planted trees, where a sign at the trailhead did say something about this place being the northernmost planted forest in the country.
While still using a picture of the trailhead map board, we had to pay attention to the trail junctions (many of which were unsigned).
By about 3:05pm, we actually stumbled upon a picnic table with some signage (that made it look like it was closed), and it actually said in Icelandic to please sign the guestbook.
I'm sure without being able to at least figure out some of the Icelandic signs, one could easily think it was a closure sign.
Anyways, after doing that, we then backtracked and hiked the Fossastigur Path, which ultimately got us to the aptly-named and hidden Leyningsfoss at 3:25pm.
Unlike the other waterfalls that we had seen throughout Iceland, this one was truly hidden behind the planted trees of the Open Forest.
It had a quaint characteristic about it as it wasn't like the monsters we had seen yesterday as well as earlier on in the trip.
Eventually after having our fill of this fine waterfall, we'd then return to the rental SUV by 3:40pm, where Mom noticed a golf course down the valley, which piqued her attention since she was really into golfing.
Finally by 3:55pm, we were back in the Siglo Hotel, where there were more cars parked here (unlike earlier), and then we wasted no time rejoining Julie and Tahia and getting our bath robes and towels, which were included.
Then, we finally took some time to dip into the hot pool fronting the Siglo Hotel with a view of the fjord and some ship.
The water was a bit on the hot side (gotta be at least 40C), and so we had to manage our sitting posture (especially me) because I didn't want my heart to be racing in the hot water if my chest was to be submerged in the hot water.
After about an hour of soaking in the hot pool, a lot more people were showing up so that was our cue to head back to our room to shower off and remain socially distant.
Then, after having our shower and change of clothes, we then went downstairs to the dining room within the Siglo Hotel since the Moroccan restaurant that we had targeted had already been booked out.
We didn't have a prayer of eating there on this trip (even after calling ahead during lunch).
Finally by 6pm, we were seated at the Sunna Restaurant, where we then splurged again with two glasses of red wine, a seafood soup, a baked cod main, a beef tenderloin main, and a duck confit main.
Tahia also got herself a hot chocolate, and we finally splurged with two Sjokkaladikaka (chocolate cake with ice cream), but that cake was really more like a thick fudge as opposed to a legitimate cake.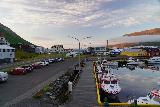 Then, after the dinner was done, we returned to our respective rooms to crash for the night.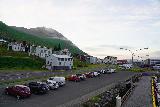 And while I was fighting sleep as I was busy doing file management duties at around 8:30pm-ish, I did notice some sunset lighting as the fog had momentarily cleared once again.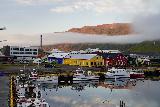 So I took pictures from right outside our room though Mom did a walk on her own through town during this time as well.
But after having our handful of pictures of the harbor with fog clouds coming back, the fog eventually won out again, and I sure hoped that the weather in each of the next three days would be cooperative.
And with that, we crashed and hopefully let our later-than-usual start allow us a little more time to sleep since breakfast was included at 7am at the Siglo Hotel.
I think that was the first time something was included on this trip (unlike the 2007 trip where it was included almost everywhere we went).
Indeed, the trip was winding down as we were entering the last week of the trip, and there were some things happening back at home that needed attention (like two of my aunts dealing with cancer and my Mom dealing with a cough that I had her go check out).
But at the same time we wanted to savor every last bit of this magical trip before facing life and reality again…
Day 12 (August 15, 2021 – Hof i Vatnsdalur, Iceland): "One Such Moment"
It was about 6am when I awoke to the alarm as this was the latest I had awoken throughout the trip (including the days I was jetlagged at the start of the trip).
With the Siglo Hotel being one of the few places on this trip where breakfast was included, I took my time making sure that what I wrote yesterday wasn't jibberish (considering how sleepy I was after dinner).
Then, we loaded up the car though we were quite distracted by the nice weather that was greeting us as we had gone outside the peace and quiet of Siglufjordur.
Of course, then after the errand was done, then we went back to the dining room for breakfast.
Considering how expensive food in general was in Iceland, we took advantage of the all-you-can-eat buffet, which had pickled herring as well as some standard American breakfast stuff like scrambled eggs, sausages, and bacon.
It also had some skyr (though it was a bit on the sweet side) and lots of bread and pastries, including a dark rye bread that I think was the geysir bread from the Myvatn area.
Like all the other all-you-can-eat experiences, we left the hotel fully stuffed, and we eventually got back into the car at 8:15am where we were leaving some nice weather as we headed north around the Trollaskaggi Peninsula from Siglufjordur all the way towards Hofsos and beyond.
The majority of the drive was pretty much a scenic coastal route where Julie and Mom avoided the temptation to sleep in the car as they were busy taking pictures out the windows of the scenery before us.
This was a part of Iceland that we hadn't visited before, and it sure was a treat that made me glad that I opted to go this way instead of sticking close to the Ring Road (though visiting the Westfjords required even more time than we had on this trip).
Eventually at 9:50am, we arrived at Glaumbaer, which was about 10 minutes too early, and just when they were about to open, a tour bus pulled up so we knew that it was going to be a bit of a crowded experience.
Anyways, once we paid our admission and went into the familiar turf-farm grounds, we also got a chance to look inside each of the turf structures (this time there were English signs as well as those in Icelandic).
After seeing the first four of them, which were basically storage rooms as well as a smithy, we then went into what was an example of a nobleman's house, which featured several rooms.
It was here that things got really crowded as there wasn't a whole lot of real estate, but the Spanish tour pretty much overwhelmed the interior and it was getting pretty COVID unsafe since not everyone was masked up.
But aside from that, we went into what seemed like at least about 5-6 rooms, and then we proceeded to go around the series of turf farms.
We didn't go past the gate and into the church because that gate seemed to be a one-way gate, which would have marked the end of the tour.
So we just completed the loop, and I took another look at the turf farm interiors again (except for the nobleman's house) since the tour bus crowd had mostly dispersed at this time.
And then we took some people shots before returning to the car at 10:55am just as the lot was pretty much full and while Julie and Tahia picked up a refrigerator magnet of some turf farms.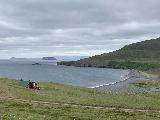 Next, we then drove back north in the direction of Saudakrokur before continuing west on the 744 road and then heading north on the unpaved 745 road.
Unlike the trip back in 2007, there were no stubborn Icelandic horses in the way as this now seemed to be a fairly smooth gravel road that saw some light (but not non-existent) traffic.
After teasing us with some hints of coastal views, we'd eventually start to see some the familiar stile that I believed we used in the prior trip to see the Ketubjorg Waterfall, but the GPS said to keep going.
So I did that, and then we wound up at what appeared to be a marked car park on some grass and a sign with one other car parked there at 11:50am.
This part definitely didn't seem familiar to me, but we got out of the car, got into windbreakers and something warm because it was definitely windy here, and then we proceeded to go over the stile and hike.
We weren't alone as there was another couple that was already on their way up towards the cliffs, and the group pretty much followed the other couple's path though I then noticed that we were crossing a stream that seemed to go towards the ocean.
So I backtracked from there thinking that the best views of this waterfall might be further down the hill and closer to the private farm nearby.
When I got there, I noticed a fence preventing further access into the farm, but then I followed along the fence until I got to an area where I can see back towards the plunging waterfall dropping onto a narrow but inaccessible beach.
This was definitely not the waterfall we saw here from 2007, but I thought it was nice.
I also noticed in the distance that Julie, Mom, and Tahia had stopped somewhere on the opposite side of that waterfall as they probably managed to get a decent view from the other side.
Anyways, I busted out the telephoto lens because I also noticed birds around hovering in the Arctic wind like before, but I also noticed an interesting sea arch further up the coast away from the falls.
After having my fill of this spot, I then went back in the original direction to rejoin the ladies while a couple other cars (with their passengers) came and went and had a brief trip.
When I got to where the ladies were checking out the falls, I then went ahead and looked back at the one that Gaia GPS called "Ketubjorg" though it was clearly not the same one that we had seen before.
So after documenting this waterfall and getting a earful from Julie that this was not a Top 10 Iceland Waterfall, I then decided that we should head back to the car and pursue the other stile.
At that point, even though the cliffs looked closer, it felt more like a waste of time to walk instead of just driving to the other stile.
So we got back to the car at 12:30pm, and then we found a somewhat steep space to stop the car near the other unsigned stile that we had spotted earlier.
From there, we got out of the car at 12:35pm, and we promptly went up and over the stile and onto a ridge with the familiar view of the Ketubjorg Waterfall that we were more familiar with.
This time, the view of the waterfall wasn't as obstructed nor as distant, and it had the islands in the distance as a backdrop, but I still got an earful of Julie about how we need to fix the Iceland Top 10 List.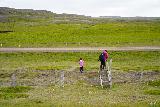 In my mind, we used to give ocean-dropping waterfalls higher scores based on the McWay Falls and Alamere Falls effect, but I think it's safe to say that these kinds of waterfalls aren't as rare as previous thought.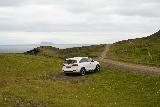 I remembered how there were false claims by signage and on the interwebs how there were only a handful of these waterfalls, but clearly these things are abundant, and we only spotted two at Ketubjorg plus another one on the way to Siglufjordur yesterday.
Who knows how many more we missed in Iceland alone?
Anyways, I was thinking about losing Ketubjorg from the Top 10 list to make room for Faxi on the Jokulsa i Fljotsdal, and we also wanted to give Hafragilsfoss more props even though it was part of the same system of waterfalls as the one including Dettifoss.
So it was food for thought when we get back from the trip, but I agreed with Julie that we definitely needed a revamp of our Iceland Top 10 List, which hadn't changed since 2007 after our first visit to the country.
Regardless, after getting our shots of Ketubjorg, it dawned on me that the land we were standing on seemed to be sinking as evidenced by what appeared to be a plateau that was somewhat depressed from the top of the ridge.
That made me not want to linger on these cliffs for too long since I'd imagine it could drop into the ocean at any point though I wasn't sure if we saw this kind of phenomenon 14 years ago, too.
At 12:55pm, we were back in the car after having our fill of Ketubjorg, and then we resumed the drive back to the south and then in the direction of Blonduos and eventually Hvitserkur.
During this stretch of the drive, we made one brief detour following some sign indicating "Foss", but it only yielded a small cascading waterfall, and it led to a private farm, which made me wonder if that sign wasn't meant for tourists.
After all, there was no picnic or viewing area, the road became even rockier (especially after the farm fencing), and it wasn't easy to make a three-point turn to retreat.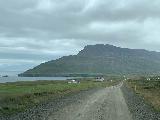 But aside from that, we ultimately made our way back to the Ring Road, which was visibly busier as there were lines of cars going in both directions given how well-traveled this road was.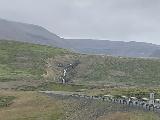 Julie wanted to book a dinner for this place called Brimslod Atelier, which we did but the dinner was one of those fixed course deals and they only accommodated dinner reservations at 7:30pm, which we promptly snagged up before they'd get booked out.
Once we got back onto the Ring Road, we then continued past Blonduos and past the turnoff for Vatnsdalur (where we were staying for the night) before making a right onto the unpaved 716 road, which then joined up with the unpaved 711 road.
On both these roads, the gravel roads weren't too bad though they were somewhat narrow enough to barely squeeze by opposing traffic, which was why I noticed a series of M signs by pullouts.
I definitely had to use them where the oncoming drivers tended to hug the middle of the road too much or if there were oncoming trucks or bus drivers.
But aside from that and the fact that there were a surprising number of vehicles going down this road (likely because it was a well-known site by now), we ultimately reached the car park for Hvitserkur at 2:30pm.
From there, we got out of the car, noticed some signage (which were actually ads and had nothing to do with Hvitserkur itself), and then proceeded to walk down to the lookout platform to get our first look at the familiar sea stack.
However, it appeared that the path to get down to the bottom wasn't as obvious as I had recalled from our 2007 trip, and it started to make me wonder if that trail was no longer sanctioned or if there were steps that had been removed.
I guess memories tend to fade, and it's hard to substantiate recollections without any hard evidence (like photos of the actual trail, which we weren't as good about doing 14 years ago).
But I was the first to make it down to the bottom, where I noticed that we were only confined to a narrow strip of the smooth-stoned "beach" which indicated to me that it must be high tide right now.
There was another group of people down here when I showed up, but soon thereafter, Mom made it down and we explored the narrow strip of smooth stones for a few minutes before Tahia and Julie finally made it down.
We took our obligatory shots though Julie appeared to not recollect coming here back in 2007 (though I have the pictures to prove it), and we made new memories on this go before scrambling back up to the overlook.
We were back in the car at 3:30pm, and then we made the drive back to the Ring Road, where we then backtracked our to the turnoff for Vatnsdalur.
From there, we drove the familiar unpaved road that followed along the base of some steep mountainsides (that seemed to be prone to landslides) while revealing an open valley with lots of horse farms.
The whole drive, I wondered if the hosts would remember us since we were here 14 years ago, but they must have seen thousands of tourists pass through their farm stay.
Anyways, we showed up at the Hof i Vatnsdal at 4:30pm, and just as we were pulling up, we couldn't help but notice that there was one person's car that had a totally busted tire.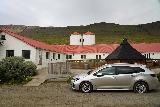 That brought back memories of our first trip where we had a flat tire here, and the host had to use his tractor to lift the car and change into a full-sized spare, which we eventually got rectified in Akureyri a day later.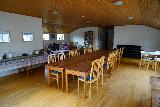 Hopefully, that fate wouldn't befall us on this trip, but I couldn't help but to feel for the guy since such calamities take away from the valuable time spent on a trip like this, especially since things aren't cheap (especially in terms of how expensive car rentals are).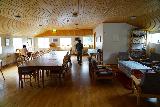 There's definitely a price for freedom in this country if you don't want to be relegated to tour bus schedules and the restrictions they place on us.
Anyways, we then spent then next couple of hours in the common area where there was Wi-Fi, which Mom, Julie, and Tahia were all busy making use of it while I was tending to some file management duties.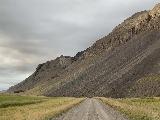 We'd eventually meet the person who had the flat tire, which was a family from Germany, and we had a nice chat about our respective trips and even about Germany since that trip was still fresh in our minds as of 2018.
Hopefully, our conversation helped to get their minds momentarily off of the flat tire ordeal they had to deal with as it seemed like they couldn't buy a break at the start of their trip (they were only on day 3).
But by about 6:45pm, we had to excuse ourselves and get right to the car to make the drive back to Blonduos for our reserved dinner.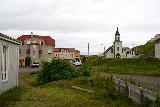 By about 7:20pm, we'd eventually make it to the Brimslod Atelier, which was right by the coastline in what seemed to be an old part of the town of Blonduos.
There was a nice coastal view here though the cover of clouds seemed to keep things gray though I wondered if we might get a decent sunset during dinner as there seemed to be some breakage in the clouds.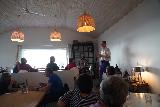 Once we were inside the restaurant (which also doubled as a guesthouse), we took off our shoes and then proceeded to sit at our assigned spot.
That was when it was clear to me that this was going to be sort of a communal experience and they tried to keep the parties socially distant though we were all sitting indoors (no one was going to sit outside in the Arctic wind).
So with that, as people were trickling in, we ultimately were introduced to our first course of the meal at 7:45pm, which was a sort of reddish seafood soup with langostines in it.
It was quite delicious though it was definitely not something you'd want to go in hungry because I knew we weren't going to leave stuffed.
The host introduced both the first course and the main course before we started eating.
While some of the tables had gotten quite comfortable with their table mates and engaged in active conversation, we were pretty much next to an Italian group but I knew that banter at the table wasn't really in the cards between us.
Perhaps it was because we were wearing masks, and we were the only people doing so (at least until it was time to eat).
By about 8:20pm, we received our second course, which was an Arctic char with some lentils (though Julie got a gluten free version of it).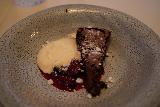 This was also a delicious dish, which Julie and I decided to pair with white wine, and that drink was pretty smooth.
By about 8:45pm, we were then presented our third course, which was the dessert of a brownie with some cream and some fruits.
This was what I envisioned the dessert at the Hotel Siglo last night should have been (instead of the fudge), but nevertheless, this was a tasty dessert and it was the one thing that Tahia quickly devoured (as she grudgingly ate some of the main and first course earlier on).
When we were done with the dinner, we had a nice chat with the hosts as we were on the way out.
That was when I tried to bust out what limited Icelandic I could with them, and we also learned that the hosts ran tours.
It was through this perspective that we learned that most of the visitors these days did condensed tours of only a few days that hit just the popular sites and then be off.
In his mind (and I agree with him), that kind of defeats the purpose of a visit to Iceland which is more than just a greatest hits of sights.
He pointed out that visiting Iceland involves moments of stopping for a sudden change in the weather revealing something beautiful, or pulling up to a town that wasn't anticipated and letting the landscape and the culture sink in.
Or, even making conversations with perfect strangers and/or locals alike that build bridges between people of different backgrounds.
Indeed, those are the things that stick with you long after the trip is over, and you could say that not only is something like that the essence of a visit to Iceland but it's really the essence of any travel to anywhere.
He also asked if we had visited the volcano yet, and even though we didn't, that kind of rekindled hopes that perhaps we could get a chance to see flowing lava before leaving the country in a few days.
By about 9:25pm, we left the establishment but not before taking some pictures in the cold of the coastline while also briefly engaging with one of the Italian tablemates who also went outside.
There was a cat that also went outside the establishment, but the host told us that it wasn't their cat and should remain outside.
Anyways, we then drove back towards Hof, but that was when we saw that the clouds were changing color.
It was turning purple and pink when looking south but it was going fiery red when looking towards the setting sun.
So Julie and Mom spent lots of time taking pictures while I was driving back to Hof, and when we made it back to Hof at 10:05pm, we saw the fiery sunset over the farm stay.
Indeed, just as the host mentioned noticing spontaneous moments like the changing of the cloud colors at sunset, I realized that this was just one of those moments that the host was talking about.
And with that, we crashed for the night anticipating the next day, which was the Skinandi hike, as that was the very reason why we came back to Vatnsdalur in the first place…
Day 13 (August 16, 2021 – Hof i Vatnsdalur, Iceland): "Life As A Local"
It was about 6am when I awoke to the alarm as it looked to be a pretty clear day as I looked out the window.
After freshening up, I used the early start to take the computer stuff to the main dining hall to work at one of the tables and get caught up on yesterday's happenings.
It took me some time to even get through the blogging part of things (as I still had yet to do photo and video selection) so by the time I was just about done with the blogging, fellow guests started showing up at the dining hall shortly before Eline and Jon showed up with brekkie goods.
And just a few minutes thereafter, Mom showed up, and then Julie and Tahia showed up shortly before the German family that had the flat tire showed up.
So by this time, I put away my computer stuff and then joined in on the 8am breakfast.
For the most part, it seemed like people kept to themselves in the communal dining hall, and the breakfast itself was pretty basic fare of bread, eggs, and some select hams or salamis.
There were also spreads, including a nutella spread for that sweet tooth as well as pate, but there were no pickled herrings or other things that would have made for a legit breakfast.
Perhaps of all the things that were offered in this included breakfast, it was the eggs that were worthwhile because they were farm-raised, and we were at a farm-stay after all.
So having that with a tube of a caviar-like paste made for a nice combo, and that was pretty much the extent of our breakfast.
I briefly indulged Jon and Eline in a little Icelandic speak as they seemed very surprised at one of their foreign guests would even make the attempt.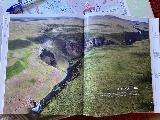 But when it came down to the business of asking about the Skinandi hike, Jon gave me the low-down.
He pulled out some books from his library that contained all sorts of knowledge about not only Vatnsdalur in general but also Iceland as a whole.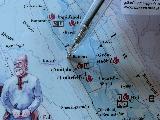 I could tell from the age of the books that there was definitely a lot of passed down knowledge there that you won't find on the interwebs.
So I appreciated the advice and knowledge that Jon was dropping to me regarding what I was attempting to do.
To make a long story short, he showed me a picture of all the waterfalls in one go, and he managed to convince me that we shouldn't pursue Skinandi because we were looking at something on the order of 3 hours (12km) each way, and it would be a bit much for bringing Tahia.
Thus, I ultimately decided (and was advised by Jon) that pursuing Stekkjarfoss again but persisting onto the base of Dalsfoss should be the way to go.
I recalled that Julie and I were thwarted by some cliff obstacles but perhaps we just didn't have enough knowledge, foresight, nor confidence at these obstacles and turned back shortly after Stekkjarfoss back in 2007.
So now I was a little anxious about whether we'd meet a similar fate this time around.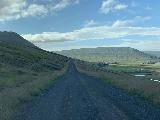 By about 9:05am, we were heading out of the Hof i Vatnsdalur, and we proceeded to drive further south into the valley before turning left at the signed spur road leading to Forsaedalur.
We also noticed that the German family's rental car's tire seemed to be all back in shape, and hopefully they can continue on with their trip as they had it planned and that the foam that Jon apparently fixed for them would be good enough to get them to a shop in Blonduos.
Regardless, the drive further south on Vatnsdalur and then southeast towards Forsaedalur was under some pretty clear skies.
I was concerned about the bad lighting in the morning since the waterfalls we were seeking tended to face west, and of all the days I wanted to have clouds, this would have been that day.
Oh well, by about 9:20am, we ultimately went past the Sunnhlid Farm and then stopped the car at the Foresaedalur Farm at 9:20am.
As I got out of the car, I did some walking around as I had seen a sign pointing the way towards Stekkjarfoss and some other things that didn't ring a bell to me.
Once Mom and I were well on our way down the spur trail that branched off from the sign, Julie and Tahia went back into the car as I told Julie that perhaps we could drive further down the grassy road towards closer to the path that I recalled led to Stekkjarfoss.
Eventually, we stopped in front of a gate, which seemed to be a suitable spot to stop the car and get started with the hiking at 9:45am.
Then, we geared up and proceeded to walk past another gate and onto a grassy field with tire depressions in the tall grass as it skirted between the private farm field and the canyon carved out by the river responsible for the waterfalls we were seeking out.
It didn't take long before we crossed another gate and then followed the grassy path some more before descending a curve that went back towards a small bluff opposite the river with a direct look down at the familiar Stekkjarfoss and its associated fish ladder.
We got there at about 10:05am, and right off the bat, I could already see that lighting wasn't great though at least the falls was somewhat sidelit against the morning sun.
After having our fill of this spot, we then proceeded to follow the river upstream along a somewhat muddy horse and sheep trail before we'd eventually get to the first obstacle which was a cliff protrusion.
This time, I kept in mind Jon's advice that the feet should never get wet on this hike, and that we should keep pushing even if we hit an obstacle before reaching the base of Dalsfoss.
I was already able to see part of Dalsfoss on the way south to Stekkjarfoss so I knew that it wasn't going to be that far, but I also knew that as the apparent scramble persisted so was the level of difficulty and speed of the hike.
While that first obstacle might have turned us back 14 years ago, it didn't this time, especially after having seen a sign saying Brikarhylur, which suggested that people do indeed make their way here (enough for signs to be erected).
Beyond that first cliff obstacle, now it was pretty much a trail-less scramble along the banks of the river with some faint game trails here and there, but for the most part, it was just finding the best footing step by step as we continued upstream.
Eventually, we would hit yet another cliff obstacle that required us to carefully tip toe onto any non-submerged rocks, and it was here that we took out our trekking poles so each of us would have at least a third leg for balance.
Beyond this obstacle, the scramble pretty much got more difficult and the obstacles became more frequent.
However, we'd ultimately reach an intermediate cascade obstacle near a sign that said Djuphylur Nedri, and at this point, it didn't look like we could scoot by the cliffs anymore.
Instead, behind the sign, there was a faint trail amidst the button grass that went up and over the cliff to get beyond the intermediate cascade.
There were a couple more signs as the trail then descended back down towards the level of the river upstream from that intermediate cascade, and then we were pretty much on the final approach to Dalsfoss.
Even though there were no more cliff obstacles ahead of us to get to the base of that waterfall, the footing remained tricky throughout.
Nevertheless, we finally got to Dalsfoss at 11:30am, but it was too bad that we were pretty much looking against the sun as I had feared.
Of all the days to have clear weather, why couldn't it have been on a day when we'd do the volcano or see Kirkjufellsfoss instead and let it be cloudy on this day?
Oh well, you can't control such things and we made the most of our substandard lighting conditions to at least enjoy this 16m rectangular or square-shaped waterfall that was kind of on the class of Marokopa Falls in New Zealand (though I think Dalsfoss was still wider).
So we took some time basking in our accomplishment though I was always mindful of all the loose rocks around us as surely they had been deposited here from past rockslides caused by cliffs flaking off over time.
Tahia was busy chucking rocks into the river, and I joined her in on the action as I tried to get here to test her arm strength by seeing if she can get the rock across the river.
We'd eventually pry ourselves away from Dalsfoss by 12:10pm as we couldn't wait any longer for clouds to show up or for the sun to move more away from Dalsfoss to create backlighting.
In hindsight, I wished we had done this hike in the afternoon, but then we might have to contend with a race against time since we also made 6pm dinner reservations at an Ethiopian Restaurant in Blonduos.
Regardless, we made our way back along the same scrambling that we had just done earlier, but Tahia had a couple of spills.
Luckily, she wasn't hurt and apparently she didn't really dunk her shoes and socks into the water either, but her sweats (not the greatest clothing to wear on a hike) was pretty much messed up.
Throughout the hike back, I couldn't help but to think about how this was pretty much a locals' hike as I'd imagine if you were growing up in these parts, you'd do this kind of hike in your spare time, especially if you're young.
I remembered Jon telling me that Skinandi was a waterfall that most tourists wouldn't bother going to because it was too far, but at least doing this hike to Dalsfoss got me to appreciate what locals must be into when they have spare time.
That said, they seem to have a different standard of what would be considered a difficult hike versus an easy one, but I'd have to say that the trail was pretty straightforward to get to Stekkjarfoss.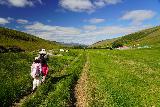 However, then we were pretty much on our own to get to Dalsfoss beyond Stekkjarfoss though the locals might think even that hike was too easy and too short.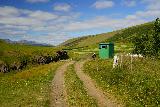 Eventually by 1:15pm, we were back at the parked car at the Forsaedalur Farm, and then we proceeded to drive back to Hof so we can drop off Julie and Tahia.
During the drive back to Hof, Mom told us about my grandma on my Dad's side (I forget how this conversation got started up).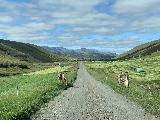 Anyways, since details were sketchy about my grandma's upbringing, Mom filled in some of those details by telling us that she was an orphaned during the Communist takeover of China.
She was eventually adopted by a philanthropist doctor and his wife who took her in among other children.
While the wife took care of the children in Taiwan, the doctor had a high position and stayed behind to still do his job under the new regime.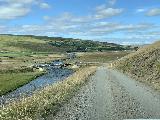 But apparently that regime made life impossible for him so he eventually committed suicide, and that seemed indicative of the turbulent history of Grandma during times of political turmoil.
I always knew Grandma was a very strong-willed person and did whatever she needed to do to get her way or to get by (kind of why I understood why people from the mainland may rub others the wrong way due to the apparent lack of manners).
And apparently Mom told us of how she was a bit difficult to control as she was a bit of a rebel and was gonna do what she was gonna do.
To make a long story short, she ultimately married a soft-spoken guy (funny how opposites attract) though I never met him because he died before I was born in a training mission in the mountains of Taiwan as his plane went down.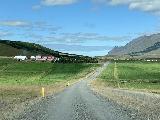 So that left grandma and the kids to get by though life is creeping up on them nowadays, which was probably how this whole conversation got started in the first place.
Nevertheless, given the randomness of the twist and turns of history and life in general, it seems that our family owes a lot to the people that took grandma in.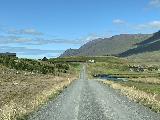 Mom said that every year Dad's side of the family would go back to Taiwan to celebrate the woman that took Nainai into their family until her passing (she lived to almost 100 years).
There really ought to be more to preserve the memory of the people of our family's past, and perhaps stories written down like this (though this brief treatment really doesn't do it justice) are the vehicle to do it.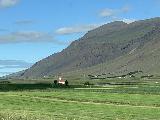 We'd ultimately make it back to Hof by 1:30pm, and then after dropping them off, it was just Mom and me pursuing the other hike that Jon recommended this morning called Kornsa.
Since I didn't have pre-trip waypoints for this place at the ready, I pretty much just paid attention to Gaia GPS while making the drive towards the base of Vatnsdalur and then going back north on the other side of the valley.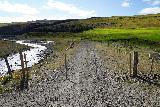 Eventually by about 2pm, shortly after passing by the Undirfell Church, Mom and I got to bridge going over the Kornsa Stream, where we then pulled off in the limited space just north of the bridge and in front of a fence.
At first, we were worried that there was no way to get through and onto the trail behind it, but then we realized that we could lift the loop on one end of the fence and then get through it before closing up the fence again (probably to keep livestock like sheep in the field).
And from there, Mom and I immediately started the uphill hike that within minutes allowed us to see the first of the waterfalls in the canyon.
We then continued further up the steep slope following a use-trail that then led us to another one of those fences that we had to lift a loop to get by it.
This time, however, we had a harder time with this fence since the tension on the loop was higher.
But eventually we got past that and continued our way further up the slopes.
Somehow we missed the second waterfall as we went higher up the trail and saw a different waterfall that I didn't recall seeing from afar as we were about to enter the canyon.
So I made a mental note to explore for that second waterfall when we'd come back, but as far as the third waterfall was concerned, we ultimately clung to a ledge and looked down at a pair of attractive tiers.
This section of the Kornsa Canyon alone would have been reason enough to be satisfied and turn back, but I recalled Jon saying that there was a big waterfall further up the canyon at its head.
And thus, that was where I was determined to go while following Gaia GPS.
After getting past this attractive waterfall pairing, we then saw a sloping cascade as well as noticing some wild blueberries on the ground.
Since these berries were a bit on the tart side, we didn't stop to pick more of them, and so I continued the relentless uphill climb as I started to look for a way to get to a more established trail since the game trails seemed to have disappeared.
The next waterfall that I noticed in the canyon was another sloping waterfall, but this one was wider and distant from the cliff I was on.
I knew that this wasn't the be-all end-all of the waterfalls in Kornsa so I kept pushing on as Mom was starting to lag behind due to the relentless climbing.
Eventually, I managed to find some kind of tractor road, which I then followed as Gaia GPS indicated to me that there wouldn't be much elevation loss in the river for quite a stretch.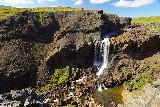 It wasn't until I got past an intermediate peak (and that was when I started to not see Mom making her way up) that I then started to see a faint side trail leading towards some smaller cascade further upstream.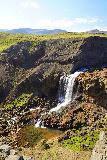 There was also what appeared to be another waterfall way in the distance beyond that smaller cascade that I noticed, but after seeing more fencing up ahead by that smaller cascade, I decided that it was time to skirt the canyon further downstream.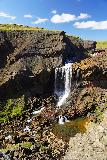 After all, I noticed that Gaia GPS was telling me that I had overshot a larger elevation drop in the river, and so I proceeded to make my way in that direction, and lo and behold at 3pm, there was indeed another attractive plunging waterfall.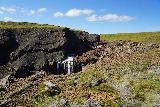 By this point, I took some time making videos and photos of this waterfall, which I'd imagine was the one that Jon talked about, and then I started making my way back towards the tractor trail.
Since I hadn't seen Mom the entire time I was overlooking the largest of the falls, I then assumed that Mom must not have made her way up to these heights, and so I decided to head downhill in search of her.
Seeing that we were running out of time, and I still wasn't sure if Mom was waiting for me below or not, I then decided to leave the significant waterfall on the Kornsa Stream and head back to the tractor trail soon thereafter.
When I was on the tractor trail, I coculdn't see Mom anywhere down below me, and now I wasn't sure if I should backtrack uphill again in search of her or if I should keep going downhill hoping to see that she didn't go as far up as I went.
But when Mom was nowhere to be seen as I was descending the steep hill, it wasn't until I heard something behind me which turned out to be Mom calling out to me as she was catching up to me.
When she rejoined me, she had told me that she actually went past the upper drop above the main drop high up on the Kornsa and she had missed the big waterfall that I had seen altogether.
So with that, we continued hastily making our way downhill as we'd eventually get to the gate barrier that was a bit trickier to undo and reapply.
As Mom was doing that, I managed to scramble alongside the fence and up to a separate bluff with a nice view of the upper drop above the lowermost of the drops on the Kornsa.
Eventually, after re-applying the loop into the fence itself, I'd then eventually reach Mom back at the car at 3:55pm.
Instead of driving back the way we came to Hof i Vatnsdal, I didn't mind driving further to the north and then heading back east to take the farm road on the other side of the river.
Disobeyind the Garmin Nuvi, which insisted on making me go back the way I came to return to Hof i Vatnsdal, I then decided to drive north and continue to finish the loop of Vatnsdalur.
While making this drive, Mom and I couldn't help but to notice that the lighting on the opposite side of Vatnsdalur was nearly perfect as it was illuminated by the afternoon sun.
It also revealed interesting lava formations high up on the mountains opposite the valley that we hadn't noticed before since we were pretty much driving underneath such features on the way to Hof earlier on.
But now that we were driving on the west side of the valley, we were savoring the additional roadside views, which really made us appreciate the experience.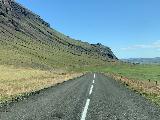 After returning to the Ring Road, and then leaving it again to get back towards Hof i Vatnsdal, we'd eventually return to the accommodation at 4:30pm, where we pretty much had a less than an hour to shower up before leaving towards Blonduos for our dinner reservation.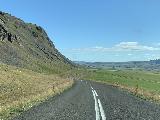 It took some time for us to get ready and into the car because the keys to Mom's and Tahia's room was stuck or they douldn't out how to unlock the phone so Julie could take pictures of that elevated part of Studlagil Canyon.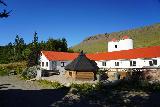 We ultimately had to leave Hof i Vatnsdal for dinner at 5:30pm while we'd have to rely on Julie to get a hold of Jon or Eline via phone since no one was answering the doorbell at the time.
By around 5:55pm, we arrived at the Ethiopian Restaurant in Blonduos called Teni, which was next door to some kind of water park as well as across the street from the Kjorbodin supermarket.
Julie briefly browsed in there for some freshly baked croissants, but apparently it wasn't in the cards for her.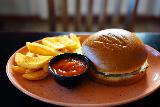 So we then went into Teni, where we eagerly ordered a doro wat, some kind of delicious lamb marsala with curry dish, and some kind of beef chunks with caramelized onion.
Tahia got some kind of kids meal where she chose to have a hamburger, and I couldn't help but wonder that most of the Icelandic customers here were also having burgers instead of the authentic Ethiopian stuff.
After the dinner, we then filled up with a couple of meringue cakes and one slice of chocolate cake.
By the end of it all, the dinner turned out to be on the order of $135 USD, which was rather pricey for a casual, ethnic restaurant.
Eventually by about 7:15pm, we were back in the car, and we headed back to Hof i Vatnsdal.
The drive back was pretty uneventful though the skies were as clear as they could be in Iceland, and I was mentally crossing fingers hoping that we'd at least get to properly experience Kirkjufellsfoss as we had been anticipating doing for the past 14 years.
Finally by about 7:45pm, we made it back to the Hof i Vatnsdal, where it seemed like we were the only guests on this night.
That made for a rather quiet evening full of running errands like scheduling our COVID-19 testing appointment within the 72-hour window of our flight home, shopping for Tahia's upcoming school year, making calls to friends and family taking advantage of the WiFi here, etc.
I also used this time to get caught up on the happenings of this day where we pretty much explored like locals did in this valley, and indeed, we definitely got to experience more of an authentic side of Iceland that you normally don't get on a greatest-hits whirlwind tour.
And with that, we crashed for the night as we were pretty much down to the last quarter of the trip…
Day 14 (August 17, 2021 – Olafsvik, Iceland): "Stubborn Clouds"
It was about 6am when I awoke to the alarm, and upon looking outside, it was definitely cloudy this time.
I then spent the better part of the next two hours tending to photo management duties, and then when Jon and Eline arrived at the common area at about 7:30am, we found out that we were the only guests staying at Hof i Vatnsdal over the last night.
So it was kind of nice to have this place essentially to ourselves, and we once again had ourselves a pretty basic breakfast of bread and spreads as I only managed to get caught up only up to yesterday.
I still had more to do, but then we just focused on loading up the car (by then it was starting to rain or drizzle outside) and having our basic brekkie.
After brekkie, Jon gave me a map of Vatnsdalur in English, which was really nice of him, as he must have sensed that I had an interest in learning more about this area (and possibly doing more hikes).
It's probably because I was one of the few of their guests asking about the Skinandi Waterfall until he gave me the low down as to what it would take to actually visit it.
When Jon left to do his farming duties, we then spoke with Eline about her Dutch background, life in Iceland, and various things regarding her daughters attending school both in Iceland and the US.
By about 8:45am, we were back in the loaded car as we headed out and returned to the Ring Road after getting past the unpaved road in Vatnsdalur one last time.
Once we were back on the Ring Road, we then proceeded along the mostly uneventful drive as we followed the mostly paved road until we got to turnoff for the 68.
That was when we had a decision to make, and the GPS told us to take this road as it curled around the Hrutafjordur instead of continuing to the southwest along the Ring Road.
After a short stretch of going north on the 68, we then turned left onto the 59 road (Laxardalsvegur), which was an unpaved road going over some pass before reaching the 60.
The 60 was briefly paved as it headed south, but then we were told to turn to the right and go west onto the 54, which was once again a mostly unpaved road.
All this driving on unpaved roads made us nervous about the condition of the tires, and I never recalled having to drive this much on unpaved roads in the Snaefellsnes Pensinsula, but then again, we never went east of Stykkisholmur since we took the ferry to the Westfjords back then.
Nevertheless, the combination of rain and drizzle made for a rather gloomy drive even though the scenery showed hints of brilliance as well as many waterfalls that we just couldn't stop for (or this drive would take forever).
On a whim, Julie found this place called the Shark Museum on Rick Steves and wanted to get over there so we could try hakarl (rotten shark), which we had always been meaning to try.
And after the somewhat jarring yet scenic drive where there was so much potential under clearer weather, we eventually got to the signed turnoff for the Shark Museum not far west of where the 54 became paved for good after the turnoff for Stykkisholmur.
The spur road to the Shark Museum at Bjarnarhofn was interesting because it passed through some kind of mossy lava field, which a sign referred to as the Beserkjahraun.
When we got to the Shark Museum at 11:40am, we noticed that there was some light waterfall behind the white building that housed the Shark Museum itself.
So I took some photos of it literally seconds before the weather turned all misty and drizzly, in which the waterfall was hard to see again.
After paying the admission, we then went into a fairly large room where a prior group was getting a video and tasting of hakarl in Italian, and once they were done, we then got to sit through an English tour.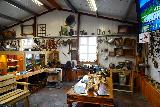 The "tour" itself was really nothing more than watching a video with some live narration by the person giving the presentation.
She then invited us to try out some hakarl, where there were two bowls and a bunch of toothpicks.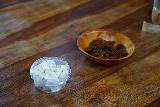 One bowl had cubes of hakarl while the other bowl had those familiar dark "lava bread", which was said to take some of the "bite" out of the hakarl itself.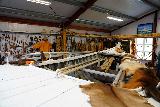 While the hakarl was like eating sashimi, it did leave a bit of an ammonia aftertaste, which was hard to describe because it felt like we were eating medicine or something.
Definitely accompanying the hakarl with the lava bread helped mask some of that ammonia aftertaste, but now that we've had a taste of it, we probably wouldn't rush to have it again now that the our curiosity had been satisfied.
That was pretty much the end of the tour as we were a bit disappointed in that we didn't get to see any of the drying racks or much of the actual process of preparing the hakarl after the tasting.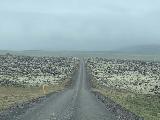 When we got back into the car at about 12:15pm, we were about to head back onto the drive towards Grundarfjordur and eventually Olafsvik, but the car then warned us of "Low Urea".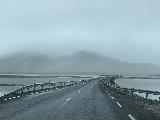 We weren't sure what that meant, but my immediate reaction was that the car needed pee or something like that.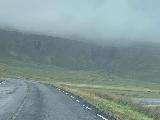 But after consulting the owners manual, we realized that this had more to do with the Adblue thing (this issue struck once again as we last had to deal with this back in Austria in 2018).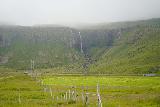 Thinking this might be a maintenance thing, the roadside assistance from Avis called us back and advised us to top it off at the N1 gas station in Olafsvik.
So we noted that advise, and then proceeded to continue west on the northern side of the Snaefellsnes Peninsula until we started to approach Grundarfoss, where we saw that there was a sign and a small car park near the road.
With the weather looking like it remained drizzly with low clouds, we could also see that the mountain Kirkjufell was mostly shrouded in clouds, which made for crappy pictures of the Kirkjufellsfoss, I'd imagine.
So at 12:35pm, we decided to stop for Grundarfoss, and take what appeared to be an obvious trail leading close to the base of the tall waterfall.
The thinking was that perhaps after this walk, just maybe the weather might improve enough to make a visit to Kirkjufellsfoss more worthwhile even though we knew that there's probably going to be a lot of tour bus traffic and general independent tourist traffic.
After all, that waterfall would have been pretty obscure if not for Game of Thrones and the subsequent Instagram lemmings effect where one person takes a shot, doctors the photos, and all of the sudden makes the spot must-see.
Anyways, so after briefly gearing up, we then passed a fence and proceeded on the mostly straight shot trail as we were able to see Grundarfoss up ahead of us as well as a partial view of the neighboring Kvernarfoss.
The hike eventually had to curl around some private property, which eventually led us right to a crossing of the Grundara Stream, which wasn't that easy of a crossing without trekking poles (which we neglected to bring on this hike).
While I was able to get across the stream (albeit precariously given how slippery the rocks were), Julie, Tahia, and Mom stayed behind.
In hindsight, this crossing really wasn't necessary, especially since it also made us look up at Grundarfoss at more of an angle instead of more directly, but the way the private property fencing went, it kind of forced us to do it.
So I was then on my own as I pretty much climbed a somewhat steep and slippery path towards the foot of the base of the main drop of Grundarfoss and proceeded to document the experience with photos and a video.
Just as I was there, I was starting to get some drizzle (though I wasn't sure if it was the waterfall's spray or the weather) as I was watching the birds circle around the waterfall.
And as I started to notice the mist and the clouds getting thicker around me, that was my cue to leave this waterfall and head down to rejoin the ladies.
When I got back to the stream crossing, I saw that there was a continuation of the trail continuing downstream on the east side of the stream, where I then managed to cross the segmented stream at a different part with other rocks to hop to get across.
Without trekking poles, it wasn't any easier than the one I had taken earlier, but at least I managed to get across without getting wet.
That said, it looked like the trail kept going on the east side of the stream, so perhaps was might have been an even easier crossing further downstream.
Regardless, we then headed bcak to the car park, where now the Grundarfoss was pretty much shrouded in mist and fog.
When we got back to the car at 1:50pm, we could still see that Kirkjufell Mountain remained shrouded in clouds that seemed to be sinking now.
We eventually decided to try for a lunch at the neighboring town of Grundarfjordur before pursuing Kirkjufellsfoss, but after a couple of failed attempts at getting lunch (both places appeared to have run out of the good stuff), we then settled for the Kjorbodin.
That was where we picked up some groceries as well as some croissants, which we had for our makeshift lunch in the car at 2:10pm.
After the quick lunch, we then went to the Kirkjufellsfoss car park, which was now well-signed and paved.
This was something we hadn't really noticed in 2007 other than identifying it from the road and taking roadside shots while we were rushing to catch the ferry at Stykkisholmur.
But the "must-see" nature of this waterfall was definitely noticeable, and there was even some signage saying that this car park and access to the falls was on private land so they're asking for payment to park here.
Having seen the article about false pay-to-park schemes that went on near Grindavik, I was wondering if this was the same thing since this wasn't something sanctioned by the Icelandic government (they generally put those parking fees for all the National Parks, which this was not in).
Regardless, we then walked the short path that went across a bridge over the Kirkjufellsa while revealing a partial view of another waterfall further upstream before curling around to get that signature profile view of Kirkjufellsfoss with the Kirkjufell Mountain framed with it.
Still, the clouds were stubbornly clinging to the top of the conical peak making for rather subpar photos, and every once in a while, the peak might barely reveal itself before getting covered up again by the next batch of clouds.
I guess this was the consequence of getting westerly or northerly winds as it was essentially picking up moisture and letting it shroud the rather short mountain overlooking both the falls and Grundarfjordur.
We pretty much spent the next hour or so trying to photograph and video this waterfall in as many ways as we could, and this included getting profile shots of the falls with Kirkjufell looking across each of the two main drops of the falls individually.
I even spent some time going to the trail on the opposite side of the stream for a more frontal look at the pair of main drops of the falls.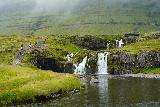 So eventually by about 3:40pm, we were back in the car as it was clear that the weather wasn't going to cooperate, and it looked like the next wave of drizzly rain was coming in.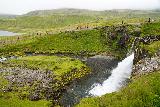 Thus, we drove the remainder of the route to Olafsvik (after once again being nagged about Low Urea), and we wound up in the town of Olafsvik at 4:05pm, where we called the Welcome Apartments, got our room code, and proceeded to drop off our stuff into the room.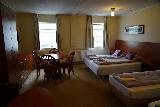 However, I couldn't help but to notice that the car seemed to have some kind of leak as it was leaving a trail of spots, and after putting two and two together, perhaps this was the main reason why the car complained about "Low Urea" and needed Adblue refills.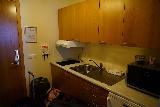 Immediately our thoughts went to where we might have scraped the underside of the car during our drive, and the only thing we can think of was the grassy road we took near the Forsaedalur Farm yesterday.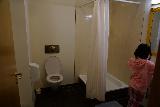 Did we mess up by not parking by the private farm and walking the road leading us to Stekkjarfoss and eventually Dalsfoss?
Anyways, while Mom was helping with preparing a self-cooked dinner (despite the Sker Restaurant downstairs looking both popular and potentially have good food), Julie and I then returned to the N1 gas station to pick up some Adblue so we could fill it up.
We managed to do that at about 4:45pm, but as we returned to the gas station, we didn't see any signs of an active leak, which even the clerk took a look and didn't see anything incriminating.
So after filling up on diesel and filling up a 5L bag of Adblue, we then drove back to the Welcome Apartments, where we once again looked underneath the car as we parked there.
However, then we started to notice more leaking, and the leak seemed to be the most intense when the car was in drive or reverse!
So that got us to return to the N1 but by then they were closed for the day at 5pm (we were there basically after 5:30pm), and so we now had to evaluate what to do regarding any additional sightseeing we wanted to do versus losing at least a half-day at a repair shop.
Nothing was going to be resolved for the rest of today because even roadside assistance was closed after 5pm as were all the shops and services.
But at least the Low Urea warning stopped going off so adding the Adblue definitely helped.
By the time Julie and I were back in the apartment for good, we then had ourselves a pretty good chicken pesto dinner, which was just the right kind of change-up that we needed after spending lots of money eating out for dinner practically every day.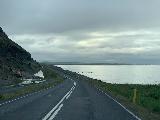 It wouldn't be until about 7:40pm when Mom and I were back in the car as we decided to head out to at least visit Svodufoss, which wasn't further to the west of us near the town of Rif.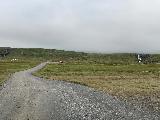 With no further evidence of having a severe leak, we just went ahead and proceeded at risk while Julie and Tahia stayed in the apartment.
And by about 7:55pm, we arrived at a dedicated car park for the Svodufoss, which I knew definitely wasn't there before when Julie and I had trouble figuring our how to experience the falls back in 2007.
Unfortunately, the clouds pretty much stayed low and shrouded the Snaefellsjokull Glacier so we couldn't see it backing the waterfall, but at least we could follow the new path towards a viewpoint.
When we got to the viewpoint, it was still somewhat distant so we then followed a use-trail that went across a stream over rock hopping, and then another smaller side stream that had that reddish algae in it.
And after that, we then climbed alongside the Svodufoss, which revealed some lower cascades as well as some surprise basalt columns next to its brink.
We'd eventually get to the top of the falls, where there were a handful of people sitting down and drawing what they were seeing.
Meanwhile, Mom and I as well as a handful of other people were busy taking pictures before having our fill and heading back down to the car park.
We could tell that the trail was new because it looked like there were newly-planted squares of grass holding up a non-slip kind of grid surface.
That was probably meant for tour traffic, especially for seniors that would be content to enjoy the falls from a distance at the sanctioned lookout.
Regardless, we were back in the car at about 8:45pm, and then we decided that we should return to Kirkjufellsfoss to see if we can catch lightning in a bottle and get sunset shots there as the weather seemed to be improving.
So we promptly headed back in the direction of Grundarfjordur, and aside from getting past some sheep that were fighting in the middle of the road, we eventually returned to the familiar car park for Kirkjufellsfoss at 9:10pm.
It was just in time to see the setting sun as we looked back in the direction of the ocean, but there were still clouds stubbornly clinging onto Kirkjufell, which made taking pictures of the mountain backing the profile of the falls not very great.
So we pretty much tried to wait out the clouds, but we wound up settling as the colors of the sky changed behind Mt Kirkjufell though never really fully revealing its top the whole time.
And by about 10:15pm, we were back in the car as it was pretty much getting dark by now, and we pretty much did our best to get Kirkjufellsfoss with some color but little else in the way of that signature shot.
By about 10:30pm, we were back in Olafsvik, where we then cleaned up and crashed for the night as we punted seeing the waterfall behind Olafsvik for tomorrow morning…
Day 15 (August 18, 2021 – Reykjavik, Iceland): "Going Full Circle"
It was about 5am when I awoke to the alarm.
However, the early wake-up really only bought me the ability to get caught up on the blogging and naming the videos, but I was still behind by at least 3 days in terms of the photos.
I wondered when I would have the time to finish everything up before going home so I could concentrate more on just copy-pasting files to more permanent media than a portable hard-drive and a laptop.
Regardless, I still managed to get some work done until about 7:05am when Mom and I finished having our breakfast just as Julie and Tahia had finally gotten up.
So Mom and I went ahead and did a morning walk to check out Baejarfoss, which was kind of an excuse for me to jog my memory cells as to how much I remembered about Olafsvik from 14 years ago.
Well, it turned out either things changed or I really must have had a poor memory as I never recalled seeing a modern looking church let alone a football field adjacent to it.
Mom and I also noticed a line of rocks along the embankments of the stream that Baejarfoss was on, which reminded us of Seydisfjordur and their landslide issues.
Did Olafsvik suffer a similar fate that necessitated a major rebuilding effort?
All I know was that nothing really seemed like I had remembered it before, and the walk to even get up to Baejarfoss seemed to be more straightforward and wide open than I had remembered.
So Mom and I proceeded up the east side of the stream, and we'd eventually make it to the end of the trail on that side where I managed to get somewhat satisfactory photo shots.
I wondered how much of the photos taken on this trip was fodder for Mom to make Dad feel jealous or left out for not wanting to go on this trip with us.
Anyways, by about 7:55am, we were back at the Welcome Apartments, where we wrapped up some late-minute packing.
Eventually by about 8:15am, we were finally back in the car and all ready to go.
However, just as we were about to pull out and leave Olafsvik, we received a call from Avis, which must have received Julie's message that was left yesterday after their closing time.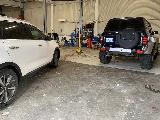 After some description of what we thought was a leak to the Adblue tank, we were then instructed to go to a mechanic in town, and by about 8:25am, we wound up at the "Car Assistance" office right on the harbor of Olafsvik.
After some more consulting with the mechanic there, he concluded that the "leak" we saw was nothing more than condensation from the air conditioning unit, and that the low Adblue was likely a coincidence due to the amount of driving we had done.
He also said that the 5L of Adblue that we put in was plenty for the next rental period, and that he seemed to echo a sentiment that no one likes Adblue as it seems to cause more trouble than it's worth (except it's an EU clean-air mandate that all diesel cars must have).
So by 8:35am, we were finally leaving Olafsvik, and we made our way in the general direction of Bifrost and eventually towards Reykholt and Husafell, where we would eventually target Hraunfossar and maybe eventually the Vigdelmire Lava Tube.
As we drove over the pass leading us from the north side of the Snaefellsnes Peninsula to the south side, we started to get attractive views of the basin below as well as Bjarnafoss.
When we got down to the basin, we wound up taking the first left turn we could, which led us to someone's farm, but there was a rough road that led to the actual car park for Bjarnafoss that definitely wasn't there when we were last here in 2007.
As we were getting ready to leave the car and go for a quick walk at 9am, we saw that more cars started to pull up to this car park so it wasn't as obscure of a waterfall that I had anticipated.
Nevertheless, Mom and I didn't go all the way to the bridge as we knew that the closer we'd go, the more obstructed the falls would appear, and so by 9:20am, we were back at the car to continue with our long drive.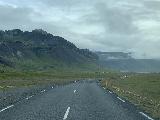 Indeed, heading east on the 54 with Mom sitting on the driver side in the back, she was able to take several photos of random waterfalls that tumbled down in waves off the south side of the Snaefellsnes Peninsula.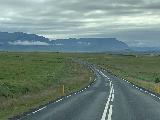 During this long stretch of the drive, Julie got wind of this thing called the Gerduberg Cliffs in the Rick Steves book, which was said to be the longest strand of basalt columns in Iceland.
So we were on the lookout for it, and we'd eventually get there at about 10:05am, but this came after a mistaken left turn that ultimately led to some farm, and there was a sign saying the cliffs were in the next exit (clearly they must have had many people make this mistake).
Anyways, we then promptly got out of the car and took some photos from below of the cliffs, which reminded me of a long row of basalt columns as if they were like a bunch of Devil's Postpiles lined side by side.
Mom and I did go up the steep path that got us onto the top of these cliffs, but truthfully, there wasn't much going on up there as I was hoping to see hexagonal floor tiles like we would at the Devil's Postpile.
In any case, we had our fill of the Gerduberg Cliffs and returned to the car at 10:30am, but not before Julie and Tahia tried to identify and pick huckleberries or wild blueberries versus that shinier berries which we weren't sure if they were toxic or not.
Anyways, we continued with our road journey as we eventually got back to the Ring Road somewhere near Borgarnes, but then we headed north along the Ring Road en route to Glanni, which was an old waterfall that could use an update.
We eventually got there at around 11:20am, and the car park was already pretty busy with a handful of cars, but when we saw that a tour bus was showing up, that hastened our pace even more.
Mom and I were the first of our group to get to the lookout platform, which afforded us the opportunity to photograph and video the familiar segmented waterfall, which didn't seem to change much over the years.
However, the viewing platform did seem to be new, and that seemed to be a consistent theme throughout this trip was the development of tourist amenities even in places as obscure as this one.
I remembered 14 years ago when we were the only people at this waterfall, and that it seemed to be a rather obscure stop, but now it seemed to be a convenient stop for tour buses and Ring Road drivers.
Mom and I pretty much started to have our fill of the viewing deck when the tour bus crowd showed up and pretty much inundated the platform.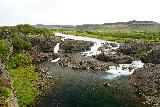 These folks seemed to be mostly seniors from the UK so you figure that COVID-19 shouldn't be in their tour, but you can never be sure about who has it and who doesn't so Mom and I tried to keep our social distance even given the limited real estate.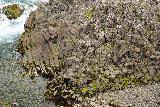 Nevertheless, we had our fill of this falls and started to head back just as Julie and Tahia made it to the viewing platform.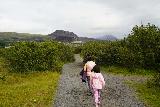 And within a few more minutes, we were back at the car at 12pm, but not before Mom was busy checking out the golf course that was here.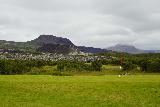 She was viewed this course with discomfort because she thought that if you play here and happen to get your ball into the rough (which is lava), you pretty much have to take your penalty because there's no way you're getting to your ball.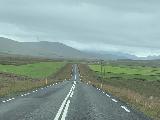 Anyways, we then started the drive to the next destination which was Hraunfossar.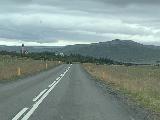 Given the cloudy skies, I expected the color of the water there to be muted (unlike 14 years ago when we had good weather), but at least we wouldn't be looking against the morning sun.
The drive pretty much went uneventfully though we did see some concerning stretches of rain squalls here and there, but thankfully when we got to the car park at 12:35pm, we were still east of the nearest squall.
Nevertheless, we saw that sure enough, there were lots of cars and at least two or three tour buses so we knew it was going to be somewhat of a zoo here (unlike the last time when Julie and I were only one of a handful of people touring both this falls and Barnafoss).
In any case, we got out of the car and proceeded down the walkways in a bit of a clockwise manner as we started with the viewing platforms for the familiar main part of Hraunfossar.
Like before, we saw that this was a very long series of springs that were probably old lava tubes now acting as aquifers instead of lava channels.
The stretch of percolating waterfalls went very far downstream, and it started to make me reconsider our Top 10 Iceland Waterfalls List again because now we wondered if we should flip flop and go back on removing Seljalandsfoss in favor of Hraunfossar given its uniqueness.
Seljalandsfoss was kind of like an ordinary waterfall with a convenient location and the ability to go behind the falls, which wasn't all that unusual, yet it gets publicity given its location and the Gljufrabui nearby.
Regardless, we slowly made our way from one lookout to the next along with some intermediate spots to look across the Hvita River at the main parts of the percolating springs.
We'd eventually get to a bridge that crossed the river and then went onto what seemed like more lava fields with unusual views down at Hraunfossar and parts of Barnafoss, which I didn't recall we had done before.
The whole time we were paying attention to the falls, Tahia had this thing about picking flowers and throwing petals on our heads or into our line of sight of our photos and videos.
Clearly she was being mischievious at this age, which shouldn't be surprising, but killing off flowers for this mischief was not cool.
We'd eventually get back across the river and then to the final pair of lookouts for the Barnafoss.
I think in the past, I was able to get further upstream along the Hvita River because I recalled being able to take photos of the rapids and cascades converging upstream of the natural bridge that was still standing over the Hvita.
Apparently, there used to be a second natural bridge above that, which was the one that was said to have been destroyed according to the saga of a mother who had lost her children here while congregating at a church in Reykholt.
This was one of those things where we couldn't tell if the saga was true in that the mother caused the destruction of the natural bridge by some spell or if it was folklore versus the reality of the bridge falling on its own by natural forces of erosion.
Regardless, once we had our fill of both Hraunfossar and Barnafoss, Julie then had us go to the nearby cafe so we could try out some lamb gulass, which was essentially our lunch for the day.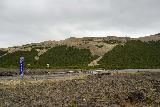 And only after we managed to enjoy the meal (where we all shared the lamb stew) that we got back to the car at 1:50pm and intended to make our way towards the Vigdelmir Lava Tube Cave (or "The Cave" as the promo literature had called it).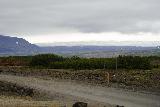 When we got up to a sign for the Kjolur Route as well as a distant view of the Langjokull Glacier at around 2pm, Julie read in the Rick Steves book that the cave was a rather costly investment of both time and money and had seen better caves.
Since we had been pretty familiar with caves and we didn't want to wait for a 3pm tour as it was too late for a 2pm tour, we opted to skip this and head back to Reykjavik.
So we did that and made the long drive back though the GPS had us take a rather obscure gravel road detour to reach the Ring Road somewhere near Borgarnes, which induced some anxiety since we didn't want to have to deal with more gravel roads.
But I also wanted to make a cheap gas stop in Borgarnes, and I guess it was that intermediate waypoint that was our undoing as far as the GPS making us do things we probably shouldn't have.
Anyways, after filling up our half-tank in Borgarnes, we then continued to Reykjavik where we would eventually find street parking right in front of the Tyr Apartments building in the downtown area.
We knew that we had to pay rather expensive rates for at least the nearly two hours before the free overnight parking would kick in, and so that was rather inconvenient as it took us some time to figure out how to pay for this.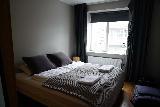 It turned out that there was a machine another block away that we could pay at, or we could pay online apparently upon closer studying of the street signs.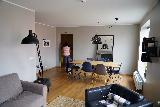 So we wound up paying around 510 ISK to at least have the parking through to around 9am tomorrow morning, which should be plenty of time for us to run errands, especially taking that PCR test as our trip was winding to a close.
And indeed, being back in Reykjavik, we had come full circle, but we still had some unfinished business to take care of – namely Trollafoss, the Old Harbor of Reykjavik, the Fagradalsfjall Volcano, and Thjorsardalur Valley in addition to that negative PCR test to get home.
But at least we were settled for our last accommodation in Iceland before going home (barring any positive test results).
Then, Julie and I went around town to scope out our centralized location and to pick up some groceries at the Bonus nearby before bringing the family down to go to the familiar Hlemmur Matholl again.
We managed to snag an outside seat again as we got there a bit before 5:30pm, but as we were setting up as Julie was ordering the food, some random lady asked (actually kind of invited herself) if she could share the table with us.
That created silence on our part as this felt wrong given the COVID-19 risk that this posed before we had a chance to say no.
But the last straw was when she started smoking, which put our daughter at further risk, and that was when Julie showed up, saw that there were two more empty tables around the corner, and we asked if she could sit over there for everyone's safety.
She was reluctant at first, but she eventually obliged without incident, and finally we could have our meal in peace.
We once again had the familiar brussel sprouts, caulifower, duck confit, and cod dishes, while we also got some kind of Umberto pizza which was pepperoni, marscapone, mozarella, and all on a thin crust.
It was a satisfying meal, and with this being our third time eating here, we at least got to have this place one last time.
After the meal, we then walked towards the Lookoomas Greek Donut place where we pretty much devoured a dozen of these donut balls (that was a bit like a cross between chocolate con churros and the sao bing you tiao you get for Taiwanese breakfast).
And Tahia was happy she got to have a peace gelato from an ice cream joint nearby.
So by 7:05pm, we were back at the apartment and pretty much crashed for the night trying to minimize any further exposure or potential for contracting the delta variant.
This was pretty much the only procedural hurdle left to get over to go home and end our first international trip since the COVID-19 outbreak…
Day 16 (August 19, 2021 – Reykjavik, Iceland): "Carpe Diem"
It was about 4:55am when I awoke without an alarm even though I did have intentions to sleep in on this day.
That was because we had a scheduled COVID-19 test that was to take place this morning at 9am so we had quite a bit of time to kill before we had to get this done.
After all, this was one of the conditions that returning travels to the US had to do, and even though I doubted Trump would have mandated this, it was actually a good thing that Biden at least made an effort to control it from incoming travelers.
Of course, picking on travelers is one thing, but if we can't get our own house in order amongst the American population, I do wonder what if this now amounts to nothing more than just for show that something is being done about it (however futile it might be).
So for the next three hours or so, I pretty much took time to get caught up on both the blogging and the file management chores (the latter was something I was behind on for three days).
Eventually, after Julie did some errands regarding Tahia's back-to-school happenings, she and Mom went to Braud to get some freshly-baked croissants and cinnamon rolls, which we consumed very quickly.
By about 8:30am, we were then in the car, where we proceeded to head over to the clinic where they were administering PCR testing, and when we got there at 8:40am, we saw that there was already a line starting to form.
Nevertheless, they were pretty efficient about getting people in and out of there, and it didn't take long before we got registered thanks to the barcode confirmation that Julie managed to set up for us prior to today.
By the end of that, I was given a vial with some labels on it, and then I went to the testing area where I handed the vial to a technician, and then he swabbed deep into my mouth and then went deep up my nose.
It was a rather unpleasant feeling (similar to the first time we took one of these tests), and then he said I was good to go after that.
I worried about how Tahia would respond to this, and when the ladies caught up to me, I could see that Tahia at least wasn't crying though she was smarting at still feeling sore up her nose.
Mom was still coughing as I don't think she ever had to deal with testing like that, but Julie and I knew that this was probably as accurate a test as we were going to get because they had to get high up the nose to ensure they get a good sample for lab testing.
Anyways, by 8:50am, we returned to the car, and then we proceeded to drive towards the Old Harbor area near the Seltjarnes peninsula of Reykjavik.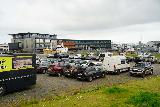 We went looking for the free parking lot, and it took a few tries before we finally figured out that there was an unpaved lot near the Old Harbor part, where there were already a lot of people parked here.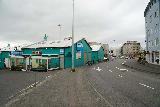 We managed to score one spot in the unpaved lot at 9:15am, and I got the sense that Reykjavik didn't exactly strike me as a city with a high crime rate so I didn't feel threatened about leaving a car unsupervised in this lot.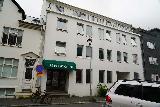 And so we started a walking tour of this far western side of Reykjavik, where Julie followed the Rick Steves book since we knew that he tends to walk readers through the most historically interesting parts of a city to best understand the places we're touring.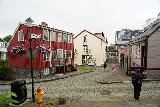 Along the way, we happened to walk down a street where we found the Metropolitan Hotel, which was the place we stayed at when we first stayed in Reykjavik back in late June 2007.
I still remember paying nearly $1000 USD for our three nights there (about the same price as we're paying now for each of our apartment stays), but the rooms were Tokyo-tight as we didn't even have room to put our luggages on the floor as the room was dominated by our twin beds.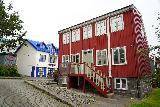 This time, it looked like they covered up the windows and doors with some white paper or something, and it made me wonder if this place was still in business these days.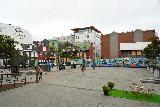 Anyways, by about 9:45am, we found ourselves in a city square that was once the location of the Hotel Vik that burned down in the early part of the 20th century.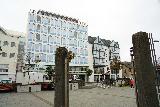 In this plaza, there were a couple of pillars that essentially marked the place where the first settler to Reykjavik (as it would eventually come to be called) first dropped the pillars and found them as a sort of Viking tradition upon entering a new anchoring spot.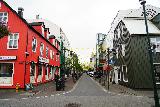 We managed to use a public WC in this square for Mom and Julie, but I think we managed to confuse the self-cleaning machine when it came to Tahia's turn.
Regardless, we then continued the self-tour as we headed to what turned out to be the Settlement Center or something like that, where we saw one of the original houses of Reykjavik (right across the street from a hand pump) and a statue in the garden nearby.
We managed to use another WC since Tahia needed it from within a coffee shop, where Mom also bought some goodie from there though she said that the line moved slow because the guy and the girl working there didn't work very well together.
Anyways, we then walked towards the Reykjavik City Hall, where there was an interesting reflective pond before we then went inside towards the huge relief map of Iceland.
We spent quite a bit of time in there looking at the map (though I'd imagine the ice caps were way reduced from when this map was made) while making sense of the places we had been throughout this 18-day Iceland trip.
Once we got out of the back side of the City Hall, we then went across a bridge spanning the pond eventually leading to an intriguing "faceless bureaucrat".
Then, we proceeded to walk towards another public square that was kind of a garden with a statue in the middle there while facing the Parliament Building and a Lutheran Church next door.
It seemed like this square had seen a lot of action as a result of a pair of corruption events with the first being the 2008-2009 Global Financial Crisis that hit Iceland particularly hard (pretty much right after our first trip to Iceland in 2007).
Then, there was another big protest after it was found that the acting prime minister of Iceland stole taxpayer funds and misused them for personal favors and other non-sanctioned purposes.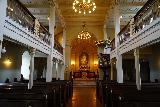 That latter event sparked a big protest that ultimately resulted in an election to replace that prime minister so it was sort of a swift-yet-orderly fix-the-problem event initiated by the population instead of a leadership spill that's all politically driven like what we saw in Australia.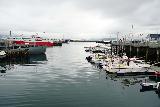 And it's likely better than how we handled the Trump debacle since we pretty much let him get away with numerous crimes, and he can still come back to run for the presidency with blind followers (half the voting population!) excusing his every misdeeds.
Finally, after having our fill of the square and checking out the interior of the Lutheran Church as well as the small garden of the Parliament House, we then walked over to the Grandi Matholl, which was way in the corner of the Old Harbor almost near where we had parked.
It was a bit of a hike to get there at 11:30am, but we eventually got into the more humble comfort-foot food hall, which was definitely way less pricy than the one we'd been going to at the Hlemmur Matholl closer to the far east side of Reykjavik's center.
We wound up sampling things like some Korean tacos, a traditional Icelandic lamb soup, some lamb curry as well as chicken tikka masala, and a Pasta Bolognese for Tahia.
The food wasn't extraordinary, but then again, we didn't break the bank with this meal.
When we were done eating, the place became a lot busier, but at least we were able to leave just as many more people had showed up and turned the fall into more of a potential superspreader spot.
Speaking of infections, we did see one Smorrebrod Restaurant where a sign said that they were closed for today and tomorrow because their entire staff had to get through a COVID-19 quarantine situation.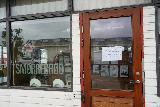 Anyways, by about 12:30pm, we got back to the car where Mom and I would go pursue the Trollafoss Waterfall (since we had failed at it at the start of the trip) while Julie and Tahia would go shopping and walk to the apartment.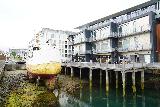 And with that, we were on our separate ways.
We began by driving the familiar roundabouts to get to the Ring Road, and then to get out of the developed part of southwest Iceland.
From there, we took the familiar Thingvallavegur east towards the easy-to-miss turnoff for the Trollafoss Waterfall, but this time, we took it only to the top of the hill on the unmarked 4wd road leading towards the actual trailhead.
But instead of chancing it on the muddy and high-clearance-requiring road, we parked at about 1:05pm right on top of the hill (only limiting our exposure to the nasty road).
Then we walked down the hill and towards the lower car park where there was the familiar P sign at 1:25pm.
On the way down we saw that there were a lot of birds, and they were dispersed well before Mom got close to them.
Beyond lower car park, we then went along a path that took us to a sign that said Ketlishylur, which was basically perched above the waterfall and dilapidated dam or fish ladder that turned us around the last time we tried to get to the opposite side of Trollafoss by following the Leirgva River.
Anyways, we then backtracked from this spur trail and tried to follow the cliff-edge trails back to the main "road", and then we wound up following a different trail that deviated from the road again.
At first, we were led to some bluff where we looked down at one possible spot to get down to the level of the river, but we instead looked at the Gaia GPS, which got us to backtrack towards the road again.
And we followed this road towards another spur that eventually got us to another precarious bluff with a more top down view of the profile of Trollafoss, that was more like the angle that I last saw this waterfall 14 years ago.
There were a lot of horse poo fronting this overlook bluff, but we saw that there were use-trails heading back in the opposite direction downstream and that eventually led down to a steep descent with a pair of blue signs.
So we pursued this path with our trekking poles at 2:15pm, and we saw that the signs said something about Kerfoss as well as Rennur.
From there, we followed the river towards the cascade fronting the main drop of Trollafoss, but as much as I kept eyeing a way to get across the Leirgva River, I saw that the stream was too deep and the rocks were too slippery to try.
And this was despite me bringing my Chacos along with trekking poles! I guess it just wasn't in the cards for me at this moment.
However, as Mom and I were checking out the falls, we did notice a deep pothole that could easily swallow a person, and it was quite scary to look at since we can imagine the consequences of dropping in and getting submerged!
I also noticed a sign saying something about Trollafossbreida (except someone took out the a and the b so it looked like 3 words).
So we were content to just check out Trollafoss from its base at 2:20pm, and after exploring the base of the falls and trying to capture it in every way we could think of, we finally started to leave at 2:50pm.
As we made our way back up the steep climb to get back onto the trail along the rim of the canyon, we noticed that there was a group of horses and horseriders all gathered about where we noticed a bunch of horse poo near the top down lookout for Trollafoss.
We waited for the big group to trott off along the 4wd road-turned-track, and we then proceeded along the hike as we now followed the more inland road route instead of the canyon rim route.
We ultimately got back to the car at 3:35pm where we saw that there was one other car parked at the top of the hill with us, and the driver of that car seemed to be content to pick wild berries, which we also noticed throughout the hike.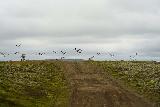 Next, we followed the unpaved road back to the Thingvallavegur, and then we took that road back to the Ring Road, where we eventually made it back to Reykjavik at 4:10pm.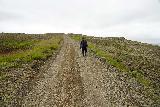 However, after paying about 610 ISK to cover our parking until about 6pm, we noticed the webcam for the eruption was showing lava flowing with some decent weather.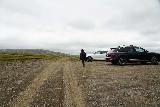 That was our chance to finally check out the volcano, and it was going to be now or never (as you can never tell if the volcano would perform like this tomorrow night).
So by 4:40pm, we got back into the car as I felt stupid for paying for parking that we would end up relinquishing.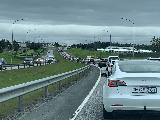 And so we headed through some pretty heavy traffic (due to road construction causing a lane blockage) that took us a while to get out of the city, but eventually after getting past a motorcycle cop doing a speed trap, we'd eventually be home free to drive towards the Fagradalsfjall Eruption.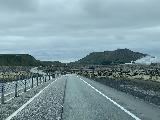 It was as if we were driving back to the Keflavik Airport, which was going to happen soon enough on Saturday (in two days time), but in this case, we'd be turning south towards Grindavik, which was the familiar drive we had taken to get to the Blue Lagoon at the start of this trip.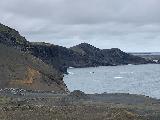 Throughout the drive, I couldn't help but to notice that there was a band of pink clouds, and it made me wonder if that was the volcanic smoke spewing out of the Fagradalsfjall Volcano.
Eventually by about 5:45pm, we wound up parking in the next lot after the crowded first lot (which I'd imagine was for Routes A and B).
I thought from my pre-trip research that the spot we wound up parking at was for the lot for Route C.
And so we promptly geared up and started hiking though the ladies were disappointed that there was a WC next to a food truck, but that was only for staff.
We then made the initial climb as numerous hikers were passing us or were going in the opposite directcion, and clearly it felt like we were going on a pilgrimage or something because it was clear there were countless people wanting to get in on the volcanic action.
There was one fork in the trail where a sign pointed the way to the lava flow, and that trail descended until we would get to the edge of the dried up lava flow that had filled up Geldingdalur.
Beyond the black lava field that was newly created since the eruption started in March of this year we then made the steep climb up along the eastern edge of the valley.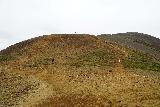 I knew that descending this section of the trail would be tricky because it was already a bit on the slippery side on the way up so it was a good thing that I brought trekking poles (at least one for everybody).
They would come in handly on the return, when we could be descending on three legs provided the trekking poles were properly used.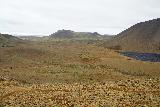 The climb continued as there were literally dozens of people going up as well as down, and so I was a bit wary about the COVID-19 risk here even in the open air, but at least there was a strong cross-wind so I tried to stay upwind from most of the traffic.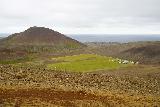 As I was making the climb up, I couldn't help but to notice that there was a third car park near that black lava field.
I guess with hindsight being 20/20, we could have really cut down our hike by going there instead of the lot that I had thought was for Route C.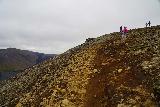 By around 6:45pm or so, I finally made it up to a somewhat flat area where I could see the impressive eruption of the Fagradalsfjall Volcano in the distance as it was spewing red lava and adding to the black mass off its slopes.
There was enough of the molten lava rolling and making fountains as it would make lava falls in two different directcions.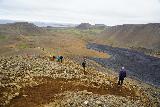 At that moment, I knew that the regular Sony A73 camera with standard 24-105mm zoom was not enough, and I had to whip out the second camera, which was the old Canon EOS 70D with a 100-300mm lens attached.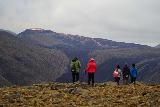 And it was with that camera that I immediately started commencing taking what photos that I could of the fiery phenomenon taking place in the distance.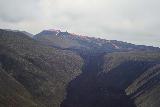 Then, the ladies caught up to me, and we immediately took people shots while also watched the mesmerizing scene unfold before us.
Technically, this was the third time Julie and I witnessed a volcanic eruption (and they were all different), but it was the first time for both Mom and Tahia.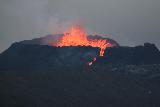 The first time Julie and I saw live lava was on the Big Island of Hawaii, where we had hiked in the dark for a couple of hours, and that one had slow-moving crackling lava that we were able to get close to.
The second time Julie and I saw a live eruption was on the crater rim of the Yasur Volcano in Vanuatu, where the volcano would sporadically throw up molten rocks in the air (some of which reached eye level with us, and it was quite an intense experience).
Now, on this go around, we were watching the Fagradalsfjall Volcano heaving and spilling lava pretty much in two directions, but every once in a while, it would splatter over the north and west side of the crater.
I probably spent a solid five minutes taking what pictures I could with both the general-purpose camera (the Sony A73 with 24-105mm lens) and the telephoto camera (the Canon EOS 70D with 100-300mm L lens).
However, from the angle that this initial position was at, it seemed like the lava constantly wanted to move both down and sideways to the right, which made for somewhat unbalanced pictures.
Nevertheless, with the ladies finally catching up, we took our obligatory photos while watching the spectacle all the while getting some wind chill from the southeasterlies.
The weather was fine enough to keep the clouds above the general crater area so just about everyone could get a prime view of the lava, but given that it was at such a distance, a telephoto lens was definitely necessary.
Of course, some people also brought drones, and there was nothing prohibiting its usage, and I even overheard one guy saying that this was probably the one time that it was worth bringing a drone.
Anyways, it seemed like at least a solid half-hour sitting at this spot and trying to keep warm before I decided that I should satisfy my curiosity and go all the way up to the uppermost hill where I could see infrastructure for the webcam that we had been seeing throughout the trip.
That webcam was instrumental for us (and apparently everyone else) to get enough info to pursue driving out this way to see the erupting volcano, and of course, get a sense of what the weather was like.
That said, there's no guarantees that the weather will stick from the time yoo see it on the webcam to the time you have to drive nearly an hour to get here, and then hike over an hour to even get to this point.
But on this night, it seemed like the convergence of the weather and the volcano's activity had blessed this evening, and it was certainly reflected in the straight up crowds that descended upon this place.
Regardless, I went ahead and left the tripod as well as one of my bottles of water so I could pursue climbing the ridge some more up to the Langihryggur webcame station.