Day 17 (August 20, 2021 – Reykjavik, Iceland): "Cleaning Up"
It was about 5am when I awoke to the alarm, and Mom was also up at this time.
Still buzzing from last night's volcanic spectacle, I looked at the webcam on my laptop, and it looked like the Fagradalsfjall Volcano was still being active even though there was some low clouds threatening to cover things up.
But I was quite surprised to see that there were still quite a few people out there at this time in the morning as if they had essentially spent the night or pulled an all-nighter witnessing the spectacle of the eruption.
They must have been bundled up to stay warm under such conditions, because people aren't meant to be spending that much time in such cold and blustery conditions all night long!
Anyways, Mom and I had our brekkie of kefir or skyr with fruits and eggs, and by 6:25am, we were in the car ready to start the long day to explore the waterfalls of Thorsadalur.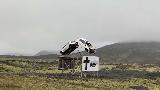 Julie and Tahia had already decided that they weren't going to participate on this final day of waterfalling so they could sleep in, but I still had some unfinished business in terms of updating the write-ups of lots of the waterfalls in this part of Iceland.
After all, if the rest of the trip was any indication, it's that most of the trails were now better signposted and most of them even had lookout infrastructure.
So I had to believe that places in or near the Thjorsa River ought to have something similar.
The drive out of Reykjavik was quiet and uneventful as the city still hadn't really woken up yet.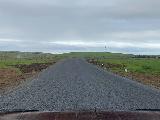 Eventually, we got to the familiar ramp that took us south on the Ring Road as we headed into some drizzle as it seemed like the weather in the south always tended to be either rainy or gloomy.
As we were getting some momentum while passing through Selfoss, I noticed a sign pointing the way to Urridafoss for 2km on the right.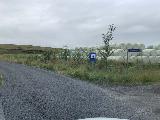 Mom and I decided that we should turn around and go check this place out, and so we did that and promptly got to the unpaved car park at 7:30am, where there were already a handful of cars.
It turned out that only one of the cars were for sightseers that were already on their way out, but the remaining cars were for anglers who must have secured fishing permits and went down towards the banks of the Thjorsa River to try their hand at fishing.
This waterfall was both very wide and segmented, and the signage here suggested that it was the highest volume waterfall in all of Iceland since the Thjorsa River was said to be the longest and most voluminous of the country's rivers as well.
Mom and I checked out the falls from at least two different viewpoints but we couldn't go down any of the steps to get a closer look at the falls because those areas were designated for anglers and thus were off limits to the general public.
What was particularly striking about this waterfall was that there was a folded narrow section that very much reminded us of Bruarfoss that we had seen at the beginning of the trip.
However, this fold was harder to see because there was an island in the middle of the falls that made it harder to look into the waterfall's turbulent middle.
It looked like the walking path continued further downstream from the second and furthest downstream of the lookouts, but we didn't bother exploring any further than this lookout so it's hard to say if there was anything else worthwhile further downstream.
So by about 8am, we were back in the car, and ready to continue this day of touring waterfalls.
By about 8:10am, we managed to make it to AEgissidufoss, which was one of the waterfalls that Julie and I had visited on our first trip to Iceland back in 2007.
However, in this instance, there was now a car park with a picnic table (someone inconsiderately left two coffee cups on the table here), and then we went past one of the gates and onto a wet grassy path leading us closer to AEgissidufoss.
Unfortunately, there were steps set up to go down to the banks of the river, but it was private property and was only allowed for members of some fishing and angling club.
There was one other couple that shared the falls with us, but they didn't spend too much time here before they left.
So Mom and I were left to try to make the best of the views of AEgissidufoss from more of an angle than I had recalled that we were able to get in 2007.
Plus, the view was further impacted by the low clouds covering up Mt Hekla in the distance.
And thus by about 8:40am, we were back in the car to resume our drive into the Thjorsadalur Valley.
When we got back onto the Ring Road, we didn't stay on there for long before the GPS had me go onto a smaller road towards Arbaejar (which I recalled might have been the same road that we took to see the Arbaejarfoss.
However, the GPS insisted that we keep along this road, which became unpaved, and it would persist this way for about 12km before we finally made it to the 26, which I knew was back to paved roads as it went deeper into the Thjorsardalur Valley.
It wouldn't be until about 9:30am that we would eventually make it to the small car park for Thjofafoss after roughly 4km of somewhat rough unsealed driving.
Back in 2007, I recalled that there was a gate preceding a very rough and rocky 4wd road, but in this instance, it looked like there was no longer a gate on the road, and it seemed to persist in driveable conditions further on.
That said, Mom and I were intent on seeing Thjofafoss backed by Mt Burfell, but that mountain was shrouded in clouds.
What was perhaps even more shocking to me was that this waterfall seemed significantly narrower and less powerful than what Julie and I had seen 14 years ago.
And so that led me to believe that there had to have been some hydroelectric activity perhaps altering the normal flow of the Thjorsa River.
We eventually got back into the car at 9:50am, and then we proceeded to drive even further up the head of the valley before crossing a pair of long bridges near some power station infrastructure.
We next targeted Haifoss, but the access road to get there wasn't what I had recalled from 14 years ago.
If anything, there was a rougher access road signed for Stong as well as Gjain and Haifoss (which I didn't see signage for until I got off the main road).
Anyways, the visual impact of Thjofafoss compared to that first time paled in comparison, and for once, Global Warming didn't augment this waterfall.
Once we approached a familiar red-roofed farm, we saw that there were many horses crossing the road and going further up the valley.
Then, the road climbed out of the Thjorsadalur Valley, and we then drove onto a rather rough and potholed road full of tire-popping rocks.
It wouldn't be until about 10:50am when we arrived at the Haifoss car park, which was actually a bit busier than I had anticipated since 14 years ago, Julie and I were the only people here!
But as expected, there was now a trailhead sign as well as some ropes set up to guide people to designated spots to check out the falls probably to minimize the erosion that's bound to take place without such guides in place.
The first overlook was actually more of a direct look at the pair of waterfalls where they barely fit into a frame of a picture.
As Mom and I were checking this spot out, there were a group of tourists that started to show up, including what seemed to be an organized group.
So definitely this place was no longer as obscure as it once was despite the road seemingly in rougher shape than I remembered from the past.
After having our fill of this spot, we then scrambled over to a more angled view but it was clear that it still wasn't the spot that Julie and I took our photos from 14 years ago.
Thus, Mom and I backtracked to the main trail and continued further down the canyon until we got to what seemed like a sanctioned overlook outcrop with a pair of signs pointing the way to both Stong and Gjain, which were at least another 7.4km away.
And it was from here that we finally got the familiar views that Julie and I once got before as it was angled enough that we were comfortably able to capture both waterfalls in a single shot.
Plus, the skies were finally clearing up so that meant there was also a rainbow that was arcing in between the waterfalls (kind of like that first experience).
Moreover, we managed to enjoy this spot in piece while the vast majority of the visitors and tour groups were at the first lookout.
Eventually, people started trickling into this lookout, and it seemed like the tour group that was here were primarily Italian as I could kind of overhear the conversations among themselves.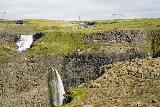 There were also a couple of Germans who were here independently, but as more people showed up, that was when Mom and I had our fill and started to return to the car park.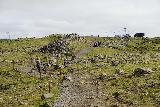 But based on this experience, it was pretty clear that Haifoss still belongs on our Top 10 Iceland Waterfalls List whereas others didn't quite stand the test of time, and it was really the forceful flow of both Haifoss and Granni along with the rainbow and its remote location.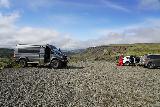 The only catch was that we really had to test our fear of heights because there still weren't guardrails (thankfully) so the scenery still wasn't spoilt though we did have to exercise plenty of caution in getting too close to the edge.
At 11:40am, we were back at the car park, where the "bus" that was there had huge wheels so I'm guessing this was more of an adventure tour or something where they're spending most of their time in the highlands.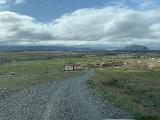 Anyways, we then drove back down the rough road until we reached the signed junction where there was a single-lane track leading towards both Gjain and Stong.
In the past, Julie and I took this road, and it didn't seem too bad from my recollections, but Mom and I thought there might be a more common approach that wouldn't require pushing our rental car more than we needed to.
So we took the car back to the 32, which was the Thjorsardalsvegur (against the GPS' wishes), and we followed it for a bit towards the signed 327 Road as we backtracked onto the Stangarvegur.
This road was a bit better than the single-lane 4wd track that we had seen earlier, but it was still quite a bit rocky like the Haifoss approach.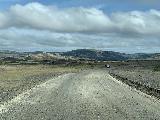 By about 12:15pm, we eventually made it to one of two car parks for Stong, which was a wide unpaved lot fronting a bridge going over the Rauda Stream.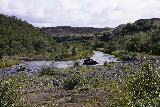 We initially thought that we might be able to drive a bit closer to Stong (as I had recalled that we could have driven closer to Stong in the past), but it turned out that there was a river crossing to a different "lot" where a bus rigged with monster-truck-like wheels was parked.
The road then veered away from Stong and onto a very rocky 4wd road where I just turned around and went back to the original car park we were at earlier for Stong.
Clearly that 4wd track was quite a bit rougher and rockier than I had recalled from 14 years ago, and it seemed like we had to actually go hike up to Stong this time around, which might have been a smart thing to do to make visitors earn their experience a bit more.
So once Mom and I got out of the car, we then did the short hike past the footbridge and onto a trail that went past a couple of trail junctions for Gjain (which we'd do later).
Then, we wound up at the familiar Stong Farm, which had an open door as well as a donation container by the door plus some signs in both Icelandic and English concerning this place.
There were also some layers of seemingly maintained turf mats lining the farm, which we weren't sure if that was authentic or just a recreation of what might have been here in the past.
Anyways, once Mom and I had our fill of Stong, we then got onto the roughly 1km trail to Gjain as I was anxious to see what this trail was like compared to the shorter trail that Julie and I took 14 years ago from the 4wd side.
When we got to the familiar Gjain (which now that I think about it, I think it literally means "The Chasm" because "-gja" was the Icelandic word of chasm like Eldgja was a rift in the Fjallabak Reserve), we could now better see the context of both sides from the approach.
The trail then made a steep but stepped descent and we'd eventually find ourselves right across from a plunge pool for what Gaia GPS called Gjarfoss (which I didn't know even had a name from back in the days we were here 14 years ago), which we got to at about 1:10pm.
So Mom and I along with two other couples checked out the falls, while I noticed one person going up to the shelf in between the pair of drops of Gjarfoss.
When he was done, I did the same track, which turned out to be narrow a bit slippery due to the loose gravel, but that's because I doubted that this was a formal trail.
Still, the basalt columns flanking this waterfall were quite fascinating, and it's turning out that having basalt columns next to waterfalls were a much more common occurence than one would think if Svartifoss or Studlagil Canyon were the only such experiences most tourists would have.
Anyways, after having my fill of this spot, Mom and I then did a little more exploring of Gjain, where I managed to get a top down view of the plunge pool after going around a knob and then to its top.
Then we hopped large rocks to get across the arm of the stream that was downstream from Gjarfoss before reaching the other waterfall that I recalled Julie and I saw before (getting there at about 1:50pm).
This one still seemed to remain nameless, but it was attractive and intimate, and there was a footbridge before it so crossing its stream was a no-brainer.
Then, Mom and I continued exploring as we then found ourselves going across more small footbridges and leading ourselves down to a spot where we were overlooking a downstream convergence of waterfalls that I hadn't noticed before from our trip 14 years ago.
I saw another couple scramble towards the giant caves or alcoves a little further downstream, but they didn't look sanctioned, and it required climbing closer to the 4wd car park.
So Mom and I had our fill of Gjain at about 2:15pm, and a half-hour later, we returned to the car park, where now instead of being just the second car here, there were now at least a pretty solid 8 or more of them.
Even that tour bus that was parked across the river was getting a returning group as they must have done a tour while we were visiting Gjain and Stong.
Anyways, we followed the road back towards the 32 and then shortly thereafter, took the signed road leading to Hjalparfoss getting there at 2:55pm.
By this time, we were getting pretty waterfall-fatigued as this had to have been the sixth waterfall excursion on this day, but it was an easy one to experience (as I had recalled before).
At first, there weren't as many people as I would have expected here, but then a Teitur Van showed up just as we were descending the trail, and so we got down to the intermediate view just as the tour group descended upon us.
And then, we scrambled down to the shore of the large plunge pool, where it seemed like the majority of the tour group didn't bother doing.
Once again, there were lots of pronounced basalt columns flanking the pair of converging waterfalls, which also demonstrated how common this combination of basalt columns and waterfalls were throughout Iceland.
Anyways, by about 3:25pm, we were back in the car as that building by the car park that we had thought was a WC was really nothing more than some kind of power facility.
From there, we then made the long drive back to Reykjavik where we went from pretty fair and sunny weather to more overcast and even drizzling weather the further south and west that we went.
Once we were back on the Ring Road, we then pretty much followed a bit of mild traffic though it seemed like the vast majority of cars were going in the opposite direction.
I guess that was a sort of reminder of how much of a crush was occuring on the South of Iceland where there did seem to be quite a concentration of sights, and I guess that was a taste of the tourism craziness that Icelanders were complaining over the last few years.
By about 5:10pm, we were finally back at the Tyr Apartments, where it seemed like our most preferred spots were taken so I happened to find something in the narrow one-way Grettisgata.
That was where I managed to park next to the Vikivaki store, and then Mom and I proceeded to take as much stuff as we could back up to the apartment knowing that we had to pack up and prepare for tomorrow's travel back home.
By about 5:40pm, we were essentially eating in, which was a dinner of lots of veggies and laxs (salmon from the Bonus run we made a couple of days ago).
After having spent so much money eating out throughout this trip, I guess it was appropriate to finish what we could that was in the fridge, and then leave room for dessert.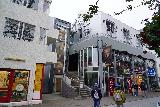 So by 7:40pm, we made one last run back out into Laugarvegur, where we went back to Lookoomas for the familiar chocolate-con-churros-like Greek donut balls covered in chocolate (though Tahia and Mom got more plainer flavors), and we devoured those things quickly.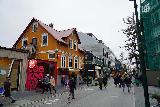 We also bought one of the souvenir T-shirts, which was kind of our custom to try to bring something that you can only get in the foreign country we're in, though we got a stoic Viking T-shirt that really only says we were in Scandinavia as opposed to Iceland.
I wanted the shirt that had some Icelandic expression without a translation, but that was only available in black so we didn't take that one.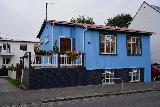 Anyways, by around 8:15pm, we were back in the room, where we could finally settle in for our last night in Iceland.
While I was trying to stay away tending to my chores, I couldn't help but to notice that the Fagradalsfjall Volcano was still not nearly as active as it was last night.
So it was a good thing that we went when we did, because if we had punted it for today, we would have been disappointed and out and about late at night with nothing to show for it.
It seemed like most of the people that were still there made a sport out of looking into the webcam to keep themselves occupied, but in any case, it was a dud, and it goes to show you that you really have to seize the moment with these things and not wait.
Indeed, cleaning up was theme of today (whether it was wrapping up our waterfalling visits so I could update my write-ups when we get home) or cleaning up the apartment and organizing our luggages for the flight home.
Whatever the case, it felt like this epic Iceland trip was definitely coming to an end, and I wasn't looking forward to going to work again, we're worried about Tahia being rushed back to school without a vaccine, and we had lots of bills to pay as well as work to do from this trip…
While I recognize that these are primarily first world problems, I guess having these kinds of problems are better than having the other kinds of problems that most of the world has to deal with, especially when they're affected by selfish political decisions.
And I guess that's what makes our current world go round…