Day 18 (August 21, 2021 – Los Angeles, California, USA): "The Last Hurrah"
It was about 6:15am when I awoke without an alarm, which I guess was the longest that my body would let me sleep in before I was up for good.
Upon looking outside, it appeared that the weather might be partly cloudy though there were some dark clouds that appeared to be rolling in.
For most of the morning we were all juggling chores of packing up our belongings, having breakfast (but we didn't indulge in another round of Braud), and me trying to wrap up all the file management and blogging duties.
So it wouldn't be until about 9:55am when we returned to the car downstairs after having loaded it, and this put us right up against the end of the free parking window, which ended at 10am.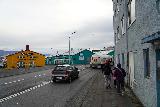 From there, we made one last go back to the free parking area by the Reykjavik Harbor, where we managed to score a spot at 10am.
Most of the town still wasn't open yet except for specific bakeries and coffee shops, but we pretty much made a beeline for Baejarins Beztu for one last go at the Icelandic hot dogs.
Then, we walked back to the sloping rainbow street, which faced the Hallgrimskirkja though we then went for having some waffles, hot chocolate, and coffee at Mokka, which was said to be Iceland's oldest coffee shop.
Right when we were done with that foodie run, we then went across the street for some Reykjavik Street Food as this would be Julie's third go at this place since she loved the soups there (and they were reasonably priced).
So at 11:05am, we were eating basically two cups of traditional Icelandic Lamb Soup, a Langostine ("Lobster") Soup, and a Seafood Soup (which has some curry powder in it).
It pretty much hit the spot, especially since we were feeling the change in the weather in Reykjavik as the darker clouds were rolling in and it was getting quite a bit chillier.
Throughout our time sitting at one of the benches there, we were trying to use up the minutes of our pre-paid sim card, and so I was busy watching the Fagradalsfjall Volcano, which once again came alive after not doing anything all last night and early this morning.
It was a good thing that we did get to see the volcano live in person the night before, but now it seemed like it was even more active than it was when we saw it.
So those people up on the mountain right now must be really getting a treat.
Anyways, after having our fill of the soup, we then walked slowly back towards the harbor, where we got some last-minute trinkets for Tahia and her cousins as well as a gift for our neighbors for watching our home for us.
We also went through the famed Kolaportid Flea Market, which was pretty much nothing more than an indoor swap meet though they did have a section on fresh fish that I guess you could pick up if you were self-cooking.
After having the hakarl on the Snaefellsnes Peninsula for that Shark Museum, we pretty much didn't feel like eating more ammonia (i.e. medicine) on this go around.
By about 12:50pm, we were back in the car, and we pretty much started heading to the Keflavik Airport to ensure that we'd be back for our international flight home while filling the gas all the way at the cheapest place I could find along the way.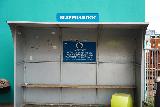 During the drive back on the 41, we saw that the volcano was definitely spewing smoke in the distance though without the contrast of the dark skies, there was no red glow.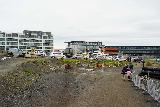 It was basically smoke that was adding to the already budding clouds above.
Eventually, we'd arrive at the Keflavik Airport, drop off the luggage at the terminal where Mom and Tahia would wait for us, and then we'd drop off the rental car so we could do the 500m walk without needing to carry our luggages back.
Aside from that, the airport was busy, but check-in went without a hitch as we'd eventually learn that we'd be connecting in Portland (our intention all along though our flight status kept flip-flopping between that and Seattle).
So that was good news as it meant we'd be back home sooner by an hour or so assuming everything was on time and the customs line wouldn't cause us to miss our connecting flight from PDX back to LAX.
By 2:30pm, we were past security, then we tried to use our Global Priority Pass at some cafe in the airport but apparently they weren't open so that was a dud.
While waiting for the boarding of the plane, we checked out more of the RUV.is webcam of the Fagradalsfjall eruption as seen from Langihryggur (i.e. the highest point of the ridge with a look somewhat down at the crater that was spewing lava).
It was mesmerizing and addicting because you never really know what Mother Nature was going to do next (it was kind of like a Chaos System happening in real time because the results were never duplicated).
Anyways, we were eventually on the plane on time at 4:40pm, and we pretty much took off just in time.
I probably spent the first couple of hours of the flight checking out this Icelandic movie called Bakk, which was about a guy named Gisli driving backwards through Iceland for fundraising.
But in so doing (with his childhood friend Vidar and a hitchhiker named Blaer), there were some demons that Gisli had to face before finishing the route.
It was a pretty hilarious movie, and it was yet another one of those character-building movies that really delves into what makes people tick, which is what I've gathered from the two Icelandic movies I've seen on these Icelandair flights.
Anyways, the rest of the time was spent pretty much trying to lay low, not catch COVID as best we could, and trying not to mind the long queues for the two restrooms in the back of the plane.
We did try to scheme if we could use the Global Priority Pass at the Portland Airport, but with customs and the fact that the Capers Market is only open until 2pm, that wasn't in the cards so Julie actually paid for food on the flight.
The lamb soup she got tasted like instant noodles, but the sandwich that she bought was pretty decent.
I don't know how much she paid for this meal, but I'm sure it wasn't cheap.
Anyways, by about 7:10pm PST, we managed to board our next flight from Portland to Los Angeles, which included a rather hectic connection where we had to do quite a bit on our transit at PDX.
First, we had to get off the plane and then grab our luggages because we had to take it through customs before dropping off at the tagged luggage kiosk (it wasn't obvious if we were to go there or not).
But on the way there, we had to wait for a bus to shuttle us from their international terminal to Terminal C, where we had to do the whole dropped luggage thing (so I guess we technically weren't checked through even though the tags said so).
Then, we had to go through another round of TSA screening before we were finally through to the other side, and only then did we have to hike over to our gate, which was already starting to board.
Indeed, our Portland connection bought us an additional 10 minutes because if it was a Seattle connection, it would have been only a 90-minute connection with all the stuff to do before even getting to the next flight.
When we landed in Portland, Julie started getting her domestic internet back, and then she learned that a cousin had died of COVID-19.
Even though we did our best to stay as safe as we could, it goes to show you that the reality of the COVID-19 situation still persists in the US, and we definitely felt like we were returning to the danger zone.
Our next flight to LAX didn't take off until about 7:50am, which was 20 minutes late, and that was largely due to a very crowded flight where every seat was occupied and some hand luggages had to be checked in.
We kept our double-masks on throughout that flight and our bodies kept telling us that it's time to sleep since we're still on Iceland time.
Nevertheless, we finally arrived at 10:30pm after a rather rough landing, and it was pretty chaotic waiting for dad at the U of the LAX terminal as usual.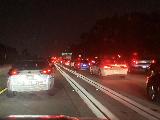 And it wouldn't be until about 10:50pm when dad finally picked us up, and it wouldn't be until about 11:30pm when we finally got home as we were facing even more traffic on the 105 Freeway.
Indeed, life was creeping back in, and I'm sure when I have to pay my bills and take care of issues while also going back to work, I'm sure it'll hit me like a ton of bricks.
But until then, I'll keep holding onto the memories of our first international journey since the coronavirus outbreak, because it seemed to have been one of the more well executed experiences we've ever had (despite Mother Nature's best efforts to thwart us).
And for that, I'm grateful, and even if I feel like I've got a huge backlog of work to get caught up from this trip (which includes getting a new computer because my old one keeps freezing), I'll be glad to relive those moments.
After all, as I work to get everything up-to-date, I'll keep re-visiting the happenings of this trip as I seek to report on our experiences.
And that's why we do what we do.
There were lots of "What A Day!" moments, and that was pretty much the theme of the trip as the Fridrik Dor song keeps playing in my head over and over again…
Visitor Comments:
Got something you'd like to share or say to keep the conversation going? Feel free to leave a comment below...
No users have replied to the content on this page