Day 9 (August 12, 2021 – Laugar, Iceland): "Global Warming Growth"
It was 4:30am when I awoke to the alarm so I could get caught up on more blogging and photo management since I was running behind by about three days or so given how busy each day had become and I just didn't have the stamina to keep up before conking out and sleeping.
I ultimately decided that we should wait for the supermarket in town to open at 9am because the ones in Egilsstadir wouldn't open until at least 10am and there was no guarantee that the croissants and groceries sold there were any better than the small town we were in.
At about 6:35am, Mom and I did a quick walk towards the waterfall that was behind the Media Luna Guesthouse while other were still busy trying to wake up and get all packed.
As we started to walk towards the waterfall (which I believe was called Budararfoss since Gaia GPS indicated as such), we noticed signage that indicated that this entire area had been affected by a major landslide.
In fact, that explained why there was a large stretch of unpaved road, especially around the road bridge that went further to the east and then south of Seydisfjordur.
And then after noticing the contents of that sign, when we walked past the bridge and then up a trail alongside a rock-lined channel, that was when it became clear that this landslide had been pretty recent as evidenced by a pair of giant rocks and channeling infrastructure.
Then, we went higher up the trail to get more perspectives on the waterfall, but when we looked back towards the fjord, we noticed how extensive the damage had been, and this was AFTER the cleanup that had occurred in the days following the incident.
We then continued uphill along the newly-created (perhaps temporary) path alongside the creek, and the higher we went, the more of Seydisfjordur town we were able to see behind us.
We even were able to look in the distance towards what appeared to be Gufufoss looking like a white dot compared to the rest of town below us.
There was one other guy that also showed up at the falls as he came from the other side, but just as we were about to cross the creek, we saw that he quickly made his way up closer to the base of the main drop of Budararfoss.
Anyways, Mom and I then went back down towards the nearest backstreet where we saw a lot of the buildings had been still wearing signs of damage or abandonment.
In fact, come to think of it, I couldn't help but to notice the lack of that ship museum or technology museum that Julie and I had been to 14 years ago, where it was all out on display with the doors open, but after a couple minutes of browsing, there was a guy that showed up and wanted money from us.
Well, it now seems like that whole building might have been a casualty of the landslide, but at least the Skaftafell Cafe and Center for Visual Arts appeared to still be intact and operational (I had noticed it was serving dinner yesterday).
By about 7:25am, we were back in the room to tend to our packing duties while I was doing my best to get all caught up on my errands.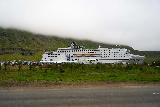 And as we were doing this, we saw a huge ferry pull in to the harbor, and there were loads of cars going both out and in.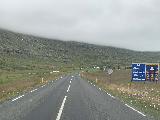 Suddenly Seydisfjordur was a bustling town with lots of traffic, and that was something we had to contend with when we finally checked out of the Media Luna Guesthouse at 8:55am.
Minutes later, we were back at the familiar grocery store, and that was when the ladies went inside to get the sought-after croissants (especially the ham-and-cheese one as well as the chocolate one), which we enjoyed for one last time.
Then, by 9:15am, we headed out as we had to follow a line of slow-moving cars as the road ascended into the fog.
Most of the slower drivers had come over from mainland Europe over the ferry, which seemed like a good idea if you could afford to do it because the car rental situation in Iceland was super expensive.
The only drawback was that if you had to take the car onto some of the rougher roads (even the typical gravel roads could do a number on the tires and the alignment of the car), then you could leave with more damage than you bargained for.
Regardless, after getting over the familiar pass, we then descended towards Egilsstadir again, which was bright and sunny.
From there, we then cruised our way towards the north of Iceland, where we targeted going to the east side of Dettifoss.
The drive was pretty uneventful, and we'd eventually get to the familiar gravel road 864 heading north along the east side of the Jokulsa a Fjollum en route to Dettifoss, which was not for another 28km.
It turned out that this road (which was once pretty smooth 14 years ago) was not a bit of a bumpy, washboarded, and dusy mess.
We even had to pass some people that were going really slow on the road, while there were a handful of others that actually passed us.
But eventually by 11:50am, we'd finally make it to the car park for Dettifoss, where there were quite a few cars already here.
However, when we looked across the river, we saw that there were even more cars as well as lots of tour buses, which me aware that perhaps the west side of Dettifoss was now the more touristed side when in the past, it took a F road to get there so it wasn't as touristed.
Meanwhile, this east side, which was once the preferred touristed spot, was now less visited though it was still busy.
Anyways, after finally getting geared up to do a bit of a hike around the east side of Dettifoss, we then briefly checked out the familiar Jokulsagljufur Canyon.
Afterwards, we went going down the main trail towards the now-designated lookout spots for the misty Dettifoss.
Indeed, there used to not be ropes and things to keep people back from the waterfall's edge, but now that they're there, the once dispersed onlookers were now pretty much crowding around the same spots, which didn't make for the best social distancing.
Nevertheless, we managed to get our views of the impressive Dettifoss from both a little downstream as well as from much closer to its brink.
When we looked downstream, we saw bold rainbows arcing in the misty mess that Dettifoss was tossing down canyon, and in fact, a good chunk of that spray wafted to a downstream wall, which created secondary waterfalls.
So we spent some time checking out both the somewhat downstream lookout with a full look into the drop of Dettifoss as well as closer to its brink.
But by 12:45pm, we left these lookouts (and the crowds there) to do the 1.4km hike (in each direction) towards Selfoss.
This was a bit of a rocky path (kind of like how we remembered it) as we followed yellow-topped poles to keep us on track.
Throughout the walk, we saw contextual views towards people looking towards Dettifoss while also noticing huge rainbows when looking downstream.
In addition, we saw some black "sand" beach areas that were technically off-trail, but they seemed kind of attractive enough to take a closer look.
But finally at around 1:40pm, we arrived at the general lookout area for Selfoss, which was a bit less regulated (kind of like how I remembered being here 14 years ago), but this time, the waterfall had significant volume.
Julie's memory of this place wasn't very good, but I knew that there was far less water back then than now, and my first thought was that Global Warming had blown up the volume of the Jokulsa a Fjollum.
Not only we were no longer able to get closer and upstream of the horseshoe section of the waterfall, but it almost seemed as if there was a continuous stretch of waterfalls while the trail on the opposite side seemed to have gone as far as we did to get close to Selfoss.
In any case, Julie thought of Selfoss as now in the class of Dettifoss, but I think this had more to do with the Global Warming growth of the glacial river given the increased meltwaters, and thus I wondered how much longer this was going to keep up before the glaciers would be gone completely.
So I had that bittersweet feeling of the impending doom of Global Warming yet it was creating a beautiful scene with this big wall of turbulence across Selfoss, which was in much the same way that Global Warming made Norway's glaciers disappear while replacing them with more waterfalls.
I wasn't sure if that was a good thing or not, but we knew this was unsustainable long term, especially for our daughter's future.
Anyways, we spent quite a bit of time enjoying the views of Selfoss though it was somewhat mostly against the sun so the photos were difficult to turn out in real-time.
But eventually, we had to pry ourselves away from this spot, especially since we started to feel a bit of a cold wind from the north and with that an imposing mass of dark clouds breaking up the once clear and warm day when we had gotten here.
In fact, when we finally made it back to the car park at 2:40pm, the sun was well on its way to being covered up by the quick encroachment of fog, and I knew that trying to get the views of Hafragilsfoss against the fog was going to be tough.
Sure enough, by about 2:50pm, we got to the familiar lookout for Hafragilsfoss, and literally after taking a minute or two of photos down at the impressive waterfall, the fog shrouded the falls for good so we were back in the car by about 2:55pm.
From there, it was time to head straight to Laugar, which was where we were staying for the next two nights, and we looked forward to the apartment so we could finally do laundry.
While everyone was busy sleeping in the car, I was also fighting fatigue on the way towards Laugar.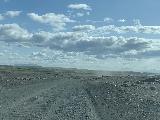 It was too bad we couldn't stay by Reykjahlid like last time because we really wanted to experience the thermal baths on this trip more conveniently, but it turned out that all the accommodations were booked out here.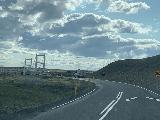 So we had to settle for Laugar, which was actually quite a ways further to the west (closer to Godafoss), and I really had to fight falling asleep to ensure we would get to that town safely.
Mercifully, by about 4:30pm, we finally found our apartment N2 at Laugar, and we finally managed to check in and drop off our stuff in the fairly cute apartment.
From there, we settled for the day as we went to the grocery store next door (actually more of a convenience shop) where we picked up some smoked trout as well as some lamb rib-eye, which we cooked for dinner.
We also managed to book a time to check out the Myvatn Nature Baths for 4:30pm tomorrow, so that essentially set a deadline and fixed us to a schedule to visit the west side of the Jokulsa a Fjollum Waterfalls.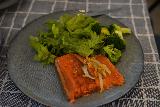 So perhaps we wouldn't have the bandwidth to visit the Holmatungur Waterfalls in addition to the west side of Hafragilsfoss as well as the west side of Dettifoss all in one shot.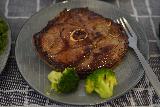 And thus, some priority calls would have to be made.
Regardless, we were all having dinner at 5:35pm, but then after that, it wouldn't be until about 8:10pm when Mom and I finally headed back out to pursue Aldeyjarfoss kind of on a lark since time was now of the essence.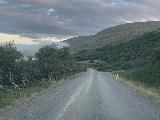 Unfortunately, the fog that invaded Dettifoss and Hafragilsfoss has now invaded our neck of the woods, and we were worried that this excursion might be in vain.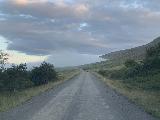 Still, I was betting that perhaps we'd be far enough inland that perhaps the fog might not be too thick by Aldeyjarfoss, but there were no guarantees.
And so we quickly made our way south towards the Sprengisandur Road (F26), where we had to make sure we weren't hitting any sheep as the relatively smooth unpaved road got us to the gates that we had to open and close to get onto the F26 4wd road.
Good thing that the F26 road wasn't so bad that we needed a jeep, but it was washboarded and bumpy again much like the 864 Road we had taken earlier in the day.
Even though the fog seemed to have thinned out around the gates, it seemed like we had re-entered the fog, and by the time we finally made it to the car park for Aldeyjarfoss at 9:05pm, it was starting to get foggy once again.
So Mom and I made haste as we bundled up into something warm as it was getting quite cold, and then we quickly descended to the familiar lookout that was opposite the plunge pool of the familiar Aldeyjarfoss.
It was too bad that the fog was getting thicker and thicker so even the downstream waterfalls were harder to see, but at least we managed to get our views of the Aldeyjarfoss and its neighboring cascades though the basalt columns were harder to see through the fog.
And then soon thereafter, by 9:40pm, we were back at the car where now it was totally shrouded in fog.
And for the remainder of the drive back to the apartment in Laugar, we had to contend with not only the incoming darkness but also the low visibility as well as the sheep that were criss-crossing the unpaved road.
Finally at 10:45pm, Mom and I made it back to the apartment in Laugar, where we had this sense of relief that we kind of pulled a rabbit out of a hat with that late Aldeyjarfoss visit.
And for that Aldeyjarfoss visit, we now could afford to concentrate more on Godafoss and Myvatn as well as the west side of Dettifoss going foward tomorrow.
But like the rest of this trip has shown, the weather plays a huge role in the experience…
Visitor Comments:
Got something you'd like to share or say to keep the conversation going? Feel free to leave a comment below...
No users have replied to the content on this page