Day 10 (August 13, 2021 – Laugar, Iceland): "Compare And Contrast"
I made myself wake up at 4am to my alarm as I still had a lot of catching up to do given the volume of activity we've been having and not enough down time to even process the day's events before going to bed or even the following morning.
And today was no different though I tried to get caught up as best I could.
Of all the days that I had to wake up, I was perhaps the sleepiest on this day, and perhaps my body was telling me that it was time to let it catch up on sleep.
But once I'm up, I also found it hard to get back to sleep.
So with that, I just spent most of the early morning getting ready like usual, and then I was back on the laptop doing file management chores as well as writing more diary entries while things were still fresh in my mind.
It wouldn't be until about 7:05am when the family was finally ready to get moving, but it was drizzling outside with more fog, and I started to wonder whether we were going to encounter more of this stuff when we'd return to Dettifoss, which was where we were heading.
Fortunately, the fog seemed to clear up and become just overcast skies as soon as we made it east of Reykjahlid and we started to descend past the volcanic hills supporting the Askja Craters and Hverir Geothermal Area.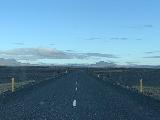 Unfortunately, I noticed that it was also starting to get sunny, which was bad news since we were trying to visit Dettifoss from the west side, and the sun meant we'd be looking right against it.
But it wasn't like we could just wait around for the afternoon to experience Dettifoss because we also committed to a 4:30pm appointment to visit the Myvatn Nature Baths.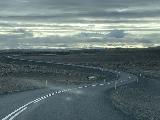 After getting through a brief clearing in the weather, we then re-entered some light clouds as we made the turnoff leading to the west side of Dettifoss.
While it wasn't surprising that this side was now paved and well-visited given what we saw from the east side yesterday (what with all the tour buses and busy car park across the way), I was still amazed that when we last came here in 2007, this was an F road!
In fact, the east side used to be the preferred side to visit Dettifoss, but now we were able to get to the car park for this side in no time as we eventually were like the third car that showed up at the car park at 8:05am.
Again, while the sun threatened to come out, it was still mostly light clouds keeping the sun in check, which was actually a good thing for this visit.
So we wasted no time gearing up and getting out of the car, and then using the facilities here, which were actually a row of pit toilets.
Then, we walked across the moonscape of boulders and black sand as we made our way across it towards the overlooks of Dettifoss.
I recalled this area being less developed in the past, but now there were plenty of signs as well as boardwalks and steps along with a widening of the sandy parts of the trail.
And when we made it to the last hump before descending to the reveal of Dettifoss, we could see that there were now obvious fencing to keep people back from the edges (it used to be just the dropoffs with nothing hold us back) and even a developed overlook further downstream on the ridge.
So that was the first place I went since I knew that if the sun came out there, it would be a useless lookout since I'd be looking straight against the sun.
And when I got up to that lookout, there was one photographer there who was all alone, and I tried to make sure not to disturb what he was doing as I was busy taking pictures myself though I had no tripod with me.
From one side of the overlook, I was able to photograph the misty mess of Dettifoss, but the moment I walked over to the other side of the platform, it was way too wet and I started to get concerned for how the camera would behave under such "rainy" conditions.
So I didn't linger for too long there, and I pretty much stuck with the drier side of the overlook just when Mom, Julie, and Tahia showed up and caught up.
Meanwhile, the photographer went through the wet side of the platform, and then he kept going so I'd imagine that he was now about to go further down the canyon towards Hafragilsfoss, which I knew wasn't that close as far as walking was concerned.
After having our fill of this overlook platform, we then descended towards the edge of the canyon for a closer look at the awesome power of Dettifoss.
When we got down there, we were pretty much trying to convey the power in both our photos and videos, and after experiencing this once again, Julie and I now realized that perhaps the awesome power of Faxi still made it more like a very strong 4 instead of a 4.5, which was what we gave Dettifoss.
Tahia offered up a solution by allowing ourselves to have quarter-point hash marks, which meant Faxi would have been a 4.25, but with so many waterfalls to re-evaluate, I was content to have the more blunt rounding instrument of going no finer than half-point increments.
While we were busy enjoying this lookout, there were other couples that showed up, but it was still just a handful of people.
But when we finally had our fill of Dettifoss at about 9:30am, we took one of a handful of trails towards Selfoss (I swore there was only one back in 2007 when we were last here), which afforded more distant views of both Dettifoss and Selfoss.
One spot in particular was kind of frightening about Dettifoss as we could see that the Jokulsa a Fjollum River was going into what seemed to be a widening crack on its far western side of its expanse.
And that seemed to be reminiscent of the way Victoria Falls had a fissure opening up over the Devil's Cataract.
But in this case, we didn't see any evidence of Dettifoss making a zig-zag formation the way Victoria Falls did, and I guess it was just something that was both a marvel as well as frightening to imagine the power of the water that was on display at Dettifoss.
As far as both Julie and I were concerned, this waterfall's status as one of our World's Top 10 remained in good standing, but we still had to figure out how to make room for Faxi on our Iceland's Top 10 List.
Nevertheless, we continued to make our way towards Selfoss, which wasn't as direct of a view as what we had experienced on the east side yesterday.
However, we did manage to get the familiar frontal view that graced the home page of our website (though without the pink clouds from the sunrise).
As we approached Selfoss, we saw that there was a rather large tour group that was making their way downstream towards Dettifoss, and that left a handful of people trickling towards Selfoss while I noticed there were other large tours making a beeline for Dettifoss behind us.
So I guess that meant that the start of the crowds had begun at this time of the morning and we did good to beat the rush.
Anyways, as far as Selfoss was concerned, we noticed that there had been fencing set up in strategic spots because there appeared to be cracks in the ground, which suggested that it might not be long before they'd flake off and end up in the Jokulsa a Fjollum.
Unfortunately, some of the best photos came from those precarious spots so we didn't want to linger there for long.
In any case, we'd eventually get to the end of the trail, where there was a stream rushing towards one of the numerous segments comprising Selfoss, and there was no need to go any further at that point.
And after taking people shots while also trying to somehow convey the full power and width of Selfoss from the west side in our videos and photos, we ultimately returned to the car at 10:40am.
Of course, now it was a very busy car park as there had to have been at least 3 or more dozen cars whereas we were just the third car earlier this morning.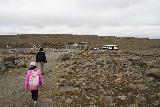 And so the zoo was on, but now we were headed towards the west side of Hafragilsfoss, which was something we had never done before (especially in light of the F road that we had to take to get here back then).
But speaking of rough roads, the signed turnoff leading to Hafragilsfoss was still a bit of a rough and bumpy road that seemed to be the last vestige of the conditions we had to face when we were visiting Dettifoss back in 2007.
I bet the vast majority of visitors to this side of Dettifoss these days wouldn't even be aware of how hard it used to be to get to the falls from this side, but I could totally appreciate the ease of access though it definitely came with increased crowds.
Regardless, Julie found the hiking on this side (let alone the views) to be way better than the east side as she didn't like the rock hopping and weaving between large boulders like we did yesterday.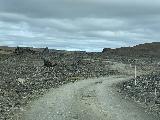 Anyways, we slowly made our way down the rough unpaved road to the tiny car park for Hafragilsfoss where there were already two other cars there.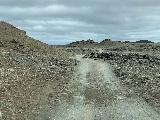 We situated ourselves in front of what appeared to be a van carrying a tour (so we wouldn't get boxed in), and then we promptly got out of the car and headed to Hafragilsfoss by about 10:50am.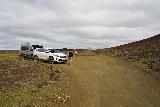 Just as we were making our way through more of the desolate volcanic fields, a lot of people were headed back towards the car park.
Eventually, that left just one other couple besides ourselves as we descended to the cliffside bluffs overlooking the impressive Hafragilsfoss from the unusual west side as well as the beautiful canyon further downstream.
That canyon downstream reminded me of the kind of scenery we would have seen at Ketlar as part of the Holmafossar hike further downstream on the Jokulsa a Fjollum, and I had almost mistakened this part for that.
While we were checking out Hafragilsfoss, we did notice that yellow-jacketed photographer that we had seen earlier set up and take pictures much closer to Hafragilsfoss.
I could only imagine what a scene that would be, but if it took him until now to get there, that kind of suggested to me that we would have needed at least two hours to even get down there, and that was time that we just couldn't afford on this day.
Later, that photographer was joined by a pair of people that seemed to be backpacking or doing a long hike within Jokulsargljufur, and later on, there was a hiking group or something that was also down there.
We also checked out a surprising natural arch from our viewing area as well as the familiar view on the opposite side of the river, which was fogged over yesterday (kind of a bummer as the fog just came in when we got there).
Anyways, as we finally had our fill of this side of Hafragilsfoss, we then returned to the car at about 11:35am, where we were the last car left in the small car park.
As we headed out, there was one lady walking the rough road towards Hafragilsfoss, but other than that, there was a huge continent of cars making their way towards Dettifoss, so we were glad that we beat the rush.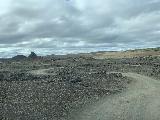 It's like Mom says, "the early bird gets the worm."
As it was getting close to lunch time, we decided to call an audible and head towards Reykjahlid instead of going further down the Jokulsargljufur canyon (just to see how far the 862 road gets paved) to pursue Holmafossar and other Jokulsargljufur Waterfalls.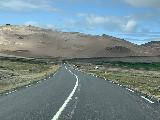 The weather was definitely clearing at this point, and we'd ultimately start getting fine views towards Myvatn as we passed through the geothermal part and then descended to Reykjahlid as we went south towards this place called the Vogafjos Farm.
Julie got wind of this place on one of the guide books, and we wanted to give this place a try since it was quite literally farm-to-table since it was on an active dairy farm.
We'd eventually get there by about 12:25pm, where we then promptly got into the restaurant for our lunch though no one in their right mind would want to be sitting outside (COVID-safe or not) because the midges were plentiful here.
In any case, we wound up spending almost the next two hours having ourselves what turned out to be perhaps another one of our best meals of the trip.
Just like we made a detour to go to the Pakkhus at Hofn for fresh langostines, we did a spontaneous lunch stop here at Myvatn to have a fresh meal where we pretty much got everything worth getting at the cafe here.
Indeed, we had a Vogafjos Special (which featured cured trout, cured char, and cured lamb along with cheeses, veggies, the famous Geysir bread, and some chutney and jams) as the starter while Julie also got a cured wild goose.
That accompanied a delicious glass of raw milk as well as two hot chocolates, which Tahia really appreciated.
Then, we followed all that up with the main courses of a pan-fried Atlantic char along with a slow-cooked lamb shank.
And for dessert, we had a rather unique Geysir-bread ice cream along with a Lava Bomb cake.
Needless to say, we left that place very satisfied even if we splurged on this lunch.
But we were glad we did this experience, and now we were all in a good mood as we took a few more pictures of the scenery and the cows here before retreating to the car at 2pm to minimize the midge swarms.
Next, we drove back towards the geothermal activity where we then headed towards the Stora Viti Crater as we got there at 2:15pm.
From there, we walked up to the end of the semi-circular route around to the far side of the crater, where we were able to get the full view of the bright blue crater in one shot without needing to do a pano.
I swore that in the past, we had walked to the opposite side of the crater, which was very slippery.
However, this time around, it seemed like the trail was wider and grippier, and perhaps the way we had gone wasn't sanctioned back then as this time, no one was allowed to go that other way.
By about 2:50pm, we were back in the car, and then we headed across the Ring Road towards the Hverir or Namafjall area eventually getting there at 3pm.
From there, we had some time to kill as we checked out the colorful landscape full of boiling mud pots and steam vents, but like the last time we were here, there really wasn't much to keep us around for too long as there were no colorful springs or geysers.
For sure, it was no Yellowstone, and so by about 3:45pm, we were back in the car.
Finally, we headed to the Myvatn Nature Baths, where we had gotten there by about 3:50pm, which was a tad early for our 4:30pm booking time, but we figured that it would take some time to get organized and ready with our swimming gear.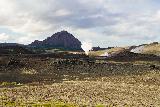 Eventually as we waited in line to get into the facility, we saw signage suggesting that we had overpaid for our booking of the Myvatn Nature Baths because Mom was over 65 years old so we were supposed to get 2000 ISK back.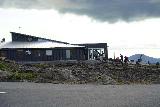 Unfortunately, the lady helping us out was having trouble with the system, and so after a few minutes of trying to rectify the situation, they just had us go into the locker rooms while the lady would help us out off line and not hold up the line any longer.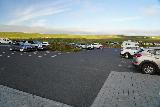 And with that, we spent the next hour or so enjoying the Nature baths here, which was way more intimate and smaller than the Blue Lagoon, but there was a nice view towards Myvatn.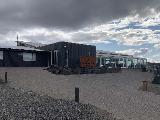 The pool itself seemed more natural as there was black dirt beneath our feet and the water seemed to have a bit of a soapy feeling as it must be very mineral-laced.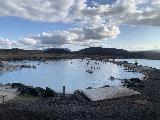 However, social distancing was definitely a bit harder at these baths given its smaller, more intimate size.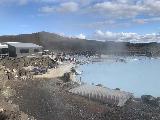 Nevertheless, we managed to figure out how to mud up (there was one corner where we could get the black mud, which eventually became grayish when it dried), and we happened to get lots of questions about that as it wasn't well-advertised.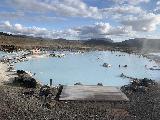 Heck, for all we knew, it could just be mud that had no exfoliating properties, but perhaps it just looked cool to be doing something like that here.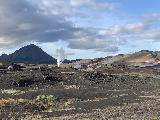 Mom and I also spent some time getting pounded by a couple of the waterfall fountains, and eventually after lingering in the water with our wrinkly skins, we ultimately got out, had ourselves some Somersby ciders while enjoying the views, and then retreating to the car by 6:15pm.
As far as comparing this experience to the Blue Lagoon, Julie contended that she liked the Blue Lagoon better because it was bigger and easier to socially distance so she was glad to have been able to compare and contrast both such experiences.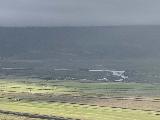 She also didn't appreciate the midges around here though they seemed to be pretty non-existent within the Nature baths themselves (just at the car park and the cafe area outdoors).
And with that, we then drove towards Godafoss to cap off this eventful day.
While I was battling a bit of road fatigue since the apple cider made me sleepy, we'd eventually get there by about 7pm.
Unlike the foggy conditions from yesterday, this time, we were getting decent late afternoon or early evening lighting as well as a good experience of checking out both sides of the wide waterfall.
There were a lot more developed walking paths this time around as opposed to a more direct drive-to experience with short trails from the past, and so we spent a surprising amount of time here just to try to take it all in.
Of course, the apple cider had also made my bladder active so I had to find a way to Nature call because the WC was closed as we had narrowly missed its hours by a few minutes.
Anyways, Mom and I did all the walks, which included going across the footbridge in front of Geitafoss, which was downstream of Godafoss.
And then we headed up along the east side of the falls where we had gotten the familiar top down views of the horseshoe-shaped falls as well as from the base.
At the same time, Julie drove the rental SUV to the other side to save us on the walking, which was much appreciated.
I noted to myself that there were loads of new content, especially for the places that needed updates to the write-up, and so I was getting concerned about the backlog of work that awaited me when we'd get home (COVID-testing notwithstanding).
But that's a good problem to have as it meant that I do have more content to share with everyone.
Anyways, as much as I wanted to linger around this waterfall to savor the experience, it did appear that the fog was starting to roll in again.
Ultimately by about 8:10pm, we were back in the car together (though I was surprised that there were still people driving to the car parks for Godafoss this late in the evening), and then we could finally head back to Laugar and unwind.
By about 8:25pm, we were finally back at the apartment at Laugar, where we had ourselves a late self-cooked dinner of shrimp pasta, which was a simple meal though we were doubly motivated by trying to clear out the fridge since our next spot wouldn't be self-catering.
And with that, we crashed for the night as we celebrated yet another great day of this epic family trip to Iceland…
Visitor Comments:
Got something you'd like to share or say to keep the conversation going? Feel free to leave a comment below...
No users have replied to the content on this page