Day 11 (August 14, 2021 – Siglufjordur, Iceland): "Boom And Bust"
It was about 4:50am when I awoke without an alarm (despite my intentions at sleeping in).
Upon looking outside, it was very cloudy with a bit of drizzle, which was pretty much how the weather in Laugar had been for the entire time we had been here.
If it hadn't been drizzling or raining, it had been foggy or at least overcast as I couldn't recall having seen the sun in these parts.
Anyways, I took a lot of time to get caught up on blogging and on file management duties since we had done so much yesterday.
Heck, we even had a late dinner that happened after 9pm since we still had a visit to Godafoss that lasted until after 8pm.
Regardless, it took some time for Julie and Tahia to get up and have breakfast (Mom and I were the first to get up and the first to finish our brekkie), and so it wouldn't be until about 8:35am when we finally loaded up the car, returned the apartment key, and started driving.
The drive out towards Akureyri was pretty uneventful as the skies went from foggy and drizzly to being overcast.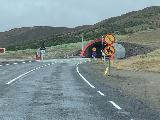 We'd eventually enter a tunnel that I didn't recall was there before, where we had to go 7km through what seemed to be something that reminded us very much of the kind of tunnels we saw a lot of in Norway (that went under mountains).
Of course, this one costed us quite a bit of money to go the 7km distance and save ourselves from going around the mountain en route to Akureyri.
When we left the tunnel, we could see the biggest town of the north of Iceland in Akureyri, where we'd eventually make our way down to the N1 gas station just outside the main harbor of the city.
There, we took some time to eat up some croissants (which weren't as good as what we had in Seydisfjordur), fill up the diesel back to full tank, and then continue driving at 9:40am.
I wound up paying about 236.4 ISK per liter, but I saw that there were stations within Akureyri that were more on the order of 228 ISK so I almost felt like I was ripped off.
I guess the silver lining was that we did get somewhat of a legit breakfast out of it in addition to our self-made brekkie back at Laugar.
Anyways, the weather was continuing to improve the further north of Akureyri we went, and that allowed both Mom and Julie to take pictures through the car's front windshield or out the sides as they tried to take pictures of the fjord and the mountains backing it.
However, all that paying attention to the scenery yielded us a tidefall that was dropping right into the ocean.
So by 10:25am, we went looking for a pullout off the side of the road that would allow us to get a more relaxed and closer look.
And we managed to find something that led to some makeshift driveway or something that had a huge mount of dirt.
Who knows if they're trying to make a pullout or picnic area out of this?
But whatever the case was, it didn't have signage and it crept up on us unexpectedly so I actually had to reverse the car in order to pull in (good thing this road was lightly trafficked).
Then, we just used that informal pullout to park the car and follow some kind of trail of use (clearly people had been here before) to go out to the far corner of the bluff we were on.
From there, I could see that there was a drainage waterfall that cascaded beneath the Road 82/76 and eventually emptied out to the ocean.
However, looking in the distance, I could then see the intriguing ocean-bound waterfall, which Gaia GPS called Migandifoss.
After spending the better part of 20 minutes or so, we then returned to the car at about 10:50am and resumed the drive towards Siglufjordur, which was our next place to stay.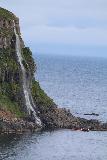 However, before we were about to establish momentum, we saw that there was another pullout where there was a parked car already in a wide clearing.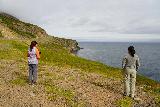 That said, its entrance was a rather steep embankment, and it totally didn't look like a legitimate spot unless they decide to pave it and turn it into a picnic area.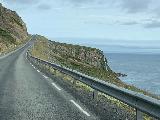 Anyways, from right at the clearing, we could see that there's the Migandifoss again but without the frontal cliff obstruction.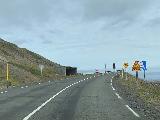 Plus, the people who drove that other car were actually down the grassy slope from where we were parked, and apparently they were picking wild blueberries (which was something that we noticed back at the other scramble area).
After having our fill of this view of the Migandifoss, we then returned to the car at 11:05am, where we passed by some 33B sign and then proceeded into the first of a series of tunnels along the Route 82/76.
That first tunnel was a single-lane tunnel with pullouts off to the right side spaced perhaps a few hundred meters apart, and it was actually a bit on the precarious side.
Fortunately, there was one car in front of us that we could use as sort of an indicator of when to go or not.
However, we couldn't get right behind that other car because the pullouts didn't seem long enough to be sharing the same pullout bay while waiting for the opposing traffic to pass.
There was one of the parking bays where at least three cars were going in the opposite direction so that induced a bit of a wait, and I could totally see how this tunnel could be congested if it wasn't as lightly trafficked as it was on this day.
Once we got out of that first tunnel, we then headed down to the attractive Olafsfjordur, which was another seemingly sleepy fishing town that had seen better days in the past.
It was kind of reminiscent of our experience driving the Westfjords or the Lofoten Islands where the villages we'd see where scenically situated, but the purpose of their existence had to do with a booming era when cod or herring were king in these parts.
Anyways, after the tunnel northwest of Olafsfjordur, we then passed through yet anther 7km tunnel though that one was two lanes, and that would eventually leave and descend towards the sleepy Sigufjordur town.
By about 11:40am, we finally arrived at the Siglo Hotel though it was still a bit too early for us to check in.
So we used this time to head over to the Herring Era Museum, which was right across the street and adjacent to our hotel.
After paying the admission, we eventually started with the boat display in a big warehouse set in a dark decor (almost as if we were in the Pirates of the Caribbean or something).
One of the larger ships let us go downstairs into some storage area as well as a tiny kitchen and sleeping quarters, where I could imagine just how uncomfortable it could be when the ship would be tossed and turned under intense storms.
After having our fill of the ships on display in the first house we were at, we then went hext door, which had a silent movie that make either machinery sounds or drip sounds.
For some reason, it kind of reminded me of something a German movie might be showing.
But in this version here at Siglufjordur, it wasn't lost on me that the loud machine sounds were associated with scenes involving men at work while the drippy sound effects were largely for connotations or scenes involving women.
Anyways, we browsed around the main floor and then the upstairs floor, which had interpretive signs telling of how the herring industry boomed and busted by the end of the 60s.
With quota management, the live fish stock ultimately would return to the harbors after several decades (the infrastructure we had seen were largely created in the 1930s.
So without straight up saying what the problem was, there was undisputable evidence that the fish had been overfished, and it's the very reason why you must have some degree of regulation or else you have no industry going forward.
Plus, the kind of fishing that was performed were largely from trawling, which we knew from the practices done in Asia that they're particularly destructive, and it's why the industry would leave behind no signs of life when the trawling was done.
So imagine 120 companies at the height of the boom doing this very thing!
In fact, it wouldn't be until over 20 years later that some of the much needed stocks had returned (as herring were migratory fish) though not in the quantity that was seen during the height of the herring boom.
Eventually, we left this second building and then went to a third building, which displayed the living conditions in Siglufjordur at the time.
It was interesting to see how the herring were processed for things like food, petrol or diesel, lamp oil, etc.
Moreover, these re-creations of the past (as it was furnished and believed to be present at the time) were something that Julie was really into so she was definitely quite satisfied with the museum visit.
By about 1:40pm, we had our fill of the Herring Era Museum (their boom and bust story eerily echoed what we had experienced at Djupavik back in the first trip in 2007.
Regardless, we'd ultimately be done with the Herring Era Museum, and then we then walked around town looking for a foodie spot as Julie had this craving for seafood soup while Tahia was always on the lookout for sweets.
After spending a good deal of time looking for whatever was recommended in Rick Steves as well as LP, we'd ultimately settle on having pizza at the Kaffi Raudka because everywhere else seemed to be closed on the weekends.
They had some interesting combinations like a pepperoni pizza with dates on it, but we ultimately got a Raudka Pizza, a Margherita Pizza, and a Prosciutto Pizza.
And the whole time we were having our lunch, we could see that fog was rolling in rapidly into our little corner of Northern Iceland at Siglufjordur.
That made me a bit nervous about the hike Mom and I were planning to do to pursue Leyningsfoss because we didn't want our experience to be impacted by clouds and/or fog like they did for us in East Iceland as well as Southern Iceland.
Nevertheless, we were done eating the pizza and then promptly checked into the Siglo Hotel at 2:30pm, where we immediately got our stuff out of the car and into the hotel rooms.
Then, after dropping off our stuff, Mom and I promptly returned to the car and drove off in search of Leyningsfoss.
After a little bit of confusion about where this hike started from, we'd eventually overshoot the turnoff and parking area, and we wound up going partway up the mountain where there were some more cascades on a side stream feeding the Fjardara River.
Then, we managed to find an informal pullout to make the three point turn and go back downhill, and eventually at about 2:45pm, we stopped in some clearing near the WC (which was a legit bathroom with running water).
Immediately afterwards, Mom and I proceeded to start hiking towards Leyningsfoss.
We followed the Skogarstigur Path as it went between what seemed to be planted trees, where a sign at the trailhead did say something about this place being the northernmost planted forest in the country.
While still using a picture of the trailhead map board, we had to pay attention to the trail junctions (many of which were unsigned).
By about 3:05pm, we actually stumbled upon a picnic table with some signage (that made it look like it was closed), and it actually said in Icelandic to please sign the guestbook.
I'm sure without being able to at least figure out some of the Icelandic signs, one could easily think it was a closure sign.
Anyways, after doing that, we then backtracked and hiked the Fossastigur Path, which ultimately got us to the aptly-named and hidden Leyningsfoss at 3:25pm.
Unlike the other waterfalls that we had seen throughout Iceland, this one was truly hidden behind the planted trees of the Open Forest.
It had a quaint characteristic about it as it wasn't like the monsters we had seen yesterday as well as earlier on in the trip.
Eventually after having our fill of this fine waterfall, we'd then return to the rental SUV by 3:40pm, where Mom noticed a golf course down the valley, which piqued her attention since she was really into golfing.
Finally by 3:55pm, we were back in the Siglo Hotel, where there were more cars parked here (unlike earlier), and then we wasted no time rejoining Julie and Tahia and getting our bath robes and towels, which were included.
Then, we finally took some time to dip into the hot pool fronting the Siglo Hotel with a view of the fjord and some ship.
The water was a bit on the hot side (gotta be at least 40C), and so we had to manage our sitting posture (especially me) because I didn't want my heart to be racing in the hot water if my chest was to be submerged in the hot water.
After about an hour of soaking in the hot pool, a lot more people were showing up so that was our cue to head back to our room to shower off and remain socially distant.
Then, after having our shower and change of clothes, we then went downstairs to the dining room within the Siglo Hotel since the Moroccan restaurant that we had targeted had already been booked out.
We didn't have a prayer of eating there on this trip (even after calling ahead during lunch).
Finally by 6pm, we were seated at the Sunna Restaurant, where we then splurged again with two glasses of red wine, a seafood soup, a baked cod main, a beef tenderloin main, and a duck confit main.
Tahia also got herself a hot chocolate, and we finally splurged with two Sjokkaladikaka (chocolate cake with ice cream), but that cake was really more like a thick fudge as opposed to a legitimate cake.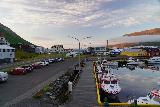 Then, after the dinner was done, we returned to our respective rooms to crash for the night.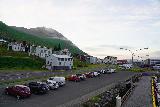 And while I was fighting sleep as I was busy doing file management duties at around 8:30pm-ish, I did notice some sunset lighting as the fog had momentarily cleared once again.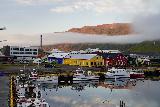 So I took pictures from right outside our room though Mom did a walk on her own through town during this time as well.
But after having our handful of pictures of the harbor with fog clouds coming back, the fog eventually won out again, and I sure hoped that the weather in each of the next three days would be cooperative.
And with that, we crashed and hopefully let our later-than-usual start allow us a little more time to sleep since breakfast was included at 7am at the Siglo Hotel.
I think that was the first time something was included on this trip (unlike the 2007 trip where it was included almost everywhere we went).
Indeed, the trip was winding down as we were entering the last week of the trip, and there were some things happening back at home that needed attention (like two of my aunts dealing with cancer and my Mom dealing with a cough that I had her go check out).
But at the same time we wanted to savor every last bit of this magical trip before facing life and reality again…