Day 12 (August 15, 2021 – Hof i Vatnsdalur, Iceland): "One Such Moment"
It was about 6am when I awoke to the alarm as this was the latest I had awoken throughout the trip (including the days I was jetlagged at the start of the trip).
With the Siglo Hotel being one of the few places on this trip where breakfast was included, I took my time making sure that what I wrote yesterday wasn't jibberish (considering how sleepy I was after dinner).
Then, we loaded up the car though we were quite distracted by the nice weather that was greeting us as we had gone outside the peace and quiet of Siglufjordur.
Of course, then after the errand was done, then we went back to the dining room for breakfast.
Considering how expensive food in general was in Iceland, we took advantage of the all-you-can-eat buffet, which had pickled herring as well as some standard American breakfast stuff like scrambled eggs, sausages, and bacon.
It also had some skyr (though it was a bit on the sweet side) and lots of bread and pastries, including a dark rye bread that I think was the geysir bread from the Myvatn area.
Like all the other all-you-can-eat experiences, we left the hotel fully stuffed, and we eventually got back into the car at 8:15am where we were leaving some nice weather as we headed north around the Trollaskaggi Peninsula from Siglufjordur all the way towards Hofsos and beyond.
The majority of the drive was pretty much a scenic coastal route where Julie and Mom avoided the temptation to sleep in the car as they were busy taking pictures out the windows of the scenery before us.
This was a part of Iceland that we hadn't visited before, and it sure was a treat that made me glad that I opted to go this way instead of sticking close to the Ring Road (though visiting the Westfjords required even more time than we had on this trip).
Eventually at 9:50am, we arrived at Glaumbaer, which was about 10 minutes too early, and just when they were about to open, a tour bus pulled up so we knew that it was going to be a bit of a crowded experience.
Anyways, once we paid our admission and went into the familiar turf-farm grounds, we also got a chance to look inside each of the turf structures (this time there were English signs as well as those in Icelandic).
After seeing the first four of them, which were basically storage rooms as well as a smithy, we then went into what was an example of a nobleman's house, which featured several rooms.
It was here that things got really crowded as there wasn't a whole lot of real estate, but the Spanish tour pretty much overwhelmed the interior and it was getting pretty COVID unsafe since not everyone was masked up.
But aside from that, we went into what seemed like at least about 5-6 rooms, and then we proceeded to go around the series of turf farms.
We didn't go past the gate and into the church because that gate seemed to be a one-way gate, which would have marked the end of the tour.
So we just completed the loop, and I took another look at the turf farm interiors again (except for the nobleman's house) since the tour bus crowd had mostly dispersed at this time.
And then we took some people shots before returning to the car at 10:55am just as the lot was pretty much full and while Julie and Tahia picked up a refrigerator magnet of some turf farms.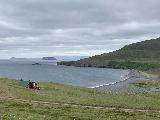 Next, we then drove back north in the direction of Saudakrokur before continuing west on the 744 road and then heading north on the unpaved 745 road.
Unlike the trip back in 2007, there were no stubborn Icelandic horses in the way as this now seemed to be a fairly smooth gravel road that saw some light (but not non-existent) traffic.
After teasing us with some hints of coastal views, we'd eventually start to see some the familiar stile that I believed we used in the prior trip to see the Ketubjorg Waterfall, but the GPS said to keep going.
So I did that, and then we wound up at what appeared to be a marked car park on some grass and a sign with one other car parked there at 11:50am.
This part definitely didn't seem familiar to me, but we got out of the car, got into windbreakers and something warm because it was definitely windy here, and then we proceeded to go over the stile and hike.
We weren't alone as there was another couple that was already on their way up towards the cliffs, and the group pretty much followed the other couple's path though I then noticed that we were crossing a stream that seemed to go towards the ocean.
So I backtracked from there thinking that the best views of this waterfall might be further down the hill and closer to the private farm nearby.
When I got there, I noticed a fence preventing further access into the farm, but then I followed along the fence until I got to an area where I can see back towards the plunging waterfall dropping onto a narrow but inaccessible beach.
This was definitely not the waterfall we saw here from 2007, but I thought it was nice.
I also noticed in the distance that Julie, Mom, and Tahia had stopped somewhere on the opposite side of that waterfall as they probably managed to get a decent view from the other side.
Anyways, I busted out the telephoto lens because I also noticed birds around hovering in the Arctic wind like before, but I also noticed an interesting sea arch further up the coast away from the falls.
After having my fill of this spot, I then went back in the original direction to rejoin the ladies while a couple other cars (with their passengers) came and went and had a brief trip.
When I got to where the ladies were checking out the falls, I then went ahead and looked back at the one that Gaia GPS called "Ketubjorg" though it was clearly not the same one that we had seen before.
So after documenting this waterfall and getting a earful from Julie that this was not a Top 10 Iceland Waterfall, I then decided that we should head back to the car and pursue the other stile.
At that point, even though the cliffs looked closer, it felt more like a waste of time to walk instead of just driving to the other stile.
So we got back to the car at 12:30pm, and then we found a somewhat steep space to stop the car near the other unsigned stile that we had spotted earlier.
From there, we got out of the car at 12:35pm, and we promptly went up and over the stile and onto a ridge with the familiar view of the Ketubjorg Waterfall that we were more familiar with.
This time, the view of the waterfall wasn't as obstructed nor as distant, and it had the islands in the distance as a backdrop, but I still got an earful of Julie about how we need to fix the Iceland Top 10 List.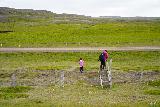 In my mind, we used to give ocean-dropping waterfalls higher scores based on the McWay Falls and Alamere Falls effect, but I think it's safe to say that these kinds of waterfalls aren't as rare as previous thought.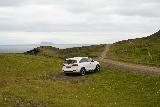 I remembered how there were false claims by signage and on the interwebs how there were only a handful of these waterfalls, but clearly these things are abundant, and we only spotted two at Ketubjorg plus another one on the way to Siglufjordur yesterday.
Who knows how many more we missed in Iceland alone?
Anyways, I was thinking about losing Ketubjorg from the Top 10 list to make room for Faxi on the Jokulsa i Fljotsdal, and we also wanted to give Hafragilsfoss more props even though it was part of the same system of waterfalls as the one including Dettifoss.
So it was food for thought when we get back from the trip, but I agreed with Julie that we definitely needed a revamp of our Iceland Top 10 List, which hadn't changed since 2007 after our first visit to the country.
Regardless, after getting our shots of Ketubjorg, it dawned on me that the land we were standing on seemed to be sinking as evidenced by what appeared to be a plateau that was somewhat depressed from the top of the ridge.
That made me not want to linger on these cliffs for too long since I'd imagine it could drop into the ocean at any point though I wasn't sure if we saw this kind of phenomenon 14 years ago, too.
At 12:55pm, we were back in the car after having our fill of Ketubjorg, and then we resumed the drive back to the south and then in the direction of Blonduos and eventually Hvitserkur.
During this stretch of the drive, we made one brief detour following some sign indicating "Foss", but it only yielded a small cascading waterfall, and it led to a private farm, which made me wonder if that sign wasn't meant for tourists.
After all, there was no picnic or viewing area, the road became even rockier (especially after the farm fencing), and it wasn't easy to make a three-point turn to retreat.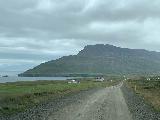 But aside from that, we ultimately made our way back to the Ring Road, which was visibly busier as there were lines of cars going in both directions given how well-traveled this road was.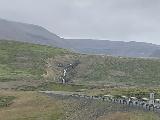 Julie wanted to book a dinner for this place called Brimslod Atelier, which we did but the dinner was one of those fixed course deals and they only accommodated dinner reservations at 7:30pm, which we promptly snagged up before they'd get booked out.
Once we got back onto the Ring Road, we then continued past Blonduos and past the turnoff for Vatnsdalur (where we were staying for the night) before making a right onto the unpaved 716 road, which then joined up with the unpaved 711 road.
On both these roads, the gravel roads weren't too bad though they were somewhat narrow enough to barely squeeze by opposing traffic, which was why I noticed a series of M signs by pullouts.
I definitely had to use them where the oncoming drivers tended to hug the middle of the road too much or if there were oncoming trucks or bus drivers.
But aside from that and the fact that there were a surprising number of vehicles going down this road (likely because it was a well-known site by now), we ultimately reached the car park for Hvitserkur at 2:30pm.
From there, we got out of the car, noticed some signage (which were actually ads and had nothing to do with Hvitserkur itself), and then proceeded to walk down to the lookout platform to get our first look at the familiar sea stack.
However, it appeared that the path to get down to the bottom wasn't as obvious as I had recalled from our 2007 trip, and it started to make me wonder if that trail was no longer sanctioned or if there were steps that had been removed.
I guess memories tend to fade, and it's hard to substantiate recollections without any hard evidence (like photos of the actual trail, which we weren't as good about doing 14 years ago).
But I was the first to make it down to the bottom, where I noticed that we were only confined to a narrow strip of the smooth-stoned "beach" which indicated to me that it must be high tide right now.
There was another group of people down here when I showed up, but soon thereafter, Mom made it down and we explored the narrow strip of smooth stones for a few minutes before Tahia and Julie finally made it down.
We took our obligatory shots though Julie appeared to not recollect coming here back in 2007 (though I have the pictures to prove it), and we made new memories on this go before scrambling back up to the overlook.
We were back in the car at 3:30pm, and then we made the drive back to the Ring Road, where we then backtracked our to the turnoff for Vatnsdalur.
From there, we drove the familiar unpaved road that followed along the base of some steep mountainsides (that seemed to be prone to landslides) while revealing an open valley with lots of horse farms.
The whole drive, I wondered if the hosts would remember us since we were here 14 years ago, but they must have seen thousands of tourists pass through their farm stay.
Anyways, we showed up at the Hof i Vatnsdal at 4:30pm, and just as we were pulling up, we couldn't help but notice that there was one person's car that had a totally busted tire.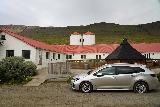 That brought back memories of our first trip where we had a flat tire here, and the host had to use his tractor to lift the car and change into a full-sized spare, which we eventually got rectified in Akureyri a day later.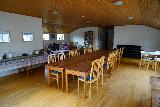 Hopefully, that fate wouldn't befall us on this trip, but I couldn't help but to feel for the guy since such calamities take away from the valuable time spent on a trip like this, especially since things aren't cheap (especially in terms of how expensive car rentals are).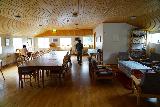 There's definitely a price for freedom in this country if you don't want to be relegated to tour bus schedules and the restrictions they place on us.
Anyways, we then spent then next couple of hours in the common area where there was Wi-Fi, which Mom, Julie, and Tahia were all busy making use of it while I was tending to some file management duties.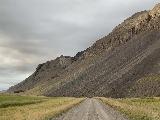 We'd eventually meet the person who had the flat tire, which was a family from Germany, and we had a nice chat about our respective trips and even about Germany since that trip was still fresh in our minds as of 2018.
Hopefully, our conversation helped to get their minds momentarily off of the flat tire ordeal they had to deal with as it seemed like they couldn't buy a break at the start of their trip (they were only on day 3).
But by about 6:45pm, we had to excuse ourselves and get right to the car to make the drive back to Blonduos for our reserved dinner.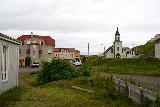 By about 7:20pm, we'd eventually make it to the Brimslod Atelier, which was right by the coastline in what seemed to be an old part of the town of Blonduos.
There was a nice coastal view here though the cover of clouds seemed to keep things gray though I wondered if we might get a decent sunset during dinner as there seemed to be some breakage in the clouds.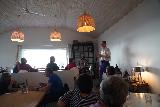 Once we were inside the restaurant (which also doubled as a guesthouse), we took off our shoes and then proceeded to sit at our assigned spot.
That was when it was clear to me that this was going to be sort of a communal experience and they tried to keep the parties socially distant though we were all sitting indoors (no one was going to sit outside in the Arctic wind).
So with that, as people were trickling in, we ultimately were introduced to our first course of the meal at 7:45pm, which was a sort of reddish seafood soup with langostines in it.
It was quite delicious though it was definitely not something you'd want to go in hungry because I knew we weren't going to leave stuffed.
The host introduced both the first course and the main course before we started eating.
While some of the tables had gotten quite comfortable with their table mates and engaged in active conversation, we were pretty much next to an Italian group but I knew that banter at the table wasn't really in the cards between us.
Perhaps it was because we were wearing masks, and we were the only people doing so (at least until it was time to eat).
By about 8:20pm, we received our second course, which was an Arctic char with some lentils (though Julie got a gluten free version of it).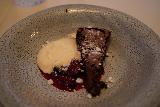 This was also a delicious dish, which Julie and I decided to pair with white wine, and that drink was pretty smooth.
By about 8:45pm, we were then presented our third course, which was the dessert of a brownie with some cream and some fruits.
This was what I envisioned the dessert at the Hotel Siglo last night should have been (instead of the fudge), but nevertheless, this was a tasty dessert and it was the one thing that Tahia quickly devoured (as she grudgingly ate some of the main and first course earlier on).
When we were done with the dinner, we had a nice chat with the hosts as we were on the way out.
That was when I tried to bust out what limited Icelandic I could with them, and we also learned that the hosts ran tours.
It was through this perspective that we learned that most of the visitors these days did condensed tours of only a few days that hit just the popular sites and then be off.
In his mind (and I agree with him), that kind of defeats the purpose of a visit to Iceland which is more than just a greatest hits of sights.
He pointed out that visiting Iceland involves moments of stopping for a sudden change in the weather revealing something beautiful, or pulling up to a town that wasn't anticipated and letting the landscape and the culture sink in.
Or, even making conversations with perfect strangers and/or locals alike that build bridges between people of different backgrounds.
Indeed, those are the things that stick with you long after the trip is over, and you could say that not only is something like that the essence of a visit to Iceland but it's really the essence of any travel to anywhere.
He also asked if we had visited the volcano yet, and even though we didn't, that kind of rekindled hopes that perhaps we could get a chance to see flowing lava before leaving the country in a few days.
By about 9:25pm, we left the establishment but not before taking some pictures in the cold of the coastline while also briefly engaging with one of the Italian tablemates who also went outside.
There was a cat that also went outside the establishment, but the host told us that it wasn't their cat and should remain outside.
Anyways, we then drove back towards Hof, but that was when we saw that the clouds were changing color.
It was turning purple and pink when looking south but it was going fiery red when looking towards the setting sun.
So Julie and Mom spent lots of time taking pictures while I was driving back to Hof, and when we made it back to Hof at 10:05pm, we saw the fiery sunset over the farm stay.
Indeed, just as the host mentioned noticing spontaneous moments like the changing of the cloud colors at sunset, I realized that this was just one of those moments that the host was talking about.
And with that, we crashed for the night anticipating the next day, which was the Skinandi hike, as that was the very reason why we came back to Vatnsdalur in the first place…