Day 13 (August 16, 2021 – Hof i Vatnsdalur, Iceland): "Life As A Local"
It was about 6am when I awoke to the alarm as it looked to be a pretty clear day as I looked out the window.
After freshening up, I used the early start to take the computer stuff to the main dining hall to work at one of the tables and get caught up on yesterday's happenings.
It took me some time to even get through the blogging part of things (as I still had yet to do photo and video selection) so by the time I was just about done with the blogging, fellow guests started showing up at the dining hall shortly before Eline and Jon showed up with brekkie goods.
And just a few minutes thereafter, Mom showed up, and then Julie and Tahia showed up shortly before the German family that had the flat tire showed up.
So by this time, I put away my computer stuff and then joined in on the 8am breakfast.
For the most part, it seemed like people kept to themselves in the communal dining hall, and the breakfast itself was pretty basic fare of bread, eggs, and some select hams or salamis.
There were also spreads, including a nutella spread for that sweet tooth as well as pate, but there were no pickled herrings or other things that would have made for a legit breakfast.
Perhaps of all the things that were offered in this included breakfast, it was the eggs that were worthwhile because they were farm-raised, and we were at a farm-stay after all.
So having that with a tube of a caviar-like paste made for a nice combo, and that was pretty much the extent of our breakfast.
I briefly indulged Jon and Eline in a little Icelandic speak as they seemed very surprised at one of their foreign guests would even make the attempt.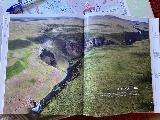 But when it came down to the business of asking about the Skinandi hike, Jon gave me the low-down.
He pulled out some books from his library that contained all sorts of knowledge about not only Vatnsdalur in general but also Iceland as a whole.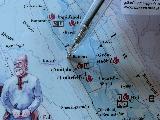 I could tell from the age of the books that there was definitely a lot of passed down knowledge there that you won't find on the interwebs.
So I appreciated the advice and knowledge that Jon was dropping to me regarding what I was attempting to do.
To make a long story short, he showed me a picture of all the waterfalls in one go, and he managed to convince me that we shouldn't pursue Skinandi because we were looking at something on the order of 3 hours (12km) each way, and it would be a bit much for bringing Tahia.
Thus, I ultimately decided (and was advised by Jon) that pursuing Stekkjarfoss again but persisting onto the base of Dalsfoss should be the way to go.
I recalled that Julie and I were thwarted by some cliff obstacles but perhaps we just didn't have enough knowledge, foresight, nor confidence at these obstacles and turned back shortly after Stekkjarfoss back in 2007.
So now I was a little anxious about whether we'd meet a similar fate this time around.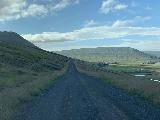 By about 9:05am, we were heading out of the Hof i Vatnsdalur, and we proceeded to drive further south into the valley before turning left at the signed spur road leading to Forsaedalur.
We also noticed that the German family's rental car's tire seemed to be all back in shape, and hopefully they can continue on with their trip as they had it planned and that the foam that Jon apparently fixed for them would be good enough to get them to a shop in Blonduos.
Regardless, the drive further south on Vatnsdalur and then southeast towards Forsaedalur was under some pretty clear skies.
I was concerned about the bad lighting in the morning since the waterfalls we were seeking tended to face west, and of all the days I wanted to have clouds, this would have been that day.
Oh well, by about 9:20am, we ultimately went past the Sunnhlid Farm and then stopped the car at the Foresaedalur Farm at 9:20am.
As I got out of the car, I did some walking around as I had seen a sign pointing the way towards Stekkjarfoss and some other things that didn't ring a bell to me.
Once Mom and I were well on our way down the spur trail that branched off from the sign, Julie and Tahia went back into the car as I told Julie that perhaps we could drive further down the grassy road towards closer to the path that I recalled led to Stekkjarfoss.
Eventually, we stopped in front of a gate, which seemed to be a suitable spot to stop the car and get started with the hiking at 9:45am.
Then, we geared up and proceeded to walk past another gate and onto a grassy field with tire depressions in the tall grass as it skirted between the private farm field and the canyon carved out by the river responsible for the waterfalls we were seeking out.
It didn't take long before we crossed another gate and then followed the grassy path some more before descending a curve that went back towards a small bluff opposite the river with a direct look down at the familiar Stekkjarfoss and its associated fish ladder.
We got there at about 10:05am, and right off the bat, I could already see that lighting wasn't great though at least the falls was somewhat sidelit against the morning sun.
After having our fill of this spot, we then proceeded to follow the river upstream along a somewhat muddy horse and sheep trail before we'd eventually get to the first obstacle which was a cliff protrusion.
This time, I kept in mind Jon's advice that the feet should never get wet on this hike, and that we should keep pushing even if we hit an obstacle before reaching the base of Dalsfoss.
I was already able to see part of Dalsfoss on the way south to Stekkjarfoss so I knew that it wasn't going to be that far, but I also knew that as the apparent scramble persisted so was the level of difficulty and speed of the hike.
While that first obstacle might have turned us back 14 years ago, it didn't this time, especially after having seen a sign saying Brikarhylur, which suggested that people do indeed make their way here (enough for signs to be erected).
Beyond that first cliff obstacle, now it was pretty much a trail-less scramble along the banks of the river with some faint game trails here and there, but for the most part, it was just finding the best footing step by step as we continued upstream.
Eventually, we would hit yet another cliff obstacle that required us to carefully tip toe onto any non-submerged rocks, and it was here that we took out our trekking poles so each of us would have at least a third leg for balance.
Beyond this obstacle, the scramble pretty much got more difficult and the obstacles became more frequent.
However, we'd ultimately reach an intermediate cascade obstacle near a sign that said Djuphylur Nedri, and at this point, it didn't look like we could scoot by the cliffs anymore.
Instead, behind the sign, there was a faint trail amidst the button grass that went up and over the cliff to get beyond the intermediate cascade.
There were a couple more signs as the trail then descended back down towards the level of the river upstream from that intermediate cascade, and then we were pretty much on the final approach to Dalsfoss.
Even though there were no more cliff obstacles ahead of us to get to the base of that waterfall, the footing remained tricky throughout.
Nevertheless, we finally got to Dalsfoss at 11:30am, but it was too bad that we were pretty much looking against the sun as I had feared.
Of all the days to have clear weather, why couldn't it have been on a day when we'd do the volcano or see Kirkjufellsfoss instead and let it be cloudy on this day?
Oh well, you can't control such things and we made the most of our substandard lighting conditions to at least enjoy this 16m rectangular or square-shaped waterfall that was kind of on the class of Marokopa Falls in New Zealand (though I think Dalsfoss was still wider).
So we took some time basking in our accomplishment though I was always mindful of all the loose rocks around us as surely they had been deposited here from past rockslides caused by cliffs flaking off over time.
Tahia was busy chucking rocks into the river, and I joined her in on the action as I tried to get here to test her arm strength by seeing if she can get the rock across the river.
We'd eventually pry ourselves away from Dalsfoss by 12:10pm as we couldn't wait any longer for clouds to show up or for the sun to move more away from Dalsfoss to create backlighting.
In hindsight, I wished we had done this hike in the afternoon, but then we might have to contend with a race against time since we also made 6pm dinner reservations at an Ethiopian Restaurant in Blonduos.
Regardless, we made our way back along the same scrambling that we had just done earlier, but Tahia had a couple of spills.
Luckily, she wasn't hurt and apparently she didn't really dunk her shoes and socks into the water either, but her sweats (not the greatest clothing to wear on a hike) was pretty much messed up.
Throughout the hike back, I couldn't help but to think about how this was pretty much a locals' hike as I'd imagine if you were growing up in these parts, you'd do this kind of hike in your spare time, especially if you're young.
I remembered Jon telling me that Skinandi was a waterfall that most tourists wouldn't bother going to because it was too far, but at least doing this hike to Dalsfoss got me to appreciate what locals must be into when they have spare time.
That said, they seem to have a different standard of what would be considered a difficult hike versus an easy one, but I'd have to say that the trail was pretty straightforward to get to Stekkjarfoss.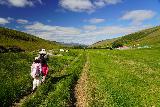 However, then we were pretty much on our own to get to Dalsfoss beyond Stekkjarfoss though the locals might think even that hike was too easy and too short.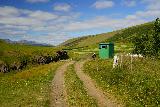 Eventually by 1:15pm, we were back at the parked car at the Forsaedalur Farm, and then we proceeded to drive back to Hof so we can drop off Julie and Tahia.
During the drive back to Hof, Mom told us about my grandma on my Dad's side (I forget how this conversation got started up).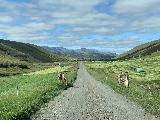 Anyways, since details were sketchy about my grandma's upbringing, Mom filled in some of those details by telling us that she was an orphaned during the Communist takeover of China.
She was eventually adopted by a philanthropist doctor and his wife who took her in among other children.
While the wife took care of the children in Taiwan, the doctor had a high position and stayed behind to still do his job under the new regime.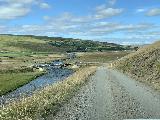 But apparently that regime made life impossible for him so he eventually committed suicide, and that seemed indicative of the turbulent history of Grandma during times of political turmoil.
I always knew Grandma was a very strong-willed person and did whatever she needed to do to get her way or to get by (kind of why I understood why people from the mainland may rub others the wrong way due to the apparent lack of manners).
And apparently Mom told us of how she was a bit difficult to control as she was a bit of a rebel and was gonna do what she was gonna do.
To make a long story short, she ultimately married a soft-spoken guy (funny how opposites attract) though I never met him because he died before I was born in a training mission in the mountains of Taiwan as his plane went down.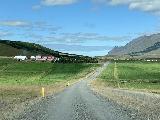 So that left grandma and the kids to get by though life is creeping up on them nowadays, which was probably how this whole conversation got started in the first place.
Nevertheless, given the randomness of the twist and turns of history and life in general, it seems that our family owes a lot to the people that took grandma in.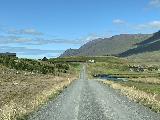 Mom said that every year Dad's side of the family would go back to Taiwan to celebrate the woman that took Nainai into their family until her passing (she lived to almost 100 years).
There really ought to be more to preserve the memory of the people of our family's past, and perhaps stories written down like this (though this brief treatment really doesn't do it justice) are the vehicle to do it.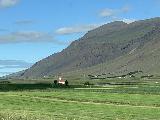 We'd ultimately make it back to Hof by 1:30pm, and then after dropping them off, it was just Mom and me pursuing the other hike that Jon recommended this morning called Kornsa.
Since I didn't have pre-trip waypoints for this place at the ready, I pretty much just paid attention to Gaia GPS while making the drive towards the base of Vatnsdalur and then going back north on the other side of the valley.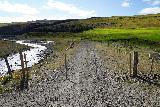 Eventually by about 2pm, shortly after passing by the Undirfell Church, Mom and I got to bridge going over the Kornsa Stream, where we then pulled off in the limited space just north of the bridge and in front of a fence.
At first, we were worried that there was no way to get through and onto the trail behind it, but then we realized that we could lift the loop on one end of the fence and then get through it before closing up the fence again (probably to keep livestock like sheep in the field).
And from there, Mom and I immediately started the uphill hike that within minutes allowed us to see the first of the waterfalls in the canyon.
We then continued further up the steep slope following a use-trail that then led us to another one of those fences that we had to lift a loop to get by it.
This time, however, we had a harder time with this fence since the tension on the loop was higher.
But eventually we got past that and continued our way further up the slopes.
Somehow we missed the second waterfall as we went higher up the trail and saw a different waterfall that I didn't recall seeing from afar as we were about to enter the canyon.
So I made a mental note to explore for that second waterfall when we'd come back, but as far as the third waterfall was concerned, we ultimately clung to a ledge and looked down at a pair of attractive tiers.
This section of the Kornsa Canyon alone would have been reason enough to be satisfied and turn back, but I recalled Jon saying that there was a big waterfall further up the canyon at its head.
And thus, that was where I was determined to go while following Gaia GPS.
After getting past this attractive waterfall pairing, we then saw a sloping cascade as well as noticing some wild blueberries on the ground.
Since these berries were a bit on the tart side, we didn't stop to pick more of them, and so I continued the relentless uphill climb as I started to look for a way to get to a more established trail since the game trails seemed to have disappeared.
The next waterfall that I noticed in the canyon was another sloping waterfall, but this one was wider and distant from the cliff I was on.
I knew that this wasn't the be-all end-all of the waterfalls in Kornsa so I kept pushing on as Mom was starting to lag behind due to the relentless climbing.
Eventually, I managed to find some kind of tractor road, which I then followed as Gaia GPS indicated to me that there wouldn't be much elevation loss in the river for quite a stretch.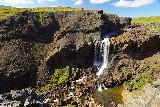 It wasn't until I got past an intermediate peak (and that was when I started to not see Mom making her way up) that I then started to see a faint side trail leading towards some smaller cascade further upstream.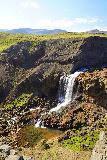 There was also what appeared to be another waterfall way in the distance beyond that smaller cascade that I noticed, but after seeing more fencing up ahead by that smaller cascade, I decided that it was time to skirt the canyon further downstream.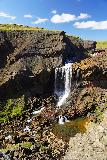 After all, I noticed that Gaia GPS was telling me that I had overshot a larger elevation drop in the river, and so I proceeded to make my way in that direction, and lo and behold at 3pm, there was indeed another attractive plunging waterfall.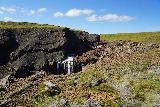 By this point, I took some time making videos and photos of this waterfall, which I'd imagine was the one that Jon talked about, and then I started making my way back towards the tractor trail.
Since I hadn't seen Mom the entire time I was overlooking the largest of the falls, I then assumed that Mom must not have made her way up to these heights, and so I decided to head downhill in search of her.
Seeing that we were running out of time, and I still wasn't sure if Mom was waiting for me below or not, I then decided to leave the significant waterfall on the Kornsa Stream and head back to the tractor trail soon thereafter.
When I was on the tractor trail, I coculdn't see Mom anywhere down below me, and now I wasn't sure if I should backtrack uphill again in search of her or if I should keep going downhill hoping to see that she didn't go as far up as I went.
But when Mom was nowhere to be seen as I was descending the steep hill, it wasn't until I heard something behind me which turned out to be Mom calling out to me as she was catching up to me.
When she rejoined me, she had told me that she actually went past the upper drop above the main drop high up on the Kornsa and she had missed the big waterfall that I had seen altogether.
So with that, we continued hastily making our way downhill as we'd eventually get to the gate barrier that was a bit trickier to undo and reapply.
As Mom was doing that, I managed to scramble alongside the fence and up to a separate bluff with a nice view of the upper drop above the lowermost of the drops on the Kornsa.
Eventually, after re-applying the loop into the fence itself, I'd then eventually reach Mom back at the car at 3:55pm.
Instead of driving back the way we came to Hof i Vatnsdal, I didn't mind driving further to the north and then heading back east to take the farm road on the other side of the river.
Disobeyind the Garmin Nuvi, which insisted on making me go back the way I came to return to Hof i Vatnsdal, I then decided to drive north and continue to finish the loop of Vatnsdalur.
While making this drive, Mom and I couldn't help but to notice that the lighting on the opposite side of Vatnsdalur was nearly perfect as it was illuminated by the afternoon sun.
It also revealed interesting lava formations high up on the mountains opposite the valley that we hadn't noticed before since we were pretty much driving underneath such features on the way to Hof earlier on.
But now that we were driving on the west side of the valley, we were savoring the additional roadside views, which really made us appreciate the experience.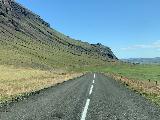 After returning to the Ring Road, and then leaving it again to get back towards Hof i Vatnsdal, we'd eventually return to the accommodation at 4:30pm, where we pretty much had a less than an hour to shower up before leaving towards Blonduos for our dinner reservation.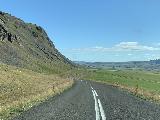 It took some time for us to get ready and into the car because the keys to Mom's and Tahia's room was stuck or they douldn't out how to unlock the phone so Julie could take pictures of that elevated part of Studlagil Canyon.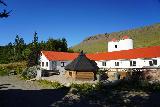 We ultimately had to leave Hof i Vatnsdal for dinner at 5:30pm while we'd have to rely on Julie to get a hold of Jon or Eline via phone since no one was answering the doorbell at the time.
By around 5:55pm, we arrived at the Ethiopian Restaurant in Blonduos called Teni, which was next door to some kind of water park as well as across the street from the Kjorbodin supermarket.
Julie briefly browsed in there for some freshly baked croissants, but apparently it wasn't in the cards for her.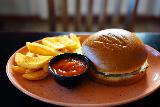 So we then went into Teni, where we eagerly ordered a doro wat, some kind of delicious lamb marsala with curry dish, and some kind of beef chunks with caramelized onion.
Tahia got some kind of kids meal where she chose to have a hamburger, and I couldn't help but wonder that most of the Icelandic customers here were also having burgers instead of the authentic Ethiopian stuff.
After the dinner, we then filled up with a couple of meringue cakes and one slice of chocolate cake.
By the end of it all, the dinner turned out to be on the order of $135 USD, which was rather pricey for a casual, ethnic restaurant.
Eventually by about 7:15pm, we were back in the car, and we headed back to Hof i Vatnsdal.
The drive back was pretty uneventful though the skies were as clear as they could be in Iceland, and I was mentally crossing fingers hoping that we'd at least get to properly experience Kirkjufellsfoss as we had been anticipating doing for the past 14 years.
Finally by about 7:45pm, we made it back to the Hof i Vatnsdal, where it seemed like we were the only guests on this night.
That made for a rather quiet evening full of running errands like scheduling our COVID-19 testing appointment within the 72-hour window of our flight home, shopping for Tahia's upcoming school year, making calls to friends and family taking advantage of the WiFi here, etc.
I also used this time to get caught up on the happenings of this day where we pretty much explored like locals did in this valley, and indeed, we definitely got to experience more of an authentic side of Iceland that you normally don't get on a greatest-hits whirlwind tour.
And with that, we crashed for the night as we were pretty much down to the last quarter of the trip…