Day 14 (August 17, 2021 – Olafsvik, Iceland): "Stubborn Clouds"
It was about 6am when I awoke to the alarm, and upon looking outside, it was definitely cloudy this time.
I then spent the better part of the next two hours tending to photo management duties, and then when Jon and Eline arrived at the common area at about 7:30am, we found out that we were the only guests staying at Hof i Vatnsdal over the last night.
So it was kind of nice to have this place essentially to ourselves, and we once again had ourselves a pretty basic breakfast of bread and spreads as I only managed to get caught up only up to yesterday.
I still had more to do, but then we just focused on loading up the car (by then it was starting to rain or drizzle outside) and having our basic brekkie.
After brekkie, Jon gave me a map of Vatnsdalur in English, which was really nice of him, as he must have sensed that I had an interest in learning more about this area (and possibly doing more hikes).
It's probably because I was one of the few of their guests asking about the Skinandi Waterfall until he gave me the low down as to what it would take to actually visit it.
When Jon left to do his farming duties, we then spoke with Eline about her Dutch background, life in Iceland, and various things regarding her daughters attending school both in Iceland and the US.
By about 8:45am, we were back in the loaded car as we headed out and returned to the Ring Road after getting past the unpaved road in Vatnsdalur one last time.
Once we were back on the Ring Road, we then proceeded along the mostly uneventful drive as we followed the mostly paved road until we got to turnoff for the 68.
That was when we had a decision to make, and the GPS told us to take this road as it curled around the Hrutafjordur instead of continuing to the southwest along the Ring Road.
After a short stretch of going north on the 68, we then turned left onto the 59 road (Laxardalsvegur), which was an unpaved road going over some pass before reaching the 60.
The 60 was briefly paved as it headed south, but then we were told to turn to the right and go west onto the 54, which was once again a mostly unpaved road.
All this driving on unpaved roads made us nervous about the condition of the tires, and I never recalled having to drive this much on unpaved roads in the Snaefellsnes Pensinsula, but then again, we never went east of Stykkisholmur since we took the ferry to the Westfjords back then.
Nevertheless, the combination of rain and drizzle made for a rather gloomy drive even though the scenery showed hints of brilliance as well as many waterfalls that we just couldn't stop for (or this drive would take forever).
On a whim, Julie found this place called the Shark Museum on Rick Steves and wanted to get over there so we could try hakarl (rotten shark), which we had always been meaning to try.
And after the somewhat jarring yet scenic drive where there was so much potential under clearer weather, we eventually got to the signed turnoff for the Shark Museum not far west of where the 54 became paved for good after the turnoff for Stykkisholmur.
The spur road to the Shark Museum at Bjarnarhofn was interesting because it passed through some kind of mossy lava field, which a sign referred to as the Beserkjahraun.
When we got to the Shark Museum at 11:40am, we noticed that there was some light waterfall behind the white building that housed the Shark Museum itself.
So I took some photos of it literally seconds before the weather turned all misty and drizzly, in which the waterfall was hard to see again.
After paying the admission, we then went into a fairly large room where a prior group was getting a video and tasting of hakarl in Italian, and once they were done, we then got to sit through an English tour.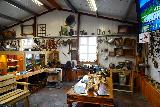 The "tour" itself was really nothing more than watching a video with some live narration by the person giving the presentation.
She then invited us to try out some hakarl, where there were two bowls and a bunch of toothpicks.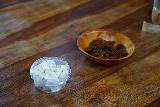 One bowl had cubes of hakarl while the other bowl had those familiar dark "lava bread", which was said to take some of the "bite" out of the hakarl itself.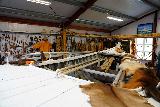 While the hakarl was like eating sashimi, it did leave a bit of an ammonia aftertaste, which was hard to describe because it felt like we were eating medicine or something.
Definitely accompanying the hakarl with the lava bread helped mask some of that ammonia aftertaste, but now that we've had a taste of it, we probably wouldn't rush to have it again now that the our curiosity had been satisfied.
That was pretty much the end of the tour as we were a bit disappointed in that we didn't get to see any of the drying racks or much of the actual process of preparing the hakarl after the tasting.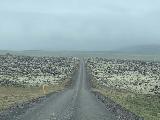 When we got back into the car at about 12:15pm, we were about to head back onto the drive towards Grundarfjordur and eventually Olafsvik, but the car then warned us of "Low Urea".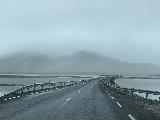 We weren't sure what that meant, but my immediate reaction was that the car needed pee or something like that.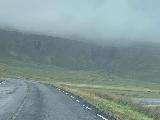 But after consulting the owners manual, we realized that this had more to do with the Adblue thing (this issue struck once again as we last had to deal with this back in Austria in 2018).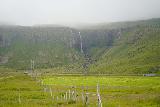 Thinking this might be a maintenance thing, the roadside assistance from Avis called us back and advised us to top it off at the N1 gas station in Olafsvik.
So we noted that advise, and then proceeded to continue west on the northern side of the Snaefellsnes Peninsula until we started to approach Grundarfoss, where we saw that there was a sign and a small car park near the road.
With the weather looking like it remained drizzly with low clouds, we could also see that the mountain Kirkjufell was mostly shrouded in clouds, which made for crappy pictures of the Kirkjufellsfoss, I'd imagine.
So at 12:35pm, we decided to stop for Grundarfoss, and take what appeared to be an obvious trail leading close to the base of the tall waterfall.
The thinking was that perhaps after this walk, just maybe the weather might improve enough to make a visit to Kirkjufellsfoss more worthwhile even though we knew that there's probably going to be a lot of tour bus traffic and general independent tourist traffic.
After all, that waterfall would have been pretty obscure if not for Game of Thrones and the subsequent Instagram lemmings effect where one person takes a shot, doctors the photos, and all of the sudden makes the spot must-see.
Anyways, so after briefly gearing up, we then passed a fence and proceeded on the mostly straight shot trail as we were able to see Grundarfoss up ahead of us as well as a partial view of the neighboring Kvernarfoss.
The hike eventually had to curl around some private property, which eventually led us right to a crossing of the Grundara Stream, which wasn't that easy of a crossing without trekking poles (which we neglected to bring on this hike).
While I was able to get across the stream (albeit precariously given how slippery the rocks were), Julie, Tahia, and Mom stayed behind.
In hindsight, this crossing really wasn't necessary, especially since it also made us look up at Grundarfoss at more of an angle instead of more directly, but the way the private property fencing went, it kind of forced us to do it.
So I was then on my own as I pretty much climbed a somewhat steep and slippery path towards the foot of the base of the main drop of Grundarfoss and proceeded to document the experience with photos and a video.
Just as I was there, I was starting to get some drizzle (though I wasn't sure if it was the waterfall's spray or the weather) as I was watching the birds circle around the waterfall.
And as I started to notice the mist and the clouds getting thicker around me, that was my cue to leave this waterfall and head down to rejoin the ladies.
When I got back to the stream crossing, I saw that there was a continuation of the trail continuing downstream on the east side of the stream, where I then managed to cross the segmented stream at a different part with other rocks to hop to get across.
Without trekking poles, it wasn't any easier than the one I had taken earlier, but at least I managed to get across without getting wet.
That said, it looked like the trail kept going on the east side of the stream, so perhaps was might have been an even easier crossing further downstream.
Regardless, we then headed bcak to the car park, where now the Grundarfoss was pretty much shrouded in mist and fog.
When we got back to the car at 1:50pm, we could still see that Kirkjufell Mountain remained shrouded in clouds that seemed to be sinking now.
We eventually decided to try for a lunch at the neighboring town of Grundarfjordur before pursuing Kirkjufellsfoss, but after a couple of failed attempts at getting lunch (both places appeared to have run out of the good stuff), we then settled for the Kjorbodin.
That was where we picked up some groceries as well as some croissants, which we had for our makeshift lunch in the car at 2:10pm.
After the quick lunch, we then went to the Kirkjufellsfoss car park, which was now well-signed and paved.
This was something we hadn't really noticed in 2007 other than identifying it from the road and taking roadside shots while we were rushing to catch the ferry at Stykkisholmur.
But the "must-see" nature of this waterfall was definitely noticeable, and there was even some signage saying that this car park and access to the falls was on private land so they're asking for payment to park here.
Having seen the article about false pay-to-park schemes that went on near Grindavik, I was wondering if this was the same thing since this wasn't something sanctioned by the Icelandic government (they generally put those parking fees for all the National Parks, which this was not in).
Regardless, we then walked the short path that went across a bridge over the Kirkjufellsa while revealing a partial view of another waterfall further upstream before curling around to get that signature profile view of Kirkjufellsfoss with the Kirkjufell Mountain framed with it.
Still, the clouds were stubbornly clinging to the top of the conical peak making for rather subpar photos, and every once in a while, the peak might barely reveal itself before getting covered up again by the next batch of clouds.
I guess this was the consequence of getting westerly or northerly winds as it was essentially picking up moisture and letting it shroud the rather short mountain overlooking both the falls and Grundarfjordur.
We pretty much spent the next hour or so trying to photograph and video this waterfall in as many ways as we could, and this included getting profile shots of the falls with Kirkjufell looking across each of the two main drops of the falls individually.
I even spent some time going to the trail on the opposite side of the stream for a more frontal look at the pair of main drops of the falls.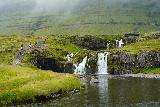 So eventually by about 3:40pm, we were back in the car as it was clear that the weather wasn't going to cooperate, and it looked like the next wave of drizzly rain was coming in.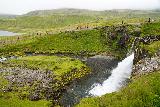 Thus, we drove the remainder of the route to Olafsvik (after once again being nagged about Low Urea), and we wound up in the town of Olafsvik at 4:05pm, where we called the Welcome Apartments, got our room code, and proceeded to drop off our stuff into the room.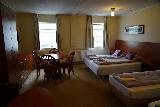 However, I couldn't help but to notice that the car seemed to have some kind of leak as it was leaving a trail of spots, and after putting two and two together, perhaps this was the main reason why the car complained about "Low Urea" and needed Adblue refills.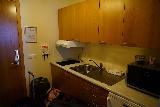 Immediately our thoughts went to where we might have scraped the underside of the car during our drive, and the only thing we can think of was the grassy road we took near the Forsaedalur Farm yesterday.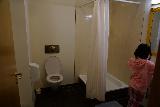 Did we mess up by not parking by the private farm and walking the road leading us to Stekkjarfoss and eventually Dalsfoss?
Anyways, while Mom was helping with preparing a self-cooked dinner (despite the Sker Restaurant downstairs looking both popular and potentially have good food), Julie and I then returned to the N1 gas station to pick up some Adblue so we could fill it up.
We managed to do that at about 4:45pm, but as we returned to the gas station, we didn't see any signs of an active leak, which even the clerk took a look and didn't see anything incriminating.
So after filling up on diesel and filling up a 5L bag of Adblue, we then drove back to the Welcome Apartments, where we once again looked underneath the car as we parked there.
However, then we started to notice more leaking, and the leak seemed to be the most intense when the car was in drive or reverse!
So that got us to return to the N1 but by then they were closed for the day at 5pm (we were there basically after 5:30pm), and so we now had to evaluate what to do regarding any additional sightseeing we wanted to do versus losing at least a half-day at a repair shop.
Nothing was going to be resolved for the rest of today because even roadside assistance was closed after 5pm as were all the shops and services.
But at least the Low Urea warning stopped going off so adding the Adblue definitely helped.
By the time Julie and I were back in the apartment for good, we then had ourselves a pretty good chicken pesto dinner, which was just the right kind of change-up that we needed after spending lots of money eating out for dinner practically every day.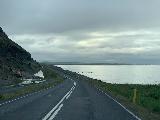 It wouldn't be until about 7:40pm when Mom and I were back in the car as we decided to head out to at least visit Svodufoss, which wasn't further to the west of us near the town of Rif.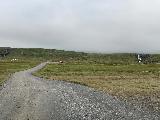 With no further evidence of having a severe leak, we just went ahead and proceeded at risk while Julie and Tahia stayed in the apartment.
And by about 7:55pm, we arrived at a dedicated car park for the Svodufoss, which I knew definitely wasn't there before when Julie and I had trouble figuring our how to experience the falls back in 2007.
Unfortunately, the clouds pretty much stayed low and shrouded the Snaefellsjokull Glacier so we couldn't see it backing the waterfall, but at least we could follow the new path towards a viewpoint.
When we got to the viewpoint, it was still somewhat distant so we then followed a use-trail that went across a stream over rock hopping, and then another smaller side stream that had that reddish algae in it.
And after that, we then climbed alongside the Svodufoss, which revealed some lower cascades as well as some surprise basalt columns next to its brink.
We'd eventually get to the top of the falls, where there were a handful of people sitting down and drawing what they were seeing.
Meanwhile, Mom and I as well as a handful of other people were busy taking pictures before having our fill and heading back down to the car park.
We could tell that the trail was new because it looked like there were newly-planted squares of grass holding up a non-slip kind of grid surface.
That was probably meant for tour traffic, especially for seniors that would be content to enjoy the falls from a distance at the sanctioned lookout.
Regardless, we were back in the car at about 8:45pm, and then we decided that we should return to Kirkjufellsfoss to see if we can catch lightning in a bottle and get sunset shots there as the weather seemed to be improving.
So we promptly headed back in the direction of Grundarfjordur, and aside from getting past some sheep that were fighting in the middle of the road, we eventually returned to the familiar car park for Kirkjufellsfoss at 9:10pm.
It was just in time to see the setting sun as we looked back in the direction of the ocean, but there were still clouds stubbornly clinging onto Kirkjufell, which made taking pictures of the mountain backing the profile of the falls not very great.
So we pretty much tried to wait out the clouds, but we wound up settling as the colors of the sky changed behind Mt Kirkjufell though never really fully revealing its top the whole time.
And by about 10:15pm, we were back in the car as it was pretty much getting dark by now, and we pretty much did our best to get Kirkjufellsfoss with some color but little else in the way of that signature shot.
By about 10:30pm, we were back in Olafsvik, where we then cleaned up and crashed for the night as we punted seeing the waterfall behind Olafsvik for tomorrow morning…