Day 15 (August 18, 2021 – Reykjavik, Iceland): "Going Full Circle"
It was about 5am when I awoke to the alarm.
However, the early wake-up really only bought me the ability to get caught up on the blogging and naming the videos, but I was still behind by at least 3 days in terms of the photos.
I wondered when I would have the time to finish everything up before going home so I could concentrate more on just copy-pasting files to more permanent media than a portable hard-drive and a laptop.
Regardless, I still managed to get some work done until about 7:05am when Mom and I finished having our breakfast just as Julie and Tahia had finally gotten up.
So Mom and I went ahead and did a morning walk to check out Baejarfoss, which was kind of an excuse for me to jog my memory cells as to how much I remembered about Olafsvik from 14 years ago.
Well, it turned out either things changed or I really must have had a poor memory as I never recalled seeing a modern looking church let alone a football field adjacent to it.
Mom and I also noticed a line of rocks along the embankments of the stream that Baejarfoss was on, which reminded us of Seydisfjordur and their landslide issues.
Did Olafsvik suffer a similar fate that necessitated a major rebuilding effort?
All I know was that nothing really seemed like I had remembered it before, and the walk to even get up to Baejarfoss seemed to be more straightforward and wide open than I had remembered.
So Mom and I proceeded up the east side of the stream, and we'd eventually make it to the end of the trail on that side where I managed to get somewhat satisfactory photo shots.
I wondered how much of the photos taken on this trip was fodder for Mom to make Dad feel jealous or left out for not wanting to go on this trip with us.
Anyways, by about 7:55am, we were back at the Welcome Apartments, where we wrapped up some late-minute packing.
Eventually by about 8:15am, we were finally back in the car and all ready to go.
However, just as we were about to pull out and leave Olafsvik, we received a call from Avis, which must have received Julie's message that was left yesterday after their closing time.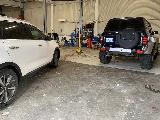 After some description of what we thought was a leak to the Adblue tank, we were then instructed to go to a mechanic in town, and by about 8:25am, we wound up at the "Car Assistance" office right on the harbor of Olafsvik.
After some more consulting with the mechanic there, he concluded that the "leak" we saw was nothing more than condensation from the air conditioning unit, and that the low Adblue was likely a coincidence due to the amount of driving we had done.
He also said that the 5L of Adblue that we put in was plenty for the next rental period, and that he seemed to echo a sentiment that no one likes Adblue as it seems to cause more trouble than it's worth (except it's an EU clean-air mandate that all diesel cars must have).
So by 8:35am, we were finally leaving Olafsvik, and we made our way in the general direction of Bifrost and eventually towards Reykholt and Husafell, where we would eventually target Hraunfossar and maybe eventually the Vigdelmire Lava Tube.
As we drove over the pass leading us from the north side of the Snaefellsnes Peninsula to the south side, we started to get attractive views of the basin below as well as Bjarnafoss.
When we got down to the basin, we wound up taking the first left turn we could, which led us to someone's farm, but there was a rough road that led to the actual car park for Bjarnafoss that definitely wasn't there when we were last here in 2007.
As we were getting ready to leave the car and go for a quick walk at 9am, we saw that more cars started to pull up to this car park so it wasn't as obscure of a waterfall that I had anticipated.
Nevertheless, Mom and I didn't go all the way to the bridge as we knew that the closer we'd go, the more obstructed the falls would appear, and so by 9:20am, we were back at the car to continue with our long drive.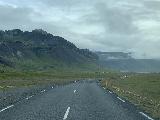 Indeed, heading east on the 54 with Mom sitting on the driver side in the back, she was able to take several photos of random waterfalls that tumbled down in waves off the south side of the Snaefellsnes Peninsula.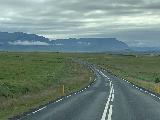 During this long stretch of the drive, Julie got wind of this thing called the Gerduberg Cliffs in the Rick Steves book, which was said to be the longest strand of basalt columns in Iceland.
So we were on the lookout for it, and we'd eventually get there at about 10:05am, but this came after a mistaken left turn that ultimately led to some farm, and there was a sign saying the cliffs were in the next exit (clearly they must have had many people make this mistake).
Anyways, we then promptly got out of the car and took some photos from below of the cliffs, which reminded me of a long row of basalt columns as if they were like a bunch of Devil's Postpiles lined side by side.
Mom and I did go up the steep path that got us onto the top of these cliffs, but truthfully, there wasn't much going on up there as I was hoping to see hexagonal floor tiles like we would at the Devil's Postpile.
In any case, we had our fill of the Gerduberg Cliffs and returned to the car at 10:30am, but not before Julie and Tahia tried to identify and pick huckleberries or wild blueberries versus that shinier berries which we weren't sure if they were toxic or not.
Anyways, we continued with our road journey as we eventually got back to the Ring Road somewhere near Borgarnes, but then we headed north along the Ring Road en route to Glanni, which was an old waterfall that could use an update.
We eventually got there at around 11:20am, and the car park was already pretty busy with a handful of cars, but when we saw that a tour bus was showing up, that hastened our pace even more.
Mom and I were the first of our group to get to the lookout platform, which afforded us the opportunity to photograph and video the familiar segmented waterfall, which didn't seem to change much over the years.
However, the viewing platform did seem to be new, and that seemed to be a consistent theme throughout this trip was the development of tourist amenities even in places as obscure as this one.
I remembered 14 years ago when we were the only people at this waterfall, and that it seemed to be a rather obscure stop, but now it seemed to be a convenient stop for tour buses and Ring Road drivers.
Mom and I pretty much started to have our fill of the viewing deck when the tour bus crowd showed up and pretty much inundated the platform.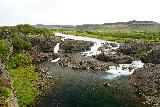 These folks seemed to be mostly seniors from the UK so you figure that COVID-19 shouldn't be in their tour, but you can never be sure about who has it and who doesn't so Mom and I tried to keep our social distance even given the limited real estate.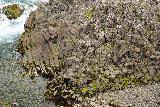 Nevertheless, we had our fill of this falls and started to head back just as Julie and Tahia made it to the viewing platform.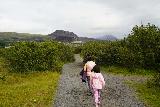 And within a few more minutes, we were back at the car at 12pm, but not before Mom was busy checking out the golf course that was here.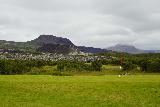 She was viewed this course with discomfort because she thought that if you play here and happen to get your ball into the rough (which is lava), you pretty much have to take your penalty because there's no way you're getting to your ball.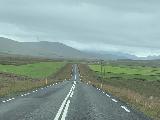 Anyways, we then started the drive to the next destination which was Hraunfossar.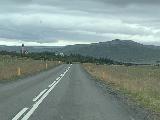 Given the cloudy skies, I expected the color of the water there to be muted (unlike 14 years ago when we had good weather), but at least we wouldn't be looking against the morning sun.
The drive pretty much went uneventfully though we did see some concerning stretches of rain squalls here and there, but thankfully when we got to the car park at 12:35pm, we were still east of the nearest squall.
Nevertheless, we saw that sure enough, there were lots of cars and at least two or three tour buses so we knew it was going to be somewhat of a zoo here (unlike the last time when Julie and I were only one of a handful of people touring both this falls and Barnafoss).
In any case, we got out of the car and proceeded down the walkways in a bit of a clockwise manner as we started with the viewing platforms for the familiar main part of Hraunfossar.
Like before, we saw that this was a very long series of springs that were probably old lava tubes now acting as aquifers instead of lava channels.
The stretch of percolating waterfalls went very far downstream, and it started to make me reconsider our Top 10 Iceland Waterfalls List again because now we wondered if we should flip flop and go back on removing Seljalandsfoss in favor of Hraunfossar given its uniqueness.
Seljalandsfoss was kind of like an ordinary waterfall with a convenient location and the ability to go behind the falls, which wasn't all that unusual, yet it gets publicity given its location and the Gljufrabui nearby.
Regardless, we slowly made our way from one lookout to the next along with some intermediate spots to look across the Hvita River at the main parts of the percolating springs.
We'd eventually get to a bridge that crossed the river and then went onto what seemed like more lava fields with unusual views down at Hraunfossar and parts of Barnafoss, which I didn't recall we had done before.
The whole time we were paying attention to the falls, Tahia had this thing about picking flowers and throwing petals on our heads or into our line of sight of our photos and videos.
Clearly she was being mischievious at this age, which shouldn't be surprising, but killing off flowers for this mischief was not cool.
We'd eventually get back across the river and then to the final pair of lookouts for the Barnafoss.
I think in the past, I was able to get further upstream along the Hvita River because I recalled being able to take photos of the rapids and cascades converging upstream of the natural bridge that was still standing over the Hvita.
Apparently, there used to be a second natural bridge above that, which was the one that was said to have been destroyed according to the saga of a mother who had lost her children here while congregating at a church in Reykholt.
This was one of those things where we couldn't tell if the saga was true in that the mother caused the destruction of the natural bridge by some spell or if it was folklore versus the reality of the bridge falling on its own by natural forces of erosion.
Regardless, once we had our fill of both Hraunfossar and Barnafoss, Julie then had us go to the nearby cafe so we could try out some lamb gulass, which was essentially our lunch for the day.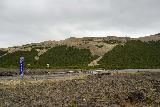 And only after we managed to enjoy the meal (where we all shared the lamb stew) that we got back to the car at 1:50pm and intended to make our way towards the Vigdelmir Lava Tube Cave (or "The Cave" as the promo literature had called it).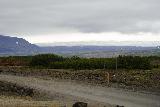 When we got up to a sign for the Kjolur Route as well as a distant view of the Langjokull Glacier at around 2pm, Julie read in the Rick Steves book that the cave was a rather costly investment of both time and money and had seen better caves.
Since we had been pretty familiar with caves and we didn't want to wait for a 3pm tour as it was too late for a 2pm tour, we opted to skip this and head back to Reykjavik.
So we did that and made the long drive back though the GPS had us take a rather obscure gravel road detour to reach the Ring Road somewhere near Borgarnes, which induced some anxiety since we didn't want to have to deal with more gravel roads.
But I also wanted to make a cheap gas stop in Borgarnes, and I guess it was that intermediate waypoint that was our undoing as far as the GPS making us do things we probably shouldn't have.
Anyways, after filling up our half-tank in Borgarnes, we then continued to Reykjavik where we would eventually find street parking right in front of the Tyr Apartments building in the downtown area.
We knew that we had to pay rather expensive rates for at least the nearly two hours before the free overnight parking would kick in, and so that was rather inconvenient as it took us some time to figure out how to pay for this.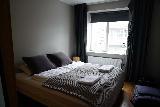 It turned out that there was a machine another block away that we could pay at, or we could pay online apparently upon closer studying of the street signs.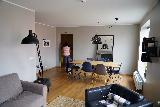 So we wound up paying around 510 ISK to at least have the parking through to around 9am tomorrow morning, which should be plenty of time for us to run errands, especially taking that PCR test as our trip was winding to a close.
And indeed, being back in Reykjavik, we had come full circle, but we still had some unfinished business to take care of – namely Trollafoss, the Old Harbor of Reykjavik, the Fagradalsfjall Volcano, and Thjorsardalur Valley in addition to that negative PCR test to get home.
But at least we were settled for our last accommodation in Iceland before going home (barring any positive test results).
Then, Julie and I went around town to scope out our centralized location and to pick up some groceries at the Bonus nearby before bringing the family down to go to the familiar Hlemmur Matholl again.
We managed to snag an outside seat again as we got there a bit before 5:30pm, but as we were setting up as Julie was ordering the food, some random lady asked (actually kind of invited herself) if she could share the table with us.
That created silence on our part as this felt wrong given the COVID-19 risk that this posed before we had a chance to say no.
But the last straw was when she started smoking, which put our daughter at further risk, and that was when Julie showed up, saw that there were two more empty tables around the corner, and we asked if she could sit over there for everyone's safety.
She was reluctant at first, but she eventually obliged without incident, and finally we could have our meal in peace.
We once again had the familiar brussel sprouts, caulifower, duck confit, and cod dishes, while we also got some kind of Umberto pizza which was pepperoni, marscapone, mozarella, and all on a thin crust.
It was a satisfying meal, and with this being our third time eating here, we at least got to have this place one last time.
After the meal, we then walked towards the Lookoomas Greek Donut place where we pretty much devoured a dozen of these donut balls (that was a bit like a cross between chocolate con churros and the sao bing you tiao you get for Taiwanese breakfast).
And Tahia was happy she got to have a peace gelato from an ice cream joint nearby.
So by 7:05pm, we were back at the apartment and pretty much crashed for the night trying to minimize any further exposure or potential for contracting the delta variant.
This was pretty much the only procedural hurdle left to get over to go home and end our first international trip since the COVID-19 outbreak…