Day 16 (August 19, 2021 – Reykjavik, Iceland): "Carpe Diem"
It was about 4:55am when I awoke without an alarm even though I did have intentions to sleep in on this day.
That was because we had a scheduled COVID-19 test that was to take place this morning at 9am so we had quite a bit of time to kill before we had to get this done.
After all, this was one of the conditions that returning travels to the US had to do, and even though I doubted Trump would have mandated this, it was actually a good thing that Biden at least made an effort to control it from incoming travelers.
Of course, picking on travelers is one thing, but if we can't get our own house in order amongst the American population, I do wonder what if this now amounts to nothing more than just for show that something is being done about it (however futile it might be).
So for the next three hours or so, I pretty much took time to get caught up on both the blogging and the file management chores (the latter was something I was behind on for three days).
Eventually, after Julie did some errands regarding Tahia's back-to-school happenings, she and Mom went to Braud to get some freshly-baked croissants and cinnamon rolls, which we consumed very quickly.
By about 8:30am, we were then in the car, where we proceeded to head over to the clinic where they were administering PCR testing, and when we got there at 8:40am, we saw that there was already a line starting to form.
Nevertheless, they were pretty efficient about getting people in and out of there, and it didn't take long before we got registered thanks to the barcode confirmation that Julie managed to set up for us prior to today.
By the end of that, I was given a vial with some labels on it, and then I went to the testing area where I handed the vial to a technician, and then he swabbed deep into my mouth and then went deep up my nose.
It was a rather unpleasant feeling (similar to the first time we took one of these tests), and then he said I was good to go after that.
I worried about how Tahia would respond to this, and when the ladies caught up to me, I could see that Tahia at least wasn't crying though she was smarting at still feeling sore up her nose.
Mom was still coughing as I don't think she ever had to deal with testing like that, but Julie and I knew that this was probably as accurate a test as we were going to get because they had to get high up the nose to ensure they get a good sample for lab testing.
Anyways, by 8:50am, we returned to the car, and then we proceeded to drive towards the Old Harbor area near the Seltjarnes peninsula of Reykjavik.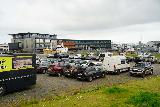 We went looking for the free parking lot, and it took a few tries before we finally figured out that there was an unpaved lot near the Old Harbor part, where there were already a lot of people parked here.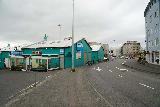 We managed to score one spot in the unpaved lot at 9:15am, and I got the sense that Reykjavik didn't exactly strike me as a city with a high crime rate so I didn't feel threatened about leaving a car unsupervised in this lot.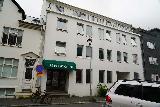 And so we started a walking tour of this far western side of Reykjavik, where Julie followed the Rick Steves book since we knew that he tends to walk readers through the most historically interesting parts of a city to best understand the places we're touring.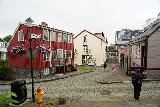 Along the way, we happened to walk down a street where we found the Metropolitan Hotel, which was the place we stayed at when we first stayed in Reykjavik back in late June 2007.
I still remember paying nearly $1000 USD for our three nights there (about the same price as we're paying now for each of our apartment stays), but the rooms were Tokyo-tight as we didn't even have room to put our luggages on the floor as the room was dominated by our twin beds.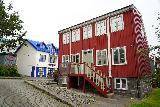 This time, it looked like they covered up the windows and doors with some white paper or something, and it made me wonder if this place was still in business these days.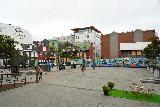 Anyways, by about 9:45am, we found ourselves in a city square that was once the location of the Hotel Vik that burned down in the early part of the 20th century.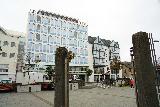 In this plaza, there were a couple of pillars that essentially marked the place where the first settler to Reykjavik (as it would eventually come to be called) first dropped the pillars and found them as a sort of Viking tradition upon entering a new anchoring spot.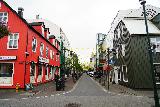 We managed to use a public WC in this square for Mom and Julie, but I think we managed to confuse the self-cleaning machine when it came to Tahia's turn.
Regardless, we then continued the self-tour as we headed to what turned out to be the Settlement Center or something like that, where we saw one of the original houses of Reykjavik (right across the street from a hand pump) and a statue in the garden nearby.
We managed to use another WC since Tahia needed it from within a coffee shop, where Mom also bought some goodie from there though she said that the line moved slow because the guy and the girl working there didn't work very well together.
Anyways, we then walked towards the Reykjavik City Hall, where there was an interesting reflective pond before we then went inside towards the huge relief map of Iceland.
We spent quite a bit of time in there looking at the map (though I'd imagine the ice caps were way reduced from when this map was made) while making sense of the places we had been throughout this 18-day Iceland trip.
Once we got out of the back side of the City Hall, we then went across a bridge spanning the pond eventually leading to an intriguing "faceless bureaucrat".
Then, we proceeded to walk towards another public square that was kind of a garden with a statue in the middle there while facing the Parliament Building and a Lutheran Church next door.
It seemed like this square had seen a lot of action as a result of a pair of corruption events with the first being the 2008-2009 Global Financial Crisis that hit Iceland particularly hard (pretty much right after our first trip to Iceland in 2007).
Then, there was another big protest after it was found that the acting prime minister of Iceland stole taxpayer funds and misused them for personal favors and other non-sanctioned purposes.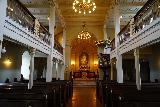 That latter event sparked a big protest that ultimately resulted in an election to replace that prime minister so it was sort of a swift-yet-orderly fix-the-problem event initiated by the population instead of a leadership spill that's all politically driven like what we saw in Australia.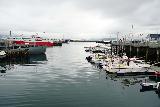 And it's likely better than how we handled the Trump debacle since we pretty much let him get away with numerous crimes, and he can still come back to run for the presidency with blind followers (half the voting population!) excusing his every misdeeds.
Finally, after having our fill of the square and checking out the interior of the Lutheran Church as well as the small garden of the Parliament House, we then walked over to the Grandi Matholl, which was way in the corner of the Old Harbor almost near where we had parked.
It was a bit of a hike to get there at 11:30am, but we eventually got into the more humble comfort-foot food hall, which was definitely way less pricy than the one we'd been going to at the Hlemmur Matholl closer to the far east side of Reykjavik's center.
We wound up sampling things like some Korean tacos, a traditional Icelandic lamb soup, some lamb curry as well as chicken tikka masala, and a Pasta Bolognese for Tahia.
The food wasn't extraordinary, but then again, we didn't break the bank with this meal.
When we were done eating, the place became a lot busier, but at least we were able to leave just as many more people had showed up and turned the fall into more of a potential superspreader spot.
Speaking of infections, we did see one Smorrebrod Restaurant where a sign said that they were closed for today and tomorrow because their entire staff had to get through a COVID-19 quarantine situation.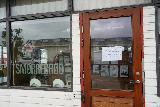 Anyways, by about 12:30pm, we got back to the car where Mom and I would go pursue the Trollafoss Waterfall (since we had failed at it at the start of the trip) while Julie and Tahia would go shopping and walk to the apartment.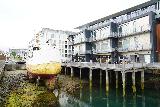 And with that, we were on our separate ways.
We began by driving the familiar roundabouts to get to the Ring Road, and then to get out of the developed part of southwest Iceland.
From there, we took the familiar Thingvallavegur east towards the easy-to-miss turnoff for the Trollafoss Waterfall, but this time, we took it only to the top of the hill on the unmarked 4wd road leading towards the actual trailhead.
But instead of chancing it on the muddy and high-clearance-requiring road, we parked at about 1:05pm right on top of the hill (only limiting our exposure to the nasty road).
Then we walked down the hill and towards the lower car park where there was the familiar P sign at 1:25pm.
On the way down we saw that there were a lot of birds, and they were dispersed well before Mom got close to them.
Beyond lower car park, we then went along a path that took us to a sign that said Ketlishylur, which was basically perched above the waterfall and dilapidated dam or fish ladder that turned us around the last time we tried to get to the opposite side of Trollafoss by following the Leirgva River.
Anyways, we then backtracked from this spur trail and tried to follow the cliff-edge trails back to the main "road", and then we wound up following a different trail that deviated from the road again.
At first, we were led to some bluff where we looked down at one possible spot to get down to the level of the river, but we instead looked at the Gaia GPS, which got us to backtrack towards the road again.
And we followed this road towards another spur that eventually got us to another precarious bluff with a more top down view of the profile of Trollafoss, that was more like the angle that I last saw this waterfall 14 years ago.
There were a lot of horse poo fronting this overlook bluff, but we saw that there were use-trails heading back in the opposite direction downstream and that eventually led down to a steep descent with a pair of blue signs.
So we pursued this path with our trekking poles at 2:15pm, and we saw that the signs said something about Kerfoss as well as Rennur.
From there, we followed the river towards the cascade fronting the main drop of Trollafoss, but as much as I kept eyeing a way to get across the Leirgva River, I saw that the stream was too deep and the rocks were too slippery to try.
And this was despite me bringing my Chacos along with trekking poles! I guess it just wasn't in the cards for me at this moment.
However, as Mom and I were checking out the falls, we did notice a deep pothole that could easily swallow a person, and it was quite scary to look at since we can imagine the consequences of dropping in and getting submerged!
I also noticed a sign saying something about Trollafossbreida (except someone took out the a and the b so it looked like 3 words).
So we were content to just check out Trollafoss from its base at 2:20pm, and after exploring the base of the falls and trying to capture it in every way we could think of, we finally started to leave at 2:50pm.
As we made our way back up the steep climb to get back onto the trail along the rim of the canyon, we noticed that there was a group of horses and horseriders all gathered about where we noticed a bunch of horse poo near the top down lookout for Trollafoss.
We waited for the big group to trott off along the 4wd road-turned-track, and we then proceeded along the hike as we now followed the more inland road route instead of the canyon rim route.
We ultimately got back to the car at 3:35pm where we saw that there was one other car parked at the top of the hill with us, and the driver of that car seemed to be content to pick wild berries, which we also noticed throughout the hike.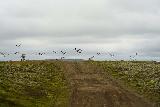 Next, we followed the unpaved road back to the Thingvallavegur, and then we took that road back to the Ring Road, where we eventually made it back to Reykjavik at 4:10pm.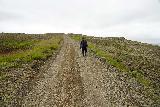 However, after paying about 610 ISK to cover our parking until about 6pm, we noticed the webcam for the eruption was showing lava flowing with some decent weather.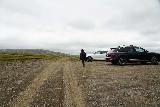 That was our chance to finally check out the volcano, and it was going to be now or never (as you can never tell if the volcano would perform like this tomorrow night).
So by 4:40pm, we got back into the car as I felt stupid for paying for parking that we would end up relinquishing.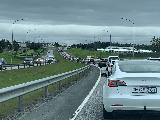 And so we headed through some pretty heavy traffic (due to road construction causing a lane blockage) that took us a while to get out of the city, but eventually after getting past a motorcycle cop doing a speed trap, we'd eventually be home free to drive towards the Fagradalsfjall Eruption.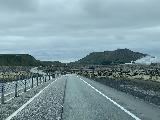 It was as if we were driving back to the Keflavik Airport, which was going to happen soon enough on Saturday (in two days time), but in this case, we'd be turning south towards Grindavik, which was the familiar drive we had taken to get to the Blue Lagoon at the start of this trip.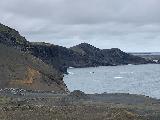 Throughout the drive, I couldn't help but to notice that there was a band of pink clouds, and it made me wonder if that was the volcanic smoke spewing out of the Fagradalsfjall Volcano.
Eventually by about 5:45pm, we wound up parking in the next lot after the crowded first lot (which I'd imagine was for Routes A and B).
I thought from my pre-trip research that the spot we wound up parking at was for the lot for Route C.
And so we promptly geared up and started hiking though the ladies were disappointed that there was a WC next to a food truck, but that was only for staff.
We then made the initial climb as numerous hikers were passing us or were going in the opposite directcion, and clearly it felt like we were going on a pilgrimage or something because it was clear there were countless people wanting to get in on the volcanic action.
There was one fork in the trail where a sign pointed the way to the lava flow, and that trail descended until we would get to the edge of the dried up lava flow that had filled up Geldingdalur.
Beyond the black lava field that was newly created since the eruption started in March of this year we then made the steep climb up along the eastern edge of the valley.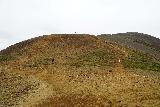 I knew that descending this section of the trail would be tricky because it was already a bit on the slippery side on the way up so it was a good thing that I brought trekking poles (at least one for everybody).
They would come in handly on the return, when we could be descending on three legs provided the trekking poles were properly used.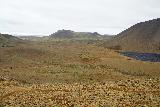 The climb continued as there were literally dozens of people going up as well as down, and so I was a bit wary about the COVID-19 risk here even in the open air, but at least there was a strong cross-wind so I tried to stay upwind from most of the traffic.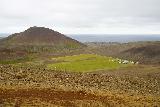 As I was making the climb up, I couldn't help but to notice that there was a third car park near that black lava field.
I guess with hindsight being 20/20, we could have really cut down our hike by going there instead of the lot that I had thought was for Route C.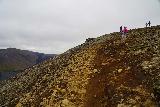 By around 6:45pm or so, I finally made it up to a somewhat flat area where I could see the impressive eruption of the Fagradalsfjall Volcano in the distance as it was spewing red lava and adding to the black mass off its slopes.
There was enough of the molten lava rolling and making fountains as it would make lava falls in two different directcions.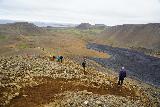 At that moment, I knew that the regular Sony A73 camera with standard 24-105mm zoom was not enough, and I had to whip out the second camera, which was the old Canon EOS 70D with a 100-300mm lens attached.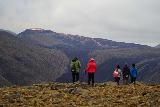 And it was with that camera that I immediately started commencing taking what photos that I could of the fiery phenomenon taking place in the distance.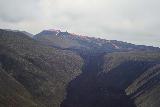 Then, the ladies caught up to me, and we immediately took people shots while also watched the mesmerizing scene unfold before us.
Technically, this was the third time Julie and I witnessed a volcanic eruption (and they were all different), but it was the first time for both Mom and Tahia.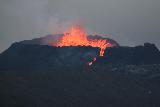 The first time Julie and I saw live lava was on the Big Island of Hawaii, where we had hiked in the dark for a couple of hours, and that one had slow-moving crackling lava that we were able to get close to.
The second time Julie and I saw a live eruption was on the crater rim of the Yasur Volcano in Vanuatu, where the volcano would sporadically throw up molten rocks in the air (some of which reached eye level with us, and it was quite an intense experience).
Now, on this go around, we were watching the Fagradalsfjall Volcano heaving and spilling lava pretty much in two directions, but every once in a while, it would splatter over the north and west side of the crater.
I probably spent a solid five minutes taking what pictures I could with both the general-purpose camera (the Sony A73 with 24-105mm lens) and the telephoto camera (the Canon EOS 70D with 100-300mm L lens).
However, from the angle that this initial position was at, it seemed like the lava constantly wanted to move both down and sideways to the right, which made for somewhat unbalanced pictures.
Nevertheless, with the ladies finally catching up, we took our obligatory photos while watching the spectacle all the while getting some wind chill from the southeasterlies.
The weather was fine enough to keep the clouds above the general crater area so just about everyone could get a prime view of the lava, but given that it was at such a distance, a telephoto lens was definitely necessary.
Of course, some people also brought drones, and there was nothing prohibiting its usage, and I even overheard one guy saying that this was probably the one time that it was worth bringing a drone.
Anyways, it seemed like at least a solid half-hour sitting at this spot and trying to keep warm before I decided that I should satisfy my curiosity and go all the way up to the uppermost hill where I could see infrastructure for the webcam that we had been seeing throughout the trip.
That webcam was instrumental for us (and apparently everyone else) to get enough info to pursue driving out this way to see the erupting volcano, and of course, get a sense of what the weather was like.
That said, there's no guarantees that the weather will stick from the time yoo see it on the webcam to the time you have to drive nearly an hour to get here, and then hike over an hour to even get to this point.
But on this night, it seemed like the convergence of the weather and the volcano's activity had blessed this evening, and it was certainly reflected in the straight up crowds that descended upon this place.
Regardless, I went ahead and left the tripod as well as one of my bottles of water so I could pursue climbing the ridge some more up to the Langihryggur webcame station.
At least the climb wasn't as steep as it had been earlier, but there was definitely a stronger crosswind up here as there was nothing to block the ocean winds the higher the trail climbed.
Ultimately by about 7:30pm, I made it up to the Langihryggur webcam post, and from this angle, I could clearly see that the lava flow was more straight on (albeit still distant).
Some of the smarter photographers found a spot underneath the ridge to protect themselves from the winds (and to better steady their tripods) so they could take steady shots of the lava fountain at the top of the Fagradalsfjall Volcano.
I wasn't able to do that since I didn't bring the tripod with me, but to be honest, I couldn't be bothered with it anyways.
I would still take my time trying to soak in the spectacle while always giving into the temptation to somehow capture what I was seeing with my naked eye in photograph and video form.
Really, it's hard to convey that awesome feeling that I was witnessing something special, and there were hundreds (maybe thousands) of other people that have made this hike up to the ridge to do the same.
However, as much as I wanted to linger here and watch the scene as the day would get darker, it wouldn't properly get dark until at least after 9:30pm, and well, it was about 7:50pm when I finally decided to go back down to the ladies so I wouldn't keep them there waiting in the wind chill.
By about 8:15pm, I rejoined the ladies, where they were trying to keep warm with Mom's thermos full of hot tea (and it retained its heat so well that it could burn the lips and tongue).
Sipping that tea, I definitely felt the hot liquid going down my system and literally heating me up from the inside.
Once we geared up again for the return hike, we were all struggling because all of us needed to empty our bladders, but there was absolutely no place to do that with any privacy throughout this hike.
The concern was Tahia being unable to do it before returning to the portapotties at the trailhead.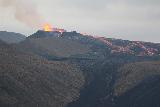 And so we made the descent, where all of us had at least one trekking pole, and at least Tahia and I were slowly descending the steepest parts of the hill with the proper use of the trekking poles.
Other people came in improper shoes and so they were slipping and sliding on the steepest parts of the slope.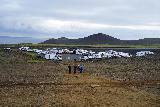 Eventually by about 9pm, we made it back to the car, and after changing shoes and finding portapotties at the entrance of the car park, we would finally head out for Reykjavik.
It seemed like the volcano was becoming even more active than when we first showed up, and it made me wonder whether we should have seized the moment even more and stuck around for at least twilight (but not total darkness).
Oh well, we still wanted to sleep at a reasonable hour since I wanted us to go to Thjorsadalur tomorrow, and it would be a long day of touring so staying up late would pose problems in terms of road fatigue.
Anyways, as we drove away from the car park and making our way towards Grindavik, we then headed north back towards the main road leading to Reykjavik, and that was when we started to see the volcano still performing and being visible even from down here!
We opted not to pull over since we had already seen the volcano from as close as we were going to get, but it was still quite the sight to see, and Julie was busy trying to photograph the scene from the passenger side window while Mom was taking sunset shots on the opposite side of the car.
Even as we drove the 41 back towards Reykjavik, we still saw more activity by the Fagradalsfjall Volcano as its lava was really contrasting with the twilight skies.
But eventually, we'd make it back to the Tyr Apartments at 10:05pm where we managed to score some parking not too far from the apartment itself.
The spot was narrow, but with the help of Mom, Tahia, and Julie, we made it work, and clearly we felt lucky.
We also got feedback from the tests taken this morning that all of us tested negative for COVID-19 so that last hurdle was finally scaled and we should be home free to go home on Saturday barring any other unforeseen complications from delayed flights or car breakdowns, or something else…
And so ended this epic day where we really seized the day and made something out of an errand day that started with our PCR test and ended with the epic volcano experience to essentially complete the trip.
Everything else from this point forward would be icing on the cake!