Days 0-1 (August 3, 2021 to August 4, 2021 – Reykjavik, Iceland): "Perpetual Sunset"
It was about 4:30am when we awoke to my alarm, which bought us some time to wrap up on the packing and any other things to attend to before Dad and Mom arrived at 7:15am to go to the airport.
Dad was kind of acting as our Uber driver since we wanted to ensure that there would be no COVID-19 complications going into this trip, especially since we were quite nervous about catching anything at both the airports and within the airplane.
We certainly didn't want an airport shuttle being the venue of contraction.
We'd ultimately arrive at LAX by around 8am, but we wouldn't get dropped off until around 8:20am because there was quite a bit of traffic at the LAX terminals, where it seemed like air travel was close to being all the way back.
Heck, we saw how hectic it was when there were crazy lines going outside of both the Southwest and Delta terminals.
Luckily, the Alaska Airlines terminal wasn't as hectic, and we'd eventually figure out that we had to go to the Assistance line since we wanted our bags to be checked through to Keflavik, Iceland as we were about to get ticketed for our connecting flight to Portland.
It took some time to get processed through that Assistance line because there were a handful of other people in front of us that had to get processed for bringing pets onto their flight to Costa Rica or Liberia or something while others were senior citizens.
Anyways at 9am, we managed to get past TSA pretty uneventfully though it got pretty crowded within that line, and whatever social distancing guidelines for maintaining 6 feet of separation between people was pretty much out the window.
This was especially the case since we had to lower our masks so the security person could make a positive ID before getting us get to the X-ray machines.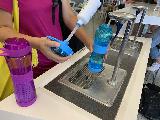 From there, we ultimately got to our assigned terminal for our flight to Portland after filling up on some water (and making use of some bottle filters that some company wanted us to try out) and then we did that connecting flight without incident.
We did notice that on the return flight, we weren't going back through Portland (going through Seattle instead), and I wondered if they changed the flights on us, especially since it was only a 90-minute layover which didn't give us much time.
At least on the way there, we had a two-hour layover, and after a rather rough landing, we needed the two-hour layover since the Portland airport made us walk all the way out of the secure area and have to re-enter through the security lines.
So it wouldn't be until about 2:15pm when we got to eat at the airport as we didn't want to eat on the plane after having seen how tight it was in there as social distancing was impossible, and we pretty much only had around a half-hour left before the boarding time for the next flight.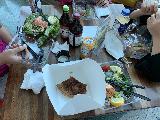 We realized that the place called Caper's Market in the international terminal at PDX was a participant in the Global Priority Pass that came with our Chase Sapphire program.
So we got to take advantage of it as we splurged by getting loads of kombucha, a quiche with bacon, a salmon salad, and a couple of other beverages.
Our pass allowed us pretty much about $84 per pass ($28 per person plus two guests), and we wound up spending upwards of $130 over two cards.
Even Mom got into the act after lunch as she got some croissants and let Tahia get some chips.
Eventually, we got down to our gate for Iceland Air by around 2:50pm, which was just in time for their boarding.
And after going through the formalities of showing our vaccination status and showing them that we had pre-registered and gotten the bar code from the Iceland government's COVID site, we eventually got situated on the plane and it took off on time at around 3:45pm.
The flight itself was pretty uneventful though every row seemed to be occupied. The flight wasn't as crowded as the Portland one, but it was pretty much a single-aisle plane for 7 hours and our COVID-19 concerns were well founded.
Nevertheless, we managed to get some interrupted shut-eye throughout the flight, and I managed to fit in reading some LP info as well as my Icelandic language lessons up to the half-way point of the book.
I also watched this interesting Icelandic movie called Gullregn ("The Garden"), which was really an excuse for me to pay attention to the Icelandic dialog though I found the movie itself pretty entertaining.
It concerned this mother and son's relationship where they gamed the welfare system of Iceland by faking some disabilities until the son managed to bring home a Polish girlfriend that seemed to really jeopardize whatever dysfunctional thing the mother had going.
Anyways, I couldn't help but notice that the outside never really got dark as the skies seemed to be in perpetual sunset throughout the flight before the plane landed on time at around 6am Icelandic time (they were 7 hours ahead of LA time).
Then, we managed to get through Passport Control, which was a busy time as there were two flights that arrived at the same time.
We did find it strange that at the Passport Control and at the customs after the luggage claim that no one really checked for our vaccination status or certificates.
We thought that was kind of a worrying sign for us given how much the Delta variant had been spreading, and whether it had already taken hold in Iceland but no one seemed to heed it (though we did have to take a negative PCR test vaccinated or not as one of the boarding conditions).
It wasn't until about 6:35am when we got past the passport control, and then after taking some more time to pick up the rental car, it was about 7:30am when we finally got to start loading up the Kia Sorrento.
We actually paid another $619 to get the excess reduction cost down to 0, which made our car rental costs jump up to $6000, which was nearly 50% more than what we paid for four international plane tickets!
As we drove off, I realized that my Garmin Nuvi didn't have the proper map for Iceland, which was a concern, but at least we still had the included GPS in the rental SUV though it was quiet.
After getting to a gas station somewhere near Keflavik, we got a couple of sim cards so we can get internet, and we took some time to get that set up so we could at least make a booking for the Blue Lagoon, which was scheduled for 11am as the 10am slot disappeared during our booking process.
At about $227 for all four of us, that was a bit concerning as we were already bleeding even more money on this expensive trip (after having bled lots of money for all the home repairs we had to do throughout the month of July).
So we then moved on in the direction of Grindavik as we saw that there was a lobster soup place that was open (the only one besides gas stations at this time), and we managed to get there at 8:55am.
The cafe was charming as it was situated on the third floor of some kind of active working building, and we struck up a conversation with the lady at the cafe who spoke very good English.
She was telling us that the post-COVID tourism in Iceland was not all the way back and that it was mostly Americans coming to Iceland, but she was also concerned about the spreading of the Delta variant as she was certain it was going around in the country.
Regardless, we pretty much stuffed ourselves on multiple helpings of lobster and vegetable soup, and then by about 10:15am, we got back in the car.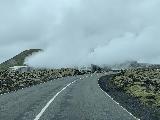 By about 10:30am, we made it to the familiar parking lot for the Blue Lagoon, which was now under a cold drizzle as we were fumbling through our luggage for swimming gear while also trying to stave off the cold as we were getting wet from the intermittent light rain.
Anyways, after all that was done, we then got into the gender-separated locker and shower areas within the Blue Lagoon, and then we spent pretty much the next couple of hours enjoying the warm waters of the Blue Lagoon itself.
This place seemed to be more overrun with international tourists than it was back in 2007 when Julie and I were first here as I didn't hear a whole lot of Icelandic being spoken (it was actually more American as the lady at Grindavik was telling us).
As for our experiences, our rather expensive tickets did cover things like a free drink (so we gotten some kind of green smoothie as well as a couple of apple ciders from Somersby), and then we did some mudding up of some white silica mud to put on our faces.
This time, they had someone give each customer some spoonful of the mud instead of us picking up the mud ourselves, and the footing of the Blue Lagoon seemed more developed than the seemingly smooth but natural surface the first time around.
Eventually at 12:55pm, we were back in the car, but then we had to drive to Reykjavik where I was struggling to stay awake after the long flight and the jetlag that was definitely setting in.
Fortunately, we made it to the Downtown Reykjavik Apartments at around 1:45pm, where we were given instructions to get the keys and then into our rather spacious apartment, which was way roomier than the tight room Julie and I were in back in 2007 at what I think was the Metropolitan Hotel.
I wasn't sure if that place was still here, but this apartment (which wasn't cheap) was quite the upgrade from that experience 14 years ago.
At 2:15pm, we got settled into the apartment, but then I know I succumbed to some much needed napping, and it wasn't until about 5pm when we finally got out of the apartment and did some grocery errand at the Bonus nearby.
Unfortunately, I only learned at the time that the $50 sim card that we had used for my own phone was already exhausted from a combination of my MalwareBytes Privacy VPN and the Gaia GPS using the cell coverage simultaneously with my GPS!
Well, good thing the sim card was exhausted and we weren't running up charges on our phone plan!
Anyways, we bought about $100 USD worth of groceries before getting it back to our apartment at around 6pm, and then at 6:15pm, we went to some nearby food court called Hlemmur Matholl.
It was actually reasonably-priced food where we had gotten a duck confit, a cod, brussel sprouts, and a margarita pizza (from a different booth) while Tahia got some spring roles from a pho kiosk in the food court.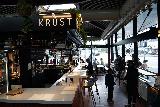 Unfortunately, there was only seating inside and it was already busy in there as outdoor seating was limited thanks to a combination of rain plus a single sheltered table that was already taken up by some smokers.
So it was yet another superspreader kind of venue where we had no choice but to lower the mask to eat, but with all the people around us, it was definitely a concern that someone among us was likely carrying the virus and spreading it.
Nevertheless, the food was delicious and it planted in our minds that we might come back here tomorrow evening for another go at dinner if we don't find something else.
At 7:05pm, we were done eating, and then we decided to retreat to the room because it was suddenly raining quite a bit harder.
But when the rain calmed down at around 7:45pm, we then finally embarked on a bit of a walking tour of Reykjavik, which was something that we hadn't done 14 years ago.
Our walking tour pretty much followed along Laugarvegur, which was kind of like an artsy walking street with some very light vehicular traffic.
Along the way, we went looking for a way to buy hakarl (something I didn't get a chance to try though the Greenland shark numbers were unknown and likely to be endangered so that caused some degree of responsible tourism concerns considering whales and puffins were also on some menus).
We weren't successful finding a chance to snack on hakarl, but we did try some kind of Greek doughnut called Look Koo Mas or something like that, which was actually quite good and was kind of a cross between the Spanish chocolate con churros and the tsao bing you tiao from the Chinese breakfasts.
We wound up walking all the way towards the Harpa Concert Hall at 9pm, which had this reflective pond in front of it though for some reason I thought it was on a much larger pond and the building was in the water itself (which it wasn't).
There was quite a bit of construction going on next door, but at least we were getting our shots of this architecturally interesting building before heading back in the other direction looking for Baerinns Betzu's hot dog stand, which was in a seemingly upscale area.
I swore it was in a non-descript part of the waterfront back 14 years ago, and we were also looking for Saegreifinn's fish soup place (that might have been the place that had the hakarl as well as whale meat) though we didn't have time to get there as Tahia was really complaining now.
Anyways, we then made a beeline following some rainbow-lined street towards the Hallgrimskirkja, which was still quite busy with people taking pictures around it as it was getting to around 10pm.
It was still like a perpetual sunset at this hour when we walked up to the impressive church, and the red-painted door somehow kept making me think of Game of Thrones even though I had never really watched that show.
Finally at 10:25pm, we made it back to the apartment once again to finally crash for the night.
The rest of the night was kind of a blur when I finally crashed into bed at midnight as tomorrow as I was dozing off trying to tend to photos and blogging tasks.
Tomorrow was going to be more of a hiking day as we'd likely divide and conquer so Julie and Tahia could recover a bit, but there wouldn't be an opportunity to do the Fagradalsfjall volcano hike on this day as our body clock was still messed up to even entertain doing that…