Day 2 (August 5, 2021 – Reykjavik, Iceland): "Win Some and Lose Some"
It was about 5am when I awoke to the alarm, but Tahia was already up and she quickly suppressed the alarm after a couple of rings.
Clearly, she was looking to sneak in some screen time on Mom's iPad, which has now reached obsessive proportions, and we had do something about it (like forcing Mom to change her passcode though it would make it hard for Mom to remember what she changed it to).
That created quite a bit of drama in the morning when both Mom and I left the apartment at 6:50am after having our breakfast while Tahia was sulking because she didn't get any additional screen time upon our departure.
Anyways, it was pretty quiet in the morning as we made our way east out of Reykjavik as we headed towards Hvalfjordur and the Glymur Trailhead.
And like the last time that Julie and I made this drive 14 years ago, we made a stop along the way at Sjavarfoss.
Now, that place actually had a signed parking area as well as a trail going by the stone corrals at the bottom leading to the base of the waterfall.
I recalled that trail wasn't there before, and it kind of illustrated just how much things had changed since the days when Iceland was more of a boutique destination back in 2007.
These days, it was one of Europe's more popular destinations, and with that came more infrastructure to make things easier on tourists.
So we went down the trail and over a slippery Japanese bridge before hiking amongst the stone corrals (for sheep, I'd imagine) and then eventually along the banks of the Fossa just downstream of Sjavarfoss.
It was just Mom and I as we got a bit of a closer perspective for this waterfall than what Julie and I experienced 14 years ago, and we even got more profile views of the falls from this close up.
We then had our fill of this place as we returned to the car at 8:05am, and we next continued our way towards the head of Hvalfjordur, where we saw another interesting waterfall by the road en route.
Then, we took a 3km unpaved road continuing east from the head of the fjord, and eventually by about 8:20am, we arrived at the familiar Glymur Trailhead, which was right at the dead-end of the unpaved road.
We were the third car that was here without our early start, and we wasted no time gearing up and starting our anticipated hike that I had planned to take about 5 hours.
This time, there were signs explaining the trail leading to Glymur, and there were also helpful signs along the trail pointing the way to the falls, which promptly had us going in a clockwise manner as it took us towards the eastern banks of the Botnsa River.
Unlike the first time that we were here, we didn't have to follow any yellow dots spraypainted on rocks as the trail was now quite obvious, especially at the junctions.
And so we had no trouble making our way towards the double arch "cave" which I learned was now called Thvottahellir.
After making our way through the "cave", we then descended along the western banks of Botnsa, where we were greeted by a lady that was enjoying her experience as she rested at the base of the double arch beneath Thvottahellir.
Mom and I suspected that she must have gotten an early start since she was on her way back, and perhaps she might have been part of the big van that was parked at the trailhead (as perhaps it was a small tour group).
By about 9:20am, we arrived at the familiar log bridge with a wire to hold onto, but this was a bit trickier this time around as compared to the first time because this required a bit more balance as well as a stretch where we had to balance on rocks to even get to one end of that log.
Good thing we had brought trekking poles to get across it more easily.
Once we had gotten to the other side, we then continued following the well-signed path as we next had to make a steep climb.
But unlike the hike 14 years ago, we didn't need to follow more of the spray-painted yellow dots as we used to make our way up directly up the loose rocks.
This time around, there were chain-aided wire ropes as well as a more established (albeit slippery) trail that led us up this steep and narrow path before reaching the continuation of the established trail along the edge of the narrow canyon carved out by the Botnsa.
By about 9:40am, we started to experience the handful of lookouts providing us partial views upstream towards the impressive Glymur Waterfall.
Along the way, we started to see other people showing up and passing us as we were definitely no longer alone at this time.
And we'd continue along the trail to see even more viewpoints as Mom and I didn't have as much trouble with this trail as Julie and I did 14 years ago when the trail wasn't as well-defined.
By about 10am, we arrived at the signposted Stedjanos View, which yielded us a nice view of the full height of Glymur while standing next to some kind of phallic rock.
We'd then continue our way towards another viewpoint labeled "View 5" further along at 10:10am, which actually had a dedicated viewpoint (basically a perimeter of stacked shale flakes acting as railings) that I swore wasn't there before.
Next, we continued our ascent up towards even more viewpoints as we had gotten more frontal views of the Glymur Waterfall while being passed by another American family along the way as they were making quick progress.
Speaking of the quick progress, we had nowhere near as difficult a time as before as the trail was definitely more signed and more obvious to follow with even more roped sections for leverage as well as some roped off areas to discourage trail erosion.
Eventually by around 10:25am, we managed to get up what was perhaps the closest frontal view of Glymur, which I recalled might have been the turnaround point for Julie and I 14 years ago.
And in another 20 minutes, we got up to yet another viewpoint of the front of Glymur, which got us yet another frontal partial view of the waterfall.
This time, we started to see a couple going down the other side of the waterfall, which attested to how fast they were hiking compared to us.
Anyways, we were now going through uncharted territory as far as I was concerned, and eventually we reached a sign that told us we had to wade across the Botnsa in order to get to the trail on the other side of the river.
That American family that had passed us earlier was already on the other side perhaps drying up their feet before resuming their hike, and now it was our turn to do the same.
For some reason, I thought there was supposed to be another one of those log bridges, but instead, we had to brave the cold water barefoot and use our trekking poles to maintain balance across the slippery bedrock and rather sharp rocks (in a bit of a Naked and Afraid flashback).
By about 11:25am, we made it to the other side of the Botnsa River, where we then sat on the wet grass and waited for our feet to dry before putting them on and resuming the hike ten minutes later.
We saw further downstream that there was another waterfall further upstream, but we decided against doing that as we could see dark clouds surrounding us while I noticed further down by the Hvalfjordur that it was misty with rain down there.
Anyways, after making one more stop at a rock cairn with an unusual view of Glymur's upper tiers from the other side of the river, we followed the easier trail downhill for 3km back towards Hvalfjordur.
There was a 3.2km path along the rim of the canyon by Botnsa, but we weren't up for that as we were now content to make our way straight back to the trailhead.
Along the way down, we were passed by a couple more groups and it also rained on us as we were more than half-way through so we had to get our rain ponchos on and I had to bust out my backpack cover to help Mom's backpack stay dry.
Finally at about 12:55pm, we made it back to the Glymur Trailhead, where there were lots of cars parked there in a bit of a surprise as apparently this spot wasn't as unknown or as empty as the last time Julie and I were here back in 2007.
Next, we then drove towards Thorufoss and it was a good thing that we had fit in our Sjavarfoss visit earlier on because it was totally raining en route.
Eventually at 1:35pm, we made it to the familiar Thorufoss car park, which was a lot wider and it was labeled with a signpost that I swore wasn't there before (yet another one of the infrastructure improvements over the years).
But just as we had pulled up, the weather started to pour hard and so we were stuck in the car trying to wait out the squall.
I guess the timing couldn't have been better because we both were still jetlagged and both needed the power nap so we actually dozed off while waiting out the downpour.
Eventually at 2pm, the rain started to calm down, and then we started to get out while it was still sprinkling while there was a rainbow further down the valley.
And so we took some time to check out the Thorufoss Waterfall from the edge of the canyon rim, but then I noticed that there was a trail that appeared to go down to the base of the waterfall so we then promptly pursued that path.
Eventually, we'd get down to the misty base of the waterfall, which didn't seem like any of this path was sanctioned as it was a little on the narrow and rough side and could easily be inundated if the river level would be any higher.
There was one midge that managed to get into my eye as they were swarming around us (earlier on, Mom had gotten a midge that went into her ear before she extracted it).
There were other people that followed our lead as we were making our way back up, and we spent a few more minutes experiencing the waterfall from the familiar canyon rim before returning to the car at 2:35pm.
Next, we continued the drive back towards the Thingvellir Road as we then made our way towards Trollafoss, but the GPS wanted to take me towards the Stardalur route.
Instead, I followed the more familiar route towards the Hrafnholar Farm, but there was a bit of confusion about getting to the waterfall with only a blue map sign providing any hint of the waterfall's existence.
After a bit of confusion and taking a rather dicey road leading to a lower parking area, I ultimately decided that perhaps there was an easier riverside route from the Hrafnholar Farm on the other side of the river.
So we backtracked and then got to some pullout next to the Hrafnholar Farm at 3:25pm, and then we proceeded to do the rather narrow and muddy riverside trail that eventually got us towards some kind of dilapidated dam structure alongside the river.
Unfortunately, the trail pretty much disappeared at this dam, and so after doing a little exploring, we decided that we weren't going to be able to make it to the Trollafoss from here and so we had to concede defeat.
Just as we were heading back, we saw that there were a few other people making their way to Trollafoss from the rim of the canyon, and in hindsight, I guess we should have stuck with our instincts and taken that path earlier on.
But I still remembered getting to a hard descent and only ended up with a partial view of the waterfall some 14 years ago so I wanted something that I thought was easier.
I guess if we have time to come back here, I'll have to make time to do that again to see if we can finally have success, but it wasn't going to happen on this day as it was getting late in the afternoon.
So you win some and you lose some, and it just wasn't happening on this day.
By about 4:35pm, we made it back to the car as the hike was a fail but at least we learned something about what not to do on this go (you always get some takeaway even with fails).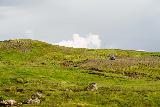 And finally by 5:05pm after a little bit of traffic in downtown Reykjavik, we made it back to the Downtown Reykjavik Apartments where we rejoined Julie and Tahia.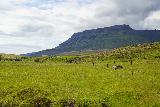 For the rest of the evening, we scoped out the other apartment that we would eventually stay at for the end of the trip (which only had street parking which wouldn't be a good thing since our apartment now had plenty of parking on the property itself).
But I think we could no longer cancel without penalty so we might just have to put up with the inconvenience of not finding parking (and possibly paying more for a dedicated structure; so it wouldn't be as cheap if you factor in the parking).
Anyways, we then decided to return to the Hlemmur Food Court again since Julie's desire to try the Old Icelandic House required reservations and was all indoor seating.
By 6pm, we managed to score outdoor seating so we could eat in peace without the COVID-19 risk inside, and this time we ended up eating cauliflower, brussel sprouts, and duck confit from Krost while having arctic char from Skal, and a gambas and pescado taco from Fuego.
It was a nice dinner again at reasonable prices, and at least we know that we can always fall back on this place as long as we beat the rush, which we did as tour groups started to show up around the time we were done eating at 6:45pm.
When we returned to the Downtown Reykjavik Apartments at 7:30pm after a brief errand run in search of replacement umbrellas that broke on us, we took a look at the web cams as we were intending to go to the Fagradalsfjall Volcano for some night hiking and lava viewing.
But from looking at the web cams, we saw that there wasn't much activity, and the safetravel.is website stated that there was no visible lava activity from the trails (though some of the webcams did show activity but they were positioned probably at less accessible spots).
The lone camera that did have tourists in front of it didn't show activity (other than steaming) and so we deemed that it wasn't worth the trouble to deprive ourselves of sleep just to see steaming black lava. It certainly wasn't the fountain of lava display that was touted back in March and even in June!
And so we decided to get caught up on sleep again as we crashed for the night. Perhaps when we return to Reykjavik, we might get lucky and get another lava fountain eruption, but it definitely wasn't in the cards for us on this visit.
Indeed, you win some and you lose some and that was a second loss after the Trollafoss fail on this day…
Visitor Comments:
Got something you'd like to share or say to keep the conversation going? Feel free to leave a comment below...
No users have replied to the content on this page