Day 3 (August 6, 2021 – Reykjavik, Iceland): "The Golden Crescent"
Knowing that we were going to do the Golden Circle today, the whole family pretty much got up to the alarms at 5am.
I spent some time getting caught up blogging about yesterday's happenings while having a kefir and fruits breakfast, and eventually by about 6:40am, we finally headed out.
The intent for today was to head straight for Bruarfoss (or Bruararfoss), which was a waterfall that Julie and I didn't get a chance to do on our first trip back in 2007.
I had to choose between doing that waterfall versus doing Thingvellir first thing in the morning, and I figured that if we had time to spare then we could try to fit it in at the very end of the day or at the end of the trip.
And so we drove the familiar roads past numerous roundabouts as we went north and then east on the Thingvallarvegin, which was pretty much under gloomy overcast skies that pretty much covered all the mountains on the otherwise scenic drive.
Everyone was still trying to get caught up on sleep and getting over jetlag so I was pretty much the only person awake shortly after getting past some horse farms that at least got Tahia's attention.
Anyways, after getting past an extensive 50km/h zone while driving near Thingvellir National Park, we'd eventually reach the Bruarfoss Trailhead at 7:55am, which was signposted, and it was pretty much next to a road bridge over the Bruara.
So I guess the waterfall that we were visiting was aptly named since Bru was the Icelandic word for bridge.
Nevertheless, it took us some time to get started, and so we wouldn't start hiking until about 8:15am.
While doing the hike, I learned about 20 minutes later that my Cotton Carrier Strapshot was stuck and so I had to detach it from my camera as well as from my backpack.
It seemed like everything was breaking on this trip, but this was quite disappointing because our Cotton Carrier wasn't that old (we only bought it last year)!
Anyways, I had to get readjusted to not being able to use the Cotton Carrier anymore and rely more on the camera bag again, but perhaps even more scary was that the strap that I was used to using was no longer available so I really had to watch out for dropping the camera.
Speaking of which, I think what did the Cotton Carrier in was during the Glymur hike yesterday, the camera dropped after trying to put it in the Strapshot, and unfortunately, I didn't have the string attached so it fell to the ground and probably bent or dented the interface peg.
After all, it kept getting stuck, and I guess this thing wasn't as sturdy as they claimed it was (or perhaps the force of the fall from the camera was too great?).
Regardless, the hike went on pretty uneventfully as we first hiked on a wide open track before getting to some signage and some rock bridge over a side stream that then went into a rather muddy stretch with quite a bit of vegetation flanking us.
By this time, we took out our trekking poles to make it a little easier for Tahia and Mom to maintain their balance amongst the muddy terrain, but by 9:05am, we ultimately made it to the Hlauptungufoss, which was the first of three waterfalls on this hike.
This was a rather powerful chute as the Bruara was squeezed into a narrow ravine full of sharp and interestingly-shaped volcanic rocks.
It was also quite slippery here so we made sure to stay back from the edges while trying to take photos of the pronounced glacial-flour blue waters that did kind of seem like a smaller version of Salto Grande in Patagonian Chile.
After having our fill of Hlauptungufoss at 9:20am, we then continued along the trail just as a couple of other parties had passed us (so we weren't alone anymore).
But by about 9:35am, we then saw the Midfoss, which was the aptly-named middle of the three waterfalls though this one was more of a series of rapids and small cascades.
So we didn't linger as long for this waterfall as we did for the first one, and so we continued on as the trail would keep following the Bruara River while splitting into parallel or optional trails that ultimately converged further along (so it didn't matter which path we took).
The hike would continue as we followed along the river before there was a split in the path where we took the path on the right as it ascended somewhere near some Summer homes.
Apparently, those Summer homes were what established private property, and the former access to Bruarfoss was closed due to trespassing reasons.
And as far as inconsiderate tourists who flout the rules and respect of the locals, I also saw discarded tissues by the trail, which was also not cool.
Eventually by about 10:10am, we made it to the bridge fronting the Bruarfoss, where there were already about a half-dozen people or so there.
About half of the people there had tripods and were busy clogging up the passageways to we'd have to squeeze by the person just to get on the bridge.
Nevertheless, when Julie saw this waterfall, she apparently instantly recognized it as an Instagram waterfall, and for the next several minutes, we took some time using the bridge as a tripod so we could take long exposure shots as this waterfall was conducive to that.
It was too bad there was no sun that would really bring out the powder blue of the Bruara River, but the river was still quite a pronounced blue nonetheless.
So by about 10:35am, we had our fill of the Bruarfoss just as quite a few more people were showing up, and then we proceeded to follow the now-straightforward path back to the car.
There were lots of people now going in both directions though it wasn't as crazy as I'd imagine Geysir and Gullfoss would be, which was our next two attractions that we were about to hit.
Throughout the return hike, I kept playing Song 2 from Sigur Ros in my mind as I was thinking back to how this Icelandic family that we met while trying to buy an Icelandic GPS and map back in 2007 introduced us to Sigur Ros (which was later reinforced by hearing them on Triple J Radio in Australia).
I always thought Sigur Ros was the perfect band for the mood that Iceland can invoke, where it was pretty much natural beauty that can give you a good cry, which is pretty much Sigur Ros' music now that I think about it.
Well, by about 11:45am, we finally got back to the car, where sure enough, the trailhead parking was quite busy now (whereas we were only one of two cars when we had gotten started).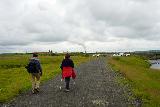 Next, we drove further east on the Golden Circle Route, where we then got to the Geysir Visitor Center at noon, which was basically a large car park area with restaurants, shops, WCs, and other things.
It was definitely way more developed than when Julie and I remembered it in 2007, but then again, perhaps the folks here learned from the past and made sure tourists would be parking at this built-up area instead of closer to Geysir like I had remembered doing back 14 years ago.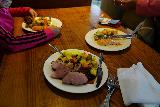 In fact, I noticed that there was signage indicating that the main entrance was further up the road somewhere between the nearest parking and this visitor center complex so perhaps they're trying to get all the people walking through that main entrance.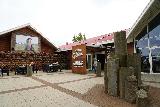 Anyways, before visiting the Geysir area, we decided to head inside the cantina, where we got some average cafeteria-style food, which made us appreciate how spoiled the Hlemmur Mattholl was in Reykjavik for each of the previous two dinners.
We wound up having lamb, meatballs, and three trout, which was the catch of the day. Unfortunately, we couldn't eat outside with this cafeteria food so we had to take a chance by eating inside.
Once we had our fill of the lunch, we then got into visiting Geysir, where we pretty much walked towards Strokkur and watched it go off about 4 times during our visit (the last two times had impressive eruptions while the first two were head fakes).
We knew that the legit Geysir wouldn't go off so we pretty much cut short this visit and got back to the car at 1:30pm.
Next, we headed out towards Gullfoss, where we'd eventually get to the familiar spacious upper car park (instead of taking the more limited lower car park) at 1:40pm.
As soon as we parked the car, we saw an impressive glacier in the distance, which I suspected (and later confirmed) that it was the Langjokull, which was the source of the Hvita River that Gullfoss was run on.
With my telephoto camera, I took a few distant shots of the glacier in the distance, but after that was done, we then returned that heavy telephoto back to the car while I had my more legit all-purpose camera so we could document our experience at Gullfoss.
The first thing that struck Julie and I about our visit was that the trail leading to the overlooks at Gullfoss seemed much more developed that we remembered them being.
While Julie and Tahia made a beeline for going down to the lower overlooks and eventually the trail leading to the brink of profile of the two tiers of Gullfoss itself, Mom and I took the upper path leading to a more regal overlook of Gullfoss.
From up here, Mom finally got to see this Top 10 waterfall (at least for our World List) though I was bumming that we didn't see any rainbows even though the sun was coming in and out at the time.
Eventually, we'd go down the steps and rejoin Julie and Tahia where we'd take a few obligatory shots from somewhere in front of the lower car park while we also noted some of the changes that were made down here.
The first thing we noticed at this lower level was that the car park wasn't for tour buses anymore, and we suspect they're trying to funnel tour traffic towards the upper car park where there's more shopping and restaurants up there.
Leaving tourists down here at the lower lot seemed kind of useless since most tour group people want the creature comforts, which was totally lacking at the lower lot.
Regardless, we'd ultimately get to the misty brink of the lower falls and the front of the upper falls of Gullfoss, where it was quite crowded here and we were glad that we had been wearing masks given the high concentration of peoples from around the world here.
When I saw that the sun was still out while we were this far out by the drops of Gullfoss, I decided to head back as soon as I could to take photos of Gullfoss with rainbows.
So I made quick work of the trail and then took some rainbow shots from the lower lookout area where the rainbow stretched across its full width.
Then, I quickly went up the metal steps so I can get right back to the higher overlook to get more rainbow shots of it fronting Gullfoss, which I did manage to do.
And it was good timing because I barely had a few minutes before the dark clouds pretty much engulfed the sun while the squalls started to get closer and closer.
Ultimately by about 3pm, we made it back to the car right before the squalls would overtake us.
And so we headed west before going south as we were headed to the Faxi Waterfall, and we'd ultimately get there at about 3:20pm.
Unlike the last time Julie and I were here when we just went to find some place to park and then walk down to the bottom to experience the falls more personally, we saw that there was a kiosk and barrier charging tourists 700 ISK to park, which was yet another change from our visit 14 years ago.
Although I wasn't too pleased about bleeding money so fast on this trip, I did agree with needing to charge people to visit so the proceeds could at least go back towards maintenance and upkeep of the tourism infrastructure.
This was something we could certainly learn and apply from the Europeans since they seemed to have this concept done correctly.
Regardless, after checking out the wide Faxi Waterfall from the uppermost lookout, we saw that you could drive down to the lower unpaved lot somewhere below some restaurant.
And so Mom went back to the car so she could drive down there while I was taking my time going down to a middle viewing platform (none of this stuff was there 14 years ago), and then when I met up with Mom down below, we took the rest of the path down to the familiar base of Faxi and the salmon ladder.
It was quite misty down there, and we had to share the lone dry spot with another American group of visitors, but we'd eventually get our shots and then be joined by Julie a few minutes later, before we had our fill and then headed back up to the car at 3:45pm.
Even though it was getting late in the afternoon, I thought that perhaps we could still fit in a brief visit to Thingvellir and the Oxararfoss Waterfall before getting back to Reykjavik.
And so we did exactly that so perhaps we could lessen the sightseeing burden on our final three nights in Reykjavik at the end of this trip.
Thus, the drive went along pretty uneventfully though there were some mean looking squalls in the distance surrounding us, but none of that rain really affected our drive.
By about 4:40pm, we had finally made it to the Oxararfoss car park, but it seemed like the P2 Kastalar car park was closed to the general public.
I also got out of the car and used the pay machine (750 ISK to park here) so we wouldn't get fined for parking here without paying (and paying that administrative fee for penalties per our Avis rental car contract).
And after spending some time to use the restroom down by the P2 car park at 5pm, we then backtracked and went up some steps and wooden boardwalks towards the Oxararfoss.
This time, I didn't recognize the path at all, and when I got to the viewing deck area fronting Oxararfoss at 5:15pm, I saw this even this spot was totally built-up and new.
Indeed, improved tourism infrastructure was definitely the rule rather than the exception, and it further illustrated that our last visit to Iceland was really at a time when most tourists hadn't really noticed it yet.
We'd eventually have our fill of Oxararfoss, and then we headed back down the car park, where Julie and Tahia stayed with the car while Mom and I continued following the path along within the fissure en route to the Logberg (Law Rock).
It was a little bit of a recreation of the visit that Julie and I made here 14 years ago though we went even further towards some overlook, but at least we got a taste of the interesting formations around the Law Rock at around 5:55pm.
Heck, we also noticed a cascade near the Drowning Pool, which was actually above yet another cascade that was tumbling below the footbridge.
With time running out at the end of this busy day, we'd ultimately get back to the car at around 6:10pm, and finally we could make the drive back to Reykjavik for our final night in town before the end of the trip.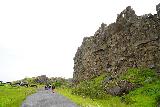 Ultimately by about 6:55pm, we made it back to the Downtown Reykjavik Apartments, but none of the parking spaces in the back were available so we had to settle for the tight spaces in front of the building.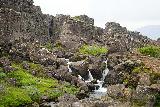 And with that, Mom Julie had prepared some shrimp pasta as we were trying to empty out the fridge knowing that tomorrow we were going to be in a small hotel near Vik at the southern tip of Iceland.
The rest of the evening was pretty much spent getting caught up on today's blogging action while naming and organizing photos and videos.
However, I was particularly frustrated at the lack of ability to find the names of Icelandic songs that we had been hearing on the radio the entire day via the K100.5 FM station.
I probably spent more time than I should have trying to figure out what this song with horns was called after hearing it at least about a half-dozen times over the past two days.
And man I wished they'd back announce these songs (which they didn't) nor was there song info for each of the songs showing up on the radio while they were being played by the radio station.
Heck, they didn't even bother with the playlist on their website which was further disappointing so I guess I'd have to catch lightning in a bottle again in the hopes that I can at least get some songs that would bring me back to this Icelandic trip…