Day 4 (August 7, 2021 – Vik, Iceland): "Hvilikur Dagur"
It was 5am when I reluctantly awoke to the alarm, and shortly thereafter, my Mom also got up.
It took Julie and Tahia a bit more time for them to get up, but eventually when they did, I had already had a kefir with fruits breakfast and started loading up the car.
I eventually had some eggs to finish up (as part of our effort to clean out the fridge of all the $100 USD worth of groceries from our first full day in Iceland) before I finished loading up the car at 6:30am and then I waited for the rest of the group to catch up.
Eventually, we ultimately got into the car at 6:45am and headed out of Reykjavik to start our journey going counterclockwise on the Hringvegurinn (Ring Road).
I thought it was a good sign that we were starting to see sun in the morning for the first time on the trip, but as we headed further to the southeast towards Selfoss, that sun was shortlived as we entered fog and then eventually it started raining again.
The conditions would persist like this until we would get to the familiar Seljalandsfoss at 8:25am.
There were already quite a few cars parked here, but there were also lots of empty spaces as well as it seemed like we were ahead of the tourist crush at the moment.
Both Mom and I were eager to get started, but Julie and Tahia stayed in the car to keep on sleeping.
Anyways, Mom and I promptly donned our rain ponchos because it was still kind of raining when we got out of the car, but we also knew that we were going to be subject to the spray from the waterfall.
After I had to fumble with the pay and display machine to forfeit 700 ISK to park here, I then caught up to Mom who started to get to the looping part of the walk that goes behind Seljalandsfoss.
We then slowly made our way into the spray zone where the metal steps as well as the rocks were slippery and we really had to watch our steps.
Also, the wind generated by the waterfall further conspired to blow our rain ponchos upwards, which wouldn't do me much good since I was also using it to protect the mirrorless camera.
Nevertheless, we then slowly and gingerly made our way across the backside of Seljalandsfoss making sure the steps we took were sure and steady as we didn't want a slip and fall here.
Then, on the other side of the waterfall, there was even more spray getting onto a very slippery wooden platform with a loose wooden railing that didn't offer a whole lot in terms of support.
But aside from that hard part, we then went down steps and ultimately rejoined the road where I then backtracked to take more photos from a bridge upstream to the falls.
Just then, there seemed to be the tour bus invasion as scores of people started to make their way counterclockwise onto the Seljalandsfoss loop.
As the first people started to come down the other side, that was when I headed back in the other direction to catch up to Mom as we were both headed to Gljufrabui.
Unlike 14 years ago where Julie and I drove from one car park to another (for Gljufrabui), this time, Mom and I walked the 560m or so passing by at least two other waterfalls before making it to the familiar chasm hiding Gljufrafoss.
I also explored a small cave and a dead-ended path (not sure what those trails were for), but then we ultimately got into the spray zone in the tight confines of Gljufrabui where there were already several handfuls of people crowding there to get there shots (social distancing notwithstanding).
I swore that the last time I was here with Julie 14 years ago, I had no choice but to get my feet wet to get into the tight confines of Gljufrabui (maybe because June back then was peak flow?).
But now, it seemed like it was fairly straightforward to get into the chasm without even getting the feet wet, and Mom was able to get in there without needing to change her shoes.
Regardless, I then whipped out the iPhone and took photos as well as a video to really showcase what it was like down there.
Then, when it was about time to leave, that was when I finally whipped out the Sony to try to get a video as well as a handful of shots.
Eventually, we had our fill of Gljufrabui, and then we walked back along the same trail to get back to Seljalandsfoss after a little bit of a misunderstanding with Julie as she ultimately got to Gljufrabui with the car and then came back (good thing our texting was still working).
Finally, when Julie came back with Tahia, we then took some family shots with the tripod as we shot against the sun breaking through the clouds (so it wasn't the greatest given the sun artifacts).
By 10:15am, we were back in the car as I took the Canon EOS 70D neck strap from the old EOS 70D camera with the telephoto lens and then I put it on the Sony A7 III camera since that was the more valuable tool and the Cotton Strapshot was pretty much done for the rest of the trip.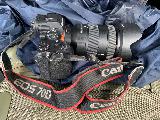 While I was tending to this business, the souvenir and snack shop at Seljalandsfoss finally opened, and Julie brought back a lamb stew or soup, which was surprisingly delicious as they were generous with the lamb meat.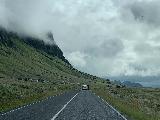 So after finally having this quickie snack (it wasn't really a meal), we then finally left the increasingly busy car park at 10:30am.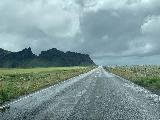 Next, we drove towards Skogafoss where it started raining again as we had arrived at 11am.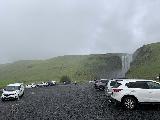 During this visit, we noticed that the Hotel Edda Skogar that we had stayed at the last time we were here 14 years ago was no longer active.
Apparently as Iceland grew in popularity, reusing schools in the Summer to act as accommodations was no longer necessary as there were other accommodations that sprouted up ever since tourism boomed between 2010-2017 or so.
It just goes to show you just how much of a boutique destination Iceland was back in 2007, and I recalled we even were able to stay a few free nights since we had booked lots of Hotel Eddas around the country and summoned enough for those free nights.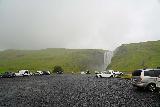 Anyways, we were concerned about some kind of burnt smell that the car seemed to be emitting, and so we popped the hood and noticed that the engine oil was quite black.
Had the car not been maintained with an oil change and thus it was burning the oil?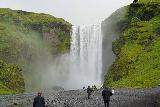 That was concerning to us if that was the case because it was already Saturday today, and I knew that most services would likely be closed for the entire weekend. So we were really worried about the car breaking down in the middle of nowhere.
Regardless, when we finally started to get out of the car, suddenly, the rain started to come down pretty heavy as we sought shelter underneath the rear hatch.
Still, we were getting pretty chilled to the bone and had to layer up as well as don our rain ponchos while each of the ladies held up umbrellas.
It took quite a few minutes for the rain to calm down, but eventually when it did, we then decided to walk along the Skoga River en route to the base of the waterfall along with a whole host of other people doing the same thing.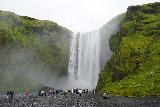 Gone were the days of just a handful of people visiting this place like in 2007 as now there were literally several dozens of people approaching the falls and pretty much messing up any pictures where I tried to get the people for a sense of scale (and not too close to us to overwhelm our framing).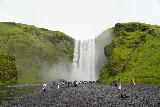 We eventually managed to take some people shots with the iPhone while I briefly went closer to the spray zone at the base of Skogafoss though I was content to get my shots and videos before stopping.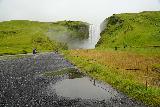 Eventually at 11:55am, we got back to the car, and then Julie called Avis to see if we can get to a mechanic to check it out, but unfortunately, a mechanic in Vik was not available, and we weren't going to drive two hours back to Reykjavik under shortened hours.
Ultimately, the person on the phone said that engine oil for diesel vehicles are supposed to be black, and that perhaps the burning smell (while a concern) might be nothing more than just typical operations (perhaps because there was dust or dirt burning underneath the car when driving unsealed roads).
And while we were tending to these maintenance issues (or potential issues), Mom took some time to go up the steps and check out the top of Skogafoss as well as to explore the next waterfall further upstream.
She'd eventually get back to the car at 12:25pm, and by this time, I decided that perhaps we shouldn't pursue Kvernufoss since I had already done that 14 years ago and the weather was turning foul again.
Besides, there was still a glacier to visit before getting to our next accommodation, and so we decided to pursue that glacier, which was called the Solheimajokull Glacier.
Fortunately, that drive was pretty short as we got to the car park for the glacier at 12:45pm, and even though it was still somewhat raining when we arrived, it wasn't going to stop us from experiencing this place.
Yet I still wondered that with such an easy glacier to get to, how on earth did we miss this place 14 years ago?!?
Even though it was pretty busy at this trailhead, it didn't feel as overwhelming as it was at Seljalandsfoss or Skogafoss.
And for that, we managed to maintain social distance though we were probably one of the few people wearing our masks as we weren't confident that other people haven't contracted the delta variant and are spreading it.
The walk was pretty nice as it was wide and it provided glimpses of some blue icebergs that floated downstream from the actual glacier terminus.
We also noticed some signage down below near the shores of a lake suggesting that the glacier terminus might have been that far out in the not-to-distant past.
When we eventually got the sanctioned lookout for the Solheimajokull Glacier, we could clearly see that there were some people that went past the roped area of the lookout area and descended closer to the terminus of the ice.
The last time Julie and I were this close to a real glacier was when we visited the Briksdal Glacier in Norway back in 2005 (it wasn't possible on our last visit in 2019). So it had been a while since we managed to get a good glacier experience.
And so after taking our obligatory shots at the overlook, we then headed down the gravelly slopes and pathways along the shores of the lake at the terminus of the Solhaimajokull Glacier, and eventually we'd get close to the ice where other people were.
That was where we noticed an "Ice Arch" high up by where the paid tours onto the glacier were taking place, but we also spotted some ice caves and/or tunnels.
It was hard to leave this place as we tried to explore this place and really enjoy it to the best of our ability as the glacial ice was rapidly melting given all the falling water coming from the ice).
So who knows if we're ever going to see this place again, let alone another glacier with substantial size?
But eventually, we finally had our fill of the Solheimajokull and it was time to return to the car, where we pretty much went back the way we came in.
By about 2:25pm, we had finally made it back to the car park, where I realized that we had spent way more time than I had originally anticipated, but in this case, it was worth it.
Next, we drove further to the east as we headed to the Hotel Dyrholaey, and we'd eventually get there at 2:45pm.
Although the receptionist said that it was too early for our rooms, we did manage to drop off our belongings inside so we could drive a bit with less of a burden and theft risk.
Then, we were back in the car at 3:20pm, where we promptly continued further to the east to get into the town of Vik.
As we entered the town, Tahia immediately recognized that the church standing above the town was actually the one on the LP cover!
We were quite impressed with Tahia's attention to detail for matters like this as we never saw that coming.
Anyways, by about 3:30pm, we eventually settled on this place called The Soup Company, which was what we were in the mood for given the chilly and rainy weather we had been experiencing.
This place had a free refill of any soup of your choice, and so we tried out different things like some kind of chicken tortilla soup (who knew you could have this in Iceland?), their signature lava soup (basically some kind of gulash soup), a meat soup (the one in Seljalandsfoss was better though), and Tahia's croque monsieur panini.
For all intents and purposes, this was a lunner that kind of hit the spot though we did have concerns about eating inside.
Nevertheless, when we were done with the meal, we then stopped by the Kr Super Market in downtown Vik at 4:35pm, where we let Julie run her errands in the store while I did some exploring to see if there were some photos to take of the surrounding area.
As I was doing this, I had noticed that there was a short trail with a signpost pointing the way to "Black Sand Beach".
And when I got there, I was impressed by the relative lack of activity down there while also looking towards the spires known as the Reynisdrangar.
I had texted Julie to let her know about this beach when she was done shopping, and I figured she'd summon my Mom and Tahia to come over though it did take them awhile to finally join me there.
So we killed some more time letting Tahia build her own volcano out of the volcanic black sand at the beach, and it wouldn't be until about 5:25pm when we made it back to the car.
Finally, we drove from Vik back towards the car park for the Reynisfjara, which was surprisingly crowded considering it was getting quite late in the afternoon at 5:40pm.
Once again, Julie and Tahia wanted to nap and stay in the car while Mom and I went ahead and wasted no time in getting towards the beach at Reynisfjara.
There were also lots of other people going to and from the Reynisfjara beach, which meant that I had to bust out my double mask as you just never know when people are crowding around you what they're carrying.
While Mom and I took some time to try to compose photos of the basalt columns right up against the black sand beach, there were waves that pretty much threatened to reach up to the columns themselves while there were also the possibility of sneaker waves catching people off guard.
When we started to notice that there were puffins amongst the birds hovering above us in the inaccessible parts of the basalt columns, that was when I ran back to the car to get my long telephoto lens.
Upon coming back, I was pretty much caught between checking out the Reynisfjara with my Sony A7 III camera while trying to capture puffins up above with the 100-300mm zoom lens attached to the Canon EOS 70D.
I also took some time looking back in the other direction towards the sea arches at Dyrholaey, which was something Julie and I did the last time we were here but we weren't sure that we were going to pursue it on this trip.
Mom and I also explored the other side of the basalt columns of Reynisfjara, which put us in the mouth of some basalt "cave" (more like an alcove) as well as another section of beach beyond it.
To be honest, I thought the scenery on the other side was a bit overrated or at least underwhelming so we didn't linger there and increase our risk of getting caught by a sneaker wave.
Anyways, this was yet another place that I found hard to pull away from, but ultimately by about 6:45pm, we had ourselves a bit of a dessert snack of hot chocolate and waffles topped either with berries or some form of dark chocolate.
It was kind of a welcome diversion, and Europeans sure recognize that people are willing to spend as long as they're in a happy mood, which this scenery tended to do.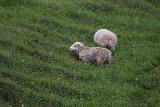 At about 7:15pm, we returned to the car, where we then proceeded to drive back to the Hotel Dyrholaey and get there by 7:30pm.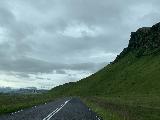 Before retreating to our rooms, Mom and I went to the other side of the building to check out parts of the Myrdalsjokull Glacier.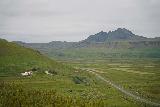 But aside from that, by about 7:50pm, we made it back to our respective rooms and pretty much tended to little tasks (like blogging, organizing photos, getting underwear washed, etc.) before crashing for the night.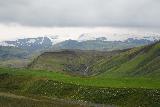 At least I finally found the mysterious song that I kept hearing over the Icelandic radio stations, and recognized that it was Hvilikur Dagur ("What A Day") by Fridrik Dor, which pretty much summed up this day.
Although we didn't hit up all the targeted waterfalls on this day, at least we got to experience a great variety of scenery to break up the waterfall-heavy themed trip.
And with as much as we had accomplished on this day (just as the weather seemed to be improving and promising to improve tomorrow), perhaps tomorrow wouldn't be too ambitious or overloaded considering that we don't have to do them again if we don't need to…