Day 5 (August 8, 2021 – Vik, Iceland): "Bittersweet Symphony"
It was about 5:30am when I awoke to a scratchy throat as well as feeling a little cold in the room.
I was a bit freaked out that perhaps I might have contracted the delta variant of the coronavirus, and I was replaying through my mind how I could keep myself from getting the rest of the family sick.
However, as I brushed my teeth and got ready for the day, the symptoms seemed to have subsided (though it doesn't mean I'm not contagious as COVID-19 has proven to be easily transmitted without symptoms).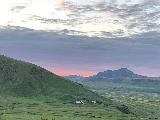 By about 6:40am, I was already feeling better and had gotten into the car under partly cloudy skies though the weather looked to be significantly improved from what we had experienced in the first 4 days so far.
The ladies got into the car and proceeded to munch on some fruits and skyr as our breakfast on the go, and we pretty much headed out right against the morning sun.
The plan for today was to visit Skaftafell National Park, but we also planned on seeing glaciers, especially since it seemed like today was going to be a rather sunny day – something that was noticeably absent throughout all our days in the Capital Region.
The drive east along the Ring Road was pretty uneventful as continued against the morning sun and the skies were continuing to clear up.
We also passed by a new-looking bridge that appeared to be for the F208 to Langmannalaugur, which was a familiar road that we took ourselves to get to Holaskjol as well as going on a 4wd tour to visit Ofaerufoss and Landmannalaugur.
As we approached Kirkjubaejarklaustur, we then turned towards the small hamlet as we had noticed that Systrafoss was actually flowing on this visit (unlike our last visit 14 years ago)!
And so we wasted no time getting all the way to the end of the main drag through the old village of Kirkjubaejarklaustur, and we ultimately got to some space for parking our car (though it wasn't clearly signed if this was a private lot or not).
Regardless, Mom and I stopped to get out of the car to check out Systrafoss at around 7:40am.
Just as we were taking pictures and then pursuing a short trail past a picnic area before going deeper into the "forest", we ultimately deemed that the best shots were from across the road.
After going past a picnic table and then up a narrow well-shaded trail next to some kind of huge rock formation, we'd eventually get to a pair of somewhat overgrown views of Systrafoss as well as checking out some kind of abstract troll adjacent to a pot.
Once we were done having our fill of Systrafoss through pictures and videos, we then got back in the car at 8:05am and proceeded to continue east along the Ring Road as we pursued Skaftafell National Park.
The drive further to the east was pretty much against to sun so it was difficult to appreciate some of the familiar roadside attractions like Foss a Sidu as well as some of its neighboring waterfalls that we hadn't noticed before.
But given the nice weather, we also appreciated views of impressive glaciers in the distance that were all arms of the vast Vatnajokull Glacier.
That said, I did notice a lack of that unpaved stretch of sandur where the Ring Road once went through black sand lined with yellow reflectors as the only indicator to keep us in our lane.
However, this time around, it was all paved and it was as if there was nothing special about the road itself other than a long one-lane bridge with a couple of "pullouts" on the bridge itself.
Then by about 9am, we turned into the Skaftafell Visitor Center access road, which got me to realize that all those glacier arms were really the arms of Skaftfellsjokull and Svinafellsjokull as well as the wide glacier arm of Skeidararjokull.
After paying another 750 ISK for this parking lot (seems like every national park was doing this in Iceland these days), we then started walking towards the visitor center area of the new Vatnajokull National Park.
The park was now a huge expanse of East Iceland and North Iceland, where it joined Skaftafell National Park (the former reserve that we were now in) and the Jokulsargljufur National Park, which was the one in the north encompassing Dettifoss among others.
After making the WC stop, we then proceeded with the hike at 9:25am, but using Gaia GPS, I decided that we shouldn't do the typical out-and-back way route to Svartifoss like we had done the first time Julie and I were here in 2007.
Instead, we should take the "cheater's way" (a road that went to the closest trailhead for Svartifoss) except we should hike it as apparently there was some road infrastructure discouraging going up that way like we did before.
At the very least, that would keep us socially distant, especially for an uphill stretch where lots of people would be breathing heavily and I'd bet no one on that stretch (especially from the tour buses) would be wearing masks.
And so we went ahead and noticed a small hidden waterfall just before one of the bridges before going uphill alongside the familiar one-lane road and then noticing a couple of lookouts for the Thjofafoss, which was the lowermost of the waterfalls on the same stream that Svartifoss was on.
After having our fill of Thjofafoss, we then got to the familiar Hundafoss, which had a rather unusual perspective of the waterfall juxtaposed with the glaciers backing the lookout that seems more developed that I remembered it from 2007 as it was now a metal platform protrusion.
We then kept going uphill as there were some informal trails going down towards the river leading to what I'd imagine was the base or brink of Magnusarfoss, but we just kept going as we'd eventually get up to the start of the hike from the "Cheater's Way" at 10:20am.
Then, we crossed a bridge and went up the much wider and well-trafficked trail up towards Svartifoss as we then made it to the opening at Midheidi at 10:45am.
The trail now had these metal or rubbery things on them, which was there to improve the grip and limit the trail erosion I'd imagine, which definitely weren't there before.
Anyways from the Midheidi vantage point, we could get our first clean look at Svartifoss fronted by a footbridge as well as some attractive reddish mountains in the distance.
Next, we descended towards the waterfall and got there at 11am where now there was a lookout platform as well as fencing trying to discourage people from scrambling further up to the base of the waterfall.
When I went up to the top of the lookout platform, I saw that there was a pleasant morning rainbow going across Svartifoss, which was a nice reward for seeing that waterfall in good weather for the first time on our trip.
It took some time for the ladies to join me at the waterfall, but when they did, Tahia and Julie wasted no time enjoying themselves along the river where Tahia took off her shoes and went right into the cool water while Julie looked after her.
In the meantime, I told Julie of my intentions of going up to a lookout called Sjonarsker as I noticed that it wasn't far away based on what I saw on my pre-downloaded Gaia GPS map.
Mom joined me on our pursuit of Sjonarsker (thinking in the back of my mind that maybe we might see Morsardalur and Morsarfoss), and after going across a bridge and then on an uphill stretch, we got nice views behind us of the Vatnajokull Glacier as we went.
By about 11:35am, we made it to the Vorduskarstofa junction and then went the final 200m to the Sjonarsker, where there was a metal pillar acting like a compass with views all around of the Vatnajokull Glacier overlooking back towards the trail, Skeidararjokull in the other direction, and some reddish mountains in the direction of Morsardalur.
Unfortunately, this part didn't reveal Morsarfoss so I had it in my mind that we should use the telephoto to try to see it from a distance somewhere along the ring road at one of the picnic areas.
So Mom and I had our fill of Sjonarsker, and then we headed back down in the direction of Svartifoss until we heard Julie and Tahia yelling back in our direction as they saw us coming down as they were at the Midheidi clearing.
They told us that they were heading down already and so that put in our minds that we could briefly backtrack and meet them down by Magnusarfoss (again thanks to Gaia GPS for letting us know the trail network here).
Mom eventually went ahead and caught up to Julie and Tahia, but I was busy taking pictures when we got back down by the main trail, which was very close to Magnusarfoss, which I got to at 12:10pm.
Unfortunately, this time, the view of the waterfall was a bit overgrown and hard-to-see so no one really stopped for it, I noticed.
About 5 minutes later, I then got to the familiar Hundafoss view, but now I was on the newly-built metal lookout (instead of the fenced lookout on a ledge like it used to be).
Then, I continued on the mostly downhill trail as I made quick progress paused only by more gorgeous views of the Skaftafellsjokull and Svinafellsjokull in the distance as I was making the steep descent.
Eventually by about 12:30pm, I made it down to the Skaftafell Cafe, where the ladies were also done using the WC and we then went into the cafe in search of a quick bite for lunch.
Unfortunately, the grub inside the cafe was breaded and gluten-filled stuff that Julie couldn't have so Mom and Tahia stayed at the cafe to eat what was there while Julie and I went to the Glacier Goodies food stand for a little outdoor eating.
It turned out that the Baby Back Ribs and the Lobster Soup hit the spot over there, and it was actually nice and quiet alone time for us as we didn't have Tahia trying to steal our phones to get screen time for once.
Anyways, it wouldn't be until about 1:20pm when we finally made it back to our parked car and then proceeded to head over to the Svinafellsjokull.
However, as we tried to drive to its main parking area, there was a roadblock with signage saying something about a landslide preventing vehicular access there.
So we took some photos and then were about to resign ourselves to not being able to experience this glacier until driving a little further east revealed another unpaved and unsigned road that had a lot of cars parked at the end of it.
And once we got there at 1:35pm, we learned that we had ended up at a spot called Freysnes.
Regardless, we wasted no time getting out of the car and started walking closer to the Svinafellsjokull, which was already atmospheric as we could see the upper reaches of the steep glacier arm on the way.
After getting past some small pond or lake (likely pressed down by the Svinafellsjokull when it was a longer arm than it was today), we then got up to the ridges overlooking the terminus of the blue glacier.
Although there were people that went down to the dirty parts of the glacier terminus, we were content to get our views from the ridge for the full picture of the Svinafellsjokull.
Clearly, it had seen better days and I once again wondered how on earth we had missed out on this spot 14 years ago!
Anyways, after lingering here and going nuts taking lots of photos while contemplating the beauty of the place before us while also realizing the bittersweet implications of how much this glacier must have receded, we then returned to the car park at 2:30pm.
With it getting late and knowing that we're going to have a long drive back to Vik (where hindsight being 20/20, we probably should have stayed closer to Skaftafell instead of having a second night at Vik), we then decided to pursue Fjallsarlon to alleviate the burden of tomorrow's long drive to Seydisfjordur.
And so the drive proceeded further to the east where I saw more glacier arms (though the ladies were all asleep and missed out), and eventually at about 3:05pm, we made it to the quite busy Fjallsarlon car park.
From there, we wasted no time getting out of the car and doing a loop hike taking in the pretty glacial lagoon as well as wide glacier itself which also featured lots of blue ice.
After getting us to an overlook, the trail then descended towards the shore of the lagoon where we could get real close to the icebergs there, and we wound up going nuts again taking more pictures while Tahia was interacting with the ice as safely as we would allow her to.
Once again, I couldn't help but wonder how much of this glacier receded since the last time we were in Iceland though this was yet another example of how I wondered how we could have missed this spot back then!
Anyways, after reluctantly getting ourselves to leave, we finally returned to the car at 4:25pm where now we had to get back to Vik, which wasn't going to be for at least another 2.5 hours.
During the drive back, Mom and Julie took shots of the glacier arms that they had missed on the way there due to napping, but now they were rolling down the windows frequently to take shots while I was focusing on the road.
At about 5:15pm, we eventually got to a picnic area labeled Haouldukvisl, which finally yielded a very distant view of the Morsajokull Glacier and finally the elusive Morsarfoss waterfall, which supposedly replaced Glymur as the tallest waterfall in Iceland.
But upon looking at this falls even from the distance where my powerful 300mm zoom brought it in enough to not be a tiny fraction of the frame, it was still mostly covered in ice towards the waterfall's base.
And both Julie and I agreed that this place wasn't truly bigger than Glymur even though perhaps topographically it might be, but that's where you really have to see the places in person to truly understand what's legit and what's just internet fodder for useless discussions and claims.
Indeed, Julie was like "nah, this doesn't count" though I'm sure others would disagree and get into semantics since there's still no consensus definition of what counts as a waterfall.
Anyways, the drive would continue as there was no way we'd be making stops at Kirkjubaejarklaustur to see Stjornarfoss nor Kirkjugolf as I had planned.
And eventually at about 6:50pm, we would make it to the Halldorskaffi since we knew that Sudvik was too booked out, and besides, we had eaten at Halldor's Cafe in Vik 14 years ago.
It turned out that we must have beaten the rush still (probably because Europeans tend to have later dinners after 7pm than Americans do since this felt late for us), but we managed to score outdoor seating as the interior was too packed with people.
Ultimately, we ate a Halldors Burger, Tiger Prawn Pasta, Trout, and a real tasty Lamb Fillet dish, which everyone seemed to like.
I even managed to squeeze in a fill-up of diesel fuel while we were waiting for the food.
And so by about 7:50pm, we were finally back in the car and by about 8:25pm, we were back at the Hotel Dyrholaey.
We had contemplated continuing all the way to Skogafoss and Seljalandsfoss for some sunset pictures, but I was a bit tired and wasn't sure it was worth pursuing them so we could deprive myself of sleep as surely we wouldn't be back until closer to midnight had we done that.
Nevertheless, part of me wanted to seize the moment and do it, but after being out on the road for as long as we were, I just didn't feel like spending another 2-3 hours on the road again this late at night.
And so with that, we crashed in the room as we still had a long drive ahead of us tomorrow knowing that we had to backtrack for another 2.5 hours just to get back to Fjallsarlon before continuing with the marathon drive all the way out to the East of Iceland…