Day 6 (August 9, 2021 – Seydisfjordur, Iceland): "Jump Into The Fog"
It was about 4am when I awoke to the alarm, which allowed me to get caught up on some blogging and some photos and videos processing that somehow didn't finish and forced me start over after spending two hours on it yesterday (damn Adobe Bridge)!
So it took quite a while to get things done while everyone else was asleep, and it wasn't even until about 6am when Julie finally woke up as even Tahia put the pressure on to get Julie up.
We were actually supposed to have left the hotel at 6am given the long day of driving that was ahead of us.
Anyways, we ultimately got into the car at about 6:30am, where we had left groceries in there since we figured that Nature provided natural refrigeration considering that our rooms at Hotel Dyrholaey didn't even have a refrigerator.
We actually ate our stuff inside the car (considering how COVID unsafe it was to do so in the hotel) so we quickly ate our skyr and fruits.
Then, when we headed out, we could see that it was a very clear day, which made us anticipate having a field day in terms of sightseeing (perhaps a repeat of yesterday's fine weather).
The familiar drive out east along the Ring Road was pretty uneventful save for a cop waiting to nab speeders (but I had my cruise control on) as well as one close call where I hugged the shoulder a little too much and nearly went off the road during my cruising!
Indeed, without making any stops, everyone was pretty much asleep except me, and we'd ultimately get past the Skaftafell NP area before approaching the glacier lagoons that we had contemplated visiting yesterday.
However, as we were about to turn the corner after getting past the Svinafellsjokull entrance, we saw that there was a layer of low clouds or fog that seemed to hover over the area and change up the perfectly clear day.
Instead, it became more of driving under the low cloud ceiling which instantly changed up the scenery as it now pretty much covered most of the glaciers that would have been visible.
And so after getting past the familiar Fjallsarlon, I could see that it was somewhat visible but the fog really changed up the scenery from the blue ice that we were seeing yesterday to nothing more than a partial view.
But the further we went, we were getting deeper into the increasingly thickening fog, and I knew that the Jokulsarlon experience was going to be nowhere near as good as the Fjallsarlon experience was yesterday.
I was hoping to compare the two experiences now, but I guess the fog just wasn't going to let that happen.
Anyways, by about 8:55am, we turned into the west side of the Diamond Beach, where there were already a handful of cars checking out the icebergs that were washing towards the famous black sand beach.
Julie and Tahia were still in the car asleep as apparently the thought of being close to the icebergs and ice chunks contrasting against the black sand beach wasn't enough to get them out of their slumber.
So Mom and I went ahead and went right onto the beach in the direction of the icebergs that we saw from the car park already.
I made a beeline for a long bluish iceberg that was kind of stuck near the rock-stacked jetty, where I unexpectedly encountered what appeared to be a family of ducks chilling out.
They didn't seem to mind me trying to take pictures of this blue iceberg though they them started to slowly walk away as I was trying to better position myself for a photo.
The water coming from Jokulsarlon upstream was running at a very fast rate so it was going to be very bad news should someone get into the water, and that was first and foremost on my mind as far as Tahia was concerned once she gets to experience this place.
I could also see that Diamond Beach was technically on the other side of this fast-running glacial river according to Gaia GPS.
However, it seemed like the side we were on was already the best in terms of seeing the icebergs up close as they were pretty much all washed to this side.
And so began a pretty long stretch of being mesmerized by the icebergs and the nearly clear "diamonds" contrasting the black sand beach that were further up ashore (attesting to how high up the tides must have been earlier on).
Even though it was still foggy and it cast a rather gloomy air about this place (thereby preventing the glacier arm responsible for Jokulsarlon from being seen), we still got to really experience Diamond Beach.
Indeed, seeing the blue icebergs up and close as well as the clear pieces really brightened our moods and drew lots of camera clicks.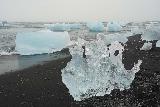 However, when I saw how quickly more icebergs were moving from Jokulsarlon then passing under the bridge before getting in front of us, that was when it dawned on me that each of those icebergs that washed out to the ocean was adding to the sea level rise around the world!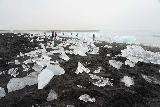 Heck, I never recalled that Diamond Beach was a thing when Julie and I first came to Jokulsarlon in 2007, but now after seeing so many icebergs washed ashore, it made me wonder if this was something that would become more of a thing as Global Warming spirals out of control.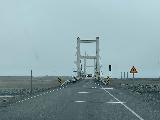 It took a while before Julie and Tahia finally got out of the car, and then we spent even more time letting Tahia and Julie become dazzled by the display of "diamonds" before them.
We did have to keep a close eye on Tahia (let alone ourselves) because there were some waves that threatened to engulf people standing too close to the icebergs.
But aside from that, we pretty much did our thing even as a tour bus dropped a huge busload of people and dramatically increased the number of people visiting this site before they left.
It was a good start to the day even though we knew the Jokulsarlon experience was impacted by the fog, and by about 10am, we were finally done with the Diamond Beach.
By 10am, we had our fill of Diamond Beach and then we went across the bridge and headed up to Jokulsarlon five minutes later.
Unfortunately, as expected, the glacier arm of Vatnajokull (didn't know its name) responsible for the huge icebergs that we saw (even bigger than the ones we saw at Fjallsarlon yesterday) couldn't be seen through the fog.
That said, we just spent a few minutes to take some shots of the huge icebergs that were actively cracking and calving before we had our fill by about 10:35am, and then we resumed our long drive further along the southeast of Iceland.
The drive would then weave in and out of the fog as sometimes we'd see more attractive glacier arms to the west, and Mom found a new hobby of taking pictures of the glaciers fronted by glacial rivers whenever we'd be near or on one of the many single-lane bridges along the Ring Road.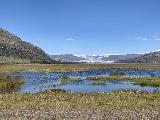 In a spontaneous go, we then decided that it was getting close to noon so perhaps we should stop by Hofn so we could have an early lunch and eat their best restaurant as far as getting langostines (i.e. "lobsters") was concerned.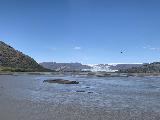 Sure enough, by about 11:40am, we arrived at the Pakkhus in Hofn, but the namesake harborside town was shrouded in fog once again so seeing the glacier arms across the harbor was lackluster thanks to the thick fog.
The Pakkhus Restaurant was still closed until 12pm so we had to kill some time, but once they finally opened (just as more people were showing up in anticipation of eating here), we ultimately got seated and splurged by ordering 2 langostines, a langostine soup, and a langostine sandwich.
When the food came out and we finally started eating the much anticipated langostines (not lobsters), we were blown away by how fresh the food was as it was easily one of the best meals we've had on this trip.
Of course each langostine was nearly $90 USD by itself so this was also one of the most expensive meals of this trip, but it turned out to definitely be worth the detour and the extra time spent here.
Even the "lobster" soup and the "lobster" rolls (oops, I mean sandwich) were really good though Tahia had already stuffed herself on junk food so she didn't get to fully appreciate the food she was getting.
By about 12:55pm, we were back in the car as it seemed like the fog was starting to lift and the sun was starting to come out, but we were already getting late on time as we still had some 250km to go before getting to Egilsstadir and then head east to Seydisfjordur from there!
Plus, we still had at least 3 or 4 waterfalls to stop for en route!
And so even though the fog was starting to burn off at Hofn, we couldn't linger, and then as we kept driving north along the Eastfjords, the fog came back and it was pretty much this way for the rest of the afternoon whenever we were driving along the Ring Road.
By about 2:10pm, we arrived at the familiar "waterfall by Djupivogur", but now it seemed like there was some cottage or guest house or something that prevented any public access to get in front of that waterfall.
Instead, we had to backtrack from Bragdavellir Cottages and go across the bridge and then follow the road Hamarsel before finding an informal pullout near some bridge as the unpaved road turned a corner.
From there, we got out of the car and tried to take pictures of the distant waterfall before heading towards the bridge going over the Hamarsa.
That bridge was in bad shape, but then when I saw that there was some kind of wire fence on the other side of this fence, that was when I realized that you can't get to the front of the waterfall without staying at the cottages.
So that was a bit of a bummer.
Regardless, since we were close to the car, I got out the super telephoto lens, and then took pictures and videos of the distant waterfall bringing the entity closer with that lens.
And by about 2:30pm, we were back in the car to resume our drive.
By about 2:55pm, we then arrived at what seemed like the Fossa car park, which was on the south side of the Fossa River.
However, Mom went past a protective stile, and then onto the rocks where she went as far as she could towards some large lake or pool, and told me that there was no waterfall there.
That was when we realized that we should drive past the bridge and then take the steep road up to get to what my notes referred to as the Nykurhylsfoss or Sveinssteksfoss (or even Fossardafoss according to Gaia GPS after the river).
So by about 3:10pm, we were up above the steep road and at the better car park, where we were treated to nice views over the Fossarvik and surrounding mountains as the fog didn't quite fully penetrate this inlet.
Then, we went down to the well-established overlook where we then looked against the sun down at the impressive waterfall before having our fill of it.
As we walked back to the car, I briefly explored behind another stile just to see where this trail went, but it was quite overgrown and rather exposed to steep slopes so I decided against pursuing it for too long.
I surmised that it might have gone towards the top of the waterfall, but we were running short on time so I didn't want to push my luck on this one.
By about 3:30pm, we were back in the car again, and then we continued the drive towards the next waterfall, which was Folaldafoss.
To get to this waterfall, we had to drive Axarvegur (Road 939) which seemed to be part of the re-designated part of the Ring Road despite being unpaved, and we'd eventually get to the Folaldafoss picnic area at 3:45pm.
When we showed up, there was only about one other car here, but as we were checking out the views, there were instantly another two or three cars that showed up to really made the car park and picnic site rather busy.
Anyways, Mom and I pursued a trail that went closer to the Folaldafoss waterfall, which was on a pretty straightforward trail.
Unfortunately by the time we got closer to the waterfall, we were kind of looking against the sun at it while it was in half shadow so we had to get creative with trying to shield our cameras as well as getting even closer to get the sun to be obstructed by the neighboring cliffs.
Just as I was busy taking videos and pictures while Mom started heading back, there was an Indian family that showed up and started to pretty much enjoy themselves and stick around here for good so that was when I excused myself and headed back to the picnic area.
By about 4:15pm, I was back at the car and rejoined the ladies.
By now, we were starting to get waterfall-fatigued but we still had one more waterfall to go on this day before finally getting to our accommodation – Flogufoss.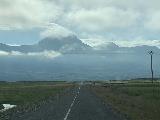 According to the Garmin Nuvi, I should have kept going up the gravel road on the Axarvegur before heading back in the other direction down the valley to reach the Flogufoss.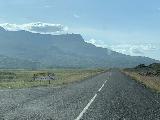 However, not knowing how the roads would be, I ultimately decided to backtrack to the 1 and then follow the coastal route towards Breiddalsvik before taking the 95 inland in the direction of Flogufoss.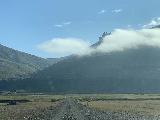 This was a more distant route, but I figured it was a more sure route as far as I was concerned though we pretty much went back into the fog in doing this.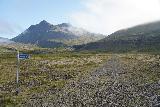 In fact, the fog in this inlet was rather thick and as we drove up the 95, the fog still reached pretty deep inland until it finally started to clear somewhat as we were approaching the 966 road heading west across the Breiddalsa River.
After a little back-and-forth as we had trouble finding the proper place to pull over to visit Flogufoss, we ultimately decided to park next to the Flaga sign at 5:25pm, and then Mom and I started to hike the rather dodgy, rocky 4wd road closer to Flogufoss.
The walk was somewhat straightforward as we would eventually get beyond the 4wd road and then onto a more narrow trail that seemed like it was "blazed" by people who have visited this place before.
I got the feeling that this was more of a locals or photographers waterfall as the trail didn't seem to be maintained at all and it was pretty much an informal trail.
But it ultimately skirted alongside some embankment before finally dropping down into the gravel stream of the Flogua before crossing to the other side and then climbing onto a hill for a closer and more intimate look.
We'd eventually get to a point where we could see some strange pinnacles called the Flogutindur, which backed the Flogufoss, but the fog kept swirling around the falls and conspired to block the view of it.
In fact, Mom had given up on trying to photograph the thin falls with the Flogutindur behind it, but it started to momentarily clear up just as she was heading back.
And so I got what shots I could of the scene before finally heading back to join her on the way back to the car, which we'd get to at 6:30pm.
From there on out, we then finally made the home stretch to our accommodation as we opted to take the inland route up to the head of the valley and then follow some highland route (away from the fog) all the way to Egilsstadir, which seemed to be much bigger than it was in 2007.
Then, we ultimately went up the steep road to the pass before going down into Seydisfjordur, but we could see that there was a thick blanket of fog and that there wouldn't be any waterfalls to be seeing as long as that blanket was around.
Plus, the drive itself was rather dangerous since visibility was so limited as we were hitting each switchback without much advanced warning.
Finally at 7:55pm, we made it to the Media Luna Guesthouse, where we promptly checked in and got into our rather nice family room.
After getting our stuff put into our fine guesthouse room (which had an upstairs loft), we then headed out for a late dinner at this place called Kaffi Lara El Grillo Bar.
We saw that it was very busy inside the establishment, and it wasn't really COVID safe to be eating in there despite it being quite cold in the fog outside.
But we nevertheless snagged one of the tables as far away from the cigarette smoke as we could be, and then we proceeded to finally have our dinner under the cold, which consisted of some Baby Back BBQ Ribs, some pork chop, and lamb loin.
Apparently, they had ran out of their signature foil-wrapped baked cod so that was a bummer.
Anyways, after having our meal, we finally retreated to our room at 9:45pm, where we then crashed for the night after this very long but fog-affected day.
I sure hoped that the fog wouldn't be affecting our stay in Seydisfjordur any more than today, but I had a feeling that it was going to be a stubborn presence…