Day 7 (August 10, 2021 – Seydisfjordur, Iceland): "From Controversy To Internet Darling"
It was about 4:55am when I managed to awake without my alarm, which was set for 5:30am, and upon looking out the window, I could see that the fog was significantly reduced, which raised my hopes of getting out and about and experiencing the east-facing waterfalls above Seydisfjordur.
However, as I was busy trying to get caught up on blogging and photo/video organization matters, by about 5:50am (when Mom went downstairs), that was when I saw that the fog had returned!
Bummer! And it happened so quickly!
It seemed like fog was the bane of our Seydisfjordur experience, and now I wondered if we were going to have to deal with this for other parts of Iceland that involve coastal scenery.
Nevertheless, the fog didn't seem to be as thick as it was last night so Mom and I took a punt and decided to go up above Seydisfjordur to see if at least Mulafoss and Gufufoss might be above the blanket of fog.
So by 6:25am, we got into the car, and then we drove up above the town, where by about 6:35am, we made it up to a picnic area somewhere near the pass between Seydisfjordur and Egilsstadir.
Up by this waterfall, it seemed like the fog didn't reach this high above the fjord though Gufufoss definitely was shrouded in the fog.
Anyways, when we got out of the car, I noticed that the trail led towards the organ-shaped rock that once stood at the overlook for Seydisfjordur.
I swore that in the past, the road leading down to the fjord actually passed by this lookout with some parking space to check out the views down to the town of Seydisfjordur.
But I guess these days, this overlook was more or less hidden, and only those who bothered to stop for the picnic area like we did would get a chance to experience this overlook.
Since the view down to the fjord was mostly blocked by fog, we then descended what looked to be some use trails before they started to disappear and we then had to look for rocks or signs of past activity to try not to trample the moss.
Eventually, we got down to a precarious cliff edge where we finally got a somewhat angled view towards the main drop of Mulafoss, which didn't have a dedicated pullout or car park for it further down the switchbacking road.
So we took some time to document this waterfall, which was mostly bathed in the early morning sun, but then we went back up after having our fill of this spot.
Along the way up, I then decided to check out what was across the footbridge though once I got to the other side, it seemed like the steps were hanging off the ground and were loose.
I wasn't sure if that was intended or not, but it definitely gave me the sense that this trail perhaps wasn't truly sanctioned.
Anyways, eventually by about 7:35am, we returned to the car, and when we drove back down towards Seydisfjordur, we saw that the pullout for Gufufoss wasn't occupied and neither was the fog shrouding this spot.
In fact, once we pulled over and we started to walk closer to the impressive waterfall, we saw that the sun was starting to break through the fog, and it even started to yield rainbows across the waterfall's mist.
For this reason, it was hard to leave Gufufoss, but at least we finally got to see it properly so now I didn't feel like we had these Seydisfjordur waterfalls hanging over our heads for this and the next full day of staying here.
Eventually by about 8:15am, we returned to the car just as the fog continued to roll back.
For kicks, I thought I might find the trail leading downstream towards another waterfall below Gufufoss.
However, when I did a cursory inspection of any hint of trails going downhill, that was when I could tell that while the falls was still there, it seemed like whatever semblance of trail that connected the two waterfalls was either overgrown or was no longer maintained.
So with that, we drove back down to the Media Luna Guesthouse where we got back there at 8:25am.
It wouldn't be until about 8:55am when we got back in the car so we could get to the local supermarket to pick up something to eat as breakfast.
While the ladies were busy shopping, I took the liberty to take some pictures around the bridge as well as towards some of the waterfalls that I spotted here.
Anyways, when the ladies got out of the supermarket, it seemed like Julie ultimately picked up croissants (both chocolate, plain, as well as something that was ham and cheese like croque monsieur style) along with fruits and skyr.
We then ate back at the room, which ultimately filled us up, and it wasn't until about 10:05am when we were finally leaving towards Studlagil Canyon, which was the target for today.
Eventually by about 10:10am, we were then on our way towards Studlagil.
The drive along the Ring Road was pretty uneventful except for noticing the Rjukandi Waterfalls, which definitely stood out against the clear skies (just like they did in our 2007 visit).
And even the signed turnoff onto the 923 Road demonstrated to us that there was infrastructure not only bringing attention to Studlagil Canyon but also affirming when to turn and leave the Ring Road.
Once we got onto the 923 Road, it didn't take long before the pavement became gravel road, which kind of slowed things down, but the drive remained pretty straightforward.
We'd eventually get to a turnoff for the Klaustursel Farm, where there was yet another turnoff on our left, which we knew to take based on our pre-trip research even though the GPS insisted that we continue on this road towards a car park for the overlook trail of Studlagil Canyon.
By about 11:35am, we then arrived at what appeared to be some limited parking for Studlagil Canyon near a WC, and from there we geared up and expected to start the hike from here based on what was said in the literature.
However, we noticed that there were two bridges going across the Jokulsa River, where one of the bridges was the oldest steel bridge in the country while the other bridge was a more modernized one.
Given that I had thought that there wasn't going to be a car park for Studlagil Canyon on the other side of the bridge, we just started walking.
However, after seeing car after car going down the rough and narrow single-lane road, Julie finally asked someone heading back on the trail, who told us that there was a big car park up ahead.
So with that, Julie and Tahia went back to the car while Mom and I continued hiking (as part of me wondered if we'd making it to the car park before Julie would pick us up).
And sure enough, when Mom and I started to see the car park up ahead in the distance, that was when Julie showed up with the rental SUV, and ultimately picked us both up.
By about 12:25pm, Julie stopped at the large car park, where we had to start to find room on a grassy part of the lot as there were many cars already parked here.
I guess it was a good thing this car park was established as it pretty much cut the overall hike in half, but I did wonder whether this car park would be sustainable over time.
Heck, I even noticed that there was a drop box near the trailhead where the landowner requested that donations be made for establishing this car park on his property.
But clearly, it was obvious to me that no one was putting anything in the drop box as people happily used this car park and hiked towards Studlagil Canyon.
It only took a few paces before the trail went right in front of the basalt-columned Studlafoss, which was a bit thin flowing (we actually saw a few waterfalls across the river en route to the trailhead that were bigger than this one).
However, that waterfall was totally against the sun and after taking a few obligatory shots and videos (just in case), I figured that later in the afternoon when we'd come back would be the time to get a good look at this waterfall.
And so the rather gently undulating trail on the wide 4wd road was pretty much on loose rocks though people quickly figured out to keep walking on the edges of the trail where there was more or less dirt or grass to avoid the ankle-busting rocks.
But aside from that, the hike felt long but uneventful except for the constant presence of the blue Jokulsa River to our right and a waterfall that was spilling into it.
Eventually by about 1:30pm, we finally descended upon Studlagil Canyon where we could clearly see hundreds of people that managed to descend within the basalt columns next to the Jokulsa River.
We also noticed that across the river was a metal trail leading down to an overlook, and there were also many people (though not as many as on our side) checking out Studlagil Canyon from that viewing deck.
In fact, I thought that the view would have been lousy from there because most of the basalt columns were right below their feet while we were looking right across the river at the long line of columns.
Upon further inspection of where people were going and how they got to the bottom, I noticed that there were two places that people could go to get down below the canyon rim.
We naturally took the first one, which required us to get past a rather sketchy exposed and muddy path that was sloping towards dropoffs before getting to a drier patch that was more manageable as we made the descent very carefully.
Then, after scrambling a little more, we were pretty much below a tiny waterfall that stained the basalt some kind of orangish color, and that was where we ultimately had our picnic lunch.
Of course, I also took some time to explore this particular area of Studlagil Canyon, and I kind of wished that there was some degree of overcast skies so the lighting would be even and easy-to-photograph for both sides of the canyon's interior.
Anyways, this experience was very impressive because I don't think we had ever been in the presence of so much basalt, and there were even columns of basalt "islands" in both directions of where we were chilling out.
As I looked further upstream, I noticed that there were actually two waterfalls within the Jokulsa River in addition to the light-flowing orangish one that we were picnicking by.
And as it seemed like all these people were enjoying the experience of being within this place, which was an Instagram darling as it blew up in popularity a few years ago, I couldn't help but wonder the history behind this place.
You see, when Julie and I were last in Iceland in 2007, this place wasn't even on anyone's radar because the Jokulsa River was at a far higher level and submerged Studlagil Canyon until the controversial Karahnjukar Dam was completed in 2008 and operational in 2009.
Yet it wasn't until I think 2018 when a local tour guide found this place (perhaps to the chagrin of the landowner of the trail accessing the canyon) that it started becoming known on the internet and well, it pretty much became an Instagram darling in much the same way as Norway's trifecta of Preikestolen, Kjerag, and Trolltunga.
Regardless, when I had my fill of taking family pictures as well as our picnic, I then went ahead and went back up to the trail so I could pursue the other spot that people were going down to.
That was where I found myself standing atop one of the basalt islands which afforded me a top down view of the pair of waterfalls on the main river as well as a butterflies-in-the-stomach view across a long line of basalt and looking back towards our picnic spot which had good lighting.
The ladies were still down by our chill out spot, and they could see me because they could identify my bright orange Ferrosi pants.
Eventually, I had made it down to the second "cathedral" part of Studlagil Canyon, which was below the basalt island that I was standing on earlier as well as across a long row of basalt columns creating that hallway effect.
Again, it was too bad the lighting was shadowy on one side and bright on the other, but the visual impact of being within this "hallway" of basalt columns was really unique.
But as much as I was tempted to scramble past the rope and go further down this basalt hallway, there were way too many people crowding that interior, which made things rather dicey from a coronavirus standpoint (despite being outdoors).
So I opted not to go down into that germ factory (primarily consisting of a large group of Italian tourists).
By 2:30pm, after having my fill of this spot, I then rejoined Julie, Tahia, and Mom, as they were already up and out of Studlagil Canyon and began the hike back to the car park.
Again, the hike back to the car park was uneventful, but there were some high clouds obscuring the sun for a bit, and that made the return hike a little cooler.
However, we (especially Julie) had gotten tired of walking on the loose rocks, and she eventually went to the other side of the rope fence to make better progress and give her feet a break.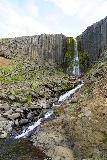 That was when there was one older Icelandic couple mentioned to her that she was on the wrong side of the rope though she played it off like she acknowledged what she was saying but was wondering why she was singled out.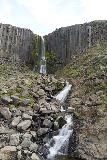 At the same time, I thought to myself that this might lessen the impression of Icelandic locals on how tourists were behaving in their country, and I could totally see where they're coming from.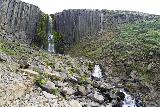 That said, there were many other visitors that did the same thing and caused even further erosion onto the grass, and I guess that kind of justified to Julie that she was fine following someone else's blazed trail.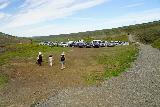 By about 3pm, we finally returned to the Studlafoss, which now benefitted from much better lighting as the high clouds helped to maintain somewhat even lighting.
And after documenting the waterfall, we then returned to the even busier car park at 3:20pm, and we were quite surprised that there were even more cars both in the lot and approaching the lot!
Clearly at some point the landowner's gonna have to straight up charge for use of his land as a trailhead and price it high enough to fund people to collect and enforce the parking spaces (especially if it gets full) so the farmer himself could still work the fields.
Regardless, with everyone pretty much beat by the end of this hike, we then promptly drove back up the rather rough road until we got back across the bridge to make a WC stop and then continue the drive towards the Rjukandi Waterfall.
By about 4pm, we made it to the Rjukandi car park, which I swore wasn't there before, and then Mom and I promptly got out of the car and followed an established trail leading up to the base of the waterfall, where there was a rope fence acting as the lookout.
After briefly documenting the falls at the end of the trail at 4:15pm, we then got back to the car five minutes later, and continued with the drive back in the direction of Seydisfjordur.
By about 5pm, we then arrived at the familiar car park for the Fardagafoss Waterfall, and like 14 years ago, this trailhead access didn't seem to have changed over the years.
Again, it was just Mom and I doing the hike while Julie and Tahia were busy staying in the car to read Julie's Kindle or something.
And during the hike, there was one Indian family that showed up and quickly passed us as they were seemingly in a rush to get to the falls and back.
Meanwhile, Mom and I were also on a deadline since we had made a booking for a 7pm dinner (which was made yesterday), and we pretty much had about an hour to do this excursion and still be in time for dinner back in Seydisfjordur.
And like I remembered it from 14 years ago, the trail didn't take long before revealing an intermediate waterfall, which got us to pause and take some photos and videos.
Then, the trail continued its ascent as we'd eventually reach a lookout area, where Mom followed the wider main trail while I followed a use-trail that went to a trio of boulders with a more frontal look at the Fardagafoss and its hidden lower cascades at around 5:35pm.
By this time, the Indian family were already starting to make their way down so it was just Mom and I enjoying the falls and taking the usual pictures.
And with the afternoon sun sinking lower on the horizon, it kind of gave a softer orangish glow onto the Fardagafoss' upper drop.
Anyways, after having our fill of this falls, Mom started heading back while I was investigating the continuation of the trail.
It turned out that the trail eventually ended where I saw there was some chains bolted onto a rock wall at a particular steep area that I knew was going to the bottom of Fardagafoss.
Well, I wasn't too keen on increasing the risk of getting injured pursuing the scramble to the base of the waterfall, and I was content with my viewing experience before I headed back down to rejoin Mom going down the trail towards the trailhead.
At least on the return hike, we had gotten regal views against the muted afternoon sun in the direction of Egilsstadir and the Tungufljot reservoir or lake, and by about 6pm, we made it back to the parked car to end the last of the excursions on this day.
The continuation of the drive up and over the pass was uneventful save for passing a couple of slow drivers that refused to use the pullouts.
And then when we headed down the road to Seydisfjordur, we could see that the fog had come back though it was nowhere near as thick as it was yesterday.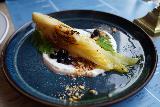 By about 6:20pm, we made it Aldan for dinner, where the waitress suggested that we should sit on the inside and not on the outside given that it was going to get colder real fast (if it wasn't cold already).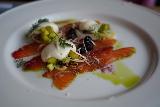 I think Julie finally gave in recalling last night's experience at the Kaffi Lara El Grillo Bar next door.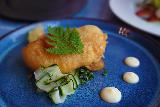 And so we went ahead and had our dinner at a corner table inside the joint, where we'd eventually have the tapas style dinner consisting of hanger steak, lamb prime fillet, cabbage, battered cod, and gravlax.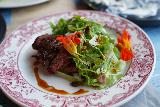 While the food was definitely gourmet in a sort of Jose Andreas style, it was also rather overpriced and we pretty much left the meal somewhat still hungry.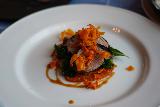 So by the end of the dinner, Julie and Tahia drove back to the Media Luna Guesthouse while Mom and I returned to the Kaffi Lara, where I had to wait in line to get the foil-baked cod that we didn't have last night.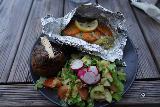 It took a bit of a wait to finally get the secondary dinner, but after having our fill of that, we then walked back in the even thicker fog (so all the waterfalls around town were shrouded again) back to our accommodation and got there at 8:30pm.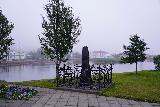 Regardless, if Hotel Aldan's restaurant was the creme de la creme of Seydisfjordur, then I guess we ought to consider having dinner in Egilsstadir tomorrow.
We'll see how that goes, but in the meantime, we pretty much wound down the day as we were all exhausted from yet another eventful day of hiking and checking off things off our Icelandic bucket list (though it was all new to both Mom and Tahia)…
Tomorrow, we had a lot of hiking to do, and perhaps even more driving, so it was going to be yet another full day and we needed the sleep because we needed to have an early start…