Day 8 (August 11, 2021 – Seydisfjordur, Iceland): "Changing The Scale"
It was 4:30am when I awoke to the alarm, and I immediately got to trying to catch up on blogging and file management duties concerning the photos and videos that we had taken in each of the last two days as I was quite behind.
So it wasn't until about 7am when we were finally in the car and started the day by heading to Hengifoss.
It was actually raining in Seydisfjordur when we had gotten in the car, and the rain seemed to have gotten heavier when we were going up the pass.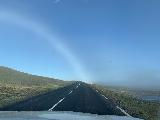 The rain briefly gave way to sun when we were at the pass, but then on the other side of it, the clouds came back as we were heading down into Egilsstadir, which was a bit different than each of the last two days that we did this drive (where it was sunny in Egilsstadir).
Anyways, we proceeded to follow the GPS as it took us along the southern shores of Lagarfljot and through the Halldorsskoga Forest, where it seemed like the rare trees that we knew were growing in Iceland were actually quite a bit taller than they were 14 years ago.
Apparently, they don't get forest fires the way we tend to get in North America, and I guess that's a testament to the typically cold weather and wet climate that Iceland tended to get.
Regardless, the low cloud ceiling was a concern as we were making the drive to Hengifoss as I was afraid that the clouds might conspire to block our views of the waterfall.
Nevertheless, this was supposed to be the first excursion of the day, and I was hoping that the weather would at least cooperate even if the hiking conditions weren't ideal.
With hindsight being 20/20, were we better off doing Hengifoss as well as Strutsfoss yesterday and punting Studlagil Canyon for today? Well, we can't cry over spilled milk, and the decision was already made.
Eventually by 7:50am, we arrived at the Hengifoss car park, where we were the very first people here, but it wasn't until about 8:10am when we had gotten started with the hiking.
It couldn't have come sooner because it was a bit windy and cold at this time of the morning with the overcast skies and rain threatening.
So while the ladies were bundled up with jackets, I knew that this was going to be a rather warm hike given that it was all uphill so I actually didn't bother putting on a jacket as we hiked.
And we'd proceed with the uphill trail as we were trying to find that balance between sweating from wearing too many layers and freezing from wearing too few layers.
By about 8:20am, we made it to a lookout of a waterfall on the Hengifossa (or Stekkalaekur according to Gaia GPS), where it seemed like the authorities had put in lookout infrastructure that definitely wasn't there 14 years ago.
In fact, the trail even had those non-slip things on the surface as well as more steps, which made things a bit less slippery than they were the first time Julie and I were here.
After having our fill of this first waterfall, we then proceeded going further uphill as we would eventually get to the lookout for basalt-columned waterfall of Litlanesfoss (or Studlabergsfoss) at 8:45am.
It was too bad that on this day, we couldn't see both Litlanesfoss and a hint of Hengifoss further up the mountain due to the low cloud ceiling, but it was still quite the scenic sight given the pronounced basalt columns on either side of Litlanesfoss.
After having our fill of this waterfall, we then proceeded with the uphill hike as we noticed there were more people down by the car park heading up the trail.
At about 9:05am, we then got to the first lookout for Hengifoss, which was actually where Julie and I had turned around the first time we were here thanks to a badly eroded section of the trail.
However, this time around, the trail seemed to be a lot wider and perhaps maintained in a way to be less prone to erosion unlike our 2007 experience.
Not finishing the hike was a regret that I've had since that 2007 trip, and on this day, I was determined not to make that same mistake again.
And luckily, at least for the time being, Hengifoss was showing itself even though there always seemed to be the threat of clouds coming back in to obscure the waterfall.
Since I was the first person here while the ladies were still catching up, I decided to keep going and not wait for the rest of the party given the fickle nature of the clouds.
And so after having my fill of this distant view of Hengifoss, I then kept going on the trail as it rounded the eroded stretch and eventually got to the end of the maintained part of the trail where there was a lookout that seemed to be in the middle of some maintenance.
In fact, I noticed that there were other parts of the trail that seemed to have been attacked by falling rocks, which highlighted the rockfall danger of being this close to Hengifoss, and I wondered how much longer would it be before another rock would smash the wooden boardwalk.
Again, I managed to get some shots of Hengifoss in before the clouds seemingly wanted to hide behind the clouds.
When Mom showed up, both Julie and Tahia were still behind so I went ahead and let Mom know that I was going to keep scrambling just to the point where I was no longer comfortable to proceed just to get past a cliff that was obstructing the lower part of the waterfall's drop.
At least I could get a clean look at the red strata that was behind the waterfall, which I was determined to learn a bit more about what these strata were and how they got there.
Anyways, during my scramble with Mom looking on, I was onto the unmarked scramble as I was hiking on a field of loose rocks as well as giant boulders that were deposited here.
I always kept one eye to see if the next falling rock was going to happen now or not, and I was trying to choose my steps wisely though an Indian family along with an Icelandic guide caught up and passed me as they were quickly making their way to the base of the falls.
Eventually, a few minutes later, I got to a part where the trail forced me to either hug a slippery, sloping ledge or go into the water, and that was where I opted to go no further.
And just as I was busy taking pictures, I could clearly see that the clouds had descended upon Hengifoss and pretty much start covering up the waterfall.
In fact, shortly after I was done documenting the experience, I then returned to the main lookout at 9:45am where the ladies were waiting for me while striking up a conversation with one couple that was here.
By this time, Hengifoss was now completely shrouded in clouds, and it would stay that way when we headed back down again.
By about 10:15am, we made it back down to Litlanesfoss, where we had already passed by several hikers making their way up, but Hengifoss remained shrouded in clouds.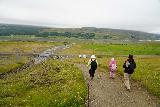 By about 10:35am, we finally returned to the car park, where we saw there were already dozens of cars parked, which attested to how popular this place was.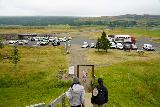 Good thing we had gotten our early start when we did so could remain socially distant, but we also managed to get our views of the falls as the clouds seemed to stubbornly remain over Hengifoss and conspiring to disappoint the hikers experiencing the falls now!
With it still being rather chilly and overcast, we then wasted no time proceeding towards the head of Sudurdalur as we drove deeper into the valley, then going across a pair of bridges spanning the Jokulsa and another parallel stream.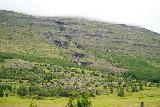 Then, the road continued along the Sudurdalsvegur, which was mostly paved until the final 8km stretch, which was then unpaved road all the way to the Strutsfoss car park at end of the public part of the road (there was a driveway and sign marked "Private" just to the left of the car park).
We managed to arrive at 11am, and once again, we were the first and only people at this trailhead.
There was an interesting-looking WC at this trailhead, which made for interesting trailhead photo fodder, but Mom and I wasted no time getting started.
But since both Julie and Tahia were too weary to want to do another hike, they decided to stay in the car.
In the meantime, I was eager to finally see what Strutsfoss was like, especially since I had made an attempt that ended up failing back in 2007 as I apparently took the incorrect road and was stopped by a dead-end the last time we were here.
At first, the trail made us going towards the Jokulsa River and go around the lower reaches of the private farm before the trail went uphill while still skirting the private property.
Even though the weather wasn't really threatening rain, I couldn't help but notice that there were rather low-lying clouds covering the direction of the canyon where I expected Strutsfoss to be.
So once again, the whole time we were concerned about clouds blocking us witnessing of the waterfall.
Regardless, we proceeded on the faith that the clouds would relent at some point once we'd make it to the end of the trail, but in the mean time, we had to guess where Strutsfoss was as we'd continue heading generally uphill en route to Strutsfoss.
As the trail went beyond the fencing of the adjacent private farm, we then entered a gently undulating path that went between some interesting vegetation with these black leaves or bean stalks or something.
There were also lots of wildflowers as well as some interesting gullies in the mountains adjacent to us and across the Felisa Stream.
However, the low-lying clouds continued to be a concern as we couldn't tell if we should have been able to see Strutsfoss while hiking or not.
Eventually after quite a bit of time of uneventful hiking (though our minds remained occupied by the behavior of the clouds), we ultimately got to a cairn at 12:15pm as the trail turned into the side canyon containing the Strutsa Stream.
From here, we could see that Strutsfoss was now quite clearly visible, but its upper drop continued to be semi-shrouded in clouds which made photographing it tricky.
Nevertheless, we could see that there was still the continuation of the trail as it followed these red-topped sticks, but the trail climbed rather steeply as it continued.
Somewhere during the steep and sweaty ascent, we saw that Strutsfoss was momentarily revealed in its entirety for a fleeting moment so we stopped to take pictures before continuing up the steep, sweat-inducing hill.
Eventually, by about 12:30pm, I had made it up to the top of the hill where Strutsfoss' upper drop remained stubbornly shrouded in clouds (though not completely all the time), and then I descended to a cliff edge at the very end.
That part of the trail was also quite steep, and I made sure to stand on a rock to prevent any slip-and-fall or any further unstable momentum leading me over that cliff edge.
From this perspective, I was able to get a good look at the surrounding red strata lining the cliffs fronting Strutsfoss as well as seeing another thinner waterfall to the left side.
However, I waited patiently for Strutsfoss to reveal itself entirely, but its upper drop still remained stubbornly semi-shrouded in clouds save for a brief moment here and there where I did my best to take pictures but it was hard to take the whole context without the top looking washed out.
Anyways, from this vantage point, the upper tier was at more of an angle compared to the lower drop, but it always seemed like some part of the waterfall had a visual obstruction so there wasn't really an all satisfying view of it no matter where in the trail we were.
So by about 12:45pm, we were finally on the way back from the end of the trail, and just as we were carefully descending back to the cairn, we could see that the clouds had finally started to clear up around the upper end of Strutsfoss.
Now why didn't the clouds do this while I was standing at the very end of the trail?
Nevertheless, we took a few more photos of Strutsfoss though the whole contextual view wasn't as compelling as at the end of the trail.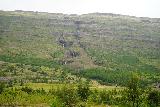 Regardless, it was getting late and we were sure that Julie and Tahia were anxiously wondering what's taking us so long so we eventually hastily made our way back as much as I was tempted to go back up to the end of the hike.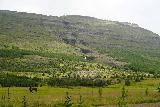 As we were headed back along the trail, I would periodically look back at Strutsfoss where now it was clear that we could see the upper part of the waterfall for a long stretch of the trail.
I guess that was what we missed out on during the approach to the falls, which probably would have hastened our pace and motivation.
Anyways, by about 2pm, we were finally back at the car, and so we wound up hiking for around 3 hours, which was way longer than I had anticipated.
By the time, there was a second car that was parked here, and it seemed to be an older Icelandic couple that was just getting started.
Perhaps obscure places like this weren't really touristed by foreigners, and it's really only visited by locals or countrymen that I'm sure would be looking for ways to avoid the tourist crush.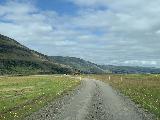 So after doing a greeting with a "Godan daginn" to them (to which they responded in kind), I then went to the interesting looking WC, which was really nothing more than a literal outhouse with a pit toilet.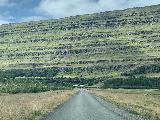 Afterwards, we then drove towards Skriduklaustur, which was where there was a lunch spot that we were eager to get to as both Mom and I were quite hungry, and we weren't really into driving all the way to Egilsstadir for lunch only to backtrack towards Karahnjukar for our last waterfall excursion of the day.
By about 2:20pm, we made it to Skriduklaustur and its turf-roofed building, and we promptly had a lunch where we were able to sit outside, which was just fine since it was a buffet lunch anyways.
We pretty much loaded up on their mains of lamb, cod, and butter chicken, but they also had freshly made bread, veggies (both cooked and raw), and other things like a quiche, lamb nugget, and tiny pylsur.
They also had a wild mushroom soup as well as cauliflower soup, and after at least a couple of main servings, we noticed that they then switched out the table offerings for nothing but dessert (so I guess we showed up just in time for a legitimate lunch).
However, the gorging didn't stop there as we then had ourselves multiple helpings of their cake buffet, where obviously their chocolate cake and whipped cream were the best, but they also had sticky date and an interesting Icelandic skyr cake.
There were also other sweets like apple pie, cookies, and other things, but Julie even got a waffle since she had read good things about it except it turned out to not be crispy so it was just average.
By 3:45pm, we were done eating and we were as full as full can be, which is always the case whenever we eat at buffets, which is why we're not fans of them.
That said, we're talking about Iceland here, and compared to yesterday's overpriced tapas dinner, this place was actually reasonably-priced for the volume of food that we got so we felt like we didn't need to eat dinner today.
In fact, by the time we got back into the car at 4:10pm, we needed to exercise once again, and that was when we headed up into the highlands in the direction of Karahnjukar and Laugarfell to pursue the last waterfall excursion.
As we drove up the Karahnjukarvegur, we went up a handful of switchbacks before we were then into the moorish highlands or plateau as the paved road went between alpine tarns and vast stretches of moss and marshes.
In the distance, we could kind of see that the Vatnajokull Glacier was visible as we were heading towards its eastern side.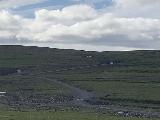 Anyways, the drive was still challenging for me because I was fighting off food coma, and getting to the trailhead couldn't have happened soon enough as we finally took the 2km unpaved side road down to Laugarfell.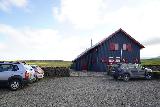 Once we arrived at the car park at 4:45pm, there seemed to be a cottage or something (it was actually a changing area for a hot springs).
As tempted as Mom and I were to do a large 8km loop encompassing the target waterfalls of Studlafoss and Faxi as well as Kirkufoss, at least according to Gaia GPS, we had 1.3 miles to reach Faxi (making it 2.6 miles round-trip).
And that should be at least the target of this hike and then see where we end up afterwards.
So with that, we got started with the hike, and even Julie and Tahia joined along, which was surprising because there wasn't much that was said about this hike, and that it might be a little more challenging than the earlier established hikes we've been used to.
In fact, as we left Laugarfell and started on the path, we first had to get over a fenced stile before trying to follow faint trails amongst the moss while always on the lookout for sticks with red-painted tops, which acted like trail cairns.
Pretty much almost right off the bat, we saw a waterfall that we were able to get both a profile view as well as a frontal view of it.
Then, after having our fill of this falls, we then walked further downstream along the Laugara Stream though it did get tricky to follow the path as we'd see red-topped poles spaced a bit away from the actual paths themselves.
And then, we'd get to an even more confusing stretch where there was a field of mossy boulders and mud, where we then had to veer more to the right and make our way towards the continuation of the Laugara.
With offline navigation still available with Gaia GPS, I was able to confirm that we were going the right way, and eventualy we'd get down to another attractive cascade where we were above its main drop below.
As we continued with the hike, it continued to descend alongside the Laugara, and the pole-lined path eventually took us down to the brink of Studlafoss, which was the anticipated basalt-flanked waterfall by the same name as the one by Studlagil Canyon.
Then, we continued descending as we started to see the turbulence of the Jokulsa i Fljotsdal where there seemed to be a huge waterfall down there, but on the way down, we managed to get more frontal views of Studlafoss, which was against the evening sun at 6pm.
After having our fill of Studlafoss, we then continued the descent all the way down to the Jokulsa i Fljotsdal where we encountered a footbridge going in front of and over the front of another cascade on the Laugara Stream.
Once we were on the other side, we then followed some informal-looking use-trails leading us further along the slope of the grassy mountain before reaching a dead-end at the edge of a cliff looking downstream at the glacial river itself at 6:25pm.
While looking in that direction, there was a partial rainbow arcing from the lower left to the top of the gorge downstream, but as I panned over to the waterfall itself, that was when I saw a massively wide and turbulent waterfall on perhaps Dettifoss-like proportions.
In fact, the whole time we were experiencing this waterfall, I was thinking that it might force us to recalibrate our 1-5 rating scale, and it certainly got us to reconsider our current Top 10 Iceland Waterfalls list.
So which one should get bumped off the list to make room for Faxi? Seljalandsfoss? Godafoss? Hraunfossar?
Anyways, it was hard to pry ourselves from this awesome display of raw power and natural beauty as Faxi made its dramatic tumble, and even Julie and Tahia found wild strawberries, which actually tasted sweet.
Eventually, we had our fill of this spot though I made one last scramble towards the brink of Faxi to get a different perspective downstream towards the turbulence and another look at a rainbow arcing out of the misty gorge beneath.
At the same time, I was able to look upstream at the footbridge and the cascade on the Laugara, which was like peanuts compared to the awesome glacial river of Jokulsa i Fljotsdal.
Ultimately by 6:45pm, we started to make our way out of Faxi for good, and we then slowly made the uphill hike back towards Laugarfell while following the red-topped sticks once again.
Finally at 7:35pm, we ultimately returned to our parked car at Laugarfell, where Julie and Mom took another look at the building that we had originally thought was a cottage.
However, they were actually changing rooms and showers for a natural geothermally-heated outdoor pool.
We also saw a separate trail going back in the direction past the outdoor pools, which I'd imagine would have gone to the Kirkufoss, but it was too late to pursue that waterfall on this go around.
As we were leaving Laugarfell, we saw that there was another attractive waterfall seen on the way up the gravel road, which got us to stop at the nearest pullout near the top of the climb.
That put us past the waterfall that Gaia GPS called Slaedufoss, and I basically got out of the car to scramble over towards the brink of that waterfall, where I managed to get an attractive profile view of the falls (albeit against the evening sun).
As I scrambled further downhill, I'd eventually get a more frontal view of the attactive falls framed with a separate rounded mountain to its left.
Only then after having my fill of this falls did I return to the car and then make the drive back to Seydisfjordur at 8pm.
And it wouldn't be until about 9:25pm when we finally returned to the Media Luna Guesthouse as we saw that there was a huge Viking Cruise ship docked almost right in front of our accommodation.
This time, it didn't look like there was truly fog blanketing Seydisfjordur though there were high clouds covering the pass and leaving the town itself more or less clear.
Nevertheless, we finally crashed for the night to end off this epic day as tomorrow we'll be shifting gears and heading to the north of Iceland…
Visitor Comments:
Got something you'd like to share or say to keep the conversation going? Feel free to leave a comment below...
No users have replied to the content on this page