Day 2: FROM FERRY TO FJORDS
Julie and I got up at around 6am. We knew we had to leave the hotel early but since breakfast was already paid for, we didn't want to miss out on that either. It was a good thing we didn't ditch brekkie because having it here compared to the Metropolitan was like night and day.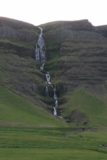 The breakfast at the Hotel Olafsvik had such variety and it was good. It was a shame we had to rush as we ate because of the scheduled ferry that we had to catch. So after barely a half hour of stuffing ourselves, we headed out east by 7:10am and made our way to Stykkishólmur – site of our ferry departure to the Westfjords.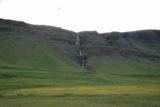 We intended to make a beeline for the ferry to get there in plenty of time, but there were simply too many waterfalls to ignore along the way. In fact, barely 15 minutes had passed before we were distracted by a tall waterfall near the Mávahlið farm.
This waterfall was grooved into a cliff with a mat of green grass and wild yellow flowers blooming in the foreground.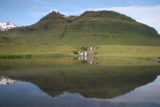 The hits didn't stop there however. Another 15 minutes later, we were treated to gorgeous views of a smaller but picturesque waterfall called Kirkjufellsfoss as it sat behind a calm reflective pool.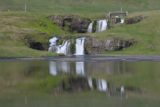 Composing the photographs on this one was tricky because there was a mountain behind it that seemed to want its entirety framed with the waterfall. However, that made the waterfall look puny. So it was either going to be the mountain or the waterfall, but getting both didn't seem to be allowed (though that didn't stop me from trying).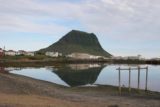 As we looked towards the ocean, we could see the namesake Kirkjufell mountain. In fact, we got to pause a little bit here as we filled up on petrol at the economical Orkan Bensin self-help gas station.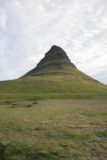 Here, my Icelandic lessons came in handy as the machines were pretty much in Icelandic but I was able to navigate my way through to successful payment and fill-up at the self-serve station. Perhaps it was because it was self-help like this that we definitely saved a bit on gas.
Another 15 minutes after this, we stopped along the road to photograph the impressive Grundarfoss. This was high enough and conspicuous enough to be seen from this distance.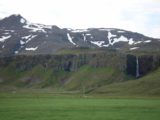 However, I think we could've gone closer to the falls, and we probably should have gone there had we had more time. Unfortunately, we were worried about running late for the all-important ferry at this time so we decided to keep going.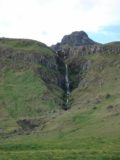 After passing by yet another waterfall, we finally arrived at the registration center for the ferry at the northern end of Stykkishólmur at 8:30am. We did it in plenty of time to get all the processes cleared and we got on the ferry as it left at 9am sharp.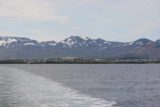 The next 3 hours were spent in the lounge area of the ferry. We did take a few photos here and there from the top, but it was cold and we figured we mind as well get some rest. And so we slept our way through much of the first section of the ferry ride.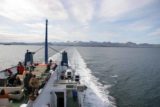 Our sleep was sensitized enough to notice when the ferry was stopping for something. And it turned out that the ferry was making a stop, except the surroundings weren't land yet. Apparently, the ferry was making a stop at some island, which seemed to be kind of a sleepy fishing hamlet.
After looking at some of the maps inside the ferry, we realized that the island happened to be Flatey Island. So from this point forward, Julie and I were pretty awake and we noticed the scenery around us as the ferry quickly made its way to the end point of its journey.
At 11:30am, the ferry landed at the Westfjords as advertised. The sleep did us well as we drive off into the heart of the Westfjords wide awake and refreshed. We opted to take the more inland route instead of following the birders around the coast out west.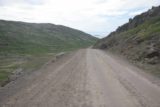 Apparently there were serious birders on the ferry as I had overheard some chatter about it, and I was sure they were in search of the toucan-like puffins out there. So while there was a seemingly large group of cars going west, we were like one of the few cars going east.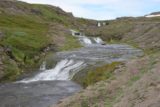 Anyways, we'd get to a junction at a pass on the unsealed road and decided to make a quick detour to a place called Fossdalur that I had read about. Given the name of the place, perhaps there was a worthwhile waterfall to stop at before returning back to this junction and continuing north towards Dynjandi, which was the major waterfall attraction of today.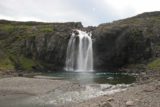 The sun was still up in between clouds moving about here and there. It certainly wasn't the cloudless blue sky day like yesterday but perhaps this weather would allow us to take some long exposure photographs.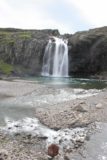 At noon, we got to see a short but powerful waterfall that was just labeled Foss on the map. We actually couldn't tell if we were at Fossdalur or not, but our map indicated such.
In any case, there was a walk that was said that it could be done as a long shuttle hike one-way through the Fossdalur valley. I doubted that we'd have the time to do this, but the possibility of seeing what was there was certainly intriguing.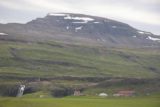 Oh well, we reckoned we wouldn't have a whole lot of time to do any walks and then get to Ísafjörður later on today so by 12:30pm, we headed back to our intended route.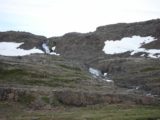 As we were finally back heading north on the inland route, we went over a couple of bridged streams. One of them looked very significant, and I wondered if this was the watercourse responsible for Dynjandi since the GPS map indicated we were very close.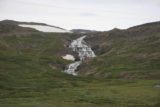 In any case, we eventually reached a junction and swung around as the road descended then headed back in the southerly direction. At first, we saw a wide and impressive cascade, but from our pre-trip research, we knew it wasn't Dynjandi. Still, it could've easily gottten attention if it didn't require you to look over your shoulder to view as we descended the mountain pass towards Dynjandi.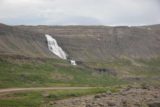 At 1:45pm, we arrived at a pretty bustling car park (for a place so remote) at Dynjandi. This waterfall was quite huge but I had a feeling that photos wouldn't really do it justice. The falls fell in several tiers with the uppermost tier being the widest and most impressive with its trapezoidal shape.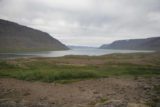 By this time, it was pretty clear that clouds had now dominated and there probably wouldn't be much more sun for a while. It was even drizzling in some stretches at Dynjandi.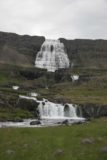 Nonetheless, we proceeded to do the walk to get up to the uppermost tier of the falls. As we were making our way up, we immediately started to notice there were signs fronting smaller waterfalls that were part of the main stream.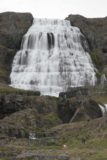 So we used each of those stops as an opportunity to catch our breaths as the trail pretty much was a non-stop climb that seemed to get steeper the higher up we went.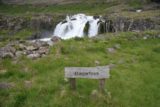 The first waterfall was called Bæjarfoss. This one was pretty short though stocky, but it didn't give us too many reasons to linger for much longer, especially with the obviously larger tiers still yet to come. So we took our photos and kept going.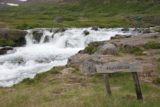 The next waterfall was Hundafoss, which was also short. However, this one seemed to be more like something on the order of 10-15ft or so and looked much more like it could've been rapids. So we didn't linger too long for this one either.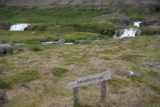 The next waterfall was Hrisvaðsfoss, which appeared to be some more waterfalls similar in character to Bæjarfoss except it was segmented into two main parts with one of them having two tiers. It was intriguing and it seemed like the waterfalls started to get better the higher up we went.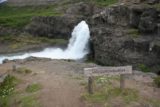 Next, we climbed up to a side view of Göngumannafoss. This one was a gusher and the cliffs were partially obscuring this waterfall since we were viewing it from an angle.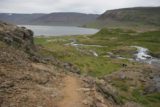 While we were at Göngumannafoss, we realized that we had climbed up high enough to look back towards the fjord. Indeed, it was scenic in a very eerie and desolate way since much of the landscape was green mats of grass and shrubs with a lot of low mountains without trees or sharp gorges except for mini examples of them where there were watercourses like this one on Dynjandi.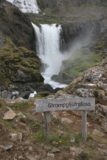 The next waterfall was called Strompgljúfrafoss. This one was a plunging short tier that was right below the main tier of the waterfall apparently. The name suggested there was a gorge, and from seeing this tier, we could definitely notice a small gorge carved out by the force of the water channeling its way through here.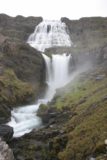 When seen in its whole context, we could've very easily thought of it as a component of what we believed to be the main part of the Dynjandi waterfall. It was certainly a little misty when viewed directly, but it wasn't so bad that we couldn't take long exposure photos of it.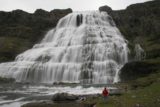 Finally, we made it up to the last waterfall where we saw a signpost that said Hæstahjallafoss. The signpost here was far enough away to make us wonder if it was talking about the main trapezoidal waterfall or not. But since we didn't see any more signs, we assumed this must be the case.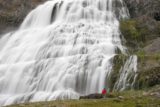 It took a while for us to pry ourselves from the Dynjandi waterfall, but all good things must come to an end and started to make our way back down to the car park.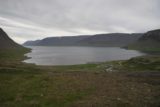 On the way back down, we got pretty sweeping views of Arnarfjörður from the higher vantage point that we earned. And with the all-downhill (but steep) hike, it didn't take us long to reach the bottom once again.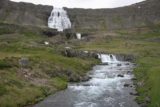 Once we were at the bottom, we still found it difficult to pry ourselves away from Dynjandi. The waterfall was just too attractive, and it was even harder to try to communicate our desire to stay here through our photographs and movies.
So we continued heading towards Ísafjörður at 3:15pm, where we were to stay this night. The drive persisted on unsealed roads, and there was a small detour that caught our eye as we saw a pair of waterfalls going down another cliff as we headed north.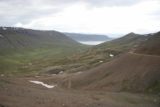 There seemed to be a significant enough pullout or car park for this place so we made a quick stop here noting that there was a signpost saying Mjólkávirkjun. There was a big pipe alongside one of the waterfalls that was apparently tapped for hydroelectricity or diversion for something else (not sure).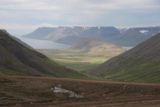 The scenery out here still looked raw as the road climbed and the green mats started to give way towards the brownish and reddish soil, which could still be seen under the overcast skies.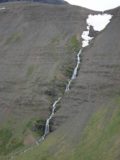 Eventually, the unpaved road gave way to pavement as we got to Þingeyri. And not long thereafter, there was a long tunnel through the mountain as it seemed like civilization was seemingly getting closer in this remote place in Iceland.
Once we got out of the tunnel, the hits just kept coming as we found ourselves in a somewhat steep valley featuring a couple of stringy but noteworthy waterfalls.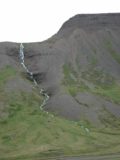 Just like in Norway, I'm sure many of these waterfalls would've gotten some love in places where waterfalls were more scarce, but here in Iceland, they seemed to be a dime-a-dozen, as Julie liked to say.
As we approached the town of Ísafjörður before 5pm, we were quite surprised at the size of the town (almost city-like). This was really strange to see considering all the remoteness we had passed through to get here. It was this place that really reminded Julie and I of Norway where development met steep-walled fjord scenery. The difference between the two is that Norway is mostly granite fjords while here in Iceland, we saw mostly softer volcanic-cliffed fjords so the walls sloped more than they did in Norway.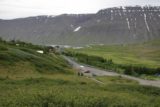 We'd eventually get to our accommodation at the Hotel Edda in town, which was converted from a middle school during summer. This seemed to be a creative way to make use of the facilities when school is out. We were surprised at how big and clean the rooms were and you wouldn't know you were in a school if no one told you.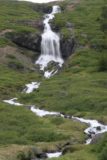 After checking in, we decided to do one last brief excursion out to the waterfall in Tungudalur, which we noticed on the way into town shortly after leaving the long tunnel. By 5:30pm, we were at the car park for the falls and its field of purple wildflowers in the valley.
We spent a brief time photographing the falls here while smelling the fragrant wildflowers blooming as well as exploring some of the trails here that seemed to go both up above the waterfall as well as further along the steep valley back towards the long tunnel that was hidden from view.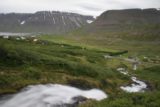 The steep climb to get up closer to the falls yielded a somewhat anticlimactic view as the waterfall appeared to get smaller and smaller as the cascades that emmanated from it were now below us. So we didn't have a desire to follow some of the people here who kept climbing up above the waterfall towards the top of the mountain.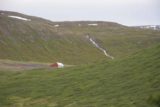 When we briefly explored the valley trail, we saw there were still more surprise waterfalls we in the distance near some farms. But since it was getting late in the day, we decided not to go any further and turn back.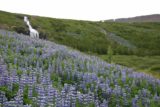 On the way back to the car park, we were able to better appreciate the main waterfall with large purple mats of wildflowers dotting the entire area between the trail and the main drop of that waterfall.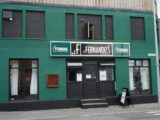 It wasn't much longer before we returned to town looking for a place to eat well after 6pm. We ultimately settled on this place called Fernando's, but they served a dinner buffet (amounted to about $30/person). It was too bad we couldn't try out their normal dishes, but at least we got to try fiskibollur finally. It was actually quite tasty and even presented as if it were a pastry. Quite interesting.
With this eventful day over with, we had no problems getting cleaned up and into bed. Even the drapes were much darker than before so it really did feel like night. Of course if we had looked out the window, we would still think it was late afternoon even with the overcast skies.
Visitor Comments:
Got something you'd like to share or say to keep the conversation going? Feel free to leave a comment below...
No users have replied to the content on this page