Day 3: THE LONELIEST HOTEL IN EUROPE
Given the practically non-existent nights, I had no trouble waking up at around 5am.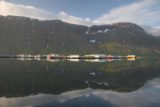 So while Julie was getting busy packing and ready for the day, I went outside our hotel and walked around for a bit taking photos as I noticed immediately that the fjord's waters were calm and reflective.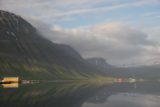 Indeed, it was so quiet and serent that it was real easy to take photo after photo trying to somehow get both the reflections of the entire mountains backing the developments and harbors without making the photos look flat.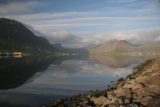 Some time during this photo excursion, I managed to somehow tweak my right knee when I was descending down from one of the concrete railings. I wasn't quite sure why it happened or how, but my right knee started to bother me as I tried to walk it off and hope it would go away.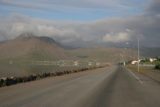 Since there was no complementary breakfast at the Hotel Edda Ísafjörður, we decided to get an early start on our drive out to Djúpavík. We had left around 6:15am but there was enough light to make it seem like it was 9am.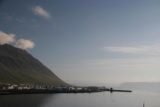 The next three hours or so was spent weaving in and out of several fjords and mountain passes with scenic moors very reminiscent of what we had seen in Norway a couple of years ago.
Many of the fjords had big cascades with seemingly no name and we had stopped for many of these. Even then, it was difficult to tell which ones were legitimate waterfalls and which ones were merely thinner seasonal ones. Some of the major ones seemed to require trespassing on private property to get decent views.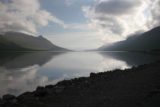 In between the waterfalls, we had also stopped to check out some of the beautiful fjord scenery that really made it feel like we were in some place that not a whole lot of people know much about. We figured those people not in the know were really missing out.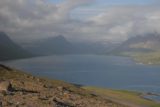 However, it was during the drive that my right knee started hurting again. I guess the strain of stick-shift driving on mountain roads for several hours while hiking in between put a toll on my knee or something. I had a similar condition in Norway, and at least Julie surmised it was the stick shift.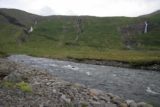 Anytime I had to initially get out of the car to walk or straighten out my leg, it hurt and I had a feeling my right knee was swollen.
When we arrived in Hólmavík, we filled up on petrol and had more reasonably-priced Icelandic pylsur (hot dogs) at the cafe there. Still, walking at the time was very painful and I really got worried about how my knees would be for the rest of this trip.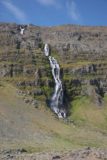 After the short brunch, we went across the road to the visitor center where they had a free internet terminal. There, we checked email and paid some bills. It also bought me some time for my knee to recover a little.
We left Hólmavík at around 11:30am and headed north to Djúpavík. The road became unpaved again once we got near Drangsnes. The arctic winds were blowing hard and there was a serious wind-chill factor even though the sun was shining.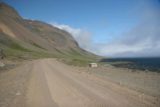 However, there were dark clouds moving fast out at sea and bumping against the ocean-facing mountains on which the road hugged to avoid the white-capped seas. It was also at this time that I realized that I couldn't find my light jacket as I stopped to take a photo.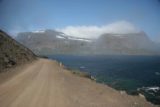 That was when I replayed when I last had the jacket in my mind and deduced that I had left it at Fernando's in Ísafjörður. Well, it's a bit too far to go back so we considered it lost.
Clearly it was too cold to go out in my short-sleeved hiking shirt with this Arctic Wind blowing so I had to get out the thicker jacket. Better not get this one lost, I reckoned.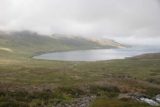 And so we made several more stops to try to seize the moment and capture the beauty of the wild Strandir Coast. There were a couple of attractive waterfalls we stopped for as well as some scattered isolated summer houses and heaps of dry, dessicated driftwood strewn about the coastline.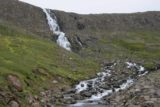 When the road started to turn a little more inland, the fast moving clouds seemed to have dominated the scene and we ended up checking out a few more falls in cloudy weather.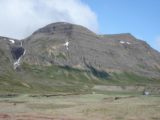 At around 1pm, we finally arrived in Djúpavík and checked in to the hotel. Greeting us as soon as we got out of the car was this friendly dog. It seemed genuinely excited to see us and we obliged by petting it.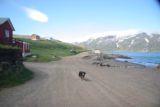 As we were shown our room upstairs, it suddenly hit us that this place has got to be one of the most charming hotels we'd ever stayed in.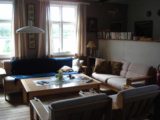 It's really more of a bed and breakfast, but they maintained the old architecture inside and it felt real warm and cosy in the upstairs guest area. The stairs were a bit steep and narrow though so we only brought up what we needed from our luggage instead of bringing the whole thing.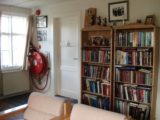 The receptionist was named Claus and he was an interesting guy in that he was German and it seemed that he was in the middle of learning Icelandic. Claus sensed that I was also learning the language and we immediately hit it off struggling to communicate in Icelandic. As he said, it was funny that two foreigners were talking in Icelandic to each other in the loneliest Hotel in Europe of all places!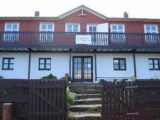 After getting settled, Julie and I decided to stroll around the abandoned herring-factory town of Djúpavík (well, if you can call it a town). During the stroll, we were accompanied by the hotel owner's dog.
There were only a handful of buildings and everything was for the most part abandoned except for the hotel and a handful of houses out back.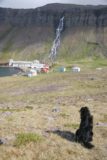 Behind the town was an impressive waterfall (Djúpavíkurfoss) making its presence known with its loud noise as it plunged from a cliff and then cascaded down a rocky slope as it ran right before one of the old factories and eventually emptying into the fjord.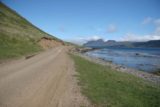 The winds were still strong and it was really chilly as a result despite the sun. Claus said earlier that we were lucky with the weather because the skies were foggy and misty for the past several days.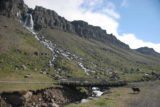 Anyways as we started to head up the hill for a different perspective of both the waterfall and town, the dog that was following us managed to find time chasing sheep while keeping us company. It turned out that her name was Tína.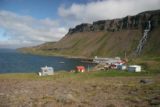 While walking around, we noticed there was also another big waterfall further up the Reykjarfjörður though it wasn't nearly as photogenic as Djúpavíkurfoss. Even further up the fjord, there was yet a third big waterfall, but this was even less photogenic than the first two as we had to look directly into the sun for it.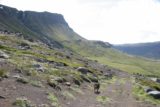 Julie and I opted not to drive the additional 40km to a geo-thermally heated pool right next to the ocean at Krossnes. I'm sure this would've been a big draw for people who choose to stay in this lonely spot. Instead, we've just decided to chill out at the Hotel Djúpavík.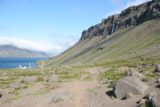 Dinner was a very at-home affair with both of us having the local fish for dinner. We were joined by a Dutch couple who had sailed towards this fjord. Along with Claus, we would eventually talk about various things such as travel, politics, art, and Iceland.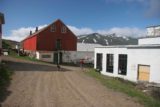 Before we knew it, it was already 10:30pm and it was time to go to bed and pass on the Dutch couple's offer to see their sailing boat over a few drinks. It was fun learning some pearls of wisdom from a former politician and an artist who's exhibiting in New York.
Their stories along with Claus' reason for coming to Djúpavík were really inspirational and further strengthened our conviction that traveling with an open mind really is the way to enrich one's life. Clearly, the travel bug has hit us, but we really felt like we were experiencing that rare combination of believing in what we were doing and learning so much we didn't expect to learn along the way…
Visitor Comments:
Got something you'd like to share or say to keep the conversation going? Feel free to leave a comment below...
No users have replied to the content on this page