Day 1: GLACIERS GALORE
As planned, we awoke at 4:45am in anticipation for our long haul from Egilsstaðir to Skaftafell. We awoke to cloudy skies, which contrasted sharply from the nice weather we had been enjoying for the past three days. I figured of all the days we had to have bad weather, we mind as well have it be our travel day.
Without further adieu, we were off at 5:30am and headed south on the Ring Road. We initially thought it would be smooth sailing because it was on the most used road in the country, but the Eastfjords were littered with alternating sequences of paved then bumpy unpaved roads.
We actually had to make a decision at one point to take either the 939 or stay on the 1 (i.e. the Ring Road). The 939 would've taken us to back to the Ring Road in a very short shortcut going over a pass but it involved a 17% grade according to a sign. The Ring Road was also unsealed as it traversed a different pass with a 12% grade. We figured it would be safer to take the long way around and not risk sliding on a gravel road with a steep grade (though I'm sure we could've made it). Better safe than sorry, I reckoned.
And so we continued to weave in and out of other fjords on Iceland's east coast. There were numerous times where sheep would be picking at something on the road so we had to wait for them to get out of the way before moving forward.
There were also numerous farms that looked either dilapidated or abandoned. We could tell whether a farm was abandoned or not by whether it had a car that looked like it was in driving shape. In any case, it was evident how poor this area was and I'd bet many of the sheep out here belonged to abandoned farms that have since reproduced and wreaked havoc on the country's depleted soil.
The drive was mostly featureless under the dreary weather. I'm sure under different circumstances, there would probably be more reasons to stop and take in the scenery.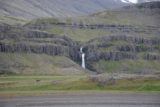 There was however, a noticeable waterfall near an area called Hamar, which we started to make a short detour to get closer at around 7:40am. Unfortunately, it was on private land and we couldn't get close to it. So we settled for distant views of that waterfall from across a river.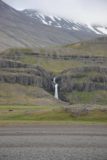 Little did we know it was the most significant waterfall (and probably the only one) we would stop for on this leg of the trip. This was despite the fact there were numerous smaller and ephemeral ones. I guess my mind was a bit too much on getting to our next destination thinking the drive would take all day.
At around 8:40am, I started to notice a strange-looking mountain. It had three sharp peaks but they tapered off in a way that looked like wings. I wondered if this was the Batman Mountain I had read about during my trip research while browsing pictures on Flickr.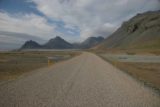 Stops were few and far between to this point on the drive so we pulled over the paved road and took our photos before moving on.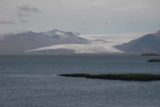 Not long thereafter, we went through a somewhat short tunnel and immediately were greeted by the sight of glaciers in the distance. It wasn't long thereafter that we filled up gas at the quiet bayside town of Höfn (pronounced like "hup") and took a few glacier photos from afar.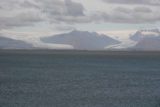 We stopped at a scenic bluff near the southwestern end of town. It was still chilly due to the overcast skies and once again the winds were blowing. Even though the glaciers were far away across the bay to the north, we could still sense how big they were. From this vantage point, we knew we can see more of the glacier than we did if we went up to their terminus.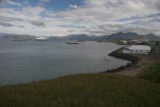 Since it was still quite early in the morning at 9am, the town was still sleepy and quiet. So after taking our photos from the bluff at the far end of town, we decided not to linger here much longer.
By 9:15am, we continued driving along a long desolate expanse of black-graveled plains undoubtedly scoured by glacial action. One valley after another and one single-lane bridged over glacial rivers after another, there were always glacier tongues in sight as we traversed the plains full of sandurs (sands).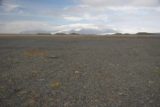 All of these glaciers were in fact extensions of the vast glacier Vatnajökull, which is said to be the largest glacier in the world outside the Arctic and Antarctic Circles. The immensity of the desolation within the glaciated plains was something we had never experienced before on this scale, and it was truly a treat to drive through.
Some of the signage and literature here stated that the glacier once stretched directly into the Atlantic in many spots, but that the contribution and expansion of the glacial sands had more to do with glacial floods and residual deposits than retreating ice (though with Global Warming, I'm wondering how much more amplified this effect has become).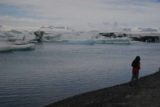 In any case, it wasn't until 1972-1974 that bridges started to be built to finally cross some of these glacial rivers, and perhaps that might have explained why the East of Iceland was as quiet and as remote as we had noticed it during the drive today. It simply wasn't as accessible until recently.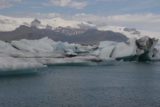 At 10:20am, we noticed a car park and some commotion that turned out to be the glacier lagoon known as Jökulsárlón.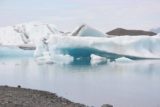 This was an attraction that Julie noticed in a random brochure or pamphlet during our trip, and ever since then, she was anticipating seeing it.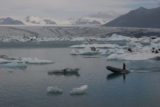 Apparently, this area had also appeared in a James Bond movie as well as in Tomb Raider. But despite where this place might have shown up in the literature, the lagoon of icebergs and melting ice drifting along towards the black-sand beach and awaiting ocean waves were truly something to behold.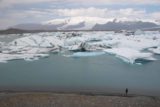 Behind the loose ice pieces and bluish ice were intact glaciers clinging to mountains in the background. Of course this was a very popular stop for tourists so there were many other people around here. There were even amphibious boat tours to get closer looks from within the lagoon, which we opted not to do.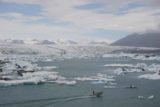 I couldn't help but think about how much this lagoon must've grown since the advent of Global Warming. I've read in the literature that this lagoon actually started growing since the advent of the Industrial Revolution. I'm sure this whole area will become a lagoon in the not-so-distant future.
We left Jökulsárlón at 11:15am.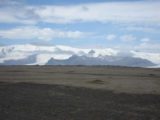 The next part of the drive continued through more sandurs as we passed through yet more desolate tracts of vast black sandscapes with a few of the glacier tongues visible from the road.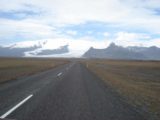 We didn't stop for any of these glacier tongues as it didn't take long before we started to get glaciered out. But at least we knew that the experience of Jökulsárlón was quite satisfying to say the least.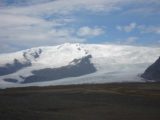 Still, it was hard to fathom how getting this close to many of the glaciers once seemed so difficult and out-of-reach in many instances (I recalled we hiked to a glacier terminus in Norway). And yet here, they seemed to be a dime-a-dozen.
We eventually got to the Hotel Skaftafell at 12:30pm, but it was too early to check in. So we had ourselves a lunch of truck-stop-type food, which was affordable by Icelandic standards.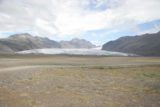 We then went into the Skaftafell National Park at 12:45pm to do the hikes considering we had all afternoon today. We were certainly way ahead of schedule as I thought we were going to do this hike tomorrow morning as the drive to get here from Egilsstaðir would've taken all day.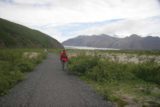 First up, we hiked to the glacier terminus of Skaftafellsjökull. The walk was only less than 2km from the visitor center so we figured why not go for it even though we hadn't planned on seeing it prior to coming here.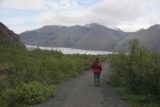 So we did the pretty straightforward hike, where the trail itself was on a sandur left behind by the recession and consequent river depositing of the glacier. By the time we got close enough to the glacier terminus, which was disappointingly dirty and flat, we decided that it was certainly nothing compared to something like the Briksdal Glacier we had seen in Norway.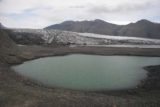 Perhaps what was remarkable about this glacier was the presence of dirty ice, which looked deceptively like more terrain of sandurs. From the warning signs here, we knew we weren't going to tempt fate and keep continuing to get closer to where we thought the glacier was supposed to be.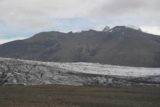 After all, we could've very well have been standing on a dirty ice section of the glacier when it would make its next unexpected calving or when there would be a hidden ice cave that suddenly collapsed.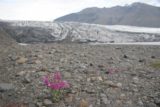 We pretty much went about as far as where we noticed some wildflowers sprouting out from within the sandur and moraines left behind by the glacier itself. We figured that flowers don't grow directly on the ice so this was about as safe as any spot to admire the glacier terminus before heading back to the visitor center.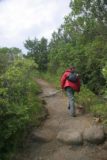 We then hiked the full 1.5km length trail from the visitor center to Svartifoss ("Black Falls"). This was the main goal of our time spent in Skaftafell National Park.
The trail started seriously enough with an ascent. The bright side of this was that we knew at least this final stretch heading back to the visitor center would be all downhill.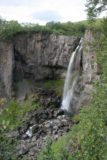 As we were nearing the end of this initial climb, we noticed some signage and an overlook for the waterfall Hundafoss ("Dog Falls"). I wasn't exactly sure why this waterfall was named after dogs, but perhaps one of them might have fell over and was so named in its honor. I certainly couldn't identify any formations here that resembled a dog during our brief time here.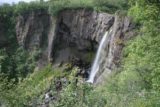 Hundafoss was thin but attractive and tall. The official overlook didn't differ all that much from an unofficial spur that the trail makers put obstacles to try to conceal that path. Perhaps it was for good reason then if the views weren't that different from each other.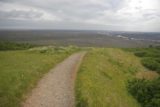 Shortly after seeing Hundafoss, we continued on the ascending trail. We took a short breather given the relentlessness of the uphill climbing, and in doing so, we turned around and realized just how far up we had gone. That was because we were treated to a pretty impressive view of the sandurs in the landscape below us.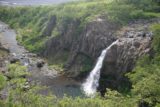 Now long after this break, we saw a signpost and lookout area for Magnusárfoss.
We also noticed there were some people that actually hiked or scrambled all the way to the brink of the falls. We weren't about to do that since we were pretty content with our views from the official vantage point.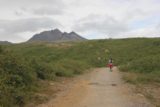 The falls itself was much shorter than Hundafoss, but it had an attractive downstream view.
Past Magnusarfoss, we saw there was another car park. Julie was giving me a hard time because it would've reduced our hike had we parked there. Oh well, can't cry over spilled milk. Still, had we not done this more official hike and did what those tour bus groups did, we wouldn't have experienced these waterfalls.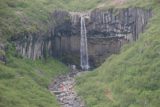 By this point, the hike definitely leveled out. We could see that we were surrounded by low shrubs with the odd mountain or two in the distance. We were now undulating on smaller hills before we finally started to see the acclaimed Svartifoss in the distance.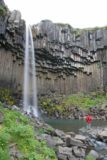 Just a few minutes later, we crossed a bridge over its stream and ultimately found ourselves right in front of the eccentric 20m Svartifoss waterfall surrounded by pronounced basalt columns.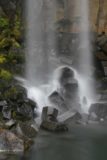 It was probably this combination of pronounced basalt columns combined with an attractive 20m waterfall that made this waterfall as famous as it was. Though since this wasn't the first basalt-columned waterfall we had seen on this trip (let alone on other trips as it was surprisingly more common than we would've ever imagined), it felt more like a standard waterfall.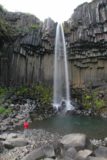 By Icelandic standards, this waterfall wasn't really much considering its relatively tiny waterflow, but it was still a busy trail and it seemed like a moment when we would be around the falls without other tourists trying to get their shots.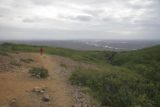 On this day, we heard many of the visitors speaking French and Spanish so we reckoned those were the tour groups that came today via the cheaters' way.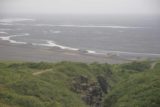 On the return hike back to the visitor center, we realized how far up we had ascended especially as we were about to descend that slope that would eventually get us back down to the visitor center level.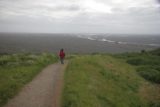 Indeed, the sandurs in the distance were vast, and it was hard to believe how long it took to even drive through such vastness to even get here.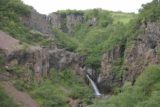 By 5pm, we were back at the car park. I knew there was a fourth waterfall around here (based on our pre-trip research) so we drove a little further beyond the visitor center on a very narrow road towards a rocky car park (on the way to the cheater's car park that we noticed during our hike to Svartifoss).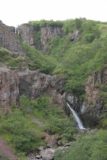 I walked up the trail from the other side of the watercourse and it wasn't long before the trail met the first hairpin turn of the road and immediately nearby was the lookout platform of Þjófafoss with a hint of Hundafoss. Clearly this waterfall wasn't visible from the Svartifoss trail. Nonetheless, I was glad I saw it, but again it wasn't much to brag about.
Just for kicks, we then continued to drive the road which ascended steeply in a single lane. As expected, we eventually ended up at that car park that Julie gave me a hard time about. But having been up this way, I wouldn't really recommend parking here just to cut a few minutes off the hike. This was especially since this road supported bidirectional traffic, and I could just imagine how difficult and awkward it would be to wait for someone to back up on the steep single lane road. Not exactly a fun experience I reckon.
Finally, we got back to Hotel Skaftafell where we checked in at 5pm and went into our miniscule room. We got the idea that South Iceland was definitely more touristy and the services, accommodations, crowds, and prices reflect this (i.e. more abundant but also quite less in quality thanks to the competition and demand). We still have a week left on the trip, but at least it's all in the South…
Visitor Comments:
Got something you'd like to share or say to keep the conversation going? Feel free to leave a comment below...
No users have replied to the content on this page