Day 3: INDEPENDENCE DAY
Today was July 4th – Independence Day for Americans. But it was also the day that I didn't have to drive because we decided to do the tour to Landmannalaugur and hopped on a Reykjavik Excursions (Kynnisferdig) bus. While many people spend a night at Landmannalaugur, we were going to do this as an out-and-back day trip.
The mostly cloudy skies were light enough to let the sun get through for moments. So we figured we'd get some decent photos of the landscape though not the blue skies and bright colors of the volcanic landscape the postcards would lead you to believe.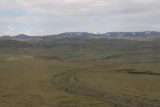 The morning went by uneventfully. After parking our SUV at the N1 station in town, the bus arrived on time at 9am. Then, we paid the two-way fare for each of us, and we found a seat towards the back of the bus.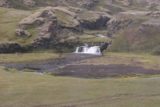 The bus was literally a bus with big wheels and probably with some four-wheel drive capability. I didn't think it was suitable for the mountain roads due to its size, but indeed this was going to be our ride.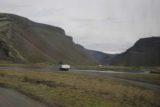 Then, the driver started off. The whole time we were on the road, I was hoping that we got our money's worth with rough roads and river crossings. I didn't want this to be something where we could've driven on our own thereby saving time and possibly some money.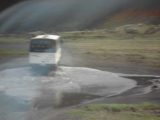 At first, the road was indeed tame and the rivers were bridged. We stopped by some guesthouse near a big waterfall to pick up a few more passengers. The stop wasn't really for us so we didn't get a chance to see this waterfall. Oh well, we'll have to do this one on our own. But the falls certainly looked pretty big.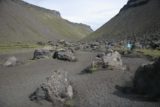 Anyhow, the tour continued and as the road got progressively rougher, we finally had our first river traverse.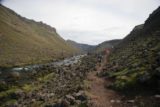 We'd eventually get to the Eldgjá chasm which was not too far from that river crossing. There was actually a car park with two footbridges to get through the river. However, the bus splashed its way through these rivers and got to a closer car park.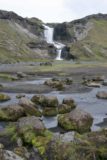 Once we arrived at the start of the walk to the Öfærufoss waterfall, we were given an hour on our own.
It turned out that the hike to get to the falls and back was at least 45 minutes so there was hardly any time to get closer to the falls (though one guy did do that) for more photos.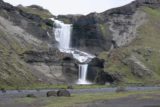 There used to be a natural bridge between the upper and lower tiers of the falls, but an earthquake knocked that bridge down. There was a guy we met on the bus who said he was here 20 years ago and actually stood ON that bridge!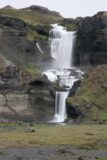 Anyways, the swarming midges made things a bit uncomfortable throughout the entire hike and at the waterfall. When it came time to leave, everyone beat a very hasty retreat back to the bus. I managed to get a bite on my arm so my theory that these midges don't bite was incorrect.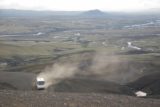 Even though the vast majority of them don't bite, their bites were indeed itchy and irritating and definitely undermined my piece of mind while walking through their swarms without swatting at them.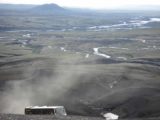 Next, the bus took off for Landmannalaugur and it quickly became apparent that we'd get our money's worth (as far as whether we should've driven this route or not) after all.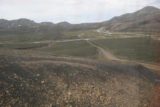 The road was very rough, narrow, and forded several rivers and creeks. I could only imagine how each of the obstacles would've been decision points for us to either keep going or turn back had we driven on our own.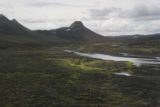 The terrain alternated between bare and dusty brown desolate deserts with some rivers weaving through such desolation at one moment.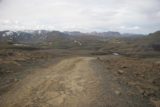 Then, we would find ourselves in a place where there would be mats of green (some very bright) matting some of the blackened terrain in a surprising display of color and contrast.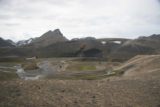 The whole time we were out in this wilderness, I kept thinking to myself how difficult it a spot it would be if we were stuck from a vehicle breakdown or something. It might be a while before help arrives (though on a day like today, there were tours going and coming so perhaps it wouldn't have been so bad).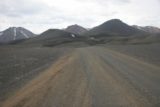 Still, it certainly would've sucked to be caught out here. I couldn't imagine how bandits and outlaws were able to seek refuge in such harsh environments to escape the law and then return when memories faded and time has passed.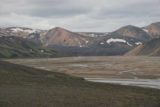 Fortunately for us, the driver made a few photo stops along the way and he'd eventually get to Landmannalaugur at about 1:45pm which was nearly an hour behind schedule.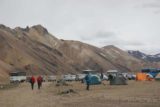 Julie and I were shocked to see so many cars, tents, and even some buildings or structures in an area so remote and desolate. In fact, we even noticed some 2wd cars that were parked here indicating that it might have been possible to forego a tour had we come in from the west.
Anyways, once we accepted the counterintuitive scene of civilization out in the middle of nowhere, we took our photos and then made good on our intentions to explore the area a bit.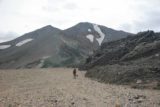 We'd only have until 2:45pm (it was barely 1:30pm) to explore the area so we hastily did so by taking photos but we didn't get far enough to the thermal pools.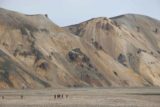 Apparently, other tourists on the bus managed to see thermal pools next to the campsites, which were something Julie and I missed. I guess that was the give and take we had to weigh when it came to going on a tour or having the flexibility to get here on your own.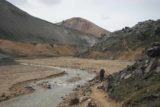 Anyways, we tempted fate by going pretty far from civilization as we followed a watercourse well into the colorful landscapes of Landmannalaugur.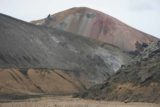 As we got further and further away, it seemed like the landscape kept teasing us and beckoning us to go further. It was just mindblowing to see reddish and orangish peaks and ridges surrounding us. But as much as we wanted to stay and explore for a bit longer, we begrudgingly had to beat a hasty retreat.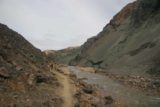 And as promised, by 2:45pm, we got back to the bus and not long after, the driver proceeded to take us back to Kirkjubæjarklaustur. There were far fewer passengers on the way back than this morning as many of them opted to spend the night at the huts here, camp, or catch the connecting bus to Reykjavík.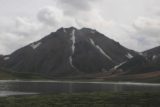 Actually, our driver proceeded to head back towards Eldgjá before finishing off at Klaustur. Julie and I had a little food coma from the snacks we ate at Landmannalaugur so we took brief naps.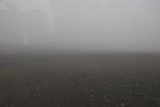 By the time I awoke, the clouds rolled in and I realized that we were going through fog! Some of the moonscapes we had to go through made it quite easy to lose the road if we weren't paying attention. Quite scary!
It wasn't long thereafter that the driver returned to Eldgjá to make another stop there for those passengers coming from Reykjavík.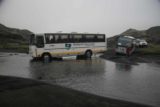 During this stop, the driver (who didn't speak much english) made some conversation with a Dutch couple with us listening in and partaking somewhat. The driver then noticed that the bus behind us was in trouble. It turned out that the other bus was really stuck in the mud.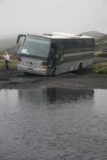 Apparently, the other driver attempted to take a different line through the river and didn't even make it to the river. By this time, passengers from both buses were watching like paying spectators. Our driver tried to help the other driver, who was a strikingly-dressed Madonna-lookalike female driver.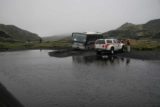 However, he wasn't successful with his attempt to pull her out of the mud. In the mean time, a pair of rescue trucks showed up and eventually managed to tow the stuck bus out of the mud.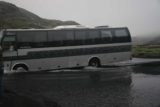 The incident was comical because drivers from both buses (including the Madonna-look-a-like that drove the stuck bus) took photos! It was almost like they couldn't wait to show their friends or something what had transpired here.
Anyways, with that bit of delay over with, we'd eventually make it back to Klaustur by 6:40pm. Time to take a shower and have a hearty dinner.
Visitor Comments:
Got something you'd like to share or say to keep the conversation going? Feel free to leave a comment below...
No users have replied to the content on this page