Day 1: A BUSY EXTRA DAY
With many of the things we wanted to accomplish while being in Klaustur being done already, we had this extra day to try to remain ahead of schedule for the remainder of the trip. For today, that meant going to see Skógafoss, Seljalandsfoss, Dyrhólaey, and that waterfall we missed on the Landmannalaugur trip yesterday.
As usual, the day started off mostly cloudy but the clouds were light enough to let some of the sun break through for very brief moments.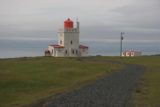 After another one of our subpar brekkies at the Hotel Geirland, we headed off at 8:30am directly for Dyrhólaey, which was a big sea arch off the southern tip of Iceland.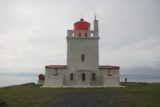 It wasn't long before we reached its signposted turnoff and took the rather bumpy road towards a car park on top of a hill with a lighthouse. I couldn't believe they let 2wd vehicles on this road, but indeed they were – flat tire or not.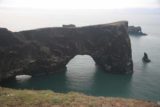 And so Julie and I took photos of both the lighthouse and top-down views of the impressive double sea arch known as Dyrhólaey. We couldn't see there was a way down and I had the feeling that you have to book a tour or something to see it from the bottom like in the post cards.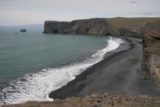 There was also a path that led to the top of the arches, but we weren't interested in doing that. It kind of reminded me of a thicker version of the London Bridge on the Great Ocean Road in Australia. Except this big arch doesn't look like it will collapse anytime soon like the one in Oz.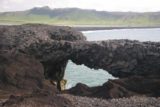 After leaving the lighthouse area, we descended the narrow unpaved road (often having to wait for buses and other cars going uphill the other way) and then decided to park and linger at a separate car park.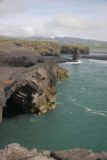 Here, we could see some nice coastal views as well as a smaller natural arch composed of what appeared to be basalt. Behind the arch was an interesting set of sea stacks called Reynisdrangar. There were also marginal views looking back towards Dyrhólaey.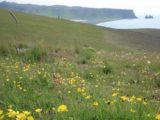 Julie and I wondered where we could get postcard views of Dyrhólaey, but it seemed abundantly clear that there was no way we could get them from these official lookouts. Maybe you had to take a guided amphibious tour or something.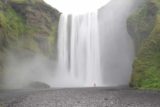 We continued heading west at 11am and it wasn't long before we finally arrived at the long anticipated Skógafoss.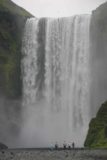 This 62m classic rectangular waterfall didn't disappoint as it was easy to get postcard shots of the falls. However, getting shots closer to the falls proved a challenge since it was very misty.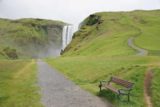 Also, the sun refused to show itself enough to create rainbows in the mist. We noted that we'll be staying at the Hotel Edda in Skógar for the next two nights so perhaps we might get lucky in the coming days…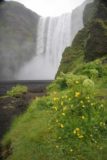 Since there wasn't a whole lot to do around the falls once we got our myriad of photos of views from as many vantage points as we could imagine in the wide open space fronting the falls, we returned to the car at a little after 12pm.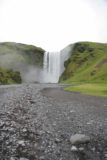 Indeed, this waterfall was very busy and we could totally see why given how easily accessible it was. No wonder why it was so famous, and oh by the way, the falls itself was photogenic too. That always helps!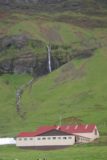 Next, we continued west and noticed several noteworthy waterfalls seen alongside the Ring Road. Once again, it was hard to tell which ones were worth stopping for and which ones we should ignore.
I recalled stopping for one particular tall plunging waterfall (albeit light-flowing) near the Varmahlið farm (at least that was what a neighboring sign indicated the place name was here). Otherwise, we'd have no clue what to call this place.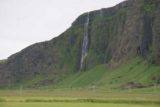 There was also a particularly striking one we saw wispily diving off a cliff near signposts for Paradishellir. There also appeared to be a school as well as some office that seemed to yield direct views of this waterfall.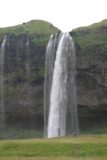 In general, it seemed this big black plateau was very moist because all the waterfalls around here seemed to come down from it.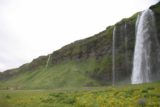 Perhaps most striking of all were the Seljalandsfoss and Gljúfurárfoss which were west-facing waterfalls coming down that same plateau. We arrived at Seljalandsfoss and its bustling car park at 12:55pm.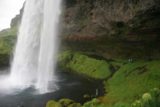 We spent lots of time photographing at Seljalandsfoss but only scouted Gljúfurárfoss, which was the one I knew I would have to wade to in order to get whole views of the falls.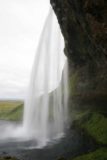 Like Skógafoss, Seljalandsfoss was also quite busy with tour buses and crowds of self drivers. Wildflowers were blooming where foliage was growing due to the falls' mist.
Several other folks opted to walk behind the waterfall. We followed suit knowing that this was one of the few waterfalls in Iceland that allowed us to do that.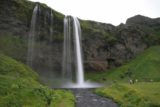 We noticed there were a handful of more waterfalls looking further north in the direction of Gljúfurárfoss. We figured we'd come back there later in the trip. I still wanted to head back to that waterfall we saw yesterday on the way to Landmannalaugur. So I had it in my mind to do that excursion towards the end of the day.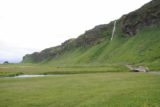 As we headed back towards Klaustur, Julie was still interested in checking out some sea stacks near Vík í Myrdal so we made a detour in that direction.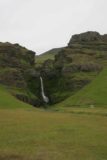 On the way over there, we noticed another waterfall coming off the neighboring plateau to our north. It just seemed like there would constantly be waterfalls along this southern section of the Ring Road, and all these sights coming one after another was really making us waterfall-saturated.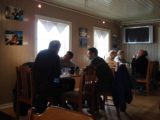 It turned out that we were also hungry so while we were in town taking the few photos we could of the sea stacks, we had a hearty meal at Halldórskaffi. The Halldór's burger was delicious (if expensive at $20USD). Julie's $20 pizza of shrimp and cheese was weird. Oh well, so much for her experiment…
By the time we left Vík í Myrdal, it was well after 5pm.
I was still itching to do that waterfall on the way to Eldgjá near the guesthouse at Hólaskol. And so we took our hired Suzuki Grand Vitara into the mostly tame F208 all the way to the guesthouse, which was about an hour detour from the Ring Road.
Along the way, we saw the same bus driver who took us on our Landmannalaugur tour yesterday. We waved at him as we pulled over to let him pass, but I don't think he recognized us.
By the time we finally made it to the rather obscure waterfall at 6:30pm, the rain really started to come down so it seemed to wash off some of the heavy dust on the car finally without generating new grime on the car.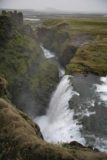 We immediately started making our way up the trail as the rain started to come down harder and harder. After some 15-20 minutes of uphill walking, we finally got to see the falls, but it was hard to get a good view of it.
No wonder why the Landmannalaugur tours don't spend time here.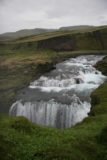 Given the rather wet and messy conditions, we wanted to spend a little more time here, but we knew that given the unprotected dropoffs and views of the falls, it was just a matter of a slip and fall into the gorge to die and really put a damper on this trip.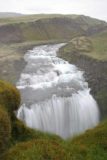 Anyways, I got the photos that I could without getting the lens wet from both the mist and the rain. It was a pity that such a powerful waterfall (albeit only 20m tall perhaps) should be so difficult to see, but that's Mother Nature for you…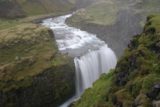 So we didn't tempt fate any further, and we then proceeded to get back to our parked car down below. The whole time, I was still wondering whether this seemingly major waterfall had a name or some kind of notoriety other than for those who happened to be running the guesthouse here. I never would get my answer so that was the end of that thought exercise.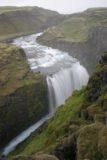 Julie beat me down to the car where some of the locals pointed out an Arctic Fox to her. When I finally came down, Julie pointed it out to me. It turned out to be this tiny brown little fox, which took me by surprise since I thought Arctic Foxes were snow white. Anyways, the local there told Julie that they're normally wild, but this one was kept as a pet.
With the rain coming down full on, both of us put our wet bodies into the car and drove back to Klaustur. The rain continued to fall and I was hoping it would revive Systrafoss back in town. But when we got back at around 7:45pm, Systrafoss was still mostly dry. Oh well.
However, as I compose this blog, the rain is continuing to fall. Perhaps this might revive the falls by tomorrow morning…
Either way, this seems to put a damper on our prospects for seeing rainbows at both Skógafoss and Seljalandsfoss tomorrow or the next day…