Day 2: FOUL WEATHER
So far the weather in the south of Iceland has been gloomy with periods of drizzling rain. There was hardly any sun nor any hope of those nice postcard pictures of the famous waterfalls Skógafoss nor Seljalandsfoss with rainbows or blow skies.
Neither of them really showed themselves during our time here so far.
But the weather really turned foul last night when the winds were howling while rattling the windows. The rain was coming down hard making loud sounds as they'd crash against the corrugated tin of our guest house unit. I had trouble sleeping last night because of it.
The only bright side to all of this is the hope that Systrafoss might be revived. But I also intended to wade in cold water to see Gljúfurárfoss today. I just had my doubts with the cold winds and threatening rain…
So after yet another subpar brekkie at the Hotel Geirland, we checked out just after 8am and headed off to see if Systrafoss was indeed revived by last night's rain. It turned out that it started to trickle but the water didn't make it down the cliff as the strong winds blew its piddly stream back up into the sky. Another guy must've had the same thought because he too left right before us and headed back the other way just as we were approaching Systrafoss.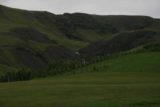 Next, we made a detour towards Dolufoss, which appeared on our GPS map and was on our pre-trip research. However, after some driving on the spur road, we noticed there was a waterfall way in the distance that was blocked by some trees lining what seemed to be a watercourse before it. However, we didn't feel like walking the rest of the distance to get close to it to see it up close.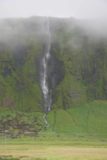 After our feeble attempt at Dolufoss, we continued heading west on the Ring Road again. And once again, we noticed some of those waterfalls we saw yesterday doing their cliff dives. We made one quick stop at Paradishellir to see its thin waterfall, but low clouds were still around and kind of obscured its uppermost sections.
Anyways, we continued onwards towards Skógar arriving at 9:45am. There, we found out that we could use the Wi-Fi internet and check out emails and credit card statements.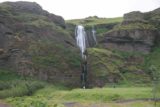 Not long after that, we headed back to Seljalandsfoss to see the so-called spooky waterfall Gljúfurárfoss and arrived just before 11am.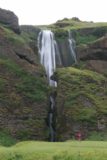 I got pretty good shots of the falls disappearing into the narrow slot alcove when viewed from afar. Julie was way ahead of me as I was composing photographs using her as a subject to communicate scale.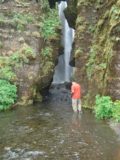 In any case, I was determined to try to see the falls past the short narrow slot canyon with boulders wedged above. So I took off my socks, wore my chacos, and started wading.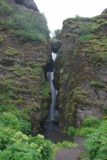 Well, the water was ice cold. I didn't even make it half way through the slot before the cold river hurt my feet. In no time, I beat a hasty retreat back to the open grassy area. Julie was busy taunting me that a real man would've stayed there for five minutes. Ha!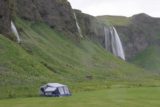 It was just past 11:30am and the day was still young. So we next did some miscellaneous waterfall touring with the extra time we had before we could check in to the Hotel Edda Skógar.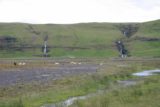 First off, we headed north towards the waterfall Gluggafoss. The drive to get up there from the Seljalandsfoss/Gljúfurárfoss area was fascinating as we were going across a flat plain grazed by sheep but also revealing some intriguing waterfalls tumbling side by side. I'd imagine that at least one of them was Gluggafoss.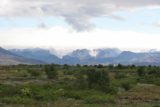 Looking eastwards, we knew that the snowy mountains there were in the direction of Þórsmörk, which I had read was a dramatic gorge carved out by glaciers. Apparently some of the glacier tongues could be accessed pretty closely from there. But we opted not to go there given that I had read a 4wd road was necessary to traverse to get there and we really didn't allocate much time for it on this trip.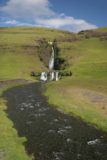 When we finally arrived at Gluggafoss at around 12:15pm, we noted its rather interesting inverted fork-like shape. There were also another neighboring waterfall to its left though I doubted it was part of Gluggafoss.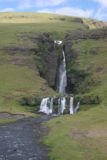 When we were at Gluggafoss, we were soon joined by a handful of photographers. I was quite surprised that there were this many people at the falls. I had always thought this was an obscure waterfall. I guess I was wrong.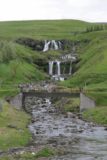 As we left Gluggafoss, we headed down the road towards Hvolsvöllur. Along the way, we noticed another interesting waterfall. It was near a turnoff signposted for some place called Hliðarendi. There was also another sign indicating Njál's Saga. I guess we somehow stumbled upon part of the Saga Trail. In any case, we photographed the waterfall and continued onwards to Hvolsvöllur.
We paid a visit to the visitor center at Hvolsvöllur where I picked up some literature and some maps.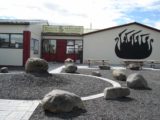 Apparently the visitor center here was all about Sagas. These stories that portrayed morals and lessons while depicting the hard life of early Iceland seemed quite prevalent in this part of Southern Iceland. We have read bits and pieces of some translations and summaries of some of these sagas during our travels, but we haven't taken the time to actually read through one of these sagas in earnest on this trip.
So after 1pm, we left town and headed over to the township of Hella just up the Ring Road.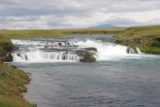 After a quick stop of hot dogs, we checked out Ægissufoss. With the partly cloudy skies and strong winds, I was able to photograph this interesting waterfall with Mt Hekla visible in the background. The skies looked threatening with some patches of dark clouds, but they did little else.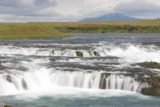 This waterfall appeared to be more of those run-of-the-mill river-type rapids waterfalls. However, the tiny tiered drops and width of the falls along with Hekla looming in the background was what really made this waterfall more noteworthy than the run-of-the-mill types. So we were glad we didn't take this place for granted.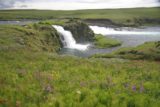 Next, we drove up a paved but rural road leading towards Arbæjarfoss. However, we didn't have the benefit of signage to help us along with this waterfall so we pretty much relied on our GPS to tell us which road to turn off.
Unfortunately, this waterfall turned out to be more difficult to see since we ended up taking a rather bumpy road where it appeared to require some degree of trespassing in order to get a decent view of the falls. I just settled for a rather unsatisfactory view of the falls. There was one part of the road that looked awfully worrisome as it was littered with jagged rocks, and it was clear I wasn't going to traverse that!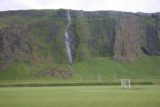 By now, it was 3pm and the afternoon was nearly over. So we headed back along the Ring Road in the direction of Skógar.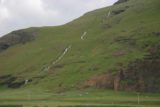 Along the way, we noticed once again the familiar waterfall at Paradishellir, but this time the low clouds had cleared and the falls looked attractive once again.
We even noticed there was another sloping cascade nearby looming above a flock of grazing sheep looking like white dots in the landscape as some power lines were running in between them and the road we were on.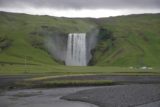 We ultimately returned to Skogafoss at around 3:15pm. At first, we followed a different road yielding more direct views of the boxy waterfall from the western side of the river.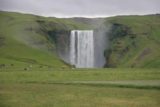 It looked like this road was headed to someone's farm as we saw fences and cows around us. So perhaps this wasn't exactly a road where tourists would be encouraged to stop by and take photos like we were doing.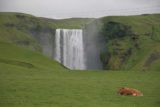 Nonetheless, we thought getting that different perspective of the impressive Skogafoss definitely gave us a little bit of that variety we were looking for as the usual spots to see the falls were starting to get old.
At 3:45pm, we finally made it to the Edda Hotel and were able to check in. The weather remained mostly cloudy which seemed typical of Southern Iceland it seems. After taking care of business back at the hotel, we tried looking around the small hamlet for dinner.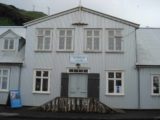 Unfortunately, we either had to settle for pizza and hamburgers at a Skógar Cafe or ultra expensive food at the Hotel Skógar. The overpriced dinner buffet at the Hotel Edda was already out of the question.
So we decided to drive for about half an hour east into the rain and towards Vík í Myrdal, and return to Halldórskaffi. I had a craving for the juicy Halldór's Burger again and Julie was determined to have fish no matter what the price was. And so I got my $20USD burger and Julie got her $50USD fish. We figured it beat anything we would've had in Skógar.
Finally, we returned to the Hotel Edda where Julie continued to take advantage of internetting at the hotel.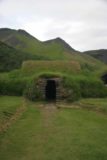 Meanwhile, I wanted to do a quick hike to a waterfall in the next drainage east of Skógafoss, which we noticed from the road on the way to our dinner run in Vík í Myrdal.
It seemed like a foss that was easy to get to. So I had it in my mind to lace on the boots, bring the tripod and DSLR, and get moving.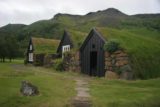 As I walked east of the Edda Hotel, I passed through an area that looked like it was another series of turf farms. Signs indicated that this place was called Skogasafn. I'm sure it would've been cool for Julie to come here and check it out, but she was missing out.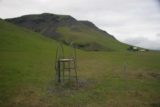 After passing through the turf farms, I then climbed over a pair of stiles, and shortly thereafter, I was able to see the sought after waterfall up ahead as I looked to go northwards into the small gorge.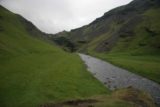 I had originally thought that this hike would be a piece of cake, but upon doing the hike, it actually turned out to be around 45-60 minutes return with a pair of tricky scree sections.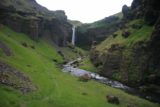 Still, the falls were nice and I probably would've lingered longer were it not for the annoying midges that were still around. That waterfall, by the way, was called Kvernufoss. I learned this only after the hike when I looked at the map.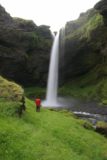 And with that, I rejoined Julie at our substandard accommodation (by Edda standards). So far it seems that everything about South Iceland was either more expensive, the people more distant, the food more expensive, the accommodations and brekkies more substandard, and the weather more foul than in North Iceland.
Oh well, three more days in Iceland to go. Julie was already homesick. I was already getting tired of spending oodles of money on this trip and figured it's about time to go home.
Still, we've got to finish our waterfalling, and tomorrow, I anticipate hiking the latter part of the Þórsmörk-Skógar trail to see the waterfalls along the Skógá River. We'll see how that turns out as literature about doing that excursion as a day hike is minimal at best…