Day 3: THE SKÓGÁ RIVER
Today was the day I was going to hike along the Skógá River. For me, it was an anticipated hike because I knew there were heaps of waterfalls on the river. Given the long distance of the hike (which I wasn't sure of at the time but I knew it was at least 8km), Julie opted to stay in and check her emails while touring the area around the hotel.
So at 6:45am, I headed out, but before I could gather momentum, I realized that I still had the car keys, which Julie wanted me to leave behind. So back to the Hotel Edda I went and gave her the keys.
At 7am, I finally started off. With harðfiskur (dried fish jerkys), canned tuna spread and crackers, and 2 1L Nalgene bottles full of Icelandic tap water, I headed off initially wearing a jacket, but it didn't take me long before I started to sweat and had to take it off.
The day was still overcast (it's been this way for the last 4 or 5 days in South Iceland) and I also had to walk nearly an additional mile to go around the farm and ultimately to the base of Skógafoss.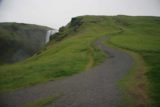 It took a little over 20 minutes for this bit of road walking. Then came the arduous climb up to the top of Skógafoss.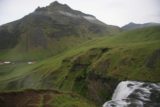 There were already a handful of photographers with tripods up and about taking photos of the beautiful rectangular-shaped waterfall. Still, I was huffing and puffing my way up to the top not concerned about getting repeat photos of the waterfall under the same cloudy conditions as before.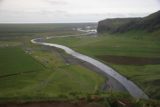 Once at the top, I turned around and briefly looked at the expanse of pastures and glimpses of the ocean in the distance.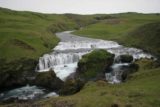 Then, I climbed over the sheep paddock ladder (or stile) and headed onto the trail, which skirted the Skógá River. It didn't take long before I saw the first waterfall on the river.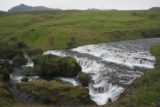 This first waterfall was attractively wide and seemed to lend itself to long exposure photographs. I thought if waterfalls came this fast and this good this often, I might be in for one major deluge of waterfalls on this hike.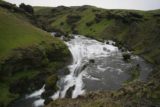 Sure enough, shortly thereafter, I saw another one. The going was getting good already. With this development I started marking on my GPS the location of each waterfall sighting. So these first two waterfalls were referred to as Foss1 and Foss2.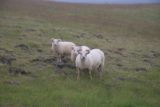 Along the way up, I also noticed some sheep sharing the trail. Clearly, these sheep had free reign to munch on what little grass was growing naturally in Iceland.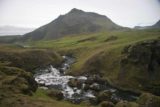 I wondered how much this affected the native vegetation of the lands yet at the same time, they were providing the Icelandic people with sustenance. It was one of those trade offs that people have to make when trying to carve out a living in a harsh environment.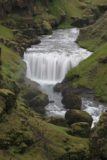 Probably about five minutes after seeing the second falls, I encountered the third waterfall. This one had more of a wider somewhat rectangular shape and was quite satisfying.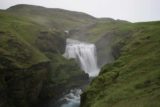 About 20 minutes after the third waterfall, I encountered the fourth waterfall, which was an impressively large blocky waterfall that seemed to have a smaller second tier above it.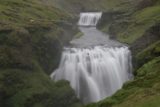 At the rate I was going, this was turning out to be quite a slow hike thanks to the quantity of waterfalls already seen.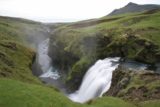 In any case, this fourth waterfall also offered me a pretty attractive downstream view. I learned from this hike that there would be many ways to photograph waterfalls, but one angle that should not be overlooked was the one over the top or by the profile of the falls while revealing the landscape beyond.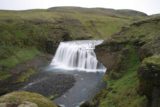 Less than ten minutes after the fourth waterfall, I encountered the fifth waterfall. This one also had a wide blocky appearance though it was more sloping so it almost had a slightly trapezoidal shape.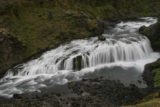 With so many blocky type waterfalls in succession up to this point, I was pleased to yet the sixth waterfall have more of a wide strandy appearance. Even though it wasn't tall, it had a satisfying shape that was very friendly to my camera.
Boy was I glad I brought the tripod along because all of the waterfalls seen so far today seemed to be the types that were best captured with long exposures.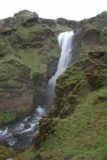 Indeed, as I continued hiking along the river while the trail gradually went uphill, I saw more and more big waterfalls. They varied from the wide river types to the taller thunderous plunging types.
Case in point with the taller thundering plunging type waterfall?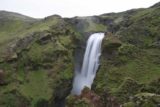 The seventh waterfall, which I called Foss #7. I got to this one at 9:15am, and this one got me saying, "Whoa!" out loud!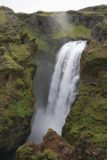 I followed a spur that eventually dead-ended at some impassable dropoffs. Some of the footing was precarious, but the view of the falls was impressive. It was loud and it was misting. I couldn't believe how huge it was. I don't even think this one was named!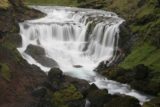 When I got past Foss #7 (not counting Skógafoss), it took me just about fifteen minutes to reach the next waterfall.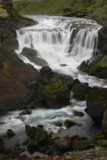 I was finally caught by another day hiker who intended to go all the way to the mountain pass near the hut shelter at Fimmvörðuháls. I wasn't sure I'd make it that far. In any case, we both photographed Foss #8 together.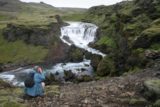 Foss #8 was also a pleasing (though not overwhelmingly-sized) waterfall that definitely made me glad that I brought my tripod with me (just like most of the other falls seen so far). The texture of the falls along with the somewhat converging drops of its overall width made it attractive.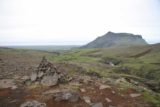 As I looked downstream from the eighth waterfall, I was once again treated to impressive views of the rugged terrain that I had just passed through to get here with the mountain near Skogafoss looking more distant than before.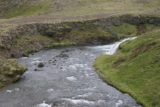 Less than five minutes later, I got to see the edge of what appeared to be the ninth waterfall. However, given that it was facing away from the trail, this was the first unimpressive waterfall that I encountered on this hike.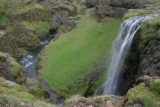 Roughly ten minutes later, I encountered a tributary waterfall that was not on the main river. Yet despite this, I considered it to be the tenth waterfall. Not surprisingly, this one had much lighter flow, but it was tall and it had a satisfying shape in its own right. So I briefly took a spur to get a better look at it before I continued on the main trail.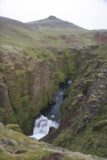 Nearly 20 minutes later, the trail continued climbing as the gorge containing the river got deeper. Even though I could hear the echoed rushing of water from down below, I couldn't tell if they were caused by waterfalls or rapids.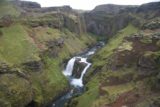 Whatever the case, the 11th waterfall that I encountered was deep down in the gorge, and it was only because I was counting and paying attention that I noticed it. However, I'd imagine that most people who happened to be doing this hike probably would've gone past it and not even have noticed it.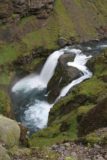 Barely ten minutes after Foss #11, I encountered Foss #12, which was segmented but also found deep within the gorge. At least this one was more photogenic so I lingered a little to try to take a few photos both zoomed in and out, with tripod and without.
The trail skirted not far from the brink of this waterfall as the depth of the gorge was being caught up by the rise of the trail. So that yielded a slightly different view of this small but interesting waterfall.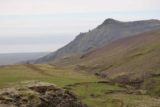 As I was looking back at the terrain of this area, I noticed there were other hikers in the distance also coming up. Apparently, I was going quite slow as this was the second group of hikers that would have caught up to me despite my early start.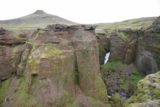 Nonetheless, I wasn't in any hurry and the green-matted terrain of the Icelandic wilderness here was certainly something I don't normally see and I knowingly enjoyed just being in these raw naturesque surroundings. It further strengthened my resolve to see as many waterfalls as possible on this river, knowing that this was going to be a pretty unique experience regardless of whether we'd be waterfalling in Iceland or not.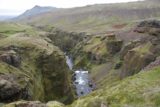 Just under another 10 minutes of hiking, I encountered a distant waterfall deep in the gorge. It didn't look like the trail would take me closer for a better look. In any case, my notes say this was the 14th falls, but it appeared that I might have skipped a waterfall in the count as I didn't see where the 13th one was.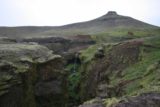 After another 15 minutes, I encountered yet another light-flowing tributary waterfall. This one looked to be very temporary even though I identified it as Foss #16 in my notes.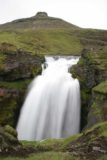 I noticed there was an interestingly-shaped mountain beyond the light-flowing waterfall. I believed it was called Hornefellsnippa.
And as I continued a little further on the hike, I encountered yet another big waterfalll on the main river. My notes called this one Foss #17.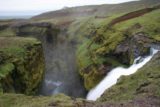 This particular waterfall wasn't easy to photograph because its tall plunge disappeared right into a narrow gorge. There was no way I'd tempt fate and edge out closer to the cliff's edge to try to see the bottom of this waterfall.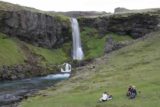 By Foss 18, I was already surpassed by a group of Icelandic teenagers. However, it was when I got to this tributary waterfall, that was when I saw them again. This time, they were sitting down and having a picnic lunch in front of the attractive waterfall.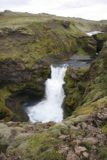 They were oblivious to my presence so I was able to take photos with a tripod while using them as photo subjects to communicate scale.
Barely a few minutes after the 18th waterfall (at least according to my notes), I encountered the 19th waterfall. This one seemed to be one of those randomly-shaped cascade waterfalls sitting in a gorge. I was becoming waterfall-saturated at this point thinking the waterfalls were probably getting smaller the higher up I went.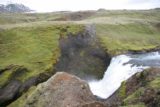 The hits kept coming as a few minutes after the nineteenth waterfall, I encountered the twentieth waterfall. This one I was able to view from an angle with more raw Icelandic scenery in the background. But like my hunch was telling me, it seemed like the waterfalls were getting smaller the higher up the trail I went.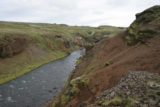 Beyond the 20th waterfall, I encountered yet another waterfall that fell on a tributary. I noted this down as the 21st waterfall though it didn't seem like it was very significant.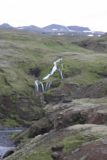 I could easily see someone deciding this one didn't count (though I could've said that about other waterfalls on the way up here).
With the law of diminishing returns seemingly coming to fruition, I started to wonder when would be a good time to turn around and head back to Julie at the hotel. The hike was long and despite my early start, it was getting fairly late in the day knowing that all the hiking I did to get here had to be recovered on the return.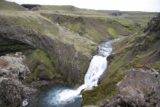 The theory of the law of diminishing returns was still somewhat holding to form as I encountered the 22nd waterfall according to my notes. However, this one was a little bigger and more forceful than the previous ones so it kept me wondering whether I was in for more surprises.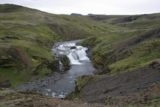 Then, not even 10 minutes later, I encountered the 24th waterfall (the 23rd waterfall was not photographable). This one as wider, but it was still relatively small. So in the back of my mind, I was still wondering when I should turn around and head back.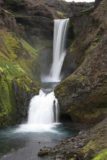 Beyond this 24th waterfall, the Skógá River split up and the trail followed the eastern fork.
Then by about 1pm, I was in for a shocker. It started with the 25th waterfall, which was an amazing 30m tall double waterfall with a tiny peephole natural arch on the cliff above it. Quite cool!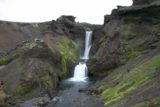 Up to this point, I haven't had a photo of a waterfall with me in it. So I figured since I was carrying a tripod all the way out this way, I mind as well make use of it. Of course, I had to be a little careful given the dropoffs, especially when I had to rush to the front of the camera when the timer went off.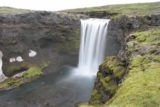 The trail then ascended sharply again to get past this waterfall and then I saw Foss 26.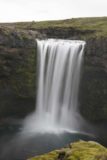 Defying the law of diminishing returns yet again, this was a thunderous but shorter version of Skógafoss. It still had that satisfying rectangular shape, it was still tall (maybe on the order of 25-30m or so), and it had nice volume.
There were some folks already here enjoying this waterfall near its brink before continuing on. But I was content to get my frontal views of this waterfall before I continued further (still not sure if there would be more surprises awaiting me).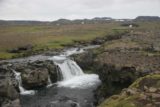 Shortly after this waterfall, the trail flattened out and I was surprised to see a group of people picknicking past a bridge as well as a 4wd vehicle! Obviously, a 4wd track must intersect with this trail at some point! There were also smaller (almost insignificant) waterfalls, and I guess it was subjective whether to call it Foss #27 or not.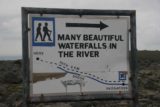 When I got to the bridge myself, there was an amusing sign saying "Many Beautiful Waterfalls In The River."
No kidding!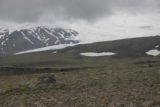 The sign also indicated that I had gone 8km beyond Skógafoss. But looking further up the trail, I noticed there was what appeared to be a glacier that was within reach!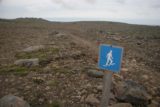 But by now, it was about 1:15pm and it was time to get back down. Some Belgian backpackers I met at the top answered my inquiry about how much further the shelter was.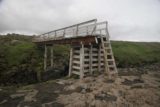 "4km," they said.
Obviously, I wasn't going to make it all the way to the Fimmvörðuháls shelter (12km from Skógafoss). Still, I was pretty happy with my waterfalling experience of today. But now the weather started to drizzle. I had better make my way down now.
At 2pm, the drizzle turned into rain. Still, I was hot and sweaty from all the activity and I actually welcomed the wet relief. The only bad thing was that the rocks and shale started to become slippery.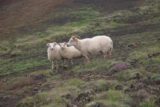 Along the way down, I saw the same trio of sheep grazing near the top of Skógafoss earlier this morning. I wondered how their day went.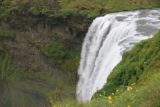 Finally at 3:30pm, I made it back to the busy base of Skógafoss. By now, my right knee was inflamed and it was a bit painful to go down the stairs by the falls, but I managed.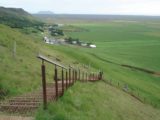 Now, I had to walk the last 20 minutes or so back to the Hotel Edda. By 4pm, I was back at the Edda. I was finally glad to change out of the smelly hiking boots and take a nice hot shower before the crowds would arrive at the shared facilities later in the evening.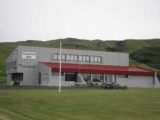 Dinner beckoned after the refreshing shower. We were intent on going cheap today and that meant having pizza at the Fossbuð (pronounced foss booth though Julie kept saying "foss bud").
During our meal of subpar pizza, I realized that this could very well be the least expensive day we've had in Iceland. I didn't buy any brekkie nor lunch. One of our nights in the Edda Hotel was also free thanks to some Hotel Edda Promotion. Julie did buy a shrimp sandwich and gummi bears, but other than that, no petrol was used…
I'd say all in all, it was quite a satisfying and triumphant day in South Iceland…